It's literally just a Big Mac meal with nuggets on the side, but I have to admit, it's a smart marketing move from McDonald's to continue to partner with artists and bring in their fanbases.
After linking up with Travis Scott, J Balvin and K-pop group BTS, McDonald's is proceeding with its collaborative meal series and linking up with "Icy Girl" rapper Saweetie.
The "Saweetie Meal" will be available at McDonald's restaurants starting Aug. 6 and includes a Big Mac, four-piece Chicken McNuggets, medium fries, medium Sprite, Tangy BBQ Sauce, and "Saweetie 'N Sour" sauce, which was renamed in honor of Saweetie.
The collaboration actually isn't as random as it seems at first glance, as Saweetie had some viral moments a while back where the internet was a bit grossed out on her unique choices on how she'd be digesting food from the fast good giant.. such as sandwiching her fries. So with that being said, the advertising suggests adding fries to your Big Mac, using dips as a topping, and putting nuggets in your burger for the supposed Saweetie experience.
"McDonald's and I run deep – from growing up back in Hayward, California, all through my college days – so I had to bring my icy gang in on my all-time favorites," Saweetie said when speaking on the collaboration. "Depending on the mood I'm in, there are so many ways to enjoy my order."
"We're thrilled to team up with Saweetie, a true brand fan who puts her own spin on everything she touches across music, fashion, beauty and culture," added Morgan Flatley, Chief Marketing and Digital Customer Experience Officer, McDonald's USA. "And now she's brought that spark and creativity to her signature McDonald's order by celebrating her love for our food and passion for mixing things up."
Take a look at the announcement below and let us know if you're excited about your Saweetie meal, or you just want to get your food and go regardless of who's face is on it?
WHO'S READY FOR ONE OF MY INFAMOUS CONCOCTIONS ?!! 😋💖😋💖 #TheSaweetieMeal x @mcdonalds coming soon. pic.twitter.com/Xfp4Fq558f

— BIG MAC MAMA (@Saweetie) July 29, 2021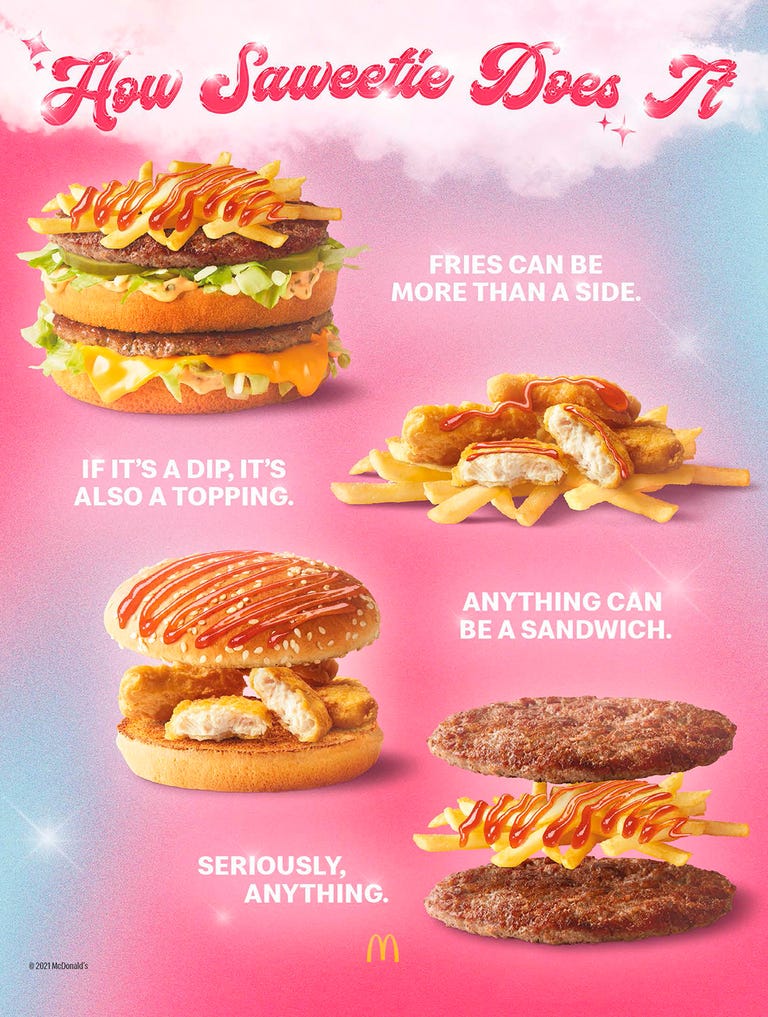 Ur stomach after eating the mcdonalds saweetie meal pic.twitter.com/QMKZVOV5h3

— CM. (@Connormzz) July 29, 2021
Soon as yall try that shit pic.twitter.com/w8Pdd1GyFo

— Perc Cobain (@PatrickBAPEman) July 29, 2021
Now Mcdonalds?? Saweetie the last person who should be getting her own meal.. pic.twitter.com/C84MGVv5CP

— d火n (@javrawr) July 29, 2021
Just picked up the Saweetie meal from McDonalds 😋😋 pic.twitter.com/GJMYcU7iDa

— Swag メ𝟶 (@SwagPunchABWord) July 29, 2021
Me eating Saweetie's new McDonalds meal. ❄️🍟 #TheSaweetieMealpic.twitter.com/HEjB42P8M7

— NUFF (@nuffsaidny) July 29, 2021
McDonalds tapped in to pregnant women audience when they linked up with Saweetie, I don't know anyone else who could eat those types of combinations pic.twitter.com/R4OQ0IHeFX

— YKTV (@VibesAllDay777) July 29, 2021