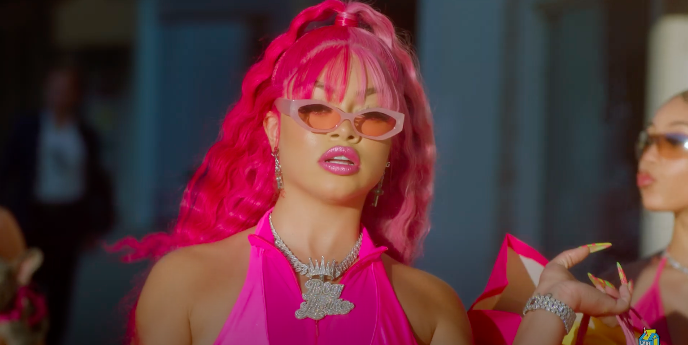 Mulatto released the vibrant visuals for her song, "On God" which is featured on her debut Queen of the Souf project.
Fresh off of lighting the internet on fire with her XXL Freshman Class cypher, Mulatto continues to apply pressure with the Cole Bennett-directed visuals for her track "On God" where we see gender roles reversed as the "B*tch from the Souf" raptress turn men into objects, from coat hangers to urinals to use at her convenience, an interesting twist.
The color schemes of the backgrounds change dramatically between scenes, with Big Latto interchanging between fits of all pink, yellow, and purple as Coi Leray and Mariah the Scientist join her on their trip around town. "On God" is the seventh single released by Mulatto off her album Queen of da Souf and the track was produced by Diego Ave and Bankroll Got It.
Throughout the song, Mulatto shares some braggadocious lines about designer gear & appearance, The song's lyrics detail Mulatto's sexual fantasies, Like other sex-positive songs by female artists, these lyrics also make a statement and a message of female empowerment and sexual liberation.
Quotable Lyrics:
Got 'em like mm-hmm , pussy too good
Real boss bitch, need a n*gga out the hood
Askin' where I'm at, I'm in the wish a bitch would
Pretty-ass face but I'm known for hittin' juggs
Mm-hmm, swipe that card (
Ass on fat and my bag on large
Milkshake bring trap niggas to the yard
He ain't never leave this pretty-ass pussy, on God
Watch the colorful video for Mulatto's song "On God" with guest appearances from Coi Leray and Mariah the Scientist up top, and check out what everyone had to say about her standout freestyle down below.