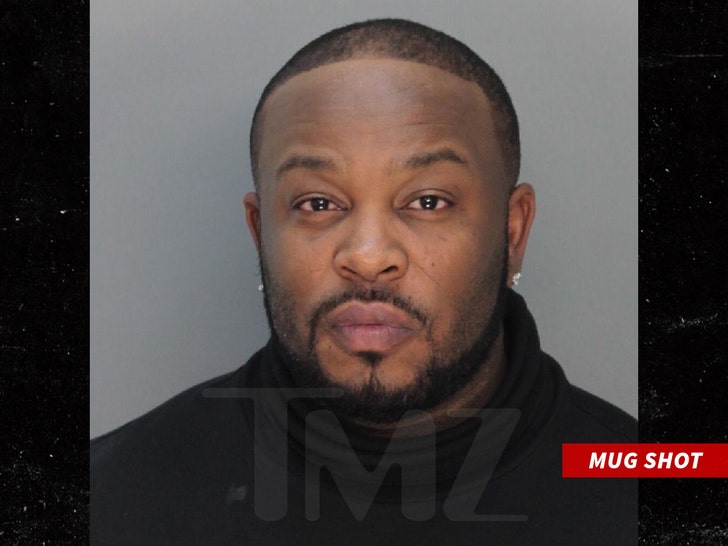 Singer Pleasure P was arrested in Miami Gardens on a battery charge stemming from an assault on a fast food worker at popular burger joint Checkers.
Things aren't looking so pretty for Pleasure P today after he was arrested on a battery charge in his home state of Florida. The offense? He decided to assault a fast food worker after becoming inpatient at a Checkers drive-thru.
NBC Miami reports that P was taken into custody after getting checked at Checkers for starting the whole ordeal in an alleged drunken rage. The official report states that Pleasure P, real name Marcus Cooper, started his tirade at the intercom by yelling for several minutes, then proceeded to drive up to the window to yell some more before finally shoving both money and food into the victim's chest. When policed arrived, they smelled alcohol on Copper after hearing his side of the story and proceeded to arrest him after hearing the testimonies from other Checkers employees who witnessed the attack. Although he was booked and placed in a Miami-Dade jail for an unspecified amount of time, he's since been released, and he's taken to Instagram to deny the allegations against him.
"Yo, don't believe the hype, Imma just tell y'all that right now," Pleasure P said in a video clip. "Whatever they saying is not true. I'm not gonna really explain myself 'cause I don't feel like I have to, but I'm definitely gonna look into what really happened. Y'all will be hearing the real story of what actually did take place. C'mon, y'all know I ain't going out like that. I ain't put my hands on no female or nothin' crazy like that."
The singer may have said in the video that he would talk about the incident at a later date, but he also penned a lengthy caption explaining the situation in detail. "I was wrongfully arrested, instead of checkers having better customer service and correcting my order. food was Thrown at me and the staff was very disrespectful," he wrote. "I asked for a refund and she refused to refund me. Like anybody i became upset but not to the point where i got physical with anyone. I think me being in my position, i should have just let her keep the 60 dollars even tho my order wasn't correct. But hey you live and you learn." Read Pleasure P's explanation in full below. Thoughts?