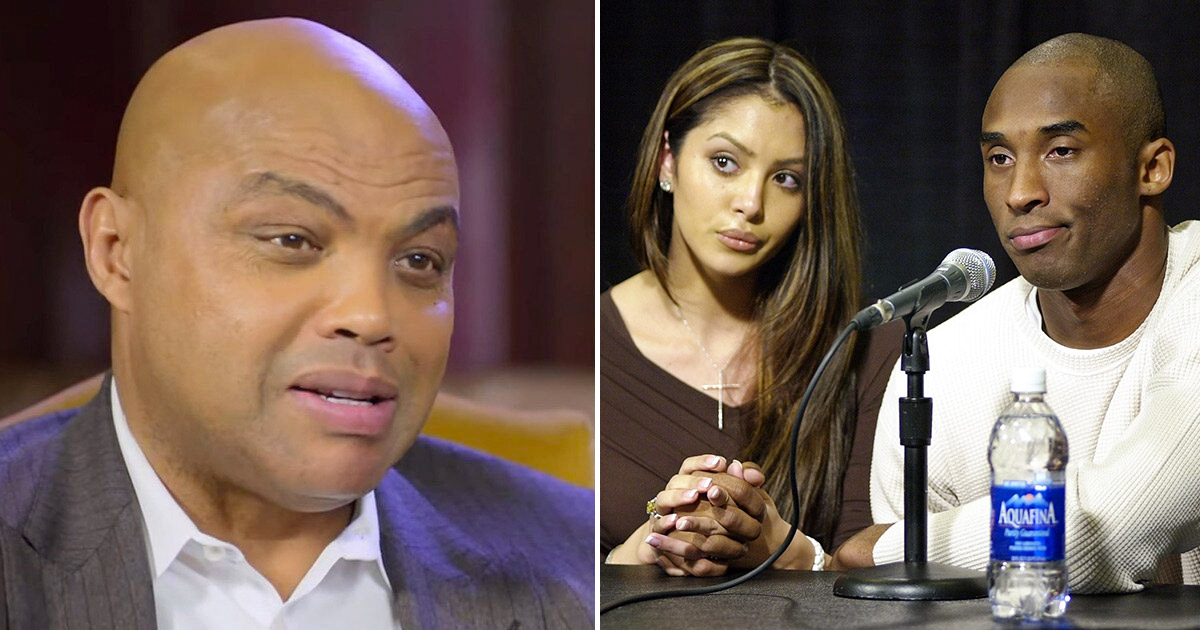 Charles Barkley commented on whether or not he believes the rape accusations against Kobe should be a topic of discussion.
Inside the NBA invaded Today recently when hosts Charles Barkley, Ernie Johnson, Kenny Smith, Shaquille O'Neal sat down to discuss their friend Kobe Bryant. The death of the basketball icon hasn't been removed from headlines since news broke on January 26 that Kobe, his daughter Gianna, and seven of their friends all perished in a helicopter crash in Calabasas, Calif.
The last two weeks have been filled with people remembering Kobe with kind words and condolences, but controversy kicks up dust whenever anyone mentions the 2003 scandal where the basketball star was accused of rape by a 19-year-old hotel employee. The case never went to trial because the woman refused to testify, but she did file a civil lawsuit that was settled privately. Bryant also had to issue a public apology where he stated he truly believed their sexual encounter was consensual, but he recognized that she didn't.
Recently, Gayle King caught international heat after a clip of her interview with Lisa Leslie went viral. King probed Leslie about her opinion on Kobe's accusations, causing many to drag her on social media. The Inside the NBA hosts were asked if they believed, as journalists, it was inappropriate for King to raise those questions so soon after his death. Kenny Smith spoke at length about Kobe's influence and how we're all "imperfect people," but it was Charles Barkley's remarks that stirred up controversy.
"Kobe Bryant is one of the greatest basketball players, ever, and he had a flaw that we all know about," Barkley said. "You have to tell the picture in totality. We're not trying to make Kobe out to be no hero. We're celebrating his basketball excellence. We understand what happened in Colorado. That's fair, but two things can be true."
People accused Barkley of betraying his friend to satisfy the media. Others wondered if Barkley would receive the same level of backlash as King. Watch the clip and check out a few reactions below.
Charles Barkley has ALWAYS been a clown. Idk why people pay him any mind. And I know this even more so from personal experience. 🤡🤡🤡🤡

— L. Norris (@KobeBIsKing) February 15, 2020
Man fuck charles barkley and what he said bout kobe 🤦🏾‍♂️ he been coonin

— Mo Salah Manje 🇭🇹🇩🇴 (@black__pharaoh) February 15, 2020
He's a CLOWN… He REALLY gonna make me stop watching @NBAonTNT he runs his mouth way too much https://t.co/U9pVNc0BA3

— Sherwin Holloway (@BkSherm1) February 14, 2020
"We're not making Kobe out to be no hero. We're celebrating his basketball excellence. We understand what happened in Colorado. That's fair, but two things can be true."
Thank you, Charles. (Kenny, you can take a seat.)
Now, I wonder if Barkley will get threats. https://t.co/ZWqVws5YZn

— The Melancholy Dame (@MelancholyDame) February 15, 2020
Charles Barkley says people Should remember Kobe for his Rape case along with his NBA career. People are wondering why he's not getting the same backlash Gayle King did.https://t.co/D2aaf8b4rp

— Diaspora 7 (@Diaspora_7) February 14, 2020
Wild how all the people who ripped Charles Barkley for his misogyny directed towards the female journalist/reporter a few months back are now applauding his Kobe hero comment. Interesting..smh….

— Donté Bland (@DonteNineTeen86) February 15, 2020
Here we go again. Another moron trying to be cool with the networks 🤦🏻‍♀️ Charles Barkley is disgraceful. Hope he gets falsely accused of something very soon
RIPKobeBryanthttps://t.co/k2SPsiAZuk

— Shahbanu (@ZoroastersChild) February 14, 2020
Even Charles Barkley tryna get clout off Kobe Bryant….Yall dudes is really some true Suckers pic.twitter.com/nSPw99n0Xp

— PanthersBoomin704 (@boomin704) February 15, 2020