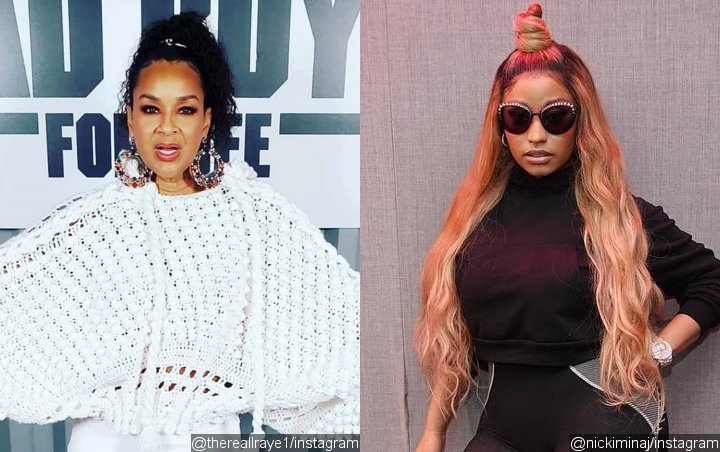 LisaRaye isn't bothered that Nicki Minaj mentioned her on "Trollz" and said she wasn't aware she was relevant enough to be mentioned in a song.
She may not respond to every piece of commentary made about her, but Nicki Minaj seemed to give LisaRaye a little nod on her latest Tekashi 6ix9ine collaborative track, "Trollz." As some people argue about "Trollz" numbers and whether or not the song is breaking YouTube records, others noticed that Nicki Minaj dropped a few bars that could be considered shady. Nicki rapped, "Dolla, dolla bill, come get her / Even your man know Nickis do it better," bars that many claimed were about LisaRaye as they referenced her breakout role in the 1998 film The Player's Club.
Nicki Minaj trolls Lisa Raye in her #TROLLZ verse:

"Dolla Dolla Bill come herrrr, even ya man know Nickis do it betterrrr.." ? pic.twitter.com/BYuIKecKeT

— THE NEIGHBORHOOD TALK (@TNHTalk) June 12, 2020
When asked about the line on The Breakfast Club, LisaRaye seemed dismissive of it. However, when chatting with the ladies on Out Loud with Claudia Jordan, she had a few words to say about the mention. "It has to be about me," LisaRaye said. "My things is, I didn't know I was that relevant' to be put in a song, but that's a good thing. 'Cause it's business. She gotta be trendy, she gotta stay relevant herself and stay current, so why not talk about the things that—I feel like, also, that she must have felt like I must have been saying that made her go [growl]. But of course, we already know it wasn't like that. But hey, she took the one of the number one Black cult films and their leading actress and put it in a song… I just wish I could get some money or some residuals off of it."
"When I looked at my comments, I saw the phrase, but I didn't really know what they were talking about until they kept breaking it down." For now, she's taking it as a compliment and said she's not trying to have beef with anyone during this current political climate. Check out LisaRaye discussing Nicki Minaj's "Trollz" lyrics below.