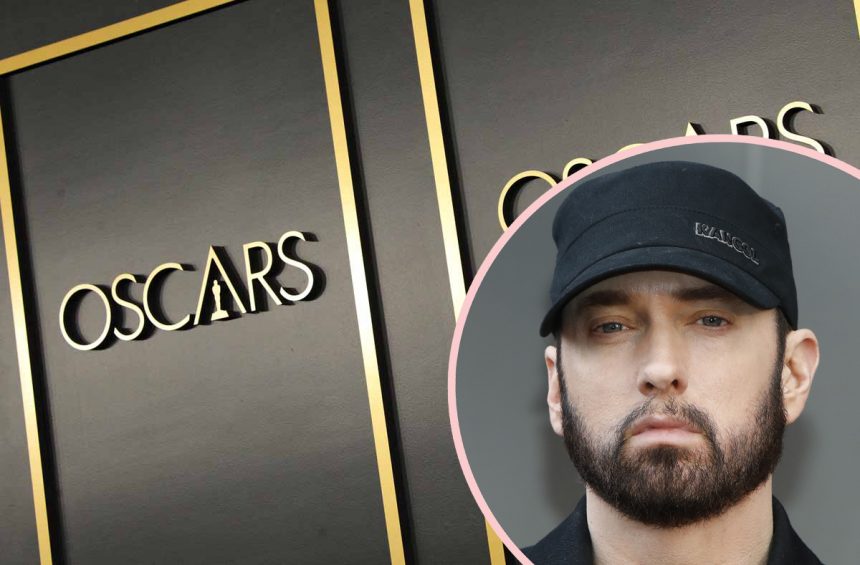 Eminem made a surprise appearance.
Sunday night, Eminem returned with his "Lose Yourself" track to deliver on a surprise performance 17 years after the song won the award for Best Original Song for its appearance in Em's 8 Mile film.
#Eminem performing 'Lose Yourself,' which won Best Original Song at the 75th Academy Awards, at the #Oscars tonight. 🎤 pic.twitter.com/UioaaXdjWD

— Bops & Bangers (@bopsandbangers) February 10, 2020
Here are all the audience reactions to Eminem's surprise #Oscar performance… 😂😂pic.twitter.com/zO4YFSGTkO

— XXL Magazine (@XXL) February 10, 2020
The return was in tune with a moment of redemption for the vet who skipped out on the 2003 ceremonies because he didn't believe that he would actually win and allegedly didn't want to censor the song as he had been asked to at that time. That year, presenter Barbra Streisand gave the statue to Luis Resto, who co-wrote the track.
"Look, if you had another shot, another opportunity," he tweeted in connection with the surprise appearance. "Thanks for having me @TheAcademy. Sorry it took me 18 years to get here."
According to reports, the appearance was so top-secret that the Dolby Theatre was placed on lockdown during his rehearsals. If news of his appearance happened to leak, Eminem would have the full option to cancel the appearance altogether.
Although those at home seemed torn. Some took to Twitter to praise the performance and some were shaking their heads as to why he was there. Take a look below. What did you think?
the fact Eminem made a surprise performance at oscars and he got +540k tweets being the 1 topic of awards, lose yourself is #1 on iTunes, got standing ovation and has 7 albums in top 30 itunes. goat material
pic.twitter.com/dNx71VCURI

— ana (@explicitxshady) February 10, 2020
Eminem's surprise performance at the #Oscars generated more buzz than Joaquin Phoenix's acceptance speech for taking out best actor for "Joker" and South Korean dark comedy "Parasite" winning best picture. pic.twitter.com/4NCKpRKach

— EMINEM (@Eminem_Posts__) February 10, 2020
I still don't quite get why Eminem performed an 18-year-old song last night?

— Chris Hayes (@chrislhayes) February 10, 2020
Elton John and Eminem,

2001 Grammys and 2020 Oscars:

Iconic. pic.twitter.com/9l97HTmAV3

— Yoni (@OriginalYoni) February 10, 2020
I guess for Eminem this opportunity actually comes twice in a lifetime

— elan gale (@theyearofelan) February 10, 2020
Me watching Eminem performing at the #Oscars….. 😬🥴 pic.twitter.com/K0WcCVoAD5

— 𝓜𝓲𝓴𝓮𝓷𝓷𝓪 (@multiiixxeditzz) February 10, 2020
Look, if you had another shot, another opportunity… Thanks for having me @TheAcademy. Sorry it took me 18 years to get here. pic.twitter.com/CmSw2hmcZo

— Marshall Mathers (@Eminem) February 10, 2020