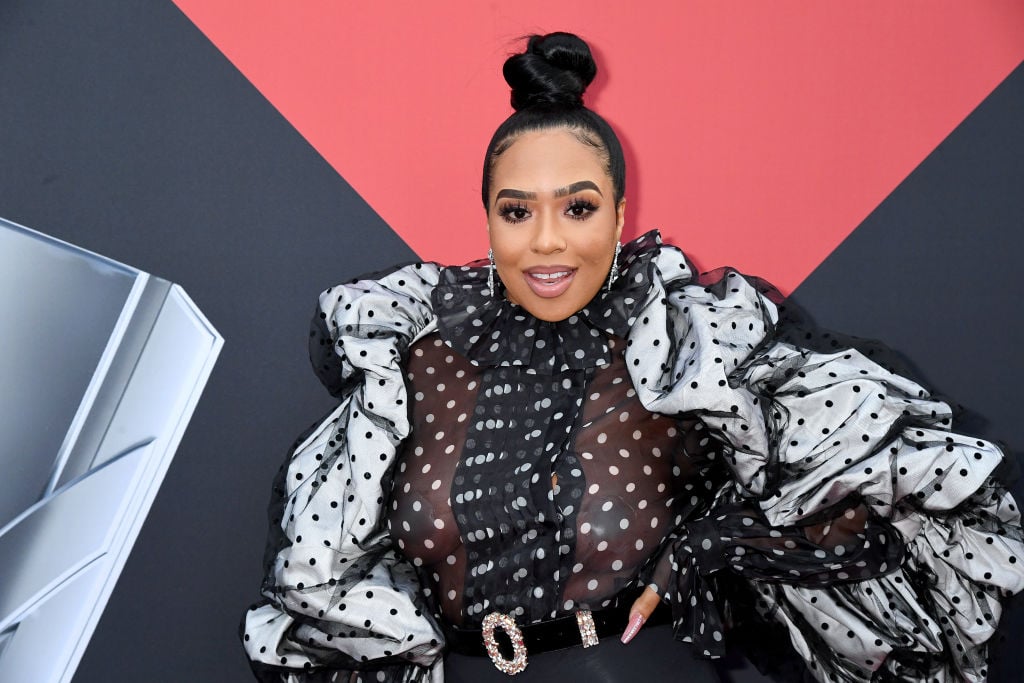 B. Simone has been called out after an interview she did with the "Whoreible Decisions" podcast resurfaced and went viral.
It's been rough for B. Simone as of late. The social media influencer was at the top of her game without a care in the world just a few months ago, but in recent weeks, she's been the target of controversy. First, she told Nick Cannon that she doesn't date men who work nine-to-five jobs because she desires to be with an entrepreneur and people slammed her for her comments. Then, bloggers and writers came forward to say that portions of her manifestation book were plagiarized, an accusation that B. Simone confronted head-on as she accepted responsibility for her team dropping the ball.
On Friday (June 26), B. Simone found herself at the forefront of controversy after an old interview resurfaced. Back in 2017, B. Simone sat down with the Whoreible Decisions podcast and talked about dating in Atlanta. She stated that you have to be careful because "you been done swiped up on a tr*nny and you won't know until you're in the bedroom with 'em." She then called the ATL a "mess" and said "I have nothing against the LGBT, lettuce, bacon, tomato community, but I love all y'all. One of my best friends is a tr*nny but she's honest and open."
B. Simone emphasized that she has many gay friends and is an ally, but she has a problem with those on the "down low" who hide their sexuality. The group then went on to discuss how they define "tr*nny" and "crossdressers." Once again, the backlash was swift, and people accused B. Simone of being transphobic with many including other popular names like TS Madison and Sidney Starr even coming to check Simone's neck. Check out the clip below along with a few reactions.
At this point B.Simone just needs to be quiet for the rest of the year. https://t.co/hvuUeF9GfE

— J.MONROE? (@_jasmineMONROE) June 26, 2020
B Simone really said, "I have nothing against the LGBT, Lettuce, Bacon, Tomato community" She really digging that hole deeper and deeper. pic.twitter.com/LdMwaDPUhh

— Emprex B. ????? (@TarotByBronx) June 26, 2020
B Simone said she had transgender friends but continued to call them tr*nnies that's how you know she's terrible friend and don't talk to none of them ?? that word is a slur and degrading.

— triple taurus (@evelynvwoodsen) June 26, 2020
Being transphobic does not only mean physical violence towards ppl who are trans, it's also those nasty little microaggressions, using slurs, making hateful "jokes" at the expense of a community whose life expectancy is under 35. Fuck B Simone.

— ? (@shez_a_virgo) June 26, 2020
How you transphobic, 9-5phobic, AND a thief ? B Simone is the biggest bird in history… bitch got cancelled 3 times in less than a month ?

— ?????? (@bby_cheree) June 26, 2020
NOT B SIMONE CALLING US THE

LETTUCE BACON TOMATO COMMUNITY… pic.twitter.com/j5AyiU66fe

— DIORkewchi? (@heirquan) June 26, 2020
\
All I can say with B Simone that she didn't tell y'all is manifestation comes with protection. Make sure you are protecting yourself and your interests ? people get so caught up in manifesting without safeguarding. Also, making sure you have a good heart and pure intentions.

— ?? Auntie Double C Biqueen ? (@taisoleil) June 26, 2020
Damn. I really feel bad for b simone. ? I don't think she is homophobic, I just think that her word usage was bad and that she was a little ignorant regarding the trans community in general. Her other comment saying lgbtq lettuce bacon ect was unwarranted and a bad joke.

— LizabethAnn (@ForeverQueenE_) June 27, 2020
That must be one of the dumbest excuses I've ever heard. B. Simone needs to look at it in a different context. That's like saying it's okay for me to say the n word because my black friend allows it. What's crazy is there's people out there like that. ? https://t.co/xXJl1d7n47

— Fazed (@premiumfaze) June 27, 2020