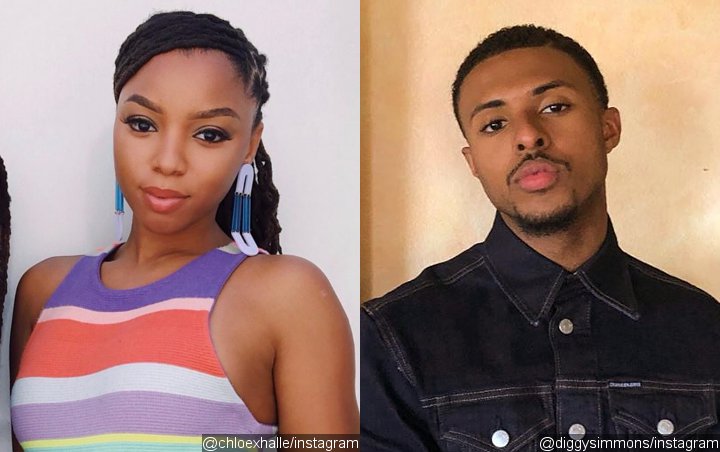 Twitter was on attack mode… per usual.
Stan Twitter is back at it again, and this time, they're tearing up Diggy Simmons in defense of Chloe Bailey from R&B duo Chloe x Halle, based off lyrics from their new album Ungodly Hour, released Thursday.
The drama is best summed up by one Twitter user writing, "I come on twitter at 3am to y'all dragging Diggy bc apparently he cheated on Chloe bc they apparently dated and got a white girl pregnant and y'all got all of that from a few lyrics from Chloe x Halle's album…MAM."
The theory is, Diggy cheated on the 21-year-old songstress and managed to get another woman pregnant. Twitter had Chloe's back and wasted no time to eat Diggy up, despite the limited evidence to support this theory. The 25-year-old Grown-ish star was even trending on the social media platform. See below for some of the choice words fans had for Diggy.
not everybody calling diggy a piece of shit pic.twitter.com/0CBpJnqStT

— ashley (@shitgoes_boom) June 12, 2020
WAIT A DAMN MINUTE ……….. IS CHLOE SAYING DIGGY GOT A GIRL PREGGERS UH pic.twitter.com/7qA4Hf5RhH

— zoe⁷ (@cyberspacehobi) June 12, 2020
The lyrics in question from the new album that apparently confirm these theories come from the track "Busy Boy" where Chloe sings, "I think I just stumbled on your girlfriend's page/Congratulations/She sayin' that the baby comin' any day."
Fans also point to "Do It," where Halle sings, "No drama, no baby mamas."
Yall messy for having Diggy trending 😂 pic.twitter.com/a6fceoA0Ks

— uɐnbɐɥs (@generationxciv) June 12, 2020
This diggy mess reminding me of the night lemonade dropped pic.twitter.com/GCCWWYdNGP

— tahlil ~ fan account (@ungodlyonce) June 12, 2020
The way diggy getting dragged and we not even 100% sure. pic.twitter.com/8FGlWiSfY3

— confusedcancer (@spookyfrimthamo) June 12, 2020
@diggy_simmons come online real quick we not gon jump you pic.twitter.com/YjqJrvRldD

— Nay☯️ (@NaySakai) June 12, 2020
black stan twt on diggy simmons head after listening to busy boy: pic.twitter.com/bgsGlH3RJV

— ¹²⁷blm⁷ ❂ (@softiesooyoung) June 12, 2020
Rumors of Chloe and Diggy being an item have been floating around since their on-screen romance on Grown-ish as Doug and Jazz. Last year, paparazzi captured shots of the two on a potential date. On an Instagram live, Halle hinted at Chloe dating someone from the Grown-ish cast in real life.
Do you think Diggy deserves the hate or is Twitter doing too much? Let us know what you think.