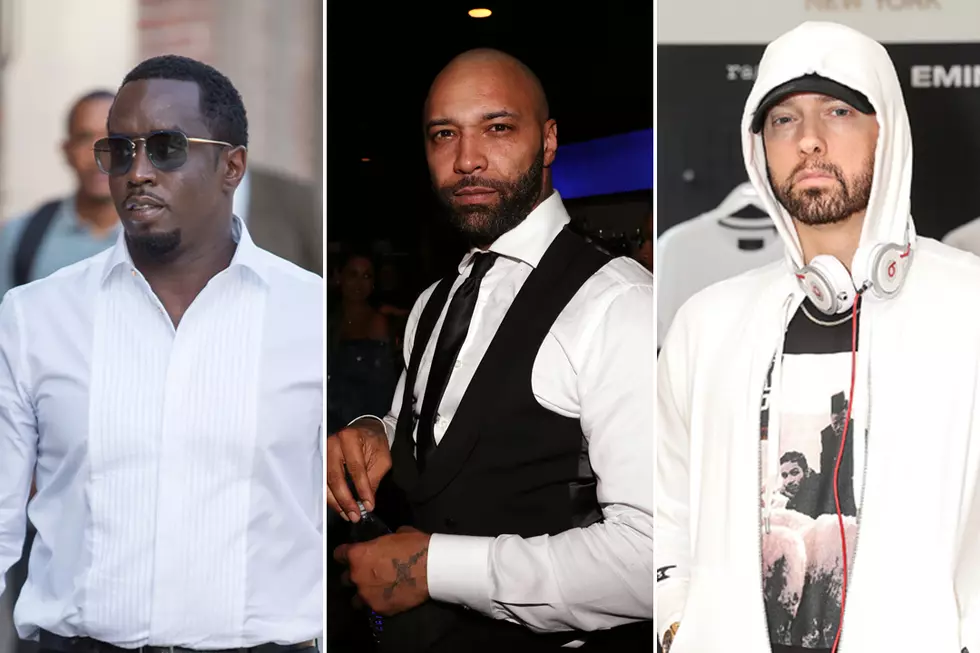 Eminem brings up Joe Budden's incident with the Migos and disses Diddy's REVOLT TV network in the leaked version of the song.
Conway The Machine has continued his rise as one of Griselda's rising stars well into this year. One of his biggest songs of the last few months has been "Bang," which includes a verse from Eminem. The track is noteworthy for many reasons, including Em's bars about Ja Rule and Canibus. The original version was apparently even more inflammatory though, having been leaked this weekend and revealing lines that were scrapped about Diddy and Joe Budden.
Directly following his section about Canibus and Ja, Eminem went into a zone, speaking on Diddy and his REVOLT TV network, as well as his thoughts on Joe Budden in the leaked version of "Bang."
"Shout to Puffy Combs, but fuck Revolt," raps the Detroit legend. "Y'all are like a fucked up remote. Now I get it why our button's broke. Cause you pressing him but do nothing though, especially when it comes to punches throne."
He goes on to spit some clever bars about being sick and having a stuffy nose before dropping bringing up Joe Budden's infamous incident with the Migos on the 2017 BET Awards red carpet.
"Tell this journalist stick to the stuff he knows, like always running from Migos," says Slim.
Revolt didn't mince their words in their response. "Fuck you too Eminem," they said in response on both Twitter and Instagram. "Back to our regularly scheduled program," they captioned their IG post with an emoji of a Black fist.
At this point, we haven't heard much of a response from Joe Budden. However, shortly after Revolt's tweet, Joe Budden, who hosts State Of The Culture on Revolt, tweeted, "Joe loves everybody."
We'll let you know if Eminem ever responds but it's doubtful. Thoughts on all this?
Joe loves everybody!

— Joe Budden (@JoeBudden) June 22, 2020