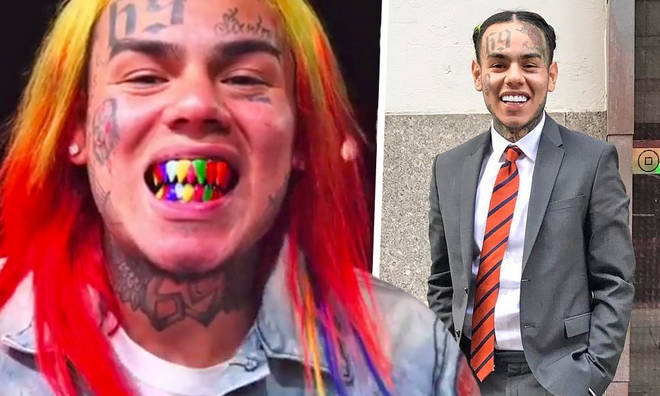 An attorney for 6ix9ine, as well as other legal experts, predict the rapper will not be safe after his house arrest ends…you know, the obvious.
The return of Tekashi 6ix9ine has felt like an entire episode of Black Mirror that's been running for the past month. Though it's not uncommon to hear of rapper's cooperating, Tekashi 6ix9ine openly embraced. Perhaps that's all he can do but he's also made it his mission to deflect the attention off of him by calling out other rappers in the game (i.e. Snoop Dogg, Meek Mill, Future, etc.).
Dawn Florio, one of 6ix9ine's attorneys, told the New York Post she's "concerned" about his release following the string of feuds he's engaged in. Though he's under house arrest at an undisclosed location, Florio said that she fears for his safety since he declined to go into WPP.
"Lots of people condemn Danny for cooperating with the government. Even a young gang member who wants to make a name for himself could try something. He's in great spirits but I won't rest easy until he's located in a different state with 24-hour security," she said.
Though Florio is concerned, an attorney for one of the members of Nine Trey said that he assumed that 6ix9ine would be dead after his release. However, he also stated there's been a shift in attitudes among fans. "It used to be that a rat was the worst thing you could be .?.?. It's not very 'God­father'ish out there anymore," the attorney said.
Meanwhile, a former hip-hop cop. Derrick Parker, seemingly praised 6ix9ine's "extraordinary" act.
"Tekashi did something extraordinary in giving up his whole gang," Derrick Parker told The Post. "There are still hardcore rappers like Fat Joe who would never snitch. But I think [fans] are going to forgive [Tekashi] and he'll be bigger than ever."
Do you think 6ix9ine should count his days or will this troll continue to sprinkle rainbows throughout hip hop?