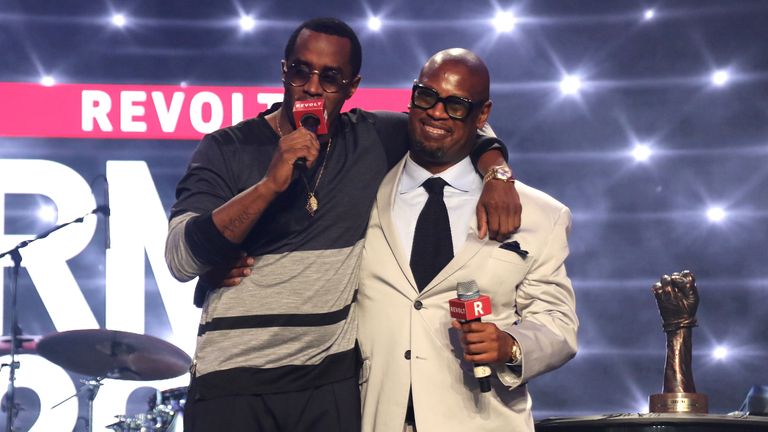 2020 can go to hell at this point. Andre Harrell, one of the most influential music industry personalities, especially in hip hop and R&B, has reportedly passed away.
It's with extremely heavy hearts that we report the passing of Andre Harrell. While his cause of death is unclear, the news has just circulated that the 59-year-old passed away—news that was delivered by DJ D-Nice as he was performing one of his popular Instagram Live Club Quarantine sessions. There hasn't yet been an official statement released from Harrell's camp.
His name may be unfamiliar to some, but the impact that Andre Harrell had on the music industry is undeniable. He was responsible for signing Sean "Puffy" Combs to his very first record deal and was the founder of Uptown Records, a label that held artists like Al B. Sure!, Christopher Williams, Biggie, Jodeci, Guy, Heavy D. & The Boyz, Father MC, Mary J. Blige, Soul 4 Real, and many others. Harrell would also serve as the President and CEO of Motown Records for a time as well as the Vice president and General Manager of Def Jam. At the time of his passing, Harrell held the position of Vice Chairman of REVOLT TV & Media.
As this news is fresh, we expect there to be many reactions from industry professionals and performers about Andre Harrell no longer being with us. We send our heartfelt condolences to his family, friends, and fans. Read through a few tweets about him below.
Sitting here crying while playing Heavy D's "Peaceful Journey" Andre Harrell created a part of black culture that can't be duplicated. Young, fly, sexy, and creative! I hope he left us knowing HE WAS BLACK EXCELLENCE #Andreharrell pic.twitter.com/FEdOj7tD7w

— Bianca DeVeaux (@HouseOfDeVeaux) May 9, 2020
Andre Harrell always dressed like a mogul. Hip-Hop was in its infancy. I can only imagine the respectability politics at the time…

I think the optics of him, in the music industry, said something. To me it was — Just bcuz it's "urban" doesn't mean its not real business 👔💼💰 pic.twitter.com/LdS4MZhsgU

— Shelby Ivey Christie (@bronze_bombSHEL) May 9, 2020
Uptown Records changed the fucking game. Rest In Peace to Andre Harrell, an innovator and true icon in this culture that we consume every single day.

— Trey! (@treyals) May 9, 2020
The music that came through Uptown Records, undeniably, helped shape my musical tastes during my teenage years. I owe much to Andre Harrell, whom I never met. He was only 59 years old. We keep seeing so many black folks die so early. I'm worn down by it. https://t.co/rP7SP5ynq7

— Jamil Smith (@JamilSmith) May 9, 2020
BREAKING NEWS: While @djdnice was spinning tonight on IG Live in #ClubQuarantine, he announced that legendary music man Andre Harrell has died. He was 59. Just stunning. Harrell founded Uptown Records and paved the way for many in the music industry. #RolandMartinUnfiltered

— rolandsmartin (@rolandsmartin) May 9, 2020
"my goal is to bring real Black america-just as it is, not watered down-to people everywhere through music, through films, through everything we do." – andre harrell pic.twitter.com/HsrGyER1AC

— nadirah (@hinadirah) May 9, 2020
Without Andre Harrell, you get no P Diddy, no Mary J, no Guy, no Heavy D, no Biggie, no Soul 4 Real.. none of that! LEGEND

— Wells P (@Wells_P) May 9, 2020
"For the culture" is used very loosely nowadays. Andre Harrell was that and then some. Thank you. 🙏🏾 pic.twitter.com/k4CSSeBsLZ

— ᴅᴏʟʟᴀʀ (@callmedollar) May 9, 2020
Dude. #AndreHarrell man.

He gave you the best soundtracks of your life man and you didn't even know it. We never gave him his flowers.

He redefined the party!

Def Jan was the artform.
Bad Boy was the attitude… https://t.co/mPD2R8MZK1

— Hold On Be Strong (@questlove) May 9, 2020