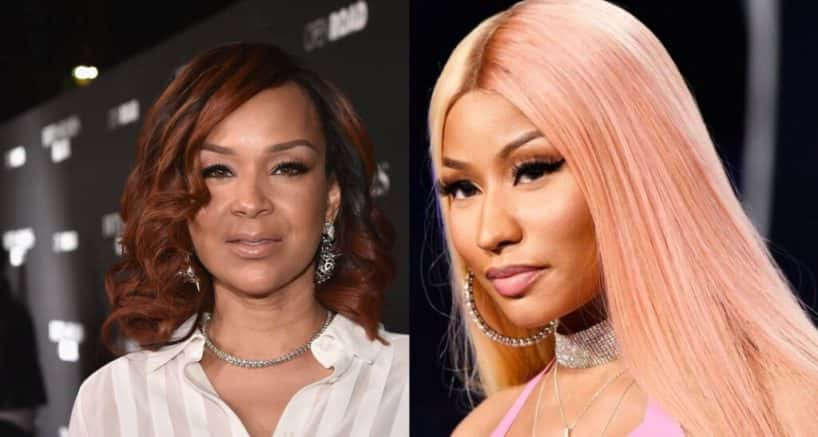 LisaRaye McCoy speaks on the lyrics that Nicki Minaj had for her in "Trollz" and the Barbz' reaction to them.
LisaRaye McCoy made headlines several weeks ago when she simply spoke truth about Nicki Minaj, saying that she should "bow down" to the people that came before her — specifically Lil' Kim. For years, Nicki has somehow gotten by with claims of being the "Queen" of rap along with alleging that everyone's following her, despite obvious and consistent Lil' Kim comparisons. Once she heard them again last month, she decided to devote part of her verse to LisaRaye.
"Dollar, dollar bill, come get her/Even your man know Nickis do it better," rapped Minaj about LisaRaye. Her lyrics reference the actress' claims that Nicole Murphy (another Nicki!) wrecked her marriage.
Well, LisaRaye stepped into The Breakfast Club to officially respond to the drama, getting above it and brushing it to the side.
"Let me tell you, I didn't know what the hell they were, first of all," she tells DJ Envy and Angela Yee about the Barbz, Nicki Minaj's fans. "And I didn't know they were coming after me. Vivica Fox is the one that called and she asked me, she says, 'Are you okay?'"
Fox explained to her who the Barbz were before giving her the rundown on why they were pissed. Once she understood, she looked into it and decided that she did not care one bit.
"Maybe about 25 comments in, I was like, 'I don't give a damn about this.' 'Cause I don't," she said. "I'm way above anybody that wanna come after somebody that they don't know, want to misappropriate what I said and take it out of context. I don't have time to be fighting that kinda fight 'cause we are fighting a real fight right now."
LisaRaye goes on to say that music should not be about beef.
"Music shouldn't be about a beef. It's not mafia, it's not gangster, it's entertainment," said LisaRaye. "It's music, so let's keep it light while we're not tearing each other down."
Watch below at the 4-minute point.