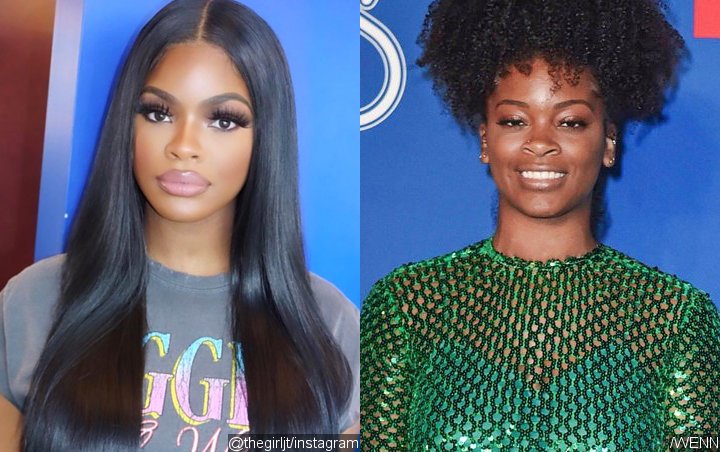 JT blocked a fan after they simply suggested she and Ari Lennox favor.
Somebody rubbed City Girls rapper JT the wrong way this weekend as she hit the block button on a fan for simply insinuating that she looks like songstress Ari Lennox.
As the world goes crazy over Ari's latest stunning picture uploads on Instagram, JT is not here for anyone comparing the two. The rapper was seemingly bothered after a tweet went viral, suggesting that she looks like Ari Lennox.
hear me out pic.twitter.com/w5ndEERJ8o

— 𝐜𝐡𝐫𝐢𝐬𝐭𝐢𝐚𝐧 – 𝐮𝐧𝐠𝐨𝐝𝐥𝐲 𝐞𝐫𝐚ˣ (@UNGODLYERA) October 17, 2020
"Hear me out," wrote a Chloe x Halle stan account on Twitter, sharing a side-by-side picture comparison of JT and Ari Lennox. Clearly, the City Girls star was not enthused because, mere hours after the tweet started gaining traction, picking up thousands of retweets and likes, she blocked the user to ensure that she never sees another post from them again. Was the comparison that bad? Ari Lennox is beautiful and, in the images the fan shared, they do look pretty alike. So what made her block them?
Once Twitter got a hold of what happened, most agreed that the two do look similar, one which JT replied tweeting "No I don't, she pretty but we don't look shit alike & she don't look like Dreezy and y'all say I look like her! So who I look like cuz at this point y'all just trying to go viral tf," before deleting her tweet
I mean, I suppose sometimes comparisons can be annoying especially when you don't see them yourself. But do you think it warranted a block? More importantly, do these ladies look alike? Peep the receipts along with some reactions below:
? https://t.co/w2rINInzcn pic.twitter.com/BdFwhwmoMS

— 𝐜𝐡𝐫𝐢𝐬𝐭𝐢𝐚𝐧 – 𝐮𝐧𝐠𝐨𝐝𝐥𝐲 𝐞𝐫𝐚ˣ (@UNGODLYERA) October 17, 2020
She's getting upset because someone said she looks like Ari Lennox pic.twitter.com/8xo9jkVaqw

— 𝖘𝖍𝖔𝖓𝖙𝖊 ✰ (@hauntedwoman) October 17, 2020
Why is JT acting like it's an insult she looks like Ari Lennox? Bitch you should feel complimented cause she look better to me.

— Lucifína (@synsati0n) October 17, 2020
I still can't believe JT blocked that girl for comparing her pic to Ari Lennox like it was a diss or something . Ari soooo fineee.

— Kay Blanco 🇭🇹 (@Ms_K_Blanco) October 19, 2020
Lol why JT delete them tweets about people saying she looks like Ari Lennox? She was right this time. Her and Ari literally look nothing alike. Now they dragging it.

— J (@pettyyonce) October 17, 2020
Ari Lennox / JT 😍😍😍😍 ELITE BEAUTY pic.twitter.com/bj8bx7ziex

— Like water for chocolate 🇯🇲 (@CheeriRo) October 15, 2020
Ari Lennox and JT both have those faces that you just 😍😍😍 both just beautiful. Not cute .. not pretty.. but BEAUTIFULLLLLLLLLL

— savychytah ✨✨ (@skin_n_makeup) October 19, 2020
Why did JT block that girl for saying she looks like Ari Lennox? Isn't that the highest form of praise????

— ✨ (@peacewest) October 20, 2020
JT is a pretty woman 😍❤️. She lowkey gives me a Ari Lennox (in a ratchet way) type vibe.

— Cartae Phillips (@CARTAEPHILLIPS3) October 14, 2020