| | |
| --- | --- |
| ARE YOU SURE?: Tory Lanez Says He Doesn't Condone Snitching After Showing Love To 6ix9ine | 18.09.19 |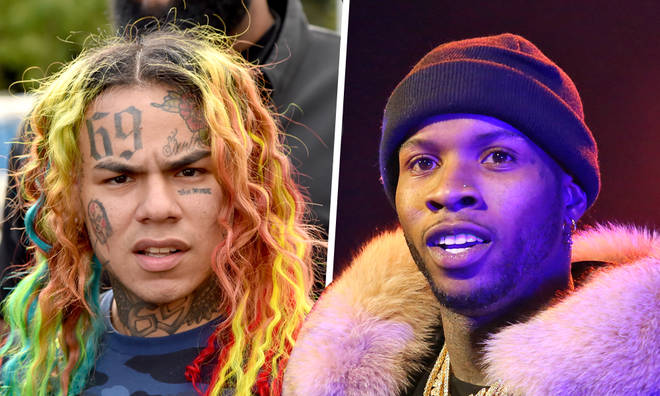 The streets were pressing Tory Lanez on his recent comments about 6ix9ine.
There are very few people that miss Tekashi 6ix9ine right now. We could presume his mother probably wants him home, as well as his daughter, but one person who caught a serious amount of backlash for even showing the tiniest bit of love to 6ix9ine is Tory Lanez. In a recent interview with Complex, Tory stated his position on 6ix9ine taking the stand.
"As a person, bro, and regardless of whatever he did, I kinda miss that guy," he said. "That was my n*gga. He's a funny guy. As a person, he was a funny guy. Maybe n*ggas won't say that or won't say…I really just don't care. I don't give a f*ck about how people view me. N*ggas don't like me already. I don't care."
Clearly, he didn't expect the type of backlash he faced for his comments. He shared a statement on Instagram that clarified his stance. He explained that there's a difference between showing love to someone you made records with and condoning someone's actions. He also revealed that the interview just so happened to come out on the day that 6ix9ine took the stand, although he filmed it days before that.
"I have real family that did real time becuz of this and I don't play about that at all," he said. "However, I will say like I said. When he was he was out, he was funny guy and a entertainer and what seemed to be a genuine dude. And that's the side of him I remember."
| | |
| --- | --- |
| AND I OOP!: The Ladies of 'The Real' Quickly Fire Back at Wendy Williams & Tamar Braxton After Being Accused of "Doing Her Dirty" (WATCH) | 18.09.19 |
Tamar sat down with Wendy Williams today and shut down any thought that she'd make a return to 'The Real' anytime soon.
Tamar Braxton went on The Wendy Williams Show today and said she wished her former cohosts on The Real well, but doesn't want to be invited back as a "marketing tool." Rumors circulated that Loni Love had conspired to get Tamar fired from the show in 2016, and Loni is determined to set the record straight. She and the rest of The Real cohosts quickly responded to Tamar's comments after Wendy Williams shaded them for the Braxton Family Values star's firing.
"Would you ever go back to The Real?" Wendy asked Tamar, "Cute show, but they need you. You were done dirty."
"Here's the thing. I don't want to be anybody's marketing tool this season, no shade," Tamar responded. "I just wish everybody well and I feel like sometimes God has to move you out of situations before you become more toxic to yourself." She added, "What if I was in a situation where I'm doing [Braxton Family Values] and very stressed and then I'm doing this other show where people are being catty behind my back. What kind of person would I be right now sitting on this couch? I wouldn't be focused, I wouldn't be ready for my transformation, I wouldn't be ready for my elevation and that's where I've got a go. I've got to go up and up and up."
Loni quickly clapped back on The Real which aired soon after and said, "First of all, thank you for calling us a 'cute' show. We are also an Emmy-winning show. Don't forget that." Before continuing, "You are still welcome right here too and every time. It is not a big deal. Seriously, we as black women have to stick together. We as women have to stick together. It's no pettiness. We need to have you come here so we can close the circle." She added, "We love you, Tamar. You are a powerhouse. We know you. You know us. That's all."
Tamera Mowry jumped in and said, "I can speak for all of us here, and especially for myself. I have been in the business for over 20 years. And my reputation is not one of cattiness. And I agree with you, Loni, it's time. It's time for me to say this. It's time for women of color to stop putting each other down. We already have other people doing that. More importantly, start uplifting each other. Loving each other."
The Real cohosts got emotional as Tamera, 41, said, "I'm tired of it. I'm tired of it. It's unfair. It's unfair. I worked hard on my character each and every freaking day. And everybody who was close to me knows that truth. What I don't like is that out there. The falseness."
Loni added, "What people don't realize is that when we first started doing The Real all of us had separate careers. I've been trying to do comedy for 15 years. Can you imagine? 15 years. I finally get a show. Then I was ostracized as a bully, the person who got another sister fired. Can you imagine the hurt, after 15 years? Why would I do that?"
Peep the clips below. What do you guys think of all this? Should the ladies just sit down and hash it out?
Today in #GirlChatLive: We address Tamar's comments on "The Wendy Williams Show." pic.twitter.com/qkLX13JzMl

— The Real (@TheRealDaytime) September 18, 2019
| | |
| --- | --- |
| IN CASE YOU MISSED IT: Cardi B's "Bodak Yellow" Is The Highest RIAA-Certified Single By A Female Rapper…EVER! | 18.09.19 |
"Only the real can relate."
Cardi B's boss ass single "Bodak Yellow" that was the first taste off her debut album Invasion Of Privacy has become a staple for the rapper's career and never-ending success. The track was released in 2017 and two months after it arrived it secured a Gold plaque, followed by a Platinum plaque leading to her new milestone title of being the first female rapper to have the highest certified single that's 9x Platinum. 
"Bodak Yellow" has also given Cardi a unique title of having one the longest-running songs at #1 on the Billboard Hot 100 list. Lauryn Hill's "Doo Wop (That Thing)" from 1998 was the first to hit the three-week mark, followed by Cardi and more recently Lizzo made the breakthrough. 
"I wanted to do a song that is, like, 'You know what? I'm in a good place in my life right now and I want to stun,'" Cardi B previously explained when discussing the making of the hit song. "I felt it in my soul — this song is going to be so popping. While I was recording it, every bitch I don't like came into my head."
When Cardi said she "don't gotta dance," because she "make money move," she meant that…and we love to see.
Congratulations again, Bardi!
| | |
| --- | --- |
| THE PROFESSIONAL VICTIM STRIKES AGAIN: Taylor Swift is Back to Talking About Kanye West Again; Calls Him "Two-Faced" – "He Did the Same Thing to Drake" | 18.09.19 |
Taylor reflects on her past problems with Kanye in a new interview with Rolling Stone…again.
Taylor Swift has new music to promote so she's playing that same old song again. Rolling Stone released a new cover story today (Sept. 18) on Taylor Swift, where she goes in depth about her newly released album Lover, past relationships, and more…and of course she went in detail about her past problems with Kanye West, which she has now accepted is just on "bad terms."
Speaking on Kanye's Vanguard Award moment at the 2015 MTV Video Music Awards, where he ran up on stage, Taylor said Ye called and talked with her for over an hour about getting her to present the award before he eventually turned on her.
"He can be the sweetest. And I was so stoked that he asked me that. And so I wrote this speech up, and then we get to the VMAs and I make this speech and he screams, 'MTV got Taylor Swift up here to present me this award for ratings!' And I'm standing in the audience with my arm around his wife, and this chill ran through my body," she said. "I realized he is so two-faced. That he wants to be nice to me behind the scenes, but then he wants to look cool, get up in front of everyone and talk shit. And I was so upset."
Taylor then says she still tried to move beyond all this after Kanye apologized and later called her regarding her reference on his song "Famous." "For all my Southside niggas that know me best / I feel like me and Taylor might still have sex / Why? I made that bitch famous," he rapped on the Pablo record.
Taylor says once she heard the final version of the song, she just accepted the "bad terms" of their relationships. She said, "I'm done with this. If you want to be on bad terms, let's be on bad terms, but just be real about it," before going onto say he did the same thing to Drake.
"And then he literally did the same thing to Drake," she added. "He gravely affected the trajectory of Drake's family and their lives. It's the same thing. Getting close to you, earning your trust, detonating you. I really don't want to talk about it anymore because I get worked up, and I don't want to just talk about negative shit all day, but it's the same thing. Go watch Drake talk about what happened."
Read all that and more in the new interview right here.
I hadn't done a @RollingStone cover in 5 years, and hadn't seen @hiattb since I got in 2 car crashes while driving him around during our interview in 2012. 🤦‍♀️ There were no cars driven this time, but we had a lot to catch up on.
📷: Erik Madigan Heckhttps://t.co/NAFBh0pUgI pic.twitter.com/fwbRYouo8r

— Taylor Swift (@taylorswift13) September 18, 2019
| | |
| --- | --- |
| I KNOW YOU LYING: Dave East Accused Of Battery After Threesome Reportedly Turns Violent | 18.09.19 |
What happens in Vegas…
Ménage à trois encounters are supposed to be enjoyable, but for Dave East, it landed him in hot water with the police. Last Saturday, East was slated to perform at Drai's nightclub in Las Vegas. Everything went off without a hitch and East even invited two women back to his Delano Las Vegas hotel room for a nightcap. However, things allegedly took a turn after they began having sex.
According to a police report obtained by the folks over at TMZ, during the sexual encounter, one of the women became upset with the rapper because he wasn't paying as much attention as he was the other woman. East told responding officers that the irate woman began throwing bottles of champagne at him—two of which hit him. One reportedly clocked him in the head and he was left with injuries to both his arm and leg. A friend of Dave's came into the room after the fight began and told cops that he saw the woman chucking bottles at the rapper.
The woman told a differing story. She claimed that while having sex, she and East began to argue. This caused him to allegedly begin swinging at her, one of which landed on her arm. That's when she said she became frightened, ran into a restroom, and called the police. She never said she threw anything at East. The woman's witness, another woman, also stated that East was at fault for the argument. Basically, the men told one story and the women told another.
No one was taken into custody, but both East and the woman visited hospitals to be treated for their injuries. The rapper reportedly received a CAT scan. They also were both cited by police for misdemeanor battery. Stacey Richman, East's attorney, shared that the only time Dave reacted to the woman was when he held her arm to remove her from the room. Richman denies that East was ever violent with the woman but wanted her gone because he was trying to make sure that everyone else would be safe and out of harm's way.
| | |
| --- | --- |
| RUN ME MY MONEY: Lee Daniels Ordered To Pay $1.7 Mil To Dame Dash In Biopic Settlement | 18.09.19 |
Can we get the Richard Pryor biopic, though?
Investing in projects that he believes will make him a healthy profit is something that Dame Dash knows how to do, and he does it well. When Lee Daniels and Dame had a conversation about working together on a Richard Pryor biopic, it seemed as if it was a match made in heaven. Dame reportedly gave the Empire creator nearly two million dollars to fund the project but in the end, things just didn't come together as expected. 
Dame anticipated seeing the return on his money as soon as possible but that didn't occur. The former Roc-a-Fella Records CEO sued Daniels for $5 million and in the suit, Dame declared that Daniels didn't share details of the project's development as their contract stated he should have. The 2018 suit was quickly settled with the details of the case being held as confidential.
However, The Blast reports that they have details of the settlement as stated by the court documents. Daniels was ordered to pay Dame $1,782,500 in total from November 2018 to January 2021. Per their agreement, Dame cannot speak negatively about Daniels in the public and Dame was required to remove any disparaging social media posts about the producer. This included the viral video of Dame confronting Daniels about his debt when he ran into him at a concert.
Meanwhile, the rumors of a Richard Pryor biopic have been circulating for years. There were murmurs that Nick Cannon or Mike Epps could portray the iconic comedian and the gossip mill even said that Jay Z was somehow involved in the production. Pryor is certainly deserving of biopic attention, but who knows if this will ever come to fruition.
| | |
| --- | --- |
| HERE FOR IT OR KEEP IT?: Whitney Houston Hologram Tour Dates Have Been Announced | 18.09.19 |
Are you ready to see Whitney live once again?
Whitney Houston is coming to a city near you. In May, we reported that Houston's estate was entertaining the possibility of using past images and videos to create a hologram performance of the late singer. It looks as if they moved forward with the idea with gusto because on Tuesday the first set of the Evening With Whitney: The Whitney Houston Hologram Tour dates were announced. 
The world lost a powerhouse singer in 2012 when Houston was found dead of an overdose in her Beverly Hills Hotel room during Grammy weekend. Since that time, and even while she was alive, there have been jokes made at Houston's expense, so her estate wants to carry on her legacy by highlighting her impact and accomplishments.
"A hologram show is all about the imagination and creating a 'wow factor' that extends to an incredible experience to enjoy for years to come," said Pat Houston, Whitney's former manager and CEO of her estate. "Whitney is not with us but her music will live with us forever. We know we made the right decision partnering with BASE because they understand how important it is to produce a phenomenal hologram."
In addition to a hologram figure of Whitney, there will also be backup dancers, singers, and a live band. The Evening With Whitney: The Whitney Houston Hologram Tour kicks off in January in Mexico and, for now, is set to run until April. More dates are expected to be announced soon. Other hologram shows and tours that have been attempted in the past included artists like Maria Callas, Roy Orbison, Tupac Shakur, Michael Jackson, and Frank Zappa.
January 23 – February 9, 2020 – Mexico 
February 27, 2020 – M&S Bank Arena 2 Arena – Liverpool, England
February 28, 2020 – Apollo – Manchester, England
February 29, 2020 – First Direct Arena – Leeds, England
March 1, 2020 – SEC Armadillo – Glasgow, Scotland
March 2, 2020 – P&J Arena – Aberdeen, Scotland
March 3, 2020 – Bord Gais Theatre – Dublin, Ireland
March 4, 2020 – Arena Birmingham – Birmingham, England
March 5, 2020 – Bournemouth International Centre – Bournemouth, England
March 6, 2020 – Motorpoint Arena – Cardiff, Wales
March 7, 2020 – Brighton Centre – Brighton, England
March 9, 2020 – Royal Concert Hall – Nottingham, England
March 10, 2020 – Hammersmith Apollo – London, England
March 12, 2020 – Bozar – Brussels, Belgium
March 13, 2020 – AFAS Live- Amsterdam, Netherlands
March 14, 2020 – Capitole – Ghent, Belgium
March 19, 2020 – Samsung Hall – Zurich, Switzerland
March 20, 2020 – Admirals Palast – Berlin, Germany
March 22, 2020 – Stadhalle F – Vienna, Austria
March 23, 2020 – Inchebo Expo Arena – Bratislava, Slovakia
March 25, 2020 – Forum Black Box – Copenhagen, Denmark
March 26, 2020 – Folketeatret – Olso, Norway
March 28, 2020 – Cirkus -Stockholm, Sweden
March 30, 2020 – BKZ Oktyabrisky – St Petersburg, Russia
March 31, 2020 – Kremlin Concert Hall – Moscow, Russia
April 2, 2020 – Palace Ukraine – Kiev, Ukraine
April 3, 2020 – Palace of the Republic – Minsk, Belarus
| | |
| --- | --- |
| IT'S STILL MURDAAAAA?: Ja Rule Is Re-Releasing Every One Of His Records As Visual Albums | 18.09.19 |
Every single song gets its own music video.
In just a few months, Ja Rule's album Twelve will hit the streets, and to celebrate the release of his first studio album since 2012's Pain is Love 2, the rapper is going all out. Recently, Ja commemorated the 20 year anniversary of his debut record Venni Vetti Vecci by giving away autographed copies of every one of his releases, but with his latest announcement, the rapper has raised the bar.
"I will be rereleasing ALL of my albums as visual albums," Ja tweeted. "I will be making a video for every song I've ever made… what songs do y'all wanna see videos for???" A fan asked why he wanted to know what songs they wanted videos for if he was going to be making a video for every song anyway. Ja replied, "I wanna see which records are favored."
The New York rapper must be working 'round the clock to get this completed because he has over 100 songs under his belt in his studio records discography, not including what he has in store for Twelve. We'll have to wait and see what gems Ja comes up with, but if you had to choose a few Ja tracks you'd like to see visuals for, which would you pick?
I will be rereleasing ALL of my albums as visual albums… I will be making a video for every song I've ever made… what songs do y'all wanna see videos for???

— Ja Rule (@jarule) September 16, 2019
Music is timeless… my new album 12.Twelve.XII comes out dec. 12th… https://t.co/JQka4zgeqI

— Ja Rule (@jarule) September 16, 2019
| | |
| --- | --- |
| AND I OOP!: Megan Thee Stallion's Stylist Claps Back Over Criticisms of Their Fashion Choices – "Most of the People Commenting Have Nothing to Offer this World" | 18.09.19 |
He says there is a double standard for rap artists.
Her "hotties" may fawn over her every word and track all of her social media moves, but not everyone is a fan of Megan Thee Stallion. The Houston rapper has had a phenomenal 2019 as her career has catapulted into stardom in what could seem to be overnight by the untrained eye. The 24-year-old has gone from a college student with rap star dreams to a rising superstar with a MTV Video Music Award under her belt within months. 
Yet, Megan's twerk-filled shows and barely-there fashion choices have been the center of criticisms. On Tuesday, the rapper was featured on the well-known fashion publication Fashion Bomb Daily's Instagram page where they showed off her purple snakeskin-style custom look that she wore during her live show in Buffalo, New York. FBD's readers were not kind as they called Megan's attire "tacky," "designer stripper clothes," and one person questioned if Megan only wore panties during her performances.
Megan's stylist EJ King was bothered by the responses, to say the least, and he shared his thoughts with a comment of his own. "Half of the people making comments have nothing to offer this world but hate and and negativity," he wrote, adding that "it's only in black culture do we tear down our own kind, and ridicule, judge and disrespect each other for the same sh*t that happens in white culture that they are praised over!!!"
The celebrity stylist stated that Megan is a positive influence for young girls as she encourages them to continue their education. He also called out the double standard because there are plenty of other artists who dress similarly including "Lady Gaga, Britney Spears, Christina Aguilera so on and so forth!!!!" He ended things by saying he doesn't care about the negativity and doesn't need to defend his work. Check out a few more of King's styles he's created for Megan and let us know if there is a double standard for female rap artists versus pop singers..
| | |
| --- | --- |
| WHEW, CHILE!: Tekashi 6ix9ine Was Singing Like Beyoncé in the Courtroom As His Trial Began Today | 17.09.19 |
Apparently if 6ix9ine goes down, he's bringing Trippie Redd and everybody else with him.
Tekashi 6ix9ine's trial offically began today. The controversial rapper took the stand to testify against the men that are accused of kidnapping him last year. As we've known for nearly a full year, things are bound to get ugly and updates quickly started to roll in from the courthouse. Many of which are being provided by Matthew Russell Lee of the Inner City Press.
"Your honor, the government calls Daniel Hernandez." He's in prison blues. Deputy Smallman just swore him in. It's on.

— Inner City Press (@innercitypress) September 17, 2019
The rainbow-haired rapper was escorted into the courthouse wearing prison blues where he was asked to answer some simple questions about his upbringing and his involvement in the case. One of the first things that the artist, real name Daniel Hernandez, says is that he began cooperating with federal authorities the day after the Nine Trey Bloods were taken down. He goes on to identify a few of the men in the room, including Anthony Ellison and Aljermiah Mack, before claiming he was a member of the gang.
Q: Mr Hernandez, where were you born?
Bushwick, Brooklyn.
Q: how far did you go in school?
Like tenth grade.
When did you start living in federal custody? When did you start cooperating?
"The next day. The day after we were taken down."

— Inner City Press (@innercitypress) September 17, 2019
Q: Mr Hernandez, where were you born?
Bushwick, Brooklyn.
Q: how far did you go in school?
Like tenth grade.
When did you start living in federal custody? When did you start cooperating?
"The next day. The day after we were taken down."

— Inner City Press (@innercitypress) September 17, 2019
Q: were you a member of a gang?
Yes. The Nine Trey Bloods.
Q: what sort of things did 9 Trey do?
Robberies, assaults, drugs…
Q: do you recognize anyone in court?
A: Anthony Ellison has a gray suit on. Mack has a brown suit on.

— Inner City Press (@innercitypress) September 17, 2019
It was called Gummo. G-U-M-M-O
I had signed a 20% management deal… Seiko Billy…
(starts rapping: in the hood… first use of N-word).
Billy is Nine Trey, so I asked him to provide members for the video. "I met him at the studio in Williamsburg."

— Inner City Press (@innercitypress) September 17, 2019
After a few moments pass by, music is presented and played in the court. "GUMMO" gets called into question, especially with all the guns being displayed in the music video. Then, possibly the most interesting development of the day took place. 6ix9ine threw Trippie Redd, his former rival, under the bus.
Government played a song, LOUD. Now they are parsing the video, #6ix9ine pointing out all the guns in it, linking one to Shotti.
"Is that a real gun?"
"Yes."

— Inner City Press (@innercitypress) September 17, 2019
"What is a drum?"
"You add it to a gun. It carries an extra clip."
AUSA quoting lyrics using "N-word," as in "Uber N-word."
Now #6ix9ine is saying "N-word."
"Mister Hernandez, what is Gummo about?"
"It's a diss song, toward like somebody I don't get along with.

— Inner City Press (@innercitypress) September 17, 2019
"Trippie Redd was part of Five Nine Brims," 6ix9ine reportedly told the judge. "It's a diss song, toward like somebody I don't get along with," explained the rapper about "GUMMO" and Trippie.
Finally, 6ix9ine discusses the gang initiation process and his lyrics, noting that he was never personally initiated into Nine Trey. "I just had to keep making hits and giving financial support to the gang. Equipping with guns. Like, so they could buy guns," he reportedly said.
The trial is set to continue tomorrow. Stay tuned for more updates. Thoughts?
| | |
| --- | --- |
| THE FLAVOR OF CRACK: Flavor Flav Talks Addiction & Once Spending $2.5K Per Day On Crack & Coke (VIDEO) | 17.09.19 |
He says he's been sober for eight-and-a-half years.
Before he became known as an over the top character on a dating reality show, Flavor Flav was the outrageously unique rap artist who was apart of one of the most iconic hip hop collectives: Public Enemy. With fame, however, came money, women, alcohol, and drugs, and Flav has struggled throughout his life with all of the above. His substances of choice were cocaine and crack cocaine, and the rapper admits that his addictions have caused him nothing but trouble.
Flav has had a number of run-ins with the judicial system, even before his Public Enemy days. He's faced charges like robbery, burglary, attempted murder, domestic violence, multiple driving offenses, and drug possession. He recently sat down with VladTV to discuss the rise of his career and memories of his times with Public Enemy, but it was difficult not to reminiscence without bringing up his drug addiction.
"That was one of the worst mistakes that I could've really ever made with my life, experimenting with drugs," Flav admitted. "Let me tell you something, man. Drugs, them sh*ts is real easy to get on, and they're hard as hell to get off. If I would've known that back in those days, then I don't think I would've experimented with it. I got to the point, Vlad, where I was spending like $2,300 to $2,500 dollars per day on coke and crack. Per day. And I did that sh*t for six years straight. Do the math. That's a lot of money, bro."
"I thank God that I'm still living today and to be able to talk about it. 'Cause, now I can teach about it," he said. "I can teach about the mistakes that I made and hopefully people won't make the same mistakes. I had a lot of people around me that was supposed to be my friends, but yet, when I would go to the bathroom or something, they would steal my sh*t and I would come back and my pile would be smaller. I thank God for those thieving-ass friends that I had because if it wasn't for them stealing my sh*t, maybe those could have been the hits that took me out."
The rapper called that period in his life a "nightmare" and said that he appreciates the lessons he learned from his experiences. He admits that since he's been sober, he's been in situations where other people have been doing drugs in front of him. While he's not bothered by it, he said he doesn't stay around it.
Flav also shared that he was an addict for 18 years and "I've been clean off of coke and crack now for about a good eight-and-a-half years. I still got about ten to go before I can be back to where I was. So right now, to this day, yes, addiction can still set into me. So, that's why I'm smart enough not to f*ck with that sh*t."
| | |
| --- | --- |
| WELL LET'S DO THIS THEN!: Rihanna Responds To Rumors That She'll Be Playing Poison Ivy In "The Batman" – "They Haven't Called Me Yet, But if they Did, I'd Love to Go in!" | 17.09.19 |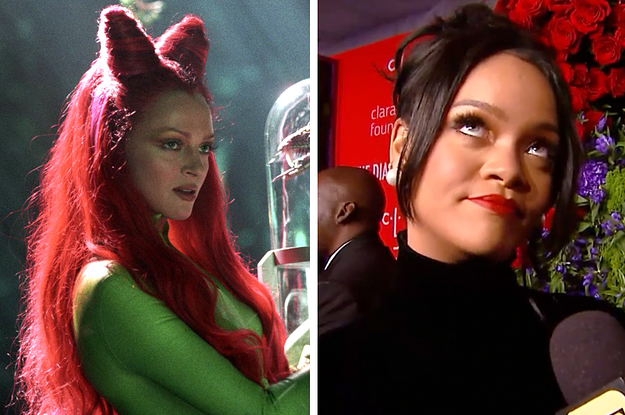 Hey, Warner Bros, call her!
Rumors started circulating at the beginning of the month that Warner Bros. was eyeing Rihanna for the role of Poison Ivy in The Batman, which will star Robert Pattinson and is set to release in 2021. While these speculations may have easily stemmed from an unreliable source, many publications picked up the story (guilty) and people started freaking out at the possibility of RiRi in this iconic role. However, the Anti artist added fuel to the flame by posting a video on Instagram of her Fenty leather-rubber boots with the caption, "bat-mobile but make it fashion." She should've known better than to tease us like that because, once we see her rocking something like that, our imaginations are obviously gonna run off with it.
Well, the folks over at Entertainment Tonight got the honor of talking to Rihanna at her 5th annual Diamond Ball in New York City last week and they asked her if there was any truth to these rumors. Rihanna played like she had no idea that fans were putting together collages of her previous looks that resembled those of the villain, or perhaps she truly had no idea. She was shocked that her boot video played a role in sparking this speculation. "Oh that?! Really? That!? Are you serious?" she said. "No that has nothing to do with Poison Ivy. That [post] has to do a lot with Batman [because] I have separate obsessions."
However, she did confirm that she might be interested in the role were it to be offered to her because she's a huge Poison Ivy stan, particularly Uma Thurman's 1997 portrayal of the character. "I have bigger obsession with Poison Ivy, I'm just being honest. And yeah, I died my hair red because of Uma Thurman in the original. You know what, they didn't call me yet. But if they did, I would love to go in and try out because Poison Ivy is one of my obsessions in life," she shared. "I did it for Halloween one year, I mean come on!"
Similarly, people are frantically pushing for Teyana Taylor to be cast as Catwoman, after it was rumored that The Batman director, Matt Reeves, was hoping for a woman of color for the role.
Would you be here for Rihanna donning Ivy's green latex?