| | |
| --- | --- |
| THOUGH SECRETLY MANY ALREADY HAVE: Lee Daniels Thinks A Gay Rapper Could Go Platinum In The Near Future | 19.11.17 |
It's no secret that hip-hop is a genre of music that, historically, hasn't been all that accepting of the LGBT community. Both lyrically, where gay people have been frequently been seen as lesser individuals when compared to the emcees working on the track, and visually, where most music videos still only frame their rap subjects from a plainly heterosexual point of view, the hip-hop community has had some work to do in this department for several years. However, there have been marked improvements in the eyes of some, including Empire executive producer and film director Lee Daniels, who has a pretty positive outlook when it comes to gay people navigating the world of rap.
According to TMZ, the Hollywood power player not only thinks that the situation is much better for those who identify as LGBT and are pining for a career as a hip-hop artist, but that the opportunity to taste real success has never been more prevalent. When asked if he thinks a gay hip-hop artist could have a platinum record in this day and age, he said "it would be nice," but then went on to predict that such a feat will happen "sooner than you think." Of course, he didn't give a precise timeline, but the implication was that, by as early as next year, you could see some movement in this area of the music industry and a trend towards LGBT emcees getting a sniff of real fame.
What do you think? Is the prediction a reasonable one or is it still too bold? Check out the video of what Lee thinks below:
| | |
| --- | --- |
| UPDATE: Meek Mill Reportedly Released From Solitary Confinement | 18.11.17 |
It appears Meek Mill request to get out of solitary has come true. On Saturday morning, TMZ reported that Meek was moved to another prison entirely, and was moved out solitary and into general population.
An official at the State Correctional Institution in Chester, PA says the rapper was just transferred to the prison and out of Camp Hill. He's says the Philly rapper is currently in general population and has his own cell.
Earlier this week, news surfaced online that Meek was going to crazy if he continued to be held in solitary confinement. The lawyers said prison officials were worried about Meek interacting with other inmates, so they had to put him in solitary because it's the only way they could protect him and keep him safe. However, Meek's legal team wanted the judge to see that putting anyone in solitary confinement is a detriment to one's psyche, and ultimately could hurt Meek in the long run, and it looks like they listened.
Now in general population, Meek can hit up the yard in the morning or afternoon, where he can do things like play basketball or go for a run. He also has access to the on-site library if he wishes to gain knowledge and pick up a book to read.
Meek will reportedly also be assigned a job too, which will either consist of cleaning prison cells or cooking in the kitchen, both of which pays 19 cents an hour.
Meek was supposed to be able to start to see visitors come next week, but I'm not sure if this recent transfer could affect any rules or regulations. But at the very least, things are kinda/sorta looking up for the MMG rapper.
Just yesterday more good news surfaced for Meek revealing that a bail hearing was granted to him. The Philly rapper is scheduled to be in front of court on November 27th at 9 a.m. at the Center of Criminal Justice in Philly, the same place where the protests happened a few days a go.
We'll continue to keep you posted on the latest details with Meek as they become available. Stay tuned.
| | |
| --- | --- |
| SAY IT AIN'T SO!: E! Entertainment Investigating Ryan Seacrest For Alleged 'Inappropriate' Behavior with Former Wardrobe Stylist | 18.11.17 |
Cable channel E! is conducting an internal investigation into an allegation of misconduct against Ryan Seacrest.
The allegation stems from an alleged incident reported by a former stylist who worked at E! News when Seacrest worked there. The incident, the details of which are unknown, is alleged to have occurred roughly a decade ago.
Recently, someone that worked as a wardrobe stylist for me nearly a decade ago at E! News, came forward with a complaint suggesting I behaved inappropriately toward her," Seacrest said in a statement Friday. "If I made her feel anything but respected, I am truly sorry. I dispute these reckless allegations and I plan to cooperate with any corporate inquiries that may result. I treat all my colleagues with kindness, dignity, and understanding, as this is a principle that's core to who I am. Throughout my 25 years in the entertainment industry, the majority of my co-workers have been women, and I've endeavored to foster a positive work environment of mutual respect and courtesy, as that's how I believe it should be. I'm distraught that anyone or any situation would call that into question. I'm proud of my workplace reputation, and believe my track record will speak for itself. I'm an advocate for women. I will continue to support their voices."
A spokesperson for E! confirmed that the cable channel is conducting an investigation.
Seacrest is a multi-hyphenate producer and host. He currently co-hosts "Live With Kelly and Ryan" weekday mornings on ABC and is slated to serve as host of that network's upcoming revival of "American Idol."
| | |
| --- | --- |
| BOO'ED UP?: A$AP Rocky Sparks Dating Rumors With Model Tina Kunakey After Being Caught in NYC | 18.11.17 |
A$AP Rocky might have one of the hottest chicks in the modeling game wearing his chain. The Harlem rapper recently sparked dating rumors after being spotted out showing PDA with model Tina Kunakey.
A picture that is making its rounds on the internet shows the A$AP Mob member with his arm around Kunakey as they walk down the street. The picture was reportedly taken in New York City. New boo alert?
Rocky was most recently linked to Kendall Jenner. They sparked dating rumors last June, and were later reported to be full-on dating. It looks like it's possible that Pretty Flacko has a new fling.
On the music tip, Rocky has two projects in the works including his upcoming solo LP and a joint project with French Montana. "My new album is really about testing new sounds," he recently revealed in the cover story for the latest issue of GQ Style. "People are scared to test new sounds, so they go with what's current 'cause it's the easy thing to do. The top 100 songs sound a certain way. People cater more to that because it's a bigger demographic behind that, or it's a guaranteed demographic behind that. I prefer to experiment and have my crowd grow with me and to reach new crowds. I don't just rap—I actually make music. That's why it takes time. These sonics represent me."
Check out more photos of Rocky and Tina Kunakey below.
| | |
| --- | --- |
| SAY WHAT NOW?: Macklemore Says He Has a Naked Justin Bieber Painting Hanging Right Above His Bed | 18.11.17 |
Macklemore made his return back into the limelight this year with his latest album, Gemini. The project served as his first solo project, sans Ryan Lewis, since 2009. He's been on tour and delivering to his fans throughout North America. He recently ended the tour on Tuesday and yesterday, he paid a visit to Watch What Happens Live With Andy Cohen where he revealed a pretty personal aspect of his life.
Macklemore previously revealed that he bought a painting of a naked Justin Bieber with pancakes covering his crotch. While it's already a strange thing to tell people, he went onto Andy Cohen's show to give a bit of a backstory about the painting.
"You know, I bought it off Etsy as a white elephant Santa gift that at the end of the night just stayed at my house. No one took it," he said.
After acknowledging the fact that it's been something he's been known for and has made headlines, he says he ultimately found a purpose for the piece of art.
"It goes right above my bed, and you know, whenever I'm with my wife, intimately. I can always stare if I want to control my orgasm," he said to laughter, "Slow it down."
It's a strange piece of artwork to have in the house but at least he found some sort of practical use for it. During the show, he was also joined alongside T-Pain and after he admitted that he has yet to speak to Bieber about the painting, Pain chimed in.
"I mean, that question has to be burning his brain… Obviously if I had a picture of anybody with pancakes over their dick, obviously it'd be the start of the conversation," T-Pain said.
It's definitely a strange painting to have but Macklemore seems to have found some sort of practical use for it at this point. However, it's pretty hilarious that this painting has made headlines yet he and Justin Bieber have never had a conversation surrounding it. Once it happens, maybe Macklemore will live to tell the tale next time he's on Andy Cohen's show.
Watch the clip below:
| | |
| --- | --- |
| ARE YOU SURE?: Nicki Minaj Says She Loves that Lil Uzi Vert Reminds Her So Much of Lil Wayne: "He Just Gives Me a Tunechi Vibe" | 18.11.17 |
Earlier this month, Lil Uzi Vert and Nicki Minaj finally dropped the remix for "The Way Life Goes." It took a while to actually surface but it finally came and it didn't disappoint. While Nicki revealed that she and Uzi are currently shooting a video for the single, she also explained why she rocks with Lil Uzi Vert so much.
Nicki took to Instagram to share a short video with herself and Lil Uzi Vert on the set of "The Way Life Goes." After admitting that they are very high, she took a moment to expressed her pleasure with working with Lil Uzi while their latest collab played in the background and explained why working with him hits close to home.
"Congratulations, we high as shit. We feelin' really good right now. We on the set of the video," she said, "It's just a pleasure to work with him. He just reminds me so much of Tunechi so everytime I see him, I'm always like, 'aww, my little baby,' because he just gives me the Lil Tunechi vibe. And so because of that, I love him. And I love this fuckin' song. Shout out to our fans and all of that… We're about to give you a killer video."
While it's definitely a bit of a controversial statement to compare Lil Uzi Vert to one of modern day hip hop's most iconic and influential artists, it's not far-fetched. Wayne was one of the first rappers to dub himself a "rockstar," a title that Uzi has described himself as. Along with that, there's no doubt that Uzi has been influenced by Wayne to some capacity.
Aside from that, Nicki and Lil Uzi Vert's collaboration got Nicki her 82nd entry on the Billboard Hot 100. The single is currently sitting at number 31 after jumping from number 55. Nicki currently has three singles on the charts with Yo Gotti's "Rake It Up" and Migos' "MotorSport." With the video for "The Way Life Goes" on the way, we're sure it'll continue to climb up the charts further.
Check the Instagram post below:
| | |
| --- | --- |
| GIRL, WHAT?: Social Media Drags Gabby Douglas for Telling Teammate Aly Raisman Women Should 'Dress Modestly' in Response to Sexual Abuse Claims | 18.11.17 |
Gymnast Gabby Douglas has caused quite the stir with her remarks to Olympian Aly Raisman who has said she was sexually abused by the US women's gymnastics team doctor.
Douglas tweeted, "It is our responsibility as women to dress modestly and be classy," Douglas tweeted. "Dressing in a provocative/sexual way entices the wrong crowd."
The 21-year-old has since deleted the tweet but she made the comment while retweeting Raisman's post that said, "We are all in this together. If we're going to create change, I need all your help."
In August, Raisman, 23, and a three-time gold Olympic medal winner revealed on 60 Minutes that she was sexually molested by Dr. Larry Nassar. Nassar is currently jailed after pleading guilty to child pornography charges.
As of this writing over 130 women have filed civil lawsuits against him on the grounds that he abused them when he was supposed to be treating their injuries.
I'm so frustrated because I looked up to you for so long. I was assaulted when I was 11. In my pajamas. Please tell me how i could've prevented this and how I didn't have responsibility.

— jess (@riseupliam) November 17, 2017
"The people at the very top, that work at the office every single day at USA Gymnastics, they need to do better," Raisman said, before adding, "It's making me sad. I'm here to support my teammates because we got inducted to the Hall of Fame and I'm here to support the girls who are competing. I love the Olympics, I love gymnastics, I love the sport. But I don't support how USA Gymnastics is handling everything right now."
It didn't take long for Twitter users to pile on Douglas for her inappropriate comments. One of the people who had something to say was fellow Olympic gymnast Simone Biles. She made sure her support for Raisman was clear, posting, "shocks me that I'm seeing this but it doesn't surprise me… honestly seeing this brings me to tears bc as your teammate I expected more from you & to support her. I support you Aly & all the other women out there! STAY STRONG."
Douglas didn't seem to understand why people were so upset with her at first and began replying to her critics with what appeared to be confusion.
Later, however, she apologized blaming the tweet on her not being able to correctly word what she was trying to say.
"Regardless of what you wear, abuse under any circumstances is never acceptable. I am WITH you. #metoo," she added.
It wasn't enough for Gabby Douglas to just look like Azealia. She had to go and tweet like her too? pic.twitter.com/NDtZkQckvG

— Rach A'lisse (@Cantsitbehindme) November 17, 2017
At one point Gabby Douglas was being criticized on an international scale for her "bad hair" and "attitude," and SO MANY people supported her to drown out the silly critics. She knows how it feels, but here she is shaming Aly Raisman on sexual assault. It's gross.

— Lea (@_MissLeandra) November 17, 2017
shocks me that I'm seeing this but it doesn't surprise me… honestly seeing this brings me to tears bc as your teammate I expected more from you & to support her. I support you Aly 💕 & all the other women out there!
STAY STRONG pic.twitter.com/CccTzhyPcb

— Simone Biles (@Simone_Biles) November 17, 2017
Me seeing Gabby Douglas' tweet about dressing modestly to Aly Raisman as she opens up being molested by the team doctor. pic.twitter.com/Ax9lThGiEi

— Rhiannon Walker (@InstantRHIplay) November 18, 2017
Cancel Gabby Douglas. Anybody can get it. She's not immune. Plus, weren't her fellow gymnasts assaulted by the team doctor? Attire is entirely irrelevant in every single case, including here. pic.twitter.com/bZD4ogdm3s

— April (@ReignOfApril) November 17, 2017
We are all in this together. If we are going to create change I need all your help. pic.twitter.com/q9d12z0KHn

— Alexandra Raisman (@Aly_Raisman) November 17, 2017
We should've known Gabby Douglas wasn't to be trusted after she got on National television and tried to convince us that this was the Dougie. pic.twitter.com/8Eiljcf7ZZ

— Shane Ravello 🇹🇹 (@ShaneRavello) November 17, 2017
| | |
| --- | --- |
| NO MORE CRYING: Tyrese Won 50/50 Joint Custody Of His Daughter | 18.11.17 |
It's been a wild few months for Tyrese. The singer's public life has pretty much been on display for everyone to watch and he's been obviously struggling with his mental health and everything that's been thrown his way lately. A few days back, his ex-wife not only requested he undergo a mental evaluation but also wanted a restraining order against him. Today, it looks like things are working more in his favor than hers.
Tyrese has just won his way through the court. The judge has granted him 50/50 custody of his daughter, Shayla, according to TMZ's report. This comes a few days after his ex-wife, Norma Gibson, requested a restraining order but the judge denied her that. However, the joint custody will begin in January and until then, the two of them will have to arrange a visitation schedule so Tyrese could spend time with his daughter throughout the holidays.
Tyrese also took to Instagram to share his own thoughts on what happened. The entertainer expressed relief for what's been his life for the past 80+ days. Along with that, he also called on Michael Moore, Netflix and Tim Cooke of Apple for a potential movie on the series of events that have occurred.
"I got over 400 hours of logged and captured footage this will be bigger than Avatar cause "Fathers" and the lack of support in the courts is a universal issue," he wrote. It's a sentiment he also told TMZ after he left the court room although this seems to be much more elaborate.
He ended up calling his wife out during his Instagram rant as well, saying, ". NoRMA ask yourself since you hate SO much why are you still holding onto my last name???? You're NOT a Gibson your name is NORMA MITCHELL – There are only 3 real Gibson's from my side…. Shayla Gibson, TYRESE Gibson and my real wife Samantha Lee Gibson – period."
So it looks like things are a bit more copacetic for Tyrese and he'll be able to finally be with his daughter again.
Check the posts below:
| | |
| --- | --- |
| THOUGH THE INTERNET LOVES TO PIT THEM AGAINST ONE ANOTHER (FOR NO REASON): Beyoncé & Kim Kardashian Were Actually Pretty Cordial at Serena Williams' Wedding | 18.11.17 |
Serena Williams' dreamy wedding with Reddit co-founder Alexis Ohanian brought together a star studded guest list featuring the likes of Ciara, Jay-Z, and even Eva Longoria. Two of the guests happened to be Beyoncé (the queen) and Kim Kardashian, the spouses of recently feuding rappers Jay-Z and Kanye West.
Beyoncé and Kim actually haven't been spotted in the same room in years, which further helped the internet with their long concocted narrative that the two aren't very fond of one another. (Probably more so because most of the general public dislikes Kim for no reason and would love for Queen Bey to do the same) However, it seems as the newly married tennis champ, Williams, inadvertently brought them together in her own little way.
According to E! News, the ladies crossed paths at the lavish ceremony and while many would love to assume they avoided one another at all costs — at least on one end of the spectrum — this apparently wasn't the case as an eyewitness said they were spotted standing at the bar, enjoying some champagne, together.
It's very important to remember here that has never been any outwardly confirmed reasons for the ladies to not fancy one another, their husbands' relationship however, has recently proved to be the rocky one, taking a tumble when West told his concert crowd that Queen Bey was skipping the MTV Video Music Awards unless "Formation" won the trophy for video of the year. Things worsened when the "Famous" rapper whined on stage about the Carters never coming over to his house with their then only child, Blue Ivy.
Hov shared his thoughts on Yeezy's outburst in an interview, months later, saying the wedge between them was created because he brought his wife and kid into their beef.
"You got hurt, beacuse this guy was talking about you on stage," he said on the Rap Radar podcast this past August. "But what really hurt me, you can't bring my kid or my wife into it."
| | |
| --- | --- |
| WELL THERE'S SOME PROGRESS: Meek Mill Granted Bail Hearing In Front Of Judge Genece Brinkley | 17.11.17 |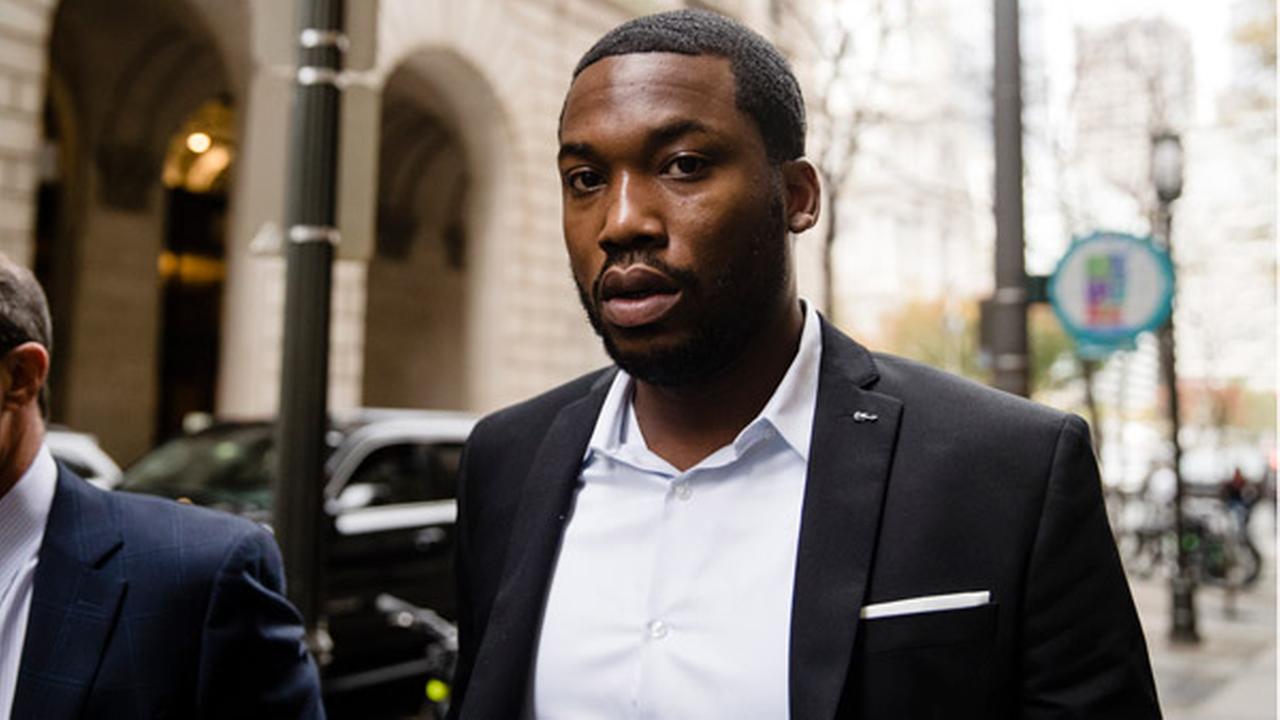 Meek Mill's troubles with the court and Judge Genece Brinkley have became more evident since his sentencing. With the several stories surfacing over the past few weeks about the misconduct during his probation hearing as well as Nicki Minaj's testimony that surfaced yesterday, the way the judge has acted . A few days a go, it was reported that Meek filed to be released from prison and have his probation completely terminated. Today, sources say those documents have gone through and is now awaiting his bail hearing.
Meek has officially been granted a bail hearing for his sentencing appeal case. The rapper is scheduled to be in front of court on November 27th at 9 a.m. at the Center of Criminal Justice in Philly, the same place where the protests happened a few days a go. However, the twist in this is that Meek's proceeding will happen in front of the same judge that had him locked up in the first place, Judge Genece Brinkley. In addition to this, Billboard reports Meek Mill's lawyer, Joe Tacopina, says Meek is no longer in solitary confinement and is now waiting for his bail hearing.
Aside from the fact that he's been granted a bail hearing, the alarming factor in this is that he'll have to face the same judge that sentenced him. Since he received the two to four year sentence, Tacopina's been vocal about her bias in the whole case and made it very clear that he wanted her to be removed from the case. He's made several claims of professional misconduct on her end, including the fact that she had asked him to leave Roc Nation to get managed by one of her friends as well as the time she allegedly asked him to cover a Boyz II Men song and give her a shout out to it. These accounts have ultimately led to a reported probe from the FBI that have been in the courtrooms, on the low since April 2016.
Despite Judge Brinkley continuing to preside over the case, there's hope that Meek's sentence and probation will be terminated.
BREAKING: Just spoke to #MeekMill attorney. He will have a new bail hearing on November 27 in Philly. This will be in front of Judge Brinkley. @CBSPhilly pic.twitter.com/EFt1PHWJPE

— David Spunt (@DavidSpuntCBS3) November 17, 2017
| | |
| --- | --- |
| WAIT A MINUTE, EFFIE WHITE!: Jennifer Hudson Accused of Cheating on Fiance David Otunga with Producer as Their Split Gets Messy | 17.11.17 |
Soon after Jennifer Hudson and longtime fiancee David Otunga announced they were breaking up after 10 years together, details quickly emerged that a nasty battle was brewing over who would get custody of their 8-year-old son.
Things got especially heated Thursday night when the police removed the former professional wrestler from the couple's home after Hudson received a protective order against him, TMZ reported. Hudson, 36, alleged that Otunga, 37, had become physical with her and was a threat to her and their son.
Hudson's representative told the folks over at People Mag that she got the order out of concern for the "best interest of their son." However, Otunga's attorney Tracy M. Rizzo strongly denied the allegations that he had ever threatened her.
"Mr. Otunga has never abused or harassed Ms. Hudson or their son, and it is unfortunate, especially in today's climate, that she would feel the need to make these false allegations against him," the lawyer said in a statement to TMZ. "Mr. Otunga looks forward to his day in court and in being awarded the residential care of the parties' only child."
Rizzo said the "meritless" protective order was a low blow by Hudson who is afraid she'll lose her fight to have their son live with her because he's long been the boy's primary caregiver.
"David Otunga has been trying to negotiate the terms of an amicable parenting agreement with Ms. Hudson for several weeks now," said Rizzo, who added that Otunga looked after their son as Hudson pursued her career "all over the world."
On Friday (November 17), the Otunga camp went on the offensive, leaking a story to TMZ that the couple broke up after he confronted her over cheating on him with music producer Mali Music.
Hudson denies that she was secretly dating Music, whom she met several years ago after she hired him to work at a party. Her story is that they are just friends who like working together.
Hudson and the former WWE star got engaged in 2008 after less than a year of dating. A year later they welcomed their son, David Daniel Otunga Jr., but they never officially tied the knot.
| | |
| --- | --- |
| FROM THE BRONX TO HARVARD: Swizz Beatz Just Graduated From Harvard Business School | 17.11.17 |
Swizz Beatz continues to make the culture proud. The legendary producer has just graduated from Harvard Business School.
Mr. Showtime originally enrolled at the Ivy League institution three years ago and has recently earned his degree from Harvard's Owner/President Management Program. The course work focuses on leadership advancement and corporate strategy.
He took to Instagram to share his special moment in receiving his certificate on stage. "Blessings on Blessings I'm in the inspiration business ‍‍‍‍‍ #harvard #opm50#fromthebronxtoharvard …it's been a great 3yrs #HBS".
Beatz also took the time out to pen a very inspirational message to his fans regarding his decision to go back to school. "Today is graduation day In life we must keep graduating until the end. When I say we must graduate I'm talking about on all levels not just school. This moment is special to me and my family because many people look up to me and they use my drive to thrive" he explained.
Naturally his wife and Grammy winner Alicia Keys voiced her support for Swizz saying his graduation marks a milestone for their family. "Today was a HUGE accomplishment!! Graduating from Harvard Business School is not only your triumph, it belongs to all of us!! Your family, your friends and everyone that vibes with you!! It reminds us ALL that there is no ceiling to our greatness!! And it's up to us how far we want to go!!!!! From the Bronx to Harvard baby!!!!!!!! Just how you say it "sky is not the limit it's JUST the view".
Swizz intends to incorporate his learnings in his business ventures including his Creative Director roles with Bally and Bacardi Rum. Additionally he plans on releasing a forthcoming documentary From The Bronx To Harvard that captures his educational journey.