| | |
| --- | --- |
| PULPIT PIMPIN?: This "God Fearing" Pastor Told Nicki Minaj He Wanted to "Eat Her Booty" On Instagram; Now He's in an Ass-Load Of Trouble! | 15.08.17 |
Let he who has not told a female rapper he wanted to eat her booty on Instagram cast the first stone. That's how the old Bible passage goes, right?
For those of you playing catch up, Nicki Minaj posted a particularly eye-catching picture on her Instagram page on Saturday afternoon, flaunting her assets for all of social media to see. Minaj is not even a little bit shy, so it was not a surprise to see "flexing for the 'Gram" was on her to-do list over the weekend.
The comments on a Minaj Instagram—particularly one of this nature—are almost always messy, as men and women alike battle for the right to post the thirstiest comments possible. But this post stands out from the rest, because one thirsty gentlemen in particular got himself in hot water with his comment.
This pastor wants to eat Nicki Minaj's Ass 🙆 pic.twitter.com/bzG1VC0yVA

— Kuti Ibukunoluwa ❤ (@therealibk) August 13, 2017
The man in question was identified as William Henry Dewberry III, whose Facebook page lists him as an Elder at the Church of God in Christ in Memphis, Tennessee. Yes, this self-described "God Fearing Man & Pastor" appears to have been caught telling Nicki Minaj he wanted to eat her ass in a public forum.
But there are quite a few holes in this story. For one, the church he has listed as his professional home is not even remotely close to where he keeps his actual home. His location on Facebook (in addition to recent photos) places him in Columbus, Georgia, which is a six-plus hour drive from the Church of God in Christ. Perhaps Dewberry just hasn't updated where he sets up shop yet—and he has moved around a bit due to work with the U.S. Army—but it's a red flag all the same.
There's also a recent post from the "dewberry_2017" account that does not look at all pastor-like, with the page going on an extended, profanity-laced tirade directed at a woman on Facebook.
On his behalf, the real Dewberry is denying the profile in question belongs to him. In a post on his Facebook page, Dewberry asked his friends to report the account claiming to be him.
"Saints, I need your help," reads Dewberry's post. "Somebody created a fake Instagram page under my name. I don't know who did this. But, this needs to come down ASAP! May somebody report this IMMEDIATELY! I did not create this. I already have an Instagram page, and this one ain't me!!!!"
The account he claims is private, so it's hard to verify, but at the very least has a different picture and is a separate entity from the account that told Nicki Minaj they were coming for her booty.
If "dewberry_2017" is an imposter, they've done a damn good job of keeping this act up. Someone has been cataloging photos of Dewberry and his loved ones from that account since January 2016, over a year-and-a-half prior to the comment being dropped on Minaj's instagram. That's a difficult act to keep up for that amount of time, and some of Dewberry's own Facebook friends remained unconvinced that he was being duped.

Will the real Dewberry please stand up? I suppose this is an unsolved mystery for now, up there in scale with whether Bigfoot and the Loch Ness Monster are real.
| | |
| --- | --- |
| NO MORE PONDEROSAS!: Jackie Christie Swears She Is THROUGH Talking About Her Estranged Daughter Ta'Kari on "Basketball Wives" | 15.08.17 |
For so long, Jackie Christie was the don diva of the L.A. version of the Basketball Wives franchise. But this season, Jackie's crown has been rocked a bit as Evelyn Lozada returned to the fray.
The main storyline for Evelyn was that she had "interfered" with Jackie's family by donating $3,500 to Jackie's estranged daughter Ta'Kari's GoFundMe for her burnt son. This donation, and Evelyn's subsequent relationship with Ta'Kari on social media, led to Jackie going at it with Evelyn on more than one occasion on the show.
But Jackie Christie recently let VH1 know that she is DONE talking about her estranged daughter Ta'Kari on BBW.
I'm not interested in any way, shape, or form in entertaining this bogus behavior between the two of them, anymore. I really feel bad that the audience has to be bamboozled to believing all of this nonsense. I love my daughter, I've always made that clear, I say it throughout the show. I've always defended her, regardless of whatever's going on. And after this, I am done discussing my daughter. These are not clinical doctors that can do anything. [Evelyn] is a woman that is just choosing to use [the situation] for evil intent and it's just not cool. I feel like [Evelyn] will get over it once the season has ended and she's had her 15-minutes.
For her part, Evelyn continues to defend her behavior, claiming that her act of charity was straight from the heart and not a ploy for attention:
While normally, I think it's fine to go after Jackie and treat her like a punching bag, getting involved with her daughter and her grandbaby is beyond the pale. Reality TV can get messy but this kind of family pain and betrayal is too much to be giggling about it.
Speaking of things that aren't funny, Ta'Kari decided to show off the horrific burns her son suffered earlier this year, which Evelyn donated funds for on Instagram.
Now, I don't know that Ta'Kari's stories about her mother are false or that her book, Lights to Her Shadow, is nothing more than a collection of fairytales, but I do think posting the close-ups of your son's SEVERE burns is a sign of poor discernment and less-than-great judgment.
Jackie might be crazy but Ta'Kari is indeed troubled, and Evelyn needs to keep herself out of this mess. Here's what Jackie had to say on the state of her relationship with Evelyn post-BBW reunion:
And as far as Evelyn goes, we have not spoken. We had some words at the reunion and I'm just very disappointed in her as a person, as a human being, as a woman but at the same time I don't hold any malice in my heart for anybody. I am just shocked that she used something by [my daughter] that she doesn't even know. A young girl who is struggling out there and she happens to be my daughter and using the whole thing for her own benefit, it's very disappointing and disparaging.
I doubt Jackie can force VH1 to avoid the topic of her daughter on the show going forward. She's no Shaunie after all. So if the ratings are up, Jackie won't have a choice in the matter, and heck, don't be surprised if Ta'Kari pops up next season as the newest cast member of BBW.
| | |
| --- | --- |
| GOT CHA!: Traces of Marijuana, Hydrocodone, & More Found in Tiger Woods System Following DUI Arrest | 15.08.17 |
It's been just over two months since Tiger Woods was arrested of a suspected DUI. Though the golf legend was not under the influence of alcohol, his toxicology report from that night has been released and suggest he may have been smoking weed.
According to TMZ, five different drugs were found in Woods' system when he was arrested during the early hours of May 29. Along with a cocktail of painkillers, THC was also in his system, the main chemical compound in marijuana.
The report shows Tiger tested positive for Hydrocodone (painkiller, generic form of Vicodin), Hydromorphone (powerful painkiller known as Dilaudid), Alprazolam (aka Xanax), Zolpidem (sleeping pill also known as Ambien) and THC.
In a statement released following his arrest, Woods said he suffered an "unexpected reaction to prescribed medications," but made no mention of weed.
Police found Woods passed out at the wheel of his car and noted the golf pro "had extremely slow and slurred speech." Though he registered a 0.000 on a Breathalyzer test, he failed several field sobriety test and was taken into custody and cited for DUI.
Earlier this month Woods and his lawyers struck a deal with prosecutors in the case. He agreed to plead guilty to reckless driving and enter a DUI diversion program for first-time offenders, which requires him to complete DUI education classes. He was also given 12 months of probation.
The reckless driving conviction will be wiped from his record upon completion of the program.
| | |
| --- | --- |
| WATCH: Cardi B Previews Spanish Version Of 'Bodak Yellow' During Dominican Day Parade In NYC! | 14.08.17 |
Cardi B stays representing for the Bronx, New York, women in hip-hop, and her cultural roots, so it should come as no surprise that her hit single, "Bodak Yellow," which is already blowing up internationally, with co-signs from A-List actors like Idris Elba, is getting an international remix of its own — this time in Spanish.
Cardi, who is Dominican and Trinidadian, debuted a Spanish language version of "Bodak Yellow" at the Dominican Day Parade in Manhattan, telling fans that the full version will be out later this week, tweeting, "Drops This Friday Aug 18 Everywhere. #waitonit." According to Remezcla, the remix features fellow New York-raised Dominican rapper Messiah El Artista. Both artists were on the La Mega 97.9 float when the track was premiered at the parade.
"Bodak Yellow" is currently No. 14 on the Billboard Hot 100, the highest-charting single by an unaccompanied female rapper since 2014's "Anaconda." It's no wonder Nicki stans are currently in Cardi's grill regarding her celebratory Instagram posts. As proven by her knockout performance at the BET Awards afterparty show, and her sudden appearance alongside every major rapper in the game, including Drake, the Atlantic-signed sparkplug is showing no signs of slowing down yet.
With the remix of "Bodak" dropping this week, it may just be time to brush up on your Spanish so you can sing along when this inevitably smashes the dance floor at your local Labor Day parties.
| | |
| --- | --- |
| GOOD DEEDS: Chance the Rapper Donates 30,000 Backpacks to School Kids in Chicago! | 14.08.17 |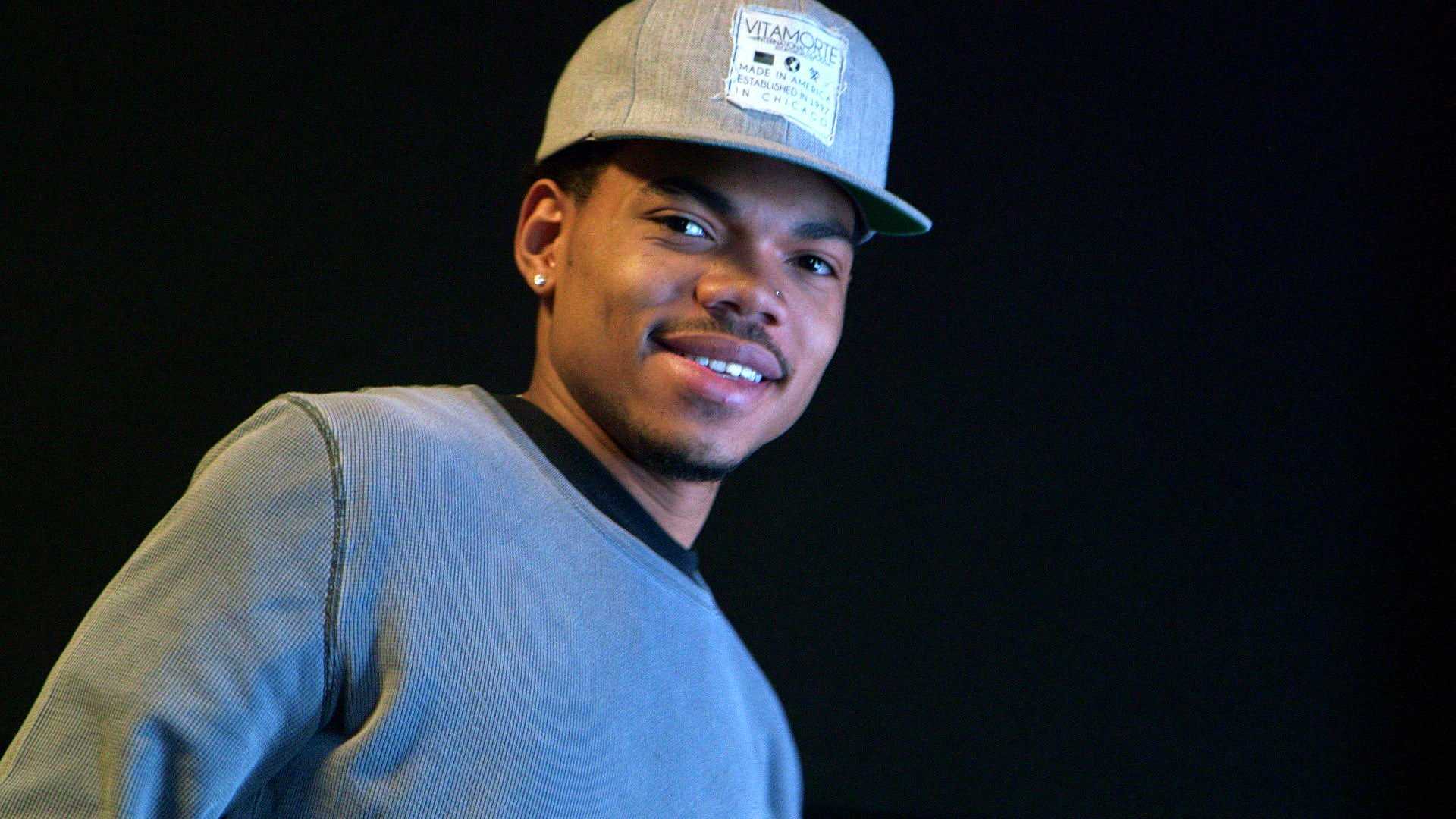 Chance the Rapper was the grand marshal of the "back to school" parade in his hometown of Chicago.
On Saturday, he rode atop a white convertible in the Bud Billiken Parade. He told local news station WLS-TV that he was on a misison to "make sure everything is a little easier" for students, teachers and parents.
To that end, he announced earlier this year that he would be donating $1 million to Chicago Public Schools. During the parade itself, he helped to distribute around 30,000 backpacks to school kids, all of which were stuffed with school supplies.
Chance the Rapper has also been incredibly outspoken about asking politicians to turn their attention to helping students and schools, especially in Chicago.
| | |
| --- | --- |
| TODAY ON AS THE WORLD TURNS…: Usher Continues to Deny Hooking Up with Herpes Accuser Quantasia Sharpton: "I Was Too Busy Trying to Get with My Wife!" | 14.08.17 |
Usher continues to deny he ever hooked up with his latest accuser, Quantasia Sharpton. Sources say the singer was too busy falling in love with his now-wife to hook up with groupies back in 2014.
Earlier this week, an anonymous Days Inn employee in Atlantic City came forward to reveal that she saw Usher and Sharpton together at the hotel in November 2014. She witnessed the pair after midnight on the night in question and the two presumably went to Sharpton's room for a quick rendezvous.
People close to Usher have previously denied Sharpton's allegations because she's "not his type." In response to the Days Inn staffer's bombshell, sources are, once again, exclusively telling TMZ a hook-up never happened, because he was developing a relationship with his now-wife, Grace Miguel.
Via TMZ:
Usher tells them at the time of his alleged encounter, Grace was his manager and they spent ALL their free time together.

His people say when the two weren't enjoying free time, it was all business, and they were inseparable. The couple got engaged less than 2 months after the alleged Days Inn tryst.
The sources also tell TMZ that the concert Sharpton attended ran late and the meet-and-greet that followed went well-past midnight, meaning the R&B singer couldn't have been at the Days Inn when the staffer claimed.
They also say Usher was on a tight tour schedule, leaving little free-time to have secret hook-ups.
Sharpton—along with two other people—is suing the singer for exposing her to herpes without first disclosing his STD status. However, she has tested negative for the STD and her history scamming celebrities was exposed by several of her friends.
| | |
| --- | --- |
| CONGRATS IN ORDER: MC Lyte is Now a Married Woman; Weds Marine Corp Veteran John Wyche in Jamaica! (PICS) | 14.08.17 |
MC Lyte is now Mrs. Lyte. The rap icon tied the knot with her fiancé Marine Corp veteran and entrepreneur John Wyche, reports Essence.
The nuptials took place at the Sandals Royal Caribbean Resort in Montego Bay, Jamaica, over the weeknd. R&B singer Kelly Price serenaded the couple prior to them exchanging vows. For Lyte, the wedding was a dream come true.
"It was so beautiful and a fairytale," she said. "I got my king."
Lyte, whose real name is Lana Michelle Moorer, met Wyche through Match.com and their relationship blossomed fairly quickly. Their courtship helped inspire Lyte to write her book, Your Man and Your Money: How To Get'em and How To Keep 'Em, with her co-writer/business partner Dr. Lynn Richardson.
"I would advise all the women out there that have their paper straight and not the man to start to pay attention to that," she said.
Among the A-List celebrities in attendance included Slick Rick, YoYo, SWV's Coko, Niatia " Lil Mama" Kirkland and Tai Beauchamp. The wedding was coordinated by Bobette Gillette and Andre Wells of Events by André Wells and the ceremony's officiant was Elder Robert Pierce.
"It's incredible so many people came out to support our union. We are starting out with a strong foundation," Wyche told Essence. "A few months into getting to know Lana I knew I wanted this woman as my wife."
Lyte concurs and added, "One day when we're talking and I looked into his eyes. It was so much honesty and truth in his eyes. My biggest thing with dating was to be vulnerable. And with him, I could totally let go and be myself."
Congratulations to MC Lyte and John Wyche!
| | |
| --- | --- |
| THE BUTTERFLY EFFECT: Travis Scott Just Gifted Kylie Jenner a $60,000 Diamond Butterfly Necklace | 14.08.17 |
Apparently, Travis Scott and Kylie Jenner have went from secretly dating, to more overtly dating to the $60,000 birthday gift phase because Travis went all out for his rumored girlfriend's 20th birthday this week. According to TMZ, Travis dropped a cool 60 grand on a sparkling necklace for Kylie, which includes a large butterfly pendant and several more butterflies along the links of the chain.
The butterfly is clearly a symbol that has some sort of significance for the couple as they got matching butterfly tattoos recently, and Travis released a song called "Butterfly Effect" shortly after the couple were spotted together at a Rockets game earlier this year.
As for the necklace and pendant, TMZ says it features 28 karats of VVS diamonds, and the jeweler who made the piece Elliot Avianne shared a photo of it on his Instagram for the world to see.
Travis was also rumored to have purchased a cake with a risqué message for Kylie as well, but she eventually confirmed it was her friend Jordyn Woods who bought the cake in a since-deleted tweet. Either way it seems that Kylie had quite the birthday, and whenever she's spotted out in public with her nice new necklace, we'll know it's just more butterfly symbolism from the new couple.
| | |
| --- | --- |
| CLAPBACK CHRONICLES: Karrueche Tran Let's Natural Body Shamers Have It: "Y'all Shame Natural Bodies, but Praise Fake Ones!" | 14.08.17 |
Karrueche Tran raised some eyebrows recently when she posted a couple of photos of herself in a thong bikini. While some reactions to the bikini pics were positive, one rapper felt the need to critique the images.
Apparently, Atlanta rhymer Ralo didn't like the photos and suggested that the 29-year-old beauty should cover up. "U looks better wit clothes on," he wrote.
Karrueche caught wind of the negative remark and quickly dispatched Ralo with several tweets about body-shaming on social media.
"If you don't have anything nice to say, then don't say it all. Keep your negative vibes to yourself," she tweeted. "If you don't like what you see then keep it pushing."
She finally added, "Y'all shame natural bodies but praise fake ones."
Ralo responded to Karrueche's rant, tweeting, I'm just saying baby u look better with clothes on. Be the sweet girl, we always thought u was. Don't bring the freak in public!!!"
Although Karrueche took down her photos, we have to agree that it's not cool to body-shame someone on social media. Whether she is a freak or a nun, let her express herself on IG without the negativity.
| | |
| --- | --- |
| HELLA PROTECTION: The Internet is Upset that HBO's 'Insecure' Doesn't Blatantly Show Condoms Being Used; Issa Rae Responds "We Got Y'all!" | 14.08.17 |
Insecure is arguably one of televisions hottest TV shows that deals with the ups, down and in betweens of young, black professionals trying to get it together and while Sunday nights, show creator Issa Rae and the rest of the cast have the Internet a buzz, lately there has been conversation about the sex scenes and what many think are missing from those scenes.
A writer for VIBE penned a story about the several instances he noticed sex scenes on the show and there not being a condom present.
"This season when Issa and Lawrence have their moment of breakup sex, once again there is no mention or showing of a condom. Again it was noticeable, but in that scene, it wasn't difficult to believe that a couple who has been together for years would skip safe sex and take their chances with each other. Even if we take into consideration what Lawrence had been doing with Tasha, sex—especially in heated moments like the one we saw between Issa and Lawrence—gets risqué.
But after last episode's sex scene between Eddie and Issa, in which there is once again no mention or showing of a condom, I have to wonder why such a detail has been left out by the writers," he continued.
It seemed as if Cummings struck a chord because Insecure's show runner Prentice Penny who also made his directorial debut with last night's episode (Aug. 13) took to Twitter to defend the show's support of condoms.
#insecurehbo see. CONDOMS @cthagod pic.twitter.com/03986egt11

— Prentice Penny (@The_A_Prentice) August 14, 2017
On Monday (Aug. 14) hearing the concerns of many, Issa took to Twitter to tell fans the writers room have frequent safe-sex conversations and make a point to allude to it in the show.
We tend to place condoms in the backgrounds of scenes or imply them. But we hear you guys and will do better next season. #InsecureHBO pic.twitter.com/q9quKK3ZB8

— Issa Rae (@IssaRae) August 14, 2017
So what do you think? Has Insecure been irresponsible in not showing condoms, or should grown people know to use condoms when having sex and the Internet shouldn't make that Issa Rae's responsibility?
| | |
| --- | --- |
| WHAT IN THE WHERE'S WALDO HELL?!: Lil Scrappy Starts the "Operation Find the Bam" Campaign in Desperate Attempt to Win Back Ex-Fiance Bambi (VIDEO) | 14.08.17 |
At this point, this has to be for a storyline or something, right?! Either way, this is so sad. Lil Scrappy is still "looking for the Bam" and has resorted to asking random strangers if they've seen her.
Though his ex-fiancée Bambi Benson clearly wants absolutely nothing to do with him, Scrappy is still trying to win her back. In two Instagram videos on Saturday (Aug. 12), Scrappy launched "Operation Find the Bam" while in Miami. He asked several passersby if they had seen her.
"So I'm going on a hunt right now, tryin' find the Bam. Nah, that ain't her. Trying to find the Bam… they say she outchea," he said to the camera. "You still looking for her?" asked a woman sitting behind him.
In his second "Operation Find the Bam" vid, Scrappy asked several women if they had seen Bambi. However, his camera angles suggest he was interested in things other than The Bam. "I'm still looking; I can't find her," he concluded the video.
Earlier this week, Scrappy chose a photo of Bambi and himself as his Throwback Thursday and wrote a note begging her to take him back. "This woman I really love and miss u in my life," he wrote. The desperate move came after he had been texting Bambi for over a month to forgive him.
Given that the Atlanta-based rapper is currently in Miami and rumored to be joining the cast of Love & Hip Hop Miami, I'm beginning to wonder if this Bambi nonsense is part of his storyline. Mona really got this man out here looking foolish and desperate.
And the gag is, Bambi ain't even thinking about the dude!
| | |
| --- | --- |
| DESPITE WHAT "THEY" SAID: R. Kelly is NOT Being Investigated by Georgia County D.A. Despite Claims of New Evidence in Sex Cult Allegations | 13.08.17 |
R. Kelly is still in the clear, for now. Fulton County District Attorney Paul Howard confirms there is no investigation into the singer regarding allegations he's holding several women against their will in his Atlanta home.
Though the DA's sex trafficking division does have a file on the allegations, Howard said on Friday (Aug. 11) the office has no immediate plans to investigate the matter. He told the Atlanta Journal-Constitution:
"We are not currently investigating Mr. Kelly… We will review (the file) and confer with the Johns Creek policemen after our evaluation and proceed appropriately…

"Today there is no investigation. What we received is some information. Information that (police) might send on any citizen. We will look at it and make an evaluation. The evaluation might be that they need to do some more work."
Howard's announcement comes hours after Fulton County Chairman John Eaves called for an investigation due to new evidence uncovered by Johns Creek police. Eaves—who is also currently running for mayor of Atlanta—held a press conference on Friday. He stated in part:
"A detailed local investigation by the John Creek Police Department has provided key information that we believe is enough evidence that gives the Fulton County District Attorney's Office all it needs to advance a criminal investigation of the well-known allegations.
"Today, I am asking District Attorney Paul Howard and his investigative officers and prosecutors to fully review the report of the Johns Creek Police and follow every lead—no matter where it leads, or who it implicates, and bring those persons to swift justice.
"No one should be above the law, because of their income or their zip code. And we will not allow our young girls and young women to be preyed upon by predators or anyone who aims to brainwash and strip them of their human dignity and their right to be free."
However, the Johns Creek Police Department is contradicting Eaves' claim. "There is no new evidence in the closed investigation," JCPD Lt. Chris Byers said on Friday. Byers did confirm the department has handed over the file on the matter to the DA's office.
"We gave them everything (we) had," Byers said. "We let them know what was going on due to the high-profile nature of the incident and figured they would be getting calls about it."
Fulton County DA Paula Howard said he felt it was inappropriate for Eaves to speak to the media about the case in the first place. Sources tell TMZ R. Kelly is "outraged" at the mayoral candidate's call for an investigation and believe he is only doing so for his own personal gain.
"The allegations against Mr. Kelly are false and ill-motived. He again denies any and all wrongdoing," read a statement released by an R. Kelly spokesperson following Eaves press conference.