| | |
| --- | --- |
| FOR THE PEOPLE: Jay-Z & Roc Nation Invest In App That Helps With Bail & Unjust Incarceration | 20.03.18 |
"Meanwhile the DEA/Teamed up with the CCA/ They tryna lock niggas up/ They tryna make new slaves/ See that's that privately owned prison…"
Kanye West and Jay-Z may not be the best of friends at the moment, but Ye's lyrics still ring true. The American prison system has become a business, profiting from the incarceration of millions of non-violent offenders. Jay-Z, who has always been vocal about injustices in the prison system and in predominantly black communities, has decided to make a change.
According to Rolling Stone, Jay and his label, Roc Nation, have partnered with Promise to help find a way to assist with bail and other difficult tasks that come along with being arrested. Promise, an app co-founded by entrepreneur Phaedra Ellis-Lamkins, aims to reduce the number of people incarcerated. In a statement, Promise revealed its plan "to create a sustainable and scalable program that will reduce the number of people behind bars, recidivism and the cost of care by extending the capabilities of community supervision."
"We are increasingly alarmed by the injustice in our criminal justice system," explained Jay Z said in a statement. "Money, time and lives are wasted with the current policies. It's time for an innovative and progressive technology that offers sustainable solutions to tough problems. Promise's team, led by Phaedra, is building an app that can help provide 'liberty and justice for all' to millions."
The Promise app will formally debut March 20th at Y Combinator Demo Day. The app will be accessible to law enforcement agencies as well as the public. It will feature an interactive calendar that reminds users about upcoming court appearances and drug tests, as well as a map that locates clinics for substance abuse treatment, among other helpful tasks.
The Promise app will also aim to help those that cannot afford bail.
| | |
| --- | --- |
| SHOWSTOPPIN': Donald Trump Jr. Reportedly Had Affair With Former Danity Kane Member Aubrey O'Day After Meeting on 'Celebrity Apprentice' | 20.03.18 |
It looks like Donald Trump's son is in the middle of some controversy. According to a report from US Weekly, Donald Trump Jr. reportedly cheated on his wife, Vanessa, back in the day with former Danity Kane singer, Aubrey O'Day. The two apparently met on the set of season 5 of the Celebrity Apprentice in 2011, where O'Day was a contestant and Trump Jr. was one of the judges alongside his sister Ivanka and pops, Donald Trump.
"Things started up with Aubrey and Don Jr. toward the end of the taping," a source close to O'Day tells the news outlet. According to multiple sources, the former Danity Kane singer and Trump's affair began at the end of 2011 and continued until March 2012.
"When it started, they were very serious all of a sudden," the source added. "He told her it was over with his wife, that they were separated and he didn't love her — all of that stuff … Aubrey fell for him hard. She thought they were going to be together for real."
Then in March of 2012, Vanessa found emails between her husband and O'Day, which ultimately was the reason for Trump Jr to call off the affair with O'Day. The couple had three children together at the time, all of which were under the age of 10 years old too.
This report comes just a few days after Vanessa announced that she's officially divorcing Trump Jr. so it looks like all the juicy gossip is coming out now.
O'Day has yet comment on this report, but we'll keep you posted if she does. Are you surprised to hear this affair news or not really coming from the Trump bloodline?
| | |
| --- | --- |
| FACTS OR REACHING?: Azealia Banks Says She's the Most Significant Female Rapper Since Nicki Minaj + Beyoncé & Rihanna Stole Her Ideas | 19.03.18 |
There is no doubt that Azealia Banks is a confident woman. Consistently speaking her mind, the rapper always comes up with ways to make headlines. Unfortunately, most of those headlines have zero to do with her musical career. Her past has been riddled with controversy, from criminal charges to outlandish claims, Banks always has something up her sleeve. A master at garnering attention, all Azealia had to do this time was type up a quick statement on Rihanna's album and make some more boisterous claims about her influence among female rappers.
While Azealia has proven herself to be a consistent talent, she took to her Instagram account to claim she was the most influential female rapper, post-Nicki Minaj. The statement is unquestionably bold and her explanation is surprisingly coherent as she claims that when she says something, there is always a public reaction. Banks continued by writing, "I can 100% see the impact I've had on female rap culture. It makes me know that I'm not, and was never crazy. I'm happy to contribute to the arts in whatever way I can. Even if people don't give me the credit…" In a different comment, Banks says that Rihanna named her album Anti following Azealia's suggestions.
People continually bash Azealia for voicing her opinions, critiquing her mental health and calling her names but, in her own way, she is making sense here. While she may not be the most popular female rapper since Nicki (that goes to Cardi B,) Azealia Banks has continually influenced headlines for the last six years. What do you think about her brash claims? Do you agree with her or not?
this just in pic.twitter.com/mCmXS8QEE8

— Noah (@flutehoe) March 19, 2018
| | |
| --- | --- |
| ISSA BOP OR ISSA FLOP?: Love & Hip Hop Miami's Amara La Negra Releases Her First US Single "Insecure" (FIRST LISTEN) | 19.03.18 |
After weeks of teasing her first official single, Amara La Negra's "Insecure" is finally out. In late January, the singer released a snippet of the song in a now deleted clip, and since then fans have been patiently waiting to hear the full song…and now is your chance!
A Caribbean pop moment, "Insecure" is a love song that will get you in your feelings a bit while you start winding in your chair at the same time. e. "Insecure" was produced by Theron of Rock City, who has previously worked with Rihanna. Amara recently told the folks over at NBC that she's focused on making "American music with a Caribbean feel," and "Insecure" definitely stays true to that goal.
After years of focusing on the Latin American music market, w Amara broke into the U.S. mainstream on January 1, through VH1's Love & Hip-Hop: Miami. She quickly became the show's breakout star because of her personality and fearlessness in speaking up for Afro-Latinos. Since then, she has signed a multi-record, multi-million dollar record deal with BMG and Fast Life Entertainment.
"Insecure" debuted on staple New York radio show The Breakfast Club this morning, and is now available on all streaming platforms. Take a listen below, are you feeling it? Issa a bop or issa flop?
| | |
| --- | --- |
| HOW YOU DOIN'?: Wendy Williams Opens Up About Battling Graves' Disease In the Midst of Menopause (VIDEO) | 19.03.18 |
Wendy Williams appeared on Good Morning America to discuss her much-publicized diagnosis with the autoimmune disorder Graves Disease, and how it has changed her perspective on life. The 53 year-old talk show host has been suffering from hyperthyroidism for almost 20 years, but Williams learned how to medically and physically manage her symptoms in order to further her career prospects and establish herself within the entertainment industry.
Williams has opened up about how her health struggles have impacted her sense of womanhood, changing her perspective on the societal norms ascribed to femininity and being a mother. "We as women, particularly if we have families, we're taking care of children, we're taking care of home, our husbands, we take care of everybody but ourselves."
Williams also reveals that she confused her autoimmune disorder with menopause, noting that "I was just feeling like 'All right, well I'm 53 and this is I guess how it's supposed to be.'"
However, the outspoken talk show host does admit that she is done with putting others and her business ventures before her health, and is making a valiant effort to focus her attention on herself. She admits that she feels "feel a hundred percent better than I was a few months ago. I had a storm going in my body is the best way I can explain it."
Williams has also gone on record to note how "I love doing the show, but I love me more. So I'm going to take care of me, so I can be there for them."
Check out the video below:
| | |
| --- | --- |
| AS IF NO ONE SAW THAT COMING: Fifth Harmony Announce Indefinite Hiatus To Focus On Solo Careers | 19.03.18 |
Fifth Harmony has taken to Twitter to announce that they have disbanded indefinitely. Group members Dinah Jane, Normani Kordei, Ally Brooke and Lauren Jauregui have revealed to their fans and the public alike that their hiatus is a result of wanting to pursue "solo endeavors."
The post was sentimental and retrospective, as they reminisced on their rapid ascent into the upper echelons of notoriety and fame within the music industry. "Reflecting on the past six years since we started on X-Factor, we've realized just how far we've come and we appreciate everything so much, more now than ever. We've really had one hell of a memorable journey together and can't begin to express our gratitude to y'all for coming along with us on this wild ride!"
The note continued to reveal how "After six years going hard, non-stop, we also realized that in order to stay authentic to ourselves and to you, we do need to take some time for now to go on a hiatus from Fifth Harmony in order to pursue solo endeavors."
They took time to recognize their fan base that has supported the group even after Camila Cabello left to establish a career unaccompanied by her former friends and colleagues. "To our Harmonizers, thank you for everything we have been able to build as Fifty Harmony. With your love and encouragement we will continue to build on ourselves, support ne another in everything we do, and keep making you proud, each other proud and ourselves proud."
Peep the rest of the note below:
— Fifth Harmony (@FifthHarmony) March 19, 2018
| | |
| --- | --- |
| BOTTOMS UP: Trey Songz Reportedly Turns Himself In For Domestic Violence Charge | 19.03.18 |
Trey Songz has turned himself in to the authorities, reports say.
Trey Songz has been dealing with some legal issues over the past month or so. It's nothing necessarily new for him but the latest legal matters on his plate are due to allegedly beating a woman down at a club during All-Star Weekend in February. After denying any sort of wrong doing, it's reported that the singer turned himself in to the LAPD earlier this morning where he's facing felony charge for domestic violence.
According to TMZ, Trey Songz turned himself in this morning around 6 a.m. to face a domestic violence charge. However, he was later released on $50K bond.
Interestingly enough, the singer took to Twitter around the same time to deliver a message to his followers.
"For weeks my lawyers & Mgmt have asked me not to comment on this and I initially agreed but this morning I feel that my fam, the women that raised me, my friends & fans especially the youth need to hear from me. I am being lied on and falsely accused for someone's personal gain," he said.
For weeks my lawyers & Mgmt have asked me not to comment on this and I initially agreed but this morning I feel that my fam, the women that raised me, my friends & fans especially the youth need to hear from me. I am being lied on and falsely accused for someone's personal gain

— Trey Songz (@TreySongz) March 19, 2018
According to the report, Trey Songz lawyer has told the investigating detectives on the case that Songz accuser story is filled with many inconsistencies. Songz has also stated that there's eye witnesses that have refuted the victim's claims.
Last week, she held a press conference going into detail about what allegedly happened. She claimed Trey Songz beat her so hard that she ended up in the hospital. She was also recently granted a temporary restraining order against the singer.
| | |
| --- | --- |
| SAY AHH: Trey Songz Finally Opens Up & Responds to Assault Accusations – "I'm Being Lied On!" | 19.03.18 |
In February, during the All-Star Weekend, Andrea Buera accused Trey Songz of punching her in the face so hard that she received a concussion.
"I was attending an after-party when Trey began yelling at me, choking me, punching me and ultimately, he knocked me to the ground. While I was on the ground, he continued punching me," she said at an official press conference with her lawyer, Lisa Bloom. "And he did not stop until his security guard pulled him off of me."
Since the allegations surfaced, Trey has only tweeted "This Too Shall Pass" and has been slammed with a restraining order. Just recently, the "Mr. Steal Your Girl" singer has officially tweeted his statement on the matter, even if his "lawyers & Mgmt" told him not to.
Peep the tweet below. What do you guys think?
I won't be speaking too much more on this but would like to thank you for all the prayers and support. 🙏🏾❤️💪🏾

— Trey Songz (@TreySongz) March 19, 2018
| | |
| --- | --- |
| IT GETS WORSE: Kodak Black Is Reportedly Locked Up In Solitary Confinement for Unauthorized Phone Usage | 16.03.18 |
Kodak Black has been moved to the hole while he awaits trial.
A report obtained by TMZ, makes claims of rapper Kodak Black spending the next 30 days in solitary confinement for breaking yard rules. It appears he used the main prison phone to contact someone with whom he was not supposed to speak.
Kodak, who has been in a Florida jail since January when law enforcement raided his home. His lawyer has gone on record, claiming that police had tampered with evidence during the visit. Law enforcement was likely tipped off by a number of alarming posts the rapper had posted on social media, one of which showing his infant child sitting in a cache of firearms.
Kodak is facing felony charges of theft, firearm possession, drug possession, and violation of probation. We'll have to wait on a further deliberation of his rights. For the next 30 days at least, he'll have make due with his hands and knees. Solitary consists of a regular meal plan passed through a shutter, a narrow beam of light, and the best interior monologue he's got to offer.
| | |
| --- | --- |
| WHEN IT'S OVER: Rapper Logic And His Wife Reportedly Split Up | 16.03.18 |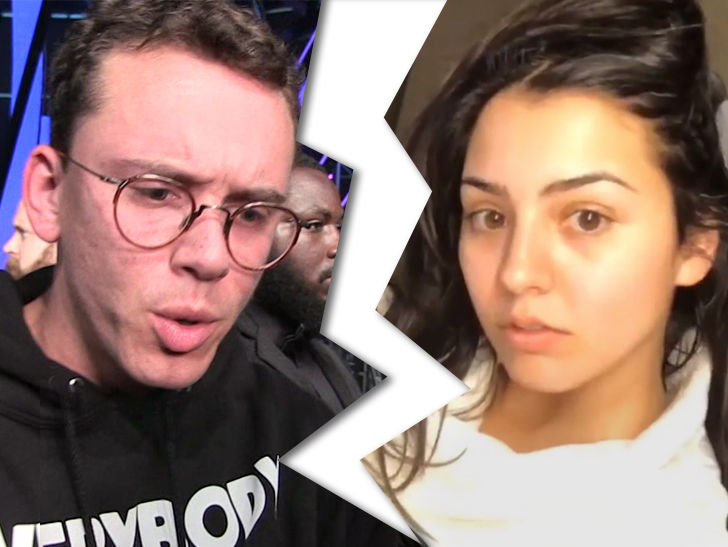 Logic & his wife of two years are going to Splitsville, according to a report.
According to TMZ, Logic and his partner Jessica Andrea, have split after two years of marriage. The news comes as a bit of a surprise to those who have followed the rapper's rise, as he has shown nothing but deep respect for his partner on record or in passing. Rappers normally brag about keeping emotional distance from their sexual partners. Logic conversely bragged about his wedding band on recent single "Overnight."
Unfortunately that's only one side of the story. Stat watchers had noticed that Jessica unfollowing Logic on Instagram. How on earth they were able to spot the detail with no sign of wrongdoing goes beyond my understanding of the situation. TMZ reports that neither side has filed divorce documentation, but reconciliation seems out of the question. The same sources have learned that property they purchased together last year, has now reached the seller's market.
The microscope on Logic continues to magnify. A quick glance at Jessia Andrea's twitter feed gives off the impression of business as usual, while Logic seems content with his album push. We'll have to wait for more details to emerge.
| | |
| --- | --- |
| SAY WHAT NOW? "Yeezy Dating" Is A Dating Site For Kanye West Fans To Find Love | 16.03.18 |
Yeezy Dating looks to deliver "808s & Heartbreak" to the masses.
Kanye West's longwinded pursuit of Kim Kardashian ended in matrimony. Three kids later, fans of the rapper still uphold this union as a dream narrative for taking what you want in life. It also upends a common belief that marriages of convenience are without true love. One fan in particular was ever so inspired.
A kickstarter launched by superfan Harry Dry, aims to raise funds for a Kanye West-inspired dating site, which will allow fans to connect on their shared interest of the rapper. The dating site simply named Yeezy Dating, will go into service with or without the estimated €1,100 target being matched. The kickstarter page itself provides a hybrid of the website and its functionality. Dry added his intentions on the page:
"I've been building a dating site for Kanye West fans for the last month or so and I'm very close to finishing it I just need a little help with the final development + marketing! So any money pledged will be wisely invested into the product and building the community."
If this is something you feel strongly about, and by all means do you, contribute here. Peep this for early access.
| | |
| --- | --- |
| OOPS!: Swizz Beatz Called Out H&M On Their Latest Apology…and Got Blocked | 16.03.18 |
Swizz Beatz came looking for smoke with H&M, and he found it.
Cue the horns from Ruff Ryders' "WWIII." Producer Swizz Beatz is going to war. It's no secret that Swedish fashion company H&M has been on a losing streak. First, their infamous "coolest monkey in the jungle" gaffe cost them the trust and favor of the hip-hop community. Now, their unsolicited use of a graffiti artist's work thrust them into a copyright infringement lawsuit; while H&M initially attempted to nullify the artist's rights due to the "illegal" nature of his work, the backlash from the artistic community proved too fearsome to ignore. In the wake of another brewing PR disaster, H&M released a statement attempting to make amends.
Unfortunately, Swizz Beatz abides by the old idiom of "fool me once, shame on you. Fool me twice, shame on me." The iconic producer rolled through H&M's page looking for all the smoke. Swizzy dropped off a comment on H&M's latest apology, writing "can you prove you completely dropped the case publically? Or are you only willing to drop the case if the artist complies with your stipulations and continues to work with you?" Ultimately, his thesis statement is simple: "creatives should get what they deserve."
However, H&M was having none of it. Swizz soon realized that H&M banned him from the page, which prompted him to let off another rant. There's no doubt that fighting for the rights of creatives is a noble cause. H&M will no doubt feel the wrath or the more right brained consumer. Yet one important question remains unanswered. What happened to that Swizz vs Timbaland beat battle?