| | |
| --- | --- |
| THE THOT THICKENS: Snoop Dogg Puts Celina Powell Under Microscope In "Clout Chasers" Trailer (WATCH) | 17.07.18 |
Snoop Dogg is here to put an end to the madness.
Though it's not that difficult, young people of today looking to immerse themselves in hip-hop culture (or anywhere remotely adjacent) seem to continuously forget one essential rule. The legends of the genre are to be respected. It's not the first time youth have brazenly disrespected the pioneers, with an unearned cavalier demeanor. It's difficult to forget the gun-toting Woah Vicky's mush-drawl cries of "fuck you Snoop Dogg," as if the man didn't lay down a Suge Knight diss track on wax.
For reasons unknown, Snoop has recently found himself a lightning rod for would-be clout chasers. Case in point, the legendary rapper was recently put on blast by one Celina Powell, known for faking pregnancies; most recently, she engaged in a sociopathic performance as Offset's baby-mama. To quote Maury Povich, "that was a lie." Now, she's somehow managed to pull Snoop into her web, accusing him of cheating on his wife, while providing dubious "proof" at best. Either way, the whole thing feels like the "girl who cried wolf," and should be handled with the same rational wariness one might allot to a Bigfoot sighting.
Now, Snoop Dogg is fighting back, determined to expose the truth one and for all. Given that his name has been continuously sullied, Snoop has whipped together what promises to be an interesting look into those styled "Clout Chasers," hopefully exposing them once and for all. In a promising trailer, Snoop sits at a control panel, playing back footage of Woah Vicky's notorious rants, alongside Celina Powell admitting her lies to DJ Akademiks. Blunt in hand, Snoop can only shake his head.
In 1992, Snoop Dogg and Dr. Dre made history on The Chronic. In 1993, the duo continued the streak with the release of the bonafide classic Doggystyle. Since then, Snoop has gone on to enjoy one of hip-hop's most storied careers; from Long Beach up-and-comer to a worldwide icon. for some context, Powell was born in 1995; Vicky was born in 2000.
Say what you will about the man, but every so often Birdman's wisdom rings true: "put some respect on my name." Indeed. Look out for "Clout Chasers," supposedly coming soon.
| | |
| --- | --- |
| SEE YA LATER, JOHNNY!: Papa John's Founder John Schnatter Thrown Out Of His Office Following Use of the N-Word | 16.07.18 |
It's all downhill from here for Johnny.
Papa Johns' founder and former CEO, John Schnatter, is facing multiple consequences for his use of racist language during a conference call in May. When the news surfaced, he issued a public apology. Now, CNN reports his being kicked out of his office located in the company's headquarters of Louisville, Kentucky. A special committee of the board of directors gathered on Sunday to engage in dialogue concerning the issues brought to the company by its founder. Ultimately, the conclusion was bad news for Schnatter who had already resigned from his role of chairman last week.
This is a clear display of the company's attempts to distance themselves from the PR nightmare that is John Schnatter. Papa John's made an announcement to this effect, stating that the bigotted man is required to "cease all media appearances, and not make any further statements to the media regarding the company, its business or employees."
Schnatter says his use of the n-word being exposed to the public was a direct result of extortion. He claims the agency that conducted the infamous conference call publicized his use of inappropriate language after he resisted some of their demands. The disgraced founder still owns 30% of the Papa John's shares.
| | |
| --- | --- |
| SAY WHAT NOW?: Squatter Living In Timbaland's Miami Mansion Reportedly Finally Left & Left Him With $100K In Damages | 16.07.18 |
Timbaland's caught a bad case of the bees, literally.
Timbaland is dealing with a bad case of a mansion squatter since a man who unlawfully lived in his home left him with an expensive clean-up. According to The Blast, a man named William Zamora basically continued to live in Timbaland's mansion after the deal to buy the house fell through. After being forced to leave after a number of warnings, he eventually packed up but left the place extremely messy.
The documents say bedrooms have extensive damage, as well as the walls, rugs, and dressers. Some of Timbaland's possessions that were still in the house such as the coveted arcade game "Street Fighter" is claimed to be busted and his attic is now filled with bees. It gets worse since William not only left the place a mess but he allegedly also stole a television and multiple other items.
When Timbaland first filed to get William off the property, he claimed he put down $300,000 into home repairs and accused the famed producer of trying to sell the house to another party. William's removal from Timbaland's home was put on hold after he tried to file for bankruptcy.
Now that he's finally out, Timbaland's left with an even bigger mess and we'll have to see how the squatter tries to fight this one off.
| | |
| --- | --- |
| NOT ME, GIRL!: Teyana Taylor Claps Back At Fan For Criticizing Her Sex Life With Iman Shumpert | 16.07.18 |
Teyana Taylor wasn't having any of that today.
Teyana Taylor is fresh off the release from her second studio album, K.T.S.E. At this point, many people feel that it was one of the strongest albums to drop from the five Kanye West-produced projects. She's been on a heavy press run lately where she's been speaking on her album, her family life and more. Teyana Taylor seemed to catch a few people off guard when she opened up about having threesomes with her husband Iman Shumpert. A fan took to Twitter to let Teyana know that what her and her husband do "should be left in the bedroom." Shortly after, Teyana came with the clapback.
Earlier today, a Twitter user said she feels Teyana's interview where she opened up about her sex life was "tasteless" and showed "a lack of self respect." Teyana caught wind of the tweet and fired back.
A few weeks ago @TEYANATAYLOR and @imanshumpert were relationship goals. Now I just feel like her interview was tasteless and shows a lack of self respect. Let this be a lesson. What you and your husband do should be left in the room.

— Cali Shauna (@OGCaliShauna) July 16, 2018
"Let what be a lesson petunia!?" She wrote, "I'm not losing any sleep at night over UR opinion. Just because I, ME I repeat ME enjoy bussin bitches down from time to time w/ MY HUSBAND, doesn't mean I don't respect "self". SO, u should go and enjoy ur wack ass sex life & stay out of mine."
Let what be a lesson petunia!? 😂 I'm not losing any sleep at night over UR opinion. Just because I, ME I repeat ME enjoy bussin bitches down from time to time w/ MY HUSBAND, doesn't mean I don't respect "self". SO, u should go and enjoy ur wack ass sex life & stay out of mine 🙃 https://t.co/hzCo7P4t5F

— TEYANA M.J. SHUMPERT (@TEYANATAYLOR) July 16, 2018
Aside from Teyana's hashing it out with a fan on Twitter, she seems to be working on more new music. She recently revealed on Twitter and she'll be working on a new album with Ty Dolla $ign. It's unclear whether they've started to work on it already but we're definitely excited to hear it.
| | |
| --- | --- |
| IYANLA, FIX MY LIFE: Khloe Kardashian & Tristan Thompson Reportedly In Couples Therapy | 16.07.18 |
Tristan & Khloe are still going strong.
This past year has been a whirlwind for Khloe Kardashian, to say the least. Her beau Tristan Thompson was caught cheating on her days before giving birth to their child and if that wasn't hard enough, she had the whole world know about with something to say. Despite it all, Khloe has decided to stay with Tristan and work it out.
"Khloe was always going to try and make this work," Kris Jenner's close friend, Lisa Stanley said. "She doesn't want to look a fool. She was a fool once with Lamar [Odom] and she didn't want to do it again."
As a way to get through the hard times, properly, they've sought out help from a third party. "One thousand percent they are working through couples therapy. She's working hard, he's working hard," Lisa added. "You can't just earn trust back in two months."
Khloe's family members who have spoken out on the matter, were clearly not impressed with the NBA player and if it was up to them Khloe would have moved, according to Lisa. Not too long ago Khloe clapped back at a fan for suggesting she had disappointed her many followers. "You have no knowledge of what goes on in our household or the enormous rebuilding this takes to even coexist. I'm proud of my strength. I appreciate your opinion and I hope you hold that same opinion to everyone else who has stayed in situations," she said.
| | |
| --- | --- |
| TUNED IN OR TUNED OUT?: Nickelodeon Orders 'Rugrats' Reboot + Live Action Movie for 2020 | 16.07.18 |
Viacom is bringing Rugrats back to both the big and small screens.
The media conglomerate on Monday announced that it is reviving the children's television series for a 26-episode greenlight at cable network Nickelodeon as well as a new live-action feature film featuring CGI characters for Paramount Players.
The TV series and movie will include new adventures with original characters Tommy, Chuckie, Phil, Lil, Susie and Angelica, while also introducing a new world of characters.
Original creators Arlene Klasky, Gábor Csupó and Paul Germain will return for the Nickelodeon series as executive producers. Production on the new animated series is already underway in Burbank, with casting, a premiere date and more to be announced in the coming months.
The Rugrats feature will be penned by David Goodman and released by Paramount Players on Nov. 13, 2020. Paramount Players is a division of Viacom's Paramount Pictures that develops and co-produces co-branded feature films within the conglomerate's portfolio. Other Viacom brands getting the feature treatment from Paramount Players are Dora the Explorer (with the show airing on Nickelodeon from 2000-14) and Are You Afraid of the Dark? (which also ran on Nickelodeon). All told, Rugrats is the seventh feature on the Paramount Players slate, joining Nobody's Fool (due out Nov. 2), Eli (Jan. 4, 2019), What Men Want (Jan. 11, 2019), Dora (Aug. 2, 2019), Body Cam (TBD) and Are You Afraid of the Dark (Oct. 11, 2019).
Will you be tuned into Rugrats for the new generation?
| | |
| --- | --- |
| OOPS!: Kourtney Kardashian's Boyfriend Shades Her Over Thong Bikini Photo – "That's What You Need to Show to Get Likes?" | 16.07.18 |
Younes Bendjima's comment has since been deleted.
Not many complain over the Kardashian's constant flow of sexy photos on Instagram. Even if you despise the family, you have to admit they all look damn good. Since they love to show off their curves with every chance they get, it was seemingly harmless when Kourtney Kardashian uploaded a photo of herself in a thong bikini, flaunting her famous Kardashian booty. While we're sure he wouldn't have minded receiving the photo in his DM's, Kourt's boyfriend Younes Bendjima seemed to take issue with how revealing the photo was, commenting some shade before deleting his post.
Relaying many of our thoughts about the Kardashians on a daily basis, Younes wrote, "thats what you need to show to get likes?" on the photo. On one hand, yes, that is absolutely what she needs to show to get likes. The family has basically made a brand out of their looks and they make money off of looking good. On the other hand, Bendjima is likely feeling a little jealous after dating Kourtney since October, hoping she would keep some things private. The 39-year-old Kardashian is noticeably more reserved on social media when compared to her sisters Kim and Kylie who will share just about anything on the 'gram. At the end of the day, Younes was probably just playing around with his girlfriend but the deletion of the post leaves things a little cloudy.
Fans of the famous clique have since flocked to his comments section, repeating his exact sentiments on his most revealing photos. Turnabout is fair play, I guess?
| | |
| --- | --- |
| THOUGH WE DOUBT ANYONE CARES AT THIS POINT: Azealia Banks Cancels "Fantasea II" Album After Accusing "Wildn' Out" of Colorism Attack | 16.07.18 |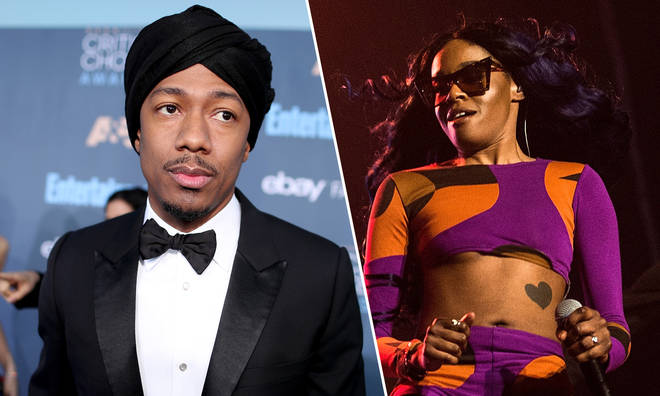 Azealia Banks has decided to put her upcoming album, Fantasea II: The Second Wave, on ice. This news comes after the heated exchanges on social media prompted by the rapper venting about her negative experience on the set of Wild'n Out. Banks shared the bad news with her fans through her Instagram account: "Album is canceled," she wrote in one of her IG stories. "I need some time to relax and bounce on dick. I'll release new music when I feel like it…"
Her social media beef with Wildn' Out's Nick Cannon seems to have gotten out of hand. The pair entertained the masses with a shady exchange and Banks even fired some shots at his fans. Others hopped into the drama for clarification. Two of the show's cast members refuted Azealia's claims. According to Tim Chantarangsu AKA Timothy DeLaGhetto, Banks "is trippin."
Lol bruh no one made a skin joke. She is really trippin

— Timothy DeLaGhetto (@TimothyDeLaG) July 15, 2018
Azelia B came on that show , got called ugly, tried to joke back, didn't work, cried, then performed a weak a** forever 21 shopping song!

— IG: @emanhudson (@Emanhudson) July 15, 2018
She saying the episode not airing!! Is this true? pic.twitter.com/QUocfw1EqI

— . (@WazzaIsBeast10) July 16, 2018
Whether Azealia Banks was set up or not, it seems like the artist has a knack for sabotaging her release dates. Hopefully, she can keep it moving like the last time her material was held back. Fans can still enjoy the shelved album's previously released singles, "Treasure Island" and "Anna Wintour."
| | |
| --- | --- |
| SAY WHAT NOW?: 50 Cent Says He Wants To "Rescue" Atlanta Women – "The Boys Want The Boys" | 16.07.18 |
As far as the Atlanta dating pool, 50 Cent seems to believe that it is, as they say, "strictly-dickly." Hip-hop's notorious troll has taken to Instagram to question the current state of Atlanta's male-to-female ratio. "LOL Atlanta is outta control," he writes, alongside an image of an coquettish young gentleman, "it's 7 women to 1 man down there because the boys want the boys. Don't worry ladies 🏃🏽‍♂️💨 I'm on the way." Though 50 might have been tempted to throw in a "get the strap," he neglected to do so at the time of posting, perhaps in fear that the ladies in question might take it literally.
His comments come, perhaps coincidentally, mere hours after Young Thug proclaimed himself the "Drip God," emphasizing his role in popularizing skinny jeans; as he tells it, he took the insults aimed at his sexuality so the youth can freely stifle their legs with denim. Looking back, such a style is the polar opposite of 50's signature baggy-jean look, in which jeans fell freely from his body as if plotting an escape. One has to wonder what exactly 50 Cent has against Atlanta, a place that has produced some of the more fashion-inclined rappers in recent memory.
It wouldn't be surprising to see one of the more quick tempered Atlanta rappers take umbrage with Fif's claims, and perhaps after all this, we'll be looking at a newfound chapter in hip-hop history: the denim war. Should 50 indeed make good on his promise to play the rescuer, one has to wonder whether he'll find himself greeted by "many men." Many angry, hostile, skinny-jean clad men.
Uh oh…. 😆 📸 @50cent pic.twitter.com/fRTiiMu4zA

— SOHH (@sohh) July 16, 2018
| | |
| --- | --- |
| WHEW, CHILE! THE GHETTO: Lil Boosie Responds to Baby Mama Exposing Him As Her Brother's Killer – "B*tch, You a Hoe" | 16.07.18 |
Lil Boosie is caught up in some baby mama drama. His daughter's mother took to Instagram live to air out some of their family's dirty, including how he threated to kill her. The rapper's daughter, Tori, is said to have received these abusive messages targetting her mother. The live clip was broadcast through Tori's account. During the session, a clip is played that appears to capture Boosie's voice threatening to blacken Tori's eye and kill her mother as he did Tori's uncle. The rapper was previously accused of playing a role in her uncle's death but was acquitted for lack of evidence.
it's lookin bad potna!!!!!!!! @BOOSIEOFFICIAL pic.twitter.com/t8t7EdGC47

— JayZOverrat3d (@JayZOverrat3d) July 16, 2018
Lil Boosie had time to respond to these claims. He did not actually engage in a logical rebuttal, however. Instead, he opted to discredit the woman's assertions by portraying her as morally weak. He laughs as he tries to shame her for sexual activities they participated in together:"B*tch, you a h*e. You f*cked two best friends at the same time."
Now, his belief that her character is laughable did not keep him from impregnating her. The woman says their relationship started when she was 16 but was never acknowledged publicly.
| | |
| --- | --- |
| TROUBLE MAN?: T.I. Faces Assault Charges For A Drunken Altercation With A Security Guard | 16.07.18 |
The rapper is charged with 3 misdemeanors.
T.I. is facing legal troubles that stem from an event that occurred in May. The rapper was involved in a drunken disagreement with a security guard that resulted in his being arrested. At the time, he was attempting to enter a gated community. When the security guard refused his entry into the premises, T.I. became aggressive, spewing threats and asking the individual to exit the guard shack. The guard decided to call legal authorities to the location when faced with the drunken outburst. Henry County prosecutors have filed charges against the Georgia native. These charges include simple assault, public drunkenness, and disorderly conduct.
His lawyer, Steve Sadow, is said to have labeled the allegations as "baseless, ill-founded and unjustified." He also stated that the security guard in question, "was fired for the way he handled the situation with T.I." It is reported that this situation is not likely to result in any jail time.
These are not the only legal issues the entertainer needs to deal with. He is still involved in drawn-out proceedings with his wife Tiny. The couple has yet to finalize their divorce. Their complex dispute involves Tiny hiring a private investigator to track her husband's movements.
| | |
| --- | --- |
| TOO FAR?: Azealia Banks Says She Would Love To See Wendy Williams "Die On Air" | 16.07.18 |
Did Azealia Banks take it too far?
Azealia Banks was involved with more drama over the weekend after she threw shots at Nick Cannon and Wild N Out for some of the jokes they made on the show while filming. It didn't take long for other members of the "Wild N Out" cast to clap back at the "Anna Wintour" singer in an attempt to downplay her accusations. Earlier today, Wendy Williams discussed the incident which seemed to prompt a response from Azealia Banks. On her Instagram story, Banks wished death upon the TV personality.
Wendy Williams has made a lot of enemies in the entertainment industry over the years including Azealia Banks. The two of them have had their feud last year which resulted in legal threats from Banks. Today, Azealia Banks made it clear that she isn't messing with Wendy Williams at all when she hit her Instagram Story and said that she would love to see Wendy Williams "die on air."
"Omg can Wendy Williams have another stroke on TV and finally drop dead? I would love to see her die on air." Banks wrote.
Following the incident on the "Wild N Out"set, Banks said that the cast had "pre-planned colorist jokes" as well as call her ugly which she said caused her to break down in tears.
In addition, Banks also said that she plans on pushing her album back due to the controversy.