| | |
| --- | --- |
| GETTING THE FACTS STRAIGHT, OKKURRR!: Cardi B Finally Shuts Down Those Stupid Rumors About "Drugging and Raping" Men – "Not Once Did I Say That" (VIDEO) | 19.07.19 |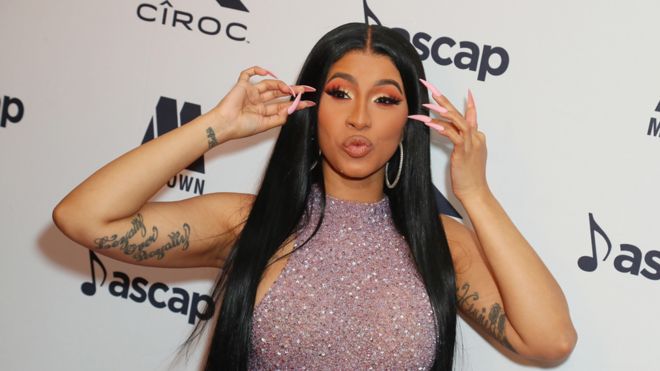 Cardi B sets the record straight on THOSE rumours.
For months, Cardi B has been getting harrassed (mainly just by her haters) online for an older video that was making the rounds. In the clip, the rapper mentioned during her days as a stripper, resorting to robbing men who wanted to sleep with her as a means of survival. Somehow that turned into haters accusing her of being a "rapist," which she has ignored until now. The comments finally became a little too much for her to let fly over her head because this morning, Bardi unleashed a series of tweets defending herself and her past actions.
"I let people go with this narrative of me for a long time," said the Bronx superstar, acknowledging the whispers that have been happening in her busy comments section. "Not once did I say I put shit inside n***as drinks. I NEVER did that. These n***as use to get drunk, smoke maa weed party an hard and passed out. Never did I force n***as to come with me nowhere. Never did I fuck nobody. These Meb [sic] used to disgust me sooo for the fact people keep calling me a rapist when I didn't even kiss these men it's so crazy to me."
She went on to share that, in the past, she has had to scream and run from men that got too aggressive with her. She says that working in the nightlife industry, she was exposed to a lot. Take a peek at what Bardi had to say below. Perhaps this will now stop those trolls taking advantage of something as serious as rape as another excuse to try and come at Cardi.
| | |
| --- | --- |
| AND I OOP!: Aubrey 'O Day Wants All the Smoke with Wendy Williams After Shady 'Hot Topics' Moment – "Run Your Mouth Like This Face to Face!" | 19.07.19 |
Wendy Williams is always good for the shade, but she may have met her match this time.
Wendy Williams threw some shade at 'Danity Kane' member Aubrey O'Day during her "Hot Topics" segment yesterday, accusing O'Day of having plastic surgery. "What did she used to look like?" asked Williams as "before" and "after" photos came up on the screen behind her. Williams added, "She's really young. You don't start doing that stuff until you get to a particular age. She's going to have to keep up all that filler and work and stuff."
Despite the comments on O'Day's appearance, Williams noted, "I love her, she's been here on the show."
O'Day made headlines this week after it was revealed that Making the Band, the reality-competition show on which she was discovered, would be returning to TV. The show was produced by Sean "Diddy" Combs, and O'Day addressed rumors she would be returning with her former group, Danity Kane, by tweeting, "You know he can't finish any artist he starts," along with sounding off in an interview with the folks over at The Blast basically saying the same.
Williams took exception to this assessment, and slammed O'Day for speaking out of turn. "Listen, Aubrey. Sour grapes. He might not have finished with Danity Kane, but maybe that's because you weren't as big as you thought you were," said Williams. Naturally, Auberella didn't take too kindly to Wendy's comments and proceeded to lash her via Twitter:
"ma, u got so much to say when I'm not sitting right in front of you, why don't you be a real one and run your mouth like this face to face. I dare you, I'll clear my f*cking calender."
Whew chile! Do you think Wendy was out of line or did she have a point?
| | |
| --- | --- |
| I KNOW YOU LYING: A$AP Rocky Forced To Stay In Jail, Deemed A Flight Risk | 19.07.19 |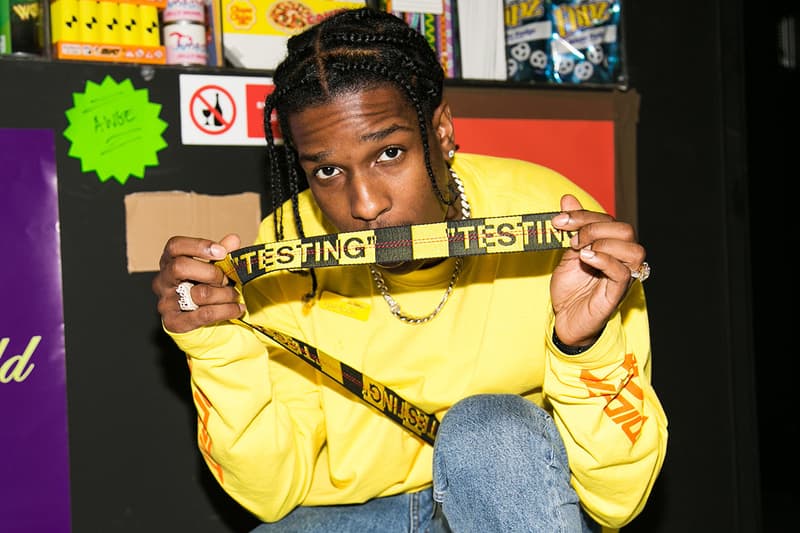 A$AP Rocky will remain in jail until Thursday at the earliest.
It appeared as though we would soon be getting some positive news regarding A$AP Rocky's arrest in Sweden after Kim Kardashian and Kanye West tried to work their magic at the White House, working with Donald Trump to free the Harlem rapper. Unfortunately, their efforts have not yet paid off because according to new reports, prosecutors have been pushing for the AWGE artist to remain in jail for the time being. After that was considered, a judge reportedly decided today that A$AP Rocky is considered a flight risk and he will indeed be kept until further notice.
When he was first detained in Sweden, a timeline of two weeks was given until Rocky would be released from jail. He is currently facing a total of six years in the can for assault but as the investigation is ongoing, he would be kept for a couple of weeks in conditions that were supposedly unliveable. Now though, TMZ is reporting that the rapper will be held until Thursday at the earliest, keeping him in jail for another six days. Rocky is believed to be a flight risk and prosecutors wish to continue their investigation before making a final decision on whether or not to follow through with Rocky's indictment. 
After his arrest at the beginning of this month, Flacko shared videos showing that he acted in self-defense when two men followed him and his crew around Stockholm and harassed passersby. 
Continue to spread the news about A$AP Rocky and let's pray that he gets out soon.
| | |
| --- | --- |
| WELL THAT DIDN'T LAST LONG: Carmelo Anthony & La La's New Pics Together Have The "City Boyz" Feeling Like They're Back In The Game & The Internet is Going Off | 19.07.19 |
Per usual, Twitter is ablaze.
In case you haven't been keeping up, Carmelo Anthony and his wife and baby mother have not been on the best terms, or even close really. It all started when pictures of Melo with a mysterious woman on a yacht in France surfaced – on the same day as La La's birthday at that. With gossip sites picking up the news like a 20 dollar bill found at the side of the road, Melo took to sending out a PSA which involved him declaring that he "can't let this one slide" as the publications were "affecting" his own family, as well as that of the woman's (which he insisted was "married"). It didn't take long for some gossip sites to get to work on figuring out just exactly who the woman on the yacht was, and their research did not disappoint, as they discovered she was in fact a (very much single) Swedish/Moroccan model, followed by Meek Mill on Instagram. La La was rightfully devestated, and took to sharing the news that she was in "legal discussions" over what next steps she would be taking. She even let it be known that she was planning on living her best, care-free City-girls summer, making a club appearance on stage to throw shade at her hubby, and declaring that she "don't give a f*ck bout a n*gga."
With a victory point in this ongoing competition of whether it's a "City Girls (or Hot Girls) VS City Boyz Summer," it appeared as though we'd gotten quite the contender on our side, but with recent images surfacing of La La back with Melo, Twitter has been absolutely ablaze. PageSix reports that they were seen together this weekend outside of Matsuhisa Beverly Hills—which could very well be a completely platonic, and cordial outing, but the pics have rounded up all the City Boyz on Twitter who think they're now leading the game. Check out some reactions below! What do you guys think?
Lala acting all bad bitch

Melo like: pic.twitter.com/NfRhZIdenD

— DZADDY DZADDY (@Njabsi) July 17, 2019
Heard Lala got back with Melo pic.twitter.com/zp1ufBHZuj

— Rashaad Moore (@Rashaad_Moore) July 18, 2019
She had y'all hyped talkin that shit in the club lmao pic.twitter.com/8geBxHn12R

— AD a clone we on!!🏁🏁 (@ywouldihogtie) July 17, 2019
Lala on her way to Melo after wylin in the club. pic.twitter.com/W7qweIOIQB

— Tinkerbell (@Rochelle_Meyer1) July 17, 2019
| | |
| --- | --- |
| SOMEBODY COME DOG WALK THIS BI..: Tomi Lahren is Salty As Hell Over Colin Kaepernick's Emmy Nomination – "What a Joke!" | 18.07.19 |
She thus was turned to a pillar of salt.
Tomi Lahren has never been one to read the room. In the midst of a full-blown, racially-driven political divide, the political pundit has continued her campaign against Colin Kaepernick. Following Kaep's first Emmy Nomination for his "Dream Crazy" Nike commercial, Lahren took to Instagram to shake off the salt. Donning a politically-provocative T-Shirt for emphasis, Lahren made her stance abundantly clear, which is hardly surprising in itself. Yet given the sociopolitical climate at the moment, one has to wonder what she hopes to gain, other than riling up an already fervent demographic.
"The Crybaby Kaepernick Nike commercial is nominated for an Emmy. For what? Best comedy? What a joke!" she writes, in her own attempt at securing said "best comedy" award. "The fact the Left, the entertainment industry and the mainstream media have lifted that loser to such a high pedestal should make it even more evident what's at stake in 2020!" Clearly, this is the flag that Lahren has chosen to bear, within the same twenty-four-hour timeframe in which racially "send her back" chants were issued against Democratic Rep. Ilhan Omar at a Trump rally in North Carolina.
In the meantime, Kaep is out here getting Emmy nominations and securing the Nike bag. Though his act of kneeling has served to ruffle more than a few feathers, his actions have been hailed as bravery by an equal, if-not-greater number. Are we surprised to see Lahren lashing out in such a fashion? Saltiness is hardly flattering, nor does it win debates; expect the rap community to sound off in kind. Congrats to big Kaep for his Emmy nomination!
| | |
| --- | --- |
| YEEHAW, HO!: Remy Ma Lets Her Enemies Know She's Almost off Parole in 'Old Town Road' Remix (LISTEN) | 18.07.19 |
Yeehaw! Remy Ma is taking a ride down "Old Town Road"…with her draco in her lap.
The Bronx rapper reloads with a remix to Lil Nas X's chart-topping smash. Over the country-trap beat, Reminisce celebrates the end of her parole sentence in her 2007 shooting case.
"Yeah, I just cannot wait to get off parole / I'm gonna ride on you fake ass hoes," she raps before taking literal shots at the competition. "Turn you to a corpse when I let it off / Always been a boss bitch / Not a chick that you should cross."
Remy, who has been teasing new music, faces more legal drama. She was recently hit with four charges stemming from an alleged attack on her former "Love & Hip Hop: New York" co-star Brittney Taylor, which you can clearly hear her address in the song, right along with what sounds like a shot at her former nemesis Nicki Minaj, refrencing how she "f*cked her whole career up." Remy is the type of petty we love.
Meanwhile, Lil Nas X's "Old Town Road" remains No. 1 for a 15th week. Last week, he released the official remix with Young Thug and Mason Ramsey. Lil Wayne has also recorded his own remix.
| | |
| --- | --- |
| AND I OOP!: Tiffany Foxx Isn't Backing Down On Nicki Minaj Trying to Stop Her Bag – "She's a Hater" (VIDEO) | 18.07.19 |
Tiffany Foxx isn't backing down from her truth, she said what she said…and that's that Nicki Minaj is a "hater."
A couple months back we reported how rapper Tiffany Foxx had briefly discussed her personal experience with Nicki Minaj attempting to "stop her bag." As a guest host on TS Madison's show 'The Queen's Supreme Court,' Foxx chimed in recalling how Minaj allegedly halted her being nominated for a BET Award among other thing. She said that Minaj has tried some "punk shit" with her as well, becoming the latest to accuse the star of holding other women back. She said, "She doesn't want to look like she's hating, or being emotional or pressed, so she does just enough so it'll make it like she supports somebody. Don't be bitter and don't be hating on other girls. I'm not saying this just because the masses is saying this. Nicki has definitely interrupted me being on red carpets. Times I'm supposed to be nominated — out of nowhere, it's a problem. And it gets back to me that it's affiliated with her."
Per usual, this caused Minaj's fanbase to go into a tizzy, but Foxx isn't back down and is standing by what she said. She recently sat down to chat it up and clear up some of the headlines written about her during a segment of 'Headline Heat' with the folks over at Bossip. When the subject of her previous headline with Minaj came up, Foxx didn't hold anything back:
"It just got back to me through my publicist at the time. Me being nominated for the BET Award…and then out of nowhere, it was just a bunch of run around about the situation that wasn't making any sense. So finally when we had screaming matches, it got back to me, that "Well, Nicki feels a way and she the one keeping the lights on over there, so we don't want to step on her toes," she also mentions that she was also blocked from walking the red carpet that year before declaring, "I'm not giving her no more shine, she's a hater."
We'll probably never hear both sides of this story, but this isn't the first time Minaj has been accussed of such behind the scenes behavior. What do you guys think? Take a peek at the video below:
| | |
| --- | --- |
| WE LOVE A BALANCED RESPONSE: Cardi B Stands By A$AP Rocky; But Also Isn't Going to Shut Out Her Sweden Fans – "I'm Not Gonna Ban a Country That Showed Me So Much Love, But They Do Need to Free Rocky" (VIDEO) | 18.07.19 |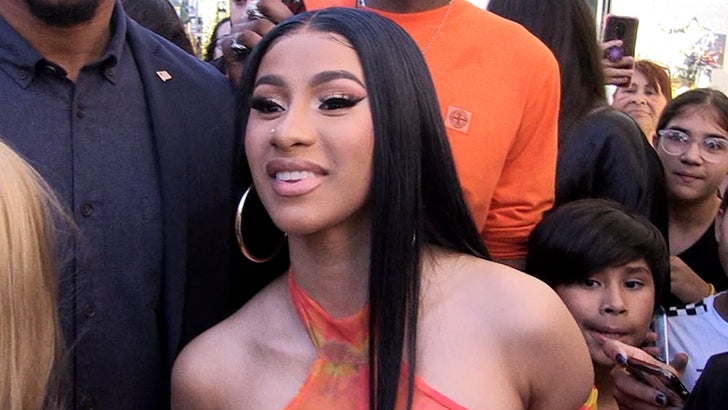 Cardi B takes a measured stance.
With Sweden catching a bum rap in the hip-hop community over their treatment of A$AP Rocky, many artists have responded in kind with threats of a musical boycott. However, Cardi B appears willing to forgive and forget, as her Swedish fans have done nothing to deserve a cold-turkey withdrawal from her presence. TMZ gleaned as much during a recent encounter outside the Prada store.
"Are we going to ban Sweden right now?" asks the cameraman, as Cardi navigates her way through a throng of adoring fans. "I'm not going to ban a country that showed me so much love, but they do need to free A$AP Rocky." The cameraman proceeds to allude to Quavo's recent story of his own unfortunate experience with Swedish police, asking whether Offset was indeed present for that. Cardi's perplexed expression says it all: "I don't even know what you're talking about."
Clearly, Cardi has no intention of turning her back on Swedish fans, especially given that they've been showing her nothing but love. That hasn't stopped several artists from canceling their own concerts in protest, including Tyler, The Creator, ScHoolboy Q, EarthGang, and Tyga. Of course, her decision will likely cause certain negative-types to feel some type of way. Peep the video below:
| | |
| --- | --- |
| THE QUEEN SPEAKS: Beyoncé's First Televised Interview in 6 Years for "The Lion King" Had the Internet Losing it! | 18.07.19 |
Beyoncé's return to the interview chair is a moment.
Beyoncé's involvement in Disney's revival of The Lion King has created a joyous moment for her loving fans. Beyoncé voices Nala in the live-action movie and since she's hitting up numerous premieres for the film before the official arrival on July 19th, the "Spirit" singer has conducted a sit-down interview with Good Morning America – a rare event for the singer.
Of course, Beyoncé discussed the Jon Favreau directed-film, specifically the soundtrack and how it's "a love letter to Africa" with some of "the best talent" hailing from the continent. "I wanted it to be authentic to what is beautiful about the music in Africa," she said, adding that they used "all these incredible new sounds mixed with some of the producers from America," she explained as seen in the clip below.
JUST ANNOUNCED: '#TheLionKing Can You Feel the Love Tonight? with @RobinRoberts' special will feature the EXCLUSIVE WORLDWIDE PREMIERE of @Beyonce's music video for "Spirit" & an exclusive interview with the superstar! Watch TONIGHT at 8pmET on @ABCNetwork https://t.co/mfhnDwVq7G pic.twitter.com/bd884lHSy9

— Good Morning America (@GMA) July 16, 2019
The Beyhive just couldn't get over the fact that Beyonce had conducted a sit-down interview and took to Twitter to rejoice on the matter. "Beyoncé. Did. An. Interview. Lemme start saving up now cause we know she coming for our pockets next," one user shared, while another wrote, "Beyoncé got ABC changing their twitter name to ABeyC in her honor. The interviews, the press, the material. Why didn't someone tell me 2019 was going to be perfect?"
Peep some more funny reactions below.
BEYONCÉ IS ACTUALLY GIVING US EVERYTHING : MUSIC VIDEO OF SPIRIT AND A FUCKING INTERVIEW !!! WHEN WAS THE LAST TIME SHE DID AN INTERVIEW ? 7 FUCKING YEARS !!! SEVEN !!!

— Chad (@chadmsf_) July 17, 2019
Beyoncé is doing a televised interview?! pic.twitter.com/iHSQvgWTyE

— Kirk Moore (@KirkWrites79) July 16, 2019
Beyoncé is really giving me a video and an interview tonight. pic.twitter.com/ATZ6rAsRAw

— Oxtail Enthusiast (@mayavado) July 16, 2019
Beyoncé forcing herself to do an interview pic.twitter.com/3L5vPY4pgI

— khlo🕊 (@beysgold) July 16, 2019
BEYONCÉ FINALLY DID A SIT DOWN INTERVIEW AFTER 6 YEARS.

— ROC B (@rocbeysus) July 16, 2019
waking up to beyoncé's first interview in years on gma and we get the spirit mv tonight i- pic.twitter.com/tYiLyU5vak

— wiLL (@willscheid) July 16, 2019
@Beyonce is doing interviews and dropping new music videos on national TV is it 2006 again or am I in heaven

— loofa hadoof (@TmiTbh) July 16, 2019
I wanna be like Beyoncé at work. Just do my job and not give an interview/speak in meetings, until necessary.

— thatblackT.P.dude (@myoozikbderrick) July 16, 2019
| | |
| --- | --- |
| SAY IT AIN'T SO: "She's Gotta Have It" Series Canceled, Spike Lee Now Working On War Drama For Netflix | 18.07.19 |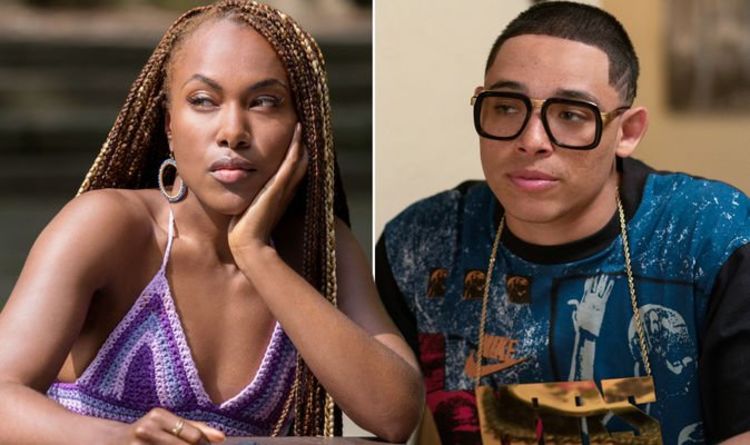 His new film will star many actors he's worked with before.
It's a sad day for She's Gotta Have It fans as it is reported that Netflix has canceled the show after only two seasons. Spike Lee's remake of his cult classic film of the same name follows the story of Lee's 1986 original as it chronicled the polyamorous, artistic life of Nola Darling as she navigates through self-discovery, art, love, and unconventional relationships. DeWanda Wise starred as the principal character and acted alongside Ilfenesh Hadera, Anthony Ramos, Lyric Bent, Chyna Layne, Cleo Anthony, and Fat Joe.
Ted Sarandos, the Chief Content Officer at Netflix issued a statement about the cancelation by saying, "Spike Lee is one of the greatest filmmakers of all time and we're thrilled he brought the series She's Gotta Have It(1986, based on his first feature film) to Netflix. While this is our last season, we're very proud that it will be on our service for years to come, and excited to be working with Spike on his upcoming Netflix film Da 5 Bloods."
Lee's forthcoming Netflix film is reportedly about a group of friends who are also Vietnam War veterans. They return to the places where they faced tragedies in battle as they hunt for both the remains of a friend they lost in the war along with buried treasure. The film stars Giancarlo Esposito (who also worked with Lee on Do the Right Thing), Delroy Lindo (who worked with Lee on Malcolm X, Crooklyn, & Clockers), Clarke Peters (who worked with Lee on Red Hook Summer), and Isiah Whitlock Jr. (who worked with Lee on She Hate Me, 25th Hour, Red Hook Summer, Chi-Raq and BlacKkKlansman).
Will you miss 'She's Gotta Have it'?
| | |
| --- | --- |
| THE PEOPLE'S CHAMP?: Kim Kardashian Reportedly In Talks With The White House To Get A$AP Rocky Released | 18.07.19 |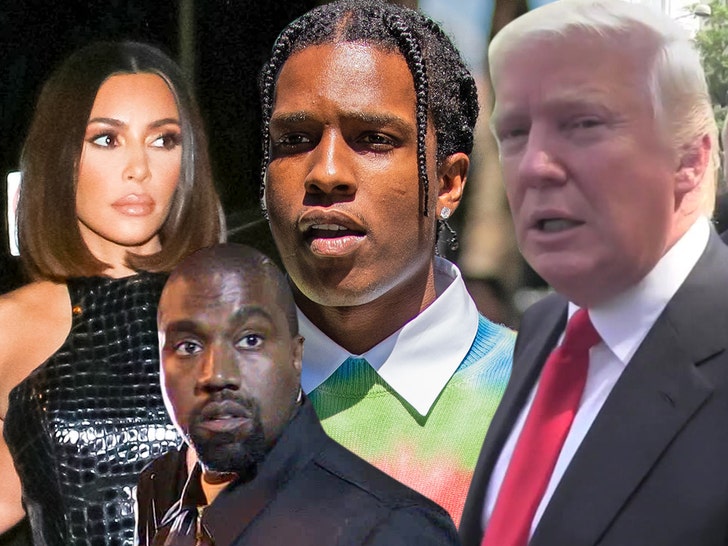 A few days ago, Snoop Dogg made a public plea to Kim Kardashian West to use her "plug" to get A$AP Rocky released from a Swedish jail. "You've been gettin' all kinda n*ggas out of jail this year," he said in an Instagram video. "Go get Rocky outta jail. Look out for us. The black community needs this. Kanye. Tell your woman to go get him out." While Snoop's serious request may have been delivered casually, TMZ reports that Kim has been using her connections to help get Rocky released.
According to the outlet, both Kim and her husband Kanye West have been actively involved in partnering with the White House over Rocky's case. Kayne was reportedly the one who told Kim she should reach out to people in the White House whom she's worked with before, specifically thosee she linked up with for the release of low-level drug offenders who were serving lengthy prison sentences. According to the report, Kim called up Jared Kushner and gave him the details of Rocky's case. In turn, Trump's son-in-law allegedly shared the information with his presidential family member.
Prosecutors in Sweden initially shared that Rocky would remain in their custody until they decided on whether or not he would be tried for assault charges. The day of reckoning is near, as Friday is the day they will make their decision. The U.S. State Department and other members of Congress have rallied in the #FreeASAPROCKY movement, and TMZ shares that even President Trump himself believes that the rapper isn't receiving justice overseas.
However, members of the Congressional Black Caucus don't think that top-level politicians are moving fast enough when it pertains to getting Rocky released. "It appears that the hip-hop police for years have been targeting rappers in New York and in other parts of the country have now shown the world that it's not just a United States phenomenon," Representative Hakeem Jeffries of New York said. "You can expect that members of Congress, particularly those of us who are part of the Congressional Black Caucus, are going to continue to weigh-in forcefully until ASAP Rocky is free."
| | |
| --- | --- |
| AND I OOP!: Aubrey O' Day of Danity Kane Calls Out Diddy & MTV Over 'Making the Band' Reboot – "They Need to Finish What They Started" (VIDEO) | 17.07.19 |
While many were excited to hear that Diddy would soon be bringing back "Making the Band" with MTV, it seems Aubrey O'Day has some harsh words for the mogul as she feels he never "finished what he started" with Danity Kane.
In an interview with the folks over at The Blast, The "Show Stopper" singer threw major shade at the man and network who created her band, warning them to grow some balls and bring the 2005 pop group back to reality TV.
When asked about the reboot news, O'Day said she's always grateful to see artists get an opportunity, but she feels strongly that a Danity Kane reunion will give MTV the ratings they need.
The group was formed on the OG show and both Diddy and MTV are credited for launching the careers of Shannon Bex, Dawn Richard, Aundrea Fimbres, D. Woods and Day.
"I'm happy when any new artist gets an opportunity to shine I do think MTV needs to bring back, along with "Making The Band," a Danity Kane show with our family that we created on the network," she stated.