| | |
| --- | --- |
| WELL THIS ISN'T ENDING ANYTIME SOON: 50 Cent Reacts To Teairra Mari's 'Breakfast Club' Interview Asking That He Leave Her Alone – "I Just Want My Money, B*tch" | 08.05.19 |
The petty feud continues.
Earlier this week, singer Teairra Marisat with The Breakfast Club to discuss the lenghty beef she's had with Curtis Jackson a.k.a 50 Cent. The two have been fighting for a while now since 50 reposted and mocked Mari's leaked sex tape with her former boyfriend. The latter resulted in legal proceedings wherein Teairra was ordered to pay 50 Cent a hefty sum. Well, the singer made it clear she "Ain't Got It" and the two have been trolling each other ever since. Most recently, the Power co-creator spoke up on the interview and so publicly via his Instagram account.
The shared video posted by Fif consists of him commenting while playing The Breakfast Club interview with Mari. Herein, 50 speaks over his nemesis by further affirming he wants his money and refuses to back down. In line with his familiar petty fashion, the rapper adds: "Fight back about what? About money the court told you to pay me because your f*cking sex tape came out. How the f*ck did I get in that? I'm not in the tape." And moreover, when Tierra was caught during the interview pleading for Fifty to leave her alone, the rapper unapologetically chimed in: "Nah. F*ck you b*tch." Well, it looks like this feud will not end anytime soon. 
| | |
| --- | --- |
| ARE YOU SURE?: The Internet is Convinced Jhené Aiko's New Song "Trigged" is a Diss To Big Sean; She Calls it Something Else | 08.05.19 |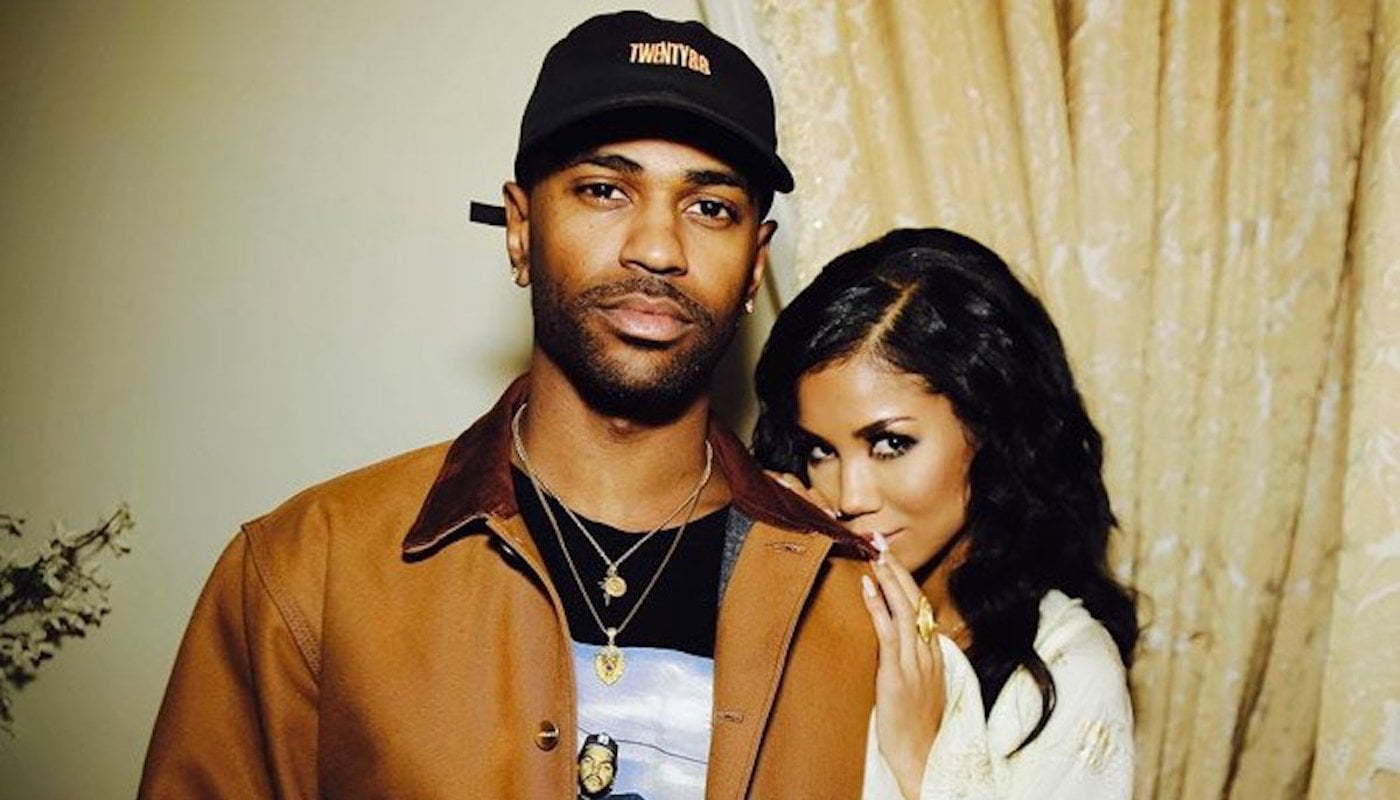 Jhené Aiko's new song is about an ex-boyfriend and fans think she could be speaking about Big Sean.
Despite their relationship ending last year, Jhené Aiko clearly still has a lot of love for Big Sean. After the untimely passing of Nipsey Hussle, Jhené made sure to remind her ex-boyfriend that she still cares deeply for him, posting a message on her social media for him to read. "You are so special to me," she wrote. "To the world. While we're both still on this planet I just want to say…I love you beyond measure. Even tho I get big mad and u trigger the fuck out of me. u make me feel. and I appreciate that. because I thought I was dead inside. my ego has no say when it comes to you."
Using the same verbiage in her new freestyle "Triggered," many rightfully believe that the track could be about her past relationship with the Detroit rapper. Released last night, Aiko introduced fans to her latest freestyle, dropping it on streaming services after teasing it on her socials. In the track, she admits that Sean can be considered her "enemy" before saying that she's bitter and still craves his late-night love. She says that she hasn't been intimate since their relationship before getting deep in her thoughts, uttering that she may just be overreacting.
Jhené and Sean did a great job of shielding their break-up from the world and even though we still don't know why their coupledom crumbled, this may serve as a window into the singer's mindset after splitting with Sean. Or, at least, that's what fans are speculating.
Aiko has now decided to take measures to stop the bleating in a Tweet addressing the song's lyrical subject: "triggered is NOT a diss song. it is a moment of talking shit out of frustration and passion. it's was a moment of exaggerated expression when I was feeling lost and weak. no one is to be blamed or bashed for how I was feeling in that moment. I am in control of my feelings."
triggered is NOT a diss song. it is a moment of talking shit out of frustration and passion. it's was a moment of exaggerated expression when I was feeling lost and weak. no one is to be blamed or bashed for how I was feeling in that moment. I am in control of my feelings.

— Chilombo (@JheneAiko) May 8, 2019
Let's hear her out for just a second. "Triggered" is only a diss record the ways in which Lemonade put Jigga's alleged cheating under the microscope after months of artful repression. The same can be said for Jhene Aiko I gather; you'd be hard pressed to find a boxscore that lists Mr. and Mrs. Carter as adversaries at any point in their careers.
| | |
| --- | --- |
| WE STILL TALKING ABOUT THIS?: Naomi Campbell Defends Gucci After Blackface Backlash – "It Wasn't Intentional" | 08.05.19 |
Naomi Campbell sees a better future for Gucci.
A while back, Gucci came under fire for releasing a collection that resembled Blackface that followed a global shaming campaign of the brand with many acts boycotting and even burning their Gucci products. While Dapper Dan explained how there's no excuse for such a move, he still decided to help the brand grow in a better direction by joining the team and prioritizing opportunities for Black youth. 
Naomi Campbell is now with Dapper Dan, since joining the newly formed advisory committee on diversity and inclusion, and told The Washington Post how anyone who burnt their Gucci clothes is "foolish."
"I think it's ridiculous for people to say they were burning their [Gucci] clothes. Don't burn your clothes. It wasn't intentional," Naomi said.
"On a positive note, there's a silver lining," she added, of Dapper Dan's Changemakers scholarship. "In a lot of countries, football was a way of getting out. Now those interested in fashion and creativity have a way."
"We will invest important resources to unify and strengthen our communities across North America, with a focus on programs that will impact youth and the African-American community," Gucci's CEO and President Marco Bizzarri said in a statement. "I believe in the promise of the next generation, and through our scholarship fund we will also create more opportunities for talented young people of diverse backgrounds to gain access to careers in the fashion industry." 
| | |
| --- | --- |
| YOU MUST'VE JUST LOST YOUR MIND: Wendy William's Husband Kevin Hunter Also Wants Her To Handle His Legal Fees | 08.05.19 |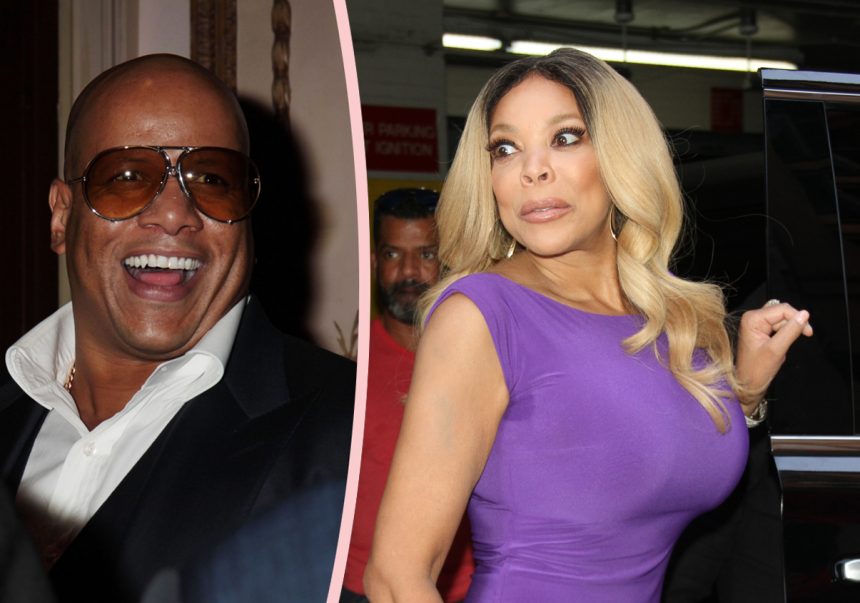 The nerve, the audacity.
The drama is still on and popping between Wendy Williams and canceled husband, Kevin Hunter. New reports by The Blast indicated that Williams' estranged husband is looking for the show host to handle his legal fees. Precisely, documents obtained by the news outlet revealed that Hunter has agreed their marriage is over and of there being no hope for patching things up.
He is now asking a court judge to order the television personality to cough up some cash to pay up his legal fees amidst their divorce case. This news comes shortly after Hunter also requested spousal and child support from Williams along with a split on the personal assets the two acquired during the marriage. 
To note, Wendy Wiliams officially filed for divorce from Kevin Hunter and we have since documented the ensuing events. The latter occured after 21 years of marriage and partnership. The split occurred on an emotional, physical and professional level, as Wendy Williams fired her ex-husband from his production role on her show, moved out of their home and found herself a new manager. One with whom she has allegedly seen dining and chatting recently. Thus far, The Blast only reports that Wendy is "seeking for their marital property to be equitably divided and establish a child support amount."
| | |
| --- | --- |
| I KNOW YOU LYING: Khloe Kardashian Allegedly Banned From Met Gala Because She's "Too C-List" | 08.05.19 |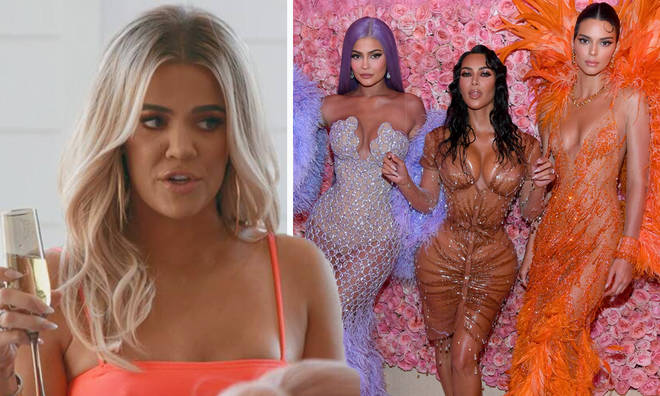 Some want us to believe Khloe Kardashian may not be famous enough to attend the prestigious event.
It's insane to think that somebody from the Kardashian family isn't famous enough to attend the Met Gala but… here we are. Monday night's lavish affair saw Kim Kardashian, Kendall Jenner, Kylie Jenner and the matriarch of the family, Kris Jenner, put on their campiest outfits so that they could show off their insane wealth to the peasants of the world. Two of the sisters were missing in action though with Kourtney and Khloe seemingly opting out of the fashion celebration. It turns out that Khloe wasn't there because, well, she wasn't invited.
According to numerous reports that stem from Radar Online, Cosmopolitan, and many others the well-known reality star has apparently been banned from attending the Met Gala. The guest list is curated by Anna Wintour and with her harsh taste, she decided that only part of the Kardashian family was allowed to attend. Khloe was reportedly deemed "too C-List" for the party. Savage. 
Imagine being branded the sister who's "not famous enough" to go to the same party that the rest of your family is dressing up for. That's got to be a terrible feeling if this is indeed true. 
There is no proof that Wintour has actually blacklisted Khloe from attending the Met Gala but the story has been picked up by numerous media outlets in the last twenty-four hours. Take this with a grain of salt. 
| | |
| --- | --- |
| RENT WAS DUE IN THAT DANCERY: Mary J. Blige & Ex Husband Due In Court For Dodging Rent Payments | 08.05.19 |
The former couple was finally served papers.
Songstress Mary J. Blige and her former husband, Martin "Kendu" Isaacs, were previously hit with a lawsuit by their prior landlord. The motion regarded the home both Blige and Isaacs were living in, a $7.5 million dollar mansion located within the prestigious Mulholland Estates. The house consisted of a total of six-bedrooms and eight-bathrooms to which the ex-couple agreed to pay $25,500 monthly in rent. According to BOSSIP, the landlord alleges both Blige and Isaacs stopped paying rent on the property after three months. Furthermore, the legal papers affirm the split up couple agreed to move, they requested for the $50K deposit to be applied in back rent but never paid the additional money owing. 
Moreover, Golden Ventures claimed the duo trashed the apartment and "removed" $31K worth of A/V equipment from the home. The cost of the damage and missing items coupled with the owed rent totaled to the hefty sum of $58,211 for which Blige and Isaacs were sued. Not to mention the company requested their money back in addition to interest and lawyer fees. 
As the case carried on for months, a decision was made after finally getting a hold of the "Not Gon Cry" singer and her ex-man. The two were served and are due in court next month. 
| | |
| --- | --- |
| GIRL, WHAT?: Tyra Banks Says She's Changing Her Model Name To Banx & Explains Why – "I Want Me Coming Out of Retirement to Be Bigger Than Me" | 08.05.19 |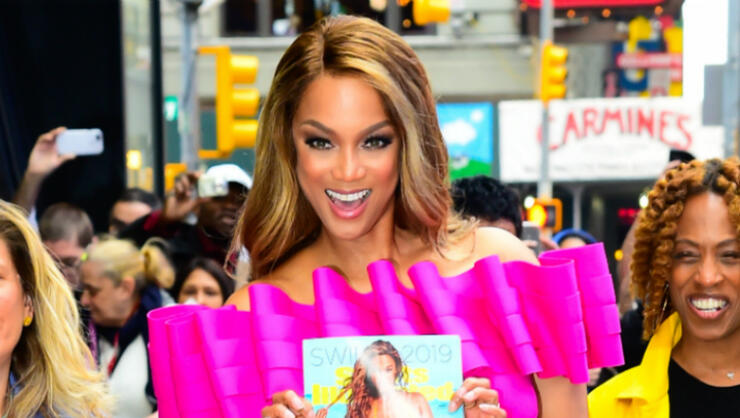 Tyra's back with a brand new name.
Tyra Banks jumped out of retirement when she debuted her gorgeous self on the cover of summer 2019's Sports Illustrated. The 45-year-old was the first black woman to grace the magazine solo in 1997 and now that she's back to posing in front of the camera, she's also announced a new name for her modeling self to go by.
"You know how models have interesting names, different names like Twiggy? She wasn't born Twiggy. I was born Tyra," she told ET, explaining how her new name is now "Banx, with an X. B-A-N-X."
"I want me coming out of retirement to be bigger than me, and for me to represent women to say, enough of this cookie-cutter thing," she added to the publication. "As much as we've progressed with beauty, there's still a long way to go of opening up the door and redefining what it means, and so that X stands for 'X what you heard about what beauty means.' We are making a new rule that so many more people can fit into this beauty box. Let's bust the box open."
Banx also detailed that while she's back to posing, she still has insecurities just like any other human but doesn't let them stop her from doing what she loves best. "You know, there's just things that I don't like but I just don't dwell there. But I'm also very honest and saying I don't like it, but it's not the end of the world," she said.
| | |
| --- | --- |
| THE PEOPLE'S CHAMP?: Kim Kardashian's Team Reportedly Receives Hundreds Of Letters Per Week From Inmates | 08.05.19 |
She's reportedly been dubbed "The Princess of Prison Reform."
When Kim Kardashian announced to the world that she's been studying behind the scenes to become a lawyer, the reality star was met with resistance from those who brought up her past rise to fame. When she began helping inmates with their cases and aiding in their releases from jail, many didn't believe she did anything other than open her wallet and throw some cash toward legal fees. However, as time rolls on and her track record has proven naysayers wrong, inmates behind bars couldn't care less what the public opinion thinks of Kardashian because they just want out of prison.
Kim's area of focus is on low-level offenses that resulted in lengthy convictions, including many who were arrested, charged, and sent to prison for decades (and even life) on minor drug charges. Kim has partnered with lawyers Brittany K. Barnett and MiAngel Cody of the Decarceration Collective for their "90 days of Freedom" campaign, resulting in the release of 17 inmates. As their work has gained notoriety, they've been inundated with calls, letters, and social media messages from inmates or relatives of those incarcerated, asking them to take on their cases.
TMZ reports that inmates refer to her as "The Princess of Prison Reform" and states that Kim combs through each of the stories she receives, one by one, and if there are any that catch her attention, she makes sure that it's investigated by her team. In an Instagram post from last year, Barnett shared an interview that Kim gave, captioning the clip by writing that people shouldn't be focused on her spotlight image, but how she's using it to help others.
| | |
| --- | --- |
| IN CASE YOU MISSED IT: Ayesha Curry Dragged On Twitter For "Male Attention" Comments | 08.05.19 |
Curry says the lack of attention has made her question if something is wrong with her.
Steph Curry and Ayesha Curry are one of the power couples in basketball right now. While Steph Curry is out here winning championships with the Golden State Warriors, Ayesha has become a successful entrepreneur who is also an established cook with her own restaurant. Ayesha was recently on an episode of Jada Pinkett Smith's Red Table Talk where she spoke about her relationship with Curry and how she's had to fend off groupies in the past.
While Curry's comments on groupies had already been seen in a teaser video, it was what she had to say about male attention that got people upset. As she explains in the episode, she doesn't get very much attention from men, which had made her insecure about herself. She is constantly comparing herself to Steph in that regard, which has forced her to reflect inward.
"Something that really bothers me, and honestly has given me a sense of a little bit of an insecurity, is the fact that yeah there are all these women, like, throwing themselves (at him), but me, like the past 10 years, I don't have any of that," Curry said. "I have zero – this sounds weird – but, like, male attention, and so then I begin to internalize it, and I'm like, 'Is something wrong with me?'"  
As soon as the clip made it to social media, the Twitterverse exploded with memes dragging Ayesha through the mud. Many people took exception to her comments, saying with such a loving husband, she shouldn't look towards other men to validate her. 
Some believe her comments were taken out of context while others are outraged that she would say such a thing. Where do you stand on this issue?
Derek Fisher rushing to Ayesha Curry's house after that interview pic.twitter.com/Makt0qtc2G

— '97 Shawn Michaels (@LiLJaYMaKin) May 7, 2019
So wait, men are trash for respecting Ayesha Curry's marriage? But, also trash because she isn't getting attention from men outside her marriage? pic.twitter.com/QWDWFZhtwM

— Tyrone Lannister (@CBturnedHeel) May 7, 2019
Ayesha Curry when she at the local grocery store and get no looks from men 😂 pic.twitter.com/JAYbs4Qqda

— 🌍 (@WaliH95) May 7, 2019
Ayesha Curry leaving the grocery store after the bag boy asks for her number. pic.twitter.com/PeUQ88zmrO

— 🤙🏿 (@isojoe_) May 7, 2019
Ayesha Curry in the car with steph the next morning : pic.twitter.com/tzIlTvwh2u

— SplashBroRob 🎯 (@Rob__2k) May 5, 2019
Ayesha Curry when anyone other than her faithful husband hits on her pic.twitter.com/0DlsX25Jcy

— Sha'Kobe O'Bryant (@_BlackerMamba) May 7, 2019
| | |
| --- | --- |
| DON'T STOP TIL YOU GET ENOUGH: Madonna Defends Michael Jackson When Asked About 'Leaving Neverland' Allegations – "Can You Prove It?" | 08.05.19 |
"Can you prove it?"
Twenty-eight years ago in 1991, Michael Jackson escorted Madonna to the Oscars. The pop stars were two of the most beloved international superstars then, and their legacies have etched them into music history as top-earning, top-selling, and chart-topping artists. Neither name is above scandal, but Jackson's sexual abuse trials and allegations have left his reputation in tatters. The recent Leaving Neverland documentary on HBO highlighted Wade Robson and James Safechuck's alleged abuse by the music icon, resulting in Jackson's music being pulled from radio stations and his guest appearances on television shows being removed from rotation.
It's been almost 10 years since the King of Pop's untimely and shocking death shook the music world and in this passing decade many of the late singer's famous friends have taken up the torch to defend his character. In a recent interview with British Vogue, Madonna, who is affectionately referred to as the Queen of Pop, told the publication that she hasn't watched the Leaving Neverland documentary.
"I don't have a lynch-mob mentality, so in my mind, people are innocent until proven guilty," she reportedly said. "I've had a thousand accusations hurled at me that are not true. So my attitude when people tell me things about people is, 'Can you prove it?'" When asked what she would consider proof, Madonna answered, "I don't know, I haven't seen the film. But I guess it would be people recounting actual events – but then, of course, people sometimes lie."
"So I always say, 'What's the agenda? What do people want out of this? Are there people asking for money, is there some kind of extortion thing happening?' I would take all of those things into consideration." Other artists like will.i.am, Diana Ross, and Barbra Streisand have also come forward on behalf of their late friend.
| | |
| --- | --- |
| FOR THE CULTURE: Solange's Had Crime Mob's Diamond & Princess Perform At Her Met Gala After Party | 08.05.19 |
It was a "Stilettos" kind of night.
Five years ago, the Knowles sisters and Jay Z were the centers of the infamous "a billion dollars on an elevator" Met Gala controversy that showed Solange and the New York rapper engaged in a physical altercation. All is well on the homefront for the three family members, and since then Solange has returned to the Ball's red carpet to showcase her high-fashion styles without incident
On Monday, the Met Gala's "Camp" theme brought outrageous and extravagant displays of fashion, and while Solange usually is an active participant of the event, the When I Get Home singer dressed-down in a python skin Salvatore Ferragamo 'fit with matching thigh-high boots. Solange looked demure as she posed for photographers on the red carpet, but that was a far cry from her Met Gala after party that was Turn Up Central.
In all of their "Knuck If You Buck" glory, Solange called on Diamond and Princess of Crime Mob to perform at her post-Gala shindig. The Houston singer shard clips of the ladies onstage in front of a hyped crowd that almost drowned them out from singing along so loud. Diamond also shared the video on her Instagram page and wrote, "LAST NIGHT WAS MAD REAL QUEEN 👑💚💚💚@saintrecords 🙌🏽🙌🏽🙌🏽🙌🏽 THANK U 💃🏽💃🏽 FOR HAVING US———- @princessdigital We Did DATTTTTTTTTTT."
For some reason this made me love Solange even more.
| | |
| --- | --- |
| PEOPLE GRIEVE DIFFERENTLY?: The Internet is Coming for Tamar Braxton Because She Has "No Time" For 24-Year-Old Niece's Funeral | 08.05.19 |
Tamar Braxton will not be going to LoLo's funeral.
Last month, the Braxton sisters mourned the loss of their 24-year-old niece Lauren, who passed away unexpectedly from a heart condition. Toni and Towanda have both issued statements but things were radio-silent on Tamar's end, with many sending their condolences to the entertainer over the course of the last few weeks. Tamar has been on tour with Kandi Burruss and apparently, she won't be attending her niece's funeral because she's too busy.
Most people would make time for something as tragic as saying your final goodbye to a family member. Tamar addressed the situation during a live-stream this week though and many are voicing their disapproval of her statement. 
According to Page Six, Tamar Braxton said that this is the first time that somebody in her family has passed away and she doesn't know how to process her emotions. "I've been M.I.A. because I just cannot bring myself to post about my niece. Like, I just can't do it," said the reality star. "But what I did want to say is I want to thank everyone for sending their condolences."
She spoke about LoLo's funeral, telling fans that she will not be in attendance. "I don't want my sisters or my family to get upset with me, but the things that's been going on — this is the first time that anybody in my family has passed. Nobody tell you about going to the damn funeral. I don't have time going to the funeral."
Many of her former supporters have bashed her for being so "selfish" in this situation, noting that she's not too busy to still remain active on social media. What do you think about this?