| | |
| --- | --- |
| CAN'T CATCH A BREAK: Chris Brown Hit With Lawsuit For Allegedly Not Paying Tour Wardrobe Designer | 12.12.18 |
Chris Brown's legal issues seem to be piling up.
Perry L. White is a costume designer who claims to have been cheated out of income by Chris Brown. White says he is owed $10,000 for the outfits he designed for Brown's last tour, Heartbreak On a Full Moon.
According to documents filed in L.A. County, obtained by The Blast, White says the entertainer, "has not paid me for wardrobe/clothing that I designed plus made for his tour." The documents also state that White is in possession of "contracts and receipts" to support his filing.
Perry White is said to be a "celebrated and exclusive fashion designer," according to his website, having worked with the likes of Queen Latifah, Macy Grey, Nicole Murphy and E.J. Johnson. He has also collaborated with Prince, Snoop Dogg, Dr. Dre, Ice Cube and LL Cool J.
The designer had flaunted the work he crafted during Brown's Heartbreak On a Full Moon tour, earlier this year. He posted a video showcasing his work, as Chris and his dancers rocked the outfits during a performance.
This lawsuit comes in addition to Chris Brown's ongoing legal proceedings for a case of extortion that has been dismissed. The singer plans to appeal the court's decision in the matter.
| | |
| --- | --- |
| YIKES!: Jennifer Lopez's Mom Gets Knocked In The Head By Aggressive Paparazzi (VIDEO) | 12.12.18 |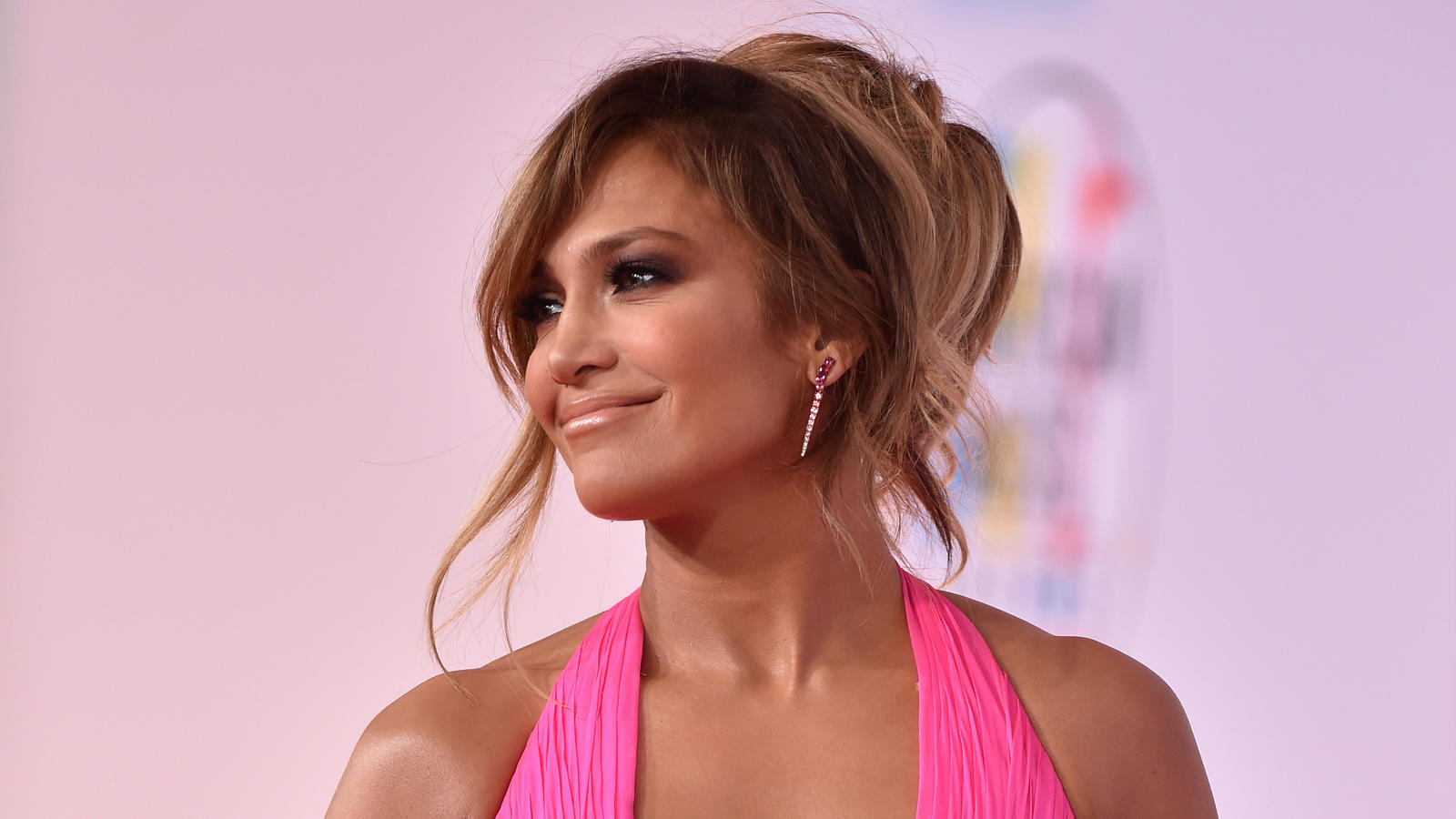 Jennifer's mom sadly got an elbow to the head.
Jennifer Lopez has probably had her fair share of crazy paparazzi interactions over her life for simply being J Lo from the block. She's handled her past interactions pretty well, but when it comes to her family Jennifer doesn't play. The latest video of Jennifer sees her with her mother Guadalupe Rodriguez outside Sirius Radio in New York and when the paps jump on her for autographs, her mom gets the bad end of the stick.
In the clip, you can see Guadalupe try to stay next to her daughter on their way into the building but gets clocked in the head but an unsuspecting elbow. Jennifer grabs hold of her mom and simply shakes her head at the paparazzi.
"I really feel like I play so fair with the media all the time and I'm super gracious with everybody and all I ask is them to stay away from my kids and that one little— like when I got home, just let me go home. It's disrespectful. I don't want people around my kids like that, in that way," Jennifer previously stated about the paparazzi on her tail when she goes home.
Watch the clip below.
| | |
| --- | --- |
| I KNOW YOU LYING: Wendy Williams Really Called Nick Cannon's Third Child An "Oops Baby' (VIDEO) | 12.12.18 |
Nick Cannon didn't know how to respond to this one.
Wendy Williams recently welcomed Nick Cannon as a guest on her talk show and among the many topics they surely discussed, the holidays and Nick's travel plans was one of them. Being as Nick has an extended family since co-parenting with exes Mariah Carey and Brittany Bell, Nick plans to be hopping all over the world to spend precious time with his kids while fitting in a trip to Haiti to donate gifts.
"I'm Saint Nick for real, obviously I have an extended family and I'll be visiting them in many houses over the holidays," Nick said as seen in the clip below. Wendy then came in and asked if he will be visiting his "oops baby," referring to his one-year-old son Golden. Nick quickly responded in shock and laughed it off while Wendy seemingly tried to cover up her steps.
"It's cool to see 7-year-olds approaching a 1½-year-old and how they're taking on that big brother and sister role," Nick said of his twins, Moroccan and Monroe, interacting with Golden. "We get to spend every holiday together. Golden just took his first steps, and they were there helping him walk."
| | |
| --- | --- |
| STILL TROLLING OR NO?: Jaden Smith Confirms He's Dating Tyler, The Creator – "Yes I Am" (VIDEO) | 12.12.18 |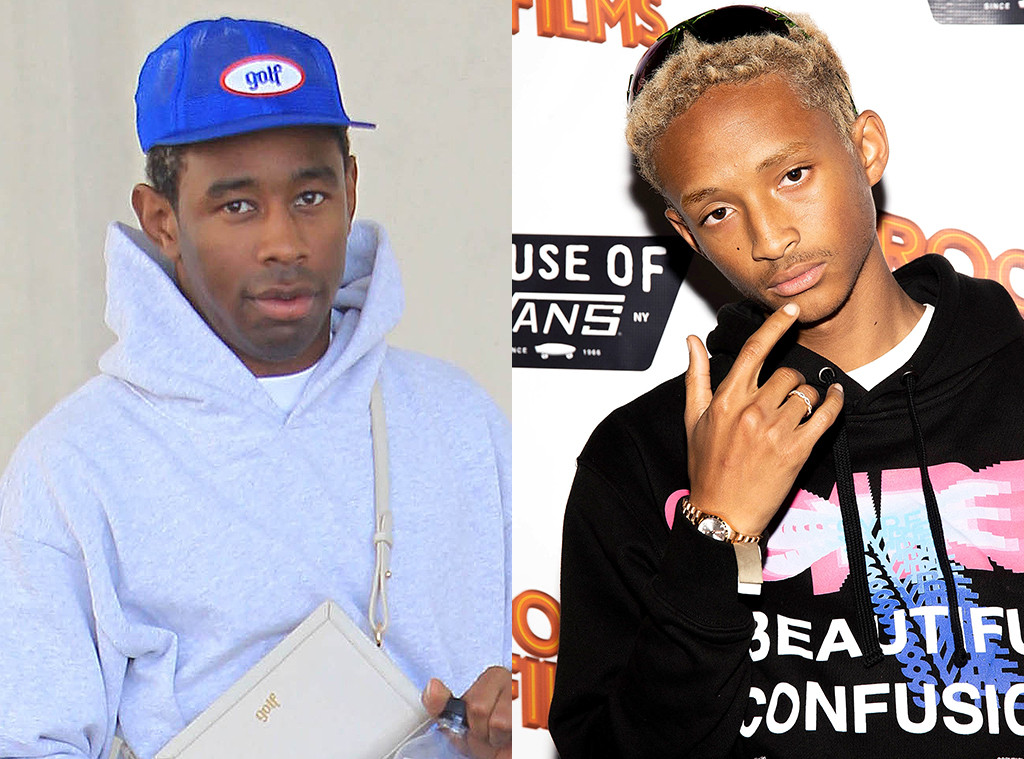 He's keeping the charade going.
During his performance at Camp Flog Gnaw, Jaden Smith told his fans that he was in a romantic relationship with Tyler, The Creator. At first, everybody seemed to believe the statement. Tyler has suggested in his lyrics that he's "been kissing white boys since 2004." While Jaden isn't a white boy, he has been ambiguous with his fashion decisions, wearing skirts on a few occasions. After a while, it seemed as though the two were just trolling, possibly ramping up promotion for Jaden's new album. Now that the album is out though, Smith is still keeping the charade going.
Jaden was approached by paparazzi over the weekend when he was asked if he was seriously dating Tyler when he responded in the affirmative. Either he's insanely dedicated to this troll-job or they're actually dating. At this point, do Tyler and Jaden even know the truth? At a certain point, you start to believe your own lies…
Jaden has released a few videos to accompany his latest project, which released a few weeks ago. While the artist may just be dedicated to his trolling ways, he might also be trying to tell us that he actually is dating Tyler, The Creator. The confusion continues. What do you believe?
| | |
| --- | --- |
| FIRST COMES LOVE, THEN COMES MARRIAGE…: Nicki Minaj Allegedly Is Allegedly Considering Marriage & a Baby With Her New Boyfriend | 12.12.18 |
Is Nicki starting a family?
Nicki Minaj may be settling down for good sooner than later. The revelation that the Queen rapper has a new boyfriend almost broke the internet. The subsequent unearthing of his criminal record completed the task. Barbz around the nation were up in arms about Kenneth Petty, Minaj's new lover. Petty has spent time in prison for manslaughter, and was also hit with some questionable sex offenses. Those things matter not to Nicki though, because she's known Petty since she was a teenager back in Queens. Their relationship developed back then, and it bloomed this year. Minaj even responded to those who question her decision to date a man with a checkered past.
TMZ has been digging into this relationship since it was discovered, and they have spoken to several sources close to Minaj. The latest nugget of info that they were able to dig up suggests that Minaj is ready to settle down. A source close to the rapper claims that she and Petty have already had the marriage and baby conversation. Honestly, this is no surprise. They've known each other for years, so talks of a future makes sense. Plenty of us have discussed the intentions for our love lives with our lovers at the time, but that doesn't mean it translates to action. The source did claim that Nicki is serious about settling down though, so only time will tell.
| | |
| --- | --- |
| SOUNDS ABOUT RIGHT: Meek Mill, Cardi B, Travis Scott Among Most Googled Artists Of 2018 | 12.12.18 |
Meek Mill, "Black Panther," and "Fortnite" were some of the most popular search terms.
We're nearing the end of the year and everybody is gathering their "Best Of" lists for 2018. We've already tallied the hottest songs, albums, verses, and more from the last twelve months. While music is subjective, one thing that doesn't lie is data. We've all heard it: men lie, women lie, numbers don't. When it comes to Google's year-end findings, the major search engine has gathered all their information to determine the most popular things from the last year. From artists to particular songs, films, actors, athletes and more, these are the most popular search terms on Google from 2018.
Most of these won't be surprising at all. In a year where hip-hop has basically run the entire music industry, a large majority of the names in the artist list are rappers. Of course, Demi Lovato and Ariana Grande made the list because of their drama-filled years but Travis Scott, Eminem, Cardi B, Rick Ross, Meek Mill, Childish Gambino, and surprisingly enough, Machine Gun Kelly are all mentioned. I guess with the interest in his feud against Eminem, MGK surged in popularity this year.
For films, Avengers and Black Panther were among some of the top trends. As expected, Fortnite and Red Dead Redemption run the video game section while the significant songs are interesting enough. "Mo Bamba," "Lucid Dreams," "Killshot," "God's Plan" and others all made the list. Take a look at the complete findings via Hypebeast below.
Actors
Logan Paul
Bill Cosby
Sylvester Stallone
Pete Davidson
Michael B. Jordan
Allison Mack
Noah Centineo
Bradley Cooper
Roseanne Barr
Chadwick Boseman
Athletes
Tristan Thompson
Shaun White
Lindsey Vonn
Le'Veon Bell
Kawhi Leonard
Dez Bryant
Nick Foles
Chloe Kim
Naomi Osaka
Johnny Weir
Sports Teams
Cleveland Cavaliers
Boston Red Sox
Philadelphia Eagles
New York Yankees
Los Angeles Dodgers
Los Angeles Lakers
Boston Celtics
Cleveland Browns
Chicago Bears
Milwaukee Brewers
World Cup Football Teams
Mexico National Football Team
Brazil National Football Team
Germany National Football Team
Argentina National Football Team
Croatia National Football Team
England National Football Team
Belgium National Football Team
Russia National Football Team
Russia National Football Team
France National Football Team
Musicians and Bands
Demi Lovato
Eminem
Ariana Grande
Rick Ross
Cardi B
Travis Scott
Childish Gambino
Machine Gun Kelly
Meek Mill
Queen
Movies
Black Panther
Incredibles 2
Deadpool 2
Avengers: Infinity War
A Quiet Place
A Star i Born
Bohemian Rhapsody
Venom
Hereditary
The Nun
Songs
"Bohemian Rhapsody"
"This is America"
"Baby Shark"
"God's Plan"
"Killshot"
"In My Feelings"
"Electric Slide"
"thank u, next"
"Mo Bamba"
"Lucid Dreams"
TV Shows
Roseanne
Altered Carbon
The Haunting of Hill House
American Idol
Lost in Space
Cobra Kai
Castle Rock
Westworld
Insatiable
On My Block
Video Games
Fortnite
Red Dead Redemption
Fallout 76
Far Cry 5
God of War
Monster Hunter: World
Sea of Thieves
Call of Duty: Black Ops 4
Kingdom Come: Deliverance
Zombs Royal
Fashion
1980s fashion
Grunge style
1990s fashion
2000s fashion
Meghan Markle
Men's Fashion
Harajuku fashion
Hipster style
Kate Middleton
Fashion Brands
Fashion Nova
Louis Vuitton
Versace
Givenchy
Gucci
Alexander McQueen
Dolce & Gabbana
Fashionphile
Dior
Moschino
| | |
| --- | --- |
| I KNOW YOU LYING: Whoopi Goldberg Is Shut Out Of "Sister Act" Remake Despite Her Iconic Role | 12.12.18 |
How sway?
Whoopi Goldberg seemed enthusiastic about the prospect of the third installment of Sister Act when she discussed the project last month. Since then, her involvement in the upcoming film's production has been shut down. Whoopi, who held the lead role in both movies, will not take part in the next chapter of the iconic tale.
Regina Hicks, an executive producer on HBO's Insecure, and Karin Gist, showrunner of Fox's Star are leading the project in a new direction. They have confirmed that the new plot, albeit unconfirmed, will divert from the original storylines. The first installment was a new generation's Sound of Music and the second one introduced Lauryn Hill to an untapped fanbase. This "new direction" has a lot to live up to.
In September, it seemed like Goldberg could sense how this "new direction" would affect her role. "We've been all over Disney begging and they've decided that they're going to go in a different direction with Sister Act. So it won't be Sister Act 3, it'll be a brand-new rendition of Sister Act," the EGOT winner said. "And I guess I'll walk through a scene and that's how they'll say I was part of it."
Following this prediction, there seemed to be a shift in talks when the actress appeared on Watch What Happens Live With Andy Cohen with Tyler Perry who said: "the two of them in Sister Act, that should happen. Let's make it happen." When Cohen, the host of the show, asked Perry if he could buy the rights to the Sister Act franchise from Disney, he said: "That's exactly what I was thinking. I was sitting here thinking, 'Tiffany Haddish, Whoopi in Sister Act, we'll go get 'em!" Are you here for a "Sister Act" without Whoopi?
| | |
| --- | --- |
| BETTER LUCK NECK TIME: Benzino Reportedly Facing Up To 15 Years For Several Drug Charges | 12.12.18 |
Benzino was arrested last year.
Benzino has been flying under the radar. In fact, he's remained so well hidden that TMZ only just learned that the former Love & Hip-Hop star was arrested last January and hit with some serious charges. Without counting his battle with Eminem, this may be the fiercest struggle Benzino has been faced with in his career. In January 2017, Benzino was charged with felony possession of THC oil gummies (22 grams), felony possession of 6 MDMA pills, and misdemeanor possession of less than an ounce of weed. The laws against marijuana in Georgia are strict, as Benzino is now learning.
Legal documents obtained by TMZ state that Benzino's Atlanta apartment was raided by police, who found the drugs in his drawers and cabinets. He was arrested at the time and posted a $12k bail. Benzino's legal team tried to fight back against the authorities, claiming that the search and seizure was illegal. Unfortunately, a judge ruled that the cops searched the apartment legally. Benzino will learn today (December 12) when his case will go to trial. The case could head to trial as soon as next week if Benzino doesn't take a plea deal. He's looking at up to 15 years in prison for the crimes.
| | |
| --- | --- |
| MASK OFF: Ciara Takes Legal Action Against Future For Their Son's Travel Schedule | 12.12.18 |
Ciara is tired of Future changing plans.
One would assume that Future is a busy man. The autotune crooner has tours, press tops, studio time, and other important matters on his schedule. Still, nothing should come before being a father. Ciara and Future have been having trouble ironing out a proper travel schedule for their son Future Jr., and according to TMZ, the "Goodies" singer has had enough. Legal documents acquired by the media site state that Ciara's legal team is asking the court to force Future to enter mediation. She is requesting that a judge sit down between the two of them while they create a travel schedule for their son.
Ciara claims that Future misses scheduled visits regularly, and that he drops off Future Jr. with his mother or grandmother without much contact when he does pick his son up. Although spending time with Grandma isn't the issue, Ciara is more concerned that Future is delegating child-rearing duties to his mother when he should be spending more time with his son. The hectic travel plans for the four year old have been weighing heavy on the child, according to the singer. She would like to settle this out of court, but that hasn't worked up to this point. If Future refuses to sit down for a mediation, Ciara plans on taking the case to trial.
| | |
| --- | --- |
| NOT ME, GIRL!: Lauren London Denies Rumors She Secretly Got Married to Nipsey Hussle – "I'm Not Married Y'all, Chill" | 11.12.18 |
Lauren London and Nipsey Hussle aren't officially married, yet.
Nipsey Hussle and Lauren London have been together for the better part of the past five years. Although they've broken up, they've managed to reconcile and get back together. In a lot of ways, Nipsey Hussle and Lauren London define what "relationship goals" are. Many people thought that the two got secretly married when Nipsey referred to Lauren as his "wife." However, Lauren London refutes that she and Nipsey are legally married
Lauren London took to Instagram to debunk rumors that she and Nipsey Hussle got married in secret. "I'm not married y'all. Chillllll," she wrote followed by three laughing emojis. Considering Nipsey and Lauren have been dating for five years at this point, he clearly considers Lauren his wife.
In late 2017, the two of them announced that they called it quits a year and a half after they welcomed their first son together. However, that didn't last that long. The couple was later spotted together at the L.A. Lakers Christmas game against the Timberwolves. Both Lauren and Nipsey shared photos from the game, confirming that they were back together. London later had a cameo as the getaway driver in Nipsey Hussle's music video for "Hussle And Motivate" off of Victory Lap. She also appeared in Nipsey Hussle's music video for his single, "Double Up" featuring XO's Belly and Dom Kennedy.
| | |
| --- | --- |
| ANYTHING FOR SELENASSSSSS: Netflix Greenlights Series based on the Life of Selena | 11.12.18 |
Selena's story lives on!
Netflix has announced that an all-new scripted series about the Tejano icon is in the works, authorized and executive produced by her family and written by Moisés Zamora (Star, American Crime). Selena Quintanilla-Pérez's life story — tragically cut short when she was murdered by an associate in 1995 at the height of her fame — was famously last told in the 1997 biopic starring Jennifer Lopez who, coincidentally, stopped aging 20 years ago and can still feasibly reprise the role.
Only three years ago, J.Lo performed another celebrated Selena tribute at the Billboard Latin Music Awards, lest you thought she doesn't still have it. We'd also settle for Selena Gomez, who was named after the singer. Just please, anything but the hologram (also in the works from the family), we beg you!
Are you looking forward to the series? Peep the official announcement below:
💕 Bidi Bidi Bom Bom 💕 @SelenaLaLeyenda's incredible life story is coming to Netflix as a scripted series! @selena_netflix was developed alongside, and will be executive produced by, The Quintanilla family #NetflixNewsWeek pic.twitter.com/6YUMoAeA7Z

— See What's Next (@seewhatsnext) December 11, 2018
| | |
| --- | --- |
| AMERICA'S NEXT TOP…RAPPER?: Tyra Banks Continues To Spit "Bars" While Hosting Charity Gala In Texas (VIDEO) | 11.12.18 |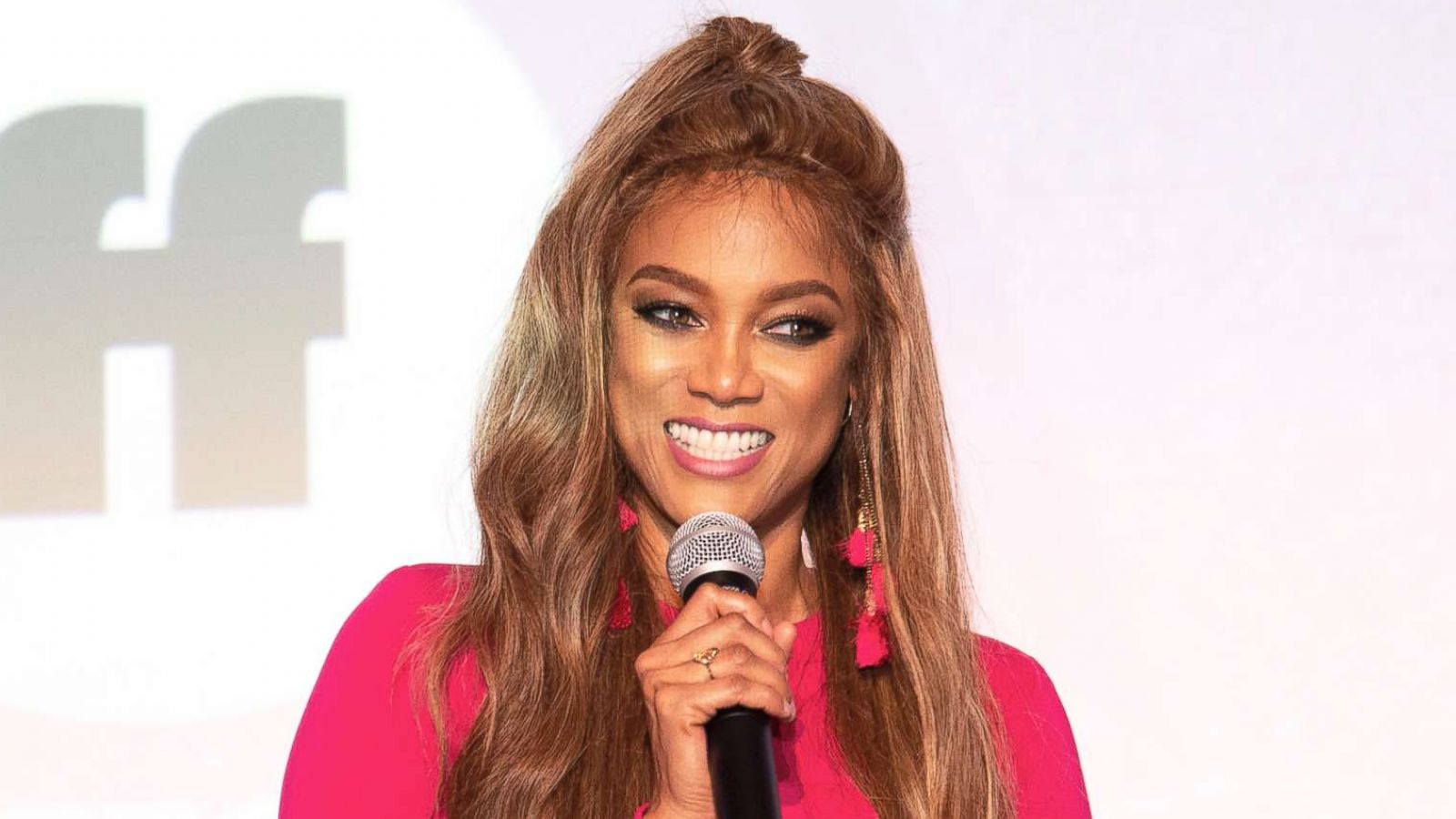 Tyra Banks is still doing the rap thang.
At the top of the month, Tyra Banks stopped by Sway In The Morning to talk about her upcoming Life Size 2 movie and her book while also managing to spit a freestyle she wrote back when she was in the 9th grade, struggling in algebra class. : "I'm 34A, but that's okay, 'cause the rest of my body is just touche/I'm 5'9′, I look so fine/Yes, all of my fellas are so divine," she rapped over Busta Rhymes' "Touch It."
Oh bitch I was not expecting Tyra banks to drop some bars

— bad white cop bitch (@marguIies) December 3, 2018
After getting a lot of love online with people chanting her on for having bars, the former supermodel is still riding her freestyle wave since performing her little skit while hosting the Altus Foundation Gala in Houston this past weekend. In the video you can see Tyra circling the stage while laying down her lyrics for the audience. She got quite the applause from the crowd, which means Tyra may continue with her party trick. Peep the video below: