| | |
| --- | --- |
| JUST IN CASE YOU WERE WONDERING: Tank Talks His Bedroom Preferences & Enjoyment Of Having His Wife Eat His Ass (VIDEO) | 17.11.19 |
Tank just wants to get his salad tossed without your judgement.
R&B singer Tank has made it clear that he couldn't care less about the backlash he's faced over his remarks. He's currently out on the road with Fantasia, Robin Thicke, and The Bonfyre for the American Idol winner's Sketchbook Tour, so Tank stopped by Hoodrich Radio to chit-chat with DJ Scream and Moran tha Man.
Tank talked about his recently released album Elevation and what that means to him as a man and as an artist, but DJ Scream wasn't about to let the singer leave without asking him about the recent oral sex comments that went viral. "These people are wild man," Tank said with a smile. "In the dumb place, which is social media, people would rather enjoy the clickbait and the clip. It's more exciting to take that and run with it and come to my page and leave derogatory comments and tell me I'm gay and do all of these things verses actually watching the interview and seeing what it was all about."
He was then asked to give clarity, once again, on the controversial conversation. Tank reiterated that he didn't bring up oral sex, Angela Yee did, and he was just saying that while he has always known his own sexual preference, there are others who go through an exploration process to determine what they like and don't like.
Then, DJ Scream brought up Tank's previous statements about enjoying a woman, his wife, "tossing his salad." The singer questioned why something like that would make people think he's gay. "Some people believe everything done within a heterosexual relationship is fair game. I don't agree. I don't judge." He said "salads" are just fine as long as there aren't any "utensils" involved. "Don't be straightening out your fingers." Watch the full interview below and catch the segment about Tank's bedroom preferences around the 10:30 mark.
| | |
| --- | --- |
| ISSA BOP OR ISSA FLOP?: Megan Thee Stallion Teams with VickeeLo's For Another Twerk Anthem – "Ride Or Die" (VIDEO) | 17.11.19 |
The new video is for Megan Thee Stallion's song on the "Queen & Slim" soundtrack.
Bounce that ass and drop that ass and pop it like a shootout, indeed. In Megan Thee Stallion's new song with VickeeLo, the two female rappers do what they do best…Twerk. The Houston sensation linked up with VickeeLo for the Queen & Slim soundtrack, releasing "Ride Or Die" earlier last month and now, the cut officially has a video attached to it.
Much like the lyrical content in the song, the visual aspect of "Ride Or Die" features a whole lot of twerking. On her project 'Fever,' Young Tina Snow provided her fans with tons of booty-shaking anthems. This is yet another one, promising to set the clubs off right. Meg and VickeeLo aren't the only two women dropping it down to the ground in the clip. There are plenty of women showing off the goods, bouncing their behinds and ensuring that the twerk party never ends.
The Queen & Slim soundtrack has arrived and it's full of surprises. Watch the video below for "Ride Or Die" and let us know if you're messing with it. ISSA BOP OR ISSA FLOP?
| | |
| --- | --- |
| AND I OOP!: Doja Cat Claps Back at Critics Who Called Her 'Sway in the Morning' Freestyle Trash – "I Don't Have to Know How to Freestyle, Go Cypher in Wendy's Bathroom & F*ck Off" | 17.11.19 |
Doja Cat was calling everyone out on Twitter.
There was once a time, way back in the day, when the primary way to listen to music was through CDs. They came in square, plastic contraptions and, most of the time, included a small pamphlet that listed songs, credits, thank-yous, and lyrics. In today's world, all of that information can be found on social media or with a quick Google search, but it's not always reliable. Doja Cat has run into that problem, and she's blaming record executives for the mix-up.
Last week, Doja dropped her sophomore album Hot Pink and fans hopped online looking for lyrics to each track. However, the singer-rapper let it be known that what's been put out there in the world aren't the words that she penned. "DO NOT GO TO APPLE FOR MY LYRICS DONT GO ANYWHERE ONLINE FOR MY LYRICS. ALL OF MY LYRICS ARE WRONG AND LAZILY WRITTEN BY MY LABEL," she wrote, before addressing fans one-by-one as they asked for specific lines to her songs.
Doja also took a moment to speak about her recent freestyle on Sway in the Morning. During her 33-minute interview, Sway asked Doja to drop a short freestyle. It's obvious that she doesn't want to, but she goes on to deliver a lyrical moment that made her the focus of criticisms. "To the people getting mad at my garbage ass 'freestyle' on Sway," she tweeted. "I don't have to know how to freestyle. Go have a cypher in a f*cking Wendy's bathroom and f*ck off." You can check out her freestyle below around the 30:20 mark.
DO NOT GO TO APPLE FOR MY LYRICS DONT GO ANYWHERE ONLINE FOR MY LYRICS. ALL OF MY LYRICS ARE WRONG AND LAZILY WRITTEN BY MY LABEL.

— HOT PINK 🥵 (@DojaCat) November 14, 2019
To the people getting mad at my garbage ass "freestyle" on Sway. I don't have to know how to freestyle. Go have a cypher in a fucking Wendy's bathroom and fuck off.

— HOT PINK 🥵 (@DojaCat) November 12, 2019
| | |
| --- | --- |
| SAY WHAT NOW?: Jay-Z Is Reportedly Extremely Disappointed In Colin Kaepernick After Moving Workout; Believes He Turned it Into a "Publicity Stunt" | 17.11.19 |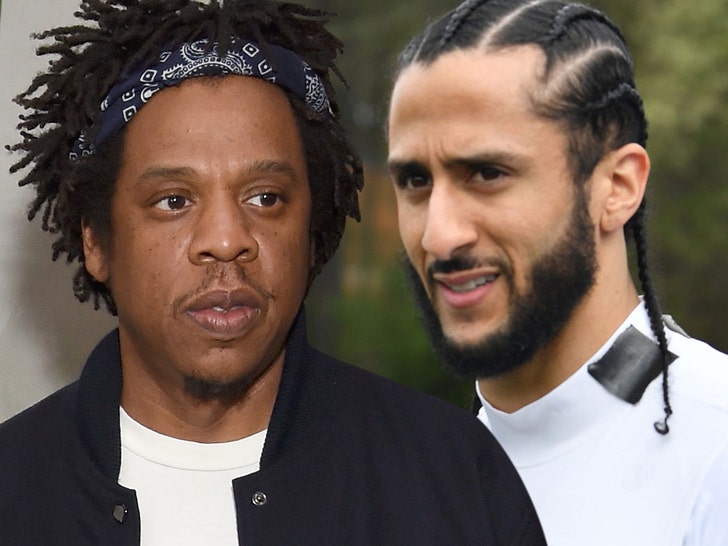 Apparently, Jay-Z isn't happy with Kaepernick.
Complex is reporting that "a source close to the situation" has informed them that Jay-Z is disappointed in Colin Kaepernick after Saturday's workout. He feels Kaepernick turned his chance to make it in the NFL into a publicity stunt with his decision to move the workout location at the last minute.
NFL's response to Colin Kaepernick opting to do his own workout today in Atlanta: pic.twitter.com/uvUZGH7CQ5

— Adam Schefter (@AdamSchefter) November 16, 2019
Kaepernick and his team felt strongly about not signing a liability wavier presented by the NFL and wanted the media to have access to the event. A middle ground could not be found and Kaepernick moved the workout to a nearby high school three hours before the start.
Jay-Z isn't alone in his sentiments about Kaepernick's workout. Stephen A. Smith expressed similar feelings in a video posted to Twitter saying, "This man wanted a chance. Twenty-five teams show up in Georgia at the Atlanta Falcons practice facility—state of the art facility, NFL personnel, equipment, video, everything, and what does Colin Kaepernick do? Because of some issue with a liability waiver, Colin Kaepernick wants to change the venue. You don't want to work. You just want to make noise and you want to control the narrative."
He went on to say Kaepernick merely "wants to be a martyr." What do you guys think of all of this?
| | |
| --- | --- |
| HEY BIG HEAD: Big Sean Says He Made Jhené Aiko Climax 9 Times In 1 Day & The Internet is Losing Their Minds | 16.11.19 |
NINE TIMES? I knew I loved that man.
Big Sean and Jhené Aiko once painted a picture of love. The two were absolutely one of Hollywood's favorite couples, hitting red carpets together and spreading their hilarious raunchiness all across social media. Their behavior was not extra though — it felt warranted. We could all feel their chemistry even if we had never met Sean or Jhené. Unfortunately, they broke up last year but they remain very close friends, still hanging out every once in a while. Fans were surprised to see Sean featured on Jhené's brand new single "None Of Your Concern" and, when it came time for him to spit some bars, they were even more shocked.
In the fourth verse of the song, Big Sean bounces around with Ty Dolla $ign and his solo sections caught the eyes of many. "But every time I lay down I think about you naked/And if you find my replacement, how could you," rhymes the Detroit penman. "I made you cum nine times in one day/Your two lips should come in a vase, you rode my face," he continues.
Of course, this revelation has fans going crazy online. First of all… NINE TIMES? That's pretty crazy, to be honest. Secondly, he's really saying this on her own song and both Sean and Jhené's supporters are reacting strongly across social media platforms. Listen to the track below and let us know your thoughts.
All of us when Big Sean said 9 times in 1 day
👀👀#NoneOfYourConcern #NOYC
pic.twitter.com/mGzhpiCAqv

— Siobhain (@summer0001) November 15, 2019
Big Sean Made Jhené Cum 9 Times In 1 Day????? These Type Of Niggas Exist????? 🥴🥴🥴🥴 pic.twitter.com/YXmm2e30tt

— 🌗 (@TropicanaHaze) November 15, 2019
Listening to this new Jhené Aiko and Big Sean popped up at the end. 😭 pic.twitter.com/XmoEgvgxaI

— Camille Smith (@camichicago) November 15, 2019
big sean said he made Jhené cum 9 times in one day, which explains why she's triggered.

— skye ♡ (@skyeehigh__) November 15, 2019
Yet again Jhene and Big Sean play with my emotions 🙃 pic.twitter.com/654PJxGXwd

— Deviii 🥰 (@kautypie) November 15, 2019
If Big Sean made Jhene cum 9 times in a day, then I understand why she tatted his face 😂😂😂

— Brownskin Goddess✨ (@ashleighamariee) November 15, 2019
9 times in a day?!? … no wonder Jhené had Sean's whole face tatted on her arm pic.twitter.com/YObGtbaeR1

— Active when in Tweet jail (@YeppItsJanna7) November 15, 2019
| | |
| --- | --- |
| TRUTH HURTS?: Lizzo is Being Sued By that Postmates Driver After "Defamatory" Tweets | 15.11.19 |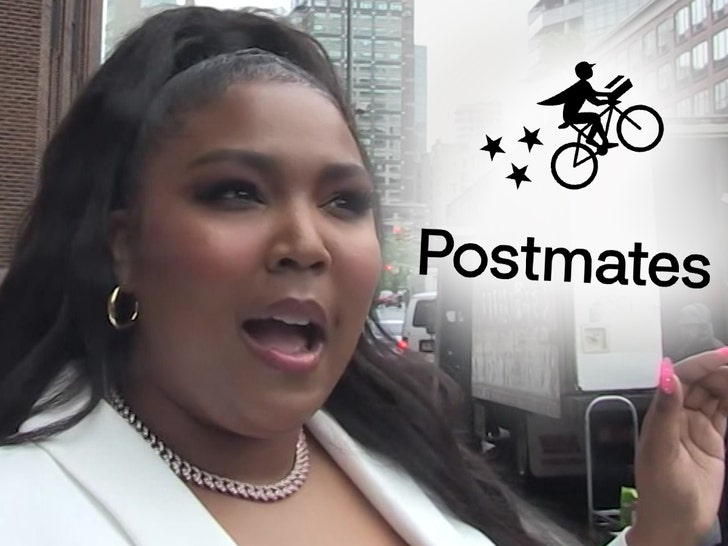 We saw this coming.
A wise man once said, 'Mo money, mo problems.' A few months ago Lizzo jumped on Twitter to slam a Postmates delivery employee who was taking too long to deliver her food. "Hey @Postmates this girl Tiffany W. stole my food," Lizzo wrote, next to a screenshotted image of Tiffany. "She lucky I don't fight no more." The issue was quickly handled by Postmates but not before followers and fans alike slammed Lizzo for publicly shaming a service industry worker.
Lizzo did apologize for her silly move but that didn't stop Tiffany from clapping back with a lawsuit. According to TMZ, Tiffany is suing the "Truth Hurts" singer for defamation. Tiffany makes it clear that Postmates sided with her in the dispute since she did everything she could to deliver Lizzo her food and when she couldn't locate her she went onto the next delivery.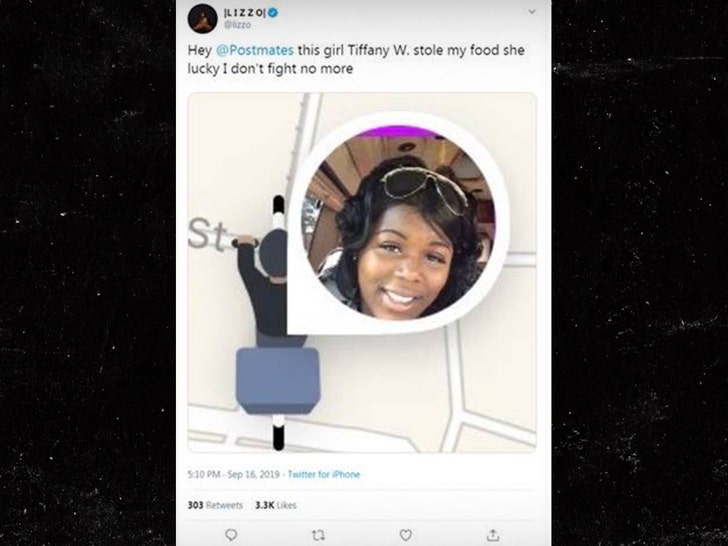 Since the incident, Tiffany claims to have received death threats making her concerned for her safety, forcing her to quit her job at Postmates. She adds that she lives in fear and is subject to humiliation, ridicule, stress and anxiety. There's no word on exactly what she's asking for from Lizzo but she's suing for defamation as well as intentional infliction of emotional distress.
| | |
| --- | --- |
| YOU BETTER CALL JORDYN WITH THE GOOD HAIR: Tristan Thompson Reportedly Wants Khloe Kardashian Back But She's Not Having it | 15.11.19 |
Khloe Kardashian is saying "Not me, girl."
It's clear that Tristan Thompson is gunning for his ex since the NBA player has been hitting up Khloe Kardashian's comment section and posting all kinds of sweet words about her on Instagram. The duo broke up for a second-time months ago after Tristan kissed Jordyn Woods, Kylie Jenner's former best friend.
The folks over at People Mag now confirm that Tristan really is trying to get back with Khloe but she's simply not interested. "It's hard not to admire Khloé," a source told the publication of Tristan's mindset. "She decided that she was going to be in a good place with Tristan, because of True and she really is. She refuses to be bitter and dwell on the past."
The source added: "Tristan still tries to date her, but she doesn't seem interested. She seems very happy the way things are. She loves just being a mom and focusing on work."
A while back Khloe responded to a post on Instagram, making it clear that she could never hate Tristan despite everything they've been through.
"Why would I ever hate anyone who helped create such an angel? People make mistakes but I won't hurt my own healing by holding on to hate. I'm too busy raising my beautiful baby and securing that to hate any individual," she wrote. "Sweet True has always looked like her daddy. She's beautiful!!"
| | |
| --- | --- |
| AND I OOP!: Drag Queen Comedian Flame Monroe Calls Mo'Nique a Hypocrite Over Netflix Discrimination Suit; Says She Discrimanted Against Her for Her Sexuality But Later Married a Gay Man – "Who's Daddy Calling Daddy?" (VIDEO) | 15.11.19 |
Flame Monroe just smacked Mo'Nique over the head with a "hey my loves" of her own.
Mo'Nique has made more than her fair share of enemies in the industry. But normally, the controversies surrounding her name generally involve people with more power, prestige and influence than she does. She recently made headlines for filing a discrimination lawsuit against Netflix, however the 'Queens of Comedy' comedian is now being accused of discrimination herself. Fellow comedian Flame Monroe, who was most recently on Tiffany Haddish's Netflix special 'They Ready,' says she had quite a few issues with Mo'Nique from back in the day.
On "The Tammi Mac Late Show," Flame said that Mo'Nique was responsible for getting her fired from a job. Then she alleged that she bashed her lifestyle. For those who don't know, Flame uses several pronouns to describe herself: he, she, we. Flame is also raising three young children: two girls and one boy. I don't know about her sexuality but she identifies as trans so she is a part of the LGBTQ community.
Flame says that she worked with Mo'Nique in 1999, and was an unknown comic at the time and without question he was going to be hired, but Mo'Nique said that she couldn't work with Flame Monroe because she is LGBT+. She continues by saying she found it particularly hypocritical because she believes Mo'Nique married a man she believes belongs to the LGBTQ community.
"Here's the funniest part: You tore me down for my lifestyle, and then turned around and married my lifestyle," she said. "You've been knowing me all these years. Gay bashing don't work with me. I'm from the West Side of Chicago."
When host Tammi Mac asked Monroe to clarify what she meant when she previously said Mo'Nique married her "type," she boldly alluded that Hicks is a member of the LGBTQ community, himself.
"Stevie Wonder can see that," she said. "The question is, who is 'Daddy' calling Daddy?"
Flame who currently works for Netflix also visited The Breakfast Club where she continued to double down on her claims against Mo'Nique, then talked about the "diversity" in Netflix and tells Mo that Netflix is ready. Peep that interview below:
| | |
| --- | --- |
| IN CASE YOU MISSED IT: Teyana Taylor's Lap Dance Has Tammy Rivera Questioning Her Sexuality (VIDEO) | 15.11.19 |
Teyana Taylor can definitely do that to you.
Teyana Taylor is known for whipping out her lap dance moves during her performances making the crowd and any given individual in the chair go wild. The latest lap dance Teyana showcased for her fans was for Tammy Rivera during her Atlanta show and needless to say, Waka Flocka's wife enjoyed every moment of it.
In the clip below, you can see Tammy laid out on a bed while Teyana does the damn thing on top of her body. "@teyanataylor show was amazing! y'all don't wanna miss her next one! She make me wanna #PlayWithaBitchToo," Tammy captioned an image to Instagram, prompting Waka to comment: "O fucking really."
Teyana previously opened up about her beloved show trick, making it clear that it's all apart of her job. "I'm very professional, and after every lapdance of anybody I've ever given a lapdance to, it's never been anything more than that," she said. "I'm very like, 'Lapdance. Alright, on to the next song.' It ain't no kiki-ing. Next record. This s**t is a job. It's a job and I think that people don't understand that. But when you're passionate about your job, and you're passionate about entertaining people and this is your show, it is what it is."
| | |
| --- | --- |
| TROLLS ARE GONNA TROLL: Naturi Naughton Replies To 50 Cent's Hairline Shade – "So Much For Power" | 15.11.19 |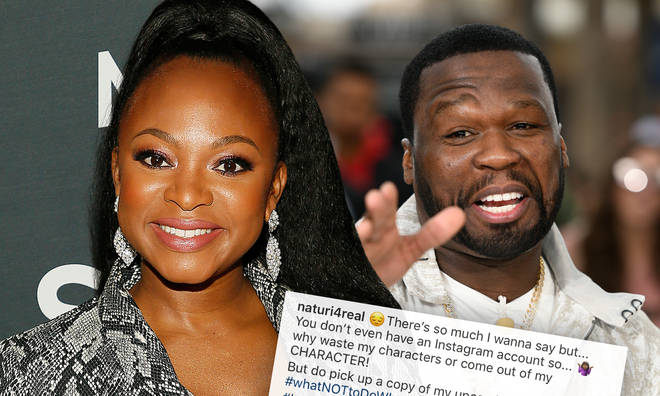 Naturi Naughton isn't letting 50 Cent get away with trolling her hairline.
After 50 Cent got his Instagram account taken away from him (for good this time?), he moved over to Twitter to continue his troll efforts. We all know how much the rapper-turned-entrepreneur loves disrespecting his peers and enemies. For the last half-decade, he's remained relevant partly through his usage of social media. Of course, Curtis Jackson is also making incredible moves across entertainment platforms but, in the public eye, much of what nets him headlines comes from his social activity. This week, he strangely went after his Power co-star Naturi Naughton with hurtful memes about her hairline, getting his commenters up in arms. Now, the actress has responded to the message with one of her own, truly expressing her confusion regarding the matter.
😠Who the fuck did this, POWER is #1 pic.twitter.com/XcGFts5yZn

— 50cent (@50cent) November 13, 2019
"Did we have a fight and I not know about it?" asked Naughton in a reply. She then took things to IG for a lengthier reaction. "There's so much I wanna say but… You don't even have an Instagram account so," she started. "Why waste my characters or come out of my CHARACTER!"
In the initial response, Naturi added hashtags that seem to suggest her excitement for Power to finally be finished. The presence of her "#SoMuchForPowerFam" and "#FinalSeason" tags hint that she's ready to split entirely from Jackson.
Did 50 cross a line?
| | |
| --- | --- |
| AS THE THOTS TURN: Future & Lori Harvey Allegedly Spotted Boo'd Up In Atlanta Heating Up Rumors of Them Dating…Or Just Smashing | 15.11.19 |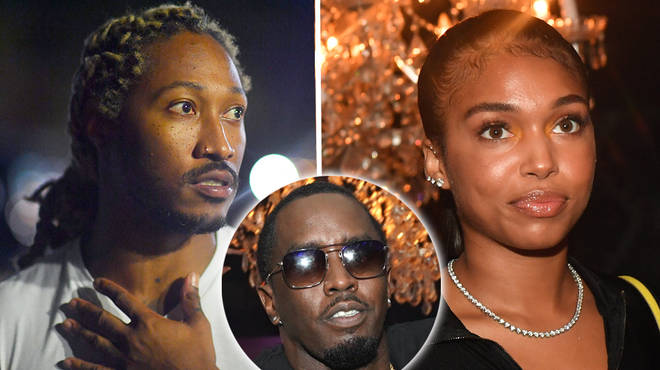 Is Lori Harvey really out here with fertile Future?
After moving on from Diddy's son with Diddy himself this summer, Lori Harvey was crowned the unofficial queen of Thot, I mean, Hot Girl Summer. Due to his reckless relationship behavior, Future is basically the perpetual king of Fuckboy Fall. It appears as though their paths have crossed and they were so infatuated with one another that they decided to try things out as a couple. Or, at least that's what the tabloids are saying.
As reported by several sources, including Bossip, Future and Lori Harvey were reportedly spotted this week getting close in Atlanta. Previously, the rumor mill had been swirling when they updated their social pages with a cryptic hint that they were together in Malibu. Their photos had the same background and fans started putting two and two together. However, that was weeks ago. Now, there is actual proof that they've been chilling, even getting pretty affectionate in public.
The report reads that Lori and Future attended the Red Bull Music Festival in ATL this week, hitting up Teyana Taylor's show last night as a couple. Despite arriving in separate vehicles, they reportedly spent the entire night together, hugging, holding hands, and doing regular couple stuff. Apparently, their actions could be described as "really hot and heavy." Do you think they're actually dating?
| | |
| --- | --- |
| AND I OOP!: Charlamagne Tha God Drags Lakeith Stanfield As 'Donkey of the Day' Over Black Media Criticisms | 15.11.19 |
The actor listed media outlets that he considered to be "anti black".
The Breakfast Club is one of the leading forces in urban media, but Lakeith Stanfield has openly shared his distaste for the radio show. The Get Out star took to Instagram Wednesday to discuss black media and how it's more poisonous to its own community than helpful.
"The shade room, lipstick Alley, breakfast club, worldstar, and many others are or anti black," the text image said. Then, in the caption, Lakeith expounded on his thoughts by writing, "It's a fact that a lot of these platforms are usually or tend to be feeding grounds for negative reinforcement toward BLACK 'nonconformists'. They bolster faux vanity and hold a white supremacists scope over black men and women often highlighting negative attributes and downplaying mind expanding ones. They serve as bottomless coward consumption pits and digital, audio, or otherwise slave mentatilty museums. @ all you want."
The Breakfast Club's Charlamagne Tha God took an opportunity to address Lakeith's criticisms by bestowing the actor with "Donkey of the Day." Charlamagne said that it's easy for Lakeith to attack black outlets, but he knows the actor wouldn't dare publicly address the white outlets who do the same thing. "Because you know that would affect you in Hollywood," Charlamagne said. "So who's the real coward?"
The radio host went on to say that Lakeith doesn't even speak to black outlets while he walks the red carpet and treats them as if they aren't as reputable as E!, which Charlamagne states can be just as messy. He also accused Lakeith of being in the Sunken Place like his Get Out character and advised him not to burn any "black bridges" while he's being accepted by mainstream media. Watch Charlamagne dig into Lakeith below.