| | |
| --- | --- |
| NOT ME, GIRL!: Foxy Brown Responds To NYFW Debacle – "We Were Handed A Handwritten, Undated, Check" | 21.09.18 |
Foxy Brown is decisively eloquent in her response to NYFW designer LaQuan Smith.
Foxy Brown vehemently denies running off with the proceeds for a "no-show" performance during New York Fashion Week. The Brooklyn rapper was booked to perform two songs at a LaQuan Smith-hosted event. She reportedly received five thousand dollars as an advance, then demanded another five upon arrival. The trouble is all the invited guests had already left by the time Foxy arrived backstage. But according to Foxy, that's not evenly remotely true of the incident. Her side of the story is only now starting to make the rounds.
In an Instagram post she shared yesterday, Foxy labeled the misunderstanding a "fashion fairy tale," deferring all the blame for her non-performance to designer LaQuan Smith, to whom the honor went (for the event itself). The infuriated rapper accused the fashion designer of trying to thwart her "incredible" musical comeback story, or knock the wind in her sails.
"As our upper echelon, BLACK SUPER HERO OF FASHION, I'm embarrassed for YOU and alleged that the whole sordid situation was a scandalous attempt to bring discord into MY INCREDIBLE COMEBACK!" she wrote.
Foxy Brown asserts that she was handed a blank, undated check by Laquan, which was subsequently canceled by forces unseen. Foxy promises a fierce litigation will come his way. In the meantime, Foxy does gain some points for airing her side of the story over a Sizzla-backing track. Stay tuned, the high jinks have only just begun.
| | |
| --- | --- |
| I KNOW YOU LYING: The Internet is Convinced Tristan Thompson Isn't Cheating on Khloe Kardashian Again After He's Caught Leaving a Club with Two Women (VIDEO) | 21.09.18 |
Last night, some potentially questionable photos of Tristan Thompson hit the internet. They show two girls leaving a club in Hollywood right before he did and appearing to wait outside until he came out. When he saw the photographers outside, he immediately went to his car and the girls went to theirs.
Before anyone jumps to the crazy conclusion that Tristan is back to his pre-baby cheating ways, there are a few things worth pointing out here.
When the rumors—and later the receipts—first surfaced that Tristan was cheating on Khloé back in April, there were videos of him making out with other girls, and photos of him leaving clubs and then entering hotels with other women. They were both, the public thought, pretty damning, and Khloé later seemed to confirm his cheating it in a string of Instagram comments.
However, just because you're in a relationship doesn't mean you can't have friends of the opposite gender. And! Even if the three of them were going somewhere together, we don't know where that is. Nothing wrong with a little post-club In-N-Out among friends, am I right?
But if I, Just Ken, can give Tristan a little advice, I would tell him that if you're dating a Kardashian and know that you're going to be photographed pretty much everywhere you go, be more tactful about it. Koko is literally moving across the country for you and you have a child together. Do better, my dude. What do you guys think? Check out the footage in question below:
| | |
| --- | --- |
| AS IF ALL RAP LYRICS ARE FACTS: Eminem Claims He Gave Rihanna Hickeys And People Are Mad | 21.09.18 |
Eminem's Machine Gun Kelly diss track has caught the eyes of Rihanna's Navy, and they are not with it.
Eminem's track "Killshot" has got people across fanbases asking questions. The opening lyrics of the track mention everyone's favorite Barbadian musician and entrepreneur, Rihanna, and needless to say, people feel a way about it.
The lyrics in question are as follows: "Rihanna just hit me on a text / Last night I left hickeys on her neck." Those of you who have been following the famous rap beef will recognize the bars as a response to a line that Em's Texas-born opponent MGK spit. In his diss track "Rap Devil", MGK claimed Eminem was "The type to be scared to ask Rihanna for her number."
Beyond being a reply to MGK, Eminem's lyrics have prompted speculation about a supposed relationship between him and the Savage x Fenty designer, and have seemingly rubbed people the wrong way. Britsh DJ Samanta Ronson told TMZ "I think [the lyrics] are misogynistic and homophobic. He's smarter than that and he's proven that he's smarter than that. It just seems like some real, like, lazy writing. Rihanna is running an empire. She's busy. She isn't putting hickeys on your neck."
People have taken to their socials to discuss the lyrics with the general consensus being Ri just doesn't have time for Eminem. What do you think?
Eminem saying he left hickeys on Rihanna's neck like I'm supposed to believe him. There could be proof and I'd still refuse to believe it. Anyways Eminem still dropping his female peers' names in his records for no reason huh pic.twitter.com/ogd9tdCVEV

— ashley (@rosewaterbaths) September 14, 2018
Eminem started off his MGK diss with a line about leaving hickies on Rihanna's neck… pic.twitter.com/ADas1t4VaN

— buki hendrix (@bukithegreat) September 14, 2018
some Rihanna stans are big mad over the hickey line like they arent friends of like miss Fenty hasn't called Eminem "one of his favorite people in the world" pic.twitter.com/k4tJ8wUUW5

— sofi the gemini 🥦 Ⓥ (@drugsballads) September 20, 2018
| | |
| --- | --- |
| NOTHING BUT FACTS: Khloe Kardashian On Racist Remarks About Daughter True – "People Are Disgusting" | 21.09.18 |
Khloe Kardashian continues to block out the hate.
Earlier this week Kim Kardashian shared an adorable photo of baby Stormi, Chicago and True all sitting side by side proving their cousin bond has started already. Unfortunately, the photo pulled in a lot of unnecessary hate from some the worst kind of trolls who had the audacity to post such comments as these: "I hate that True is so dark, the other two are a nice mix… she's a cute kid, just too dark."
A lot of Khloe's fans came to her defense, shaming the user and now Khloe has also responded on Twitter thanking her followers for the love. "You guys are incredible and I feel so blessed to have such great support!!!" she responded to a fan. "Some other people are truly miserable in their lives but I truly try to stay in a place of love and peace. My baby True is that for me. I'm blocking out the white noise."
In another tweet, she added: "Honestly people are disgusting and they are hurting themselves. For anyone to critic a baby is obviously not well."
You guys are incredible and I feel so blessed to have such great support!!! Some other people are truly miserable in their lives but I truly try to stay in a place of love and peace. My baby True is that for me. I'm blocking out the white noise.

— Khloé (@khloekardashian) September 19, 2018
Thank you love!! Honestly people are disgusting and they are hurting themselves. For anyone to critic a baby is obviously not well.

— Khloé (@khloekardashian) September 20, 2018
| | |
| --- | --- |
| WELL THAT ESCALATED QUICKLY: Kevin Hart Loses His Cool & Blast Katt Williams Over Tiffany Haddish Comments | 21.09.18 |
Hart drops his humble and reminds Katt who the boss is.
Kevin Hart and Tiffany Haddish sat down with The Breakfast Club on Friday morning, and Hart spent no less than fifteen minutes clapping back at Katt Williams. Williams attacked Haddish with harsh words last week, claiming that the up and coming actress hadn't proven her comedic ability. Both Hart and Haddish responded to Williams via social media, and Haddish even took pictures with the veteran at the Emmy's earlier this week. Even though an apology was made and Williams and Haddish seem to be cool now, Hart still had plenty to say about his fellow comedian.
"My frustration with Katt Williams comes from, you keep pointing at Hollywood. Hollywood this. The white man. This, this, and this. When do you take responsibility for your actions?" Hart asked. "You had the shot. You were the guy. You were set up to be the star. You didn't show up to work. You fucked off promo shoots. You fucked off your promo trips that they had set up for you. You became a risk to the studios which is why the studios stopped fucking with you."
When Charlamagne asks why the studios view Katt as a risk, Hart simply stated, "He chose drugs." He continued on to call out Katt personally. "So when you say Tiffany Haddish doesn't deserve, or isn't really a comedian, and these other women have worked hard, which they have. Shoutouts to Melanie Comarcho, shoutouts to Luenell, shoutouts to Leslie Jones, who are all underneath the umbrella of Katt Williams. Katt Williams, have you ever used your platform to fucking bring the people that were under you up? You haven't!" Check out the full interview below (jump to about 6:00 for the Katt Williams segment)
| | |
| --- | --- |
| THAT RIHANNA REIGN JUST WON'T LET UP: Rihanna Named 'Extraordinary & Plenipotentiary' Ambassador for Home Country of Barbados | 21.09.18 |
Rihanna's list of achievements just got longer.
Rihanna has recently been named the "ambassador extraordinary and plenipotentiary," in her native country of Barbados. In its report of the story, Billboard informs that the lengthy title involves "specific responsibility for promoting education, tourism and investment for the island."
Barbadian Prime Minister Mia Amor Mottley has nothing but praise for the songstress and all her accomplishments. She celebrates the manner in which Rihanna continues to strive towards the betterment of the world, and how she represents her island nation. She stated, "Rihanna has a deep love for this country and this is reflected in her philanthropy, especially in the areas of health and education. She also shows her patriotism in the way she gives back to Barbados and continues to treasure the island as her home."
In accepting the honor, Ri shared, "I couldn't be more proud to take on such a prestigious title in my home country. Every Barbadian is going to have to play their role in this current effort, and I'm ready and excited to take on the responsibility."
This news comes in the wake of Rihanna's success as an ambassador for the Global Partnership for Education (GPE) — a role which allowed her to visit Malawi, and also travel to Senegal for the GPE's finance conference.
| | |
| --- | --- |
| ISSA BOP OR ISSA FLOP?: Cardi B Gets Back to the Music Joining Pardison Fontaine on His Debut Single "Backin' It Up" (VIDEO) | 20.09.18 |
"Chill with the beef and get some chicken instead."
Pardison Fontaine has been making a name for himself behind the scenes, and now he steps back to the mic. The Bronx rapper-songwriter, also known as Jordan Thorpe, is a longtime collaborator of Cardi B. The two have worked together throughout the years, and Fontaine contributed to her debut album Invasion of Privacy, including hits "Bodak Yellow" and "Be Careful."
Cardi holds the feature spot on Pardison's new single, "Backin' It Up." Bardi recorded her verse while she was five months pregnant but some of her lyrics sound incredibly current. "I'm the queen of talking shit and I'm backin' it up" and "Why don't you chill with the beef and get some chicken instead?" are just a few of the lyrics that are bound to turn some heads, whether Cardi is just spitting in general or not.
Quotable Lyrics:
"B-tches think they fuckin' with me, must be sick in the head
Why don't you chill with the beef and get some chicken instead?
Got the crown, shut it down, have them hype up in the 6
If she dead, let her lay won't bring no life into this b-tch
Lookin' this good should be a sin, you should call me cinnamon
Cardi B, bad b-tch, those is fucking synonym"
The track is the first offering from Pardison's major label debut EP, due later this year. "It's more of an introduction," says Pardison. "I'm catching up fans who have known about me for a long time and introducing myself as an artist to new audiences."
Check out the video for the track below and let us know what you think. ISSA BOP OR ISSA FLOP?
| | |
| --- | --- |
| WATCH THE THRONE: Jay-Z 's Lawyers Say He Is Being Unfairly Prosecuted In $18 Million Dollar Lawsuit | 20.09.18 |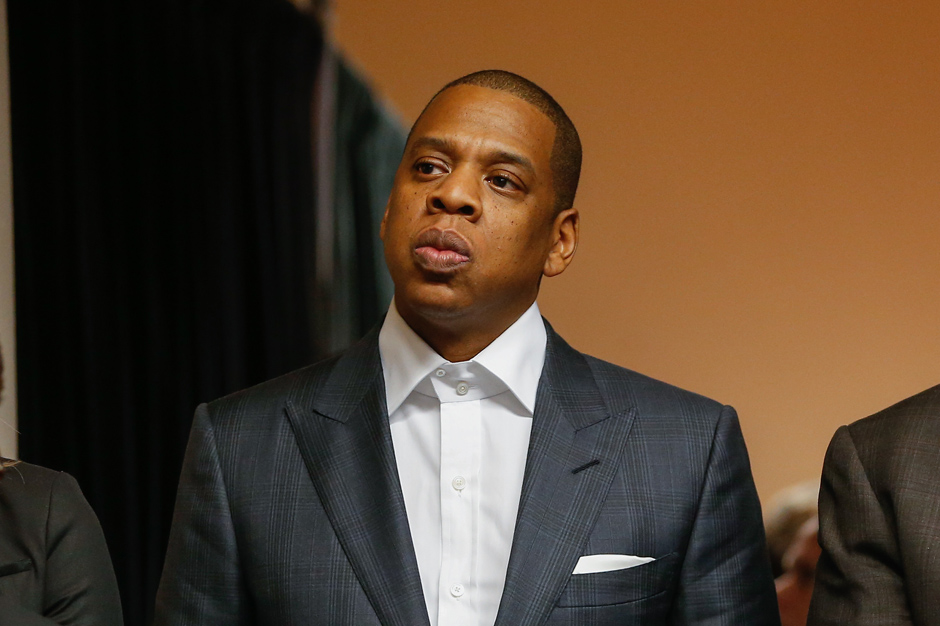 Hov's lawyers are not having it.
Amidst the final days of his On The Run Tour II days, Jay-Z has been embroiled in an ongoing court battle with perfume giant, Parlux Fragrance. The "Hard Knock Life" rapper was confronted with an 18 million dollar lawsuit. The company suing him claims that he failed to honor a commitment to promote one of the company's fragrances, titled "Gold."
In his defense, Jay-Z's lawyers have argued that he did not intend to neglect his responsibilities to the company, but was in fact overwhelmed with a substantive amount of work, and work-related engagements such as appearances at "Good Morning America." Jay's lawyers are claiming that he essentially, could not have completed any worthwhile promotional work for "Gold."
While in court earlier this week, Parlux Fragrance claimed the defense does not hold water, and asked that the judge presiding over the case require Jay-Z to present his calendar for the years 2013, 2014 and 2015 to the court. In response to this, Jay's lawyers contended that forcing their client to present his schedule would reveal little known and imperative business information and compared the case to the "Spanish Inquisition."
Following news of the lawsuit, Hov proceeded to counter-sue Parlux Fragrance, accusing the company of with-holding 2 years' worth of royalties from him. The judge has told both parties that they have 2 weeks to resolve matters on their own.
| | |
| --- | --- |
| WELL THAT ESCALATED QUICKLY: Kanye West Says He's "Out The Sunken Place"; Defends Kim's Honor by Putting Drake, Nick Cannon & Tyson Beckford "In Check" (VIDEO) | 20.09.18 |
Kanye West demands respect for his family's name.
Kanye West's return to Instagram is nothing less than glorious. The G.O.O.D Music mogul took a moment to air out his grievances, pointed at specific individuals, namely Nick Cannon, Drake and Tyson Beckford. All three men have one thing in common, they have spoken about the Kardashian-Jenner family in a disparaging way. Kanye started his rant by suggesting that his spirit has been lifted "out of a sunken place" — that he was no longer susceptible to getting "trampled over."
Nick Cannon recently came out the woodwork with his account of how he introduced Yeezy to Kim Kardashian after he'd dated her for a brief period. Kanye was none too pleased to hear the Wild 'N Out host bring up the ghosts from past relationships.
He waited for a train to pass before taking a dig at Drake, for disrespecting his wife. The general line of reasoning being: some allusions are better left unsaid, the inference of Keke among them. He also warned model Tyson Beckford not to speak on his wife, because "it don't sit well with his spirit."
Kanye West is no longer a sitting duck, the general assembly has been put on notice. Check out the videos below:
| | |
| --- | --- |
| WE COULDN'T MAKE THIS UP: Beyoncé's Former Drummer Claims Singer Cursed Her With "Magic Spells Of Sexual Molestation"… and Killed Her Kitten | 20.09.18 |
Kimberly Thompson is also alleging that Beyonce killed her kitten.
Beyonce and her team are very good at keeping all aspects of her life private. Back when Tiffany Haddish opened her mouth about partying with Beyonce and Jay Z, claiming Bey got fisty with a woman talking to her man, a week later Tiffany was hit with a nondisclosure agreement to keep her mouth shut. These new allegations against Beyonce, are just so far out and wild we're curious to see how her team will handle them.
According to The Blast, Beyonce's former drummer of seven years, Kimberly Thompson, has requested a restraining order against Beyonce claiming the singer has wrapped her up in practices of "extreme witchcraft" and has been using her spells to control her finances and keep her on surveillance.
It gets crazier…Kimberley's documents state how she believes Beyonce has started a harassment campaign against her filled with "extreme witchcraft, dark magic" and "magic spells of sexual molestation." Kimberley even claims that Beyonce murdered her kitten. There's no explanation as to why Kimberley thinks Beyonce would be doing this, the publication says her restraining order was denied.
Both Kimberly and Beyonce's team have been contacted for further details but have yet to respond.
| | |
| --- | --- |
| MILLIE, DO YOU LOVE ME?: The Internet is Questioning Why 31-Year-Old Drake is Sending 14-Year-Old Millie Bobby Brown "I Miss You" Texts | 20.09.18 |
Who doesn't love an unexpected celebrity friendship? Teen actress Millie Bobby Brown seems to be at the centre of quite a few of them. From Kim Kardashian to Aaron Paul to Miley Cyrus, the 14-year-old has been shot into the limelight by her role in Stranger Things and celebrities, young and old alike, seem to be falling over themselves to meet her.
Canadian rapper Drake is the latest of Brown's celebrity fans, although it appears that this friendship goes further than Instagram selfies. On the Emmy red carpet this week, Brown told the folks over at Access Hollywood about her and Drake's friendship. "He's honestly so fantastic. A great friend and a great role model," she said, excitedly. "We just texted each other the other day and he was like 'I miss you so much,' and I was like 'I miss you more.'"
When asked what they text about, Brown replied, "About boys, he helps me." When pushed to describe what kind of boy advice the 31-year-old rapper gives Brown, she says that "stays in the text messages."
The internet was quick to point out the large age gap between Brown and Drake – 18 years – and whether it's appropriate for Drake to give relationship advice to a teenage girl who's obviously a fan of his.
Drake has yet to tell his side of the story and there is no indication that this is anything other than an innocent enough friendship, but take away that Brown and Drake are two household names and you're still left with a 31-year-old man sending personal texts to a teenager.
It goes without saying that Brown does not live the life of an ordinary teenager. That makes it seem easier to excuse the texts between her and Drake as nothing more than celebrity eccentricity, but Brown is still a 14-year-old and despite her career, it still feels inappropriate to me for Drake to be sending her "I miss you" texts.
Drake and Brown's text messages may be innocent enough. Still, with the fallout from #MeToo, Hollywood is currently under intense scrutiny about what is or isn't appropriate behaviour.
Maybe it's easy to read too much into the situation but personally, I can see no circumstances in which a 31-year-old man sending an "I miss you" text to a 14-year-old girl to whom he's not related is appropriate, no matter how wise beyond her years that girl seems. What do you guys think? Is the internet looking to deep into this or do you agree it's a bit inappropriate?
| | |
| --- | --- |
| HATE IT OR LOVE IT: The Game's Sexual Assault Accuser Wants Him Punished For Ignoring Subpeona | 20.09.18 |
Priscilla Rainey claims that The Game's been dodging her attempt to collect her judgment.
It appears as if The Game's doing everything in his power in order to avoid paying Priscilla Rainey the $7.1M judgment that he owes her. According to Bossip, Rainey claims that The Game has been dodging her attempt to collect the judgment she was awarded in the sexual assault case.
Rainey has asked the judge to punish The Game for dodging the subpoena she sent in order to find out how much money he has so she could finally collect her $7.1M judgment. Rainey filed a complaint on September 14th about the matter. In her court documents, she said that she subpoenaed the rapper's company, "Trees By Game LLC" in March to gain more information on his assets. However, she said that the company has ignored her and hasn't turned over any of the documents she requested. She also said that her legal team also failed in their attempts to get in contact with the Compton rapper.
As of September 18th, The Game has yet to respond to Rainey's complaint. She wants the rapper's company to hand over the financial docs within seven days in addition to sanctions for roughly $1700 for her lawyer fees.
Rainey initially sued The Game in 2015 after she said that he groped her while filming his reality dating show, "She's Got Game." The rapper was later found guilty and was ordered to pay compensatory damages of $1.13M and $6M in punitive charges. He's tried to file for a new trial after he said the judgment was too high and the trial was unfair. However, a judge shut down his motion and ordered him to cough up the loot.