| | |
| --- | --- |
| GOALS?: Charlamagne Tha God Smoked Weed With Rihanna At A "Hood Spot" In Los Angeles | 12.11.18 |
"I say it was a real 'hood club' because Beanie Sigel was in there and I was like, 'Wow!'"
Rihanna's been quite busy lately with her Fenty Beauty makeup line, her Savage x Fenty lingerie line, as well as her other entrepreneurial happenings. The latter has been holding her back from dropping new music and another past time had by the singer was hanging out with Charlamagne Tha God smoking weed.
The Breakfast Club host chatted with the folks over at Page Six about a time Riri hit him up on Twitter to hang out, and their hangs involved getting super lit. "I was tweeting out, 'I'm drunk in LA,' and she retweeted me and was like, 'Yo, I want in.' And, so I had to go check out her page and make sure it was the verified account to make sure it was really her," he told the publication. "She pulled up to the hotel [where] we were staying. It was like her, and the driver, and I had like four or five people with me, and she was like, 'Is this your squad?' And she was like, 'Come on.' "
He added: "She took us to like some hood spot in LA. It was like when you walk in, they close the door behind you, and she just had mad weed and mad tequila. I say it was a real 'hood club' because Beanie Sigel was in there and I was like, 'Wow!' "
At the end of the night, Rihanna gave C Tha God money for a car service home – damn.
| | |
| --- | --- |
| SAD TIMES: Marvel Comics Creator Stan Lee Dead at 95 | 12.11.18 |
Stan Lee, the man responsible for much of the Marvel Universe, has died.
According to TMZ, an ambulance rushed to Lee's Hollywood Hills home early Monday morning and he was rushed to Cedars-Sinai Medical Center. We're told that's where he died.
Lee had suffered several illnesses over the last year or so — he had a bout of pneumonia and vision issues.
Stan started Marvel with Jack Kirby in 1961 with The Fantastic Four. He went on to create Spider-Man, Black Panther, The Incredible Hulk, X-Men, Iron Man and The Avengers.
Stan made cameo appearances in all of the Marvel movies. Lee is survived by his daughter, J.C. His wife of 69 years, Joan, died in 2017.
J.C. released a statement stating, "My father loved all of his fans. He was the greatest, most decent man."
Lee was 95. RIP.
| | |
| --- | --- |
| WHAT'S BEEF?: Waka Flocka Extends Olive Branch To Gucci Mane: "Let's Chat" (VIDEO) | 12.11.18 |
Waka Flocka Flame is looking to reunite with an old friend.
Though Waka Flocka Flame and Gucci Mane emerged as a dominant partnership in hip-hop, their friendship ultimately soured over a variety of factors. It's always sad when homies turn on each other, and clearly, Waka has been feeling the same way. As a result, the Flockaveli rapper has decided to take a stand, and do his part to increase the peace.
"I had a crazy-ass dream," says Waka, in an emotional message. "I don't want no more beef, arguments, smoke, anger, toward nobody bro. If we ever had problems, beef, anything, I'm telling you right now, it's over. I ain't talk to my best friend, my little brother, in almost a year…Just cause of the industry, it changed us. We were young n***s man, with dreams, and we really succeeded. But this game changed us. And we finna take this shit back."
He proceeds to address Gucci Mane directly. "Hey Gucci, let's chat, let's sit the fuck down, all that playin' over. You know how to get me, big dawg. You call me, nobody else." The video concludes, leaving fans of both parties cautiously optimistic. Gucci and Waka Flocka came up together, and at one point, made for a truly formidable duo. Despite a tumultuous history, it seems like now is the time for reconciliation. Gucci Mane has been a bastion of positivity lately, and it stands to reason that Waka's olive branch may be a pivotal first step in mending bridges long thought destroyed.
| | |
| --- | --- |
| YOU GO GIRL!: Ariana Grande Lands Her First #1 On Billboard Hot 100 With "Thank U, Next" | 12.11.18 |
Congratulations, Ariana!
Ariana Grande and Billboard have quite the relationship. After being named Woman of the Year by the publication, the 25-year-old has now landed her first ever #1 on the Hot 100 chart with her latest single, "Thank U, Next." The song was released on November 3rd and was a hit since it touched on her exes, and everything they taught her.
Billboard Hot 100: #1(new) thank u, next, @ArianaGrande.

— chart data (@chartdata) November 12, 2018
From the late Mac Miller, Big Sean, and Pete Davidson, Ariana name dropped her past lovers and turned it into a bop hit that has pulled in 22 million streams on YouTube. Ariana is the first female to debut at #1 on the specific chart since Adele in 2015 with her track "Hello."
"Ariana Grande is a star on her own terms, never bending to any particular musical trend or path in the industry," Ross Scarano, Billboard's vp of content said of her upcoming honour. "Certain in her convictions, she consistently stands up for herself and her decisions in a world that often isn't hospitable to that sort of strength in young women. She's got guts, she's making some of the best music of her career, and she's absolutely deserving of Woman of the Year."
The Women In Music event will broadcast live on December 6th via Twitter from 7:00 to 10 p.m.
| | |
| --- | --- |
| SAY WHAT NOW?: T.I. Accused By Prosecutors Of Yelling Racial Slurs During Security Guard Confrontation | 12.11.18 |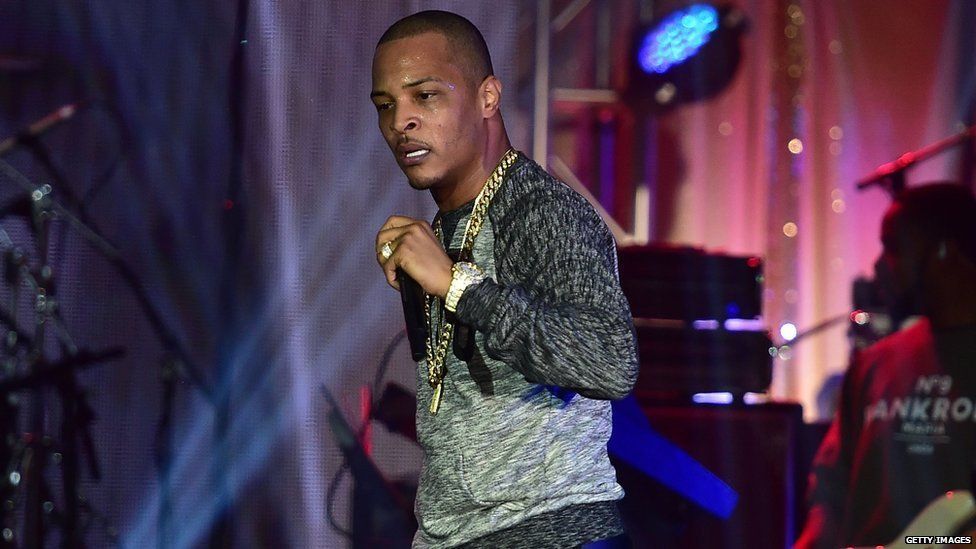 Georgia prosecutors are still going after T.I. over his confrontation with the security guard earlier this year.
Earlier this year, T.I. was arrested after a heated verbal altercation between himself and a security guard in the gated community he lives in. Although prosecutors dropped the assault charge against him, the rapper is still facing four counts of misdemeanor charges. Now, the Georgia prosecutors on the case are going after T.I. for allegedly screaming racial slurs at the security guard during the confrontation.
According to The Blast, the prosecutors filed amended charges against T.I. over his confrontation with the security guard in his neighborhood earlier this year. Tip's been charged with one count of public drunkenness along with three counts of disorderly conduct. The prosecutors accused T.I. of "yelling profanities at Mr. James, including cuss words and racial slurs, contrary to the laws of this state."
The prosecutors continue to accuse T.I. of telling the security guard during the confrontation that he "had all night." They claim T.I. also told the guard that "nobody will get you out of this," which allegedly caused the man to feel like his life was being threatened.
Throughout this entire legal battle, T.I. has maintained his innocence. He already pleaded not guilty to all the charges that he was hit with. During a conversation with The Blast earlier this year, the rapper said that the incident was driven by "white cops in a very white area."
| | |
| --- | --- |
| PRAYERS UP: Miley Cyrus Reveals That Her House Was Destroyed in the California Wildfire – "I Am Grateful for All that I Have Left" | 12.11.18 |
The California wildfires that started last week are still raging, and have so far displaced hundreds of thousands of people and destroyed a number of homes.
Late last night Miley Cyrus shared that she was one of the unlucky people whose house was destroyed in the fire. Miley and her husband Chris Hemsworth lost their house, but are apparently safe and sound. In her first tweets since July Cyrus updated her fans, saying "my house no longer stands but the memories shared with family & friends stand strong," imploring them to donate to their time and money to the firefighting cause.
"Completely devastated by the fires affecting my community. I am one of the lucky ones. My animals and LOVE OF MY LIFE made it out safely & that's all that matters right now. My house no longer stands but the memories shared with family & friends stand strong. I am grateful for all I have left. Sending so much love and gratitude to the firefighters and LA country Sheriff's department! If you are interested in getting involved see next tweet….
Donate $ , Time , Supplies
I love you more than ever , Miley"
Peep the tweets below:
Completely devestated by the fires affecting my community. I am one of the lucky ones. My animals and LOVE OF MY LIFE made it out safely & that's all that matters right now. My house no longer stands but the memories shared with family & friends stand strong. I am grateful for

— Miley Ray Cyrus (@MileyCyrus) November 12, 2018
all I have left. Sending so much love and gratitude to the firefighters and LA country Sheriff's department! If you are interested in getting involved see next tweet….
Donate $ , Time , Supplies
I love you more than ever , Miley
— Miley Ray Cyrus (@MileyCyrus) November 12, 2018
Sending love and support to Miley and all of those affected by the fire. ❤️
| | |
| --- | --- |
| GOOD DEEDS: Kanye West & Kim Kardashian Hire Private Firefighters, Save Neighbors From Wildfire | 12.11.18 |
Kanye West and Kim Kardashian's efforts saved their neighbors' homes.
Residents of California have been dealing with the wildfires that have struck the area over the past week. Reports are claiming that 250,000 people have been forced to evacuate their homes during this time. Many celebrities including Miley Cyrus, Gerard Butler, Rainn Wilson and more have lost their homes during the fire. Kanye West and Kim Kardashian were forced to evacuate their homes last week, but the couple reportedly hired private firefighters to not only save their own homes but also, their neighbors'.
According to TMZ, Kim Kardashian and Kanye West not only saved their own home, but also the houses that surrounded theirs. Their Hidden Hills house sits at the end of a cul-de-sac and borders a field. If their house began to catch fire, the flames would spread onto their neighbors' homes. KimYe hired a private team of firefighters to try and stop the fire from catching onto their property. The firefighters relentlessly put in work to save the homes on the block. Not only were the equipped with hoses to put out the fire, but they also dug ditches to create a fire break.
Thankfully, the firefighters managed to save Kanye West and Kim Kardashian's $60M home, but they also saved several other houses on the block. Neighbors who spoke to TMZ thanked the couple for taking the initiative to save their homes.
| | |
| --- | --- |
| TROLLING OR COINCIDENCE?: 6ix9ine Reportedly Hires Strippers Who Claimed Cardi B Ordered an Attack on Them for Music Video with Nicki Minaj & Kanye West | 12.11.18 |
Tekashi 6ix9ine is simply incapable of letting the pot go unstirred.
It should be noted that Nicki Minaj and Cardi B recently declared a mutual "chill" after their feud reached an open boiling point. Since then, both parties have kept true to their word in moving on from one another. Unfortunately, 6ix9ine's trollish tendencies have rendered him incapable of letting a feud turn dormant. In what feels like a misguided attempt at loyalty to "team Nicki," 6ix9ine reportedly hired both Jade and Baddie Gi for the now-notorious Kanye West & Nicki assisted music video, two sisters embroiled in a legal battle with Cardi B.
Apparently, both sisters were on the music video set when the shooting went down; though production ultimately shut down, TMZ claims the sisters will likely remain in the clip, should it ever see the light of day. In footage here, they can be seen shopping at the Louis Vuitton store with 6ix9ine in tow. It's not quite clear whether he holds animosity toward Cardi, or if his loyalty to Nicki does is in fact what caused the move, either way it's likely the decision will leave many feeling some type of way.
In case you need a reminder, Jade and Baddie are currently suing Bardi over an incident that took place during the summer. Though their story has proven faulty many times, they claim Cardi B ordered an attack against the bartender sisters, which led to an all-out strip-club brawl. In the wake of the debacle, the sisters decided to hit Cardi with a lawsuit, which is currently ongoing.
6ix9ine's former judge recently expressed regret over her lenient sentencing of the rapper. Perhaps this man needs to take a break from the internet. What do you guys think? Coincidence or definitely intentional?
| | |
| --- | --- |
| GOOD DEEDS: Bruno Mars to Help Provide Meals for 24K Hawaiians This Thanksgiving | 12.11.18 |
Bruno Mars is giving back in a big way this Thanksgiving.
In honor of his "24K Magic World Tour" finale tonight in his home state of Hawaii, the pop superstar has announced that he will provide meals to 24,000 Hawaii residents in need during the Thanksgiving holiday.
The number 24,000 is a nod to the name of Mars' world tour and the title of his Grammy-winning album 24K Magic. As part of The Salvation Army's Hawaiian and Pacific Islands Division's Thanksgiving meal program, he will cover the costs to provide meals to an additional 24,000 people in need of a complete holiday meal.
On Sunday (Nov. 11), Mars will wrap his nearly two-year, 200-date tour with the final of three shows at Aloha Stadium in Honolulu. Mars made history by becoming the first artist to sell out three back-to-back performances at the 50,000-seat venue. The "24K Magic World Tour" launched in 2017 and traveled across North America, Latin America, Europe, Australia, New Zealand, Asia, and the U.K.
| | |
| --- | --- |
| RUN THAT BY US ONE MORE TIME?: Jaden Smith Proclaims Tyler the Creator Is His 'Motherf*cking Boyfriend' (WATCH) | 12.11.18 |
The Smith family sure knows how to get the people talking.
We've seen Jada Pinkett Smith making headline after headline recently with her revealing show 'Red Table Talk' recently. However, this time it's her son Jaden Smith who seems to be raising a few eyebrows.
Jaden Smith hit the stage at Tyler the Creator's Camp Flog Gnaw festival in Los Angeles on Sunday and made a rather interesting revelation. Addressing the crowd, Jaden announced that Tyler the Creator is his "boyfriend."
Did we miss something? Does Jaden need to pull up a chair and discuss some things with his mother at that red table? Who knows, this could all be a joke… or an attention ploy…what do you guys think? Check out the clip below.
#JadenSmith Reveals #TylerTheCreator is his boyfriend 😯 What are y'all thoughts on this? #MyMixtapez pic.twitter.com/EnRbBBsVgD

— My Mixtapez (@mymixtapez) November 12, 2018
| | |
| --- | --- |
| KEEPING UP WITH THE BOOTY: Nicki Minaj Shouts Out Kim Kardashian In Her People's Choice Awards Speech – "I Wanna Dedicate this Award to Kim's Ass in That Dress" (VIDEO) | 12.11.18 |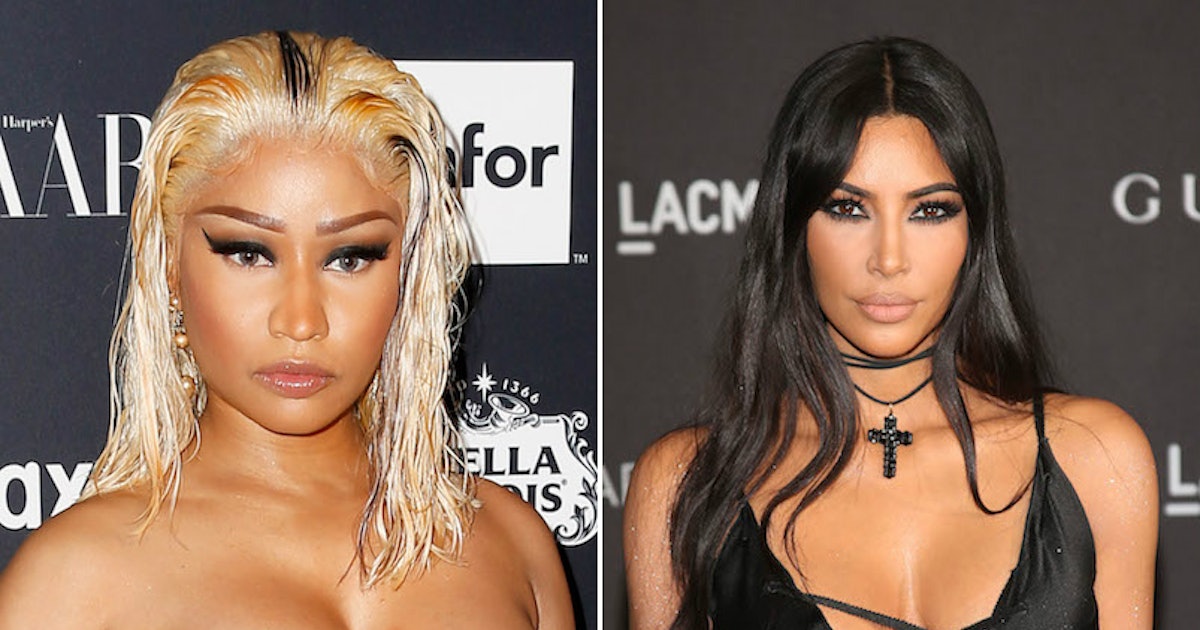 Nicki Minaj just wants the world to know she really appreciates the way Kim Kardashian West was looking tonight.
Last night, the E! People's Choice Awards 2018 brought together some of the most influential figures across the entertainment and pop-culture realms. Stars such as Harry Shum Jr, Danai Gurira, Chadwick Boseman, Taylor Swift, and Kevin Hart were among the night's winners.
New York rapper Nicki Minaj, who took home two awards, opened the show with high-energy performances of her hits "Good Form" and "Dip" bringing the crowd to their feet. To perform their joint single onstage, Nicki was joined by Tyga whose presence contributed to the lively atmosphere set the "Barbie Dreams" musician. Soon after her performance, the Young Money emcee was honored with the Female Artist of 2018 award, emerging as the top pick from a pool of accomplished artists Cardi B, Camila Cabello, Taylor Swift, and Ariana Grande. While accepting the award, she took a moment to thank designer Donatella Versace for her dress adding an appreciative "shout out to Michael B Jordan because he's going to be taking it off me tonight."
When accepting the award for 2018 album of the year, Nicki had a few special people on her mind: her fans, and Kim Kardashian West. "Thank you to all of the queens around the world that are maybe not at the place they want to be in their lives, but the fact that you are pushing and you are not being lazy and not complaining but going for your dreams every day, shout out to you," she said. She went on to add, "I wanna dedicate this award to Kim Kardashian's ass in that dress."
Who can be mad at that?
| | |
| --- | --- |
| OOP!: Tekashi 6ix9ine's Sentencing; Judge Reportedly Regrets Not Giving Him Jail Time | 11.11.18 |
Judge Felicia Mennin feels she may have made the wrong decision in granting Tekashi probation.
After learning of Tekashi 6ix9ine's disaster-ridden video shoot with Kanye West and Nicki Minaj, Manhattan Criminal Court Judge Felicia Mennin regrets not throwing him in the slammer. Mennin sentenced Tekashi to a more lenient probationary clause, likely convinced he would turn things around in the midterm. 6ix9ine could have been dealt a 4-year bid after breaking the plea deal to his statutory rape case twice, once in Houston, the other in Brooklyn at the Barclays Center. A rep for Mennin commented on her change of opinion.
"Although Judge Mennin was the sentencing judge, the long-standing plea agreement was agreed to by the presiding judge at the time, and the other parties involved," Mennin's rep told TMZ.
During Tekashi's case, Judge Felicia Mennin likened his offense in Houston to pushing an overly-intrusive paparazzi to the ground, which in turn informed her lenient decision. Evidently, now that she's done her homework, she sees things a little differently. She nevertheless contends that, even though her decision may have been the wrong one, the cause for "Tekashi's realignment" is no longer any of her concern.
Judge Mennin isn't the only authority figure to change their tune as federal law enforcement agencies are growing concerned that Tekashi 6ix9ine may be at the center of a growing East-West battle of the Coasts, that could turn violent at any moment.