| | |
| --- | --- |
| OOPS! WENDY DID IT AGAIN: Wendy Williams Slams Britney Spears for Denying Ex Kevin Federline More Child Support (VIDEO) | 24.05.18 |
Wendy Williams does not go easy on Britney.
Word on the street is that Britney Spears has denied her exes request for more child support to take care of their two children – Sean Preston, 12, and Jayden James, 11. Kevin Federline has full custody of his sons and according to reports, he's looking for more than $20,000 month to raise the boys, claiming he's only making $3,000 a month.
"Britney's got deal after deal on the table and reportedly she's making 33 million dollars a year…," Wendy Williams said on today's taping of her talk show, The Hollywood Reporter reports. "…what kind of woman is not taking care of her own two kids as a full time mother, just asking?"
Apparently, Britney's father is in charge of her finances and has been so ever since her infamous meltdown. Wendy thinks it's bonkers and told her audience it's a weird thing to have being 36-years-old.
"I like Britney Spears and I believe people can get better with the proper guidance and doctors and stuff, but that was Kevin Federline who stayed with you when you were attacking cars with umbrellas and shaving your head and going off the rails of life," she added. "I'm just telling Britney, you want to deny this man, just remember this is the same man who can write the book and tell the stories… He's held your secrets, he's the sole custody caretaker of your 11 and 12-year-old."
| | |
| --- | --- |
| YURRRRP!: Trey Songz' Hotel Room The Site Of Alleged Robbery In Las Vegas | 24.05.18 |
The story begins at the scraps table.
According to the Las Vegas Review-Journal, a robbery and attack took place shortly after a man played scraps with Trey Songz at Caesar's Palace. The singer is in town to perform with 2 Chainz on May 26, and also take in a considerable amount of of adult activities. The extenuating circumstances are believed to be a case of rich folk attracting the wrong type of attention.
According to court documents, the man who played scraps with Trey Songz left the table momentarily only to find his phone missing upon his return. This led the man to dial his own number in the hopes it was snatched up by accident. The female voice that answered instructed him to present himself to one of the hotel rooms Trey Songz had booked for the occasion.
When the man arrived looking for his phone, Timothy "T-Dot" Hudson and two others were waiting for him. Hudson then tried emasculating the man who'd lost his phone by insisting "he had to leave the room as no males were allowed." It's at this point their argumentation turned physical and the alleged attackers pushed the victim into an elevator and threatened to slit his throat. They also demanded his watch and chain before "splitting his jaw" and leaving him face down on the ground. Security cameras were able to track Hudson's movement, and spotted the victim's Rolex on the wrist of an assailant. Trey Songz has not been accused of any wrong-doing by the victim or law enforcement tasked with the case.
| | |
| --- | --- |
| ANOTHER ONE?: Morgan Freeman Apologizes Amid Accusations Of Sexual Harassment | 24.05.18 |
Morgan Freeman has just released a statement apologizing for his behaviour that has led to a bounty of women to accuse the Evan Almighty star of sexual harassment.
"Anyone who knows me or has worked with me knows I am not someone who would intentionally offend or knowingly make anyone feel uneasy," the actor said. "I apologize to anyone who felt uncomfortable or disrespected — that was never my intent."
CNN published an investigative exposé that revealed a bevy of allegations pinned against the award-winning star. In it, eight individuals have come forward with instances of having been subject to sexual harassment or inappropriate behaviour, both on-set and behind-the-scenes. Another eight sources have said they witnessed his misconduct firsthand.
Freeman has been accused of reportedly trying to lift a woman's skirt to see if she was wearing any underwear, while another unnamed source notes how she and other female staff made sure to wear modest clothes in order to thwart his unwarranted gestures/comments.
| | |
| --- | --- |
| NOT ME, GIRL!: Amber Rose Denies Cheating On 21 Savage | 24.05.18 |
Amber Rose took the time out of her day to clear up the rumors.
Amber Rose is constantly making headlines and sometimes, it's not for the greatest reasons. There's constantly rumors surrounding her, and whether they're true or not, they end up making major waves across the internet. Earlier today, there were was a report that said the reason behind her break up with 21 Savage is because she cheated on him with one of his friends. Amber clearly saw this and decided to addresses the rumors on her own accord.
Amber Rose hit her Instagram story to speak on the many rumors that surround her name including the reason behind her break up with 21 Savage. She explained that she never cheated on any of her exes in the past and the two of them "just didn't work out."
"I have never cheated on any of my exes. Literally never! I'm loyal, honest and trustworthy. Somethings things just don't work out." She wrote, "I have never used anyone for money or clout when I love I love genuinely.
Before she spoke on that, she addressed her current relationship with Wiz Khalifa. She confirmed that the two of them do not have a romantic relationship right now and are currently happy co-parenting their son.
"My songs father and I really became great friends after our divorce. We do not have a romantic relationship nor are we trying to. We are very happy coparenting and giving Sebastian the best life possible," she wrote.
She also seemingly addressed rumors that she was dating Lil Pump, again. "Just because you me in a picture with someone doesn't mean I'm fucking them. Half of the time I can't even be in the vicinity of another guy. Even if I don't know him! Without the internet putting us together." She wrote.
| | |
| --- | --- |
| ISSA BOP OR ISSA FLOP?: Jennifer Lopez Lives the High Life with Cardi B & DJ Khaled in Flashy "Dinero" Video (WATCH) | 24.05.18 |
Yo quiero dinero. Fresh off her sizzling performance at the Billboard Music Awards, Jennifer Lopez unleashes the epic video for "Dinero," her bilingual banger featuring Cardi B and DJ Khaled. Directed by Joseph Kahn, the black-and-white clip was shot in Miami and is a celebration of extravagance.
J.Lo rolls a diamond-encrusted bowling bowl down the hall of her palatial mansion in the opening scene, while Khaled sips from a cup on the lawn. In between grilling steaks in lingerie, J.Lo plays poker with half-naked men and roasts marshmallows over piles of burning cash. She even walks an ostrich through her yard while rocking designer threads.
"I just want the green, want the money, want the cash flow," she sings while spray painting a dollar sign on her Lamborghini.
Cardi B makes money moves with her fellow Bronx bombshell. Their faces covered in masks, "Cardi from the pole and Jenny from the block" sit in bed reading from TIME's 100 Most Influential People issue, which features both their faces. The Trap Selena cashes out from a slot machine in her bedroom, and joins J.Lo and Khaled on the dance floor.
In the final scene, A-Rod's girlfriend puts on her sparkly Yankees cap and matching J.Lo jersey and leads an army of dancers in a highly-choreographed number.
In a recent interview, J.Lo praised Cardi. "She's been grinding away for a while. Things don't happen overnight. She is a hard worker and from working with her, I know that," she told E! News. "She knows who she is and she is unabashedly herself. People love that. They love authenticity. That's what I loved about her. I loved her before she started rapping. I used to follow her on Instagram and thought this girl is so real. I found out she was from the Bronx. Then, the record came along. I thought to myself, she is so perfect for this."
Check out the video below, what do you guys think? ISSA BOP OR ISSA FLOP?
| | |
| --- | --- |
| GOALS?: Kim Kardashian & Kanye West Celebrate 4-Year Anniversary: "Can't Wait For Forever" | 24.05.18 |
Kim and Kanye look forward to the rest of their lives.
Hard at work on five albums with the first of the bunch dropping tomorrow in Pusha T's Daytona, Kanye West still manages to find time to spend with his family. A source of inspiration for him, Kim Kardashian has been Ye's muse since they met. While he used to absolutely butcher her last name, it was only a matter of time before she became a West with the two celebrating four years of marriage today. Getting married on May 24, 2014, fans of the pair were in heaven and are glad to see that the Hollywood power couple is still going strong. From the sounds of it, they won't be splitting up anytime soon either as Kim tributed their love today on Twitter.
Sharing a photo of herself and Yeezy on their wedding day, Kim wrote, "4 years down and forever to go…." After going through so much together in a short amount of time with a dramatic robbery, mental breakdowns (or break-throughs as Ye would call them) and pregnancy difficulties, Kim and Kanye have a strong bond that cannot be broken by the simplest of issues. The reality star continued, "Thank you babe for giving me our family and caring so much about us. Thank you for inspiring me on a daily, I'm so lucky. I can't wait for forever…Happy Anniversary."
With the couple now going strong for four years of marriage, Kim and Ye continue to raise their three children and give the fans a front row seat for all of their developments. There is bound to be a Kim reference on Kanye's upcoming album, due out on June 1.
4 years down and forever to go….
Thank you babe for giving me our family and caring so much about us. Thank you for inspiring me on a daily, I'm so lucky. I can't wait for forever…Happy Anniversary pic.twitter.com/iDfZJdIea7

— Kim Kardashian West (@KimKardashian) May 24, 2018
| | |
| --- | --- |
| JUST GO TO B.E.D: Jacquees Arrested AGAIN Overnight For Speeding In Atlanta | 24.05.18 |
Jacquees can't seem to keep out of trouble.
Cash Money singer, Jacquees, was arrested and held overnight last night in Atlanta.
According to WSB-TV 2, Jacquees was speeding down the street in his hometown. According to the Atlanta police, he was pulled over after a radar gun caught him going 116 mph on the I-85, well over the enforced speed limit. After he was pulled over, police reportedly found three grams of weed in his car, which was enough to bring him in to the station.
It seems that the one thing Jacquees can't catch is a break. A little under two weeks ago that Jacquees was arrested in a Milwaukee airport, reportedly for disorderly conduct and disrespecting a police officer. The singer apparently told the officer "fuck you" numerous times, and also referring to him as a "just a white boy with a badge." While he may not have been entirely wrong in his description, that's still sure to make a police officer mad at you. However, the incident didn't result in anything too serious, as Jacquees still managed to make his headlining spot at the "Mother's Day Affair" where he was performing the very same day.
While there's no word on what charges Jacquees will face, if any, he may want to consider taking it easy and avoiding trouble with the authorities for the time being. The singer has been dropping music at a steady pace, and will be making appearances at music festivals this summer, so hopefully nothing happens to get in the way of that.
| | |
| --- | --- |
| OH NO!: SZA Opens Up About Swollen Vocal Chords: "My Voice Just Won't Fuc*ing Work" | 24.05.18 |
SZA reveals the severity of her vocal chord issues in emotional Instagram post.
If you've been following the latest from the TDE camp, you may be aware that SZA has been pulled from the ongoing Championship Tour, with Top Dawg citing swollen vocal chords as the main cause. Now, SZA herself has taken to Instagram to address her health issues, which sound even more worrisome than initially expected.
"For anyone who hasn't seen this . I've been touring for 11 months. This didn't happen overnight . Ive been troubleshooting for a while now and Usually steroids and pushing through help. They don't this time . I'm not sick my voice just won't fucking work," she says. "If I don't pause now I'll be forced to pause permanently . I'm genuinely sorry for every face,voice ,and energy field I won't be touching ! I'm literally taking as many steroids as I can to speed this up!! Its a waiting game and super weird to be blamed for stuff outta my control but I get it !"
It's sad to see fans holding it against her, especially if there is truly a chance for permanent damage. From the sound of it, SZA seems to be pounding back steroids in an effort to remedy the situation, but there's no telling if that will bear any positive effect; in fact, as with any instance of frequent drug use, it might ultimately do more harm than good. Hopefully SZA can take the time she needs, and not feel obligated to rush the healing process. The game still needs her.
| | |
| --- | --- |
| TUNED IN OR TUNED OUT?: Joseline Hernandez' New Reality Show "Joseline Takes Miami" Picked Up by WE TV | 24.05.18 |
You can't keep a bad bitch down too long, and I guess when you're the "baddest puta," that sentiment definitely rings even truer.
Fans of Joseline Hernandez will be glad to know that the Puerto Rican Princess will be making her big return to reality TV any day now, as she has recently signed a deal with WE TV for her new reality series Joseline Takes Miami.
As fans of Hernandez know, she quit Love & Hip Hop Atlanta last year after a "disagreement" between herself and producers of the popular VH1 show. And earlier this year, reports emerged stating that she was preparing to pitch her own show to networks, which would see her take on the city of Miami.
Now, months later, new reports have surfaced, confirming that Joseline is partnering with WE TV for the show, which we hear is executive produced by former RHOA producer Carlos King, who has also done production work for LHHATL, Gucci Mane and Keyshia Kaoir's Mane Event BET series, as well as his own show, Hollywood Divas.
According to reports, Joseline Takes Miami will follow Joseline's journey as a single mother raising her adorable daughter Bonnie Bella in Miami. The show will also display Joseline's sexy tropical lifestyle and put a huge spotlight on her brand new music featuring a "talented array of hot Latin artists," Hip Hollywood reported.
It remains to be seen whether or not Joseline's ex-boyfriend and baby daddy Stevie J will appear on the show. But the two are now in a peaceful co-parenting relationship, as they have finally settled their child custody war and were recently spotted at Atlanta's Lenox Square Mall shopping with their 16-month-old daughter.
Joseline also shared the following photos to her IG account proving that she and Steebie are on good terms.
So if Steebie's LHHATL contract allows it, we wouldn't be surprised if he made a few cameos on Joseline's show.
With LHHATL suffering falling ratings, likely due to Joseline's departure, it definitely makes sense for WE TV to pick up those viewers for Joseline's show.
Joseline Takes Miami doesn't have a premiere date, and we don't even know if it's in production just yet, but we expect WE TV to make some sort of announcement about the show pretty soon, possibly as early as summer/fall. Will you be tuned in?
| | |
| --- | --- |
| SAY WHAT NOW?: 21 Savage Cut Amber Rose Off After She Allegedly Cheated With His Friend | 24.05.18 |
Amber Rose reportedly cheated on 21 with one of his friends.
Gone are the days where 21 Savage carries around "I'm A Hoe Too" signs at Amber Rose's Slutwalk. The couple officially broke up at the end of March and Amber still swoons over her ex every day, speaking about him in interviews and potentially referring to him when she said she was "waiting for someone." While the chances of the two getting back together are unclear, it appears as though 21's reasons to stay away have been revealed. After months of speculating why the two decided to split, reports are claiming that Amber cheated on the "Bank Account" rapper with one of his friends, leading to their break-up.
Celebrity Insider is writing that a cheating scandal could be in effect as Amber is rumored to have been with one of 21's friends during their relationship. The publication's source has stated, "Amber cheated on 21 with one of his friends. She feels horrible about it. That's why she's still the one in love while 21 is over her." With 21 switching up everything he stood for during their lovefest, it's surprising to hear about potential unfaithfulness on Amber's side, especially after she had publicly declared her love for the 25-year-old on numerous occasions.
While the reports have not been confirmed by either party, Amber recently stated on her Instagram story that she is still very much in love with 21. Shutting down rumors that she was dating Lil Pump after they were spotted together at Rolling Loud, Amber looks to be fighting hard to win back the love of the "No Heart" rapper.
| | |
| --- | --- |
| NO ALBUM OUTTTTTTTTT!: Nicki Minaj Delays "Queen" Album Release Date to August | 24.05.18 |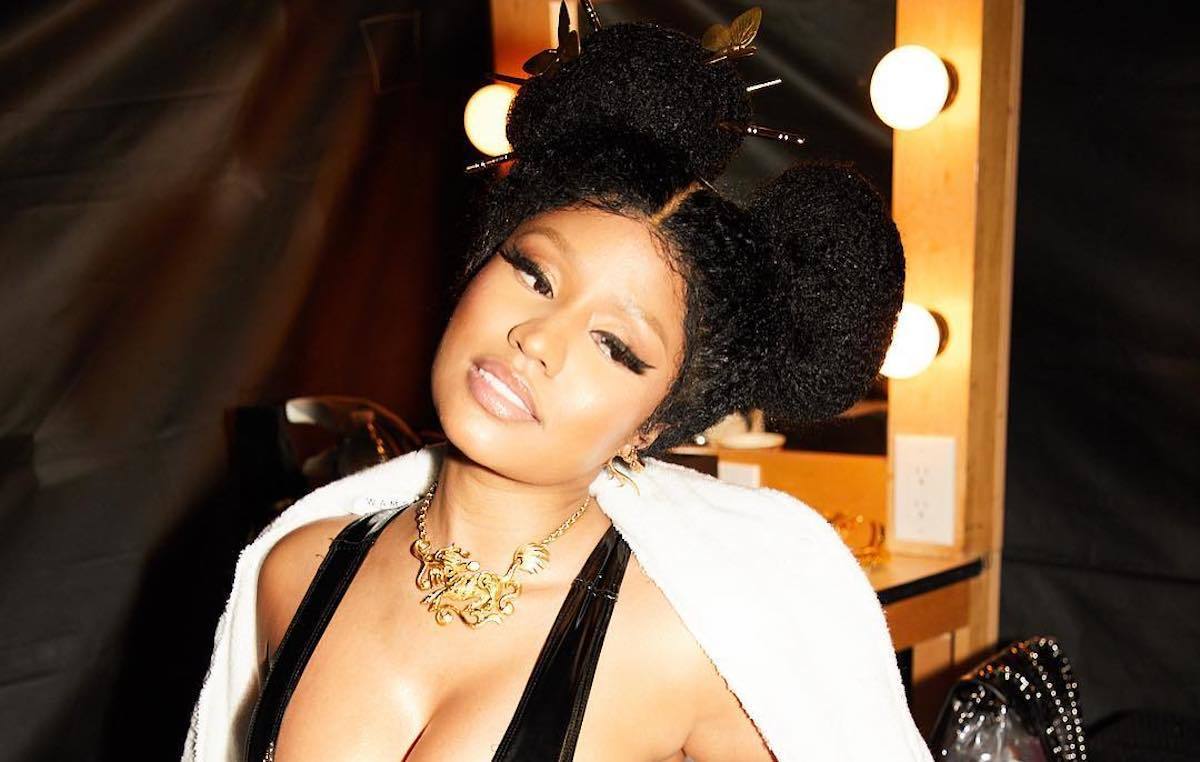 Nicki Minaj's new album won't be coming in June.
Nicki Minaj has been steadily teasing the release of a new album for a minute at this point. Earlier in the year, she took a hiatus from social media to focus working on it and came back in the public eye to release two new singles, "Chun-Li" and "Barbie Tingz." Since then, she announced her album Queen with a release date set for June 15th. Unfortunately for fans, that might not be the case as she just announced that she pushed back the release date for her long awaited project.
Nicki Minaj teased fans with a special announcement over the past few days and earlier today, she hit Instagram Live for her fans. The rapper revealed that her new album, Queen won't be coming out on June 15th as previously announced. Instead, the project will be dropping on August 10th. She just confirmed the date on Twitter.
8|10|18 #Queen

— Chun-Li (@NICKIMINAJ) May 24, 2018
However, instead of dropping the album on the 15th, she did reveal in the live stream that she'll be sharing three different surprises from June 11th to 15th, according to XXL. One of them is expected to be the cover art for the project.
Despite the delay, Nicki insisted that she's making the project as perfect as possible for her fans while implying their could be some complications with her label as well as the beats on the project.
Keep your eyes peeled for more news on Nicki's new project, Queen and upcoming tour dates.
| | |
| --- | --- |
| WE COULDN'T MAKE THIS UP IF WE TRIED: Offset Confirms He Crashed After Swerving His Car To Avoid A Crackhead (VIDEO) | 23.05.18 |
Last week, Offset was admitted to the hospital after he was involved in a car crash. The car was completely totaled and Offset was lucky to still be alive. In a since-deleted tweet, Cardi B revealed that Offset's car crash happened after the "Ric Flair Drip" rapper had to avoid hitting a crackhead who was in the middle of the street. The accident itself was initially being investigated by the police but they've since dropped any criminal charge against Offset for fleeing the scene. He's now opened up about the incident and confirmed Cardi B's tweet.
Offset was spotted in Beverly Hills on Thursday when TMZ approached him and asked him about his recent accident. The rapper doesn't really speak much when he's approached by paparazzi but he was a bit more conversational this time around. The cameraman asked the rapper whether his accident was caused after trying to swerve a crackhead. Offset confirmed it by simply saying, "facts."
Offset also credited God for bringing him to the hospital after the crash, although it still isn't confirmed who brought him there. Either way, Offset seems to be in good spirits and back to the studio.
In addition to opening up about his accident, the rapper also said that Bhad Bhabie "goes hard." He also made it clear that he won't be stepping in between the Trippie Redd/6ix9ine beef in any way.
Peep the footage below.