| | |
| --- | --- |
| WE CAN'T MAKE THIS STUFF UP: Side Chick Stood Up on 4 A.M. Booty Call Tries to Kill Man by Setting His House on Fire | 19.08.19 |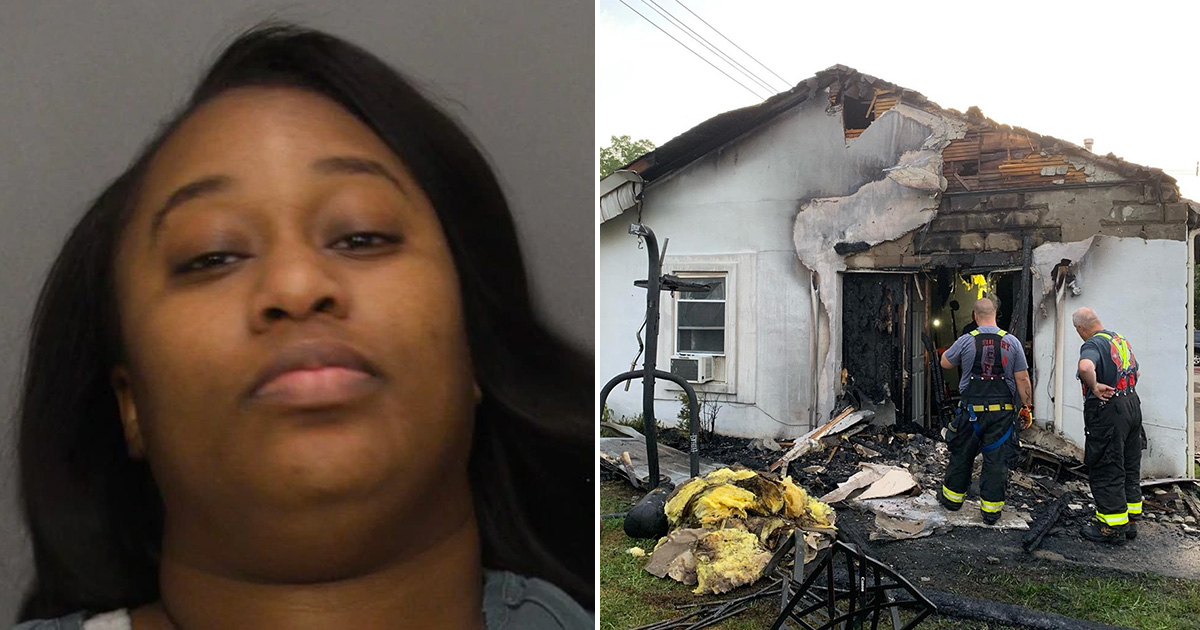 Taija M. Russell really tried to take ol' buddy out in a case of "when side chicks go horribly wrong."
A New Jersey woman is facing some pretty serious charges after police say she tried to kill a man by setting his house on fire after he stood her up on a late-night booty call.
29-year-old Taija M. Russell of Blackwood, New Jersey was arrested Tuesday (Aug. 13) on several felony charges, including attempted homicide, aggravated arson and aggravated assault for the August 4th incident, which left the man with first-and second-degree burns.
According to New Jersey's Star-Ledger:
The man described Russell as a "side chick" in a police report on the incident. Police were alerted to the fire around 4:30 a.m. when the man ran into the Woodbury police station lobby wearing only a T-shirt and covered in soot.

Coughing and out of breath, he told them he had just escaped from his burning home a short distance away on South Barber Street.
After firefighters doused the blaze and rescued the victim's dog, investigators determined the fire was an arson. A review of messages on the man's phone and surveillance video led police to Russell, according to the criminal complaint.

The victim told police he had invited her to his house for sex, but fell asleep before she arrived.

A review of his phone showed eight missed calls from Russell, police said, along with text messages in which she wrote "You wasted my money to come out here," "U smoked," "I see you wanna die," and "I swear to god I hope you die."

Police obtained security camera video showing her purchasing lighter fluid, matches and a lighter from a nearby gas station. Other video shows her return to the residence and head to the back door, the only entrance to the residence, with the items. By 4:08 a.m., the house was ablaze.

The man awoke to find the house burning and tried to leave through the door, but the flames were too intense. He was able to escape through a window, but suffered burns to his hands and body, and smoke inhalation.

Russell was arrested Tuesday and placed in Salem County Correctional Facility pending hearings. She is also charged with aggravated assault, endangering/creating substantial risk of death and criminal mischief.
Whew, chile.
| | |
| --- | --- |
| IN CASE YOU MISSED IT: 50 Cent Savagely Kicks Wendy Williams Out Of His Pool Party – "B*tch Wait Outside" | 19.08.19 |
50 Cent wanted Wendy Williams nowhere near the Tycoon Pool Party. Don't feel bad Wendy, he's got me blocked to.
Is there a feud pettier than the one involving 50 Cent and Wendy Williams? These two flat-out don't like each other. Enjoying her Hot Girl Summer, Wendy made her way out to Fif's hyped-up Tycoon Pool Party in New Jersey this weekend but she was met with a bunch of security guards that were specifically informed not to let her in. The entire episode was caught on camera too, including Fiddy's legendary reaction to the denial.
For weeks, 50 Cent has been advertising an upcoming event, telling fans that it would be absolutely insane. With guests Casanova, Snoop Dogg, and more in attendance, the crowd was star-studded and Wendy Williams would have only added to the impressive list of talent. Unfortunately though, she seemingly had trouble getting in and Fif had a quick laugh at her expense. He posted a video to his social media pages clowning the talk show host, explaining why she wasn't allowed inside. "You can't just show up to my PARTY if you been talking about me," he wrote. "BITCH wait out side."
It would appear as though Williams finally made her way into the party, despite security's best efforts to kick her out, as she later posted photos with Snoop Dogg. Do you think she and Fiddy ever exchanged pleasantries?
| | |
| --- | --- |
| A FLAMING PISSY MESS: R. Kelly Medical Records Reportedly Confirm He Has Incurable STD | 18.08.19 |
R. Kelly got the burn.
R. Kelly's currently locked up as he awaits trial. While he's maintained his innocence, it seems like more of an effort to convince himself than the rest of us. At the end of the day, these allegations have been swirling around for over 20 years so it seems more than likely that he is guilty of the crimes he's been accused of. Over the past few years, new allegations of the singer exposing his alleged victims to STDs have swirled around. Again, he and his team have denied such claims but now, there's actual evidence proving that the singer is infected.
According to documents obtained by the folks over at Bossip, the singer did indeed expose several women to STDs. Assistant U.S. Attorney Elizabeth Geddes said the singer's health and medical records indicate that the victims who accused Kelly of infecting them have proof to back up their claims. The singer was reportedly exposing several women to herpes. His team previously said there's "zero evidence" to the claims made by the accusers.
Aside from his medical records, the feds are digging up dirt on Kelly to make sure he's put behind bars. The government said they have bank statements, airline, Uber and hotel receipts that seem to prove the singer and his team flew girls from state to state. Additionally, officials sent search warrants to Apple Inc. & AT&T for Kelly's records. 
| | |
| --- | --- |
| MONEY MOVES & POWER MOVES: Cardi B Applauds Jay-Z's NFL Deal, Thinks He Could "Bring Back Colin Kaepernick" – "I Think He Has That Power" (VIDEO) | 18.08.19 |
Cardi B rocks with Jay-Z's power move.
Cardi B was peeling out of the Bryant Park Hotel in New York City when TMZ apprehended her with a series of loaded questions. First off, the reporter asked her to elaborate on her support of Bernie Sanders 2020. When asked if she'd consider performing at the Democratic National Convention in the event of Bernie Sanders' crowning, she simply replied, "Sure, why not." The reporter then tabled his next talking point: Jay-Z's new partnership with the NFL.  
"I feel like he went in there like, 'Alright, you guys want me to work with y'all, y'all need to bring my peoples in there. Y'all need to do things my way,' " she said of Jay-Z. "I feel like Jay-Z could bring back Colin Kaepernick. I feel like he has that power."
Jay-Z's deal with the NFL is a divisive issue on the micro-level. Some have argued that it wasn't Jay-Z place to turn the page on "kneeling for the anthem." On the other hand, others appreciate his initiative. You could argue that by forcing the NFL to fight against oppression, and pay for it too, he's actually turned the table right OFF its axis. What do you guys think? Take a look at what Cardi had to say in the video below:
| | |
| --- | --- |
| ISSA BOP OR ISSA FLOP?: "Basketball Wives" Star Tami Roman's Drops Her First Song as Rap Alter Ego Tatiana Trill – "No Pressure" (LISTEN) | 17.08.19 |
She may be quitting "BBW," but her rap career is just getting started.
If you've been keeping up with the current season of Basketball Wives, then you've watched Tami Roman's journey as she reignites her music career. The 49-year-old newlywed once had a budding career back in the 1990s, but since that time she's pursued other options before becoming a VH1 reality star. Tami has announced that after being a principle character on eight seasons of Basketball Wives, she's throwing in the towel and bowing out of the show. However, she's working on multiple projects, including her newfound rap career as her alter ego Tatiana Trill.
Tami has formulated Tatiana Trill to be a British character who is extra, boastful, and flashy. The reality star is taking both vocal and dance lessons to develop this persona, and recently Tami dropped off her latest single, "No Pressure." On the track, Tatiana Trill raps about being a boss who is both feared and respected. Check out Tatiana and let us know what you think.
Quotable Lyrics:
"All pressure when they see the numbers
Kept it hot for a 100 summers
All in your face, yeah I'm not a runner"
| | |
| --- | --- |
| OH SO NONE OF Y'ALL LIKE GETTING CHOKED?: The Internet is Worried About Alexis Skyy After Video Of Trouble Gripping Her Neck Goes Viral | 17.08.19 |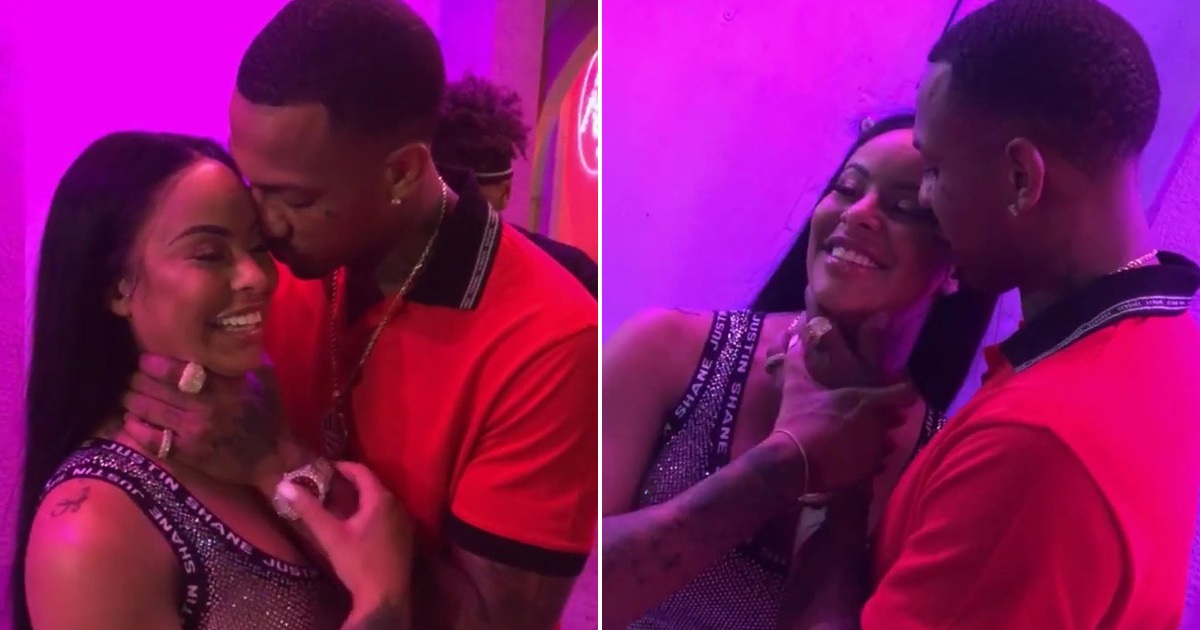 She smiled during the encounter and said she loves when he tells her what to do.
Fans are calling for Alexis Skyy to send out an S.O.S. for help if needed after a clip circulated showing her boyfriend, Trouble, holding her by the neck. The couple has been the center of social media chatter after they recently hosted a "Cucumber Challenge" party where Alexis was filmed inserting the vegetable into a woman's nether regions. People chastised Alexis for her behavior, resulting in Trouble publicly speaking up on behalf of his woman. The pair have been showing off their affection on social media, and recently a brief interaction during their vacation gave some fans a cause for concern as they believe she looked uncomfortable.
In the video, Alexis said, "I love him telling me what to do," as she's smiling while Trouble gripped her neck with one hand. At the same time, Trouble pressed his face against hers with a serious expression, always focused on Alexis as she talked to the man behind the camera. She looks happy to be with him, however, when she placed her hand on his, fans suggested she was making some type of signal. Alexis moved her head at one point in what looked to be a reposition to show Trouble affection, but he remained firm without sharing a kiss. Alexis added, "I follow what he says" and cheerfully stated, "I been his since four years ago" before the clip cuts out.
In her Instagram Story, Alexis shared that she and Trouble are currently enjoying living the good life in Miami. The couple hit up a couple of clubs on one evening and the following day Alexis relaxed poolside with her daughter before going boating with her man. Trouble responded to allegations that he was being too rough with Alexis by commenting on "Never Beat on a female in my life and never will.. I jus knock that Bottom loose as she loves me to," he wrote. "We preshate yall concern an worry though."
Peep the clip along with some of the reactions below:
#AlexisSkyy's Rapper Bae #Trouble Uncomfortably Kung Fu Grips Her Neck, Sis looks uncomfortable 😣 pic.twitter.com/VehGWqyQdo

— talksandthought (@Talksandthought) August 16, 2019
Seeing Trouble and Alexis Skyy together makes me sick to my stomach tbh

— Wardeness of the Bodega (@neecoleimani) August 16, 2019
Seems To me like #alexisskyy trying to push his arm away from her neck. 👀👀 #alexissky #lhhh #lhhnewyork #thoughts pic.twitter.com/axERf4GStW

— Queen_music08 (@QMusic08) August 17, 2019
| | |
| --- | --- |
| GIRL, WHAT?: Iggy Azalea Admits That She Actually Hates Some of Her Own Music | 17.08.19 |
She's known for some pretty big hits such as Fancy and Black Widow. 
But Iggy Azalea surprisingly revealed that she actually 'hates' a lot of her own music, especially her older tracks.  
In a recent interview with the folks over at Delish, Iggy was asked whether she has ever gotten sick of her own song. Not only did she admit that there are several cuts in her catalog that she finds regrettable, but she also revealed that some of them didn't age as well as she thought. 
"Of course I get sick of my own songs. In fact, some of them I hate. Some songs I make and then they don't age well, and like a year or two later I'm like, ugh, what was I thinking?! But people still like them! So some of the songs I decide I hate, I still have to perform because the fans want to hear them. So, yes, I have gotten sick of a song. A lot of songs."
Iggy's confession really isn't as abnormal as it may sound to some. I think all of us make decisions whether it be creatively or just in life in general that we look back on later down the line as cringe worthy. We love a relatable queen. What do you guys think?
| | |
| --- | --- |
| AND I OOP!: Rihanna Seems To Think Jay-Z Was In The Wrong For Signing NFL Deal | 17.08.19 |
Rihanna might be a Roc Nation artist but she isn't riding with the home team on this one.
Jay-Z's move to work with the NFL came as a shock to many, although after further digestion, it actually made complete sense. Whether you agree with Jay or not, we already know that he's about making big business plays which sometimes come with a bit of disruption. With Kaep still without a job, Hov caught a serious amount of flack for working with the NFL, especially since the partnership with the league is meant to enhance social justice causes. We've heard from Eric Reid, Nessa, and Jemele Hill but we've yet to hear from anyone close to Jay. However, we might have an indication of where one of his protege's stands on the matter.
A picture speaks a thousand words but in the social media era, a simple like can hold just as much weight. Social activist Shaun King went on Instagram to share his thoughts on Hov's new deal with the NFL. He essentially put Hov on blast for essentially assisting the NFL in further blackballing Kaepernick. But what occurred after the post was more revealing. Rihanna inconspicuously liked the post but it didn't take long for people to catch on. It might not necessarily indicate her feelings towards Hov's deal with the NFL, it definitely speaks towards where she stands with Kaep who she's been incredibly supportive of over the years.
| | |
| --- | --- |
| "WHO ALL GOING?" : Juicy J Announces "Three 6 Mafia Reunion Tour" With DMX, Bone Thugs-N-Harmony, La Chat & More | 17.08.19 |
After a long, long hiatus, Three 6 Mafia is apparently back in action. On Friday (August 16), the Memphis rap group's co-founder Juicy J shared an Instagram post revealing a reunion tour was about to kick off.
According to the poster, the run is called The Return Of Three 6 Mafia and features Juicy J, DJ Paul, Gangsta Boo and Crunchy Black. Special guests include Bone Thugs-n-Harmony, DMX, Project Pat, Lil Wyte and La Chat.
"THREE 6 MAFIA REUNION TOUR!" Juicy J wrote in the caption. "Tickets on sale next Friday August 23rd ."
DJ Paul has been putting pressure on Juicy J for years to make the reunion happen.
During an interview with Zane Lowe last October, Juicy J said, "I mean, I love those guys when we started something, you know? I would love to do something with those guys, man. We just need to sit down, you know, figure it out. But it's all good, no bad blood, all love. I love all those guys."
Paul caught wind of his comments and fired back on Instagram, "@juicyj Then What We Waiting For?" he asked. "Any Longer Then We'll Have To Call This Album #TheEnd Aswell Love Bro #Mafia Ya!!!! #SeniorCitizenStudios."
The full tour schedule hasn't been revealed, but the first one looks like it takes place on October 12 in Southaven, Mississippi.
| | |
| --- | --- |
| IT APPEARS HIS KIDS NEVER CROSSED HIS MIND…ANYTIME: Brian McKnight's Children Call Him Out For Being A Neglectful Father | 17.08.19 |
I guess his kids never crossed his mind…anytime.
He's responsible for some of our favorite R&B love ballads from the 1990s, and undeniably there are quite a few people who were conceived to his songs. Brian McKnight is the poster child for romance as his hits have become tunes that couples have used for their weddings and intimate moments, but the singer's children have publicly shared that his wholesome image isn't their truth.
In 1990, McKnight married his college sweetheart, Julie McKnight. The couple went on to have three children together before divorcing in 2003. In 2017 he married Dr. Leilani Malia Mendoza after being coupled up for three years. For the most part, there haven't been any public scandals involving McKnight's family as they've kept a low profile, however, yesterday McKnight's son and daughter, Brian McKnight Jr.—or BJ—and Briana McKnight, vocalized their abandonment issues on Instagram regarding the absence of their father.
BJ wrote that his father has neglected his children and grandchildren:
"I can't imagine abandoning my children man. Its hard not to imagine the psyche of a man who can truly just turn his back on his actual sons, on his actual blood,and creations. It's mind boggling to me. I don't think there is any situation that merits the way my father has chosen to treat my brother, my sisters, and his grandchildren, one of which being his first born's, first born son, who also bares our name. It's insane to me. To have absolutely no empathy for the type of life be introduced us to, only to become to resent us for that life catching up with us. It breaks my heart, but not for myself, specifically for my siblings, and my children. They don't deserve this at all, not open bit. And I'm not letting shit slide, not for one second. I've tried my best to take the high road, and be the bigger man, and all that positive shit, but there is a much bigger issue here, when it comes to black fathers, especially in entertainment that needs to be addressed. I believe there is a serious discussion that needs to be had, and A part of me truly feels like our story is the one to begin the conversation that will lead to healing a lot of young men, and woman with abandonment issues. It's time to tell our side of the story."
Briana echoed her brother's sadness by sharing that felt as if she was "second place in my father's heart":
"'Daddy's little girl' was never really a thing for me. Nobody understands what I've been through except for my siblings. Believe it or not, I'm not always the person I seem to be. I'm not always happy and most of the time I'm battling my own demons just like everyone else. I grew up thinking that the things that happened to me and my dad's relationship was my fault. I grew up thinking that he doesn't want to come to visit me because he doesn't love me. Constantly put behind other kids that he would call his own while I'm cast into a land far far away in the back of his mind. It sucks knowing that someone else, who's not even blood related to you comes before you in every single way. It sucks knowing that my phone calls have to go through a stranger I barely know, that my text messages are read without a response, and that my stepmother tells me that they 'wish the best for me'. It kills me to know that it's so hard for me and my siblings to get a word in. Not one word. At a very young age, I was always second place in my father's heart. Maybe even third, fourth, or fifth, depending on the situation. My father hasn't called to wish me a 'happy birthday' in years and yet I sit by the phone every single year hoping that one day his heart will change. I'm so fortunate that I have two brothers who are father figures to me. Who celebrate me and love me every single day and that we make up the time that we lost. The anger and the sadness that I hold in my heart every day over this is sickening. It hurts knowing that my brothers went through this at my age (and are still going through it) and that my little sister is going through this at her young age. I don't usually write things like this but I feel like enough is enough and like BJ, I want to share my side of the story. I hope that there's someone out there that has gone or is going through the same thing. Some teenage girl who deals with this shit constantly who can relate to me and tell her side of the story and know that she's not alone."
McKnight has responded and denied that he's been a bad father and suggested that some of his children's ill feelings may stem from jealousy and him not taking care of some of them financially any longer. He said that he's never missed a child support payment and has always been there for his kids. Check out his response below.
| | |
| --- | --- |
| OKURRR!: Offset's Says He's "Ridin' With" Cardi B When It Comes To Politics, All For Bernie Sanders – "I'm ridin' with my wife whatever she do!" (VIDEO) | 17.08.19 |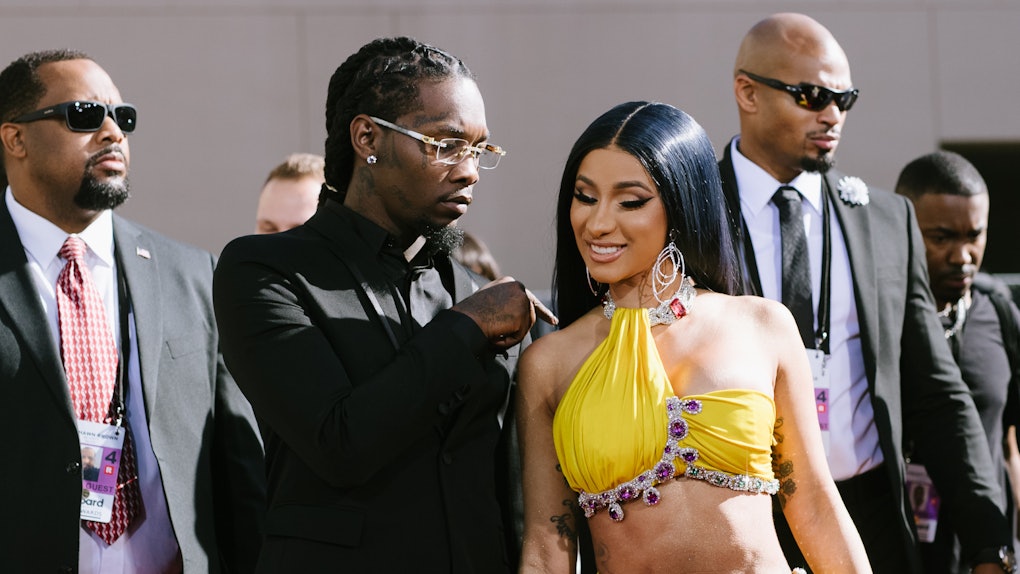 Offset is standing with his wife, period.
As we know, Cardi B is a big supporter of Bernie Sanders and all that he stands for in the current political climate. "I been reading about Bernie Sanders and I'm really sad how we let him down in 2016 This man been fighting for equal rights, HUMAN rights for such a long time. Seeing this country become a better place been really his passion for a long time not a new front for a campaign," she previously wrote. 
Since her public display of support, Cardi and Bernie have met up for a nail salon political chat where the duo had a candid conversation about the necessary changes America needs. "Every man, woman, and child has health care as a human right," Bernie said. "The current system works to make billions of dollars in profit for the insurance companies and the drug companies. That's its function."
While Cardi B is vocal about her political beliefs, her husband Offset hasn't been so vocal himself but in a recent catch up with the folks over at TMZ, the Migos rapper let it be known that he's with his wife when it comes to who he's voting for. "I'm ridin' with my wife whatever she do," he said.  Peep the clip in the video below:
OKURRR.
| | |
| --- | --- |
| HERE FOR IT OR KEEP IT?: Tommy Davidson Spills the Beans that 'The Proud Family' is Coming Back to Disney+ with New Episodes (VIDEO) | 17.08.19 |
It sounds like Disney+ is going to be a step in the right direction honoring most of our childhoods.
Former star of The Proud Family, Tommy Davidson revealed some major news about content coming to Disney's new streaming service, Disney+. Best known for his role as Oscar Proud, Davidson opened up about the possibility of The Proud Family being revived for Disney+. Davidson said, "I forgot to tell you that, The Proud Family is coming back. Proud Family's coming back."
Later, he added, "It's on one of Disney's streaming [services]. Yeah, Proud Family's coming back. They told me not to tell you. New episodes."
#TommyDavidson revealed #ProudFamily is coming back. He revealed it will be on #DisneyPlus streaming app.https://t.co/ODqHwiKN0R pic.twitter.com/3bWCZcbW1m

— WhereistheBuzz (@whereisbuzzzzzz) August 14, 2019
Unfortunately, representatives from Disney have yet to confirm Davidson's statements. If The Proud Family were to return, it would join a long list of highly anticipated series coming to Disney's streaming service. The original iteration of the series ran for 52 episodes between 2001-2005 on Disney Channel. Kyla Pratt voiced protagonist Penny Proud, a family-oriented teen who often butted heads with father Oscar and bullies The Gross Sisters when attempting to enjoy misadventures with friends Dijonay (Karen Malina White), Sticky (Orlando Brown), Zoey (Soleil Moon Frye) and "frenemy" LaCienega (Alisa Reyes).
Paula Jai Parker starred as Proud family matriarch Trudy alongside Jo Marie Payton as Henrietta "Suga Mama" Proud, the spunky poodle-owning grandmother with a crush on the Caesar Romero-inspired Papi (Alvaro Guttierez). Would you be here for a Proud Family return?