| | |
| --- | --- |
| WE CAN'T MAKE THIS STUFF UP: Kevin Gates Weight Loss Was Motivated After A Baby "Tried To Suck" His "Breast" – "I'm a Big Gorilla but I Got Feelings To" (VIDEO) | 18.10.19 |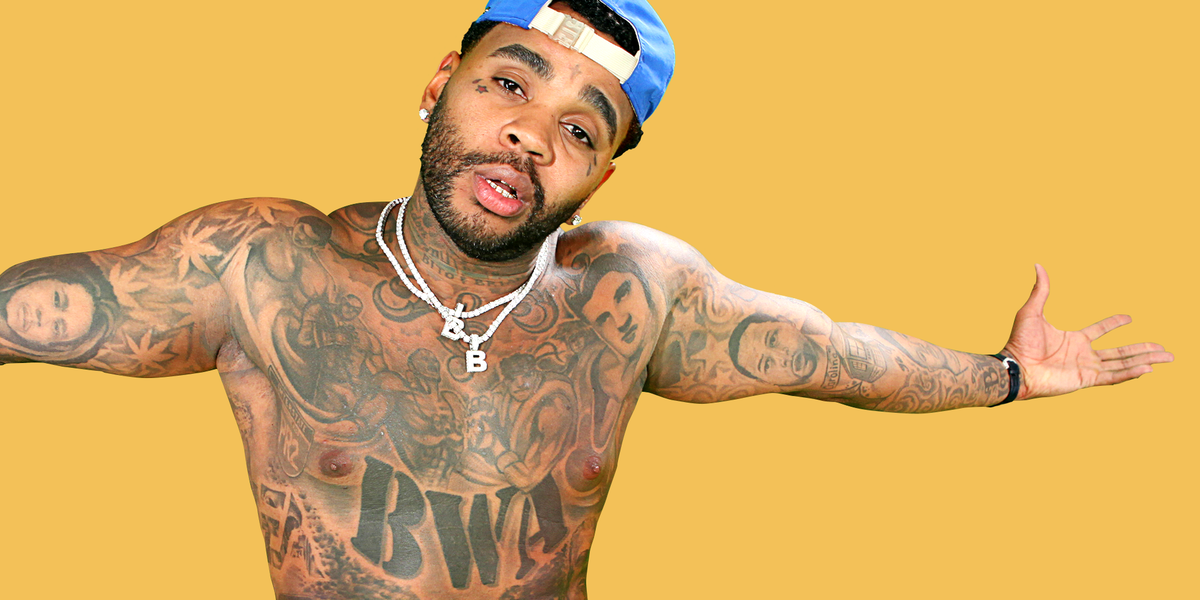 There's no shortage of hilarity from Kevin Gates.
Kevin Gates went through a massive transformation this year. The rapper, who was admittedly a bit bigger back in the day, shed a lot of weight in recent times. Now, there's no doubt that there are massive health benefits from shedding the extra pounds but that wasn't necessarily what inspired him to get fit. It was actually a strange encounter with his friend's baby that made him consider the gym.
"What really did it for me, I had my shirt off and I was holdin' my patna's baby and his baby tried to suck on my breast," he explained to Men's Health. "I was like, 'I am too fucking fat and I'm a fat slob, I need to lose weight. That was the most embarrassing shit. I mean, shit, even though I'm a big gorilla, I got feelings, too. Man, that shit hurt my fuckin' feelings. I said, 'I got lose weight."
Gates did lose a crazy amount of weight — upwards of 100 lbs. He explained that even before he lost the extra pounds, he was committed to having his shirt off once he lost a bit of weight.
"I swear to God, look, when I first saw myself losing a bit of weight, my dream was to never wear a shirt any way," he explained. "I didn't want to keep hiding because it was going to make me stop working. So I wanted to take my shirt off. I'm talkin' about I want a woman to just see me and just fall on the ground and just die."
Peep the video below. 
| | |
| --- | --- |
| NOT SO FAST!: Kanye West's Application To Trademark "Sunday Service" Rejected | 18.10.19 |
Kanye, you can not own "Sunday Service."
There are plenty of people who are fans of Kanye West's Sunday Service but it's faced a ton of criticism. For one, it appears as though Kanye's using his religious getaway to make people forget about his wild antics in 2018. Secondly, it seems like another money scheme for 'Ye to use the weekly event in order to cash in.
The rapper recently filed to trademark "Sunday Service" for the use of clothes and such but that won't be happening. According to TMZ, 'Ye's Sunday Service trademark application was shot down U.S. Patent and Trademark Office because someone's already trademarked it. Although it is taken, Kanye can still fight it but it might not be worth it entirely.
The Sunday Service events that have gone on throughout the year appears to be the inspiration behind 'Ye's next album, Jesus Is King. The album is set to arrive with an accompanying documentary that officially has a release date set for October 25th. The docuseries premiered a few weeks back when Kanye held events in Detroit, Chicago and New York City (which apparently led to walk-outs) in late September where he debuted the documentary along with new music off of the project.
Do you think Kanye should've been allowed to push through with the trademark?
| | |
| --- | --- |
| SAY WHAT NOW?: Nick Young Explains How Iggy Azalea Kept Him From Pursuing Rihanna – "Could've Been the King of Barbardos" | 18.10.19 |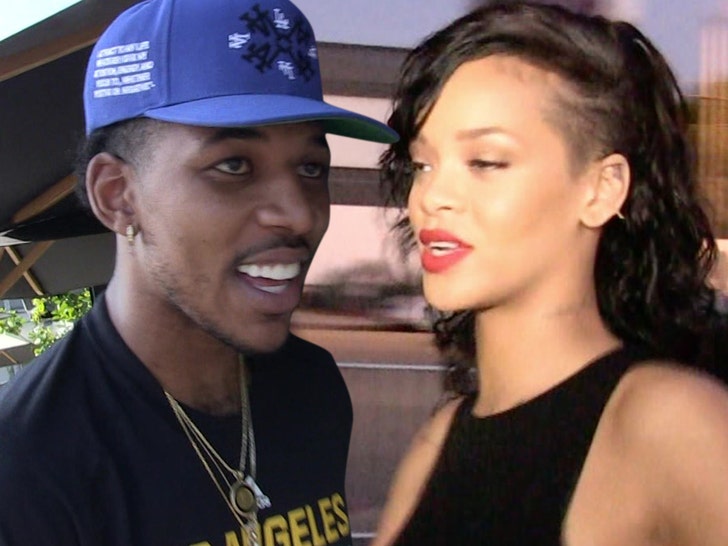 Rihanna had Young playing his best basketball.
Nick Young was always one of the more entertaining players in the NBA thanks to his general antics and penchant for having good style. Fans who remember Young from his days with the Los Angeles Lakers, know that he was in a very high profile relationship with Iggy Azalea at the time. Due to a bizarre incident involving D'Angelo Russell, that relationship eventually came to an end with both sides moving on for the better.
During the first-ever episode of the "Certified Buckets" podcast with Young, Chiney Ogwumike, and Sarunas J. Jackson, Swaggy P spoke about a time where he was trying to impress a high-profile artist who was courtside at Lakers games. Of course, that artist was Rihanna who actually took notice of how well he was playing. In the podcast, Young explains how he wanted to try and pursue something with Rihanna but he had just started dating Iggy at the time and didn't want to interfere with that.
"You could've been King of Barbados." 😂😂😂@NickswagyPYoung on shooting his shot with @Rihanna courtside at a @Lakers game back in the day

More ☑️: https://t.co/ANAX3Gqhzx pic.twitter.com/fNDoTmzbts

— Certified Buckets (@CertifiedBckts) October 18, 2019
Based on the response of his fellow co-hosts, it seems as though they felt he was making a huge mistake as Rihanna was the better option. Regardless, Young doesn't seem to have any regrets about the whole situation and eventually laughed off the jokes being made at his expense.
| | |
| --- | --- |
| SOMEBODY GO HUG UZI: Lil Uzi Vert Shares Text Messages With Ex-Girlfriend – "Why Would You Leave Me" | 18.10.19 |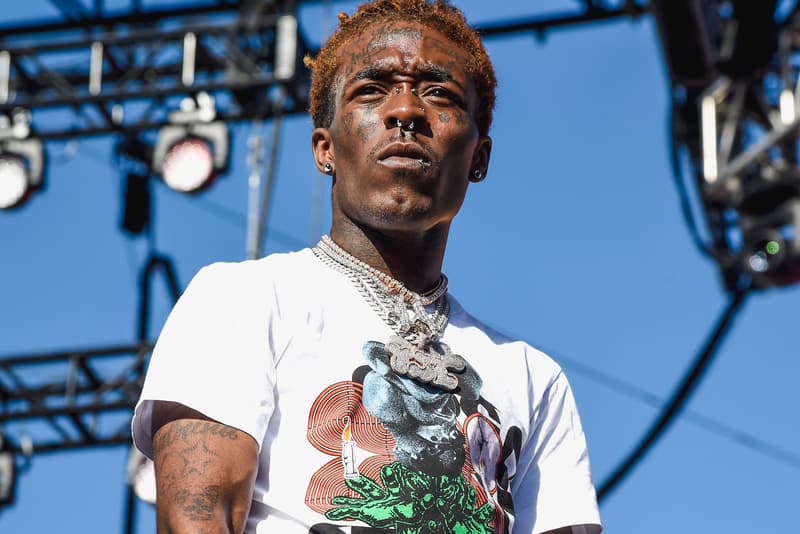 Lil Uzi Vert is going through a lot.
Some of Lil Uzi Vert's fans are selfishly excited about what's going on in his life right now. Over the course of the last forty-eight hours, the Philadelphia rapper has been channelling his emotions into his social media pages, telling the world about his break-up and sharing limited details about what happened. While it's still not entirely clear who he was dating, Uzi seemingly got broken up with this week and he's feeling really low. Of course, the fans who like Uzi's heartbreak music are excited because this possibly means he'll be writing a few anthems for them in the coming days. However, we really should just be wishing him well because, from the looks of it, he's taking this really hard.
Updating his Instagram story with a video of himself using a search engine to ask "WHY IS LIL UZI SO SAD," he then decided to expose his text messages to his ex-girlfriend. "Wya I'm not feeling well," he started. He then realized that she was ghosting him, venting to the non-respondent woman in an emotional manner. "I can't believe you left me and I never left you," he added. "Can you please answer? Wtf. Why would you leave me?"
Everyone send your well wishes to Lil Uzi Vert right now. Clearly, he can use some love.
| | |
| --- | --- |
| CLAPBACK CHRONICLES: La La Anthony Responds To People Hating On Her Acting Skills – "If I Couldn't Do it, Then Why Am I Doing it?" | 18.10.19 |
La La isn't bothered by the haters.
Power fans are claiming that La La Anthony doesn't know how to act. This is due to her acting skills on the show, particularly her death scene. She said she wasn't bothered by the comments, but didn't hesitate to clap back. On The Breakfast Club, she claimed that one should be worried if they weren't talked about. She said, "My thing is that, I'm doing it. So, if I couldn't do it, then why am I doing it? If you can do it better then why you not getting the jobs I'm getting? That's how I look at it."
She continued by saying, "My thing is, I do it, I put my all into it. I didn't start that way so it's been a different journey for me, but that doesn't mean I can't do it. And I think people just naturally want to hate because you started differently. 'You're not a real actor, you started on the radio.' Alright, maybe I didn't come into it like you, but I put the work in and I continue to put the work in so that doesn't bother me." La La began her career on radio, but she was also in famous comedy movies such as, Think Like A Man, Think Like A Man Too, Baggage Claim and more. So, she came out of her comfort zone to make such dramatic scenes in Power. She was definitely out of her element throughout the show, which is possibly why she received so much hate.
The 38-year old actress also added that she brings more to the table than other actresses, considering she has over 10 million followers on Instagram. She claimed that people watch what she's doing, and therefore become more interested in watching the shows she partakes in.
Peep the death scene in Power, and let us know what you think.
| | |
| --- | --- |
| SAY WHAT NOW?: Gucci Mane Calls Out Angela Eye Again "She's Just a Hater"; Compares Breakfast Club Ban to Segregation (VIDEO) | 18.10.19 |
Gucci Mane said they didn't necessarily ban him but apparently, they didn't really want him on their show.
Gucci Mane has been extremely outspoken these days, perhaps more than we're used to since his prison transformation. With the release of WOPTOBER II, the rapper took to Instagram claiming that he was banned from the Breakfast Club. Gucci claimed Angela Yee was trying to "get on his d*ck back then." The Breakfast Club addressed the claims on their show but Gucci Mane recently set the record straight on Everyday Struggle. The ATL rapper explained that they didn't necessarily ban him, or at least use the word "ban," but they also never accepted any requests to do interviews with him during his promo run.
"I don't think I was actually banned. I don't think they never used the word banned," he told Akademiks and the rest of his co-hosts. "Every time I would drop an album, they would say, 'We decline the request.'"
He added, "It happened so many times it was like, you know, 'Am I banned from up there?' It was like, 'Basically.' Every time we say, 'Hey, Gucci want to come up here, its an album coming out.' They always decline. It's cause they say they don't feel comfortable. They don't trust me. Well, that's what she said."
Gucci Mane said that he wasn't even aware that they were declining interviews until his label brought it to his attention. "It ain't stop nothin'. She just embarrassed. Ain't nobody want to be embarrassed, ain't nobody want to be humiliated, so I understand."
Take a look at the video below. Thoughts?
| | |
| --- | --- |
| BLAME IT ON THE JUICE: Lizzo Accused Of Biting Music & Lyrics From Cece Peniston's "Finally" (LISTEN) | 18.10.19 |
Lizzo just can't seem to get away from all the copyright infringement claims.
Lizzo is enjoying the successes of her album Cuz I Love You and her No. 1 charting single "Truth Hurts," but there are a handful of people who are accusing the singer of using their lyrics and music without credit. Recently, songwriter Justin Raisen came forward with claims that he, Jesse St. John, Yves Rothman, and Lizzo co-wrote a song titled "Healthy" that began with the "Truth Hurts" lyrics, "I just took a DNA test, turns out I'm 100 percent that b*tch." Justin shared a clip on Instagram to prove his claims, also stating that his team has been trying to settle the matter behind the scenes by asking for 5% each, but they keep getting shut down.
While those accusations have circulated, veteran singer Cece Peniston wants to make sure people catch wind of her grievances with Lizzo, as well. You may remember Cece from her legendary dance-pop hit, "Finally." Cece took to her Instagram page to share that Lizzo used bits of her chart-topping track for the Cuz I Love You single "Juice."
"For everybody who thought I was exaggerating on my claims of #copyrightinfringement please go check out the article I'm the the #3rd person who has said something @lizzobeeating #cecepeniston #lizzo #music #yaayumsong #finally #mysong just for the record and so you understand … anytime anybody uses a song over 7 seconds thats using a 'portion' of their copyright," she wrote on Instagram. "Lizzo not only takes over that , she's used several times adding up to about 40 seconds , its my lyric it's written down as well , it's the signature to the opening in my song #finally and all commercials are using it from the 'Adlib ' section because they know it's catchy sooo '#notjustanadlib it's a check !!!! @umpg @atlanticrecords."
Cece even made side-by-side visual and audio clips that show Lizzo singing her song "Juice" for an Absolut Vodka ad. The similarities are obvious, so Cece wants to know when someone is going to run her a check. Check out the clips below and let us know what you think. Is Lizzo guilty?
| | |
| --- | --- |
| IN CASE YOU MISSED IT: LisaRaye McCoy Says She Lost Her Husband to Duane Martin (VIDEO) | 18.10.19 |
She and Duane were once close friends but he allegedly did her dirty.
LisaRaye McCoy is combing through her address book and cleaning house when it comes to her fairweather friends. The actress has recently not only called Nicole Murphy a liar over her scandalous incident with married filmmaker Antoine Fuqua, but claimed Nicole went after her husband Michael Misick while he was married to LisaRaye.
"She messed around with my husband," LisaRaye previously told TMZ. "Here's the thing, we've all done something that we regret. We all make mistakes and we all have to learn from that, but when you start doing it and being messy enough to do it amongst family…How does a family kiss turn into a 'I'm sorry' apology? Like…what do you mean? You didn't know that he was married? We all know that he was married."
LisaRaye never criticized Nicole for her divorce from Misick, and it's because she claims the fault lies with former longtime friend Duane Martin. In a clip from her appearance on TV One's UNCENSORED, the actress states that Duane would introduce her husband, who was also the former chief minister of the Turks and Caicos Islands, to women.
"As my reign, and being a first lady, became busier and busier and I found my position," she said. "Then he was doing a lot more traveling by hisself, and I was staying home, speaking at a school, or having an engagement, or an appearance or something." She continued, "Really, to be quite honest, then he became friends with Duane Martin, which used to be one of my friends on All of Us, and when I introduced them, that was one of the worst things I ever did."
"Somehow within that relationship, I lost my husband to Duane Martin, and they became better friends than what me and my husband did, and I couldn't understand that for the love of God," she added. "He became disrespectful with introducing my husband to different women, and women that we actually knew as friends and associates….Yes. You know my dirt as my brother, as my friend, but you my friend, I introduced you to him. What are you doing? I'm still kinda confused about that one." Check out the clip below.
| | |
| --- | --- |
| WELCOME TO THE KRIS JENNER SCHOOL OF BUSINESS: Kylie Jenner Is Spending More Time With Travis Scott; Releases "Rise & Shine" Merch | 18.10.19 |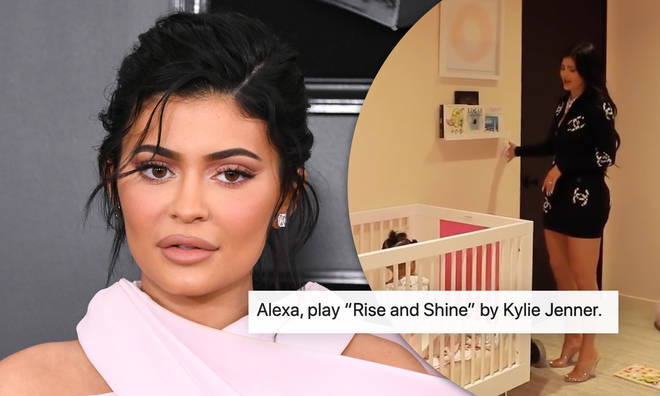 Momager Kris Jenner is raking in the dough.
With rumors that surgery may be needed on his knee, it seems that Travis Scott has been recovering at Kylie Jenner's house in Calabasas. The former couple recently announced their split the week that Travis released his "Highest in the Room" single, a move that many claim was just a stunt to help sell records. The conspiracy was bolstered by the track's often forlorn lyrics that were breakup-driven.
As Kylie finds herself once again going viral, this time over her "Rise & Shine" three-word tune that captured the world's attention, TMZ reports she also has been spending much of her free time with Travis and their daughter, Stormi Webster. The Kardashian-Jenner family reportedly wants the trio to become one big happy family once again, and fans may see that happen sooner than later considering the family-friendly holidays are creeping upon us.
Meanwhile, momager Kris Jenner took a break from worrying about her daughter's love life in order to capitalize on her recent viral moment. Within 24 hours of "Rise & Shine" being used as multiple memes—and remixed into a dance song—Kylie is already selling apparel inspired by the brief clip. When it comes to making a dollar, the KJWs have perfected milking a moment for profit. Check it out below.
ᴿᶦˢᵉ ᵃⁿᵈ ˢʰᶦⁿᵉ #KylieJenner #riseandshine pic.twitter.com/s1ZLqp99Dg

— uh oh stinky (@booboothefoolha) October 16, 2019
https://t.co/uXabNn5vNL pic.twitter.com/IUtZSqjElE

— Kylie Jenner (@KylieJenner) October 18, 2019
https://t.co/uXabNn5vNL pic.twitter.com/zAMkzbEUTS

— Kylie Jenner (@KylieJenner) October 18, 2019
Kris Jenner after seeing the success of "rise and shine" so decided to make merch and now is finding a producer to make it a #1 single.
pic.twitter.com/Vuj2xc1Zoi

— alejandro (@itsalejandroc) October 18, 2019
Kylie BEEN showed us she could sing…..on KEEK. pic.twitter.com/3VLm7clJv6

— queen quen (@quenblackwell) October 17, 2019
| | |
| --- | --- |
| SORRY NOT SORRY?: Demi Lovato Nude Photos Leak Online After Snapchat Hack | 18.10.19 |
Demi Lovato falls victim to a hacker.
You've got to feel for Demi Lovato. The pop star has dealt with a lot of hardship over the years, nearly passing away after a drug overdose and spending time recovering in a rehabilitation center. The former child star has been critiqued because of her look, consistently feeling pressured to behave and look a certain way from the media. Unfortunately, she will have another scandal to deal with after today, simply adding to her list of growing troubles.
Demi Lovato was reportedly victim to a nude photo leak after her Snapchat account was hacked into. As reported by several sources, including Newsweek, the actress' fans noticed a strange message on her social media pages after her Snapchat account was compromised. "Join this discord server for my nudes," wrote the hacker on Demi's page. Several naked photos of the star were apparently released on her Snap and on the Discord server, which is primarily used by gamers.
Everybody runs the risk of having their personal property appear online but celebrities tend to suffer the most from this. Since Demi's life is already amplified to millions of individuals who idolize her worldwide, this will likely be another massive blow to her. Hopefully, she remains well throughout the aftermath.
Send positive vibes her way.
What is this?!???? #DemiLovato pic.twitter.com/EneT6IAM5f

— 💋 (@limabean1313) October 17, 2019
What is this?!???? #DemiLovato pic.twitter.com/EneT6IAM5f

— 💋 (@limabean1313) October 17, 2019
| | |
| --- | --- |
| THAT AFTER BREAKUP GLOW-UP IS REAL: Wendy Williams Receives Her Star on the Hollywood Walk of Fame | 17.10.19 |
How you doin? Wendy's doing pretty good.
There's major congrats in order for Wendy Williams, who received her star on the Hollywood Walk of Fame today. The talk show host, 55, arrived to her official ceremony looking like a star, literally. Wendy's stylist Dolce & Gabbana black sheer dress for the occasion, covered in stars.
Taking to the podium, Wendy admitted, "I do not have a prepared speech." She said she was going to keep it short for fear of crying. Wendy went on to credit part of her success to the advice she's listened to through the years. Wendy also thanked her good friend, radio host, Elvis Duran, along with her manager and, of course, her Wendy Show staff.
The elephant in the room knows that I've had a tough year," Wendy admitted. Fans of the host will know that she filed for divorce from her husband of nearly 22 years, Kevin Hunter Sr., in April after he fathered a child with another woman. Nonetheless, Wendy is on the mend.
"Slowly but surely I'm climbing out of the pit and this is one of those monumental days," she said of the special day, which has since been declared as Wendy Williams Day in Hollywood. "If you don't believe in yourself who is going to believe in you?", she continued. "Sometimes life is a very lonely path and you have to make some hard decisions," she said before introducing her son, Kevin Jr. to everyone in attendance at the event."
"I want to give some love to my son Kevin. It's me and you kid," an emotional Wendy said. "Kev's only 19 so he only knows me doing this… He only knows mom up here… Somehow he always tells me I'm just mom… There's one person here that knows, you know you now, there's no place like home… Thank you Kevin."
Wendy has been nominated as Outstanding Entertainment Talk Show Host and Best Entertainment Talk Show at the Daytime Emmy Awards. The Wendy Williams Show, which is now in it's 11th and current season, has been renewed through 2021. Congratulations, Wendy! Definitely well deserved.
| | |
| --- | --- |
| PUT SOME RESPECT ON BOTH QUEEN BEE'S: Lil' Kim Addresses Beyoncé Fans Attacking Her for Calling Her Fans the "Beehive" – "That Was My Whole Thing" (VIDEO) | 17.10.19 |
A little over a week ago, she was accepting her trophy at BET'S Hip Hop Awards, Lil' Kim then proceeded to thank her fans. Nothing out of the ordinary, right? Not according to some.
Well, the rap legend called her fan base the "Beehive," [as she's always done] which is [almost] what Beyoncé's fans the "BEYhive" are called so you can imagine how over passionate some of her younger stans reacted when they heard this. A lot of Beyoncé fans proceeded to slam the female rapper, calling Kim a copycat and much more, dramatic right?
While Kim has called her supporters the 'BeeHive,' for years prior to Bey's rise, Beyoncé's fandom is a play on her name so it's spelled the 'BeyHive!' Regardless, the latter still did not care since they think it's way too close, especially the pronunciation. In other words, they were furious about that despite the fact that Lil' Kim's fans call her 'Queen Bee.' Imagine waking up in the morning and this being at the top of your list of concerns.
Regardless of how petty, the subject came up during Kim's recent interview with Ebro at Beats 1. When asked if she and Bey had ever discussed the subject, Kim quickly answered:
"That was my whole thing, the Beehive and my fans adapted the name. It's so funny because even back then my fans would run up and be like "I'm Beehive! I'm apart of the Beehive!" and so they would be following me and would all come to my concerts. Now you fast forward, to years later and we're in the social world and now fans on the internet are the Beehive…and I feel like Beyoncé has every right to call herself the Queen Bey as well. She's… BEYONCE."
While Kim was extremely cool about the subject she also addressed some of Beyoncé's not so nice fans that tend to take things a bit too far:
"I don't like how some of the fans are disrespectful. Some of the fans are so respectful, they're like "Y'all both the queen bee's," cuz she even did, she called me the original queen bee and that was love." Take a look at the clip below. Is this really that deep? Can't they both be queen's?