| | |
| --- | --- |
| OUCH!: 2 Chainz Fires 5 Managers After Restaurant Fails It's First Health Inspection! | 26.02.17 |
2 Chainz took immediate action after his Escobar Restaurant and Tapas failed its first health inspection since opening in December. According to TMZ, the Atlanta rapper fired five "rookie managers" upon hearing the news that the eatery scored a dismal 59 out of 100 on the test.
The report cited improper food storage, a mold-like substance in the ice machine and undercooked chicken as just a few of the many factors that gave Escobar a far-from-satisfactory score.
2 Chainz already hired new managers, all with at least five years of restaurant experience.
The restaurant is getting another inspection at the beginning of March and the owners are committed to a quick turnaround.
Someone from Tity Boi's team told TMZ they've "made major changes to continue to be champions of food safety, service and just plain good food."
Check out some of that "good food" below.
| | |
| --- | --- |
| IS THAT EVEN APPROPRIATE?: The BMW That Tupac Was Murdered In Is Now On Sale For $1.5 Million | 26.02.17 |
If you have $1.5 million laying around and an love of morbid hip-hop memorabilia then you're in luck–– the black BMV that Tupac was murdered in is up for sale.
The infamous 1996 BMW was peppered with gunshots on the Las Vegas strip in a drive-by, with Suge Knight driving and Tupac in the passenger seat, leaving the acclaimed rapper dead. The car has now been restored but still has bullet indications on the inside door panel. The car has had several owners since Tupac's death, but is looking for a new one. It was originally auctioned off by the Las Vegas PD following it's impound after the murder, according to TMZ.
On a lighter note, the Tupac biopic is expected to be released this summer on June 16, 2017.
| | |
| --- | --- |
| SAY WHAT NOW?: Meek Mill Makes a Homeless Man Do Push Ups On Video for $20: "I'm Not Giving Any Free Money!" | 26.02.17 |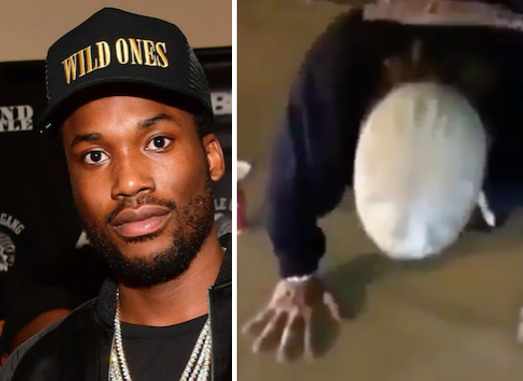 Meek Mill caught the side eye of the Internet this weekend when a video surfaced online showing the Philadelphia rapper making a homeless man do push ups for $20.
"We ain't going to give out no free money," Meek said. The video, which was captured on Instagram stories, doesn't actually show Meek's face but viewers hear his voice.
In the next video, the homeless man is seen doing push ups while Meek records it for his 11 million followers. After the video was posted, many online found the act to be rude and dehumanizing.
Meek Mill making a homeless man do push-ups for money, what an absolute worthless piece of shit that doesn't deserve whatever he has. pic.twitter.com/Jjk0oRrZ7l

— Nada (@Nadatbhh) February 25, 2017
Meek mill is an idiot for real . How you gonna make a homeless man do push ups for $20 .

TF?

— kenna (@kennagq) February 25, 2017
| | |
| --- | --- |
| OH WHAT A TIME: Kmart Reps Confirm that They Are Discontinuing Nicki Minaj's Clothing Line Due to Declining Sales | 26.02.17 |
Nicki Minaj isn't having the best weekend. After Remy Ma released "ShETHER" Saturday, (Feb. 25) the Internet proved its loyal to no one and Onika soon realized she too can be dragged. However, in the midst of the commentary, memes and gifs, it was revealed K-mart's partnership with Nicki Minaj came to an end.

"Kmart is thrilled that we were the first retail partner to create a custom apparel line for Nicki Minaj," a rep for Kmart tells Billboard. "From the development of the line, to showcasing it in stores, to designing exclusive capsule collections, we have enjoyed a positive relationship with Nicki Minaj and her team over the last three years. As our partnership came to a close in 2016, we would like to thank Nicki Minaj for being a great partner and wish her continued success in her future endeavors."
Due to a dramatic decrease in sales, Nicki Minaj's clothing line will soon be discontinued. Items are now 50% off. https://t.co/vJpHTefpoR pic.twitter.com/Is1fOqWxyQ

— Kmart Fashion (@KmartFashions) February 25, 2017
This isn't really that big a deal. Artists create clothing lines all the time that go belly up after a year or so, but the timing of this news only further solidified Remy Ma's dominance in the rap feud, and helped to strengthen the L many believe Nicki has taken.
The topic was brought to attention after Twitter handle @KmartFashions tweeted "Due to a dramatic decrease in sales, Nicki Minaj's clothing line will soon be discontinued." It should be noted Kmart Fashions isn't associated with Kmart, but a quick look at Kmart's website one will find Nicki's collection are all on sale, some even 40 percent off.
Man…What a time. In case you've been living under a rock, you can hear Remy's "Shether" diss to Nicki below:
| | |
| --- | --- |
| GET HIM!: Rapper Future Under Fire for Parenthood Beliefs: "My Kids Gotta Understand, They Gotta Make a Sacrifice, Having a Superstar Dad" | 24.02.17 |
Just as Future was apologizing for his past aint shit ways, it seems like he may have actually just taken a few steps back. Right before dropping his second album in under two weeks, Future got candid with Zane Lowe on Beats 1.
Future is really pleased with the way he was able to put out as much music as he did back-to-back, and he expressed his excitement about being able to give fans another part of him, which is Future HNDRXXX.
Future says his latest album was the "real honest" album as back in 2014, he was just using the title. Now Future says he's actually able to be open and honest in his music.
His music wasn't the only thing he was honest about. He also opened up about fatherhood.
Future explained that he's able to make so much music, because he's addicted to creating it, and addicted to the studio. The only problem is his addiction keeps him away from his children, Prince, Londyn, and Future Zahir at times.
Future came under fire for saying his children have to understand that they have to sacrifice some things and some time spent because they have a superstar father. Most would believe that Future would say that he actually had to sacrifice some career-related things to BE a better father. The kids didn't ask to be here.

"You gotta sacrifice so much, even the times with your kids. You have to just do music and you're becoming this entertainer and so many people require so much of your time for different things, different obligations you have to make money, or just different obligations you have as a person in whatever the situation may be. You gotta leave town and miss out on certain things, that you feel like you should be there. Like, your dad should be a part of this moment. I gotta be like, 'Damn, man, your daddy really a superstar and entertainer.' My kids gotta understand, they gotta make a sacrifice, having a superstar dad. My career choice is my career choice. Just stepping out of that zone, to be able to be a provider. I understand my position as a provider and my role as a dad also…Just being able to be comfortable with it. Everybody wanna be a super dad and the best dad ever but sometimes, I'm just realizing that I'm not perfect," said Future.
Maybe Future meant well, and just expressed it wrong, because there are plenty of celebrity parents that have made sure to be there often for their children. Future stated that he understands that fatherhood is more than being a provider, but do you think he really gets it? Some even felt like Future was using being an entertainer as an excuse to be an absentee father. What are your thoughts?
| | |
| --- | --- |
| SAD TIMES: Wiz Khalifa's Sister LaLa Passes Away at Just 32 Years Old | 24.02.17 |
Wiz Khalifa is so private about his family life that he recently suffered a tragic family death without anyone knowing.
According to reports, the rapper's transgender sister Dorien "LaLa" Thomaz died at age 32 on Monday and passed away peacefully with their mother, Peachie Thomaz, by her side. No word on Dorien's cause of death, but Peachie posted the obituary on her Instagram page.
Wiz took to social media to share a special message to his fans, but it is unclear or not if he was referring to his late sister:
When you find someone who understands you and sets their personal needs aside to find out yours that's a beautiful thing.

— Wiz Khalifa (@wizkhalifa) February 23, 2017
Our prayers at itsKenBarbie.com are with Wiz and his mom at this time.
| | |
| --- | --- |
| GOTTA RESPECT HONESTY: Oprah Winfrey Explains Why She Doesn't Regret Not Having Kids of Her Own: "I Wouldn't Have Been a Good Mom" | 24.02.17 |
Talk show titan, media mogul, actress, author, philanthropist — Oprah Winfrey has excelled at every role she's tackled. But there's one job she's certain she was never cut out for: motherhood.
At 63, Winfrey said she has no regrets about her choice not to have kids of her own.
"I didn't want babies," she said in an interview with Good Housekeeping UK. "I wouldn't have been a good mom for babies. I don't have the patience. I have the patience for puppies, but that's a quick stage!"
While she's convinced she wasn't meant to be a mother to babies, she's happily taken on a mom-like mentor role — many times over — to girls from her Leadership Academy in South Africa.
"I have 172 girls, and 20 are in college in the United States and use my home as their home base," she explained. "It is more rewarding than I would ever have imagined. I was doing this to help them, but it has brought a light to my life that I can't explain."
Winfrey finds these bonds far more fulfilling than a traditional parental relationship would have been.
"When people were pressuring me to get married and have children, I knew I was not going to be a person that ever regretted not having them, because I feel like I am a mother to the world's children," she said.
"Love knows no boundaries. It doesn't matter if a child came from your womb or if you found that person at age 2, 10 or 20. If the love is real, the caring is pure and it comes from a good space, it works."
And while her Leadership Academy family is one she never imagined having, it's a good fit with what she did imagine — simply making the world a better place.
In 2013, Winfrey told The Hollywood Reporter, "(My best friend Gayle King) was the kind of kid who, in seventh grade home ec class, was writing down her name and the names of her children. While she was having those kind of daydreams, I was having daydreams about how I could be Martin Luther King."
| | |
| --- | --- |
| SMILE FOR ME DADDY: Rapper Fabolous Drops 40,000 to Repair His Teeth for his Birthday! | 24.02.17 |
Nas rapped about fixing his chipped tooth on 2001's "Got Ur Self a Gun" and now Fabolous can do the same, having dropped an estimated $40,000 to repair his grill.
TMZ reports that Loso spent around that much for 10 new veneers for his top set of teeth reportedly as a birthday present to himself. He turned 39 in November.
Fab has referenced his jagged smile before on songs like "Into You," rapping, "You love my smile, no matter how chipped my tooth is." In 2011 though, he told Angie Martinez that it was time to straight things out. "I'm going to get all of my teeth fixed soon," he said, telling Angie he missed a previous sit-down because he was getting a root canal. "I'm getting too old to have a chipped tooth in my mouth." He said then he was planning to just shock the world the development.
Looking at his Instagram page, Fab is already sporting off the new shine, smiling bright in lieu of a mean mug. Check for those flicks below.
| | |
| --- | --- |
| CLEANING OUT THE CLOSET: Janet Jackson's Ex-Mother in Law Claims to Have Undeniable Proof Supporting Long Standing Secret Love Child Rumors | 24.02.17 |
Tabloids have had a field day with rumors that Janet Jackson had a secret daughter with her ex-husband James DeBarge 30 years ago. Etterlene Debarge – Janet's former mother-in-law – claims to have evidence which can prove there is, in fact, a secret daughter.
As those who follow Janet know, the singer gave birth to her son in January – who she alleged is her first and only child. While she was pregnant – and after giving birth – tabloids took it as another opportunity to slam Janet with rumors that her son was not actually her first child. Per the celebrity rumors, the singer was alleged to have given birth to a daughter roughly 31 years ago while she was with James DeBarge.
During an upcoming exclusive interview with Inside Edition, Etterlene DeBarge opened up about a conversation she remembered having with her former daughter-in-law 30 years ago when she would have been pregnant with her secret daughter.
Janet's former mother-in-law was asked whether she inquired if Jackson was pregnant. Etterlene DeBarge claims she did not have to ask her daughter-in-law if she was pregnant because she knew she was pregnant. She claimed the singer just laughed off the conversation. While the singer never admitted to being pregnant – she never denied it either.
Over the years, Etterlene DeBarge was contacted by many different women who claimed to be her secret granddaughter in response to the rumors. There was one woman from Philadelphia, however, who was more believable than anyone else and happened to be the right age. Could this be the secret daughter of Jackson? Was her ex-husband telling the truth when he claimed a secret daughter existed?
DeBarge talked the mysterious woman into a DNA test. The results of the test concluded this woman had a 96.7 percent probability of being the daughter of Janet Jackson.
Sources have attempted to reach out to Janet Jackson for a comment regarding her former mother-in-law claiming to have undeniable proof she has a secret daughter. The singer, however, has not responded to the request for a comment. Could Janet Jackson really have secretly given birth three decades ago? Hell, does it even matter anymore?
| | |
| --- | --- |
| …SO NOW YOU COME FORWARD?: Singer Kay Cola Says She Personally Heard Her Neighbor Chris Brown Abusing Karrueche Tran | 24.02.17 |
Karrueche Tran recently dropped several bombshells claiming Chris Brown attacked her during their relationship and recently threatened to kill her, causing her to file a restraining order. Her claims were questioned on social media, but someone has now come forward corroborating Karrueche's allegations.
Following the news of Karrueche's restraining order, singer Kay Cola revealed on Twitter she personally heard the former couple's altercations. Cola is Chris Brown's former neighbor. Cola claims in her tweets she used to hear Chris "beating" Karrueche and Karrueche "screaming at the top of her lungs."
Some of y'all make me sick to my stomach talking about. Karrueches lying. I've heard him beating her myself. I even called the police:

— TheLucidDreamQueen (@KayCola) February 21, 2017
Some of y'all make me sick to my stomach talking about. Karrueches lying. I've heard him beating her myself. I even called the police:

— TheLucidDreamQueen (@KayCola) February 21, 2017
She also added more details when replying to an Instagram gossip account that questioned her own allegations.
— TheLucidDreamQueen (@KayCola) February 21, 2017
The Grammy-nominated singer says she never publicly said anything because it wasn't her place. She's now backing Karrueche due to the hate that's come her way since filing the restraining order.
I never spoke up, cause I didn't feel it was my place but hearing y'all say she's lying I can't just sit by and watch this

— TheLucidDreamQueen (@KayCola) February 21, 2017
I don't regret sticking up for Karrueche or telling the truth. Whatever comes with it. I stand for what's right at all times

— TheLucidDreamQueen (@KayCola) February 21, 2017
Some of y'all are so delusional defending this man! It's sick! He will never get help or change because of yes man and weirdos like y'all

— TheLucidDreamQueen (@KayCola) February 21, 2017
Cola is still facing backlash on Twitter for speaking out now, rather than when it was occurring and battling trolls who support/defend Chris.
Cola's allegations stem from Karrueche's statements in the restraining order she filed Friday (Feb. 17). In the document, she claimed Chris punched her in the stomach twice and pushed her down a flight of steps during their relationship. She also told the judge Chris recently threatened to kill her.
"Around the second week of February, he told a few people that he was going to kill me. He said if no one else can have me, then he's gonna take me out."
A source tells People magazine Chris been attempting to contact Karrueche "nonstop ever since they broke up."
"He texts her and leaves her crazy messages — one day saying he loves her, the next saying things like I'm going to ruin you and make your life a living hell. She had to change her phone number a few times."
The temporary restraining order requires Chris to stay 100 yards away from Karrueche and her mother and brother. The order is in effect until the next court hearing March 9.
| | |
| --- | --- |
| ARE YOU SURE?: Lionel Richie Postpones Joint Tour with Mariah Carey; Cites Knee Injury as Cause | 24.02.17 |
Lionel Richie says he won't recover from a knee procedure in time to launch his tour with Mariah Carey next month.
The 67-year-old singer said in a statement Friday that their All The Hits Tour will be postponed until the summer. The 35-date trek was supposed to launch March 15 and wrap on May 27.
Richie said "unfortunately my recovery from a knee procedure will not have me 100 percent ready to start the tour." He said he doesn't want to disappoint his fans and he's looking "forward to being back onstage so we can all be 'Dancing on the Ceiling' together again."
Purchased tickets will be honored at the new dates, to be announced soon. I never particularly understood who thought that this tour with these two was the best idea. Don't get me wrong, I wouldn't mind seeing them, but just on their own respective tours. I wouldn't have the same mood for them respectively, you know? I haven't really been following the ticket sales, but I do wonder how they were doing. Is anyone hype for this tour?
| | |
| --- | --- |
| WORK OUT: Rihanna to Be Honored as Harvard University's Humanitarian Of The Year | 24.02.17 |
Well, Rihanna may not have won any Grammys this year, but she is now a recognised humanitarian, which is probably better. The singer has just been named Harvard University's Humanitarian Of The Year, no less.
"Rihanna has charitably built a state-of-the-art centre for oncology and nuclear medicine to diagnose and treat breast cancer at the Queen Elizabeth Hospital in Bridgetown, Barbados", said Harvard Foundation director S Allen Counter, explaining the decision to give Rihanna the prize.
"She has also created the Clara and Lionel Foundation Scholarship Program [named for her grandmother and grandfather] for students attending college in the US from Caribbean countries, and supports the Global Partnership For Education and Global Citizen Project, a multi-year campaign that will provide children with access to education in over 60 developing countries, giving priority to girls and those affected by lack of access to education in the world today".
So, yeah, that's quite a lot of stuff isn't it? I gave someone a tenner for Movember though, so let's not forget that.
Past winners of Havard's humanitarian accolade include youngest ever Nobel Peace Prize winner Malala Yousafzai, anti-child labour activist Kailash Satyarthi, and no less than four UN Secretaries General – Ban Ki-moon, Kofi Annan, Boutros Boutros-Ghali and Javier Pérez de Cuéllar.
Rihanna will accept her prize at Harvard's Sanders Theatre on Tuesday.