| | |
| --- | --- |
| HEY WIG!: Kim Zolciack-Biermann Finally Confirms & Gives Details on Her Return to Real Housewives of Atlanta Season 10 | 19.07.17 |
I thought we already knew this, but I guess now it's officially official. Kim Zolciak-Biermann is returning to The Real Housewives of Atlanta.
The original housewife left the series during season 5 and has since starred in her own spinoff, Don't Be Tardy… Kim took to Instagram on Tuesday (Jul. 18) to announce her return as a "friend" of the ladies for season 10.
FINALLLY! After many months of negotiations, I'm happy and excited to confirm that as of today my deal is done! I'm coming to play with the ladies over at RHOA. However, since you all have made my OWN show such a huge success, I've decided to continue to carry that instead of carrying a peach! See you soon bitches! #CANTWAIT#2ShowsSameNetwork #Blessed#SeeUAtLeastHalfTheSeason.
I honestly thought Kim's return was already set in stone because she has been in contract negotiations since last year. And it was reported in April that she had signed on the dotted line. Season 10 of RHOA has also already began filming, meaning she really is tardy for the party.
Kim's frenemy NeNe Leakes will also return to the series as a main housewife. Kenya Moore, Porsha Williams, Cynthia Bailey, Kandi Burruss, and Sheree Whitfield are also expected to return, though the full cast has not been confirmed Season 10 of Real Housewives of Atlanta is scheduled to premiere sometime in November on Bravo.
| | |
| --- | --- |
| SAY WHAT NOW?: Charlamagne the God & Tiffany Haddish Suggest R Kelly's Nickname 'The Pied Piper' Confirms He's a Predator! | 19.07.17 |
Both Charlamagne Tha God and Tiffany Haddish were at Heavvy Set's No Kid Hungry event in NYC, and while there, they put R. Kelly on blast for recent allegations claiming that he is keeping women in a "cult."
Haddish, the star of Girls Trip, took exception to the idea that Kelly is "still" attractive after the allegations arose, saying, "He's never been sexy. He was never sexy. It was the lyrics that were sexy. So, no, he's never been sexy. I think it's foul if he's locking up kids and doing things to them. That's wrong."
She then suggested that Kelly should be "locked up" if the allegations were true. "He got kids locked up and they ain't doing sh**?"
Charlamagne then broke in with, "I think R. Kelly is trash, and I don't understand why we keep accepting R. Kelly in the culture, because we have ousted people out of the culture for less."
Taking aim at R. Kelly's self-described nickname, Charlamagne added, "He calls himself the Pied Piper. You know who the Pied Piper was?"
"A child molester," Haddish said for him as she feigned playing the pipe of the Pied Piper.
"A child molester!" Charlamagne agreed. "He literally played music and led kids out of a village, never to be seen again."
"Why do we give R. Kelly country?" he asked. "I don't get it, man." Check out the footage below:
| | |
| --- | --- |
| HARPO, WHO THIS WOMAN?: Beyoncé's Beyhive Fans Drag Museum for Wax Figure that Looks More Like 'Becky with the Good Hair' than Beyoncé!  | 19.07.17 |
In the words of Tiffany 'New York' Pollard, "BEYONCEEEEE?!" On Tuesday, an unidentified Madame Tussauds location released an image of their Beyoncé wax figure, but the Beyhive, Beyoncé's devoted fans, was quick to point out that the figure looks nothing like her.
The wax version of Beyoncé has lighter skin, and her hair is flatter than the real version. In fact, several fans pointed out that the figure looks more like Lindsay Lohan or Britney Spears than it looks like Beyoncé.
Twitter dragged the wax figure online, and some people even started to use the hashtag #TussaudsSoWhite as they called out the museum for getting it oh, so wrong.
Check out some of the best Twitter reactions below.
Beyoncé's Madame Tussauds wax figure looks like Lindsay Lohan and 2003 Christina Aguilera had a baby together. #NotMyBeyonce

— Matt Christopher (@MChristopher05) July 19, 2017
This wax figure of Beyoncé at the Madame Tussauds in New York looks more like Becky with the good hair than Beyoncé pic.twitter.com/HydxYq661a

— Hector. (@HexHeizzy) July 19, 2017
You don't even have to be a fan to tell that Madame Tussauds wax figure of Beyonce looks absolutely NOTHING like her. That's how bad it is.

— Lwazi Msomi (@RealLwaziMsomi) July 19, 2017
| | |
| --- | --- |
| LET IT BURN: Usher Allegedly Paid $1.1 Million To Settle Incurable Herpes Virus Lawsuit Brought By Groupie | 19.07.17 |
Word on the curb is that a certain singer has allegedly settled a million-dollar lawsuit after allegedly infecting one of his sex partners with the incurable herpes virus!
Radar Online, states that they've obtained a lawsuit between a celebrity stylist and "Ursher Baby"!
RO reports that legal documents reportedly state that Usher allegedly had a good amount of unprotected sex without disclosing his [herpes] status.
According to said court papers, the singer's ex-wife, Tameka Foster, was also allegedly exposed to the virus.
Usher has been said to have been labeled as an asymptomatic carrier by doctors. Allegedly Ush convinced his partner that his results were negative, and he and the woman allegedly continued to have unprotected sex.
Apparently the partner grew sick, and learned that she had contracted herpes upon visiting a doctor. Allegedly Usher called the woman a few days later with his doctor confirming that he too carried the virus.
Wait there's more. Usher reportedly cut a $1.1 million check in order to settle a lawsuit from the woman, Maya Fox-Davis, who was one of his ex-wife's bridesmaids. LAWD.
Well, according to the Centers for Disease Control and Prevention, about ONE out of SIX people in the United States between the ages of 14 to 49 have genital herpes. Get tested!
| | |
| --- | --- |
| I DON'T KNOW HER: Mariah Cary Goes Viral with Lazy Dance Moves in Concert (VIDEO) | 19.07.17 |
It's true that Mimi has never been confused for Janet Jackson on the dance floor, but who knew that Mariah Carey was operating on these levels of laziness?
During a recent stop on her tour, Mariah Carey couldn't be bothered to put her heart into her dance routine. The dancers flitted around her but Mariah just literally went through the motions and sighed and shrugged her way through several 8-counts.
Don't believe me just watch Mariah give zero fucks about the routine during this show. Check it out below:
So far, Mariah hasn't commented on this very viral moment, but let's face it, we really don't need much of an explanation from her.
She was either:
1. Drunk and feelin' tipsy.
2. Not into it and not here for it.
3. Bloated, full of gas and clenching her butt cheeks tightly to prevent a fart from slipping out.
Either way, the diva of all divas does what she wants, when she wants, and you will deal.
| | |
| --- | --- |
| EVERYTHING IS SHAKA, EVERYTHING IS FAKA!: Beyoncé's Mother Tina Knowles Lawson Let's Us Know What Type of Big Sister Blue Ivy is to the Twins! | 18.07.17 |
Blue Ivy has fallen in love with her twin siblings and is "very excited" to have a little brother and sister to play with.
Beyoncé and Jay Z welcomed their little ones into the world at the beginning of last month and, although Blue has had her parents all to herself for the past five years, she's adjusted well to the family's new arrivals.
Beyonce's mother Tina Lawson told "Entertainment Tonight," "She's [Blue is] very proud and excited. She's a good big sister, she really is. She cares for them a lot." The internet went wild last week when the Queen Bey posted an image on Instagram of herself cradling the 1-month-old infants and revealed that she and Jay had named them Sir and Rumi.
Although eyebrows were raised over the pair's choice of names for their babies, Lawson has admitted the reason behind the monikers will be revealed in due course.
Beyoncé's latest post comes after Jay admitted recently that his marriage "wasn't totally built on 100 percent truth."
"This is my real life. I just ran into this place and we built this big, beautiful mansion of a relationship that wasn't totally built on the 100 percent truth and it starts cracking. Things start happening that the public can see," he says in his short film, Footnotes for 4:44
"Then we had to get to a point of, 'OK, tear this down and let's start from the beginning … It's the hardest thing I've ever done."
Jay's new 4:44 album features an apology to Beyoncé, and speculation is rife that it is a direct reference to claims she made about him being unfaithful with "Becky with the good hair" on her visual LP Lemonade.
| | |
| --- | --- |
| SAY WHAT NOW?: Why Does Michael Vick Think He's Qualified to Say Colin Kaepernick Needs to "Cut His Afro"? | 18.07.17 |
I don't know why Michael Vick would think that he is in any position to tell anybody how to rehab his image, but the convicted dogfighter and gambling-ring operator did just that when he offered quarterback Colin Kaepernick, who is obviously being blackballed, advice on how to get back in good with the white folks over at the NFL. His advice? "Cut off your black-ass afro." OK, he didn't use those exact words, but he did say that Kaepernick should cut his hair.
"First thing we got to get Colin to do is cut his hair." — @MikeVick advises Kaepernick on rebuilding his image pic.twitter.com/YENvUPOIgP

— Speak For Yourself (@SFY) July 17, 2017
"The first thing we got to get Colin to do is cut his hair," said Vick on FS1's Speak for Yourself on Monday. "Listen, I'm not up here to try to be politically correct, but even if he puts cornrows in it, I don't think he should represent himself in that way in terms of just a hairstyle. Just go clean-cut. Why not? You're already dealing with a lot of controversy surrounding this issue. What he needs to do is just try to be presentable."
I understand that this is one black quarterback telling another what he thinks is "presentable," but there is just so much wrong with this that I don't even know where to begin.
Vick, who was famously jailed for almost two years in 2007 for his involvement in a dogfighting ring, had cornrows himself in his last year with the Atlanta Falcons before he got shipped off to the pokey for 21 months. When he got out, he cut his hair and had a career with the Eagles and a few other teams for a few years, and ostensibly lived happily ever after. But Mike, let me bullet-point out what is all kinds of wrong with your statement.
I say, if Kaepernick wants to let his kinky hair fly, so be it! Nobody asked all those guys with dreadlocks to cut their damn hair. Oh, I get it—it's to make NFL owners and racist fans feel as if he's getting in line. It's fine when black football players are shooting themselves in the leg, making it rain in strip clubs or beating black women down—but social justice, that's just a little too close to home for the 1 percent owners and the league's racist fans. It's time to call a spade a spade.
We Love you, Michael, but sometimes you wrong. So sit down, put a muzzle on it and do something right for and by your people. Or your words might come back to bite you in the ass.
Kaepernick appears to have responded to Vick's words with a simple tweet entitled "Stockholm Syndrome."
— Colin Kaepernick (@Kaepernick7) July 18, 2017
| | |
| --- | --- |
| TUNED IN OR TUNED OUT?: A TV Show Based on Mariah Carey's Life & Rise to Fame is on it's Way to Starz! | 18.07.17 |
A new series based on the life of the ever glamorous Mariah Carey is currently in the works at Starz, Deadline reports. According to the outlet, Carey will be executive producing with Golden Globe nominee Stella Bulochnikov, under their Magic Carpet Production company. Carey's longtime friend Brett Ratner will also serve as an executive producer.
Nina Colman ("Mahogany") is attached to write the series, which will be set in New York City in 1986. The show will follow "the rise of an ambitious bi-racial 16-year-old girl, an aspiring singer-songwriter who survived a difficult childhood to become the biggest selling female music artist of all time," according to Deadline. 
Colman will act as showrunner and will also executive produce. Others attached to the project include Teri Weinberg ( who worked on "Ugly Betty") and John Cheng (who worked on "Horrible Bosses").
The series comes after Carey appeared in her own docuseries, "Mariah's World," which followed the diva's day-to-day life. 
Knowing how Mariah would refuse to let a Glitter 2.0 happen I'm pretty confident that this will develop into something really good. Are you here for Mariah's story in television form?
| | |
| --- | --- |
| YOU REMIND ME OF A HOSTAGE: R. Kelly's Alleged 'Hostage' Speaks Out: "I am NOT Being Held Against My Will!" (VIDEO) | 18.07.17 |
The woman whose family claims she is being held hostage by R. Kelly is speaking out.  
Joycelyn Savage, 21, spoke to TMZ Monday via video chat following a bombshell BuzzFeed News report alleging that Kelly is holding Savage and other women against their will in an abusive "cult." 
BuzzFeed's report cites claims from family members of the alleged victims that Kelly has women living in multiple properties in Chicago and Atlanta, who he purportedly controls and uses for sex. According to the claims, if the women break his various rules, he punishes them "physically and verbally." 
But Savage, who did not disclose her current residence, says she is doing fine. 
"I am in a happy place with my life and I'm not being brainwashed or anything like that," she explained. "It just came to a point where it definitely has [gotten] out of hand. I just want everybody to know … that I am totally fine and everything is OK with me." 
When asked by TMZ if she was living with other roommates or if she is free to leave her current residence, Savage declined to answer.
 
On Monday, Savage's family members held a press conference about her relationship with the 50-year-old R&B legend. Previously, they told BuzzFeed that they hadn't seen Savage since 2016.
"My daughter is being held against her will," her father, Timothy Savage, told reporters in Johns Creek, Georgia, near where Kelly has a home. "The last time I saw my daughter she was in a horrible condition." 
Kelly has denied the accusations against him. 
"Mr. Robert Kelly is both alarmed and disturbed by the recent revelations attributed to him," a rep for the singer told TMZ. "Mr. Kelly unequivocally denies such accusations and will work diligently and forcibly to pursue his accusers and clear his name."
Linda Mensch, a civil lawyer in Chicago who represents the star, also provided an emailed statement to BuzzFeed in response. 
We can only wonder why folks would persist in defaming a great artist who loves his fans, works 24/7, and takes care of all of the people in his life. He works hard to become the best person and artist he can be. It is interesting that stories and tales debunked many years ago turn up when his goal is to stop the violence; put down the guns; and embrace peace and love. I suppose that is the price of fame. Like all of us, Mr. Kelly deserves a personal life. Please respect that.
The hostage claims are the latest allegations against Kelly. Since 2000, he has faced multiple accusations of sexual misconduct involving minors levied against him. In 2008, he was acquitted on charges of child pornography related to a video of him having sex with an underage girl when the identity of the girl was deemed inconclusive.
He also married singer Aaliyah when she was just 15 years old and he was 27 by falsifying documents to state she was 18 at the time.
Kelly is currently performing at multiple venues across the U.S. Check out the video below:
| | |
| --- | --- |
| BRING ON THE DRAMA: Keyshia Cole and Daniel Gibson Try to Make it Work, Teairra Mari May Need an Intervention, + Of Course Fights Pop Off in This 'Love and Hip Hop: Hollywood' Super Trailer! [WATCH] | 17.07.17 |
The Love & Hip Hop Hollywood supertrailer is here and per usual, Mona Scott Young is ready to have your cup runneth over with all the drama. The fourth season of the LA series sees Keyshia Cole join the cast alongside her now-estranged husband Daniel "Booby" Gibson. Keyshia will showcase her work on her upcoming album and the trials and tribulations of co-parenting with Booby as they move towards divorce.
Meanwhile, Hazel-E will return full-time to the reality series to show her co-stars "it's Hazel-E's city." The teaser shows Hazel entering in a helicopter, throwing a drink at frenemy Masika Kalysha and a plate at bestie Teairra Mari…who we're assuming is more like FORMER bestie now.
Safaree Samuels and Miss Nikki Baby will both grace our TV screens with their presences but this time their relationship is strictly professional as Nikki encourages Safaree to help steer the career of her friend Chanel West Cost. In Safaree's words, "This ain't the first time I've pushed a pretty young thing to the next level." Oop.
It wouldn't be Hollywood without resident funny man Ray J and his new bride Princess Love. The Norwoods are enjoying newlywed life while experiencing the ups and downs trying to have a baby.
Teairra Mari, is also back for another season and this time she's found love with none other than Love & Hip Hop's Cisco Rosado. The Creep Squad member travels to the Wrong Coast for love but will Teairra's problem with alcohol break their relationship before it blossoms? Cisco finds himself at odds with TeTe's closest friends as they try to intervene in her relationship with alcohol.
Then, It wouldn't be Love & Hip Hop without the addition of some newbies and this season is no exception. Celebrity stylist Zell Swagg joins the cast, "Girl Fight" singer Brooke Valentine finds herself quickly in the drama as she explores her relationship with Marcus Black who is somehow connected to Rich Dollaz' ex-girlfriend Jade? And so much more I can't even keep up with. Just check out the trailer below:
Don't miss the season four premiere of Love & Hip Hop Hollywood on Monday, July 24 at 8/7c.
| | |
| --- | --- |
| TAKE CHANCES, MAKE MISTAKES!: The Internet is Demanding Tracee Ellis Ross Plays Ms Frizzle in a Live Action 'Magic School Bus' and She's Here for it! | 17.07.17 |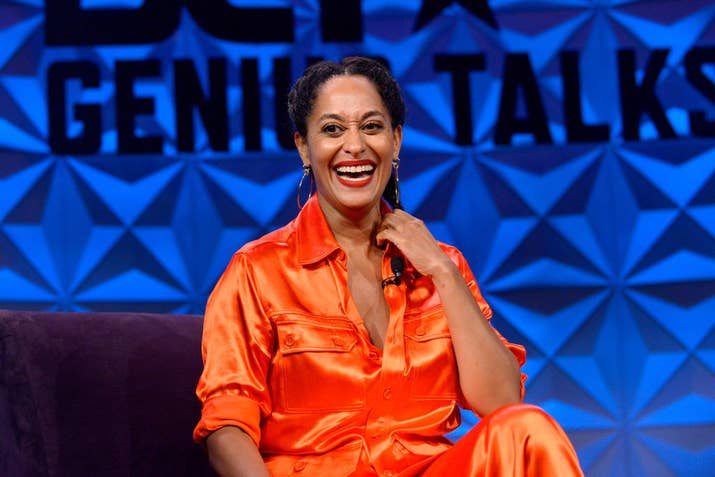 Tracee Ellis Ross has definitely heard the unbridled requests for her to play Ms. Frizzle in a live-action version of "Magic School Bus." The buzz began back in May when a Twitter user Josh Gwynn first suggested that she'd make the perfect version of the teacher. After months, Ross finally responded Friday on Twitter to the flood of fan support for her to take on the role. She's read the tweets, saw the fan art, and she is definitely curious about what the hype is about. 
…now what's this I hear about some of you wanting me to play Ms. Frizzle on The Magic School Bus? Tell me more…

— Tracee Ellis Ross (@TraceeEllisRoss) July 14, 2017
Unfortunately, Netflix has already slated the old cartoon classic for an animated revival and brought on "Saturday Night Live" comedian Kate McKinnon to voice the lead.
But if "Spider-man" and "Batman" can reboot every few years, why not this?
Fans were undeterred by the reality that it might not happen, and if anything, only had renewed hope after her post. There's even fan art. 
You can't tell me Tracee Ellis Ross wouldn't be the best live action Mrs. Frizzle from The Magic School Bus. pic.twitter.com/qrA1u8Ejhr

— Josh Gwynn (@RegardingJosh) May 18, 2017
Look, @TraceeEllisRoss is the Ms. Frizzle we deserve. 🚀✨🚀 pic.twitter.com/4WdKDT5nJY

— /rā•vē•rā/ (@raveyrai) July 6, 2017
I think that you should have a Black Muslim assistant teacher in the film (played by me obviously) and @ava should direct

— Blair Imani (@BlairImani) July 14, 2017
…now what's this I hear about some of you wanting me to play Ms. Frizzle on The Magic School Bus? Tell me more…

— Tracee Ellis Ross (@TraceeEllisRoss) July 14, 2017
✨🚌 ✨ we gotta make this happen! pic.twitter.com/QOYpH5ao8k

— Killing me smalls® (@TheFrooster) May 19, 2017
Now that us fans have your attention… we need you to be in The Magic School Bus as Ms. Frizzle so our lives can be LIT pic.twitter.com/J70GszlAYK

— Tracee Ross Lately (@TraceeJoyLately) July 14, 2017
Oh please pretty please!!!!!!!! That show made me the nerd I am today. I can only imagine how many black and brown girls you would impact! pic.twitter.com/5CTbUJy7ST

— Josie Lynn (@LoveNJosie) July 14, 2017
Alright, Hollywood, you've heard the people speak. Now which studio is gonna make this happen? 
| | |
| --- | --- |
| THE FRESH PRINCE OF AGRABAH: Disney Announces Will Smith Casted as the Genie in the Upcoming Live Action 'Aladdin' Film! | 17.07.17 |
After a controversial casting process, the main characters in the live-action Aladdin remake have finally been chosen. Guy Richie has already been announced as director but now we know that he will be joined by British actor Naomi Scott as Jasmine and Egyptian-Canadian actor Mena Massoud as Aladdin. Finally, there's one casting decision that everyone will agree on — Will Smith as the Genie.
Last week, Disney announced that it was having trouble casting the movie, causing Twitter to react with the often hilarious #aladdincasting hashtag where users put forward their own choices for the iconic roles.
That also led to a debate as to where the fictional city of Agrabah would be, with fans split as the whether it was based on a South Asian or Middle Eastern city — who knew a classic Disney movie could be so divisive?
Are you here for Smith as the Genie?