| | |
| --- | --- |
| WELL LORD: Nick Gordon Ordered to Pay $36 Million in Bobbi Kristina Brown Wrongful Death Case; Sources Say He Won't Pay a Penny | 19.11.16 |
Nick Gordon was ordered to pay $36million in damages after being found liable in the wrongful death lawsuit filed by Bobbi Kristina's estate. Lawyers for the estate announced soon after that they plan to collect the full judgment from Gordon, despite the fact that he is unemployed. "Our first step will be to retain a collections attorney to pursue all available avenues,' Bobby Brown's attorney Craig Terrett" was quoted as saying. Terrett also said that the judgment means that Gordon will never be able to profit from Bobbi Kristina's death Gordon is understood to be and he will struggle to pay anything, Gordon was only able to make money in the months after Bobbi Kristina fell into a coma by appearing on talk shows and speaking about his girlfriend.
Gordon has so little money that lawyers for the estate of Bobbi Kristina Brown will struggle to collect even a dime of the $36,256,918 in damages out of him, it has been claimed. One day after a judge ordered Gordon to pay the damages, lawyers for the Brown family have made it clear they intend to do everything in their power to get the full judgment.
'We intend to enforce the judgment against Gordon. Our first step will be to retain a collections attorney to pursue all available avenues,' Craig Terrett, the attorney for Bobby Brown, tells
'We understand that collecting the full judgment will be difficult but we want to make sure he never profits from her death. When he finally climbs out from under the rock that he is hiding under, we will be there to greet him.' 
You can order a gajillian dollars but what will you collect? Good luck to both the attorneys and Gordon in this case. Sheesh.
| | |
| --- | --- |
| KIM GET YOUR MAN: Kanye West Says He Didn't Vote..But if He Did it Would've Been for Donald Trump | 19.11.16 |
Just in case you were sitting around wondering, the word is in, sadly: Kanye West is a Donald Trump supporter. In front of a stunned audience at a California concert on Thursday night, West rambled about not participating in this year's presidential election before explaining that, had he voted, it would have been for the Republican nominee. He then scolded black Americans for "talking about race so much." His speech was met by a chorus of boos.
Disappointed fans took to Twitter to express their outrage. But West had been leaning that way on the Trump-Clinton spectrum for months—Page Six quoted a source as early as March saying that "he's not going to vote for Trump, but he supports him." And there's also the matter of those infamous Twitter rants and that "planned" 2020 candidacy. Indeed, Yeezy has enough in common when it comes to controversy with the President-elect to render this news, well, unsurprising. Too soon Kanye, Kim come get your man.
| | |
| --- | --- |
| NEW MUSIC: Nicki Minaj Flips Rae Sremmurd's 'Black Beatles' into 'Black Barbies' (Listen) | 15.11.16 |
Remember back in the day, no matter what, you could always count on a banging Nicki Minaj freestyle over whatever rap track was popping at the moment? Well, here's hope that Ms. Minaj is ready to take us back to those days. A few months ago, we saw Nicki deliver with 'The Pinkprint Freestyle,' a remix of Young M.A.'s hit record "Ooouuu," And now Nicki is back at it giving "Black Beatles" (You know that song that' been every due to 'the mannequin challenge') a remix just one day after it became Rae Sremmurd's (and Gucci Mane's) first No. 1 single.
The remix—titled "Black Barbies," to stay on brand—alludes to the original hit's melodies while throwing in some of Minaj's signature punchlines, including "That boy is a real pussy pleaser" and "Usually I'm a Christian but this peace is Buddhist." (The latter is a reference to Jay Z's "Change Clothes"—yesterday also marked the 13th anniversary of Hova's The Black Album.) Check out 'Black Barbies' below:
Are you feeling it?
| | |
| --- | --- |
| GO AWAY FROM ME WITH THIS: Phaedra Parks Ex Apollo Gets Engaged in Prison; Set to Appear On RHOA with New Woman | 14.11.16 |
Although Apollo Nida, 37, is behind bars for fraud, he's still managed to strike up a romantic relationship, according to a new report from TMZ. In fact, the Real Housewives Of Atlanta star is engaged to an unidentified woman he's said to have been dating for two years.
Apollo is currently serving an eight-year sentence for money laundering and identity theft, that he began Sept. 2014. Phaedra confirmed her separation from him the very next month in Oct. 2014, and was said to have started the divorce proceedings. However, alleged sources close to production on RHOA tell TMZ, Apollo started dating the mystery woman before he began his prison sentence, and that they got engaged a few months ago. If this is accurate, then Apollo could have gotten engaged before his divorce to Phaedra Parks, 43, was finalized. His ex wife just recently admitted that their divorce was complete, Nov. 2, on TMZ's Raq Rants, an online segment. Wow.
As if that wasn't enough, get this — Apollo and his reported bride-to-be have both shot scenes for the upcoming season of RHOA, according to the site. He is allegedly on the show by phone, and producers apparently want to keep his fiancee's identity a secret until the episode airs. WHAT?!… Phaedra has got to be flipping!
Well, speaking of Phaedra, the site reports that her reaction to the alleged relationship was all captured on camera for the show! Looks like BRAVO is pulling out all the stops to help the recent ratings drop. In case you were wondering, the mystery, future Mrs. Nida, did NOT shoot scenes with Phaedra, the site says. AND, more importantly, she does not have a diamond, yet. Being behind bars is definitely not convenient when you need to go ring shopping, so if this is true, we're not sure when she will get a ring.
Apollo and Phaedra married in 2009, and were together for about five years before separating in 2014. They share two sons together, Ayden, 6, and Dylan. Fix it Jesus.
| | |
| --- | --- |
| LINE UP BOYS: Keri Hilson Just Wants a Regular Shmegular Degular Guy After Break-Up with NBA Baller Serge Ibaka | 14.11.16 |
Well boys, if you're able to look pass the foolishness with going against Beyoncé, you just may have your shot with Keri Hilson.
"Miss Keri baby" is back on the market after a highly publicized breakup with NBA player Serge Ibaka, and she says she is looking for nothing more than a regular guy. Here is what she said to Rolling Out Magazine:
"I think I am an exception to the rule when people think of R&B "divas." I thought I found someone who's also an exception. It wasn't "enthralling" for me to date an athlete. It was on my list of "not to dos" — no rappers, no actors and no ball players.

I broke my rule because I thought I found someone different … It wasn't an attraction to the status and the money.

I am no different from other women when it comes to attraction to qualities of a man. I am pretty level headed. I want someone who loves God genuinely and respects women, [is] loyal. All the same things every woman wants.

I will make different decisions in future relationships. When you put things on Front Street, it opens the door for opinions. It opens the door for wolves to attack. I certainly have been placed in that position where things have been written about me as it pertains to relationships that are so far from the truth. To me, that's a personal attack. You can talk about my music all day, but when it comes to making up things and a character attack, I don't take them well. It makes me want to be completely mysterious. You can't really stop it though. It's the climate we're in."
Keri just wants a regular guy who will treat her with respect, loves God and who is loyal. You don't have to be a baller, just a nice guy, to sum everything up.
A woman recently went on social media to detail on Serge Ibaka flying her in to Orlando and there have been other women who have claimed Serge was cheating regularly on Keri. Shame, due to the Beyoncé shade years back, many seem to overlook that Keri's actually beautiful and very talented.
| | |
| --- | --- |
| QUEEN BACK: Tiffany 'New York' Pollard Is Back on Her Reality TV Search for Love with E!'s 'Famously Single' Season Two! | 14.11.16 |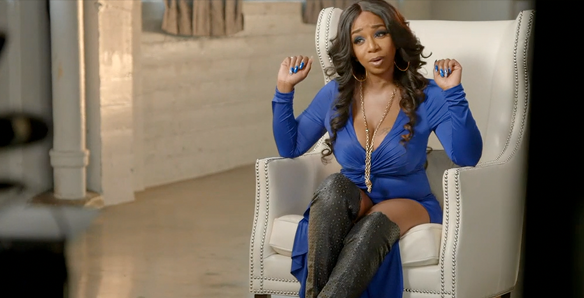 I may definitely be about to show my age here, but this news is definitely worth it. It's crazy to say out loud, but ten years ago (YES TEN), Vh1 introduced a whole new type of reality TV, with the Flavor of Love.
For those familiar with this classic, the show alone is synonymous with it's breakout star, none other than Tiffany 'New York' Pollard. I personally consider New York as the ORIGINAL reality television villain, so even if no one else is, I'm about to have a television orgasm knowing that apparently Tiffany is making yet another return to our tubes.
Earlier this year, after much anticipation we got to see Ms. New York respectfully on both VH1's 'Family Therapy' as well as TV One's 'The Next 15.' Now Pollard will be back on our tubes once again, we've learned, with the announcement of Season 2 of E!'s "Famously Single."
Pollard will be at her best as she once again is on a search for love. Joining a cast that includes The Bachelorette's Chad Johnson, Dancing with the Stars' Karina Smirnoff, Jersey Shore's Ronie Ortiz-Magr, Khloe Kardashian's BFF Malika Haqq, The Rich Kids of Beverly Hills' Dorothy Wang, and "British ex-military and security operative turned actor and fitness model" David McIntosh. Model Calum Best will also return for season two after not having much luck in love after season one.
I for one am more excited than ever to see this, as I think we all can agree that New York on her search for love is what made us fall in love in the beginning. So I think this has the makings of reality TV GOLD. Will you be tuning in?
| | |
| --- | --- |
| NO SIR: Prince's Estate Rejects Jay-Z's Bid for Musical Catalog, Says TIDAL Never Had Permission to Stream | 13.11.16 |
Jay Z was eager to obtain Prince's sought after music catalog but it appears he has to fall back. According to TMZ, administrators for the Purple One's estate have denied Hov's lucrative offer to buy the late musician's unreleased music.
Apparently, Prince's estate wrote a letter to Jay Z's team last month, stating that they have no interest in signing a deal with Roc Nation that would "exploit any of the intellectual property assets of the Estate."
Jay Z reportedly made a $40 million deal for Prince's musical works. However, attorney L. Londell McMillan, an advisor to the estate, told Billboard that he's unaware of Jay Z's bid to buy the Purple One's unreleased music.
Meanwhile, Prince's estate also have issue with the Tidal deal. TMZ claims that administrators are upset that Tidal made 15 Prince albums available for streaming after his death without their authorization. The estate also contends that Prince signed a deal with Hov for the 2015 release of his last album, HITnRUN Phase One, and are owed $750,000.
Reps for Jay Z and Roc Nation had no comment on the matter at this time.
| | |
| --- | --- |
| GIRL, WHAT?: Lil' Kim Says She's a 'Spanish Girl Trapped in a Black Girl's Body!' (WATCH) | 13.11.16 |
"…GIRL, WHAT?" is pretty much the reaction a lot of folks are having after learning of Lil Kim's declaration regarding her ethnic background.
This bit of info was unearthed from her fan page as the world celebrates the twentieth anniversary of her debut platinum selling album, "Hardcore."
The legendary emcee born Kimberly Jones said in a video making its rounds on social media that she feels Latina on the inside:
Lil Kim admits she's a Spanish girl trapped in a Black girl's body 🇲🇽🌮 pic.twitter.com/tXgoVud9Ab

— Kimmy Blanco (@LilKimRoyal) November 11, 2016
In English, what she sings translates to, "Happy come from the mountain of my company, how happy is my friends of the flower of the best" and other inaudible lyrics.
In a previous interview, the raptress explained she wasn't fond of her looks due to rejection from men and their lust for "European-looking" women.
"All my life men have told me I wasn't pretty enough—even the men I was dating…It's always been men putting me down just like my dad,' she told Newsweek in 2000. "To this day when someone says I'm cute, I can't see it. I don't see it no matter what anybody says. I have low self-esteem, and I always have. Guys always cheated on me with women who were European-looking. You know, the long-hair type. Really beautiful women that left me thinking, 'How I can I compete with that?' Being a regular black girl wasn't good enough."
So you have to wonder if she's just joking or is she displaying self-hate?
| | |
| --- | --- |
| IT SOUNDED GOOD:…But Michelle Obama Will NOT Run for Office in 2020, and the Reason Makes Complete Sense | 11.11.16 |
As First Lady Michelle Obama prepares to vacate the White House for the incoming president and his family, she reflects on the eight years she's spent living in the iconic residence. Speaking with Vogue, the FLOTUS reveals what she'll miss most and what she looks forward to once her husband, President Barack Obama, steps down from his post for Donald Trump.
"You know, there are little … moments. Even today I was looking out at this view here," she tells the fashion mag, gesturing to the view outside 1600 Pennsylvania Ave. "Looking out on the South Lawn and the Washington Monument and it had just rained and the grass was really green and everything popped a little bit more. It's soooo beautiful. And for that moment I thought, I'm going to miss waking up to this, having access to this anytime I want."
"But on the flip side … it's time. I think our democracy has it exactly right: two terms, eight years. It's enough. Because it's important to have one foot in reality when you have access to this kind of power," continues. "The nature of living in the White House is isolating. And I think Barack and I — because we're kind of stubborn — we've maintained some normalcy, mostly because of the age of our kids. I go out to dinner with my girlfriends; I go to Sasha's games; Barack has coached a little basketball with Sasha's team. But at the same time, when you can't walk into CVS?"
While she did visit a CVS during her latest appearance on Ellen, the Harvard-educated lawyer admits that running to the local drugstore is practically impossible for someone in her current position, saying "I always think, Fun for me! But a complete hassle for my Secret Service agents."
She explains, "When you're not engaged in the day-to-day struggles that everybody feels, you slowly start losing touch. And I think it's important for the people in the White House to have a finger on the pulse."
As for rumors that she'll run for president come 2020? Though the internet is certainly hoping to see her name on the ballot in four years, those closest to the First Family say Michelle will most likely stay away from politics once she's out of the White House.
"Absolutely not," Valerie Jarrett, the Senior Advisor to the President of the United States, tells the publication when asked if Michelle plans to run for office. When pressed, she explains that Michelle is so likable because she's not a politician and never will be. "Everybody knows exactly why she's doing what she's doing. There are no hidden agendas. She's pure in mission, honestkind, empathetic."
The POTUS himself even adds that Michelle never aspired to be a First Lady in the first place.
"Michelle never asked to be First Lady," he writes in an email to the magazine. "Like a lot of political spouses, the role was thrust upon her. But I always knew she'd be incredible at it, and put her own unique stamp on the job. That's because who you see is who she is — the brilliant, funny, generous woman who, for whatever reason, agreed to marry me. I think people gravitate to her because they see themselves in her — a dedicated mom, a good friend, and someone who's not afraid to poke a little fun at herself from time to time."
"I could have spent eight years doing anything, and at some level, it would have been fine," Michelle says, reflecting on her time as a First Lady. "I could have focused on flowers. I could have focused on decor. I could have focused on entertainment. Because any First Lady, rightfully, gets to define her role. There's no legislative authority; you're not elected. And that's a wonderful gift of freedom."
Whatever she chooses to do next, it's safe to say that America will miss her presence in the White House.
| | |
| --- | --- |
| BABY MAMA DRAMA?: Did Reggie Bush Pay Offer His Mistress a Million Dollar Payout to get an Abortion? | 11.11.16 |
Reggie Bush has made a living by trying to evade defensive football players who are attempting to tackle him….But the apparently former Heisman Trophy winner isn't as able to run away from the hoes in his life.
Bush has allegedly an affair, got a woman pregnant, And heried to cover up the mistake via a huge payout.
Bush is said to have knocked up a Miami waitress named Monique Exposito at some point this year. She is allegedly six months along with his baby. The problem with this scenario? Bush is married to Lilit Avagyan and has two kids with her. OOPS!
Insiders state that Bush tried to nip this pregnancy in the bud when he first learned of it, offering a large sum of money to Monique in order for her to get an abortion.
"It is well known in Miami circles that Reggie has been hooking up with Monique for the last two years," a source claims, adding: "When Monique told him that she was pregnant, Reggie offered her $1 million to have an abortion, but she declined."
Bush left Buffalo Bills training camp in August to go home for a bit, presumably to try and save his marriage. He has not commented on this impending baby news; nor has Avagyan filed for divorce.
Instead, Monique is the one who has made a series of legal moves. "She lawyered up," this same source explains, explaining how Monique shared pictures on Instagram while taking meetings with her attorney in Los Angeles.
"She definitely was trying to send him a very strong message that she was not playing around." Monique was prepared to go public with details of her affair, but a "settlement" was reached; i.e. Bush did pay her off to at least remain quiet.
"She deleted all posts on her Instagram page where she'd mentioned her lawyer," according to reports.
Where do things stand now between Bush and his wife? The man best known in gossip circles for having dated Kim Kardashian shared the following image on social media just a few weeks ago, with added as a message "God can turn around any situation."
| | |
| --- | --- |
| SORRY BARBZ: Is Nicki Minaj's ABC Family Sitcom in Danger Before it Even Hits the Air? | 11.11.16 |
It's been a year since Nicki Minaj announced her deal with ABC Family — now known as Freeform — to produce a autobiographical comedy about her life. Well, we now know why we've yet to see anything come into fruition.
Despite receiving a straight-to-series order from network exec Tom Ascheim last September, plans for the sitcom has been placed on hold indefinitely, according to The Hollywood Reporter. The publication is reporting that after shooting a pilot this January, the show, titled Nicki, is being redeveloped and is no longer a series order.
"A lot of things were happening at the same time, and creatively we wanted to make some changes with the pilot," Minaj told radio show The Breakfast Club in October. "We're taking our time—everyone involved wants it to be perfect and I felt like there were other things that needed to be figured out first."

In 2015, Minaj revealed that Ariana Neal will be playing the younger version of herself on the sitcom, which was said to be centered around the rapper's childhood in Queens and her rise to fame.
At the time, a press release named Whoopi Goldberg as neighbor named Miss Martha, model Selita Ebanks as Minaj's mom and Wesley Jonathan as Nicki's dad. McCarrie McCausland was said to play Nicki's brother.
The changes seem appropriate as Nicki's brother Jelani Maraj recently went under fire due to alleged child rape charges. I will say that I was willing to at least see what Nicki's show would bring to the table, as the rapper has never personally disappointed me, here's hoping things come back into fruition after some revamps.
| | |
| --- | --- |
| LOVE IS IN THE AIR: Adrienne Bailon Says "I DO!" to Gospel Singer Israel Houghton | 11.11.16 |
With so much bad news in America recently, it's good to know that at least some love is still in the air. Former "Cheetah Girl" and The Real co-host Adrienne Bailon said "I do," when she married gospel singer Israel Houghton in Paris on Friday.
"I genuinely just feel so blessed and grateful. I've honestly never been happier in my entire life," Bailon stateed. "I've never felt what I feel right now. I can't even describe what it is, but it's such a peace mixed with total excitement."
The couple revealed that they have actually been friends for years before they began dating this past spring, exchanged vows front of approximately 70 guests at the Hotel Plaza Athénée in Paris. Among those in attendance were radio DJ Angie Martinez and Bailon's The Real co-hosts Loni Love, Jeannie Mai and Tamera Mowry-Housley.
"I'm so glad we chose such an intimate group of who have shared in our journey and know our hearts and that I honestly feel comfortable crying in front of," says Bailon. "I didn't want to invite people I felt I had to put on a performance for. I wanted every moment to be genuine and really special and that's what it is going to be."
Congratulations to both Adrienne and Israel !