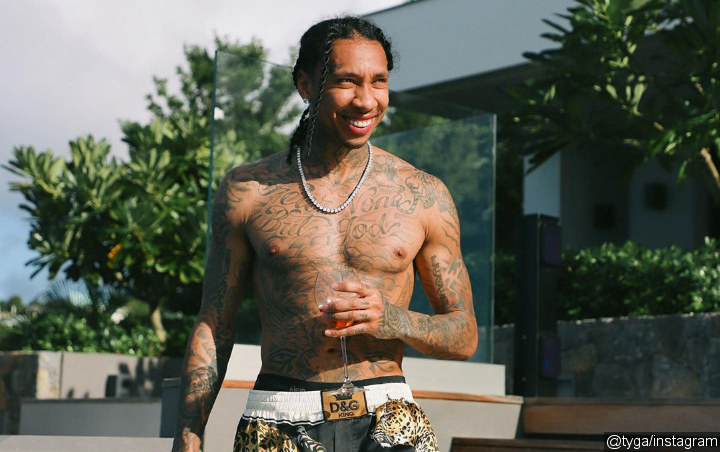 Unpaid rent lawsuits: 2, Tyga: 0.
Tyga has been out here slinging dick for Only Fans but has some found himselff in another lawsuit for not paying his bill. The "Taste" rapper is being sued by his landlord for a whopping $200,000 for trashing and refusing to pay the $32k/month rent for his former Beverly Hills home. According to his landlord, the 30-year-old rapper left the house back in April after having damaged the kitchen's flooring, counters, walls, and murals. Additionally, it appears Tyga installed a basketball hoop and new locks without asking permission to do so first, causing damage to the driveway and front door, and leaving his landlord further complained.
According to court documents obtained by TMZ, Tyga left gouges in the kitchen's White Oak flooring ($27,650), damaged marble flooring and countertops ($15,575), and damaged walls with murals and wallpaper ($103,160.25).
After the story broke, Tyga's attorney, Mike Trauben, told the folks over at TMZ that the landlord's claims are "categorically frivolous" and nothing more than a "charade" to get the rapper to give up on getting his security deposit back. Trauben also attached a letter purportedly from the property manager that says Tyga paid his rent on time, left the compound in great condition and that the rapper "would be more than welcome to rent from us again."
Tyga also made his argument on Instagram with a series of stories asking, "Where's the damage?" calling BS on a landlord's claims he trashed the place andposting videos that show portions of a house in pristine condition…although it's unclear when the videos were taken or if it's the house in question.
This is not Tyga's first beef with a rent man. Just two years ago, Tyga was sued by Simon Cowell's ex-fiancee, makeup artist Mezghan Husseini, for not paying the $40k/month rent for the house she was renting to him at the time, and that's just the tip of the iceberg when it comes to Tyga's many entanglements with the law. In 2018, he was sued for $157k for failing to return a 2014 Land Rover to the company he had leased it from, and in 2019 he was sued by Midway Rent-A-Car for $128k for neglecting to pay for two luxury vehicles.
Which side do you guys believe? Peep Tyga's clapback below: