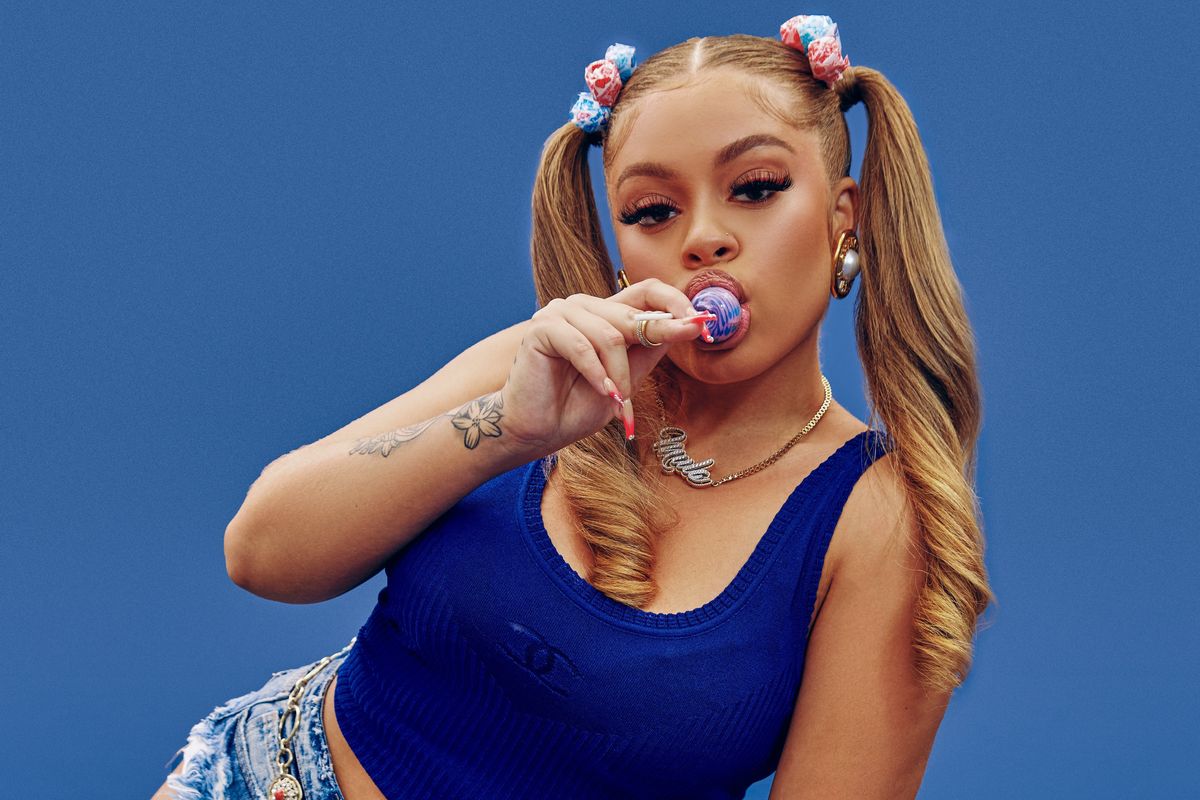 She was joking with her best friend, but people took to social media to share that they didn't believe her remarks were funny.
Throughout her career, dating back to when she was an aspiring rap star on The Rap Game with Jermaine Dupri, Mulatto's stage name was cause for controversy. People have called out the biracial artist for using the term as her moniker, but although she continues to garner negative opinions, Mulatto, real name Alyssa Stephens, stands by her choice.
"'
On Tuesday (September 15), the XXL Freshman once again found herself fighting against accusations of colorism after a video surfaced online. The rap star was getting her hair done in the clip and she said, "This my assistant and my hairstylist and my best friend and my pet f*ckin' orangutan." Later in the video, her friend tells her to stop complaining because her hair is almost done. "Your p*ssy is well-done," Mulatto said with a laugh. Because her friend is brown-skinned, of course some folks used this to accuse Mulatto of being a colorist.
As the controversy continues to build among fans and foes, Mulatto refused to acknowledge the naysayers and has continued to promote her music. Social media users have used Mulatto's stage name against her in their arguments, so check out a few responses and let us know if you think people are overreacting. Personally, I agree it's probably a bad choice of words considering the public is always looking for an issue it seems, but I don't think she is a colorist.
That Mulatto video wasn't even the full video, it's even Worse. Watch this and pay attention to the end if you get that colorism shade. pic.twitter.com/MhcFftPOqI

— Diaspora 7 (@Diaspora_7) September 15, 2020
i mean…what did yall expect from a woman named "mulatto"

— black women matter (@broadwaytail) September 15, 2020
Mulatto really said: This my assistant, my best friend, my hairstylist, annnnnnnnd my pet orangutan 🦧

The light brights have really gone haywire pic.twitter.com/j3cjYeT8y5

— F Q-C #8 pt.2 (@TheeMarceline) September 15, 2020
mulatto has a terrible stage name and she done said this weird shit about her dark skin friend. lol she can rap but i just can't. this is too much now

— ✨ Hoochie Mama ✨ (@_benjvmins_) September 15, 2020
Bro. If Mulatto friend wanna let her call her an orangutan that's on her. Ain't no point in me being outraged over that shit lol. I just know me and MY friends don't do that shit lol

— TEAH (@TeahPearl) September 15, 2020
someone named ms. mulatto referring to her dark skinned best friend as her "pet orangutan" pic.twitter.com/8Xm5cyHE9e

— FIERY GOD MOTHER (@shesfiery) September 15, 2020
Not a mixed woman proudly calls herself Mulatto calling her dark skin friend/assistant her pet orangutan 🥴

— Kass 💎 (@frenchkass) September 15, 2020
They are two grown ass women if she cool being a pet monkey what am I supposed to do? Beat Mulatto ass?

When we bitched and moaned about the name y'all told us to shut up. So this me shutting up. pic.twitter.com/FaGBbd8rkq

— jackie tripper (@barbiegworl) September 15, 2020
Mulatto calling her dark skinned friend an orangutan won't even slightly impact her career. I don't even see a point in being outraged it's just… not shocking.

— ShaJames Baldwin (@shaTIRED) September 15, 2020
Mulatto a colorist bully and her white side was showing today. She was literally making fun of her friend for no reason. Also her u*ly little sister is a problem too, pretty sure they grow up with thinking bc their mixed that their prettier. which is never the case.

— Joi💕{BayDay BB22} (@fruitlo0pzZ) September 15, 2020
shorty's career name that SHE CHOSE is mulatto. Fucking MULATTO.

I know y'all aren't surprised fr lol

— DaiJa (@DaiJaMonet_) September 15, 2020