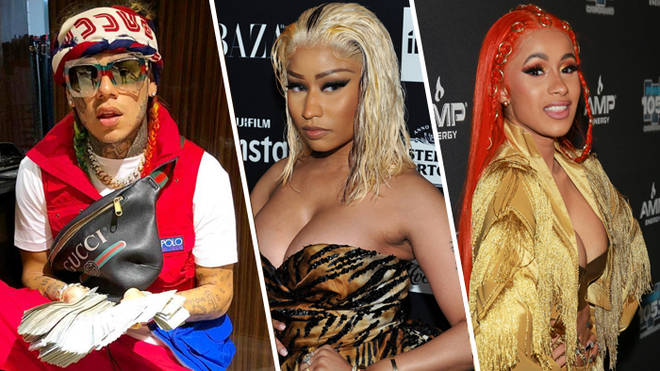 While 6ix9ine and Minaj fans should have been celebrating their accomplishment, they instead spent their day trolling and starting more narratives to stir beef.
Tekashi just earned his first-ever #1 single on the Billboard Hot 100 with "Trollz," his collaboration with Nicki Minaj. Regardless if you may believe it was deserved or not, you would think the rapper as well as he and Minaj's fans alike would spend their time celebrating that…Well, apparently not when you live to troll. In the direct aftermath, 69 promised to go on a 7-day tear, which started with him taking aim at Ebro Darden and other media personalities that have effectively "blacklisted" him. His claims began to go into question though after an accusatory post about rival fanbases where 6ix9ine came for Cardi B's legion of supporters for accusing them of using shady tactics prevent him from hitting #1.
On his Instagram, Rainbow not so bright shared a text message that was allegedly being sent around. The message reads, "Bardi Gang, we have established a donations fund for international and/or android users who cannot purchase Rockstar on iTunes." The message goes on to call on Ariana Grande, Lady Gaga, and Rihanna's fans to do the same. The sender claimed that over 146 donations were made to keep DaBaby and Roddy Ricch's "Rockstar" on top of the chart to thwart Tekashi and Nicki from a winning week.However there's one problem, the message is poorly photoshopped with not enough attention to detail. Apparently whoever made it either doesn't know the difference between how iMessages and Instagram DM's look, or couldn't decide which narrative they wanted to use and went with both.
What's funny about this whole accusation is 6ix9ine is accusing these fan bases of shady tactics, while his own as well as Minaj's not only utilize these anytime a female rapper releases, but they also used all types of rainbow witchcraft and scamming to secure this #1 themselves. What do you guys think of this mess? Why are they still attempting to bait Cardi and others when they should be celebrating?