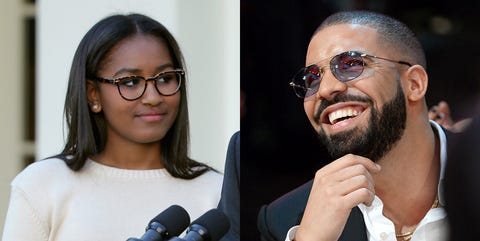 Sasha Obama was M.I.A during her father's farewell speech, but Drake certainly spotted the missing first daughter.
Sasha headed down to Miami Saturday (Jan. 14) with Joe Biden's granddaughter Maisy and few other friends for a day at the beach. To complete her beach attire, she was seen rocking a hat from Drake's OVO clothing line.
Sasha Obama rockin an OVO hat pic.twitter.com/74Rr1KZNWD

— The6Track (@the6Track) January 15, 2017
The rapper gave Sasha a shout out on Instagram Sunday (Jan. 15) by posting a pic of her wearing the "dad" hat with his brand's owl symbol.
The 15-year-old missed President Barack Obama's goodbye speech in Chicago on Tuesday (Jan. 10) because she had a final exam the next morning. First Lady Michelle Obama explained to Jimmy Fallon:
"She had a final. And it's like, 'You know the Obamas, girl. Sorry! You better to take your test. You can say goodbye later.'"
Now that she's worked hard, Sasha is definitely ready for some fun in the sun for this MLK holiday break. And she's doing it in style!