Lauren London, the widow of Nipsey Hussle, was rumored to have been dating Diddy earlier today but she quickly shut down the speculation.
Lauren London and Diddy were at the centre of some dating rumors that seemingly had no strong evidence behind them, and the widow of Nipsey Hussle has officially spoken out to deny any romantic involvement with the rap mogul. 
Earlier today, it was rumored that Diddy and Lauren London were seeing each other romantically but, shortly after the story was picked up, the actress took to social media to note that she is not currently dating anybody. The actress felt compelled to quash rumors she and Diddy are dating after Diddy reportedly posted — and then deleted — a couple of black and white pics of him and Lauren. Diddy initially captioned the Instagram pics "#lostfiles … @laurenlondon❤️." The pics, BTW, were taken at Jay-Z's Roc Nation Pre-Grammy brunch last month. Reports started to surface not long after speculating Diddy and Lauren were a thing. But, Lauren's not about to have it.
At first, she kept things short and sweet by sharing a photo of Nipsey Hussle, insisting in the caption that she's "still his." Then, the grieving star shared a text-based post shooting down the baseless rumors involving Diddy.
Stop fuckin playing with me and my name," said London. "Now let me get back to healing."
In her caption, she added that she isn't a fan of how much speculation has gone into her life since the passing of her man. "I'm all love and peace but never forget….I'm a woman in grief and I don't play about Nip, my family, my character and code," she wrote.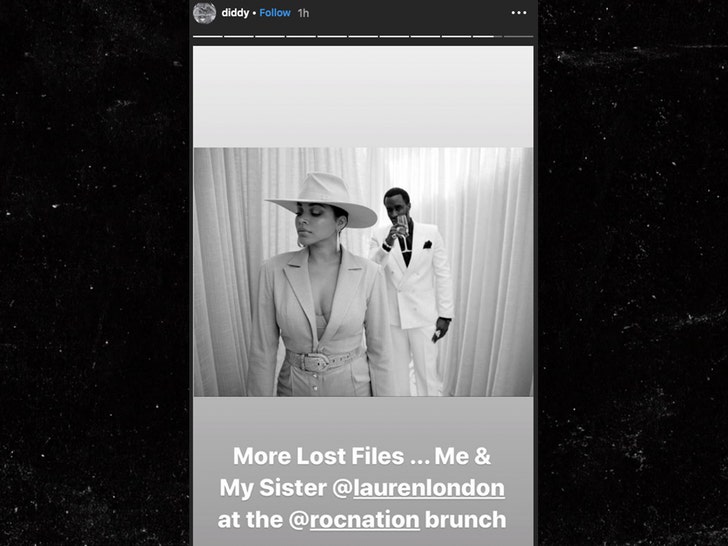 For the record, Diddy eventually re-posted his pic with Lauren on his Instagram Story and captioned it "More Lost Files … Me & My Sister @laurenlondon at the @rocnation brunch."