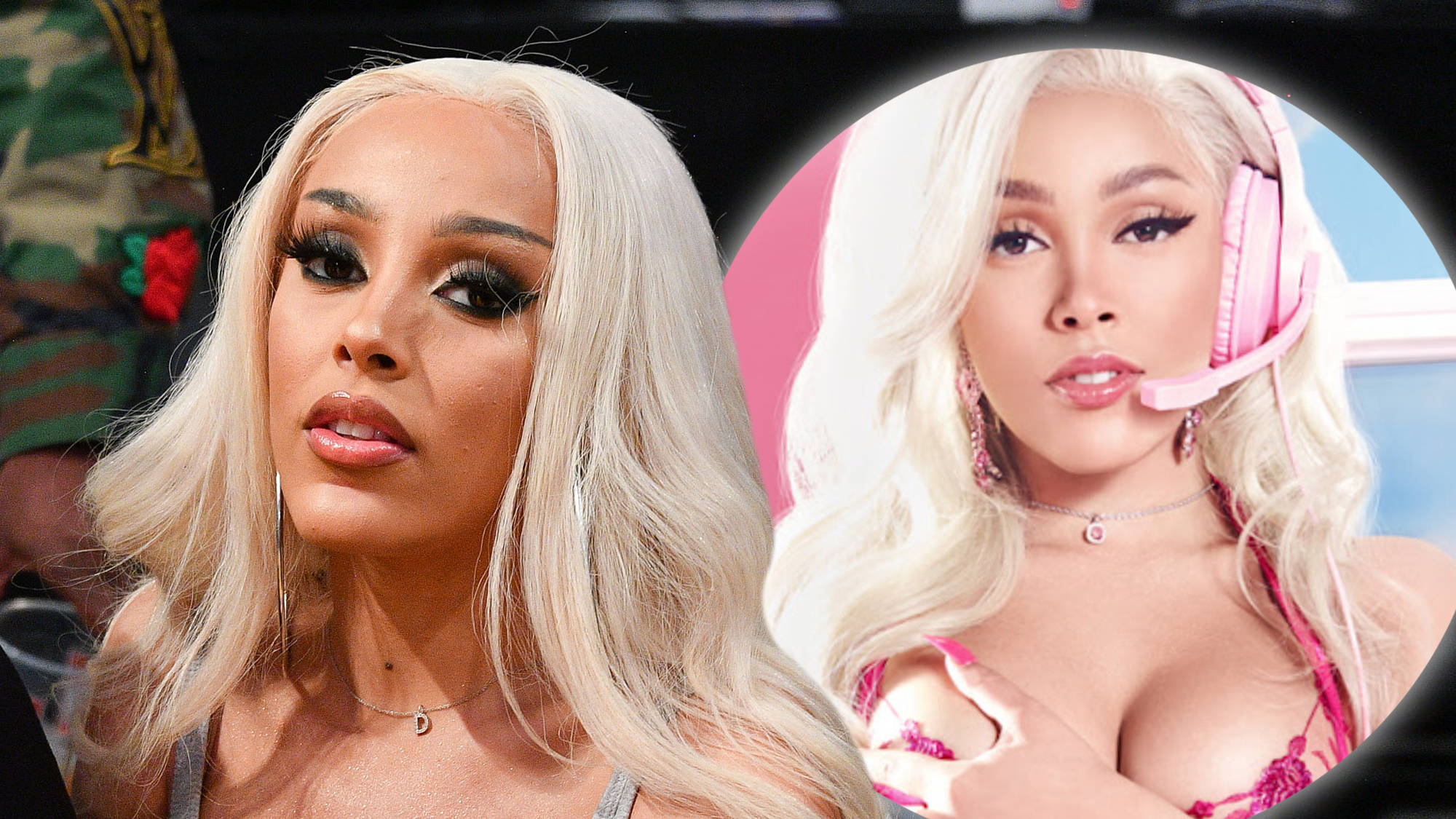 Doja Cat was recently the target of accusations that she's been lightening her skin, but the "Hot Pink" artist cleared the air on Instagram.
YouTube just wanted to give Doja Cat a shoutout, but it ended up entangling the singer-rapper into a controversy about her skin tone. On Tuesday (March 10), the video streaming network shared its "#WCE" playlist of 81 tracks from a number of female artists. "Get introduced to these women who are rising in the ranks of hip hop. Feat. Doja Cat," YouTube wrote. As the cover image, YouTube used a photo of Doja Cat wearing a pink headset and a matching bra. There wasn't anything shocking about the picture, but the public had quite a bit to say about her skin color.
Thousands of comments poured in accusing Doja of bleaching her skin or criticizing YouTube for allegedly making her lighter. She was made aware of the backlash and took to her Instagram Story to set the record straight and deny allegations that she was somehow altering her image. "Hey, so if you're stupid as f*ck you probably left a comment under this picture talking about this," she said in a video as she showed some remarks from the public.
"Hey, how about I'm half white, not entirely black," she continued. "My skin gets very light when I don't tan. I was staying indoors a lot before that shoot. New f*ckin' subject! Dumbasses." Check out Doja Cat explain herself below.
.@DojaCat responds to accusations that YouTube Music tried to whitewash her on the cover of their playlist:

"I'm half-white, not entirely black. My skin gets very light when I don't tan. I was staying indoors a lot before that shoot. New f*cking subject, dumba**es!" pic.twitter.com/KoTIEDEkJ1

— Pop Crave (@PopCrave) March 10, 2020
I love that Doja Cat went off on her IG about mfs saying she looked "pale". I completely get it. Being half white and half black, my skin can be super pale, super bronze, all variations of shades depending on how much sun exposure I get. Mfs are ANNOYING 😑🙃

— Tia (•tee-ah) 💞 (@ohsotia) March 11, 2020
People have a sick obsession with complexion. Doja Cat's YouTube vid was inundated with replies about her skin being lightened…like she ain't already the color of paper and biracial. Either black women are too light or white women are too dark. Y'all weird

— Luscious Malfoy (@ALYSSIA2777) March 11, 2020
@DojaCat getting mad because everyone thinks she's while is the most relatable thing I've seen. OUR SKIN JUST NEEDS THE SUN OKAY!

— Shelby 🖤 (@Shelbykinsxo) March 10, 2020
Kylie Jenner skin darker than Doja Cat I don't get it

— lil a the graced god (@YaBaDabbiDoo) March 10, 2020