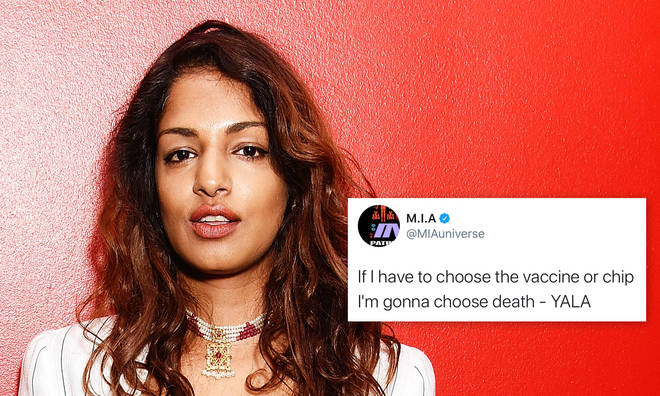 M.I.A. must have been high as her paper planes she tweeted and received backlash over her Anti-Vaxx stance, especially after saying she'd rather die than be vaccinated.
In a world where the masses are hoping for a cure to coronavirus, M.I.A. revealed that she is against vaccination. She made a declaration on Twitter that "If I have to choose the vaccine or chip I'm gonna choose death." Some people thought that the artist's remarks were inappropriate, especially because medical professionals are working overtime to find a vaccine to COVID-19.
Users began to condemn M.I.A. but she shared her story of why she decided to become Anti-Vaxx. "Yeah in America they made me [vaccinate] my child before the school admission," she wrote. "It was the hardest thing. To not have choice over this as a mother. I never wanna feel that again. He was so sick for 3 weeks then Docs had to pump him with antibiotics to reduce the fever from 3 vaxins."
She later sent out tweets telling the public not to live in fear while encouraging them with affirmations of health and positivity. However, people continued with disapproving comments while some called for M.I.A. to be "canceled." It would do much good since she said it was "irrelevant" anyway. It's clear that vaccinations continue to be a polarizing topic of conversation. Check out a few tweets below along with reactions. What are your thoughts?
If I have to choose the vaccine or chip I'm gonna choose death – YALA

— M.I.A (@MIAuniverse) March 25, 2020
Have a healthy life. Don't live in fear!

— M.I.A (@MIAuniverse) March 25, 2020
Don't panic you are ok. You are not gonna die. You can make it without stressing the medical systems. Just breathe. You are going to be ok. You can make it through without jumping in the frying pan. You are fine. All the vaccines you ve already had is enough to see you through.

— M.I.A (@MIAuniverse) March 25, 2020
This tweet has disappointed me more than your last 2 albums

— Marco Lancio (@Lanciofava) March 25, 2020
Well it was fun following you while it lasted. Yes the American health system is fucked but it's NOT because of VACCINES, it's because of CAPITALISM. Without vaccines, there'd be measles, polio, chicken pox, etc., things that can KILL a person.

— Bomemeian Rhapsody (@IceRosesOnPluto) March 25, 2020
Beyond irresponsible and reckless.

— Heba Hersi (@Hebahersi) March 25, 2020
You may choose death, I don't see why you have to drag everyone else with you.#VACCINATE

— Nathaniel Mason (@nathanielmason) March 25, 2020
idk who MIA is but vaccinate your fucking kids

I mean maybe not right this moment given the existing strain on our healthcare systems but like as soon as things are no longer overwhelmed, as recommended by your pediatrician and standard vaccine schedules

— prototype27 (@prototype27) March 25, 2020
So MIA really meant it when she said live fast die young huh? Get your fkn vaccines kids, don't hurt those around you.

— Rutabaga (@alispaz) March 26, 2020