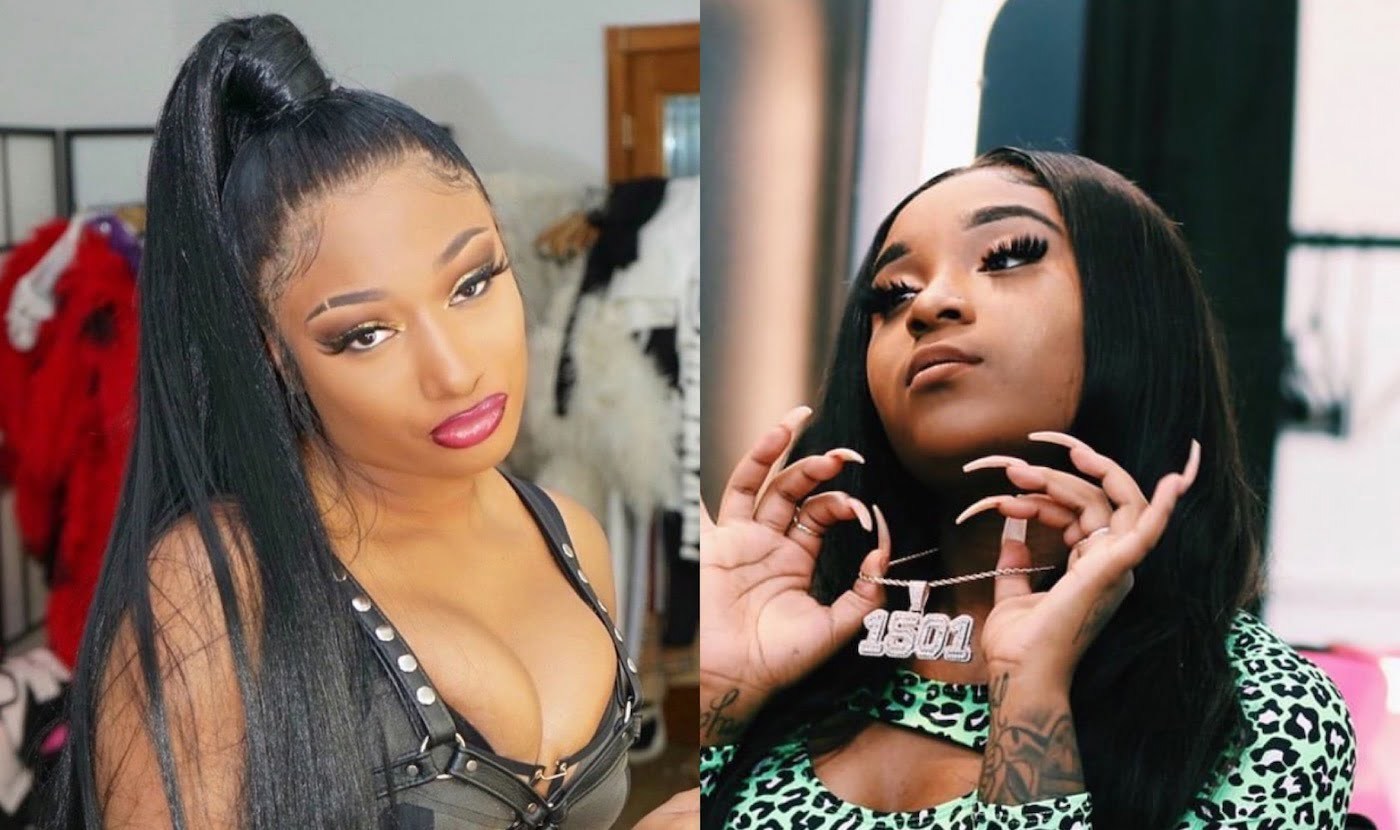 Megan Thee Stallion's label head, Carl Crawford, recently signed Erica Banks, whom many are saying is practically a replica of Megan in every way.
Only a few short years into her career, and Megan Thee Stallion is already producing carbon copies—at least, that's what her fans are saying. After news broke that Carl Crawford had officially signed up-and-coming Dallas rapper, Erica Banks, to his record label, 1501 Certified Entertainment, many took notice of the vast similarities between Erica and fellow 1501 artist, Megan Thee Stallion.
Megan Thee Stallion's Ex Manager Carl is now pushing a new Artist, Erica Banks. pic.twitter.com/KdwzluLB4c

— East Feed (@eastfeed) June 17, 2020
A clip of Erica spitting bars began making its rounds on Wednesday morning (June 17th), in which the Texan rapper exhibits a similar flow and attitude as Meg. You could also make the argument that the two of them look somewhat alike, although that doesn't seem to be the common denominator for most people.
The car freestyle. The sample. The flow. The sound. Megan said pic.twitter.com/kF5LtG2E5h

— 6'5 now what? (@eastmepls) June 17, 2020
It's giving me very much stallion vibes… pic.twitter.com/x0R9xkdqeD

— 1-800-PRETTYGRLH0TLINE🍒 (@playb0ibarbie) June 17, 2020
Not Megan's old label making a whole copy of her 🤭🤭🤭 https://t.co/XgC7uYTOfV

— Talcum X (@evelynvwoodsen) June 17, 2020
If you gone copy the whole blue print the least you can do is have your own Adlibs😂 that's the bare minimum

— 🏳️‍🌈LeashExotic⛓ (@leishgotit) June 17, 2020
Megan: since the nigga think he made me tell him do it again!

1501: https://t.co/JswBIzbB9z

— Kweeng Heifertiti (@LoloTheGveat) June 17, 2020
Some even insisted that this marks Megan's first rap "son," as in an artist that was born out of her unique, signature style.
We are now witnessing the birth of Megan's first son. He not even trynna hide it. https://t.co/M9xM8QlgZk

— 6'5 now what? (@eastmepls) June 17, 2020
MEGAN REALLY GOT A SON NOW LMFAOOOOOOOO https://t.co/ehqkLWx30F

— miss kisha | BLM✊🏼 (@kshrzn) June 17, 2020
this is literally Megan's WHOLE style, down to the mannerisms, flow and EVERYTHING 😭! she definitely her son idc fksnsnsn
pic.twitter.com/fMjxY5V4Tx

— angel 🍥 (@yikesangeI) June 17, 2020
As you may know, Megan has had issues with her label in the recent past. Earlier this year, she sued Carl and 1501 for blocking her from dropping new music under the conditions of her awful contract. She went on to drop her EP, Suga, in March with the judge's permission.
Although Erica was just recently signed to 1501, she's been in the rap game for over a year now. We've even featured her on the site before, which you can check out right here.
Do you think Erica is a carbon copy of Megan or are people reaching?