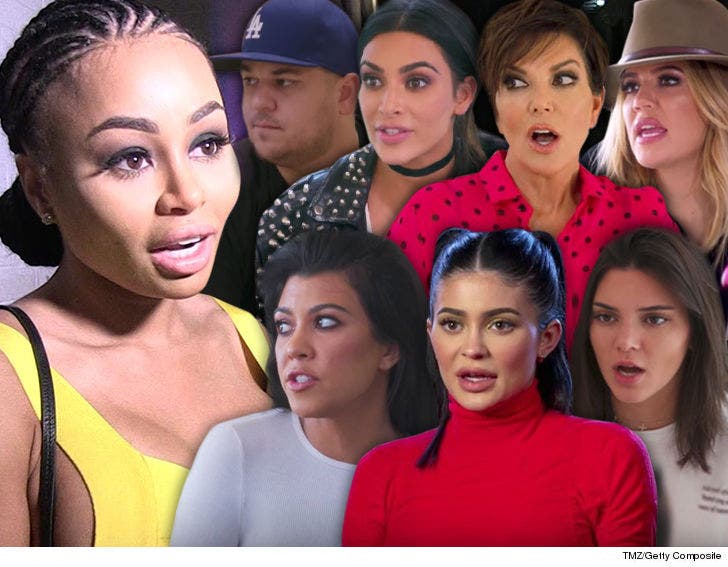 Just when you thought she was done, Blac Chyna is still on her quest for a cute Kardashian coin.
According to the folks over at Page Six, Chyna has apparently convinced a judge to give her a day in court for her long-standing lawsuit against the Kardashian family. She was onCe *thisclose* to becoming a member of the Kardashian-Jenner clan, but after Blac Chyna and Rob Kardashian broke off their brief engagement, things turned sour. Following this, Chyna claimed that Rob Kardashian and the Kardashian clan got her and Rob's Rob & Chyna E! Entertainment reality show canceled causing her to lose millions in endorsements and business opportunities, blaming it all on them having a "racist agenda."
Rob's attorney, Marty Singer, previously has claimed that the E! reality series was canceled because of the obvious, the fact that the then-couple, who share daughter Dream, had called it quits. On Tuesday, a judge denied the Kardashians' motion to dismiss Chyna's lawsuit allegedly basing his ruling on "the substantial evidence filed by Chyna, including unaired Season 2 'Rob & Chyna' footage and internal business documents from NBCUniversal and Bunim Murray Productions," according to a statement from Chyna's lawyer.
In the Fall of 2016, Rob & Chyna aired on E!. The show only lasted for one season, and the following year, Blac Chyna filed a lawsuit against the Kardashian Krew, accusing them of sneaking behind her back to NBC in order to have the show canceled. Now, Chyna adds to the long-standing lawsuit that the famous family wanted her out because of racism. She alleges that Kris Jenner went to NBC with a story that Chyna physically assaulted Rob, and executives told her that "the situation would've been handled differently if BC was white."
Marty Singer, lawyer to the Kardashian-Jenner's, told TMZ at time that this was one of many defense tactics that Blac Chyna has used over the years. "This is anold lawsuit in which Chyna has changed her defense more times than we can count. Sadly, unsurprising to anyone, she has stooped to a new low, changing her defense to try to leverage the emotions and pain of the moment, insulting the pain and suffering of real victims of racial injustice and systemic racism." He added, "We take these allegations very seriously and once again, there is no Rob & Chyna show if there is no Rob & Chyna."
Well apparently something Chyna has shown has at least convinced the judge that he case needs to be heard. Though Chyna has won this round in her feud with the reality TV family, she's also hit snags in the legal effort. Last month, Chyna attempted to have Rob Kardashian's assault case against her dropped, but a judge ruled it should go forward as well. What's your take on all of this? Should Chyna really be compensated for "Rob & Chyna" ending even though the relationship it was based around did as well?