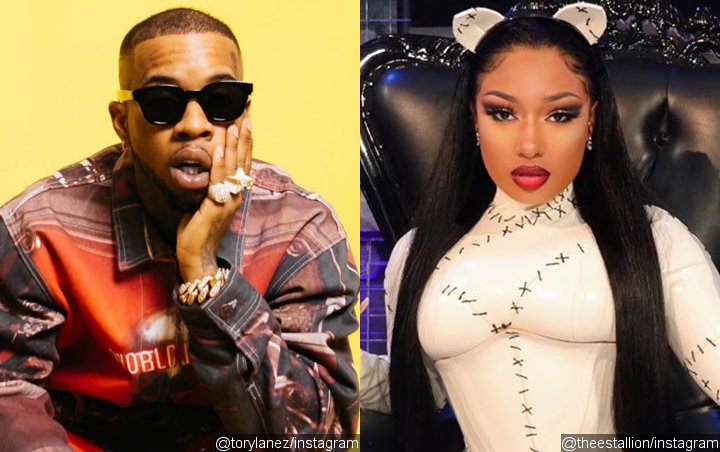 Tory Lanez turned 28-years-old this week, having likely the most unpleasant birthday of his entire life.
A few months ago, many were all celebrating the rise of Tory Lanez, who had been crowned the Quarantine King with his Quanrantine Radio series. He had finally managed to break free of his record label woes at Interscope, going independent and teasing a bunch of new projects on the way. Now, all of the hype is in the process of disappearing and it's all because of what happened earlier this month with Megan Thee Stallion.
If you're not up-to-date, Tory apparently shot his shot (literally) at Megan Thee Stallion's toes a few weeks back. As we still search for answers, Megan Thee Stallion hopped on Instagram Live to speak further about the shooting, leading people to swarm up against Tory Lanez on what was actually his birthday.
A petition was even recently created to have the Canadian rapper deported, which garnered tons of reactions. We can only imagine that, with everything going on in his life, potentially facing some hard charges for allegedly firing a gun multiple times at Megan Thee Stallion, Tory's twenty-eighth birthday was not very happy.
We've included some of the strongest reactions below, showing how people feel about Tory at this moment. At this point the petition is over 17,000 signatures towards it's 25,000 goal. Do you think Tory should be deported?
All of Twitter when they hear it's Tory Lanez birthday pic.twitter.com/kKQ3AUbpdi

— Jimmy (@jimmy_koski) July 28, 2020
The rise and fall of Tory Lanez, in one pandemic lockdown

— Honourable Mention Dee🇯🇲 (@DeeApple) July 27, 2020
people will initially distance themselves from Tory & then slowly welcome him back like how y'all did w Chris Brown, Fabolous, R Kelly, etc etc etc.
wash, rinse, repeat.

— Britt Knows Beauty ♡ (@mslauryntrill) July 27, 2020
Meg said she was shot in BOOTH of her feet. I hope Tory Lanez never knows peace pic.twitter.com/O7xS6VMIDL

— pikasso pearl 🧑🏾‍🎨 (@tylathecreative) July 27, 2020
tory lanez was already struggling being 5'3" but he had to shoot my good sis meg in BOTH her feet? issa wrap for you leprechaun

— miski (@musegold) July 27, 2020
LMFAOOOOOOOOO THEY STARTED A PETITION TO DEPORT TORY LANEZ ON HIS MF BIRTHDAY pic.twitter.com/3HQeNTC9RK

— maybe: steph (@HlSteph) July 27, 2020
I don't support deportation cause it impacts black and brown people the most, but lord send Tory Lanez back to Canada!!!pic.twitter.com/j7VVdCZ2Ni

— From Russia With Love (@evelynvwoodsen) July 27, 2020
I'm screaming. it's Tory Lanez birthday today and all we wanna do is beat his ass 💀

— Bria Celest (@55mmbae) July 27, 2020
"Come outside and get these birthday licks Tory! We ain't gon hurt you!" pic.twitter.com/ncTe4bM6L8

— Sara Miles🍝 (@TheSaraMiles_) July 28, 2020
Tory Lanez is the same height sitting and standing 💀💀 pic.twitter.com/qyzhH71ebB

— brandon (@brandonxmalave) July 28, 2020