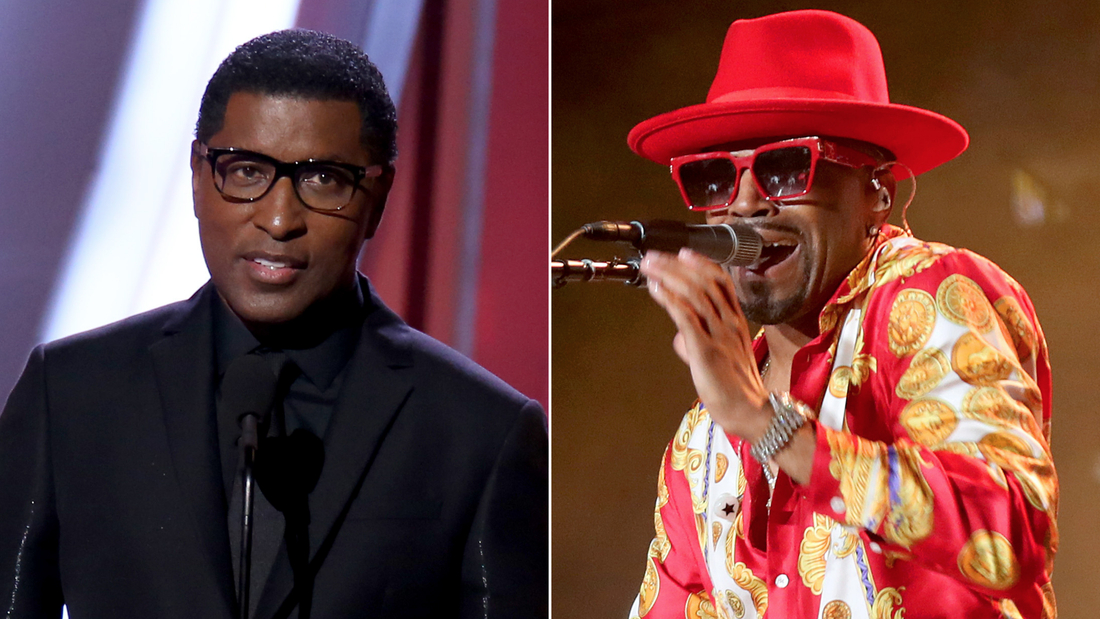 Babyface and Teddy Riley were expected to go song-for-song but technical issues prevented that from happening.
Babyface and Teddy Riley's long-awaited IG Live battle was the furthest thing from smooth sailing. Since the quarantine began, many artists have been organizing battles on Instagram Live where they would go song-for-song to determine who has the better catalog. Babyface and Teddy Riley should've had a battle for the books. However, sound issues prevented it from going down as planned.
The whole point of these IG battles is to simplify entertainment without having to a major production behind you. Babyface, who recently recovered from COVID-19, was spotted in the studio as he played songs. Riley, on the other hand, was clearly planning for a grandiose performance rather than a simple song-for-song format. Riley had a band behind him that no one was able to hear. This went on for about half-an-hour before both parties decided to pull the plug over the audio failure.
"Tonight was really special," Babyface said. "It's only right that we postpone this thing and do it at a time when there aren't any technical difficulties and everybody can hear the music the way it needs to be heard."
Teddy Riley has since agreed to postpone the battle to a later date, saying, "Just like a boxing match, something goes wrong we gotta do it again."
The battle has been rescheduled for a rematch tonight (Monday 8pm EST 5pm PST). Are you still interested? Peep a few reactions below.
Teddy Riley sound be like… pic.twitter.com/FTyu3b9DUX

— Kevín (@KevOnStage) April 19, 2020
Teddy Riley after everyone left the live pic.twitter.com/tnafQq61rN

— Skip Bae-Less (@kingloso__) April 19, 2020
Babyface has postponed his battle with Teddy Riley due to audio issues. pic.twitter.com/WH1EpcI0IY

— Nigel D. (@NigelDPresents) April 19, 2020
Babyface has postponed his battle with Teddy Riley due to audio issues. pic.twitter.com/WH1EpcI0IY

— Nigel D. (@NigelDPresents) April 19, 2020
Face was ready, Teddy spent more time marketing than actually getting ready. He just ruined the vibe of these battles. What was all that extra shiit? Then wanna charge people? I paid nothing but feel like I need a refund.

— Corey Powell (@CoreyHPSkeeeWee) April 19, 2020
Babyface ain't recover from Covid-19 to put up with this. Let that man get his sleep.

— Nigel D. (@NigelDPresents) April 19, 2020
When Teddy hit us with that Spike Lee…I KNEW he was pissed 😂🤣🤣🤣😂😂😂😂 #BabyfacevsTeddyRiley pic.twitter.com/tps6b8atmL

— Jo Esq.💗💚 (@Jovant_Garde) April 19, 2020
Me at 4:30am at work randomly replaying the comments and memes from #BabyfacevsTeddyRiley in my head. Good morning! Be blessed. Remember to "throw in the tile" when it's necessary. #BabyfaceVsTeddy #BabyFace #TeddyRileyVsBabyface #TeddyRiley @TeddyRiley1 @KennyEdmonds pic.twitter.com/W9PkqxfZYl

— Alexandria Ikomoni (@AIkomoniTV) April 20, 2020