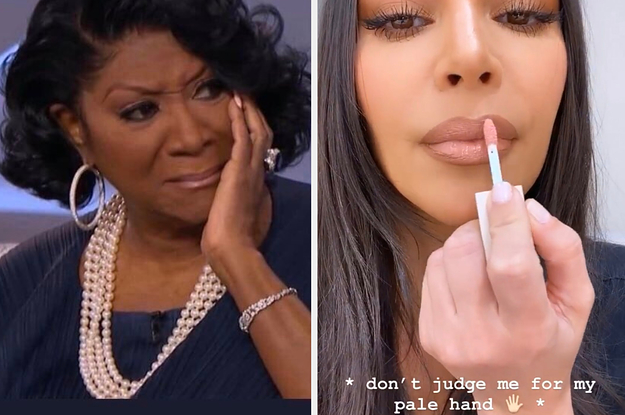 Kim Kardashian asked her fans to forgive her for her "pale" hand, which caused the internet to attack as if she they didn't know people tan.
Apparently social media felt that Kim Kardashian was in need of a reminder of what her actual skin tone is, after she posted a video asking her fans not to "judge" her for her "pale" hand that was a drastically different shade than her face. The Kardashian-Jenner family over-tanning their skin is nothing new, especially when it comes to Kim. The most well-known member of the famous family has long been a frequent visitor to the tanning salon, and has even launched a "body foundation" product that is meant to be applied like makeup to your whole body so that all of your skin is the same shade. However, it looks like Kim forgot to darken her hands in one of her recent Instagram stories, and even though she acknowledged it with the intent of curving any judgement, unfortunately that still happened.
Kim posted a video of herself glossing her lips, her left hand naturally getting in the frame. "Don't judge me for my pale hand," she wrote on the story. Many were quick to point out the absurdity of her asking viewers not to "judge" the paleness of her hand, as if that's not her natural skin tone to begin with. Tons of Twitter users proceeded to roast her for her what they called a lack of self-awareness and apparent amnesia. However, it's interesting that no one considered common logic that she was simply acknowledging the fact that she hadn't tanned all over…not that she was a different race.
"Don't judge me for my actual skin color 🥺" https://t.co/8JXqAxDoPN

— ΛDRIΛN (@AdrianXpression) April 30, 2020
Your hand isn't pale @KimKardashian .. it's the color your FACE should be too 🤦🏽‍♀️ https://t.co/oLIVNqIlyJ

— Tracee Ellis Boss (@ChanelakaPeachz) April 30, 2020
She saying that like thats not her actual skin color https://t.co/WU5foH9C3E

— Big Kings (@ItsKingsBruh) April 30, 2020
@KimKardashian the pale hand is how u look without the tan and make up.Suck it up bby pic.twitter.com/D5o4mo1uVe

— 𝓜𝓪𝓻𝓲𝓪~⁷ ⟭⟬ (@minkittysuga) April 30, 2020
"Forgive me for the color of my hand, the skin color I was born with." — Kim K.

— Micah @ Home (@LetMicahDown) April 30, 2020
.@KimKardashian your hand isn't pale, it's your face that's too brown/orange… and yes, we will judge you for that. STOP BLAVKFISHING. pic.twitter.com/HpoijMDlxl

— sandra 🔥 whit (@sandraQMP) May 1, 2020
I decided to edit Kim to see how she would look if her face matched her hands. And.. well… pic.twitter.com/DeUegmUC1G

— leNaya👣 (@lenayagriffin) April 30, 2020
Always serving face but not hands pic.twitter.com/2Xcw0Gahru

— Amanda 😷 (@AmandaNer) April 30, 2020
— ً (@babyheirandfro) April 30, 2020