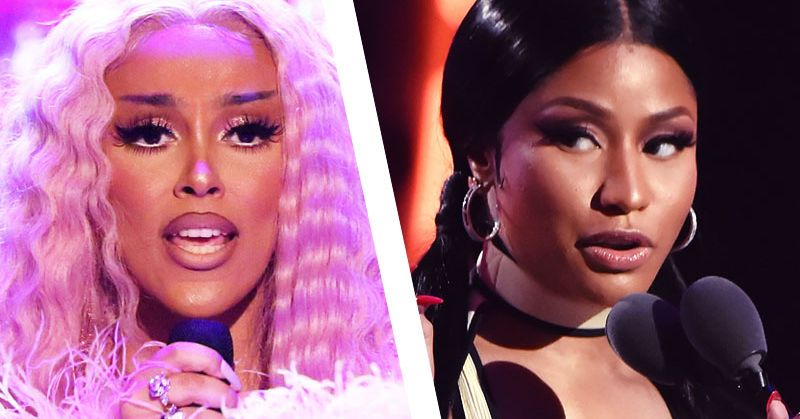 Congratulations to Doja Cat, you've earned this…Nicki Minaj, not you.
It was a gargantuan week for female rap. Already, Doja Cat's "Say So" and Megan Thee Stallion's "Savage" were performing extremely well on social media and the charts. Doja Cat entered the Top 5 for the first time in her career and it was reported that Megan Thee Stallion was close to notching her first-ever #1 single. It turns out that she may need to wait another week because Doja Cat managed to inch her out in the latest update on yesterday, joining the short and presitigious list of women who have topped the charts such as Lauryn Hill, Lil' Kim, and Cardi B to name a few.
What's unfortunate about this amazing accomplishment, is that it's being overshadowed by Nicki Minaj's fans leeching on to it as her own, similar to what she did hopping on it after the song was already top 5 on the charts and being eyed as a potential number one. While Doja Cat should be celebrated for her artistry and crafting this hit, Nicki Minaj should really only be recognized for strategy…along with a ton of cheap tactics courtesy of her fans.
For context, Nicki Minaj has been in the music industry for over 11 years with over 109 songs touching Billboard and never scored a number one hit on her own, as a matter of fact, her last few single releases have consecutively performed horribly on Billboard, with some even having historical drops after their initial first week, something that was always used as a way by her detractors to "shade" the self-proclaimed queen and her fans saw "Say So" as an oppotunity to now have the ability to simply say "Nicki Minaj has a #1 song."
But how was this accomplished? Let's break it down. Much of social media has been a buzz about how during the tracking week Nicki Minaj's fans were taking extreme measures to basically cheat their way to out number Thee Stallion's record. These insane tactics which could not have possibly been created sane adults included setting up VPN networks (including Twitter tutorials on how to do so) which would allow them to stream and buy the song over and over but seeming as if it were from a new authentic user in order to count towards the song's Billboard points, purchasing thousands of dollars of the same single bundles and even having some of them shipped off to stranger's addresses they'd obtained, using bots who helped obtain fake streeams, and even links supposedly meant to take you to articles about other stars and simply landing to play "Say So."
While this is an amazing moment for female rap, it's just unfortunate that a fan base and an artist who has cried about "sympathy" and "payola" every chance they get, basically used every strategic method they could to cling on to someone's moment. Take a look at the receipts below. What do you guys think?