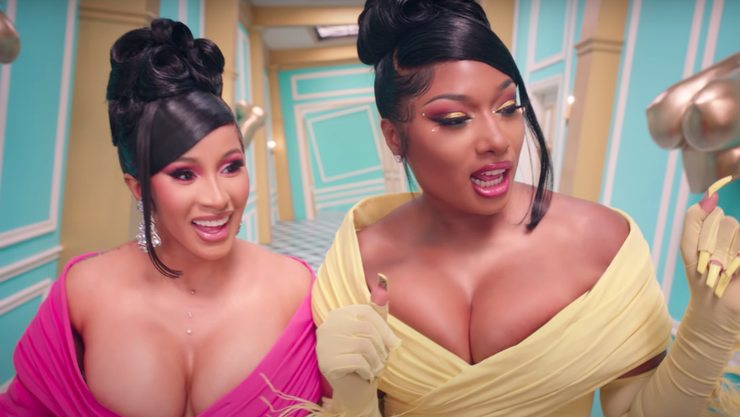 This p*ssy is unstoppable. Cardi B and Megan Thee Stallion's "WAP" kicks off Billboard's brand new Global 200 chart with another #1 debut.
While the Billboard Hot 100 offers a good look at what kind of music people are listening to in the United States, it does not show an accurate representation of what's happening in the entire world.
Much of the music industry is based in the United States but global music trends have started to take over. If ever you've found yourself wondering who the hottest artist is in a different continent or what type of music is getting the most play elsewhere on the planet, Billboard has come through with two new charts for just that.
.@iamcardib and @theestallion's #WAP is the first No. 1 on the #BillboardGlobal200. 📈

Learn more about Billboard's new global charts & see the rest of the Top 10 here: https://t.co/YTA7Y4ijIx pic.twitter.com/G5xRWCaQfh

— billboard (@billboard) September 14, 2020
The Billboard Global 200 and Billboard Global Excl. U.S. charts have officially been launched and already, they give us a good representation of what's been getting around. The first is run by Cardi B and Megan Thee Stallion's "WAP," which can officially be described as the most popular song in the world.
The global chart excluding the United States is currently being led by Maluma, with his record "Hawái."
The full charts will be made available tomorrow and will be posted every Tuesday going forward.
"As the steward of the definitive industry charts, we're thrilled to unveil our global charts which give the industry insights into the most powerful artists worldwide, what songs have an international impact, as well as what songs may start trending outside of the United States," said MRC Data and MRC Media & Info president Deanna Brown about the inception of the two new charts.
Are you surprised about the global impact of "WAP"?
For the first time, @billboard is launching two authoritative charts ranking the top songs globally.

The new weekly charts, the Billboard Global 200 and Billboard Global Excl. U.S., are based on worldwide streams and download sales.

— billboard charts (@billboardcharts) September 14, 2020
The Billboard Global 200 is inclusive of all songs worldwide, while the Billboard Global Excl. U.S. focuses on all territories outside the United States.

— billboard charts (@billboardcharts) September 14, 2020
Both charts collate sales and streaming data from more than 200 territories, with rankings based on a weighted formula incorporating official-only streams on both subscription and ad-supported tiers of leading digital platforms, and downloads from key online music retailers.

— billboard charts (@billboardcharts) September 14, 2020
.@iamcardib's "WAP," featuring @theestallion, is No. 1 on the inaugural Billboard Global 200 chart, while @maluma's "Hawai" leads the inaugural Billboard Global Excl. U.S. chart.

— billboard charts (@billboardcharts) September 14, 2020
Top 10 on the first ever Billboard Global 200 singles chart:
#1 WAP @iamcardib/@theestallion
#2 Dynamite @BTS_twt
#3 Mood @24kGoldn/@ianndior
#4 Hawái @maluma
#5 Laugh Now Cry Later @Drake/@lildurk
#6 Savage Love
#7 Blinding Lights
#8 Ice Cream
#9 ROCKSTAR
#10 Watermelon Sugar

— chart data (@chartdata) September 14, 2020
.@iamcardib and @theestallion's "WAP" is #1 on the first ever issue of the Billboard Global 200 singles chart.

— chart data (@chartdata) September 14, 2020