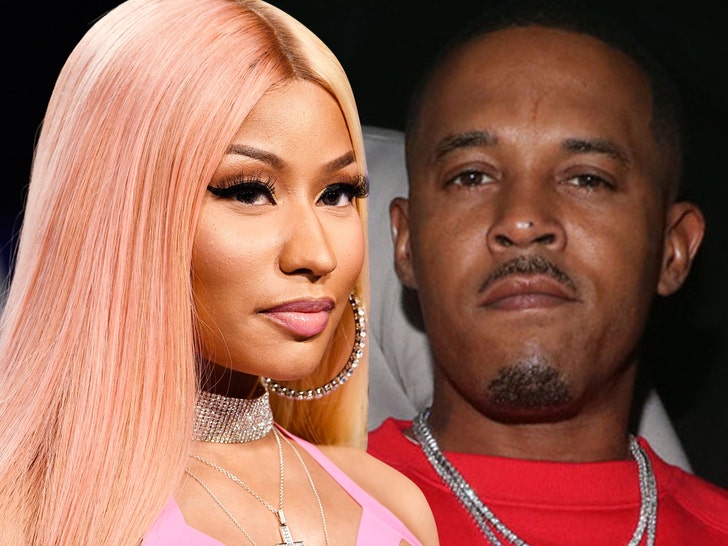 Who knew when Nicki Minaj once rapped about "being in the trap" that she'd later dive head first into the most ghetto scenario she could think of for a man.
While Nicki Minaj is currently fighting over wig appointments publicly (we'll talk about that later), she's likely just trying to distract the media from the hot ghetto mess she's dealing privately by trying to build a family with a certified criminal.
Nicki Minaj's husband Kenneth Petty, a convicted rapist, landed himself in hot water months back after he was arrested for failing to register as a sex offender. He was released shortly after on a $100,000 bail note, but he is currently awaiting trial to see if he will be forced to spend more time in prison. Petty was originally convicted in the 90s for a first degree attempted rape charge and, for the rest of his life, he needs to register as a sex offender wherever he lives. The 41-year-old had been living with his wife in the state of California for over six months before the feds caught onto his unregistered status, detaining him and forcing him into another legal battle.
Now that the couple has their own little bundle joy on the way, according to TMZ, the Petty's are looking for the judge to make some special arrangements in order for Mr Petty to even see the baby be born. Petty just submitted legal docs, obtained by TMZ, begging the judge to modify the terms of his pretrial release conditions so he can travel with Nicki periodically on business as her manager and attend the upcoming birth of their baby.
According to the docs, Kenneth wants the judge to tweak his release conditions so he can be by Nicki's side if she gives birth outside his curfew hours.Kenneth says the U.S. Attorney's Office and pretrial services office don't oppose his request, so now it's up to the judge to sign off.
What do you guys think? Should Michael Myers be allowed to see his Spawn be born?