| | |
| --- | --- |
| OH SO NONE OF Y'ALL LIKE GETTING CHOKED?: The Internet is Worried About Alexis Skyy After Video Of Trouble Gripping Her Neck Goes Viral | 17.08.19 |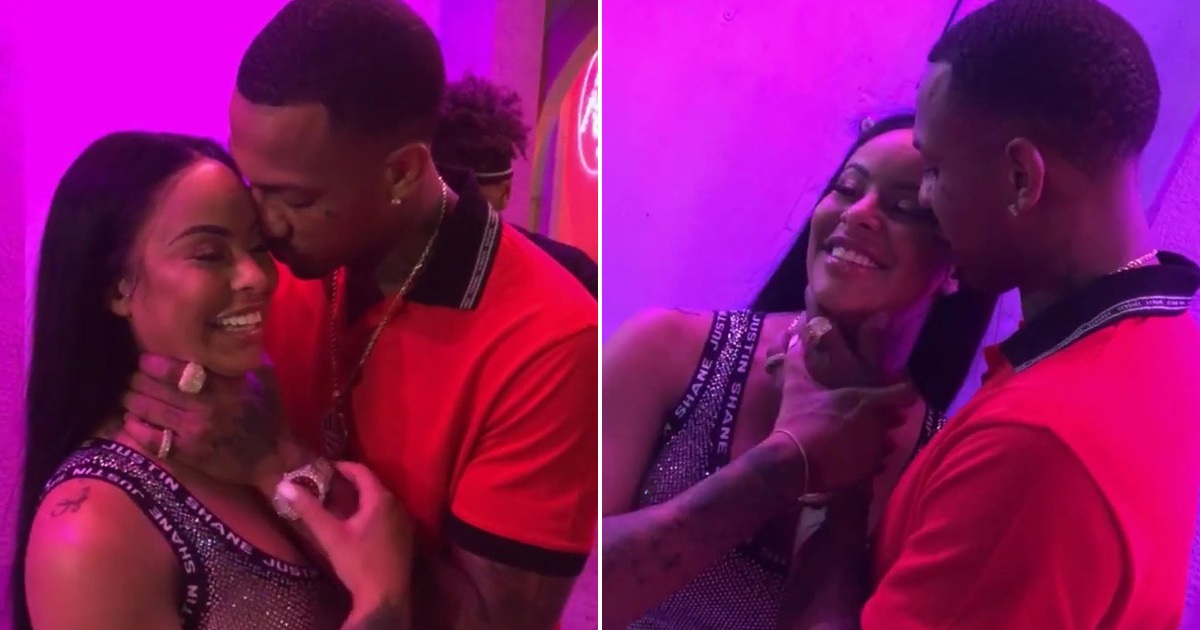 She smiled during the encounter and said she loves when he tells her what to do.
Fans are calling for Alexis Skyy to send out an S.O.S. for help if needed after a clip circulated showing her boyfriend, Trouble, holding her by the neck. The couple has been the center of social media chatter after they recently hosted a "Cucumber Challenge" party where Alexis was filmed inserting the vegetable into a woman's nether regions. People chastised Alexis for her behavior, resulting in Trouble publicly speaking up on behalf of his woman. The pair have been showing off their affection on social media, and recently a brief interaction during their vacation gave some fans a cause for concern as they believe she looked uncomfortable.
In the video, Alexis said, "I love him telling me what to do," as she's smiling while Trouble gripped her neck with one hand. At the same time, Trouble pressed his face against hers with a serious expression, always focused on Alexis as she talked to the man behind the camera. She looks happy to be with him, however, when she placed her hand on his, fans suggested she was making some type of signal. Alexis moved her head at one point in what looked to be a reposition to show Trouble affection, but he remained firm without sharing a kiss. Alexis added, "I follow what he says" and cheerfully stated, "I been his since four years ago" before the clip cuts out.
In her Instagram Story, Alexis shared that she and Trouble are currently enjoying living the good life in Miami. The couple hit up a couple of clubs on one evening and the following day Alexis relaxed poolside with her daughter before going boating with her man. Trouble responded to allegations that he was being too rough with Alexis by commenting on "Never Beat on a female in my life and never will.. I jus knock that Bottom loose as she loves me to," he wrote. "We preshate yall concern an worry though."
Peep the clip along with some of the reactions below:
#AlexisSkyy's Rapper Bae #Trouble Uncomfortably Kung Fu Grips Her Neck, Sis looks uncomfortable 😣 pic.twitter.com/VehGWqyQdo

— talksandthought (@Talksandthought) August 16, 2019
Seeing Trouble and Alexis Skyy together makes me sick to my stomach tbh

— Wardeness of the Bodega (@neecoleimani) August 16, 2019
Seems To me like #alexisskyy trying to push his arm away from her neck. 👀👀 #alexissky #lhhh #lhhnewyork #thoughts pic.twitter.com/axERf4GStW

— Queen_music08 (@QMusic08) August 17, 2019
| | |
| --- | --- |
| GIRL, WHAT?: Iggy Azalea Admits That She Actually Hates Some of Her Own Music | 17.08.19 |
She's known for some pretty big hits such as Fancy and Black Widow. 
But Iggy Azalea surprisingly revealed that she actually 'hates' a lot of her own music, especially her older tracks.  
In a recent interview with the folks over at Delish, Iggy was asked whether she has ever gotten sick of her own song. Not only did she admit that there are several cuts in her catalog that she finds regrettable, but she also revealed that some of them didn't age as well as she thought. 
"Of course I get sick of my own songs. In fact, some of them I hate. Some songs I make and then they don't age well, and like a year or two later I'm like, ugh, what was I thinking?! But people still like them! So some of the songs I decide I hate, I still have to perform because the fans want to hear them. So, yes, I have gotten sick of a song. A lot of songs."
Iggy's confession really isn't as abnormal as it may sound to some. I think all of us make decisions whether it be creatively or just in life in general that we look back on later down the line as cringe worthy. We love a relatable queen. What do you guys think?
| | |
| --- | --- |
| AND I OOP!: Rihanna Seems To Think Jay-Z Was In The Wrong For Signing NFL Deal | 17.08.19 |
Rihanna might be a Roc Nation artist but she isn't riding with the home team on this one.
Jay-Z's move to work with the NFL came as a shock to many, although after further digestion, it actually made complete sense. Whether you agree with Jay or not, we already know that he's about making big business plays which sometimes come with a bit of disruption. With Kaep still without a job, Hov caught a serious amount of flack for working with the NFL, especially since the partnership with the league is meant to enhance social justice causes. We've heard from Eric Reid, Nessa, and Jemele Hill but we've yet to hear from anyone close to Jay. However, we might have an indication of where one of his protege's stands on the matter.
A picture speaks a thousand words but in the social media era, a simple like can hold just as much weight. Social activist Shaun King went on Instagram to share his thoughts on Hov's new deal with the NFL. He essentially put Hov on blast for essentially assisting the NFL in further blackballing Kaepernick. But what occurred after the post was more revealing. Rihanna inconspicuously liked the post but it didn't take long for people to catch on. It might not necessarily indicate her feelings towards Hov's deal with the NFL, it definitely speaks towards where she stands with Kaep who she's been incredibly supportive of over the years.
| | |
| --- | --- |
| "WHO ALL GOING?" : Juicy J Announces "Three 6 Mafia Reunion Tour" With DMX, Bone Thugs-N-Harmony, La Chat & More | 17.08.19 |
After a long, long hiatus, Three 6 Mafia is apparently back in action. On Friday (August 16), the Memphis rap group's co-founder Juicy J shared an Instagram post revealing a reunion tour was about to kick off.
According to the poster, the run is called The Return Of Three 6 Mafia and features Juicy J, DJ Paul, Gangsta Boo and Crunchy Black. Special guests include Bone Thugs-n-Harmony, DMX, Project Pat, Lil Wyte and La Chat.
"THREE 6 MAFIA REUNION TOUR!" Juicy J wrote in the caption. "Tickets on sale next Friday August 23rd ."
DJ Paul has been putting pressure on Juicy J for years to make the reunion happen.
During an interview with Zane Lowe last October, Juicy J said, "I mean, I love those guys when we started something, you know? I would love to do something with those guys, man. We just need to sit down, you know, figure it out. But it's all good, no bad blood, all love. I love all those guys."
Paul caught wind of his comments and fired back on Instagram, "@juicyj Then What We Waiting For?" he asked. "Any Longer Then We'll Have To Call This Album #TheEnd Aswell Love Bro #Mafia Ya!!!! #SeniorCitizenStudios."
The full tour schedule hasn't been revealed, but the first one looks like it takes place on October 12 in Southaven, Mississippi.
| | |
| --- | --- |
| IT APPEARS HIS KIDS NEVER CROSSED HIS MIND…ANYTIME: Brian McKnight's Children Call Him Out For Being A Neglectful Father | 17.08.19 |
I guess his kids never crossed his mind…anytime.
He's responsible for some of our favorite R&B love ballads from the 1990s, and undeniably there are quite a few people who were conceived to his songs. Brian McKnight is the poster child for romance as his hits have become tunes that couples have used for their weddings and intimate moments, but the singer's children have publicly shared that his wholesome image isn't their truth.
In 1990, McKnight married his college sweetheart, Julie McKnight. The couple went on to have three children together before divorcing in 2003. In 2017 he married Dr. Leilani Malia Mendoza after being coupled up for three years. For the most part, there haven't been any public scandals involving McKnight's family as they've kept a low profile, however, yesterday McKnight's son and daughter, Brian McKnight Jr.—or BJ—and Briana McKnight, vocalized their abandonment issues on Instagram regarding the absence of their father.
BJ wrote that his father has neglected his children and grandchildren:
"I can't imagine abandoning my children man. Its hard not to imagine the psyche of a man who can truly just turn his back on his actual sons, on his actual blood,and creations. It's mind boggling to me. I don't think there is any situation that merits the way my father has chosen to treat my brother, my sisters, and his grandchildren, one of which being his first born's, first born son, who also bares our name. It's insane to me. To have absolutely no empathy for the type of life be introduced us to, only to become to resent us for that life catching up with us. It breaks my heart, but not for myself, specifically for my siblings, and my children. They don't deserve this at all, not open bit. And I'm not letting shit slide, not for one second. I've tried my best to take the high road, and be the bigger man, and all that positive shit, but there is a much bigger issue here, when it comes to black fathers, especially in entertainment that needs to be addressed. I believe there is a serious discussion that needs to be had, and A part of me truly feels like our story is the one to begin the conversation that will lead to healing a lot of young men, and woman with abandonment issues. It's time to tell our side of the story."
Briana echoed her brother's sadness by sharing that felt as if she was "second place in my father's heart":
"'Daddy's little girl' was never really a thing for me. Nobody understands what I've been through except for my siblings. Believe it or not, I'm not always the person I seem to be. I'm not always happy and most of the time I'm battling my own demons just like everyone else. I grew up thinking that the things that happened to me and my dad's relationship was my fault. I grew up thinking that he doesn't want to come to visit me because he doesn't love me. Constantly put behind other kids that he would call his own while I'm cast into a land far far away in the back of his mind. It sucks knowing that someone else, who's not even blood related to you comes before you in every single way. It sucks knowing that my phone calls have to go through a stranger I barely know, that my text messages are read without a response, and that my stepmother tells me that they 'wish the best for me'. It kills me to know that it's so hard for me and my siblings to get a word in. Not one word. At a very young age, I was always second place in my father's heart. Maybe even third, fourth, or fifth, depending on the situation. My father hasn't called to wish me a 'happy birthday' in years and yet I sit by the phone every single year hoping that one day his heart will change. I'm so fortunate that I have two brothers who are father figures to me. Who celebrate me and love me every single day and that we make up the time that we lost. The anger and the sadness that I hold in my heart every day over this is sickening. It hurts knowing that my brothers went through this at my age (and are still going through it) and that my little sister is going through this at her young age. I don't usually write things like this but I feel like enough is enough and like BJ, I want to share my side of the story. I hope that there's someone out there that has gone or is going through the same thing. Some teenage girl who deals with this shit constantly who can relate to me and tell her side of the story and know that she's not alone."
McKnight has responded and denied that he's been a bad father and suggested that some of his children's ill feelings may stem from jealousy and him not taking care of some of them financially any longer. He said that he's never missed a child support payment and has always been there for his kids. Check out his response below.
| | |
| --- | --- |
| OKURRR!: Offset's Says He's "Ridin' With" Cardi B When It Comes To Politics, All For Bernie Sanders – "I'm ridin' with my wife whatever she do!" (VIDEO) | 17.08.19 |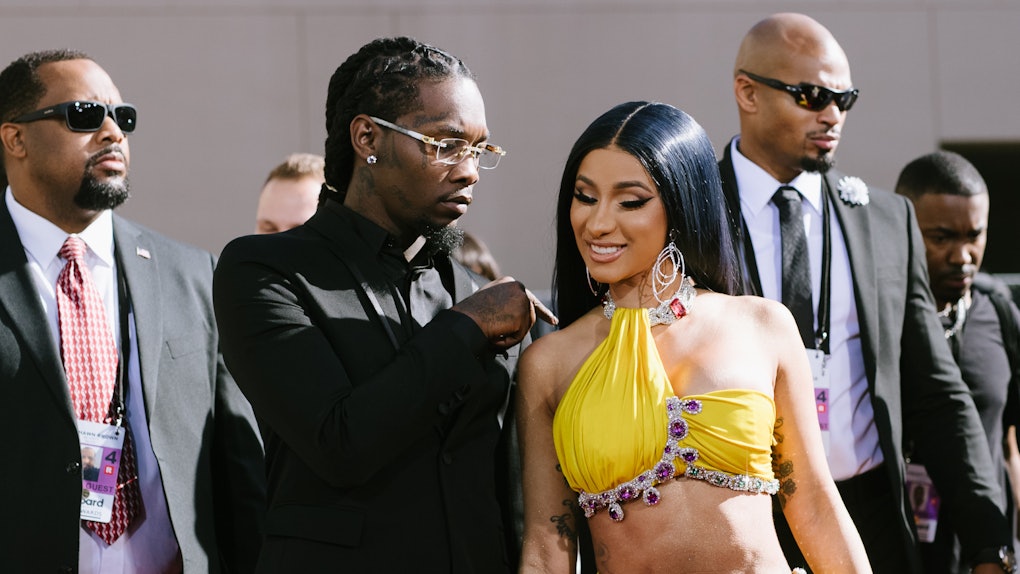 Offset is standing with his wife, period.
As we know, Cardi B is a big supporter of Bernie Sanders and all that he stands for in the current political climate. "I been reading about Bernie Sanders and I'm really sad how we let him down in 2016 This man been fighting for equal rights, HUMAN rights for such a long time. Seeing this country become a better place been really his passion for a long time not a new front for a campaign," she previously wrote. 
Since her public display of support, Cardi and Bernie have met up for a nail salon political chat where the duo had a candid conversation about the necessary changes America needs. "Every man, woman, and child has health care as a human right," Bernie said. "The current system works to make billions of dollars in profit for the insurance companies and the drug companies. That's its function."
While Cardi B is vocal about her political beliefs, her husband Offset hasn't been so vocal himself but in a recent catch up with the folks over at TMZ, the Migos rapper let it be known that he's with his wife when it comes to who he's voting for. "I'm ridin' with my wife whatever she do," he said.  Peep the clip in the video below:
OKURRR.
| | |
| --- | --- |
| HERE FOR IT OR KEEP IT?: Tommy Davidson Spills the Beans that 'The Proud Family' is Coming Back to Disney+ with New Episodes (VIDEO) | 17.08.19 |
It sounds like Disney+ is going to be a step in the right direction honoring most of our childhoods.
Former star of The Proud Family, Tommy Davidson revealed some major news about content coming to Disney's new streaming service, Disney+. Best known for his role as Oscar Proud, Davidson opened up about the possibility of The Proud Family being revived for Disney+. Davidson said, "I forgot to tell you that, The Proud Family is coming back. Proud Family's coming back."
Later, he added, "It's on one of Disney's streaming [services]. Yeah, Proud Family's coming back. They told me not to tell you. New episodes."
#TommyDavidson revealed #ProudFamily is coming back. He revealed it will be on #DisneyPlus streaming app.https://t.co/ODqHwiKN0R pic.twitter.com/3bWCZcbW1m

— WhereistheBuzz (@whereisbuzzzzzz) August 14, 2019
Unfortunately, representatives from Disney have yet to confirm Davidson's statements. If The Proud Family were to return, it would join a long list of highly anticipated series coming to Disney's streaming service. The original iteration of the series ran for 52 episodes between 2001-2005 on Disney Channel. Kyla Pratt voiced protagonist Penny Proud, a family-oriented teen who often butted heads with father Oscar and bullies The Gross Sisters when attempting to enjoy misadventures with friends Dijonay (Karen Malina White), Sticky (Orlando Brown), Zoey (Soleil Moon Frye) and "frenemy" LaCienega (Alisa Reyes).
Paula Jai Parker starred as Proud family matriarch Trudy alongside Jo Marie Payton as Henrietta "Suga Mama" Proud, the spunky poodle-owning grandmother with a crush on the Caesar Romero-inspired Papi (Alvaro Guttierez). Would you be here for a Proud Family return?
| | |
| --- | --- |
| MUGSHOT MADNESS: Boosie Badazz Hit With Two Felony Charges in Georgia After Being Caught with 11 Grams of Weed, a Gun, & THC Oil | 17.08.19 |
It all stems from an incident that happened back in April.
Yes, you read that headline right. Boosie Badazz is facing not just one, but two FELONY marijuana possession charges in Georgia, because apparently, Georgia is an awful place to get caught with drugs and guns if you're a convicted felon.
Back in April, just a week after he dropped his Badazz 3.5, Boosie was arrested in Newnan, Georgia. He was pulled over by police for allegedly coming close to hitting another vehicle, and when officers searched the car Boosie was driving, they reportedly found over $20K in cash, marijuana, a vape pen, a handgun, and suspected THC oil.
He was taken into custody on charges of possession of marijuana, possession of a schedule one drug, possession of a firearm during the commission of a crime, and failure to maintain a lane while driving. Now, TMZ reports that months later, Boosie has been hit with two felony charges related to the incident as the District Attorney has included possession of less than an ounce of marijuana and possession of a controlled substance. The gun possession charges have been dropped.
With Boosie at the time of his arrest was Antonio Allen, a former free safety for the New York Jets who reportedly was working as Boosie's security guard. Allen was also detained at the time and is facing the same two felony charges that Boosie was given. TMZ reports that if the men are convicted, they are looking at up to a year behind bars.
| | |
| --- | --- |
| IN CASE YOU MISSED IT: Former 'Disturbing the Peace' Rapper Shawnna Calls Out Nicki Minaj & Per Usual the Barbz Are On Attack (VIDEO) | 17.08.19 |
Say what you will about Nicki Minaj, but lord knows the girl knows how to stir the pot and create headlines.
Feuds involving Nicki Minaj and *insert artist name here* have been popping off all week. When she appeared on the Joe Budden podcast, Nicki made it clear that when it comes to ranking herself as one of the greats in hip-hop, she is putting herself in the top ten rappers in the game, regardless of gender.
"I definitely rate myself top 10. Dead or alive. Men and women. I don't think that there's a woman alive seeing me. I don't give a fuck what nobody say," Nicki said. Well, that part about rapping fast offended the sensibilities of one female rapper who most of us thought we left behind in the 2000s. If your first thought was Da Brat, you're incorrect. It's actually Ludacris' one-time protégé, Shawnna.
Somehow, someway, Shawnna decided it was time she took this opportunity to state plainly that she'd love to beef with Nicki on wax.
"I saw an interview from a female artist the other day and since she didn't say no names, I ain't gon' say no names," said Shawnna. "When we get ready to say names, then we gon' pick the beat and we gon' hit the booth. No ghost writers, you feel what I'm sayin'?" At some point, Ludacris showed his support for Shawnna in the comments, which per usual has caused Nicki's clan of fans to attack both the rapper and his former protégé. Take a look at the video as well as some of the reactions below. Do you think Shawnna would be a challenge for Nicki in the booth?
When @NICKIMINAJ heard that Shawnna was trying to throw jabs pic.twitter.com/yujcpyq5Qv

— 50/50innertainment (@5050RecordLabel) August 16, 2019
who's gonna tel Shawnna that nobody is checking for her. She ain't cross nobody's mind in years. Can't sell records so they use Nicki's name for clout.

— nicki/bangtan outsold (@minajoonie) August 16, 2019
Whilst everyone else was saying it was Tierra Whack shade… think Shawnna used that comment as leverage to be ya know…. relevant..for once in her life.

— T. M. J. (@iamtylerj_) August 16, 2019
| | |
| --- | --- |
| SAY WHAT NOW?: DJ Envy Suffers Wrath Of The Internet Following Yung Miami Shooting Question – "What Was More Shocking Her Being Pregnant or Her Car Getting Shot Up?" | 17.08.19 |
The public was appalled.
Sometimes moments occur during interviews that give viewers pause, and earlier today, The Breakfast Club's DJ Envy provided that moment. Quality Control Music founders Pierre "Pee" Thomas and Kevin "Coach K" Lee made their way to Hot 97's morning radio show to talk all things QCM in support of the label's recent release, Control the Streets, Volume 2. While there, the label heads discussed a myriad of subjects including the recent shooting involving City Girls' Yung Miami.
Last week, Yung Miami, real name Caresha Brownlee, was leaving a recording studio in Miami when an unknown assailant opened fire on her vehicle. Although her G-Wagon took multiple hits, the pregnant rapper was left unharmed. During Pee's interview with The Breakfast Club, he discussed what it was like to receive the frightening news of the shooting. Envy jumped in and asked, "What was more of a shock? When her car got shot or her being pregnant?" There's a brief awkward pause as Pee and Coach K seemed dumbfounded by the question. Envy answers his own inquiry and said, "It had to be her being pregnant."
"Nah, when her car got shot up," Pee replied. "That's scary." Envy attempted to recover the moment and continue the conversation, but the internet was not kind after the clip of the interview circulated, prompting Envy's co-host, Charlamagne Tha God, to slide in the comments to say, "I have no idea why @djenvy talks." Check just a handful of Twitter responses from the thousands of social media reactions to Envy's question below.
Bruh I know DJ Envy did not ask this man P what was more shocking between Yung Miami car being shot up or her being pregnant? like in what world is a pregnancy more shocking than her car being shot at. pic.twitter.com/yTCxfiQZGu

— Rah. (@thatguydream) August 16, 2019
I'm gonna have to call on Monday to get it off my chest and read the fuck out of DJ Envy

— real hot mom shit ⚜️ (@_BriaPlease) August 16, 2019
Dj envy dumbass : "what was more of a shock , yung Miami car getting shot up or her being pregnant?"

Coach and P: pic.twitter.com/lrTatOLb2w

— Tim Duncan's Barber (@neekoAintshyt) August 16, 2019
Nigga dj envy asked which one is more shocking? A pregnant woman car gettin shot up or her being pregnant? Wtf do you think dweeb 🤦🏽‍♂️

— Omari (@almiightyo) August 16, 2019
DJ Envy is a different type of trash bag. https://t.co/xwaNx14L9A

— The Mistah Marvel (@MistahMarvel) August 16, 2019
Dj envy is a piece of shit. He deadass asked P what was more shocking yung Miami telling u she was pregnant or her car getting shot up……are u serious dude

— brittany atkins (@Brizz_Atkins) August 16, 2019
| | |
| --- | --- |
| ONE STEP AT A TIME: Jay-Z Is Reportedly Going To Be Part Owner Of An NFL Team | 17.08.19 |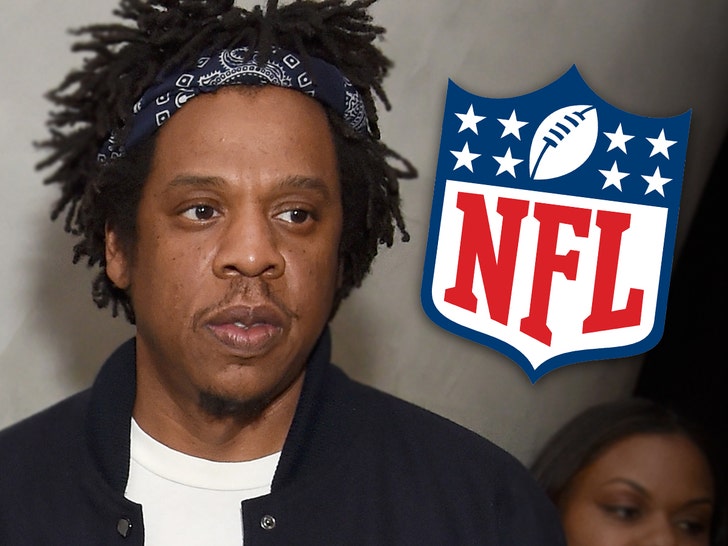 Jay's move to the NFL was much bigger than the entertainment part.
Jay-Z stirred the pot up quite a bit this week when Roc Nation announced their new partnership with the NFL. The move's been called hypocritical especially since he's been so supportive of the Colin Kaepernick. After the partnership between Roc Nation and the NFL was announced, Kaep's girlfriend, Nessa Nitty, Eric Reid, and Jemele Hill were among the many to call out Hov. However, it seems like Jay's involvement in the NFL is much deeper than simply Roc Nation's involvement in the entertainment and social justice sector.
Apparently, we didn't know all the details surrounding Jay's involvement in the NFL. According to TMZ, the rapper is now set to become a part-owner of an NFL team. Which one? It hasn't been revealed yet but sources claim that "it is going to happen in the near future." Jay previously had stakes in the Brooklyn Nets, which he's sold, so owning a sports team isn't foreign to him.
But Hov's reason to be a part-owner aligns with why he said he agreed to partner with the NFL. It's "because he's a huge fan, already has a sports business and wants to continue to be a change agent for the NFL." Some people might have to see it to believe it.
The reason he sold his stakes in the Brooklyn Nets was that he had the Roc Nation sports agency and the NBA rules state that in order to have a sports agency, one must not have a stake in a team. The NFL seems to work on the same set of rules but a source close to the tabloid publication said that "Jay is not an NFL agent and does not take part in the operations of the NFL players in Roc Nation."
There will definitely be a lot of conversation surrounding this move if it is true. He's already faced a ton of backlash for partnering with them. 
| | |
| --- | --- |
| IT'S ABOUT DAMN TIME: Quality Control's P Speaks On City Girl JT's Prison Sentence; Confirms She Should Be Free Next Month! (VIDEO) | 16.08.19 |
Might we get a City Girls album by year's end?
Quality Control has been keeping their presence felt, most recently culminating in their compilatory Control The Streets: Volume 2. With features from Migos, Lil Baby, City Girls, Lil Yachty, DaBaby, and many more, the label clearly has no intention on slowing their breakneck pace – even if it means breaking the inherent promise of their namesake. While some feel as if the QC brand has diluted of late, others welcome the prolific drop rate. And look for it to get even more hectic upon JT's release, and the City Girls reunion transpires in full.
Today, QC CEOs Coach K and P sat down with Rosenberg, Laura, and Ebro to discuss a variety of topics. Eventually, conversation turned to the incarcerated JT; though Yung Miami has been holding it down accordingly, the City Girls haven't quite felt the same since she's been gone. Luckily, P confirms that she'll be right back to work the moment she touches down. "When JT come home she going to the halfway house," confirms P, around the 34-minute mark. "But the great thing about the halfway house is they let you go on work release, so soon as she's out she's gonna be locked in the studio working," explains P, providing a silver lining to the situation.
"Hopefully she'll be out next month," he suggests. "In a few weeks if everything go how it's supposed to go." As for now, JT is currently serving a bid for felony identity theft charges. Look for that to come to an end within the next couple of months, should all go according to plan.