| | |
| --- | --- |
| FACTS OR REACHING?: The Internet is Accusing Ariana Grande of "Black Face" for Tanned Skin; Says She's Speaking with a "Blaccent" | 06.12.18 |
Ariana goes ham at the tanning salon but… blackface?
Ariana Grande has risen above a bunch of obstacles to deliver some memorable music in a year that she likely wishes to forget. The singer went through a breakup with her fiance and lost her ex-boyfriend Mac Miller all in the same year. If that wasn't enough, she's still recovering from the aftermath of the Manchester bombings, a terrorist attack that targeted one of her shows. Ariana just released the video for "thank u, next" and it broke YouTube records as one of the most-viewed music videos of all time in its debut. As it continues to rack up streams, Grande's naysayers have begun to make claims against the pop star, accusing her of appropriating black culture in her interviews and image.
Some people on Twitter are going against the singer for her overly-tanned look, saying that Ariana is on the verge of blackface at times. While she definitely goes hard at the tanning salon, she's certainly not wearing blackface… "Y'all joked about Ariana being 'black' too hard now she's over-tanning and has a blaccent," wrote one user. The "blaccent" is in reference to a specific interview she did with Billboard, looking back on childhood photos and speaking in a sassy tone.
Of course, her fans have come to her defence throughout the slander. Which side do you stand on or are you neutral? Check out some of the reactions below:
Her accent. I'm sorry but she's been coming off as so fake lately I'm DONE 💀pic.twitter.com/6EoC0w8paA

— jeremy (@gagasbaristaa) December 5, 2018
Holy crap. Ariana grande goes hard with the tanning lotion. pic.twitter.com/aVg2b0rzAW

— Cassandra Fairbanks ❤️⏳ (@CassandraRules) December 5, 2018
Y'all joked about Ariana being "black" too hard now she's over-tanning and has a blaccent pic.twitter.com/krAtUGW3F3

— 🌾 (@bIueberryswamp) December 6, 2018
the "ariana grande is doing blackface/blackfishing!!!" is so fake woke and takes up space in discussions where colorism and blackface actually need to be addressed. also i been peeped that none of the ppl complaining are even black so stay in ur lanes!!!

— t'challa's wife (@_mayapls) December 4, 2018
y'all ended iggy azalea because of her blaccent but are silent about ariana grande now pic.twitter.com/PW9k9wW84s

— bradley (@FAMEFAGS) December 6, 2018
critiquing ariana for literally having a blaccent isn't "hating", it's me as a black person recognizing yet another non-black person perpetuating an anti-black action, regardless of how "small" it might have been

— mig bood (@art_397) December 6, 2018
| | |
| --- | --- |
| NICKI, DO YOU LOVE ME?: The Internet Somehow Noticed that Nicki Minaj & Drake Unfollowed One Another On Instagram | 06.12.18 |
Someone who possibly has a little more time on their hands than the rest of us has discovered that Nicki Minaj and Drake are no longer following each other on Instagram. The two came up in the game together in Young Money, and are the two most successful Lil Wayne signees. After exploding onto the scene in 2009-2009, Nicki and Drake both reached the pinnacle of pop fame in record time. While Drake was boasting accolades such as collaborating with Eminem and Jay-Z during the early stages of his career, Minaj was blessed with a judges chair on American Idol. As their fame grew, it seemed like Nicki and Drake were drifting apart. On "Tuscan Leather" Drake infamously rapped, "Not even talkin' to Nicki, communication is breaking."
Now, it appears the two have stopped following each other. Speculative fans belive it may have something to do with the fact Drake and Meek Mill have made up. The two friends turned enemies, turned friends again, pushed their beef aside and collaborated for the song "Going Bad." Cardi B is also featured on Meek's new album, which many believe didn't go over well with Nicki. Do you think Nicki and Drake had a falling out because of Meek? Or is their apparent unfollowing of each other just an oversight on both their parts? The latter seems unlikely.
What do you guys think?
Nicki Minaj looking at Drake and Cardi on Meek album pic.twitter.com/6jjmSJ9ljC

— 💉DOPEFLYY🎒🛩 (@LILTMONEY215) November 30, 2018
| | |
| --- | --- |
| AWW, WAIT A MINUTE!: Princess Love Says She & Ray J Want Baby #2 But Ray J Hasn't Been Able to Get it Up – "He's Been Limp Lately" (VIDEO) | 06.12.18 |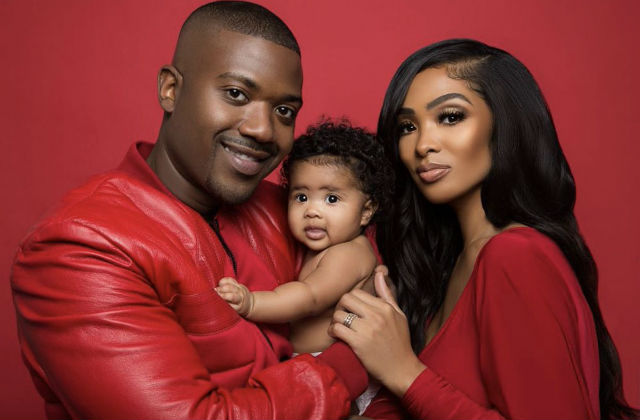 Ray J and Princess Love are most certainly enjoying their beautiful 7-month-old baby girl, and mom is ready to have another. However, Love says her husband's, ahem, situation isn't rising to the occasion as it should.
The happy couple sat down with our Raquel Harper for the latest episode of BET's "Raq Rants," and proudly showed off their nearly 7-month-old daughter, Melody. As cute as she is, it sounds like mom and dad are already making plans for baby #2!
There's just one problem … according to Princess, anyway. She says Ray hasn't been able to get up to bat in the bedroom lately. He disputes that, saying he's always ready … but Princess is sticking to her guns here. You decide who to believe.
Ouch. Let's see how this will play out on Love & Hip Hop Hollywood.
Let's hope for Ray J's sake that if he is having some issues with his plumbing that he gets that checked out sooner than later considering he's approaching his 38th birthday early next month.
Yo Ray, hit up your local gas station and cop those pills or, better yet, holler at your doctor and get the blue joints. No shots, fam. Peep the clip of the interview below:
| | |
| --- | --- |
| I KNOW YOU LYING: "Surviving R. Kelly" Premiere Evacuated Due To Gun Threats | 05.12.18 |
Executive producer, Dream hampton, calls the threats an act of "desperation."
The premiere Surviving R. Kelly docuseries premiere began at 7 pm at NeueHouse Madison Square on Tuesday evening. Attendees and participants were evacuated following threats against the venue. Anonymous calls threatened the event organizers with the alleged presence of gunmen 15 minutes before the 8 pm panel discussion. Police have traced the anonymous tips back to Chicago.
A statement released by the Lifetime network confirmed the reason for the cancelation: "At tonight's premiere of Lifetime's documentary series Surviving R. Kelly at NeueHouse Madison Square, several anonymous threats were called in. As a precaution, the network elected to evacuate the building. The safety and security of our panel, guests and staff is of paramount importance to Lifetime."
Multiple women featured in the production were invited to take part in the panel discussion, including Lisa Van Allen, Asante McGee, Lizzette Martinez, Kitti Jones, and Jerhonda Pace.
Dream hampton, the series' executive producer, address her disappointment via Twitter: "Tonight re-traumatized the survivors who were brave enough to sit with me and share their stories and who were at the screening. They've received SO MUCH hate for coming forward. Trust, there's no payday for them…"
She also gave a commented on the anonymous caller's actions to CNN via email: "Calling in a noncredible threat to the NYPD to interrupt our screening IS an act of desperation from people who don't want these truths shared with the world.
| | |
| --- | --- |
| NOT SO FAST!: 2019 Grammy Nominations Postponed For George H.W. Bush Memorial | 05.12.18 |
The 2019 Grammy Nominations will now be arriving on Friday morning.
The 2019 Grammy Award nominations were set to arrive this morning, but they have been postponed in honor of the recently deceased George HW Bush's memorial service. Bush passed away at 94, and continues to be mourned by those of all political alignments. Speaking of politics, one has to wonder how the Grammy nominations will indeed shake out; we should likely expect the obvious, in that hip-hop projects will be recognized, but not rewarded, as is the Grammy way.
It should be noted that many prominent artists have turned their backs on the Grammy Awards in recent memory, including a recent public disavowal from Eminem. During his detailed interview with Sway, Em lashed out at the Grammys, stating "Don't get us all here to use your selling point for your fucking show and stiff everybody every fuckin' time. And I said after that point of time I was like 'don't ever ask me to fucking come here again. Please do not ask me, my answer is no.'" Perhaps the committee will get the memo, and abstain from nominating Kamikaze at all.
In truth, we all know the Grammys are quick to nominate hip-hop albums, but not so quick to crown them as the winner. Lest we forget that OutKast's Speakerboxxx/The Love Below was the last rap album to take home the prize, and that was in 2003. If a change is really going to come, you'd think it would have transpired by now.
Either way, the nominations are set to air on Friday's "CBS This Morning" at 8:30 EST.
| | |
| --- | --- |
| SAY IT AIN'T SO: Cardi B Announces She's Called It Quits With Offset – "We Grew Out Of Love" (VIDEO) | 05.12.18 |
Cardi says she will always love Offset.
Cardi B and Offset have called it quits. When the "Bodak Yellow" rapper posted a shocking video on Instagram Tuesday night, I think we all were in hopes that she was just trolling. With her camera on selfie mode, Cardi explains that she and Offset have been on the rocks for awhile, and they are getting a divorce. She sounds calm and at peace with her decision, which is why it felt like a troll at first. The more probable answer is that she and Offset have handled things in a mature way and are keeping things civil.
So everybody been bugging me and everything," begins Cardi in the video. "I been tryna work things out with my baby father for a hot minute now. And we're really good friends, and you know, we're really good business partners. He's always somebody that, I run to, to talk to and we got a lot of love for each other. But things just haven't been working out between us for a long time, and it's nobody's fault. I guess we just grew out of love. But, we're not together anymore. I don't know, it might take time to get a divorce, and I'm always gonna have a lot of love for him because he is my daughter's father… and yeah."
Is this really the end for Cardi and Offset? While the two are certainly one of the public's favorite couples, if so, it's definitely nice to see things handled in a mature manner, especially with the messy and dramatic ways we see most high profile relationships end. Stay tuned for more on the story as it comes in. What do you guys think?
| | |
| --- | --- |
| SAY WHAT NOW?: Future Says He Sacrificed "True Love" To Live A Lifestyle He "Could Never Imagine" | 05.12.18 |
Future is still on his "YOLO" vibes.
As Future prepares his next musical project, he's been embroiled in a severe case of baby mama drama for the last little while. The situation was so complicated that Wendy Williams even made a chart to clear up who he's fathered children with. After some back-and-forth between the TV host and Future, the artist decided to put a focus on his art again, saying that he can't argue with her because her feet are bigger than his. Seriously… that was grounds for the dismissal of the beef. Pluto has been fairly silent since then but he spoke on his lavish lifestyle in a recent social media post, saying that he sacrificed true love in order to get where he's at.
For Britni, Joie, and all the others, Future enjoyed his time with you but he's got to be on his YOLO shit all the time. "Sacrifice true love to live a lifestyle I could never imagine… u only live once," wrote the rapper. With all the relationship drama that has been made public in his life, it's unclear who he had "true love" with. It could be any of the six alleged women he's fathered babies with or somebody else altogether.
At least Fewtch is happy living his life because he's got a whole lot of critics bashing him as of late.
| | |
| --- | --- |
| IN CASE YOU MISSED IT: Eva Marcille Also Claps Back At Winnie Harlow For Not Giving "America's Next Top Model" Credit For Her Success – "Wiz Khalifa Knows Her Because of Top Model" (VIDEO) | 04.12.18 |
Former "ANTM" contestant Eva Marcille has a few words.
A few weeks back, Winnie Harlow paid a visit to Watch What Happens Live and discussed her come up as an international model. The Toronto-born beauty was on America's Next Top Model but according to her, it didn't launch her career. "I really started after the show, 'cause that really didn't do anything for my career…which, it doesn't do anything for any model's career, realistically," she said.
The creator of the show, Tyra Banks, humbly responded saying that she was the one who discovered her on Instagram and despite "the ones that act out" all former contestants are her babies.
Another ANTM beauty, who recognizes the show for her success in the industry has now spoken out, seemingly shaking her head at Winnie for not paying proper respects to where she came from. Third season contestant Eva Marcille caught up with Andy Cohen and shared some real thoughts on the matter.
"It amazes me that people get opportunities and they totally forget who gave them these opportunities," she said, as seen in the clip below. "Let's be clear – the world knows her, Drake knows her, Wiz Khalifa knows her because of Top Model."
Let us know what you guys think in the comments, as we know Wiz and Winnie have been boo'd up for some time now. Wonder if she'll respond to Eva's comments…
| | |
| --- | --- |
| ISSA BOP OR ISSA FLOP?: Tiffany Foxx Aims to Prove She's a Force to Be Reckoned With in New Video "Apocalypse" (VIDEO) | 04.12.18 |
Fans of Tiffany Foxx have been craving new music for quite a while and now the St. Louis-bred female rapper is giving them more than friendly helping with the release of her latest mixtape "Bad Bitch Commandments."
"It's basically a checklist of what to do, being a woman and getting your bag (money), not settling, knowing your value and making everybody around you understand your value," Foxx said of the album. "It's time for women to be a little selfish. It's natural for women to give while everyone else takes. It's time for us to take."
Foxx definitely exemplifies every bit of what she described in the first visual to be lifted from the project, "Apocalypse." The Maleficent inspires video sees Tiffany roaming through a misty forest as she spits fiery verses at the camera. It's easy to see why Foxx chose "Apocalypse" as the introductary track to the project as it immediately sucks you in and grabs your attention, with every hard hitting line.
Take a listen to 'Apocalypse' below and let us know what you think. ISSA BOP OR ISSA FLOP? Bad Bitch Commandements in available now via all streaming and music buying platforms.
| | |
| --- | --- |
| YIKES!: Swae Lee's Girlfriend Leaks His Phone Number to Social Media – "Don't Come To My House!" | 04.12.18 |
Swae Lee and Marliesia Ortiz have a complicated history.
In the last year, Swae Lee and Marliesia Ortiz have broken up and gotten back together a handful of times. Each instance has been as dramatic as the last. Ortiz enjoys airing out her personal drama online for the world to see, which can pose an issue since she's dating a celebrity. In the past, Marlie has accused Swae of domestic violence, cheating, and a slew of other things. At the end of the day, the two always seem to end up back together. Maybe that says something about the love they share for one another… or they might just be young and dumb. In the latest dramatic happening between the couple, Swae's girlfriend leaked his phone number online and asked people to hit him up to let him know "how fucked up he has [her.]"
Not the most mature approach but we're sure it was effective. At the very least, the Rae Sremmurd member will need to get a new number now. She wrote, "And don't come to my house I moved the keys , if you come to my house imma hit you in your shit and bust the windows out your car you weirdo ass n***a." So… I guess they've broken up again?
The post has since been deleted and for Swae's privacy, the phone number was written over.
| | |
| --- | --- |
| DAMN GINA!: Tisha Campbell's Estranged Husband Duane Martin Allegedly Used Money Will & Jada Smith Gave Him for a Bankruptcy Scam | 04.12.18 |
Smith is said to have given them a loan of $1.4 million.
Will Smith and Jada Pinkett Smith helped their longtime friends with a hefty loan which was subsequently used in a fraudulent manner. Tisha Campbell, who is most known for her television role on Martin, filed for Chapter 7 bankruptcy with her husband in January 2016. She and Duane Martin owed $65,000 in real estate and $258,000 in personal property, their debts totally approximately $15.1 million. According to legal documents, Martin is believed to have hidden money for years from several sources. He kept the income streaming in from a clothing store and real estate investments without disclosing the information to the bankruptcy officials.
Martin's scam started to crumble when Campbell filed for divorce in February. Officials discovered the "diverted valuable assets," including the $1.4 million loan received from Will and Jada. The loan was used through the Smiths' company to flip real estate "with the intention of pocketing the sales." The money is now caught in a shady financial situation that will likely lead to criminal charges, though the Smiths are not considered suspects.
Bankruptcy officials are now asking the court to revoke the discharge of debt granted to Duane in his bankruptcy case. They are also asking the actor to give in the money he has been concealing.
Campbell has asked the court to demand more money from Martin during their divorce proceedings in June, claiming the man had hidden money during their marriage. Sources say that Campbell tried to convince her husband to come clean to "avoid jail and be there for their two children."
| | |
| --- | --- |
| SOUNDS ABOUT RIGHT: Drake & Cardi B Awarded With Huge Honors On Apple Music's "Best Of 2018" | 04.12.18 |
Drake was named 2018's "Artist of the Year" while Cardi B enjoys the top song.
This year has been sensational in terms of the quantity of music we've received. We were introduced to a few up-and-coming artists with plenty of potential, granted with works from classic superstars, and received much more as each week brought us new music to check out. We've started to roll out our own year-end lists, detailing some of the best albums and songs of the year, as chosen by our editors. Apple Music is one of the most popular streaming services and with their data, they shared their own lists to celebrate the incredible year we witnessed in music.
Some of their picks are pretty obvious, awarding Drake with the "Artist of the Year" title. This year's "Song of the Year" was given to Cardi B for her "I Like It" collaboration with Bad Bunny and J Balvin, despite "God's Plan" topping their Top 100 Global Songs chart. When it comes to the "Album of the Year," that honor was given to country singer Kacey Musgraves.
With the number of talented artists that made their way into our playlists this year, Juice WRLD managed to nab the "Breakout Artist" award, which is much deserved. An Apple Music "Best of 2018" list wouldn't be complete without celebrating all the tracks that we bumped throughout the last twelve months. Their "Top 100 Global Songs" chart includes appearances by XXXTentacion, Post Malone, BlocBoy JB, Offset, Drake, and more in the Top 10.