| | |
| --- | --- |
| I KNOW YOU LYING: Katt Williams Claims He Was Held At Gun Point For Trash Talking Radio Host | 17.09.18 |
Katt Williams' recent radio interview is coming back to haunt him.
Last week Katt Williams paid a visit to V-103's Frank and Wanda radio show where his lengthy interview heard him trashing talking Kevin Hart, Tiffany Haddish and at one point he even went in on the host Wanda, mocking her weight, hair and cooking skills. Tiffany and Kevin have already responded to Katt's savage remarks, and now Wendy's husband reportedly has too but in a more aggressive manner.
According to TMZ, Katt was at Atlanta Comedy Theater on Saturday night where Wanda hosts a weekly event. This particular weekend, Wanda's husband Lamorris Sellers was in the building and approached Katt and they had a verbal altercation. Katt told a security guard that he ran to the grocery store next door after Lamorris pulled a gun and pointed it in Katt's face.
When police arrived, Lamorris admitted to having a gun but claimed he never pulled it on Katt. Apparently, his gun fell out of his waistband when he was chasing Katt to the grocery store and video surveillance shows the two in the store, but no gun was in sight. The publication says there was no witness on hand and Katt does not want to move forward with charges.
Check out the roasting of Wanda below.
| | |
| --- | --- |
| BOW WOW CHALLENGE MAYBE?: Jermaine Dupri Denies Bow Wow's Drug Addiction & Their Closeness: "It Ain't Like That" (VIDEO) | 17.09.18 |
"He been doing that crazy stuff to me…"
Jermaine Dupri was welcome on The Breakfast Club, along with the members of Xscape, to promote his label's anniversary tour. During the conversation, another one of his artists came up. The baby of the SoSo Def family, Bow Wow, has been causing some commotion on social media.
DJ Envy was the one to bring up the young rapper's antics. He then qualified his relationship to Dupri as being his "son/little brother/artist."
"It's just what y'all see. It's not like…it' ain't really like that. It's just what people see."
Jermaine also clarified that the reason why he has yet to comment on any of Bow Bow's social media meltdowns is that he isn't making an effort to stay in the virtual loop.
"I don't even be following Bow Wow by the way so…"
He asserts that there is no point in him following the artist. He came off as jaded when Angela Yee asked him if he blocked his protege.
"Why? for what? How long have I been dealing with this? This been every day of my life since he was 12 years old. Bow Wow's been the same […] He been doing that crazy stuff to me…"
The label exec also acted surprised when the hosts told him that the Like Mike star had revealed his drug addiction to lean. He simply replied, "Really?"
Later, he does reassert himself as an important part of Bow's life. In the process, he denies the young man's involvement with drugs.
"You ain't seen him going to jail. You ain't seen Bow Wow with no drug addiction. He telling y'all that, y'all ain't seen that sh*t. That's not realistic to me […] I have never seen Bow Wow do no drugs around me."
| | |
| --- | --- |
| TUNED IN OR TUNED OUT?: Remy Ma & Papoose To Star In VH1 Reality Series "Meet The Mackies" | 17.09.18 |
Remy & Papoose are inviting fans into their homes once again.
Remy Ma and Papoose are taking a break from Love & Hip Hop to give fans a more personal look at their home life with their own VH1 reality show, Remy & Papoose: Meet The Mackies. Page Six exclusively reveals the news, detailing the series as a three-week-long show centered around the couples blended family and their preparation for their first child.
"Our kids want a whole lot of shit and we get most of it 'cause he's a sucker," Remy said pointing at Papoose, in an exclusive sneak peek of the show. "Remy is being too hard trying to rush the kids out the house," Papoose replied. "I just don't want to send them to the outside world prematurely."
Remy, born Reminisce Smith, and Papoose, born Shamele Mackie, have been together for 13 years and have been married for 10 of them. The show premieres on Monday, October 1st at 9 PM ET/PT.
"I've been eating right, working out, and preparing for this for almost a year. We are so happy; thank you to everyone that prayed for us and sent blessings our way," Remy said when she announced her pregnancy. Will you be tuned in?
| | |
| --- | --- |
| AS IF IT REALLY MATTERS: SZA's Latest Photos Have the Internet Convinced She's Gotten Plastic Surgery | 17.09.18 |
People believe that SZA has gone under the knife.
Kehlani isn't the only person to be facing plastic surgery rumors, it seems. While people can modify their bodies to whatever extent they please until they're happy, fans of Kehlani and SZA are critiquing them for respectively changing their looks. Lani simply responded to the talk by saying that she looks "different because [she's] happy," but now SZA is being brought up in similar conversations. The TDE performer recently received a "Song of Hope" award and while on the red carpet, fans noticed that the bridge of her nose was suspiciously thinner than before. While the wonders of makeup could be at fault, people are convinced she's gone under the knife.
There's absolutely nothing wrong about plastic surgery but a number of her biggest supporters are angry that the star "ruined her face." If you compare two photos of the songstress side by side, she definitely looks a little different and whether or not it can be attributed to makeup, surgery, or just natural changes, fans seem to miss the old SZA. "Yeah something up wit that face," wrote one commenter while another was a little more direct, saying, "Yo Nose Job Look DUMB AS HELL U RUINED YOUR DAMN FACE."
Whether or not she went under the knife, it's really nobody's business. If she thinks she looks better this way, all the more power to her.
| | |
| --- | --- |
| THE QUEEN'S HOMECOMING: Beyoncé Returns To Her Hometown of Houston TX, As "On The Run II" Tour Nears It's Conclusion | 17.09.18 |
"I put it down for the 713."
With only 8 shows remaining, the end of the On The Run II tour is quickly approaching. In their latest tour stop, Beyoncé and Jay Z stopped by Beyoncé 's hometown of Houston, Texas. Ever the proud Hustonian, Beyonce took the 'gram to post a quick video reminding her followers that she was ready to represent her city, captioning the post "8 more shows. H-Town round 2. I put it down for the (713)."
Fans of the artist might know that she grew up in one of six historic wards in the city, the Third Ward. Over the course of its development, the Third Ward became a central part of Houston's African-American community. Beyonce's childhood home is often visited by Houston natives and visitors alike, each hoping to get a glimpse at how Bey spent the first few years of her life. The current owner of the home, a woman named Roslyn Bazzelle Mitchel told Fox26 that her family often gets visitors at all times of the day, even getting inquiries about whether the home is a museum.
Mitchel had the opportunity to meet Beyonce at a charity function in Los Angeles earlier this year and shared in an endearing conversation with the musician. "I said, 'Hi Beyonce i'm Roslyn, and I live in your childhood home on Parkwood. She turned around, and she said, 'Oh my goodness i have always wanted to ring the doorbell. My sister told me she came by and there's a nice black family who lived in the house, so we are really happy about that.'"
Have a look at some of the posts below to see Beyonce's return to her hometown.
| | |
| --- | --- |
| SAY WHAT NOW?: Lil Mama Slams "New Generation" Of Female Rappers – "I Will Never Understand Such Insecure Prostitue Peasant Way of Thinking" | 17.09.18 |
She acknowledges the double standard of her statement.
Lil Mama has been somewhat low-key after falling off post-VMA debacle in 2009. She's been making moves as an independent artist, venturing into other artforms like acting. The rapper still has an eye on the rap game and has sniffed out something that displeases her: that "hoe mentality" many artists are promoting.
Although Lil Mama doesn't name any names in her quick rant, fans can probably piece together who inspired her Instagram story based on its content.
"Why is this new generation of woman in hip hop music infatuated with the idea of being attractive to, being able to sleep with or get with or money from other woman's man. I will never understand such a insecure prostitution peasent way of thinking. I don't care how many records it sells its weird ASF."
At the end of her post, the New York native clarifies that her intention isn't to blast any particular person. She simply wants to underline a concept she finds unsettling.
"And this is not a shot at anyone. It's just what I feel…double standard, I know. Blah Blah Blah."
Considering Mama grew up on musical influences like Lauryn Hill and Mc Lyte, there is no wonder the attitude of some rising stars shocks her. Check out what she had to say below:
Who do y'all think fits Lil Mama's rant?
| | |
| --- | --- |
| RUN ME MY MONEY?: Waka Flocka Flame Reportedly Owes Over $55K In Taxes | 17.09.18 |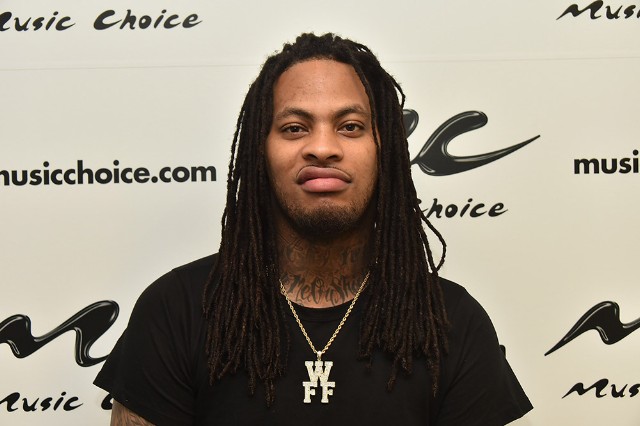 Waka Flocka owes Georgia some coins.
The state of Georgia is coming for Waka Flocka since the "No Hands" rapper reportedly owes over $55,000 in taxes to the state of Georgia. The Blast reports that the Georgia Department of Revenue has hit Waka with a State Tax Lien over the unpaid debt from 2012. The original amount was $27,000, but due to collected penalties and interest, the exact amount is said to be $55,241.35.
According to the publication if Waka (born Juaquin Malphurs) doesn't pay up soon the state will start coming for his assets.
Earlier in the summer, Waka purchased a brand new mansion for his wife Tammy Rivera and children to all reside in. "Home sweet home for the next 30 or more years!!! I'm moving out this town house( y'all remember when I moved on the show) lol we are selling our other home and this is our new start! Not too big not too small just perfect!" Tammy said of the big news.
Hopefully Waka gets his tax debt sorted out so he won't have the state coming for his lovely home.
| | |
| --- | --- |
| HERE FOR IT OR KEEP IT?: Meek Mill Is Working On A Powerful Colin Kaepernick Anthem | 17.09.18 |
Meek Mill's new music will shine a light on Colin Kaepernick's legacy.
Meek Mill has been busy working on new music, and a new report indicates that one of his upcoming tracks will center around Colin Kaepernick's cause. Pagesix goes in depth into some of the upcoming lyrics, which paint a powerful and inevitably controversial picture. "They won't lynch him by hanging from a tree," writes Meek Mill, in his unreleased Colin Kaepernick anthem. "They lynch his bank account." Evocative language to be sure, and further evidence that Kaep's importance extends beyond his impact on the NFL. Clearly, Meek Mill senses a kindred spirit, given his own struggle with an unjust legal system.
"They told Kap to stand up if you want to play for a team, and most of his teammates said the same thing," raps Meek, in the unreleased track. "Back in the 30s you would be killed if you kneeled. They won't kill you now, they just take you out of the deal." It's uncertain whether he'll be addressing Kaep's recent Nike deal, which no doubt found Kaepernick securing a massive bag. Apparently, the single will be appearing on Meek's upcoming album, which is, evidently, "a surprise."
You may recall Meek and Colin Kaepernick's connection, which stemmed when the former NFL player visited the incarcerated rapper in jail. Are ya'll excited to hear Meek's socially-charged return to the game?
| | |
| --- | --- |
| THAT'LL TEACH 'EM?: Rapper Webbie Goes Live After Catching His Both His Teenage Sons & A Friend in Bed with One 14-Year-Old Girl (VIDEO) | 17.09.18 |
Here's a name you probably haven't seen in the news in a while. Louisiana rapper Webbie has social media talking after posting a video showing the aftermath – of him catching his two teenage sons and a friend allegedly in bed with a 14 year old girl.
Webbie claims that he came home and walked upstairs into his sons bedroom, and found all three boys "in bed" with the 14 year old. He didn't specify exactly what the teenagers were doing in the bed, but with them being teenage boys, it's pretty easy to assume what the plan was with this little get together.
The girl in the video is 14 years old, and Webbie warned her saying, "Girl you were with three of them. You better stop. Praise the lord." The rapper posted the video on LIVE, and it has since gone viral. Take a look at the footage below and let us know what you think? Did Webbie do the right thing by taking it to live?
| | |
| --- | --- |
| IN CASE YOU MISSED IT: Machine Gun Kelly Clearly Not A Fan Of Eminem's "KILLSHOT:" "He Missed" | 17.09.18 |
MGK wore a custom t-shirt with Eminem's "KILLSHOT" cover art on it.
In case you haven't been paying attention to anything for the last week, rap's current top feud got a little hotter when Eminem decided to finally respond to Machine Gun Kelly. Early this month, MGK stepped up to the plate and fired back at Em after the shots he threw on Kamikaze. Kellz remains one of the only rappers to respond to the diss on record and considering Shady's reply, he may end up being the only one. However, the Cleveland artist is absolutely unfazed by the response, believing that it simply wasn't all that.
Kelly took to Instagram to throw some shade at his rival, reminding us all that "Rap Devil" still sits atop the iTunes charts. While that may be true, Eminem's "KILLSHOT" literally hasn't been uploaded to the medium so it's not really saying too much. He went so far as to say that Marshall "missed" his shot while rocking a custom t-shirt of Em's single cover art, depicting himself with a target over his face.
Machine Gun Kelly recently announced an EP on the way, which is almost guaranteed to feature a few more digs at his former idol. Binge comes out on September 21 but before then, Kellz is bound to be pretty vocal on social media.
| | |
| --- | --- |
| GIRL, WHAT?!: Amber Rose Calls Cops After Wiz Khalifa Engagement Ring Was Stolen | 17.09.18 |
Amber Rose reportedly believes that the engagement ring she received from ex-husband Wiz Khalifa ahead of their ill-fated marriage has been stolen.
The 34-year-old model has involved the police after discovering the sparkling jewellery item — which was given to her more than six years ago and is said to be worth $150,000 — is no longer in her wardrobe at her Los Angeles home.
According to TMZ, Amber filed a police report last week with the Los Angeles Police Department when she went rummaging through her bedroom storage to find an unrelated item when she realised the ring was nowhere to be seen.
Amber has claimed the last time she laid eyes on the piece of jewellery just last month, but she's unable to give an accurate date on when it went missing because she always has staff coming and going.
The blonde beauty, who is now dating 23-year-old Denver Nuggets point guard Monte Morris, has reportedly told the police that she was keeping the ring to give to her and Wiz's son Sebastian, five.
Amber's police report comes less than four weeks after Wiz's house in Southern California's San Fernando Valley was broken into by two men wearing hoodies.
| | |
| --- | --- |
| NOT ME, GIRL!: Cardi B Clears Up Reports That She Posted Transphobic Meme on Facebook; Clarifies The Page is Ran By Former Management | 16.09.18 |
Cardi B says she had nothing to do with her Facebook page posting a meme that's being called transphobic.
"It's come to my attention that there have been offensive posts made on what used to be my Facebook page," Cardi wrote today, Just hours after a meme was posted to what was supposed to be her official Facebook page, featuring Rolf (the 'Ed, Edd, and Eddy' character who has went viral as of late) gazing out of the window reading "I hope no one see's this tranny" leaving my house."
Cardi says she has nothing to do with the page, writing, "For the past year and a half a FORMER team member has been the only one with access to the account." That doesn't seem far from the truth at all as she could be making reference to the long-standing legal battle she is in with her former manager.
She and the former manager, Klenord "Shaft" Raphael have filed dueling lawsuits against each other. In the suit, Cardi has said she entrusted Raphael and his companies with many aspects of her business affairs and that trust was abused. He came back with a $10 million counter-suit and both cases remain ongoing. Check out Cardi's tweet clearing up the alleged post along with the meme that started all the chatter below:
It's come to my attention that there have been offensive posts made on what used to be my Facebook page. For the past year and a half a FORMER team member has been the only one with access to the account.

— iamcardib (@iamcardib) September 16, 2018