| | |
| --- | --- |
| THE KID IS NOT MY SON: Tristan Thompson Files Lawsuit Against Woman Accusing Him Of Being the Father of Her Child | 19.05.20 |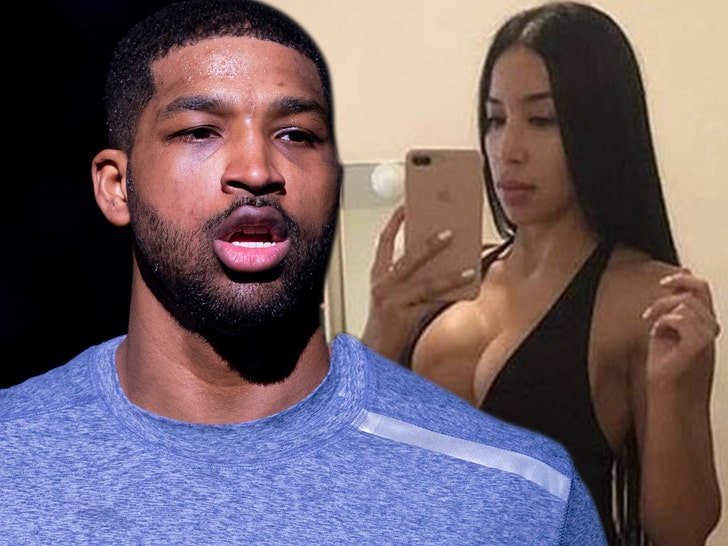 To quote the late great Michael Jackson, 'The kid is not [his] son.' Tristan Thompson has sued Kimberly Alexander after he claims he already took a DNA test that proved he wasn't the father of her young child.
Things are getting dicey for Tristan Thompson, and now he's taking the woman who has accused him of being the father of her child to court. In the past week, there have been conflicting reports regarding the paternity of a child by a woman named Kimberly Alexander. It's reported that the kid is a little over four-years-old, and while rumors have circulated that the NBA player had a one-night-stand with Kimberly eight years ago, she's responded to the gossip saying that's just untrue.
Kimberly was reportedly sent a cease and desist letter by both Khloé Kardashian and Tristan Thompson, and according to Page Six, the ex-couple's attorney told the outlet that Thompson has already taken a paternity test that determined he wasn't the father of Kimberly Alexander's' child. She claims that both Khloé and Thompson somehow tampered with the paternity results. It's now being reported that Thompson is putting his money where his mouth is and taking his accuser to court, as he's filed a libel lawsuit against her.
The court documents reportedly state that Kimberly "is a wannabe social media influencer and pornographic model/performer who is so desperate to achieve her fifteen minutes of fame that she recently fabricated a false claim that NBA star/Cleveland Cavaliers center/power forward Thompson is the father of her nearly five-year-old son."
The paperwork also says that even though a paternity test has already ruled out Thompson, "Alexander has persisted in publicly proclaiming that Thompson is her child's father and she has maliciously accused Thompson of being a deadbeat dad, 'neglecting' and failing to take financial responsibility for the child since birth… Thompson is asking for court costs and unspecified damages. Who's side do you believe here?
| | |
| --- | --- |
| BECAUSE THE INTERNET DOESN'T MISS A THING: Social Media Thinks DaBaby & DaniLeigh Are Shacking Up Together During Quarantine After Photo Similarities | 19.05.20 |
DaBaby and DaniLeigh posted separate photos/videos on the same balcony, prompting fans to comment on their alleged relationship.
This weekend, Charlotte rapper DaBaby decided to have a photo shoot out on the balcony — as we've all been doing during quarantine times — but his decision to do so may have backfired as internet sleuths have just assumed his latest romance as a direct result.
For months, DaBaby and fellow rapper DaniLeigh, who collaborated together on the song "Levi High," have been romantically linked. Things slowed down for a minute after B. Simone was the subject of a joke proposal on Wild 'N Out but it looks like DaniLeigh is once again the apple of DaBaby's eye.
Following his masked balcony photoshoot, fans of the rapper noticed a distinctive pattern on the guard rail, which was shockingly also present in a video posted by DaniLeigh. Unless they both decided to design their balconies after the other, they're definitely together during the quarantine. Your suspicion has officially paid off.
It's worth it to point out that neither DaBaby nor DaniLeigh have confirmed the rumors. The internet was quick to make the observation, leaving it up to the rest of social media to share their thoughts on the possible couple.
Nobody let B. Simone see this… Do you think they make a cute couple, if that's indeed what they are? Or are people just looking a little too deep?
| | |
| --- | --- |
| IN CASE YOU MISSED IT: Ariana Grande & Justin Bieber Got At it with 6ix9ine As He Continues to Cry About Not Topping Billboard Charts | 19.05.20 |
Tekashi 6ix9ine felt as though Ariana Grande and Justin Bieber were trying to pull a fast one with Billboard.
Tekashi 6ix9ine has been taking swipes at pretty well everyone as of late and the entire hip-hop world is watching with a rightfully judgmental eye. At this point, it feels as though no one is off-limits for 6ix9ine, even the popstars. For instance, 6ix9ine recently released a brand new single called "GOOBA" and his main goal was to get the song to number one on the Billboard charts. Throughout the last week, Tekashi has been keeping fans up to date on his progress and at one point, he took some shots at Ariana Grande and Justin Bieber as he claimed that they were manipulating the charts.
In fact, 6ix9ine was back to his old tricks yesterday, as he had even more harsh words for Billboard. None of his tactics worked, as eventually, the song landed at number 3 and Grande and Bieber took the top spot with "Stuck With U." Following her big win, Grande took to Instagram with what could only be described as subliminal shots for 6ix9ine.
Considering Tekashi was the only one talking about his numbers this week, it's pretty clear that Grande was talking about him. At this point, it really feels like Tekashi has upset the entire music industry, and not just hip-hop. While 6ix9ine's taken aim at Ariana Grande, it's actually a Justin Bieber song that she features on. Both Justin Bieber and Scooter Braun didn't attack 6ix9ine necessarily but they did give him a little lesson on how the Billboard charts work.
"He says his streams don't count. Yeus they do but he is counting his global streams and this is a domestic chart so only domestic streams count. 60,000 units came because we don't disclose out numbers until the end of the week. That's called strategy. He said 30k was bought with 6 credit cards but that is a lie. The rules are clear one credit card can buy max 4 copies. Anything over that the entire amount gets thrown out. Nielsen company checks this and found all sales were legit becuase our fans are amazing and bought them. Don't discredit out fan base with false info. This is my song with Ariana Grande and I'm honored to work with her to help raise money for a great cause. If you gonna say her name make sure you say mine because it's our song."
Of course, it didn't take too long for 6ix9ine to catch wind of the comments, though he simply trolled Biebs for essentially wanting credit for his song. Check out his comment and the post below. What do you guys think of all of this? Do you think there's truth to what 6ix9ine is saying or is he just being a sore loser?
| | |
| --- | --- |
| WHAT Y'ALL MAD AT TODAY?: Ludacris Faces Backlash After Name-Dropping R. Kelly Stating That He "Loves Him" Just Not Around His Daughter in New Song | 19.05.20 |
Ludacris is under fire for including some controversial lyrics about abusers R. Kelly and Bill Cosby in an unreleased song he previewed during his battle with Nelly.
Maybe Ludacris should have left this one in the drafts. During the rapper's rollercoaster ride of a Verzuz battle with fellow 2000s hip hop heavyweight, Nelly, on Saturday (May 17th), most viewers couldn't help but joke about the technical difficulties that Luda's opponent was facing, as his Internet connection posed a quality problem on his end throughout the majority of the evening.
Between Nelly's blurry, pixelated dancing and his questionable song choices, there was plenty to focus on, but one unexpected detail of the night that rubbed people the wrong way occurred early on while Ludacris was waiting for Nelly to reconnect on live. Luda decided to keep viewers entertained by previewing an unreleased song featuring Lil Wayne and produced by Verzuz co-founder, Timbaland, playing a lengthy snippet of the track three times in a row. The song, titled, "Silence of the Lambs," opens with a mention of Cosby: "the world screwed if n*ggas pouring drinks like Bill Huxtable." In the next line, Ludacris declares, "I love R. Kelly but around my daughters, I'm not comfortable."
Ludacris previewed that 🔥🔥🔥🔥🔥 with Timbaland and Lil Wayne during his #Verzuz battle with Nelly pic.twitter.com/FB7GRSWerq

— Ton (@TonDreams) May 17, 2020
The lyrics, especially the questionable sentiment about Kelly, caused an uproar on social media.
Ludacris really thought it was appropriate to tell us he loves R.Kelly in 2020 and told us three times. I'm still in shock.

— Brittany♚ (@britshaniece) May 17, 2020
I still can't believe Ludacris played a new song with that R Kelly line THREE TIMES. Never let that man on live again.

— F (@ohfads) May 17, 2020
I'm still mad Ludacris previewed that Wayne song and dropped Cosby and R Kelly lines to start off the song. And ran it back like 5 times 😂🤦🏼‍♂️

— Jay Holz (@JayHolz410) May 17, 2020
Nelly won tonight off the strength of Ludacris shouting out out R. Kelly not once, not twice, but three times in a 10 minute window. I don't make the rules.

— Another Man 🇨🇦 (@Kameron_Hay) May 16, 2020
Nelly automatically won the #verzuz battle as soon as Ludacris said this💩:

"I love R. Kelly but around my daughters I'm not comfortable."
😑😑😑😑😑😑

— AHUS (@AmericaHatesUs) May 17, 2020
I don't know what Ludacris was tryna do with that R Kelly line but it ain't it

— The Dark Knight. (@fortune_Que97) May 17, 2020
Ludacris said "I love R. Kelly but around my daughters I'm not comfortable."

Ehm I think you might want to REWRITE THAT LINE yunno.

— NOTORIOUS NEEZY. (@alsoknownasnee1) May 17, 2020
ludacris giving us bill cosby, r. kelly and roseanne bars in 2020 along with a chance the rapper feature. who asked for this? more importantly, pic.twitter.com/OPXA4dvxrC

— brandi glanville stan account (@darfbyke) May 16, 2020
Ludacris rapping about r Kelly and Bill Cosby in 2020 is… pic.twitter.com/ukoIkSUwYT

— Liz|💜 (@CPflashFan) May 16, 2020
| | |
| --- | --- |
| SAY WHAT NOW?: Fat Joe Says Tells Ashanti That Ja Rule & Irv Gotti Wanted to Replace Her with Jennifer Lopez For Their Classic Hit "What's Luv?" | 18.05.20 |
Fat Joe recalls how Jennifer Lopez nearly replaced Ashanti on the classic single, "What's Luv?."
Fat Joe joined R&B legend Ashanti on Instagram Live, Saturday, and revealed that Irv Gotti and Ja Rule originally wanted to swap out Ashanti for Jennifer Lopez, because they wanted "the Latinos on this."
"Irv and Ja had called me, and they woke me up [at] like 3 in the morning, and they say, 'Yo, come down, we made a song for you," he recalls. "I go to the studio, it was like 4 in the morning. They played 'What's Luv?' and you on it. And they was telling me, 'Yo, this is for you and J. Lo. We want the Latinos on this."
Joe says he was taken away by Ashanti's vocals and said she deserved to be there: "I was like, yo, J. Lo? She [Ashanti] sound amazing on here. I was like, 'Nah, we leaving her there.'"
The story was news to Ashanti as much as it was news to any of the listeners. She reacted with an emphatic "What?," after Joe finished.
"What's Luv?," featuring Ashanti's vocals, went to peak at No. 2 on the Billboard Hot 100, and remained on the charts for 20 weeks. It remains one of the most popular tracks on both artist's discographies.
Yesterday, Fat Joe told Ashanti that Irv and Ja wanted to take her off "What's Luv" and replace her with JLo instead to make it "for the Latinos."

Ashanti never knew! pic.twitter.com/uTyNrmGOL6

— Ivie Ani (@ivieani) May 16, 2020
| | |
| --- | --- |
| WHEW CHILE!: 6ix9ine Continues to Try Snoop Dogg By Posting Video of Him at Infamous Thot Celina Powell's House – "Go Apologize to Your Wife" | 17.05.20 |
Rainbow Brite is getting very comfortable in his throne as hip-hop's designated snitch.
Over the past few days, Tekashi 6ix9ine's had his eyes on one West Coast legend by the name of Snoop Dogg. With claims that the Long Beach OG snitched on Suge Knight, the Internet has been in shambles as the two went back-and-forth on social media. Unfortunately, it hasn't ended just yet.
6ix9ine's moving with vengeance these days in retaliation against everyone who counted him out. Following allegations that Snoop Dogg worked with authorities, he's now taken aim at Snoop's wife. Now, in the art of rap wars, there aren't really many rules but typically, there's the courtesy of leaving family out of it. 6ix9ine dropped off footage of Snoop Dogg and Celina Powell together before cutting to footage of the two on FaceTime together.
"For 2 years while I was in jail PEOPLE STARTED WITH ME trying to end my career and it didn't work now they say LEAVE ME ALONE," 6ix9ine captioned the video. "This the world we live in GO APOLOGIZE TO YA WIFE @bosslady_ent."
Though there might be some sort of validity to this statement, Snoop's wife previously addressed the allegations of infidelity recently. "Don't ask me for relationship advice cuz I took the n***a back 81 times," she wrote on a Mother's Day post which Snoop found equally hilarious.
Check out 6ix9ine's post below and sound off with your thoughts on his return in the comment section.
| | |
| --- | --- |
| HERE FOR IT OR KEEP IT?: Usher Could Be the Next "Verzuz" Battle Lined Up Against Chris Brown or Justin Timberlake | 17.05.20 |
Swizz Beatz and Busta Rhymes discuss the next "Verzuz" battle.
Since the beginning of the pandemic, musicians have rallied together to find a way to keep their fans engaged with what's happening. Swizz Beatz and Timbaland, specifically, have given the culture exactly what they've needed with their Verzuz series. Lining up two heavyweights on Instagram Live, fans were given the opportunity to see legendary acts play some of their biggest records and tell untold stories behind how they came to be.
Last night was a big one for the early 2000s with Ludacris and Nelly going head-to-head. It was easily one of the most anticipated battles that have been lined up. However, Swizz and Timbo are already plotting on going bigger for their next event. Swizz Beatz and Busta Rhymes spoke about who the next Verzuz battle would be and two heavyweight names were brought up — Usher and Chris Brown.
"I see a lot of Usher vs. Chris Brown. I see a lot of Usher vs. [Justin] Timberlake but for the culture…," Swizz said.
"Listen, man. Listen. Usher and Chris Brown gotta be it, man. That's it. You askin' my opinion, I'm giving it to you, big bro," Busta said. "I don't want to see no Usher vs. Justin Timberlake. I want to see Usher vs. Chris Brown."
After Swizz suggested Usher vs. Trey Songz, Busta said that Usher and Chris Brown's catalog can easily go toe-to-toe since they've had numerous massive records.
What do you guys think? Usher vs. Justin Timberlake? Usher vs. Chris Brown? Sound off in the comments.
Usher vs Chris Brown or Justin Timberlake? pic.twitter.com/O0VQroa5XZ

— Nigel D. (@NigelDPresents) May 17, 2020
| | |
| --- | --- |
| WHO ASKED FOR THIS?: Kevin Gates Alleged Sex Tape Leaks & The Internet is Not Impressed | 17.05.20 |
Kevin Gates is allegedly featured in a leaked sex tape making it rounds on the Internet, and the rapper is getting roasted for his dull performance.
Folks are not impressed with the sexual performance of a man believed to be Kevin Gates in a leaked sex tape that began circulating late Saturday (May 16th) night. While it has yet to be confirmed, it appears that Kevin Gates may have been featured in the NSFW video in question, but he did not exactly give it his all, according to viewers. In the clip, the male star thought to be the rapper is looking into the camera while he films himself having sex with a woman whose face is out of view.
It didn't take long for the ruthless Internet to start offering up their reactions, most of which were underwhelmed and disappointed. Many pointed out how, if it is really him, his lackluster performance in the sex tape greatly differs from the subject matter of his songs.
I haven't been on Twitter in years lol i only logged in to see Kevin Gates lil sex tape and it was Blah 😒😂😂😂😂 pic.twitter.com/0sVRxGiXlH

— Trayce (@ImOn_one908) May 17, 2020
Me watching the Kevin gates video 💀 pic.twitter.com/wDfityR9Gz

— A M I N A (@Amina2722) May 17, 2020
All the ladies after seeing the sex tape of Kevin Gates and he wasn't doing the shit he said he'll do in his songs 💀😂 pic.twitter.com/2cw0YjGgqS

— Dontaeisthatyourmom!? (@iccydeee) May 17, 2020
Kevin gates sextape is a dam mess. I need you niggas to stop rapping/talking about freaky shit you can't live up to. You lost that privilege if your dick is trash. Keep your dick to yourself until you learn how to use that shit💀 pic.twitter.com/XD2oANLnV5

— IG: @thosebaldedges (@faxntitties) May 17, 2020
Me watching Kevin Gates sex tape pic.twitter.com/s60PspCMRI

— I ❤️ Hood Studs (@AlyakLeon_) May 16, 2020
That Kevin Gates sex tape was straight huff, all the nasty shit he been saying all these years and we get THAT!

— yoomaryjane🍄 (@Pusshaaaa) May 17, 2020
Pls dont record wack ass sex . I just waisted a minute of my life watching kevin gates sex tape & shit was trashhhhh 🙄

— Briana (@briianaxxo) May 17, 2020
My thoughts on Kevin Gates sex tape….😒 pic.twitter.com/EjSxujyjZf

— MANBUTT'ER (@misterhardwood) May 17, 2020
Kevin has yet to respond to the rumours, although he did tweet this inspiring message earlier on Saturday. It's unclear if this tweet has any correlation to his alleged sex tape.
Distractions come and go but by all means stay focused!!!!#EyesOnThePrize 💪#StillHoldUp

— Kevin Gates (@iamkevingates) May 16, 2020
| | |
| --- | --- |
| WELL, THAT WAS QUICK: Lil Wayne & La'Tecia Thomas Reportedly Call Off Engagement | 17.05.20 |
Lil Wayne and La'Tecia Thomas are rumored to have broken up as Thomas was spotted without her engagement ring and neither of the two follows each other on social media anymore.
At the top of this year, Lil Wayne confirmed his relationship with plus-sized Australian model La'Tecia Thomas. The rapper sang her praises on his new album Funeral.
"You know wifey from Australia, she said, 'Cheers, mate'/ Then we toast and see how you n****s tears taste," rapped Weezy on the album.
Unfortunately, it looks like they may have quietly called off their engagement because, according to reports, La'Tecia Thomas was spotted without her engagement ring. It is also being noted that neither of the two follows each other on social media anymore.
As recently as April, the model could be seen sporting her giant diamond ring on her finger, also flaunting her matching tattoo with the rapper. She also wore the "Carter" necklace that was gifted to her by her fiancé. Neither of those pieces can be seen in her recent uploads.
For a while, Thomas was the only person that Lil Wayne followed on Instagram. That has changed and now, the rapper follows absolutely nobody.
Hopefully, these rumors are false but, given all the evidence, it's not looking good for the couple. What do you think happened?
Take a look at some recent photos of La'Tecia Thomas below, where she is not wearing her engagement ring.
| | |
| --- | --- |
| ISSA BOP OR ISSA FLOP?: Beyoncé Blessed Us with Chloe X Halle & Now They're Here to Return the Favor with "Do It" (VIDEO) | 16.05.20 |
Singing duo Chloe x Halle are back with a new single, "Do It."
Chloe x Halle are a sister duo signed to Beyonce's label, and thus, you can safely assume they make amazing music. Not only that, the duo are insanely talented– especially for their young age– as they've learned to both produce and songwrite for themselves.
They haven't dropped an album since 2018's stunning The Kids are Alright, but they're finally gearing back up to drop a new album, Ungodly Hour, which they spoke about on Apple Music alongside the release of "Do It."
Speaking to Zane Lowe about the new album, Chloe said, "My sister and I, we are such music heads of real musicality and I feel like we kind of showed that on our first album, The Kids Are Alright. And for this one, we really just wanted to show how we could pair our musicianship with a few bops and letting people enjoy themselves and have fun as well as the lyrics and the messaging of the album. We called it Ungodly Hour because it's okay to not be perfect all the time. It's okay to have those moments of self reflection when you just don't feel okay."
The duo managed to connect with Scott Storch in the studio for this album, so we're excited to hear what that sounds like. In the meantime, we can enjoy the smooth, easy-going nature of "Do It."
| | |
| --- | --- |
| FROM ONE SNITCH TO ANOTHER?: 6ix9ine Calls Out Snoop Dogg, Accuses Rap Icon Of Being A Snitch | 16.05.20 |
Tekashi 6ix9ine is ready to expose the rap industry, and he claims that Snoop Dogg is a snitch.
Things are about to take a turn. Tekashi 6ix9ine has made a splash of a return to the music scene ever since he released his first post-prison single, "GOOBA." If the public thought that the rainbow-haired entertainer was going to slink back into the rap game quietly, they were highly mistaken. Tekashi 6ix9ine and his vivacious personality have come out of the gate full swinging, and not everyone has been welcoming him with open arms. Rap legend Snoop Dogg has made it clear that he disapproves of 6ix9ine's recent successes, continuously pointing out that "GOOBA" rapper is a federal informant who is a turncoat against his former gangster associates. 6ix9ine bit back today (May 15), accusing Snoop of sharing information with authorities, as well.
Over on his Instagram Story, 6ix9ine posed a question to his followers. "Should I just tell you guys what rappers snitched," he wrote above the clickable options of "Yes" or "No." He added, "Because they told me EVERYTHING When I Started." The Shade Room took a screenshot of the message, and 6ix9ine returned to comment, "@snoopdogg hey sir let's chat."
That wasn't all, he slipped in the outlet's comment section once again and wrote, "If your in denial the paper work is online and suge knight speaks on it from prison but we choose to ignore who we want to call rats."
Over on his page, Snoop Dogg reposted a video from rapper Omar Ray, an entertainer who has dubbed the character Pimpin Silky. "It's two things silky ain't never seen: A turtle with speed, and a monkey-mouthed, knock-kneed, trout-mouthed, b*tch I need," Pimpin Silky said in the clip. "And when this quarantine over, I'm trying to take the blue out the sky and put it in a white b*tch eye, ya dig that." In the caption, Snoop wrote, "P. S. A."
6ix9ine commented, "Posting this is not gonna distract everyone that you are trying to play it off. Explain yourself." He followed that up with another reply over on The Shade Room that reads, "They pick and choose who they want to call rats THERES PAPER WORK and SUGE KNIGHTS prison interview BUT the industry acts blind mute and death I'm not letting up either." Whew. Check it out below.
| | |
| --- | --- |
| IF FOCUSED ON ALL THE WRONG THINGS WAS A PERSON: Boosie Badazz Sued For Not Providing For His Young Daughter "Lyric Beyonce" | 16.05.20 |
Boosie Badazz was sued by Attorney General Don Snow for allegedly failing to provide for his 11-year-old daughter.
Boosie Badazz came under serious fire when he claimed that he got a grown woman to give his young sons oral sex. The remarks were enough for people to call on Child Protective Services to take action. The antic-filled rapper will likely have some explaining to do about his parenting choices because, in an unrelated case, he has been sued for allegedly not providing for his 11-year-old daughter.
According to Bossip, the state Department of Human Services has sued Boosie for not financially providing for his daughter Lyric Beyonce.
The girl's mother, Gelisa Hayes, reportedly reached out to Special Assistant Attorney General Don Snow to claim that the recording artist was not doing much to provide for the 11-year-old, which was enough for a suit to be filed.
Hayes and the state are seeking immediate child support and, if Boosie is unsure that he's actually the girl's father, he will need to take a DNA test. She is also looking for health and accident insurance for Lyric Beyonce, in addition to Boosie's wages being garnished.
Boosie Badazz has not commented on this case. He was scheduled for a court appearance this week but, because of COVID-19, it was rescheduled to a later date.