| | |
| --- | --- |
| SAY IT AIN'T SO: Lifetime Releases the Trailer for Their Latest Biopic No One Wanted; Their Latest Victim – Michael Jackson in "Searching for Neverland" (WATCH) | 16.05.17 |
The first trailer for the Lifetime Michael Jackson biopic no one really wanted is here.
"Searching for Neverland," based on a 2014 book by the late King of Pop's former bodyguards Bill Whitfield and Javon Beard, focuses on the final years of Jackson's life.
In the trailer, we catch glimpses of the star ― played by the self-proclaimed "world's greatest" MJ impersonator Navi ― balancing his home life, on the infamous Neverland Ranch, with his fame and celebrity. To be honest, Navi makes a pretty convincing Jackson in some moments.
In the 45-second clip, things get a little intense when investigators question Whitfield and Beard about Dr. Conrad Murray, the doctor who gave Jackson a lethal dose of propofol just hours before his death. Check out the trailer below:
Given Lifetime's history with unauthorized biopics (see: "Britney Ever After," "Aaliyah: Princess of R&B"), we don't have high hopes for this one. But you can be the judge when it airs on May 29 on Lifetime.
| | |
| --- | --- |
| ON SECOND THOUGHT: Dave Chappelle Takes Back His Statement Suggesting We Give Donald Trump a Chance: "I F*cked Up" | 16.05.17 |
Remember that time Dave Chappelle said he was going to give Donald Trump a chance? Well, he tried!
While performing a routine at a benefit dinner for the Robin Hood non-profit on Monday (May 15) in New York, the comedian apologized for asking the country and, more specifically, black people, to attempt to stand behind the President of the United States even it though it was Trump.
"I was the first guy on TV to say 'Give Trump a chance.' I fucked up. Sorry."
MSNBC anchor Willie Geist was in attendance and tweeted about the comment.
Dave Chappelle tonight in NY on his November SNL monologue: "I was the first guy on TV to say 'Give Trump a chance.' I f***ed up. Sorry."

— Willie Geist (@WillieGeist) May 16, 2017
Chappelle made the comment during his set at the @RobinHoodNYC benefit tonight.

— Willie Geist (@WillieGeist) May 16, 2017
Chappelle received much praise back in November when he hosted the first SNL episode following the 2016 election. Though most of the country was grappling with the fact an incompetent buffoon had just become the president-elect, Chappelle struck a more optimistic tone during his opening monologue.
"I'm wishing Donald Trump luck, and I'm gonna give him a chance. And we, the historically disenfranchised, demand that he give us one, too."
Chappelle later made it known that he was not a Trump supporter nor did he vote for 45 (he, in fact, casted a vote for Hillary Clinton). He explained he was simply trying give the country a piece of optimism that he felt when Barack Obama was elected on 2008.
While I was never, ever, not once aboard the "give Trump a chance" boat, I'm guessing the current administration's constant state of WTF propelled the comedian to escape the "Sunken Place" and backtrack on his original comments.
| | |
| --- | --- |
| LET IT GO!: Mo'Nique Lashes Out at Lee Daniels, Tyler Perry & Oprah for Blackballing Her in Hollywood: "Y'all Can Suck My D*ck!" | 16.05.17 |
Mo'Nique just won't let it go! The actress/comedian went all the way in on Lee Daniels (again) during a recent standup set and brought Oprah into their years-long feud.
The comedian performed a standup routine at the Apollo Theatre on Saturday (May 13). In the midst of her jokes, she rehashed her grievances with Precious director Daniels. She went on to lump Oprah Winfrey and Tyler Perry in their feud and said that that all three could "suck my d*ck."
"No, I was not blackballed. I was whiteballed by some black d*cks who had no balls. Thank you, Mr. Lee Daniels. Thank you, Mr. Tyler Perry. Thank you, Ms. Oprah Winfrey. No, baby, I wasn't blackballed. I was f*cked up by some n****rs who had no balls.

"And see, I know they like to say, 'Mo'Nique, you talk too mother*cking much.' It would kill me not to say the real sh*t. You are not paying me equally. You are not treating me fairly. So, y'all can suck my d*** if I had one."
Mo'Nique and Daniels have been at odds for the past two years after Daniels stated Mo'Nique was difficult to work with. The actress then claimed the big shot director aided in her being blackballed from Hollywood after she won her Oscar in 2010 for Precious because she refused to play Hollywood politics.
Daniels said in a 2015 CNN interview:
"During the [Oscar] campaign, she was making unreasonable demands, and I remember thinking, 'This is when reverse racism happens.' You have to thank the producers of the film, you have to thank the studio, and she didn't understand that."
It has been war ever since. However, Mo'Nique has only come for Daniels. She never really mentioned Oprah or Perry (who both served as producers on Precious) while being very outspoken about allegedly being blackballed and any other behind-the-scenes drama that may have occurred.
Mo'Nique actually did a good thing by speaking out about the Hollywood "game" and politics. And maybe her career did suffer because of it. But, the whole Lee Daniels/blackballed situation — which she has now brought Oprah and Perry into — is like beating a dead horse, at this point.
I can almost guarantee all three of those Hollywood power players have moved on. So should Mo'Nique.
| | |
| --- | --- |
| BLOOP!: Bravo's Andy Cohen Speaks On Reports of Phaedra Parks Being Fired from RHOA; Reveals Cast Refuses to Film with Her (VIDEO) | 16.05.17 |
The word on the street is that Phaedra Parks will not return to The Real Housewives of Atlanta after her season of lies. Though Bravo has not made an official announcement, Andy Cohen may have confirmed the speculation himself.
Housewives franchise creator and executive producer Cohen briefly mentioned Phaedra while talking to E! News on the blue carpet during the NBCUniversal upfronts on Monday (May 15). While he didn't explicitly state Phaedra was fired, he did question her future on the show because fellow castmates like Kandi Burruss and Kenya Moore refuse to film with her now.
"The question that we look at now with Phaedra is, when the reunion ended, none of the other women wanted to have anything to do with her. So that's what you have to look at. How do you shoot a show about a group of friends when no one is speaking to one of the friends?
| | |
| --- | --- |
| KENBARBIE TV: 40 INCH HAIR!? | Nicki Minaj Inspired Brazilian Body Wave| Ali Pearl (Ali Express) Review | 12.05.17 |
You guys know what time it is. A new video is available on #KenBarbieTV, it'll be one of three hair reviews for the month of May (#KenBarbieAppreciationMonth)! I'm fairly new to trying companies from Ali Express! So I decided to go all the way and join in on this LONG LONG hair craze started by none other than Nicki Minaj! Check it out!
| | |
| --- | --- |
| AND I AM TELLING YOU: Jennifer Hudson joins 'The Voice' as coach for Season 13! | 11.05.17 |
Jennifer Hudson has signed on as a new coach for The Voice for season 13 of the singing competition show, according to sources.
"Jennifer is an extraordinary vocal talent and one of the premier voices of our time. She embodies the experience, expertise, positivity and sheer talent that The Voice stands for," said NBC Entertainment alternative and reality group president Paul Telegdy. "Her exceptional skills as a singer and actress have extended to film, television and Broadway, which makes her an incredible addition and a natural fit for our show."
The cast of Season 13 will see Hudson join Adam Levine and Blake Shelton as well as Miley Cyrus, who will be making her return after first appearing as a coach last fall.
Season 13 will see The Voice competing against American Idol as the other singing competition show is making its comeback on ABC.
| | |
| --- | --- |
| DADDY DEAREST: Frank Ocean Responds to his Father's $14.5 Million Libel Lawsuit | 11.05.17 |
Frank Ocean's strained relationship with his father may just play out in the courtroom if the elder has his way. The singer's father, Calvin Cooksey, hit him with a defamation lawsuit earlier this year over one of his famed Tumblr essays.
In the 2016 blog post, Ocean recalls a particularly disturbing dining experience with his dad. "I was six years old when I heard my dad call our transgender waitress a faggot as he dragged me out a neighborhood diner saying we wouldn't be served because she was dirty," he'd written. "That was the last afternoon I saw my father and the first time I heard that word, I think, although it wouldn't shock me if it wasn't."
TMZ reported that Cooksey, who claimed Frank's statements were untrue and have "damaged his financial opportunities in film and music," is seeking $14.5 million in damages.
Today (May 11), Ocean has waved off his father's lengthy complaint and the lawsuit, denying Cooksey's claims and insisting that he has stated nothing but the truth. In his response, he says his essay "speaks for itself" and rebuttals to it are "statements of opinion, and thus not the proper subjects of a libel claim." Additionally, Frank wants the suit to be thrown out and for his father to cover his lawyer fees.
| | |
| --- | --- |
| RAINY DAYS: Ja Rule Hit With Yet Another Fyre Festival Lawsuit; This One to the Tune of $300 Million | 11.05.17 |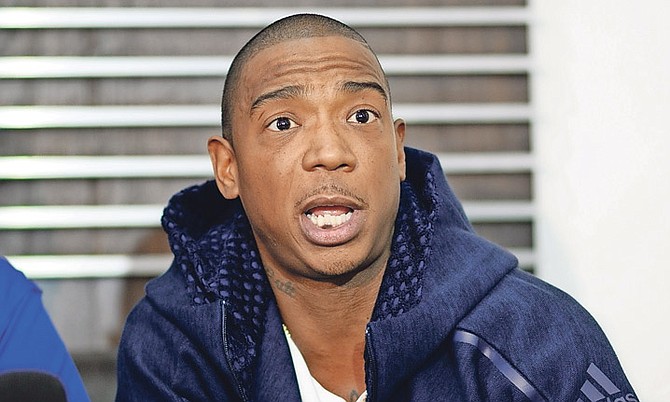 Ja Rule has been hit with another lawsuit related to the disaster that was the Fyre Festival after a loan company claimed that he was late on payments.
Ja Rule and Billy McFarland, who worked with the rapper on setting up the doomed festival, are being sued by EHL Funding, which claims that the company loaned them $3 million for the festival.
The agreement, according to the New York Daily News, was for Ja Rule and McFarland to reimburse the lending company with weekly payments spanning the next year.
Early on, EHL Funding claimed, McFarland and Ja Rule held up their end of the deal submitted their payments on time, but ever since April 21, EHL Funding has not heard from either of them.
After receiving no payments for three weeks, EHL claims that McFarland and Ja Rule are defaulting on the loan. They are now demanding repayment of the remaining amount, after McFarland and Ja Rule had paid back just under $900,000 leading up to the festival debacle, along with interest and legal fees.
This is just the latest problem for the pair as they have been under fire and facing massive scrutiny for the festival that promised luxury accommodations and instead wound up stranding ticket holders in a debacle that was compared to the Hunger Games at times.
This is in addition to the $100 million federal lawsuit that Ja Rule and McFarland were hit with earlier this month when they were accused of a "get-rich-quick scheme" that led to the creation of a dangerous environment as well as the class-action lawsuit filed days later accusing them of conning ticket holders into spending huge amounts of money based on "false promises."
| | |
| --- | --- |
| GOOD DEEDS: Ludacris Surprises his Mother with a Remodeled Home for Mother's Day (WATCH) | 11.05.17 |
Ludacris bought his first home in Atlanta in the early 2000s and outfitted it as a bachelor pad, complete with his own logo on the wall.
"At that point I had really no sense of style," he says in the latest episode of My Houzz.
However, the rapper later invited his mom to move from Virginia to Georgia and had her move into his house so that she could be close to family. Now, the aesthetic of the house no longer worked, since a bachelor's pad was no good fit for her, and she started to redecorate and renovate to make the house her own.
"When she moved into it, she was wanting to make it her own," he explained. "But a lot of the rooms my mother has started on are just incomplete."
So, as a Mother's Day present, Ludacris, along with his wife Eudoxie, decided to finish up the remodeling job for her.
On My Houzz, Ludacris set to work with designer Rachel Oliver to remake the house, making it more modern and feminine.
"It makes me feel that I'm blessed beyond belief," an emotional Roberta said after seeing her new home. "What I would say to them is, 'Thank you for loving me.'"
"I feel like every child wants to do everything they can possibly do for their mom to give back an ounce of what their mother has given them," Ludacris said of the gesture. "This is one step closer."
| | |
| --- | --- |
| HE GOT MONEYYYY: Diddy Named Wealthiest Hip-Hop Artist for Sixth Year in a Row as Forbes Released It's Richest Hip Hop Artists List | 11.05.17 |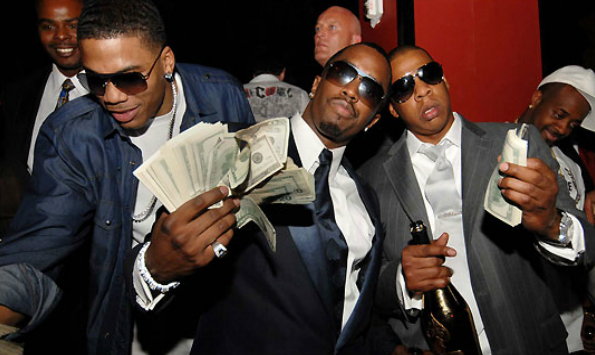 Diddy, might as well take up 'Money' as his middle name.
Yesterday (May 10), Forbes released their list of the top five richest hip-hop artistes in 2017 and the Bad Boy boss was ranked at no.1. This will be his seventh consecutive year on top of the list.
According to the financial news outlet, the rapper's net worth is estimated to be a whopping $820 million. Diddy is said to make the bulk of his money from endorsement deals with Diageo's Ciroc, the alkaline water brand Aquahydrate and DeLeon tequila, as well as his stakes in the Revolt digital cable TV network that he founded in 2013.
Diddy, who ranked No. 22 on Forbes list of all highest-paid celebrities, has topped this list since 2011. However, the 47-year-old rapper may not be holding the title for long. Jay-Z is tailing him closely this year, with a net worth of $810 million.
Others celebrities who have made the Forbes' list include Nicki Minaj, Drake and Wiz Khalifa.
See the list of the top five earners below.
Diddy ($820 million)
2. Jay-Z ($810 million)
3. Dr.Dre ($740 million)
4. Birdman ($110 million)
5. Drake ($90 million)
| | |
| --- | --- |
| IT'S HANDLED: Sorry Gladiators, Oliva Pope May Be on Her Final Run as 'Scandal' is Reportedly Ending After Season Seven | 11.05.17 |
Many may not have seen it coming, and this is a problem that Olivia Pope truly can't solve. However, it looks like the ending of ABC's Scandal is coming sooner than expected. With only a few episodes remaining in the sixth season and tensions just heating up, it is now being reported that Scandal will come to a conclusion after Season 7.
It is one of the most popular shows on all of television and still gets very good ratings, but nothing lasts forever. With that being said, it seems as if the always expected limited run of Scandal has finally reached its ending point.
According to Michael Ausiello of TV Line, multiple sources have confirmed that the upcoming seventh season of Scandal will be the final one.
ABC has yet to comment on anything regarding this news, but it certainly does appear as if Season 7 will be the last.
There are only three episodes left in Scandal Season 6, and that includes the current week, but there has really been nothing said about future seasons. Ausiello reports that a formal announcement regarding the end of the series is expected from ABC sometime on Tuesday.
The ultimate call to end Scandal after one more full season is said to have come from creator Shonda Rhimes and that ABC has accepted that decision.
Fans may wonder why Rhimes would decide to end Scandal after only seven seasons when another of her creations is still going strong. Grey's Anatomy is in Season 13 and has shown no signs of letting up, but she always intended for Scandal to be short-lived.
Back in 2013, Shonda Rhimes told NPR that Olivia Pope's story is not without end. As a matter of fact, she already had the ending in mind and knew what she wanted it to be.
"I feel like there is a finite amount of Scandal to be told. So I know what the end of Scandal will be, and I feel really good about that. And I can see where the end point is. And I don't think I'm going to change that… I know how long I think it will be. But we'll see."
Scandal started out as a TV series that saw Kerry Washington star as Olivia Pope, who solves the problems of some high-profile figures in the world. Now, she has dealt with her own share of loss and trouble, but it won't be around much longer. While ABC has yet to officially comment about it, Michael Ausiello is usually spot-on in his reporting, and it now seems as if Season 7 of Scandal will be the last run of the gladiators.
| | |
| --- | --- |
| GIRL, WHAT?: Beyoncé & Jay-Z Are In a Legal Battle After Attempting to Trademark the Name Blue Ivy! | 11.05.17 |
Beyoncé keeps getting foiled in her attempts to trademark her daughter's name. According to TMZ, an event company called Blue Ivy has filed court documents to block the Queen from trademarking the full legal name of her offspring. The company claims that Beyoncé has no right to the name "Blue Ivy Carter" because they have been using the first bit for years.
Beyoncé had previously tried to trademark just "Blue Ivy," but was blocked by the company. Though Jay Z said that the family just wants to preemptively stop anyone from profiting off the name of his daughter, the company claims that the couple have doubled back on that. Blue Ivy — the firm — claims that the pair intend to sell merchandise with their daughter's name (which also happens to be the name of their business) and want to stop them before they can get there.
Even though Beyoncé has added the last name Carter to her trademark filing, Blue Ivy is still trying to stop it from going through. First of all… how dare you try to stop Queen BEY from doing ANYTHING!? More on this as it comes in.