| | |
| --- | --- |
| SOMEBODY PLEASE JUST END THIS: Charlamagne Tha God Shuts Down Nicki Minaj's Claims That She's Banned From Radio Show – "I Don't Why She is Saying That" | 16.08.19 |
He welcomes her with open arms.
Honestly, just get Nicki Minaj on The Breakfast Club already so she can air out her grievances face-to-face with the morning crew. Earlier this week, Nicki decided to bite back at certain individuals who she described as saboteurs. She had a heated exchange with Joe Budden, one of her targets, on Queen Radio, accusing him of spreading lies about her. During their conversation, she also mentioned The Breakfast Club's Charlamagne Tha God campaigned a "hate train" against her, as well. 
Charlamagne later went on air and said nice things about Nicki and maintained that he had nothing but love for her, but she didn't believe a word. Nicki later tweeted, "Charlemagne get so excited when he thinks some1 bout to say smthn negative about me. That tail get to wagging, that lil p*ssy get to poppin, he get to giggling 😂They banned me from the show but always talkn bout me. I'm pullin up cuz we in NY soon. I'd rather be invited tho js."
In a statement to the folks over at Page Six, Charlamagne was adamant that Nicki has never been barred from his radio show. "There was never a problem with her," he said. "We never banned her from the radio station. There is not a consequence to what she has said now, or in the past. I don't know why she is saying that." He also mentioned that the current animosity with Nicki is strange because "we text each other" and "talk on the phone." Charlamagne added, "I would be happy and welcome her to come on the show" and noted, "rappers are going to be rappers."
| | |
| --- | --- |
| ISSA BOP OR ISSA FLOP?: Normani Pays Homage to Beyoncé, Jennifer Lopez, & More with 2000's Inspired Video – "MOTIVATION" (WATCH) | 16.08.19 |
Ladies and gents, Normani just might be a problem.
Former Fifth Harmony member Normani continues on her path to solo stardom with the throwback video for her new single "Motivation." The dance-heavy clip, directed by Dave Meyers and Daniel Russell, pays homage to some classic videos from the early 2000s, including Beyoncé's "Crazy in Love" and Jennifer Lopez' "I'm Real."
The visual opens with Normani as a child watching BET's "106 & Park" in her grandmother's living room before she imagines herself starring in the videos, starting with "Crazy in Love." She hits the basketball court and the streets, showing off her moves a la J.Lo, before dancing in the rain backed by a marching band, finishing off with a dazzling finale.
She drew inspiration from some of her favorite artists. "y'all know I love the early 2000's," tweeted Normani.
The irresistible bop was co-written by Ariana Grande. Normani opened for her "Sweetener World Tour" earlier this year. "i'm so proud of u @Normani," tweeted Ariana, to which Normani replied, "i love you so much. thank you for believing in me the way that you have sis and for being my biggest cheerleader we got a smashhhhh !!!!!!"
Normani is now readying her highly-anticipated solo debut. "I want this album to represent and encompass all that Normani is," she was quoted. Take a peek at the video below and let us know what you think. ISSA BOP OR ISSA FLOP?
| | |
| --- | --- |
| THE MARATHON CONTINUES: Lauren London Gets Emotional On Nipsey Hussle's Birthday – "Long Live My Other Half" | 15.08.19 |
Lauren London pens a sweet message to her late boyfriend Nipsey Hussle.
Today is Nipsey Hussle's birthday and the hip-hop community is gathered virtually to send their prayers to his friends and family, exchanging energy with the late rapper and acknowledging his spirit and his legacy. The man was essential to his neighborhood and he's treated as such these days with everybody remembering just how special he truly was. To his loved ones, Nip was known as Ermias Asghedom and Lauren London, his girlfriend, is speaking out on his special day to honor his memory.
The actress posted a gallery of photos of the incredible Los Angeles legend, penning a beautiful note to her man in the caption. "Today We celebrate You my beloved. Today we honor you King," she wrote. "We are to live in our highest vibrations today because that is how Nip lived his life. We should encourage and inspire today because that is how Hussle lived his life. Today we should love and give truth because that is how He lived his life. His Purpose still lives on with us all. Ermias wasn't a sad soul. He was a powerful strong magical soul. Today is the day we lift up."
She ended the post by speaking directly to the rapper, knowing full well that he's paying attention. "Long Live My other half," she wrote. "My beloved King Ermias. Nip Hussle The Great! I miss you. I love you. Still here holding it UP!"
Keep Lauren London in your thoughts today. This has got to be tough for her and the rest of Nip's family.
| | |
| --- | --- |
| HERE WE GO AGAIN: Nicki Minaj Claims Charlamagne Tha God Banned Her From "The Breakfast Club" | 15.08.19 |
Charlamagne tried to clear his name but Nicki Minaj isn't having any of it.
New York rapper Nicki Minaj has been all over the news this week. It's been a rollercoaster ride for the Barbs as they've got to hear their Queen chew out media types across the country for constantly trying to discredit her. She started with Joe Budden on Queen Radio, arguing with him about how he constantly tries to tear her down. Then, she took aim at Charlamagne the God by saying he led a "hate train" against her. Since the accusations were made, Charla tried to clear up any confusion on his radio show, saying that he has nothing but love for Minaj. However, the femcee wasn't hearing any of it.
Charlemagne get so excited when he thinks some1 bout to say smthn negative about me 😭 that tail get to wagging, that lil pussy get to poppin, he get to giggling 😂They banned me from the show but always talkn bout me. I'm pullin up cuz we in NY soon. I'd rather be invited tho js

— MEGATRON (@NICKIMINAJ) August 15, 2019
She took to Twitter to call out the hip-hop commentator on his alleged hypocrisy, saying that he gets giddy whenever someone tries to shut down the Queen. "Charlemagne get so excited when he thinks some1 bout to say smthn negative about me," wrote Minaj. "That tail get to wagging, that lil pussy get to poppin, he get to giggling 😂They banned me from the show but always talkn bout me. I'm pullin up cuz we in NY soon. I'd rather be invited tho js."
There are a few things to gather from her response. For starters, she's apparently banned from appearing on The Breakfast Club. In addition to that, she doesn't even care about the restrictions imposed on her because she's planning on pulling up anyways. This is bound to get interesting.
| | |
| --- | --- |
| SOMEBODY COME LOOK AT THIS: NBA YoungBoy Debuts New Mustache & Short Hair After Jail Release; Gets Roasted by the Internet | 15.08.19 |
After ninety days in jail, YoungBoy Never Broke Again walked out looking like a new man.
Hopefully, he's able to change his ways and move more carefully to avoid getting in any further trouble. While he may be sporting a new look after getting out of jail, NBA YoungBoy will truly prove to his fans that he's here for the long haul if he can spend the next couple of years without getting caught up in any legal drama. The teenage rapper was released this week and he's already getting back into the groove of things. He's taking things slowly on the social media front but in terms of his appearance, fans are surprised at how much he's changed in a matter of three months. In jail, YoungBoy got a new haircut (which many are not feeling in the slightest) and grew a mustache (which fans are also confused about.)
A few videos have surfaced online of the Baton Rouge native reuniting with his closest friends on his first day out of the slammer. He's celebrating his freedom right now and although he has reportedly been ordered to not perform for the next fourteen months during his house arrest, he can at least amuse fans with a new look. Social media is buzzing right now because of YoungBoy Never Broke Again's freshly-grown facial hair. People don't quite know how to react. One woman laughed with the rapper, joking that his hair was cut "so uneven" and not understanding why he would grow a stache. Others just compared him to everyone's favorite plumber, Mario, or the neighborhood crackhead.
What do you think of NBA YoungBoy's new look?
I said it before and i'll say it again. YB LOOKS just like his dad. & look at his mustache 🤣😘😘 Él Youngboy 🥺 pic.twitter.com/nBfsjNT7wk

— Muvá (@trellsdaughter) August 15, 2019
Young boy ugly dab , Mario ass mustache

— 💕lynn (@feenforcee) August 15, 2019
NBA Youngboy came home wit a pedophile mustache

— Ricky Vaughn (@watVAUGHNsaid) August 15, 2019
My youngboy don't even look right without his hair and he need to shave that ugly ass mustache off.😒✌🏽 pic.twitter.com/Kt1c8Y3El7

— Mia💋 (@adore_lashelle) August 15, 2019
youngboy should've left that mustache in that penitentiary

— 𝚔𝚊𝚗𝚍𝚒𝚌𝚎. (@__kmackk) August 15, 2019
| | |
| --- | --- |
| BARDI DON'T NEED FALSE PRESS: Cardi B Lashes Bloggers Trying To Discredit Her Album Sales | 15.08.19 |
Cardi B is tired of the false "press."
During the last twenty-four hours, Cardi B's name has been in quite a few mouths in effort to tear her down for supposed low album sales. The narrative would make sense if Cardi actually had low album sales but the simple fact of the matter is that she doesn't. Now, she's putting the media on blast for trying to spread false information on her name.
In the posts, Cardi came for a series of bloggers with a scathing message: keep her name out of your mouth. Her latest single "Press" speaks on how people are constantly using her name to spew their gossipy nonsense, straying from the truth for some quick clout. In order to prove her point, she shared screenshots from her direct messages after asking a chart-based account to explain their numbers. "Since people and YOuTubers always have a excuse or try to spin shit to discredit me," she wrote as her caption on the first post, which reveals that her sales have not gone downhill at all in recent weeks. "Its sad at this point. Facts is every place in the world people sing each of my songs word by word till this day my album is still selling worldwide top ten. Im so wack im domy [sic] do numbers nobody cares why do ya constantly keep my name for ya clickbaits and always have a excuse for my success."
She continued by singling two bloggers who have been trashing her exclusively, noting that on their page, the highest-performing videos all center around her music. "So these two motherfuckers right here ya mean to tell me that I need help to make number on my album yet when I go on YA CHANNEL every video that has my name is the one that bring ya the most numbers and views," she said.
You might not like Cardi B but you've got to respect the fact that she's moving the needle right now. It's unfortunate that we live in a time where success has to be met with some type of question rather than celebrating our own.. or simply just paying attention to what we do support. Peep the screen caps below:
| | |
| --- | --- |
| WELL ALRIGHTY THEN: Rick Ross Offers Response To Nicki Minaj Telling Him To Sit His "Fat Ass Down" – | 15.08.19 |
Rick Ross was a guest on "The Breakfast Club."
As we wait for new music to arrive from Young Thug, Snoop Dogg, Quality Control, and many others tonight, many are still bumping that Rick Ross Port of Miami 2 on the heavy. The project was expected to be a street classic and after nearly a week of it being in rotation, we can confirm that it's very, very solid — you can read our review here. The Bawse continues to run an extensive press tour, hitting up all the high-profile spots to discuss everything that's happened in his career over the last few years, including the release of his memoir, his new music, and all the feuds he's found himself wrapped up in. Speaking on his current differences with Nicki Minaj, Ross officially responded to the Queen's "fat ass" comments this morning on The Breakfast Club.
DJ Envy and Charlamagne Tha God pressed the Miami veteran about the current Nicki Minaj narrative, bringing up what she said on the Joe Budden podcast about Meek Mill and a text message that was sent after the former couple met with Barack Obama. Nicki stated that she had seen a message Ross sent to Meek about how the female rapper is a "keeper" and she didn't take too kindly to it. Ross isn't turning back on that comment though.
"I mean, if somebody went to meet Obama with you, she is a keeper until you find out otherwise," said Ross. "She was around me a few times but other than that, she was a huge talent but she was playing a very important position at the time. She was in between Meek and Drake at the time. And what she don't know, and what she might not understand coming from a big homie like myself, playing that position, that was a very fragile role. And it would be very easy to put that responsibility on her. But that ain't what I tried to make it to. But most definitely when I seen it go sour, it would be easy to assume she may have had something to do with that and if somebody tells you they didn't, they're lying. But everybody moved forward. She moved forward, she doing her thing. I'm happy to see her do that. Meek doing his thing. Drizzy, they doing they thing."
Elsewhere during the interview, Rozay speaks about his beef with T.I, the reason why his record with Lil Wayne and Pusha-T didn't officially release, his relationship status, his health, and more. Watch the full thing below
| | |
| --- | --- |
| QUESTIONS THAT NEED ANSWERS?: Charlamagne Tha God Presses Jay-Z on His NFL Partnership; Questions Why While Colin Kaepernick is Still Out of Work (VIDEO) | 15.08.19 |
Jay-Z speaks on peaceful protests and taking real action in a meeting with Roger Goodell and Charlamagne Tha God.
Jay-Z levelled up in a major way this week, announcing that he and his Roc Nation team will be partnering with the NFL to produce upcoming editions of the Super Bowl Halftime Show and other performances. The move has been celebrated by many but it's equally been shut down by others. Critics of the deal are wondering how/why Hov would choose to partner with the league when people like Colin Kaepernick, who peacefully protested during the National Anthem, are still out of a job. A recent meeting between the commissioner Roger Goodell, Jay-Z, and members of the media has leaked and in the audio, you can hear Charlamagne Tha God asking Hov the tough questions.
Right off the bat, Charla wanted one thing answered from Jay-Z. He wanted to know why he would sign a deal with the NFL with Kaep still out of work. That's a question that J. Cole, who recently voiced his support for the quarterback, would likely love to ask himself. Jay responded to the host of The Breakfast Club by bringing up Colin's original goal in kneeling during the Anthem. "To take it back, I think that we forget that Colin's whole thing was to bring attention to social injustice, right?" asked Jay in return. "In that case, this is a success. This is the next thing."
As a follow-up question, Hov was asked if he would kneel or stand before the game kicked off and he noted that he believes we're far past that point. Jay was then asked if he believes players should stop protesting, to which he responded that he believes they should have the right to peacefully protest if they choose. However, he thinks that it's time to take action and he hopes to actually create change in the league and the world with his partnership.
| | |
| --- | --- |
| IN CASE YOU MISSED IT: Trina Sets The Record Straight – "There Is No Beef Between Me & Nicki Minaj" | 15.08.19 |
Laying the rumors to rest.
Tuesday night, Trina announced that she would be taking to Instagram Live to clear up rumors that she had issues with Nicki Minaj. Over the past few days, there has been chatter from Trina's A&R, Reginald Saunders, and her Love & Hip Hop Miami star cousin, Bobby Lytes, about Nicki's alleged deceptive behaviors. It all reportedly stemmed from Nicki's feature on Trina's recently released album The One as the pair joined forces on a track titled "BAPS." Some allege that Nicki did little to help promote the song, but according to Trina, that just isn't true.
"My team speaking out…my team got so much to say," the rapper stated on Live. "Imma take the blame for my team 'cause guess what? Me and my team, we dropped the ball. Bad business is what's causing all of this havoc to happen. All of this nonsense. All of this drama, this feelings, this personal…everybody got an opinion. That's what it is. It's bad business. It has nothing to do with any artist that's featured on my album."
Trina said she would never speak about this in the future and made it clear that she has no problem with the Queen emcee. "But you're not gonna disrespect nobody. Another female artist, you're not gonna disrespect Nicki Minaj or nobody else that's on my album because these people did this off my face and my favor. They did it because of my relationship with them. I don't appreciate, I don't condone, I don't give the approval for anybody—no man, stay out of girls' sh*t. Don't come sideways talking about anything that has to do with women."
"We ain't gon' talk about this no more," she added. "There is no beef between me and Nicki Minaj. There will be no disrespect for Nicki Minaj or nobody else that's on my album. I appreciate each and every artist that took the initiative to be apart of this The One album."
| | |
| --- | --- |
| MILEY, WHAT'S GOOD?: Miley Cyrus & Liam Hemsworth Reportedly Split Due To Singer Going Back to Her "Old Ways" | 15.08.19 |
Liam and Miley's breakup reportedly had to do with Miley's lifestyle.
By now it's well known that Miley Cyrus and her husband of seven months have called it quits. After their breakup was announced, Miley was seen locking lips with Brody Jenner's ex, Kaitlynn Carter, on a yacht in Italy. Liam has since shared a short statement on the matter where he assured everyone that he would not be discussing his breakup further.
"Hi all. Just a quick note to say that Miley and I have recently separated and I wish her nothing but health and happiness going forward," he wrote. "This is a private matter and I have not made, nor will I be making, any comments to any journalists or media outlets."
While Miley has yet to come through with words of her own, new reports from Page Six detail how the break up was due to the "Wrecking Ball" singer "acting like the 'old Miley' again." Apparently, Liam "wants a normal, settled-down life" and Miley's ways turned out to not be for him. Miley is clearly enjoying life right now, to some extent, and sources add that she's "healthy as she's ever been, focusing on her music."
In Liam's recent statement, he made it clear that '"any reported quotes attributed to" him "are false," so it's safe to say that any reports that aren't coming from the couple should be taken with a grain of salt.
| | |
| --- | --- |
| THOTIANAS… MEET THOTIONO: Blueface Corrects His Body Count & Says He's Slept With 10,000 Women | 14.08.19 |
Blueface may have been a little humble.
When Blueface told the world that he had slept with over a thousand women since blowing up, he may have been selling himself a little short. The Los Angeles-based rapper is back on his "Dirt Bag." He admitted as much on his new project, reminding us all that he can bag any girl he wants. Even though he's selective with his women sometimes, he still finds a lot of time to study the female body, upping the ante during a recent video interview and saying that his previous estimation of 1,000 was a little off.
Speaking with a radio host about his claims, Blueface said that he might have been a little humble. He gave the issue some thought and came back with a more realistic number, amplifying his old amount by double digits. The Cash Money West artist is no longer telling folks that he's had sex with a thousand women since his claim to fame. Now, the number is 10,000.
"I might have been a little humble," said the rapper, who was wearing his new diamond-encrusted bandana chain. "They said the average was five a day." When asked about his actual body count, Blue gave his 10K approximate before adding, "fuck it" and laughing.
So, what do you think the real number is because this also seems like an exaggeration.
| | |
| --- | --- |
| HERE FOR IT OR KEEP IT?: Ciara is Prepping the Release of Her Very Own Make Up & Skin Care Line – "I Can't Wait to Share it With the World" | 14.08.19 |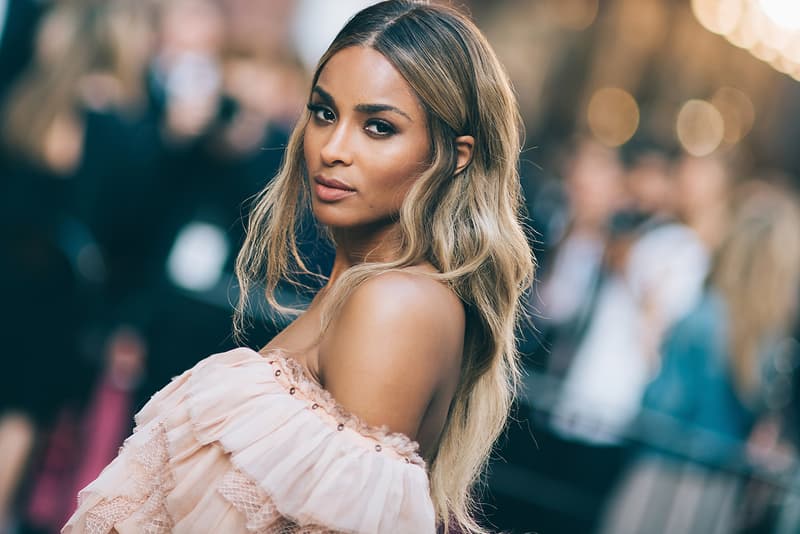 It seems Ciara's level up isn't pausing anytime soon!
During her recent appearance at Beautycon LA last weekend, multi-platinum selling superstar Ciara casually revealed to the beauty-loving audience that her very-own makeup and skin care collection is in the works.
While speaking on the panel, the singer said, "The beauty space is inevitable for me. It's been a lifelong dream of mine to do something in the beauty space, and there are lots of cool things that I've been cooking up and working on, and I can't wait until the time is here to share it with the world."
According to Ciara, the collection will include a "combination of everything." So basically, a Ciara-approved makeup and skin care goldmine. "More than anything, I just want [the collection] to be thoughtful," she says. Knowing Ciara's dedication to helping her followers discover their own confidence and self-love, we have a feeling her brand will reflect those values.
Perhaps Ciara will follow in the footsteps of fellow singer Rihanna, who launched Fenty Beauty in 2017. The star, who partnered with luxury group LVMH this year for her fashion label Fenty Maison, owned the conversation regarding inclusivity in beauty and set a new standard in the industry by offering 40 shades of her foundation, now expanded to 50. Recently, Pat McGrath Labs released 36 hues of the "sublime perfection foundation," $68, in five varieties — Light, Light Medium, Medium, Medium Deep and Deep.
"It's been a long time coming," said Ciara of the noticeable change in the industry. "Inclusivity is always better. When people make those changes to their approach to the beauty landscape and business, it benefits the world. It's the right way."
I'm going to go ahead and call it and say it should be called 'Beauty Marks.' What do you guys think? Are you here for CiCi stepping into cosmetics?