| | |
| --- | --- |
| IT'S A STICK UP?: Da Brat's Paychecks from 'Set it Off' Play Could Go to Cheerleader Who Was Awarded $6.4 Million After Club Assault | 20.06.18 |
Da Brat's got some bad news coming her way. You see, she owes a one time cheerleader $6.4 million for a nightclub assault. And yes, you guessed it, the woman is trying to get her hands on every penny she get from Da Drat.
The woman has set her sights on all money the rapper made for appearing in the "Set it Off" play that recently traveled around the country to rave reviews.
Da Brat, as The Blast reminds, was sued by a former NFL cheerleader, Shayla Stevens, over a 2007 nightclub attack where Da Brat hit her in the face with a rum bottle. A jury found the rapper liable and awarded Stevens a total of $6.4 million.
Earlier this year, Da Brat starred in a theatrical adaptation of the 1996 film "Set it Off." The show ran from March to May in Atlanta and has since played in various cities. Da Brat played the role of Cleo, made famous in the film by Latifah.
According to court documents, Stevens fired off a subpoena to Ticketmaster, who sold tickets to the play, demanding they turn over all contracts with Da Brat and information about her salary. Ticketmaster says the rapper was not their employee and claims to not owe her a dime. They pleaded with the court to not allow Stevens to drag them into the battle.
Right about now we wouldn't want to be in Da Brat's shoes. Meanwhile, the judge has yet to make a decision.
| | |
| --- | --- |
| YIKES!: Rich The Kid & Tori Brixx's Home Invasion 911 Call Surfaces – "They Got in My Apartment!" (LISTEN) | 20.06.18 |
The 911 call shows just how frantic the situation was.
One of the most absurd moments from last week was Rich The Kid's cryptic post from the hospital. A few days ago, Rich's Instagram account had a strange addition to it, showing the rapper laying unconscious in a hospital bed. With no caption, fans were left to worry about RTK's wellbeing, pondering what may have happened. News of a home invasion finally became clear later in the day and his estranged wife even went as far as to blame the robbery on Tori Brixx, Rich's girlfriend. While both Tori and Rich have denied her involvement in the rumored set-up, she appears to have been just as badly harmed by the events.
The 911 call has just been released from the home invasion by TMZ with a female caller picking up the phone. Speaking frantically throughout her conversation with the dispatcher, she is inaudible at times. The phone call was made after the home invaders had left the apartment. The woman is screaming in panic, informing the man on the line, "I'm inside my apartment! They got in my apartment!" By the time the call was made, responders were already on the way. The woman says that three people were in the space at the time of the attack.
Rich has since spoken out about those accusing his girlfriend of being in on the incident, defending her at all costs. Listen to the call below:
| | |
| --- | --- |
| SAY WHAT NOW?: Meek Mill's Judge Reportedly Laughed While A Key Witness Was Taking The Stand | 20.06.18 |
Judge Genece Brinkley has got to go.
Meek Mill and his team of lawyers left Monday's hearing feeling disappointed after their plan to get Judge Genece Brinkley dropped from Meek's case did not go as planned. "I feel like what went on in the courtroom today is disgraceful. There was laughing going on and to me, it's not really a game," Meek said while exiting the building.
The "laughing" Meek is talking about is in direct reference to the latest documents TMZ has gotten its hands on. It seems as though Judge Genece, who already has been pinned as being biased and having her own agenda in Meek's case, was caught laughing during a testimony. According to the publication, when Bradley Bridge took the stand as a key witness, Judge Genece had the audacity to laugh during his speech.
On Monday, one of Meek's judges, Brian McMonagle, brought up the matter in the following exchange:
Judge: Do you believe I have been ridiculing you?
Bridge: There were a couple moments where I sensed that was true.
Judge: And that I was laughing at you? He used the word laughing.
McMonagle: You did laugh.
Judge: No, I wasn't laughing at him.
Goldberg: Your honor, I heard you laughing at him.
Judge: Excuse me?
McMonagle: All three lawyers heard you laugh.
Judge: Do you believe that I was laughing at you in the course of this serious case?
Bridge: I wouldn't call it a laugh. I would call it a smirk.
Before the hearing came to a close, Judge Genece admitted: "OK. I can appreciate that you're saying I laughed out loud, but I did not laugh out loud. I might have had a smile on my face, but I didn't laugh out loud."
| | |
| --- | --- |
| COMING TO YOU AS A WOMAN: Woman In T.I.'s Ass-Slapping Video Identified, Divorce with Tiny Still Pending | 20.06.18 |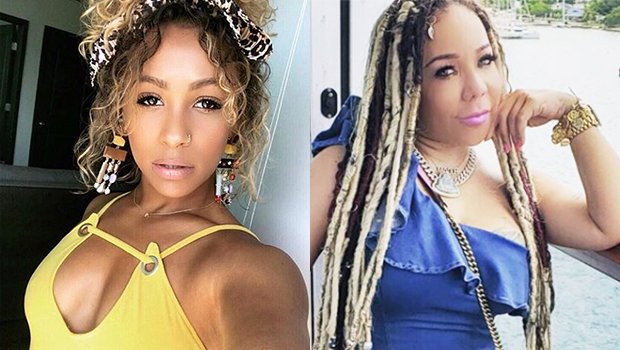 Their divorce has been on hold for a while now.
T.I. recently landed himself in hot water with his whole family. A video was posted online prompted his wife and kids to take a step back from the rapper. The video in question portrayed him getting real cozy with a lady that has been identified as Asia'h Epperson, a young actress. Here's a look at the starlet:
Since then, the strain between the famous couples could be felt through their personal Instagram profiles. Tiny fired back, addressing one of his posts that questioned the utility of marriage. Then, after spending father's day alone, T.I. posted a video that seemed to be addressed to his kids. While the tension is becoming quite public, the couple seems to be procrastinating when it comes to their divorce.
Tiny has filed for divorce back in 2016, stating "unreconcilable differences" as the justification. For the last year or so, no real movement has taken place in the case, apart from both parties asking for more prep time. They have yet to make any substantial strides towards completion of their official separation. In this context, we might not even consider T.I. to be in the position to cheat since his soon-to-be ex-wife demanded to legally end their romantic relationship years ago. Despite the divorce filing, a lot of emotions are thrown on their social media profiles. Maybe the drama is pointing towards the passion they have for each other. Maybe they'll find their way back.
Do y'all think he was cheating with that actress?
| | |
| --- | --- |
| WELL THAT ESCALATED QUICKLY: Ariana Grande & Pete Davidson Cash Out On A New $16 Million Apartment | 20.06.18 |
Ariana & Pete will be shacking up in a luxury apartment in NYC.
Moving extraordinarily quickly in their relationship, Ariana Grande and Pete Davidson have been dating for just a few weeks and they are already engaged to be married. Confident that their love will last, the two will test our their growing bond as they prepare to live together. Two days ago, Ariana dropped a few hints that she would be moving in with her comedian fiancé and reports are now breaking out that they have purchased a property together. Neither side was stingy either as they dished out a total of $16 million for their new luxury apartment, opting to stay close to Pete's SNL home in the Chelsea neighborhood of New York City.
TMZ is reporting that the two have officially moved in together, celebrating yet another advancement in their pairing. The apartment complex is stunning with astonishing views of the city and the Empire State Building. Designed by famed architect Zaha Hadid, it is reported that the couple's unit will be over 4,000 square feet, featuring five beds and four and a half baths. They won't be the only celebrities in the building either as Sting will be their neighbor, enjoying the complex's private IMAX theater, fitness center, and sky-lit pool.
Flaunting their love all over social media, the two seemingly cannot get enough of each other as Pete will even be the subject of an interlude on Ariana's upcoming album, Sweetener. Check out photos of their new digs below.
| | |
| --- | --- |
| ISSA BOP OR ISSA FLOP?: Ariana Grande & Nicki Minaj Are Together Yet Again for 'The Light is Coming' (WATCH/LISTEN) | 20.06.18 |
Back in early May, Ariana Grande served as guest on The Tonight Show Starring Jimmy Fallon where she announced that her next album will be called Sweetner, which is dropping this Summer. In addition to that, she also revealed that she would be doing something "special" every 20th of each month leading up to the album's release, and it appears she's sticking to that plan. Following up "No Tears Left To Cry" & her feature on Nicki Minaj's new single "Bed," Ariana decides to come through today and share her new single called "The Light Is Coming," featuring fellow "Bed"-collaborator Nicki Minaj.
"That's what Nicki Minaj does, she elevates a record. If you're going to have a rapper on a song, they need to really really really be there for a reason, and she does that every single time," Ariana said about working with Nicki.
The Pharrell-produced track can be yours for free when you pre-order the album, Sweetner, now on iTunes.
The video for the track opens with a blonde Nicki in a dark forest, dressed in a black bubble trench coat and goggles. Rocking her signature ponytail, Ariana emerges with a lit orb in hand as she runs through the woods in her Reebok Classic Rapides. As the sky turns to pink, she continues to dance, surrounded by glowing round objects.
"The light is coming to give back everything the darkness stole," sings Ari under the night sky. Watch her bring light to the darkness below and let us know what you think of the track. ISSA BOP OR ISSA FLOP?
| | |
| --- | --- |
| YOU NEVER KNOW: Janet Jackson Opens Up About Her Battle With Depression – "I Heard Voices Questioning My Value" | 20.06.18 |
"I still heard voices inside my head berating me, voices questioning my value."
In the latest issue of Essence Magazine, Janet Jackson opened up about the keys to her recovery from Depression. The embattled singer, and new mother traced her struggle with low self-esteem to feelings of inferiority that persisted through her childhood, the pressures of which resulted in her yielding to impossibly high standards. "Of course there are always the societal issues of racism and sexism. Put it all together and depression is a tenacious and scary condition," Janet wrote. "Thankfully, I found my way through it."
Janet credits the birth of her first child as bringing her levels of joy which had evaded her in her adult life. "When I kiss him. When I sing him softly to sleep. During those sacred times, happiness is everywhere," she explained. Janet's son Eissa Al Mana born 17 months ago, has given her the capacity and energy to move into the future. Janet and the child's father separated 3 months after the birth of Eissa, citing religious beliefs and cultural difference the agent of change.
"In my forties: Like millions of women in the world, I still heard voices inside my head berating me, voices questioning my value," Janet remarks. Even so, many men and women have sought inspiration from her work in the decades since she rose on the scene. She inspired a generation of R&B talent to look beyond the borders of convention, and is still going strong.
| | |
| --- | --- |
| IS BABY FINALLY LEAVING THE NEST?: YBN Almighty Jay Reveals He and Blac Chyna Have Broken Up Following Pregnancy Rumors | 19.06.18 |
Have YBN Tommy Pickles and Blac Chyna finally come to an end?
True love is hard to find, especially in the rap game. There's no shortage of songs warning listeners about the dangers of loving these hoes. That being said, it did seem that YBN Almighty Jay and Blac Chyna were going strong as a couple, despite their 12 year age difference, that is, until now.
The 18-year-old just announced he and 30-year-old Chyna are no longer together after several months of dating. YBN doesn't get into specifics, but it's been a couple weeks since we've seen the two hanging out.
The young rapper revealed their relationship is over in a post which was pretty black in white, shared to his Instagram Stories on June 19, writing simply: "@blacchyna and I are no longer together." This may come as a shock to some, since pregnancy rumors have been swirling after fans spotted Chyna rocking what appeared to be a baby bump at her son King Cairo's graduation last week.
As some of you may remember, this isn't the first time we've seen YBN announce a breakup with Chyna only to publicly patch things up later (like kids do). So let's just tread lightly with this new for now. More on the story as it comes in.
| | |
| --- | --- |
| ARE YOU SURE?: XXXTENTACION's Lawyer Believes His Murder Was A Result Of A "Random Robbery" | 19.06.18 |
XXXTENTACION's lawyer speaks out about the rapper's death.
While many people mourn the death of XXXTENTACION, there's a lot of questions fans are looking for. The rapper was shot in broad daylight as he left a dealership. Shortly after he was shot, he was pronounced dead. At this point, it's unclear what the motivation was behind his murder or who did it. X's lawyer, David Bogenschutz, spoke out for the first time about his client's death.
Everyone's still trying to reel the news of XXXTENTACION's death. It's been over 24 hours since the XXXTENTACION's death and there isn't much information pertaining to what happened. However, Bogenshutz believes the killing was a violent result of "a random robbery."
"I think he went to the bank before it happened," Bogenschutz told Sun-Sentinel. "I think the determination was that he wanted to buy a motorcycle. But [detectives] aren't discounting any theory."
There's been fan-made theories floating around on the internet today. However, Broward County Sheriff's Office are still looking for leads. They put a message out on Twitter that says "anonymous tips that lead to an arrest are eligible for a reward of up to $3000."
— Broward Sheriff (@browardsheriff) June 19, 2018
Following X's death, South Florida rappers, Soldier Kidd and Soldier Jojo, were accused on social media of being involved in X's murder. Both rappers took to social media to deny the accusations.
| | |
| --- | --- |
| XXXTENTACION's Album & Song Sales Skyrocket On iTunes & Amazon After Death | 19.06.18 |
XXXTENTACION's music has seen a massive increase in sales and streams.
Everyone in the hip hop community is still trying to come to terms with XXXTENTACION's untimely death. Many people felt they knew him personally through his music although never got the chance to actually meet the rapper. Despite the controversy that surrounded his name, his music did impact people on a personal level and helped them get through hardship. Following the rapper's death, his music sales skyrocketed through the roof.
XXXTENTACION's music sales have gone up astronomically ever since he was pronounced dead. X currently holds the number 1 and 2 album positions on Amazon's Mover's and Shaker's Digital Music list. X's debut album, 17, soared in sales by 9000% while his most recent album, ? went up in sales by 41,306% within a few hours.
The rapper's single, "SAD!" is currently holding the number one spot on the iTunes charts while "changes" is at number 5. In addition, both albums are sitting in the top 10 on the iTunes charts. ? at number 3 while 17 is at number 5.
In addition to massive digital sales, physical copies of both albums have also seen a massive spike on the charts. The ? LP is up by 542,566% and the CD format went up by 54,057%.
Spotify also dedicated a playlist to XXXTENTACION following his death. However, they caught backlash considering it was only a few weeks a go when they removed his music from official playlists due to their "Hateful Conduct Policy" which was reversed prior to X's death.
| | |
| --- | --- |
| AS EXPECTED: Beyoncé & Jay-Z's "On The Run II" Tour Show Will Now Change Due To Album Drop | 19.06.18 |
Beyoncé and Jay-Z's set designer says to anticipate some changes.
For some time now, Beyoncé has been pulling through with some of the most exciting and complex concert performances from any artist in recent memory. A few months ago her Coachella set made national headlines, and now she's embarked on a tour alongside her husband, Jay-Z.
Their performance together was already exciting as is. The two of them took some inspiration from their former-friend Kanye West and performed on their own version of his floating platform. They also shared quite a few interesting photos with their fans, including some semi-nude photos and some portraits with some mystery babies.
However, the sudden arrival of The Carter's album, Everything Is Love, has thrown a wrench into people's expectations as to what will happen on the tour. They're obviously going to be performing some of the songs from the album, the question is: how will the performance change. Stufish, the architectural firm that designed the stage, has some insight. In an interview with Dazed, that fans can expect a different show than what was seen before.
"The show will change, for sure," says Ric Lipson, one of Stufish's architects. "There'll be new content, and they will use the stage differently in those new songs. I don't think they're going to redo the whole show, because there are a lot of hits that you want to sing and there's only nine songs on the album. I don't know yet."
Not exactly the most promising answer, but as a set designer, he isn't exactly privy to all the changes that Beyoncé and Jay might have discussed. Rather, the evolution is part of the challenge.
"What's beautiful about making a show is that they're an evolving organism," Lipson says. "You as the designer, it's like having a child. You give birth to the child but you don't necessarily know how it's going to be raised. We give birth to these children and we raise them for a few weeks, and then we put them up for adoption and they grow up with a different family."
| | |
| --- | --- |
| TOUGH LOVE: Kanye West Previously Told Kim Kardashian She Had "The Worst Style" | 19.06.18 |
Kanye West gave Kim some tough love.
We can all agree that ever since Kim Kardashian and Kanye West got married, Kim all of sudden underwent a glow-up, if you will. Her previous questionable outfits and lack of fashion knowledge all changed the second Kanye gave her some tough love and told her she had no sense of style. It's a true story that Kim explained during her panel discussion at BoF West Summit at Westfield Century City yesterday.
"I always thought I had really good style until I met my husband and he told me that I had the worst style," Kim admitted.
"He was really nice about it and cleaned out my whole closet. I probably had 250 pairs of shoes and when we were done cleaning it out, I had two pairs left and I cried. We went to the Laker game and my closet was filled back up with all new stuff. There were racks of clothes of designers I have never heard of before like Lanvin and Givenchy. I didn't know that then."
Kim further explained how she Kanye told her that Carine Roitfeld would one day style her and she didn't believe him. Today, she admits that she and Carine are good friends and Ye's wish came through. "I wanted to learn. I wasn't offended when he said that. When he did that he wanted to teach me," she added.