| | |
| --- | --- |
| THE CIRCLE OF YONCÉ: Beyoncé & Elton John Are Creating An Original Song For "The Lion King" Remake | 15.02.18 |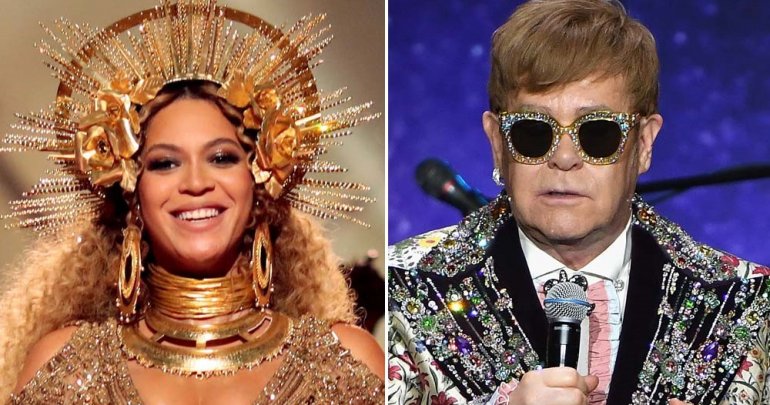 Back in November, we posted on the possibility of Beyonce and Elton John helming new songs for Disney's classic, Lion King. The rumours can now be put to rest since Elton has confirmed that he and Bey are in fact cooking something up in the studio for the film's remake.
The original four songs will without a doubt be in the movie, such as "Hakuna Matata," "I Just Can't Wait To Be King," "Circle of Life," and "Can You Feel The Love Tonight?" Elton told The Sun UK, adding: "And then there will be an end, closing song, and we've been speaking to Beyonce's people and hopefully Tim [Rice] and I and her can cook up something."
He explained how the song will be out in 2019, "and it will be great to work with her."
#TheLionKing. 2019. 🦁👑 pic.twitter.com/UMJo18FwDt

— Disney (@Disney) November 1, 2017
The remake hits theatres on July 19, 2019. When the film was officially announced, Migos tweeted at Disney saying "3 Hyenas Lions King. Call us @Disney."
We're definitely for it. What do you guys think? Are you excited about new music in the remake?
| | |
| --- | --- |
| SEEN & HEARD: Viola Davis Says She Doesn't Get Paid The Same As White Women | 15.02.18 |
Viola Davis is demanding more from Hollywood.
Equal pay is a major controversy that is still a topic at large, even though it's 2018. Men are still getting paid more than women and sadly it's affecting black women and white women as black actresses such as Viola Davis says she's getting far fewer opportunities compared to her white female industry mates.
"I have a career that's probably comparable to Meryl Streep, Julianne Moore, Sigourney Weaver. They all came out of Yale, they came out of Juilliard, they came out of NYU," the Fences actress said while talking with journalist Tina Brown at the Women in the World Salon event last night. "They had the same path as me, and yet I am nowhere near them. Not as far as money, not as far as job opportunities, nowhere close to it."
In reference to people calling her the "Black Meryl Streep," Viola says, "if there's no one like me, you think I'm that, you pay me what I'm worth," adding: "As an artist, I want to build the most complicated human being but what I get is the third girl from the left."
Viola was the first black woman to win an Oscar, Emmy, and Tony award for acting last year and needless to say, she's tired of having t prove herself. "It's gotten to the point [where] I'm no longer doing that," she added. "I'm not hustling for my worth. I'm worthy. When I came out of my mom's womb, I came in worthy."
"You'll have a Shailene Woodley, who's fabulous," she explained. "And, she may have had 37 magazine covers in one year. 37! And then you'll have someone — a young actress of color who's on her same level of talent and everything. And she may get four. And there is sense in our culture that you have to be happy with that."
What do you guys think?
| | |
| --- | --- |
| NOW WE'RE GETTING SOMEWHERE: Azealia Banks Admits "I'm Sad Because I'm Irrelevant" | 15.02.18 |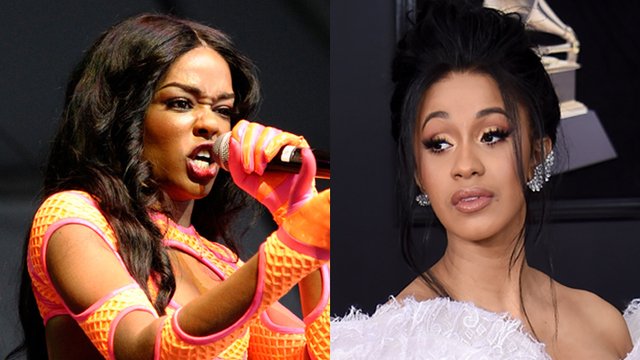 Azealia Banks drums up a series of convoluted messages on Instagram days after Cardi B tirade.
A few days after sounding off on Cardi B to no avail, Azealia Bank's ongoing personal journey has taken an unpredictable turn. Via Instagram, Azealia posted a certificate she received from a 1 day Anger Management course. Your guess is as good as mine, as to whether or not this is being served to us with a dose of cynicism.
At first glance, the certificate comes off as joke, but a look at the posts that follow seems to indicate a light going off in her head or at least small amount of cohesion. Her hateful remarks appear unprovoked and remain unanswered. The post below begins to explain her antics. She seems saddened by the fact that the only time she can cling to any media attention is when the negative is being explored. Hopefully her recent signing with label Entertainment One can level off the heat and draw greater attention to her music.
Even so, her social media posts don't exactly equate to victim's remorse. Her assertion that "Everybody wants to be an authentic Black Woman", if properly decoded, is probably directed at someone in particular, and it would be safe to assume that very person is Cardi B.
| | |
| --- | --- |
| TOO HOT IN HERRE: Nelly Says He's "Innocent" in All Sexual Assault Allegations; Says Media Coverage Has Been One Sided | 15.02.18 |
The once mighty Nelly has seen his name tarnished over recent allegations of sexual assault. While original stories broke back in 2017, the saga of Nelly's recent legal woes has been long and winding. While the initial charge was covered at length, the rapper was recently hit with another accusation, this time from an alleged victim overseas. Said victim accused the rapper of inviting her backstage, where he proceeded to indulge in all manner of lewd behavior; apparently, he attempted navigating her head toward his erect penis, so she says.
It appears the accusations have gotten to Nelly, who was recently hit up by TMZ for an on-the-fly Q&A session. The rapper decided to keep his destination unknown, but he did reveal he was heading "overseas." His claim immediately led the cameraman to inquire whether Nelly was trying handle some legal business, although the Country Grammar rapper remained mum. He did, however, reaffirm his innocence, and claim that the media was taking an obvious stance alongside the accusers. "When my charges got dropped I don't think that made as much headlines as my accuser," says Nelly, with his tone suggesting an unspoken "you-tell-me."
As of now, Nelly remains a free man. However, there seem to be no shortage of accusers willing to put him to task. Whether or not this holds any severe consequences for the rapper remains to be seen. One can only hope that justice is served. Peep the video below:
| | |
| --- | --- |
| GIRL, WHAT?: Iggy Azalea Says She Needs You Men to Last Longer in Bed | 15.02.18 |
Iggy Azalea, looking every bit the part of a silver vixen, seemed pleasantly occupied by the crowd forming around her in New York yesterday. The marquee moment, captured by paparazzi, involved a young boy marching to the head of the line to present Iggy with a red rose. This single gesture although clichéd to nausea, looks to have been a bright spot in her day and simply put, kids get away with anything through their innocence.
The rapper who has been toying with the single life since her split with Golden State Warrior Nick Young, himself a juvenile at heart, has probably seen her standards for grown men take a nosedive. The record states that she was once wooed in spite of his naivety. Young hearts run free.
During her visit to New York, she found time visit MTV's TRL, she was asked to share her "fair" sexual expectations to which she responded that she needed men to last a little longer.
"I think you should make it last longer than the radio edit of the song,"
Hopefully her subliminal reaches the individuals to whom it may concern.
| | |
| --- | --- |
| PABLO IS FREE!: Kanye West Settles $10 Million Cancelled 'Saint Pablo Tour' Lawsuit | 15.02.18 |
Back in August, it was first reported that Kanye West's tour company, Very Good Touring, was suing the insurance company Lloyd's Of London for nearly $10 million dollars for money they never received back from some of his cancelled shows last year. Kanye and his touring company aren't getting paid because Lloyd's of London believes Kanye's breakdown, which ended the tour early, was fueled by prescription drugs and illegal drugs and therefore was his own fault.
Then just a few weeks after that, Lloyd's Of London decided to flip the script and countersue the Very Good Touring company. Lloyd's said that insufficient information was delivered to them in order to determine whether to cover his losses or not after the tour cancellation was announced.
However it appears all that back & forth legal action has been finally put to rest. According to TMZ, Kanye & his touring company have settled the lawsuits. Lloyd's apparently couldn't handle the pressure by Kanye's lawyers and therefore agreed to pay most of what Kanye was due under the policy, which we know was nearly $10 million. They figured going to court was too big of a risk, especially when faced with a possible huge punitive damages award. So they decided to settle before hand.
As TMZ pointed out, this similar thing happened with Lloyd's following the death of famed actor Heath Ledger too. Apparently Lloyd's refused to pay Heath's daughter after her father's death under the policy, but eventually recanted.
Now with this massive lawsuit in the rear view mirror, can we get this new album Kanye? We'll keep you posted.
| | |
| --- | --- |
| BRING IT ON OR LEAVE IT ALONE?: LeBron James To Produce "House Party" Remake | 14.02.18 |
LeBron James' production company SpringHill Entertainment, which he co-founded with his longtime friend and business partner Maverick Carter, is producing a new "House Party" movie, according to The Hollywood Reporter.
The comedy, which starred Kid-N-Play, originally debuted in 1990 and was followed by sequels in 1991 and 1994.
However, LeBron has told The Hollywood Reporter that the upcoming "House Party" remake is "definitely not a reboot."
"This is definitely not a reboot. It's an entirely new look for a classic movie," James tells The Hollywood Reporter. "Everyone I grew up with loved House Party. To partner with this creative team to bring a new House Party to a new generation is unbelievable."
Atlanta's Stephen Glover and Jamal Olori will write the screenplay and Maverick Carter says they're looking for musicians to be cast in the upcoming project. LeBron himself might even make an appearance.
Per The Hollywood Reporter, "We're trying out some ideas for musicians to be cast in and to be a part of the project," says Carter, who adds that a cameo by James, in high demand since his well-received performance in Universal's Trainwreck, also remains a possibility. "There's no plan for it now, but he's a fantastic actor, and if he wants a role, Stephen will find a great role to put him in," adds Carter.
This is gonna be fun!! Stephen and Jamal are so talented. Very excited to work with them on this. Stay tuned! #MayEvenHaveToMakeACameo https://t.co/sJ8EoqHs1e

— LeBron James (@KingJames) February 13, 2018
| | |
| --- | --- |
| THIS IS THE SONG THAT NEVER ENDS: Blac Chyna Adds Khloé Kardashian and Kylie Jenner Back to Her Lawsuit Over Canceled Reality Show | 14.02.18 |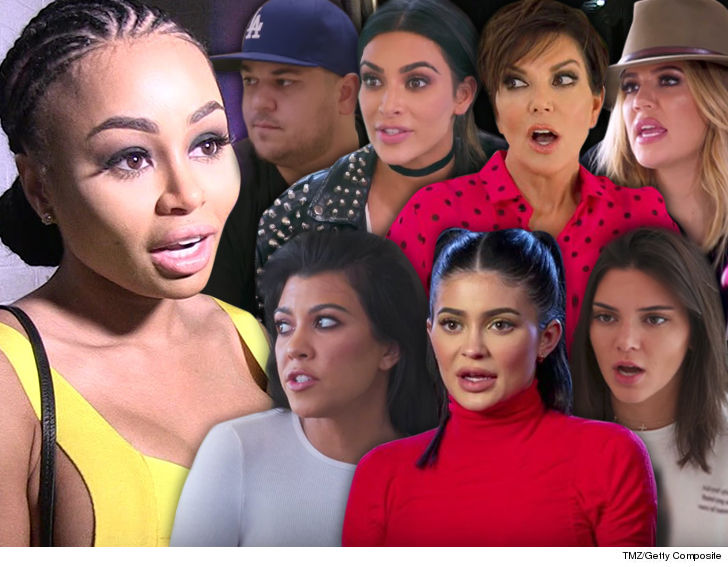 At this point, I'm pretty sure suing the Kardashians is the longest job Blac Chyna has ever had. Chyna has re-filed her lawsuit against the Kardashians for allegedly killing her reality show and added Khloé Kardashian and Kylie Jenner back as defendants.
Last month, a judge dismissed Chyna's lawsuit against Kim Kardashian and Kris Jenner — but gave Chyna and her attorney the opportunity to amend the complaint.
After dismissing Khloé and Kylie from the suit back in November, their names are back in the amended version.
According to TMZ, Chyna claims the Kardashians conspired to torpedo her reality show, "Rob & Chyna" and that's why E! decided to drop it from its schedule. The Kardashians maintained the show was dropped because Chyna got a restraining order prohibiting Rob from going near her, and it's impossible to do a reality show about their relationship under those circumstances.
As for why they were added back to the lawsuit … she doesn't say, but there's clearly bad blood here. Chyna lists some quotes in the docs that the Kardashian Klan members allegedly said, trashing her on set and ruining her reputation, such as, "The show [Rob & Chyna] is giving this toxic woman money and exposure she lives and breathes for and by continuing it … [s]he will proceed with using and physically abusing my brother."
If anything, Chyna's definitely a very determined woman.
| | |
| --- | --- |
| GIRL, WHAT?: Love & Hip Hop Atlanta's Tommie Lee Under Police Investigation for Allegedly Punching Jewlery Store Employee in Mall | 14.02.18 |
According to TMZ, Love & Hip Hop: Atlanta' star Tommie Lee allegedly punched a jewelry store employee and now cops are investigating.
According to the police report … Tommie and an unknown man visited the Henri Bendel store in Atlanta's Lenox Square mall on February 1. An employee named Daniella was helping Tommie when a nasty argument started. Police say store surveillance cams captured Tommie yelling at Daniella, and then coming around the display case to "slap and punch her repeatedly."
Sources at the store tell us … Tommie became increasingly rude while shopping, and Daniella decided to confront her about her attitude. We're told that's what set off Tommie. The store manager eventually broke up the altercation before Tommie and her companion bolted.
According to cops … the store manager claimed Lee and her guy friend frequent the store, and have tried to steal items in the past.
The employee told cops she suffered bruising on the left side of her face and eye. She wants to press charges, and we're told she's lawyered up and might sue Tommie as well.
We've seen Tommie turn up on several different occasions thanks to 'Love and Hip Hop' — so we believe whatever the employee is saying. Do you think Tommie is guilty?
| | |
| --- | --- |
| BECAUSE GOD DON'T LIKE UGLY: Wendy Williams' Shows Postponed Following Another Health Scare | 14.02.18 |
Fans of The Wendy Williams Show will be disappointed to learn that the daily program has been canceled for the rest of the week. The show's host had another health scare during yesterday's (Feb. 13) taping.
The 53-year-old mother and wife prides herself on never missing a show and even went on air the day after Hurricane Sandy in 2012. According to Page Six, Williams is "still experiencing flu-like symptoms" and needs to focus on her health in the meantime.
"Wendy is still experiencing flu-like symptoms, and so she can rest up and get better, we have decided to cancel tapings the rest of the week," said a show's spokesperson on Wednesday morning (Feb. 14).
Last October, Williams took a highly publicized fall during the taping of her Halloween-themed episode and accredited the mishap to overheating from her costume.
This time, Williams was seen losing her balance during the closing credits as she stumbled into the arms of an audience member, per BET. Williams later posted a video explaining she had to be talked out of going to work today and that she considers herself a "thoroughbred."
"I have not taken off since we started the show," Williams said.
Reruns of The Wendy Williams Show will air Wednesday (Feb. 14) to Friday (Feb. 16).
| | |
| --- | --- |
| YEEZUS WALKS?: Kanye West Finally Returns to Instagram to Wish Kim Kardashian a Happy Valentine's Day | 14.02.18 |
It's been a long time, he shouldn't have left us. But he did. And now he's back, to a degree. If this doesn't signal the approach of Yeezy season, I don't know what does. Last sumemr, Kanye subjected himself to a self-imposed exile from both Instagram and Twitter, purging the former and deleting the latter entirely. Now, his long-dormant account has shown signs of life, with Kanye's first post in months. Granted, it is Kardashian adjacent, but is it really a surprise that the unofficial celebration of love was enough to wake Kanye from his hibernation?
The post is simple. A page with a simple message etched in clear black font. "Happy Valentines Day Babe." A proclamation of love to wife Kim Kardashian is the likely scenario. Although let's be honest, this has all the makings of a roll-out. We're not new to this. When it comes to his artistry, Kanye only moves methodical. There has to be a greater significance to this post; as sweet as it may be in sentiment, we as fans are eager for table scraps at this point.
Either way, the social media game is a better place with Kanye West in it. For that, we're grateful. Hopefully this increased activity signifies that Kanye is entering some sort of "mode," be it promotional, album, beast, et cetera. Yeezy season approaching? Seems likely. Are you glad to see Ye back?
| | |
| --- | --- |
| FACTS OR REACHING?: Migos Say They Were "Cheated" At The Grammys | 14.02.18 |
Last week we posted on Migos' NME magazine cover that saw the three homies all fitting into one t-shirt for an epic photo. Today, the full interview on their feature is available, and the three rappers chatted about Culture losing out at the Grammy awards, possible movie making and more.
On the topic of their last two albums, Migos explained to the mag how you simply can't compare them. "We don't compare our beautiful, monumental two pieces together," Quavo said. "Like, I can't compare this ring to this ring," he explained while showing off his set of blinged out accessories. As for Culture losing to Kendrick Lamar at the Grammy Awards, Offset said: "They cheated us."
"There was nothing bigger than the fucking Culture album this whole last year!" Quavo added. "They're scared to handle the three-headed monster… Ooh! [But] we'll be back next year."
Quavo went on to explain what Culture really means to them, and how it defines "a new generation, a new sound of music, new change, a diversity of fans, all in one party, one event and they all share good-ass music."
Takeoff leaked a bit of information on their next move, that involves filmmaking. "I look at us as a business," he said. "You can branch out, but you want to beat them out," Quavo added. "Real theatre movies, with real top A-list actors and shit like that."
What do you guys think? Do you agree that Migos were cheated or are they reaching?