| | |
| --- | --- |
| ISSA BOP OR ISSA FLOP?: Ciara Delivers a Baby Making Banger Just in Time for Valentine's Day with "Greatest Love" (VIDEO) | 12.02.19 |
Ciara is back with a baby making banger, like only she can do.
Ciara took a leap towards independence by launching her own label, Beauty Mark Entertainment, in late 2017. The boss lady dropped "Level Up" as the first single under the moniker last year, followed by a couple more tunes, and is now stepping into 2019 with her latest single, "Greatest Love." The new record and it's intimate music video are dedicated to her husband Russell Wilson, naming him her "greatest love," something we all can relate to just in time for Valentine's Day.
The slow tempo song channels the mood we've come to appreciate from Ciara with her past hits like "Promise," and "Body Party" as she sings about how much she appreciates Russell's love and support in her life.
Watch the sexy music video below and let us know what you think. ISSA BOP OR ISSA FLOP?
| | |
| --- | --- |
| WE CAN'T MAKE THIS STUFF UP: Chris Brown Visited By Police for "Welfare Check" After Leaking His Address In Offset Beef | 12.02.19 |
The police conducted a welfare check on Breezy.
The feud between Offset and Chris Brown reached new heights when Breezy dropped his home address on Instagram and asked the Migos star to pull up so they could duke it out. It was a shocking move given the singer's celebrity status, as many probably jotted down his Los Angeles coordinates so they could get their stalking game on. While there haven't been any reported break-ins at Chris' place, we're guessing he has a top-notch security system or has informed his team to only allow people named Kiari Cephus to enter the premises. One fan of the vocalist was so worried about the star's health that he called the police and asked them to perform a welfare check on Breezy.
According to TMZ, Brown was visited by police after somebody called to say that they were worried about his welfare. Shortly after the singer posted his address online, police showed up and spoke to his security team. They notified the cops that Chris is "fine" and that nothing had occurred since the last online interaction with Offset. Breezy removed the post containing his address after police suggested he do so for his own safety but, like we said, there are probably tons of individuals that wrote it down in their notes. Not the smartest move.
Do you think we've heard the final words between Offset and Chris Brown? Now that Set and Cardi B are back together, the Migos rapper seems to be focusing mostly on his relationship and his solo album debut.
| | |
| --- | --- |
| I KNOW YOU LYING: Tekashi 6ix9ine Stars In Awkward Anti-Abuse Commercial For Sex Shop (WATCH) | 12.02.19 |
Tekashi69 is part of a new campaign with Romantic Depot.
Just last week, details of Tekashi 6ix9ine's alleged abuse against his daughter's mother, Sara Molina, were reported in an exclusive interview with the folks over at The Daily Beast. His ex-girlfriend told the publication that he had previously beaten her bloody, abused her in front of their daughter, and forced her to have sex with him. The accusations are troubling and extremely difficult to imagine. With 6ix9ine currently being held behind bars as he awaits his trial, a new commercial has just surfaced for a sex shop called Romantic Depot with the rainbow-haired rapper as the star.
In the clip, Tekashi walks into the shop with his girlfriend and says that they're ready to "spice things up." The employee then challenges him, asking him if he knows that he should be aware of his partner's limitations. It should be noted that at the beginning of the video, there is a disclaimer that the store does not condone any of 6ix9ine's past activities. "I agree," says the artist. "When I was younger I used to make a lot of stupid mistakes but I'm ready to learn more."
The advertisement closes with Tekashi69 saying that thanks to Romantic Depot, he now knows "how to treat women with dignity and respect." If only he would have gone shopping for toys before he met Sara Molina…
The CEO of Romantic Depot told Jezebel that it was 6ix9ine's idea to be in the commercial. "He really insisted on being a part of this. We actually filmed him in the store, and he was really nice with the staff." He says that Tekashi "wanted to make himself a better person by showing women that he wants to change his past behavior."
| | |
| --- | --- |
| JESUS CHRIST: Nicki Minaj Suddenly Blames Grammy Producers "7 Years of Bullying" As a Part of Reasoning Why She Doesn't Have a Grammy | 11.02.19 |
Cue the theatrics. Nicki Minaj now has smoke for the Grammys.
Artists have constantly blasted the Grammys over the politics played in choosing the winner. Nicki Minaj is the latest to take aim at the Grammys. The rapper responded to a fan who found it weird that Nicki's been in the rap game for years but never took home an award. "Nicki Minaj has been at the top of her game for too long to not have had a Grammy. I don't know what white man from the boards she pissed off," the fan wrote. Well, it looks like Nicki's ready to spill all the alleged tea after she claims white man from the Grammy committee has allegedly gotten in the way of her Grammy.
"I pissed off the same man Ariana called out for lying. Grammy producer KEN [Ehrlich]," she revealed. "I was bullied into staying quiet for 7 years out of feat. But I'll tell my fans the REAL on the next episode of #QueenRadio they deserve the truth."
She added, "Also, CONGRATS to everyone who won last night," which seems to also include Cardi B who she spent rivaling for the majority of 2018.
I pissed off the same man Ariana just called out for lying. Grammy producer KEN. I was bullied into staying quiet for 7 years out of fear. But I'll tell my fans the REAL on the next episode of #QueenRadio they deserve the truth.

Also, CONGRATS to everyone who won last night. 🙏🏽 https://t.co/YjmoIOPt6o

— QUEEN (@NICKIMINAJ) February 11, 2019
Ken Ehrlich previously had some harsh words for Nicki's 2012 performance at the Grammys which may be apart of what Nicki herself said in her tweets. In a 2012 interview he pretty much said the organzier's were greatly disappointed with Nicki's Grammy performance of 'Roman Holiday' where Minaj basically staged an exorcism.
"I was not proud of what we did with Nicki Minaj three years ago," he said. "I thought that was a disappointment both in terms of what we did and to an extent what she did. I'm not going to absolve us of any responsibility, but it just wasn't good. If it had been controversial and good, I think I would have been proud of it. But we probably let out the string a little too much on that one."
For a reminder of that performance, take a look below. All of this just seems really unnecessary and tacky. Who exactly is going to win from this? This could only bring Minaj into a deeper hole with what the general public outside of her fans views her as currently. What do you guys think?
| | |
| --- | --- |
| SAD TIMES: Autopsy Report Reveals Angela Simmons' Baby Father Was Shot 13 Times On The Day Of His Death | 11.02.19 |
Only four of the bullets grazed him.
Angela Simmons' baby father, Sutton Tennyson, was tragically shot to death in his Atlanta driveway back in November and only now does the autopsy reveal more information on his murder. TMZ reports that Sutton was gunned down with 13 bullets resulting in his death.
According to the publication, the bullets hit his chest, stomach, legs and arms and three of them caused major damages to his heart, piercing several chambers of the organ. Other shots pierced his lungs, stomach, and spleen while four of the bullets just simply grazed him.
Sutton's alleged killer, Michael Williams, turned himself in after the shooting, that was said to be about money. Although Michael handed himself over to the cops, he denied that accusations that he shot and killed Sutton.
Before the new year, Angela penned a sweet message on Instagram to her late baby father, thanking him for the best gift she's ever received.
"As this year comes to a close … I reflect on the most difficult hurdle I've ever had to face. And it's losing my son's father," she wrote. "To know that you are with us in spirit is sometimes just not enough. But as the new year comes in I know that I will do my best carrying Sj with your strength and mine. And now being mommy and daddy to our beautiful son. Thank you for my best gift ever."
| | |
| --- | --- |
| WELL THAT ESCALATED QUICKLY: Nicki Minaj Cancels Her BET Awards Bookings After Shady Post Regarding Cardi B's Grammy Win | 11.02.19 |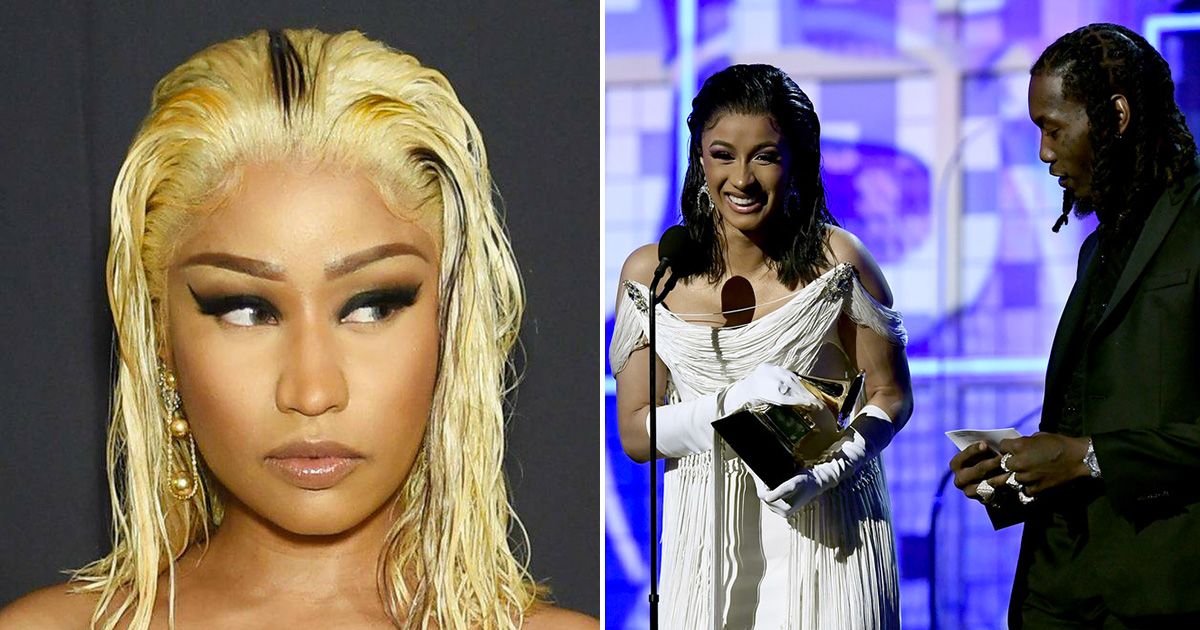 Nicki Minaj has canceled her upcoming performance at this year's BET Experience.
The "Queen" rapper abruptly canceled an appearance for which she was already booked, as well as, any planned appearance at the upcoming BET Awards show. Minaj made the announcement on Twitter on Monday after BET appeared to take a jab at her when they announced Cardi B winning a Grammy for Best Rap Album. Nicki and the network are now in a heated argument on Twitter, and of course her fans got involved.
Both Nicki Minaj and Cardi B were announced as headlining acts for the 7th annual BET Experience this summer, and she was slated to appear at the upcoming BET Hip-Hop Awards. The head Barb also tweeted that the entire Young Money roster will be boycotting BET Awards and all other upcoming award shows. Young Money leader, Lil Wayne is also a headlining act on the show, and now it's unclear if he too will go ahead and cancel his performance.
"Young Money will no longer be apart of the BET Experience or award show. Summer Tour dates dropping soon," Nicki tweeted before telling a fan that she can get a refund for her tickets to the show.
In case you missed the BET caption that got under Nicki's skin, it read: "Meanwhile, Nicki Minaj is being dragged by her lacefront," in reference to an article on their website regarding Cardi B's grammy win. The post has since been deleted, but not before fans got a screenshot of it and shared it on Twitter.
Young Money will no longer be apart of the BET Experience or award show. ♥️🙏🏽♥️ Summer Tour dates dropping soon 🦄

— QUEEN (@NICKIMINAJ) February 11, 2019
Nicki Minaj is clearly furious with BET and will be pushing her camp to boycott the network's annual award show. It will be interesting to hear what Drake and Lil Wayne have to say about her announcement. Here are some more tweets from her feed where she is trashing BET…and her "Barbz" are also doing their usual routine by leaking the writer who wrote the article's phone number for harassment purposes. What do you guys think of all of this?
Meanwhile, BET is being dragged by their lace front. 🤣 pic.twitter.com/7rFn58hwXx

— QUEEN (@NICKIMINAJ) February 11, 2019
Absolutely. Get your refund ASAP https://t.co/Fj2JU6lHxR

— QUEEN (@NICKIMINAJ) February 11, 2019
Who said "we were sick of watching Baby Boy anyway" I- 🤣🤣🤣🤣 @BET

— QUEEN (@NICKIMINAJ) February 11, 2019
| | |
| --- | --- |
| WELL DUH: Blac Chyna Reportedly Doesn't Care About Her Mom's Opinion On Her Parenting Skills | 11.02.19 |
Blac Chyna is turning a blind eye to Tokyo Toni's opinion.
Tokyo Toni's attempts to see her daughter Blac Chyna (and have her attend her upcoming wedding) have been thrown out the window. We previously posted that Tokyo Toni thinks that Rob Kardashian should get full custody of their daughter Dream. "It doesn't take a rocket scientist to see something is terribly wrong," Tokyo said of her daughter's parenting skills.
Tokyo was referencing Blac's previous headlining moments such as her Hawaii debacle with ex Kid Buu, and the previous visits to her home from cops who were told her children (Dream and King Cairo) were not being properly taken care of. Blac's lawyer Lisa Bloom did clear up the rumours saying: "Chyna's children, King Cairo and Dream Renée, are both healthy and doing very well. They were never in any danger and any reports to the contrary are entirely false."
TMZ now reports that Blac isn't taking her mother's opinion to heart, considering that she hasn't seen her mother in at least two years – so what does she know?
In other Blac news, her ex Kid Buu has denied allegations that he put his hands on Blac during their Hawaii fight.
"That's bullshit. That really is bullshit. My mother, my mom, raised me better than that. I will never put my hands on a woman. Never have I, and never will I… I was raised better than that," he said.
| | |
| --- | --- |
| NOW THESE ARE COUPLE GOALS: As Ciara Launches New Label, Russell Wilson Reportedly Gifts Her Masters To Her Music | 11.02.19 |
Ciara's BME label is in full motion.
Ciara announced last week at the 2019 MAKERS Women's Conference that she has launched her own label, Beauty Marks Entertainment. BME is "where Music intersects with Film, Fashion, Technology & Philanthropy" and provides Cici with her own hub to achieve all of her ambitions.
"It definitely encompasses all things for me as it relates to my work world — everything from music releases, the label side of it, to the management side of it," Ciara told Billboard when discussing the priorities of the company. "[…] The idea of ownership is really important to me and that's what this phase is about."
According to Karen Civil, Ciara's husband, Russell Wilson, reportedly purchased the masters to Ciara's music and gifted them to her as a means to kickstart her own label. The generous gift means Ciara now has full control over her music and the rest of her releases going forward now that they will be housed under her own label.
"There have been moments in the past when I've felt creatively handicapped just because I have to wait for the powers that be to make the decisions for me and then they take a long time," Ciara explained to Billboard. […] When you feel like you have something that's creatively distinctive, you want to be able to get it out there at the right time. So being able to have that freedom and flexibility is so special."
Ciara's upcoming single "Greatest Love," drops on February 12th and will be released under BME. Are you as excited as we are?
| | |
| --- | --- |
| SAY WHAT NOW?: 21 Savage's Team Believes His Mom Was Barred From Grammy Red Carpet Over Poltics | 11.02.19 |
21 Savage's mother ultimately didn't attend the Grammys.
21 Savage's mother wanted to walk the red carpet at the Grammys on his behalf since he's currently in ICE's custody, However, officials may have placed a ban on her and the rapper's team to appear on the carpet. According to The Blast, 21's mother wanted to attend the Grammys but when it came time to pick up the tickets and red carpet credentials, she was told the rapper would have to do it himself. She flew down from ATL to L.A.to pick them up and explained 21's highly publicized situation. Grammy officials ultimately released her the tickets but only after the red carpet wrapped up and the show was about to begin.
His team believes this was was a politically motivated strategy to prevent them from protesting 21 Savage's detainment. Rumor has it that the Grammy officials caught wind that there would be mention of the rapper's situation. His family, team and fellow artists were reportedly planning to walk to record carpet with documented immigrants to show support for 21. His team believes the Grammys heard of these plans and then strategically denied them access to the Red Carpet to avoid a scene.
Once they ended up giving 21's mother and his team their tickets, they were reportedly offended and decided not to show up anyways. Sources close to the Grammys said that for security reasons, the Grammy's policy is to refrain from transferring tickets. His mother was offered two tickets from a "different allotment."
| | |
| --- | --- |
| SECURING THE BAG…LITERALLY: Cardi B Is The Latest Rapper To Land Her Own "Rap Snacks" Flavors | 11.02.19 |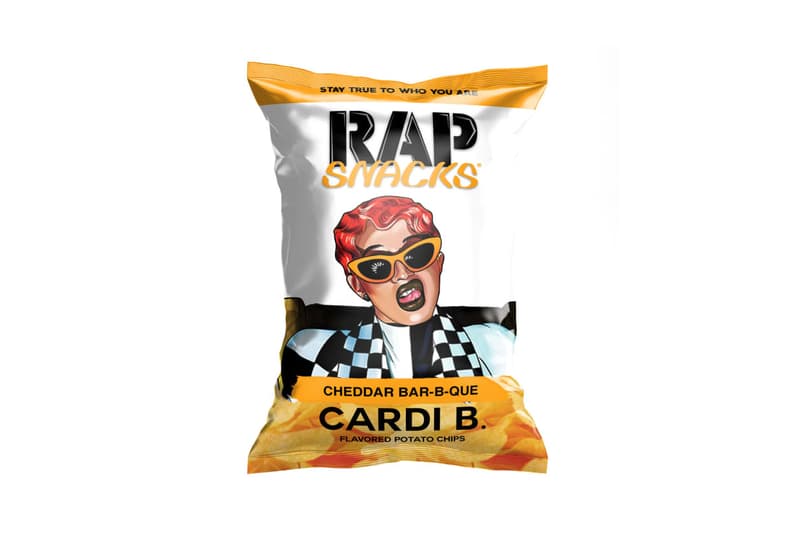 Cardi B is quite literally securing a bag.
Cardi B's road to the top has found the breakout megastar landing accolades at every corner. Yesterday, Bardi locked down her first Grammy Award for Best Rap Album, beating out some heavyweight competition in Pusha T, Nipsey Hussle, Travis Scott, and more. Now, it would appear she's extending her reach even further, having teamed up with the "Rap Snacks" company to launch a new line of chips: "Cardi BBQ."
For those looking to sample the new flavor, you might have to cop a bag or two in the process. For starters, we've got the Cheddar BBQ for the cheese heads. The Jerk BBQ for those down with the fine flavors of Jamaican cuisine. For those looking to switch the style up, the Cardi takeover comes in popcorn format. As for flavors, the Honey Drip promises sweetness, and the Habanero Hot cheese popcorn makes for a spicier alternative.
A spokesperson for Rap Snacks spoke with Complex about "Cardi B being featured on Rap Snacks is truly a great fit for what our brand stands for," he said. "Rap Snacks is a brand that embraces the evolving hip-hop culture and promotes authenticity which mirrors what Cardi B represents. Just like Rap Snacks, Cardi B will always remain true to who she is."
| | |
| --- | --- |
| ANOTHER ONE?: Katy Perry's Shoe Line To Be Pulled From Shelves Amid Blackface Backlash | 11.02.19 |
Katy Perry's shoes are no longer available.
Days after Spike Lee, Soulja Boy and Dapper Dan shamed Gucci for its Blackface apparel, Katy Perry's latest shoe line has made the same mistake as the Italian luxury brand. Katy's recent shoe offering that was available at Walmart and Dillard's has since been pulled off the shelves since one particular design resembles Blackface.
The "Rue Face Slip On Loafers" and the "Ora Face Block Heel Sandal" were both available in a beige and black design, and you can guess which one sparked the controversy.
@katyperry shoe that is under scrutiny for resembling blackface is about to be yanked. Thoughts? Cc @TMZ pic.twitter.com/BuagCyBeur

— Nasty_CSA (@mevpromotions) February 11, 2019
Sources close to the singer tell TMZ that Katy designed the shoes in question, that is part of an entire line of shoes that were never intended to be offensive. "In order to be respectful and sensitive the team is in the process of pulling the shoes," the source added.
Fashion designer Dapper Dan released a statement on Gucci and Prada's previous Blackface designs, calling out the brands who need to hold responsibility for their offensive designs.
"I am a Black man before I am a brand," the 74-year-old design shared on social media. "Another fashion house has gotten it outrageously wrong. There is no excuse or apology that can erase this kind of insult. The CEO of Gucci has agreed to come from Italy to Harlem this week to meet with me, along with members of the community and other industry leaders. There cannot be inclusivity without accountability. I will hold everyone accountable."
So I guess @katyperry thinks black face is cool. pic.twitter.com/pJmyUoJkry
— Christophe Keyes (@ChristopheKeyes) February 11, 2019
Now Katy Perry got blackface shoes 🙄 all these different designs out here I have no other choice than to believe they doing this stuff on purpose
— piggy (@danae_33) February 11, 2019
Regarding Katy Perry's shoes; if you have to second guess whether a design is blackface/racist…it probably is. "Reaching" or not, information is too readily accessible for this to occur. #DoBetter
— Tia (@TiaHasTime) February 11, 2019
Ignorance is Never A fashion statement! Apology NOT accepted😡#blackface #Gucci #gucciblackface #prada #moncler #katyPerry pic.twitter.com/KDCnkzGlgA
— KierenBoyce (@ThatGyrlKieren) February 10, 2019
| | |
| --- | --- |
| NICE FOR WHAT?: Pusha T's "Reaction" To Drake's Grammy Win Is Hilarious Dark Comedy; Refuses to Stand | 11.02.19 |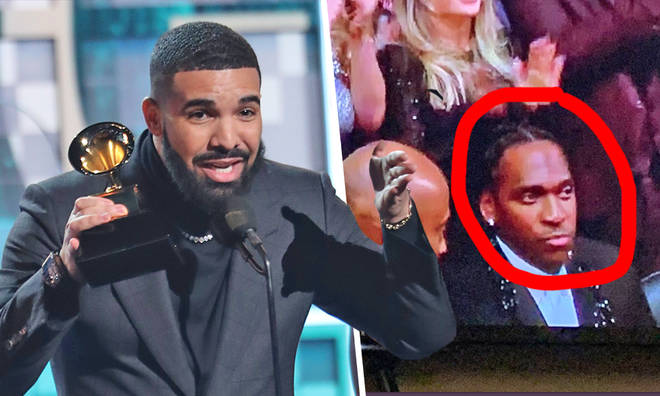 Pusha T's foot fell asleep during the Drake standing ovation.
As Drake secured a Grammy for "Best Rap Song," one has to wonder what Pusha T made of the moment. The Daytona rapper was in attendance over his own nomination for "Rap Album Of The Year," and though his project was critically acclaimed, Push remained an outside favorite. Seeing as he ultimately left the ceremony empty-handed, losing out to Cardi B's Invasion Of Privacy, he was nevertheless privy to a rather interesting acceptance speech from his old pal.
Naturally, the Pusha vs. Drake narrative remained a steady throughline, as it likely marked the first time they stood in each other's vicinity since the beef's vicious peak. Therefore, it was only logical that the internet would waste little time in concocting reactionary memes, having a playful laugh at Pusha's expense. One making the rounds finds King Push frozen during the "alleged" moment of Drake's victory, refusing to join the standing ovation out of sheer principle. Meanwhile, Joyner Lucas can't help but grin at the situation, a hip-hop fan to the core.
In truth, it's not certain whether this was, in fact, the moment of Drake's victory. Still, the image speaks volumes. It's easy to imagine Pusha seething as his rival saunters to the stage, moments away from delivering an admittedly badass acceptance speech. The irony of the situation is that Drizzy's speech applies to Pusha as well; despite walking away sans trophy, nobody can take away Daytona's acclaim from both critic and fan alike.