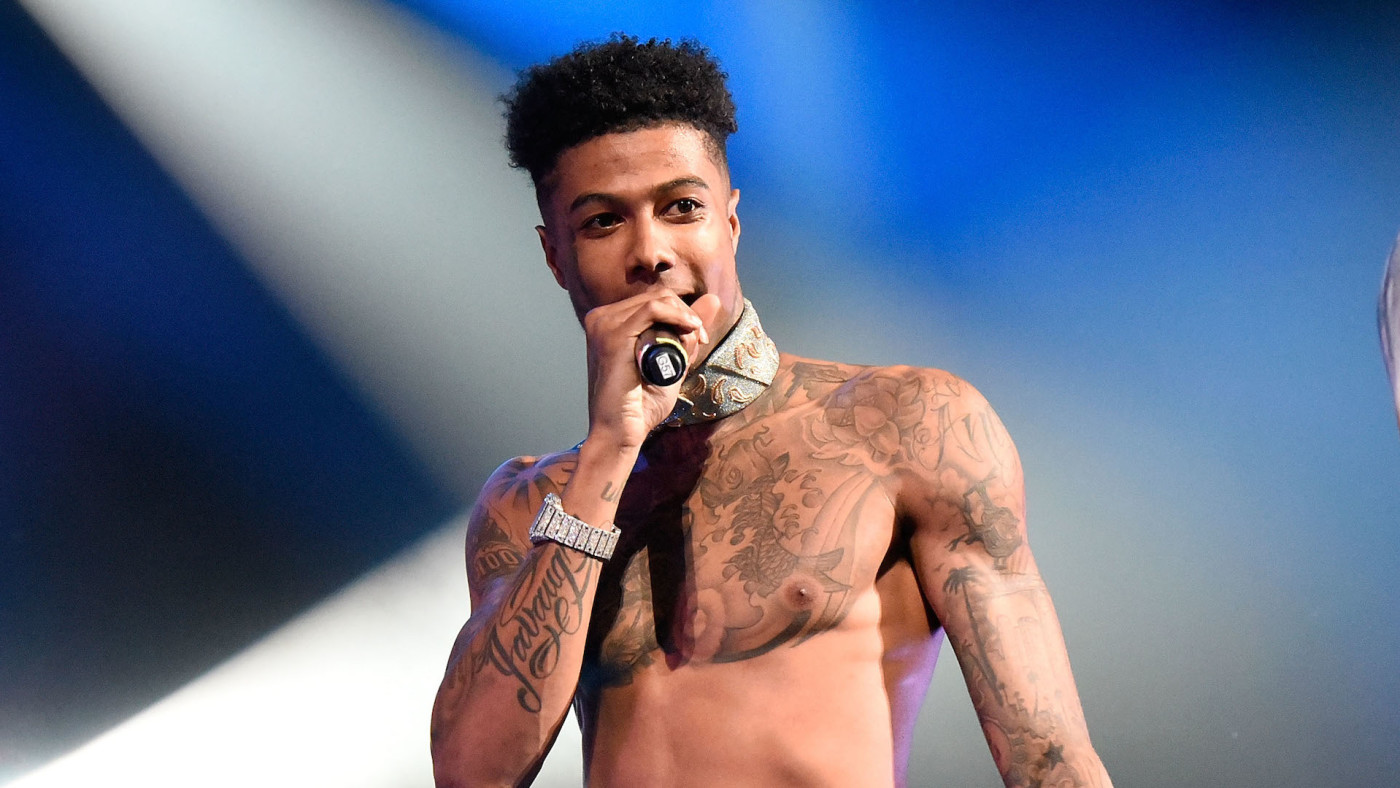 Blueface caused quite the uproar after he filmed himself asking for a "George Floyd discount" while buying furniture.
Blueface was on his clown sh*t over the weekend (June 5th) when he uploaded a video of himself on his Instagram story, asking a sales associate if he could get "that George Floyd discount" while he was buying furniture. The novelty rapper was doing some shopping at LA Furniture as part of what appears to be a brand sponsorship. He shared some clips of himself browsing the storeon his IG story, showing off the different pieces.
He later posted these videos onto his account directly, but it appears he may have deleted one of the clips in which he makes reference to the recently deceased George Floyd, who was murdered by police in Minneapolis last week. "Ay, could y'all tell 'em to give me that George Floyd discount?" Blueface asks the salespeople in the deleted clip. "I need that Black Lives Matter discount."
Although he did end up taking it down, these jokes definitely didn't sit well with some people, especially since Blueface appears not to have used his platform to bring attention to the issue at hand.
Please tell me y'all saw the blueface foolishness he said about a damn "George Floyd/BLM discount " pic.twitter.com/iv15FyLYAv

— Veronica 👅 (@PinkV91) June 6, 2020
yeahhh, blueface is a wanker

— lina⁷ loves sadie (@lofitete) June 6, 2020
if y'all don't drag Blueface the way y'all did Trina…the sexism is just…whew pic.twitter.com/zhrquItvac

— target of envy // BLACK LIVES MATTER (@_doreenpt) June 6, 2020
Wow I can't believe he said that #BlackTwitter safe to say #Blueface #cancelled pic.twitter.com/zQpfRUykWS

— KYDDJOEHOODRICH (@KYDDJOE) June 6, 2020
Blueface hasn't utilized his platform at all during this time, but asks furniture store for "George Floyd discount." pic.twitter.com/yHSI3u8fZF

— East Feed (@eastfeed) June 6, 2020
Blueface is one disgusting ass human being. 🤮😡How dare you try to get a discount using George Floyd name and because your black and you laughed while saying all of it. Your a pussy bruh and y'all need to cancel his wack ass FRFR pic.twitter.com/9ELGJcXcer

— Rachel ✊🏽 BLM (@StopKILLINGUS2) June 6, 2020
Blueface the rapper a whole Klown for his jokes about George Floyd. A whole corn 🌽 ball ass rapper .. 🤡🤡🤡

— freshvlogside (@freshvlogside) June 6, 2020
Blueface is so ignorant. I knew he was slow.. guess all that lean and drugs disoriented his brain cells… why the fuck would you joke about George Floyd as in a discount? Stupid ass coked out jimmy neutron 🥴

— Tàylor Royce 🤍 (@MellaSoldier) June 6, 2020
Blueface so damn disrespectful. Talking about give me that "George Floyd discount" and then laughed.

— King J 👑 (@Jeremyray_) June 6, 2020