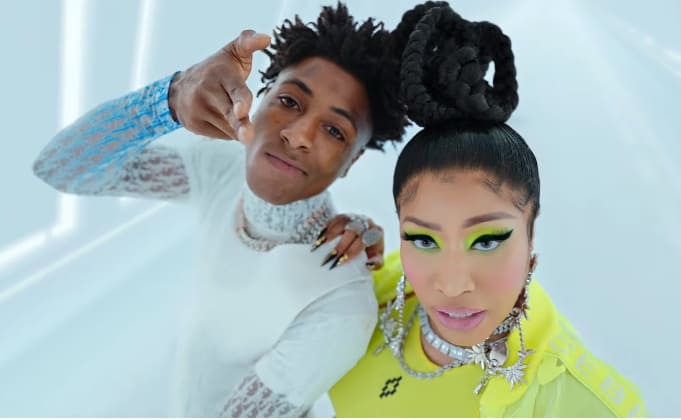 I've never seen anyone work as hard after "retirement" as Nicki Minaj. The "Chun-Li" rapper may have been quietly enjoying her first months with her newborn, but that doesn't stop her from hopping on the people's songs.
Nicki Minaj has a new career strategy: She's making big event-songs with controversial young rappers. Thus far, it seems to be working out for her. Before 2020, Nicki Minaj had come close to hitting #1 multiple times, but she'd never scored a #1 hit. This year, she's done it twice — once with Doja Cat, once with 6ix9ine. We'll see if it happens a third time, since Nicki has now teamed up with YoungBoy Never Broke Again, the dominant rappee who constantly seems to be in legal trouble…along with baby mama drama.
Fans of these two have been expecting this joint track for some time so it doesn't come as a major surprise to hear the two on a song together. "What That Speed Bout!?" is the same single that was teased by Nicki earlier this year on social media in the summer after she raised eyebrows when she shared a similar image of herself and NBA YoungBoy in their futuristic wardrobe featured in the video.
"What That Speed Bout?!" is your typical serviceable trap-pop song with some equally fitting rapping from both YoungBoy and Nicki. "What That Speed Bout?!" has a video from directors Edgar Esteves and Austin McCraken, and it borrows its plot from 50 Cent's "In Da Club" video. Mike Will plays a mad scientist who builds YoungBoy and Nicki cyborgs. There's a lot of CGI. Also, Nicki brings back shutter shades, but they're, like, little baby Matrix shutter shades.
Quotable Lyrics:
If he got seen out with me, it's a big look
Word to Pop, body smokin' like a big blunt
Some big d*ck, only thing that a b*tch want
Left the lot, with a big body, thick thot
All my n*ggas in the spot, you can get got
This that forty vaccine you could get shot
Watch it below and let us know what you think. ISSA BOP OR ISSA FLOP?