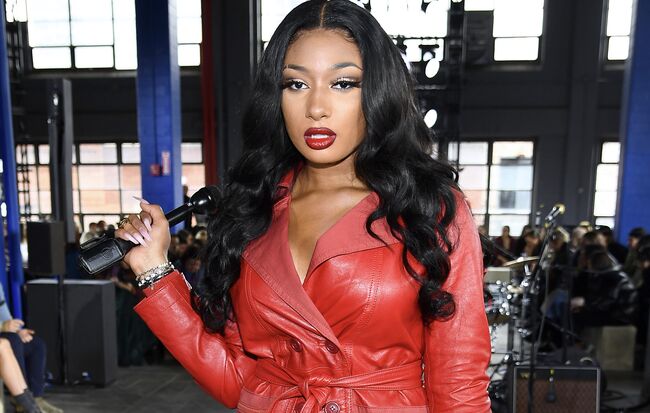 The internet has no chill and apprently not even the girls grades are exempt.
She may be known for twerking, turning up, and "driving the boat," but outside of her music career, rapper Megan Thee Stallion has always mentioned one of her main priorities is finishing her college education, attending Texas Southern University College of Pharmacy & Health Sciences.
Of course, as she persues a career in rap Megan's schedule doesn't exactly allow her to go to school everyday, so she rarely attends class in person, telling fans that she does all of her homework assignments and exams via the magic of online schooling.
In a recent interview with The Breakfast Club, Stallion talked about balancing her career and education with the hosts of the popular morning show. "I'm taking quizzes every other day, doing homework, like, I try to get it in when I can." When DJ Envy responded with "What's your GPA?" The 'Hot Girl Summer' MC replied "ooooh, I got maybe like a 2.7 or 2.8 right now, it could be better."
For those unfamiliar, a 2.7 wouldn't exactly be considered an honor roll student, it would translate to a low B-, possibly a C (I'm a little rusty), but certainly an average which can probably be expected from someone such as Megan who probably barely has time to finish her schooling. However, since Megan's extremely open disclosure with Envy, this has since sparked a debate online with many dragging the rapper even going as far as calling her dumb while citing her not reading her contract, referencing to her infamous debate with her label 1501, where she stated that she didn't understand her contract at the time of signing.
Some have also come to the self-proclaimed Hot Girl Captain's defense, with one Twitter user writing: "Everybody is talking about how Megan said her gpa is a 2.7. Ppl who went to 4 year universities understand that a 2.7 ain't even all that bad. It's gon secure the degree & that's all that matters!"
What do you guys think? Peep the receipts below along with some of the reactions and let us know what you think. Is the internet doing too much here or does Megan need to focus on her books? Listen, I was just happy to get out of school successfully so I'm not judging anyone's grades.
Everybody is talking about how Megan said her gpa is a 2.7. Ppl who went to 4 year universities understand that a 2.7 ain't even all that bad. It's gon secure the degree & that's all that matters! 😂

— 🥀 (@oneblackrose_) March 8, 2020
Meg's gpa is 2.7?! No wonder she signed that contract.

— JULiTO GUW0P (@JulitoGuwop) March 7, 2020
meg thee stallion is literally recording, performing 60 times a week, grieving her late mother, battling stress w/ her contract & label… STILL got the determination to keep going to school & y'all talkin abt her GPA. pls die in a fire

— 💕 (@italxan) March 7, 2020
I know people aren't talking about Megan's GPA. Especially those who have never attended a university 🥴

— 3/21 🦋 (@lextheestallion) March 6, 2020
In school, my GPA was around 2.7 . I graduated two years early. It's nothing to boost your GPA up. I'm not explaining nothing else. Only small minded people dragged her. Sheesh .

— Lea Love (@ClassyyExotic) March 7, 2020
@theestallion I love you sis but your GPA shouldn't be a 2.7. I'm sure it's due to your busy schedule but we need to get you an on the road tutor! You work too hard! You don't have to do it by yourself sis!

— Megan Christine (@signedbyMC) March 6, 2020
Megan Thee Stallions GPA was what now. pic.twitter.com/2qDkerMj5Y

— Atman (@Atmvn) March 6, 2020
Am I tripping or is @theestallion bragging about a 2.7 gpa in health administration pic.twitter.com/bSSD9bgJZn

— Jon Nelson (@JTrains31) March 8, 2020
Meg the Stallion just said she got a 2.7 GPA. Girl is they gon let you even graduate?

— Cameron (@SirCamCarter) March 6, 2020
I'm convinced that Meg tha stallion chick is slow slow 😭

— #RiccoRatchett (@RiccoTheRichest) March 5, 2020
I know Meg didn't really say she had a 2.7 GPA

— GabbyCakes_ ⚜ (@GabbyCakes2) March 7, 2020
Ooooo lord on this good Sunday , why are people dragging @theestallion for having a 2.7 GPA… ! that is PASSING and that's all that matters!! Most of you NEVER had to work/hustle in life and still had a lower GPA.., TF ! #HOTGIRL pic.twitter.com/1nyz6TJiPY

— ⚡️𝐉𝐓 THE 𝐌𝐀𝐈𝐋 DUDE📬 (@TrulytheFirst_1) March 8, 2020