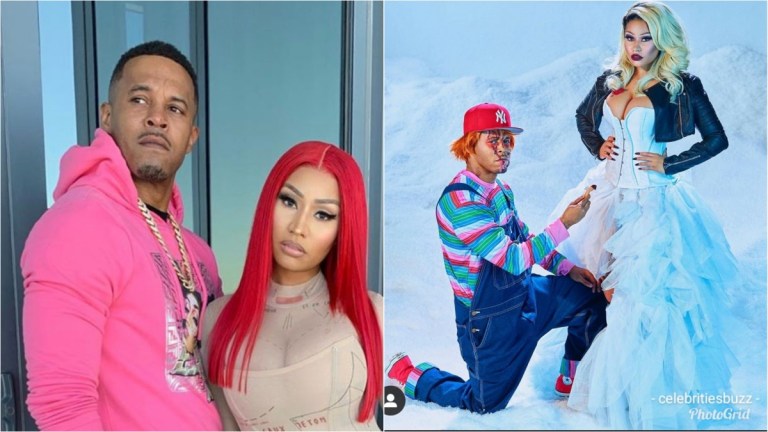 Nicki Minaj's husband Kenneth Petty's sex offender registration charges were dropped by the L.A. D.A.'s office, but only due to the federal case against him.
The charges against Nicki Minaj's husband Kenneth Petty for failing to register as a sex offender in California have been dropped by the Los Angeles District Attorney's office, but only because there is now a federal case against him for similar charges. According to The Blast, a hearing was held in L.A. court on Friday, where prosecutors told the judge that they were dropping the local charges against him.
Kenneth was charged in Beverly Hills back in November after he was pulled over by police and they discovered that he had never registered as a sex offender upon moving to California. Since it is against the law to move states or change addresses without reporting the move to the sex offender registry within an allotted amount of time, he was arrested by the Los Angeles District Attorney and ultimately released on a $20,000 bond. (Of course paid by Minaj)
While these charges have now been dropped, it's only because there's a more pressing case against him. Kenneth was indicted by the Federal Government this week, after still failing to register in California. He turned himself in and was arrested on a $100,000 bond. Now that there's a federal case against Kenneth, the D.A.'s office decided to drop the charges against him. "The case was dismissed today because he is facing a similar charge in federal court," a rep for the D.A's office explained. Kenneth is facing up to 10 years behind bars if convicted on a federal level, but, according to The Blast, his lawyers may be under the belief that he could knock some time off if he manages to convince the judge in federal court that he didn't explicitly intend to avoid registering after moving to Los Angeles. Upon his recent arrest, he was forced to hand over his passport and will be required to wear an ankle monitor upon his release.
Kenneth is required to register as a sex offender in the first place due to his conviction in 1995 for first-degree attempted rape. He served almost four years in New York federal prison for the crime. Nicki has been ridiculed for her association with him ever since she went public with their relationship, and she's been on the receiving end of even more criticism since the news broke of his indictment. Take a look at some of the net's reactions below. Thoughts?
On the brighter side, thankfully Nicki Minaj earned her success and made her money when she did. Kenneth Petty is tarnishing her brand like Cracker Jack box jewelry. The dick can't be that good, sis.

— ᴅᴏʟʟᴀʀ (@callmedollar) March 5, 2020
kenny always stopping nicki's bag now she's gonna get so much hate immediately after the drag race praise UGH WHY IS HE SUCH AN INCONVENIENCE pic.twitter.com/O2G76kdjov

— paul (@nexthankyou) March 4, 2020
All the men in the world and Nicki still picked that guy …Yoh I'm annoyed

— Champagne Pipi (@Kokoleo_zn) March 5, 2020
Nicki Minaj husband and Nicki Minaj brother in jail right now: pic.twitter.com/jqeW0xxGpN

— DOT SMOKE (@DDotOmen) March 5, 2020
nicki it's not late to fix it pic.twitter.com/90lnIzP84Y

— josh justified 🅙 (@badguynelson) March 5, 2020
Hold UP nicki is gonna have to post her address on the sex offenders list ?? pic.twitter.com/3g3avOrNxm

— h (@hibolagerfeld) March 5, 2020
Nicki Minaj after the Barbz reach her crib bc her addy has to be on public record now that she married to a sex offender pic.twitter.com/rbTwSuuUBk

— h (@hibolagerfeld) March 5, 2020