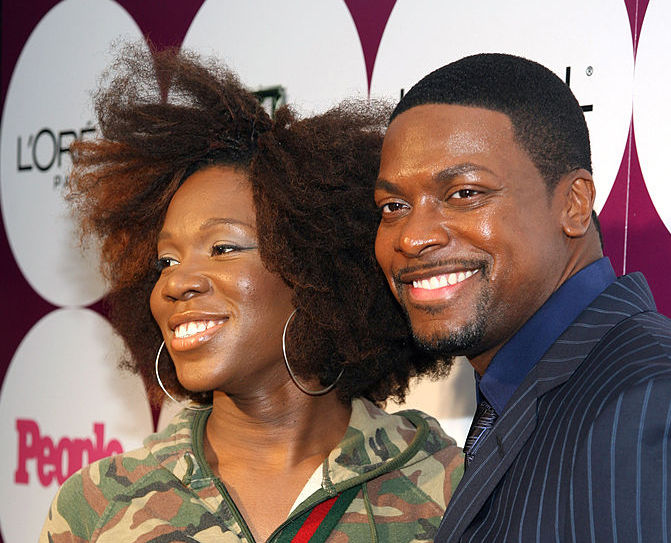 India Arie and Chris Tucker were trending recently after rumors spread that the two have been together for over a decade.
Fans are always concerned about who their favorite celebrities are dating. While we usually hear more about this current generation of entertainers who are new to the game, social media recently pulled a couple of veterans to the forefront. Twitter lit up over the weekend after rumors began to circulate that comedic actor Chris Tucker and singer India Arie have been in a secret relationship for 13 years. People were surprised that anyone could keep a relationship under the radar for that long, especially in the industry, and now India Arie has responded to the gossip.
"Me and Chris Tucker been dating for 13 years?!!! 13 YEARS?! Whew chile! Thats some STRONG BLACK (LOVE ) Tea Hot beverage," she tweeted. "Soooo, NO. I Do not date @christuckerreal ~ we went on A date or 2 … apparently that was 13 years ago? I really don't remember Lol… I STAN Black Love. Black MEN. Dignity of black women. Spirituality. And the right to GOOD LOVE and SELF CARE.HAVE for 20 years. #crazy."
Check out India Arie's tweets below along with a few responses from fans who were shocked by the Chris Tucker gossip. Thought?
Me and Chris Tucker been dating for 13 years?!!! 13 YEARS?! Whew chile! Thats some STRONG BLACK (LOVE ) Tea ☕️ pic.twitter.com/NcHGn3jSD8

— India.Arie (@indiaarie) June 5, 2020
Soooo, NO. I Do not date @christuckerreal ~ we went on A date or 2 … apparently that was 13 years ago? I really don't remember Lol pic.twitter.com/YvXHCsvjGi

— India.Arie (@indiaarie) June 5, 2020
I STAN Black Love. Black MEN. Dignity of black women. Spirituality. And the right to GOOD LOVE and SELF CARE.HAVE for 20 years. #crazy

— India.Arie (@indiaarie) June 5, 2020
For you who LOVED the IDEA, @christuckerreal and I as a couple lol, I feel you. I have a REAL LOVE story for you, I really do. #crazy pic.twitter.com/qrGvxhwcBl

— India.Arie (@indiaarie) June 5, 2020
So India.Arie is a reflection of Chris Tucker?
She loves the way Chris Tucker speaks?
She loves the way Smokey thinks?
You mean to tell me…she loves the way Cutter treats his mama and the gap in between his teeth?
Chris Tucker is who she loves in every way pic.twitter.com/MTpFB6PYGR

— Lex Stand (@alexus_my_dolly) June 5, 2020
SOMEBODY FUCKIN LYING DAWG😭 AINT NO WAY CHRIS TUCKER LOUD ASS BEEN HUNCHIN ON INDIA ARIE FOR 13 YEARS AND AINT NOBODY KNOW. WHAT???? pic.twitter.com/Ach3kTXlsw

— marilyn munheux (@howevericonic) June 4, 2020
So you telling me "Brownskin" by India.Arie was about Chris Tucker?! pic.twitter.com/BJM3JA9joA

— vivi 🖤 (@offthewallalbum) June 4, 2020
Chris Tucker and India Arie really been together for years and we didn't know??! Dang. Talk about being low key and building. pic.twitter.com/YX24cWRuhD

— ________ (@TinySilhouette) June 5, 2020
Not all of us not knowing Chris Tucker and India Arie were a thing. pic.twitter.com/A1E7WD7JLJ

— Audra ✨ (@awdraaa) June 4, 2020