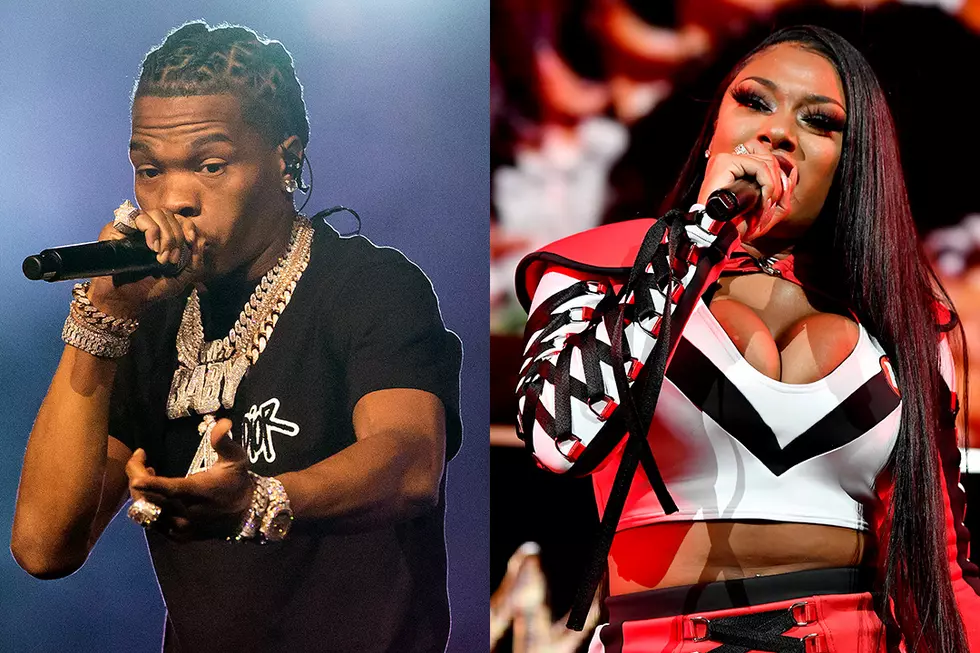 Megan Thee Stallion won "Hip-Hop Artist Of The Year" at the BET Hip-Hop Awards and Lil Baby's fans are arguing that he deserved to take it home.
We see it time and time again. An artist takes an award home and an opposing artist's fan base runs wild with claims that someone was "robbed" like this is a bank. The latest stir sees Megan Thee Stallion's latest win taking heat from fans of Lil Baby. The Atlanta rapper is having one of the best years of his entire career, dropping one of the best-selling albums of the year in My Turn and making a tremendous impact with songs such as "The Bigger Picture". He has undeniably had has undeniably had a great year, shutting down the charts whenever he feels like dropping something.
Last night at the BET Hip-Hop Awards, Lil Baby opened up the show with a performance of "We Paid" alongside 42 Dugg but, when it came time to crown a winner in one of the most important categories, Hip Hop Artist Of The Year, he ended up losing to Megan Thee Stallion.
While Megan Thee Stallion has had a great year commercially as well, hitting #1 for the first time in her career with "Savage" and returning with "WAP", many believed that Lil Baby was the clear frontrunner in this category and should have taken home the gold. "Lil baby got robbed by BET," wrote DJ Akademiks on Twitter.
Lil baby got robbed by BET . Disgusting

— DJ Akademiks (@Akademiks) October 28, 2020
People chimed into his comments section to give their two cents, suggesting that Megan only won because of her shooting this summer. That much undermines all that she's accomplished this year and is unfair. However, there is a case to be made that Lil Baby, and possibly even Roddy Ricch, would have made good winners in this category.
What do you think? Was Lil Baby robbed last night? You guys realize someone has to lose right?
How tf… pic.twitter.com/V5h2g4Bec4

— 👩🏾‍🚀 (@tee5star1) October 28, 2020
How does Megan The Stallion win Hiphop artist of the year ahead of Lil Baby ffs🤦🏾‍♂️

— Andre (@life_of_negroes) October 28, 2020
lil baby :
14 songs went gold this year without him being featured
10 songs went platinum without him being featured
2 albums went platinum (one went twice)
2 albums went gold

Megan :
2 songs went platinum without her being featured
1 song went gold without her being featured https://t.co/EuowGGNTGg

— rebrand. (@skiidem) October 28, 2020
Lil Baby has been robbed of the Artiste of the year award. No way Megan should be winning it. Roddy ricch and Dababy deserve it more.

— HIP-HOP CABIN #EndSARS (@hiphopcabin) October 28, 2020
Not men being THAT pressed about lil baby losing to Megan… What happened to "I'm rooting for everyone Black" 🥱 pic.twitter.com/SqkV2PSLjM

— shay✨ (@babyybluegirl) October 28, 2020
Megan over Lil Baby ??? 😂😂😂 it's the sympathy award for me

— pnp 🇨🇲 (@lilafricaa) October 28, 2020
You mean to tell me Megan had a better year then Lil Baby, You mean to tell me "SugAh" was a better album then My Turn, … you telling me this has nothing to do with her getting shot pic.twitter.com/NGz6Jhsjng

— 🌸Phallon🌸 (@PhallonXOXO) October 28, 2020
This Lil Baby Megan Hip award debacle shouldn't even be a trending topic both artist received award that night and both are 🔥🔥🔥🔥any of y'all writing think pieces over this really need to hop off the net and get some fresh air pic.twitter.com/g2xUnWpzdw

— The Rona Destroyer (@RonaDestroyer) October 28, 2020
BET gave Meg the Stallion best hip-hop artist of the year award.

The other nominees were Drake, Roddy Rich, Lil baby, future, da baby.

The gave the award… to Megan. pic.twitter.com/n0NWuc6IhR

— slim reaper (@dennoboss) October 28, 2020