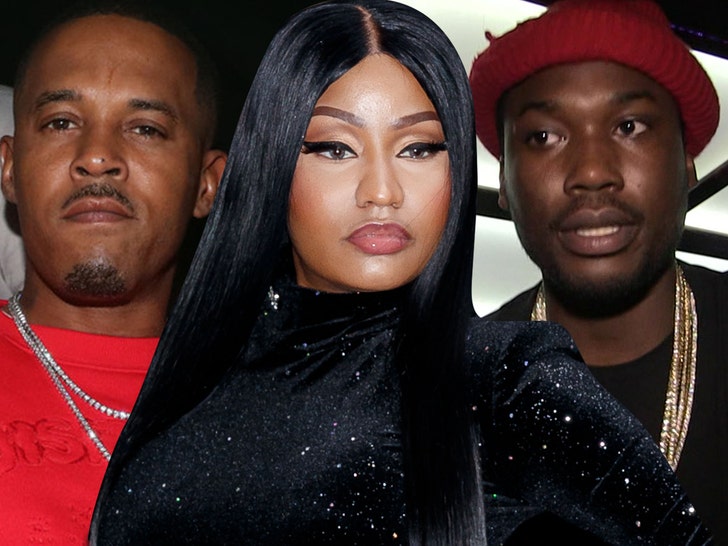 One thing about Nicki Minaj fans, they're going to find something to be fake mad at, regardless of if it makes sense or not.
I've said time and time again that many of these new age "stans" don't bother to read or listen. They simply see their faves name and start barking loudly out of boredom sometimes not even realizing that they're "defending" for no reason. Nicki Minaj's fans are genereally the perfect example of this, foaming at the mouth and swinging at the air, regardless of what the topic at hand may be. Case in point: they're currently attempting to drag Meek Mill via Twitter for simply making a point about blogs continuing to put he and Minaj against one another, despite the fact they've both moved on.
Meek Mill and Nicki Minaj have a pretty complicated history. They were together for a minute, but their breakup was ugly, and the years following it have been riddled with headlines about the two, mostly for things that they both have done as far as taking shots at one another. Now that things have seemeed calm for a bit, Meek utilized Minaj to make an example about how toxic some blogs can be on Clubhouse and somehow Minaj's fans have turned that to the rapper being "obsessed" with her.
Speaking about The Shade Room, who posted a rather unnecessary image pitting him against Kenneth Petty, Nicki's husband, Meek said: "They had me up there. Me vs. Nicki's boyfriend. Nicki just had a f*cking baby, I just had a f*cking baby. Who's responsible for this bullsh*t?" Somebody cut him off mid-way, realizing that this video was likely to get screen-recorded and sent to the blogs, which it was. Of course, the Barbs also got ahold of the video, which caused some backlash for Meek.
Here's the video😭 pic.twitter.com/0eq59GPtCF

— ᗰᑕᑎIᑕKI🦄✨ (@NickiMPeriod) December 29, 2020
"If it's one thing about Meek, he gon mention Nicki," wrote one commenter on Twitter. "It's 2:15AM in the morning & Meek Mill on Clubhouse talkin about Nicki, her husband and their baby. They probably sleep."
Do you think Meek actually did or said anything wrong or are the Nicki fans playing psycho for no reason? How are people mad at Meek but not The Shade Room here? Let's just normalize not harassing people simply because they don't agree with us in 2021. Peep some of the reactions below:
If it's one thing about Meek, he gon mention Nicki 🤦🏾‍♀️😂

— N A N I (@nsstvns) December 29, 2020
It's 2:15AM in the morning & Meek Mill on Clubhouse talkin about Nicki, her husband and their baby. They probably sleep.

— 𝚈𝚘𝚞 𝙻𝚘𝚟𝚎 𝓜𝓲𝓜𝓲 💘 (@MiMiMartini8K) December 29, 2020
Not meek bringing up Nicki again 😴#GetALife 🤣

— SaltyMusicStan ⁶𓅓 (@SaltyMusicStan) December 29, 2020
Here Meek Mill go about Nicki Minaj and her baby…and his baby. Get off Club House sir. Just shut up.

— Ernest Owens (@MrErnestOwens) December 29, 2020
Meek still pressed over Nicki. This clubhouse convo can't tell me any different.

— ChiePH Obi (@JobiApe) December 29, 2020
This' been meek ever since Nicki left him. pic.twitter.com/wlX4hGVqaT

— C Frank (@Trillphysics) December 29, 2020
So I wake up to see MEEK MILL discussing Nicki AGAIN? When will the obsession end? Are you lot not seeing this?

— Shan/CCB (@TheMizzCCB) December 29, 2020