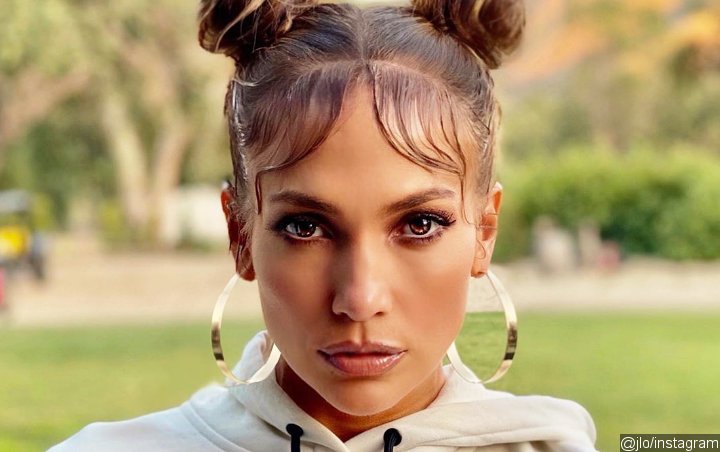 Whew chile, this one is probably going to get messy.
While many hispanic people in New York City do identify themselves among their peers as black, Jennifer Lopez is facing a ton of backlash for one specific lyric in reference to herself as in the song "Lonely" with Colombian singer Maluma. In the lyrics of the song, J. Lo sings "tu Negrita del Bronx," which some are stating translates to, "I'll always be your black girl from the Bronx…" A clip from the song's official video with Lopez singing the the controversial lyrics has now made a rumble in the blogosphere because "Jenny From The Block" has never really claimed or referenced herself as Black in the past and it's causing a social media war of words.
someone please tell me this isn't real pic.twitter.com/dnYJCmT5yg

— JAN MICHÆL (@janmichaelxx) October 13, 2020
.
Both fans and critics have called out Lopez on Twitter, using her "n***a lyric on "I'm Real" with Ja Rule as support of their argument. For instance, one person said, "J Lo mad irritating. Now everybody wanna be Black. Girl go the f**k on somewhere." There was also someone who commented, "I don't like J.Lo she's just a wanna be black girl that can hit a two step. She's an All Lives Matter supporter and now she's calling herself a 'black girl from the Bronx' idek why she still makes music my dog has better vocal agility than her. Just no."
J.Lo herself has yet to respond to the backlash, though some people have since come to her defense by pointing out that the word "negrita" actually refers to dark or brown skin Latin girls, not African American. Some also said that it is a term of endearment. "If you aren't Hispanic… don't comment. FYI in our culture You don't literally need to be black to be negrita or negrito," one said.
"Wow !! You guys need to get your facts straight first !! That's what brown skinned people call themselves in the BRonx!! Negrita or negrito omg chill !!! That doesn't mean BLACK," another echoed the sentiment. "Y'all doing too much it's a pet name doesn't translate to be black girl now if she said Morena from the Bronx that'll be different," someone else hit back at the critics. Take a look at some of the reactions below and let us know what you think of this mess?
I don't like JLo She's just a wanna be black girl that can hit a two step. She's an All Lives Matter supporter and now she's calling herself a "black girl from the Bronx" idek why she still makes music my dog has better vocal agility than her. Just no.

— Female supremacist (@koalax2kei) October 17, 2020
non-spanish speakers really think jlo said she was a black girl from the bronx. i gotta laugh.

— 𝐥𝐢𝐲𝐚𝐡 (@careyskeys) October 18, 2020
Wait wait wait….. I know jlo did not just say she's a black girl from the bronx in Spanish TELL ME I HEARD THAT WRONG pic.twitter.com/KptLNOCciu

— 🌙𓃠𝔗𝔥𝔢 𝔅𝔩𝔞𝔠𝔨 𝔐𝔬𝔯𝔱𝔦𝔠𝔦𝔞✨𓃠☼ (@Gh0ulishs3x_bot) October 18, 2020
Honestly, I never listen to JLo so I didn't know but her saying "I'm still the same black girl from the Bronx" was it. Never really cared for her before & she an All lives matter head ass but now she's a black girl. Like ok JLo pic.twitter.com/KzkWbjTJsd

— why does snoop dogg need a umbrella? (@BeyLyrical) October 18, 2020
Negrita for us means beautiful colored girl. 🤷🏽‍♀️💛💯 any girl my skin color and darker in PR are considered Negrita and I think that's beautiful. This whole JLO thing outta pocket. 😅🤦🏽‍♀️

— 💛DEB (@Debbsterr) October 19, 2020
In a song with Maluma, #JLo says "siempre sere Tu negrita Del Bronx". For those whose Spanish is limited to google translate, "negrita" is a term of endearment regardless of skin color. People are making a controversy where there isn't one. It is not racist at all.

— Jason Nichols (@drjasonnichols) October 16, 2020
Jlo got too comfortable imitating Ashanti now she thinks she's black smh

— MESSYMAGGIE 🇿🇼 (@wadziella) October 18, 2020
Dear JLo…

Negrita? pic.twitter.com/DD4baEcFxa

— Blogga with the Shot (@LadyBlogga) October 19, 2020
.Yall want latinos to acknowledge their blackness/ancestry and get mad when JLo calls herself Negrita. #PuertoRicansAfricanDescendants She's Puerto Rican Just Like Lala. #DivideAndConquer Black & Brown ppl gotta stop letting white folk win with that BS. We aren't the Minorities! https://t.co/QQzE72ZSn6

— Positivity Virgo (@happinessbccc) October 19, 2020
@TheSource What she said on her track got nothing to do with being black or African. Ya corny as hell, don't know nothing about the Spanish culture or what the word Negrita means to us. Go kick rocks and get off @JLo back!

— DJILLWILL (Wilfredo Rodriguez) (@_DJILLWILL) October 19, 2020