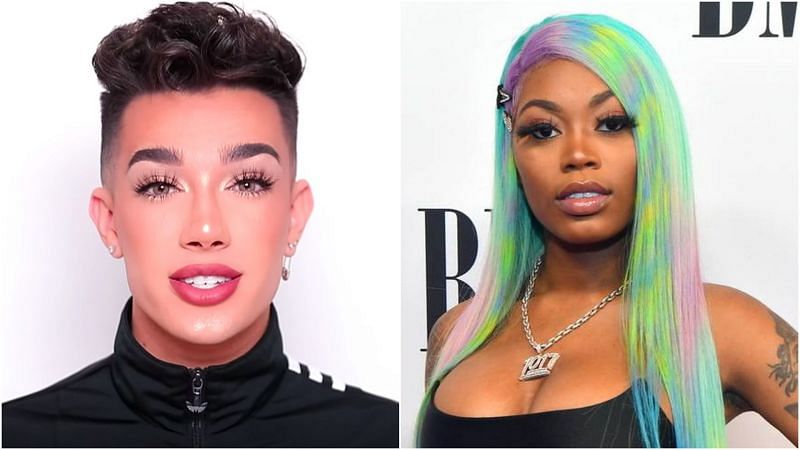 Asian Doll set off a bit of a debate on social media yesterday about what she feels is too much to pay for makeup.
A simple tweet about makeup has sparked an unlikely beef. Makeup careers are on the rise as more people are dipping their toes into being social media influencers and on celebrities "glam squads," and as the years have rolled forward, prices have gone up. Asian Doll (or Asian Da Brat or Queen Von, whichever one it is today) has taken issue with the costs of makeup artists these days and she took to Twitter to complain.
"If you charge over $150 to do a face of makeup you can go to hell respectfully," she wrote, prompting responses that included a mention from social media influencer and makeup artist James Charles. "What a stupid tweet," he said. "1 foundation can cost $50, artists have to buy EVERY SHADE for their kit, & thats just the first step. Its expensive to work as a MUA. Either pay an artists rate for their time & skill, do it yourself OR get it done at a counter and risk looking busted."
Asian Doll quickly replied, telling him to mind his business because this was "hood" and he's "Hollywood." She told him, "What a dumb ass to be in my business replying to something that has absolutely nothing to do with you… im having a debate about HOOD PRICES Baby stay over there in HOLLYWOOD where they having you looking GHOST."
As the pair of celebrities beef, fans of the rapper pushed her to argue with Charles but he seems to have skirted away from continuing to engage with Doll. Asian was later posted after a good ol' beat from makeup artist Olivia Song who has previously held clients such as Tameka 'Tiny' Harris, Ari Fletcher, and more, so maybe she worked out a price for Asian's preference. What do you guys think about this whole thing? I'm a strong believer in you get what you pay for. If I'm going to a big event, need to look perfect, and the artist is a professional with a proven track record… I'm not against $150, that doesn't seem excessive to me. Hell, I was quoted $350 by a certain celebrity makeup artist for an award show and I respectfully declined because I only have one fact, not three.
What do you guys think is too much? Check out bits from Asian Doll's debate below.
If you charge over $150 to do a face of makeup you can go to hell respectfully

— Queen Von (@AsianDaBrattt) January 15, 2021
What a stupid tweet 😐 1 foundation can cost $50, artists have to buy EVERY SHADE for their kit, & thats just the first step 🤯 Its expensive to work as a MUA. Either pay an artists rate for their time & skill, do it yourself OR get it done at a counter and risk looking busted 🤷🏻‍♀️ https://t.co/Qz7DK406h8

— James Charles (@jamescharles) January 15, 2021
What a dumb ass to be in my business replying to something that has absolutely nothing to do with you… im having a debate about HOOD PRICES Baby stay over there in HOLLYWOOD where they having you looking GHOST 👻 https://t.co/sXcvM637Ui

— Queen Von (@AsianDaBrattt) January 15, 2021
this is the most ignorant post. if you don't want to pay, do it yourself. makeup is very expensive. a foundation is literally 50 dollars.

— Dominique Watkins (@dominoluvsu) January 15, 2021
Many artists out there use their talent to make a living. They need to pay their bills and put food on their tables as well. They're charging you that much because you're paying for a SERVICE. You're paying for their time, gas, and materials used on you. Not just for the face.

— Bridget M 🐱🌺 (@bluemarcat) January 16, 2021
But meanwhile some of us are using well over $300 worth of products on your face. You want cheap service hit up Keisha w/ no training from the pjs to do it for $25 then 🤷🏽‍♀️ pic.twitter.com/gldYJ7KoFj

— AshleyKTheMua20 (@AshleyKProMua18) January 15, 2021
This you? pic.twitter.com/dDKlJPYQa8

— 𝐂𝐡𝐞𝐥𝐬🤎 (@chelsful) January 15, 2021