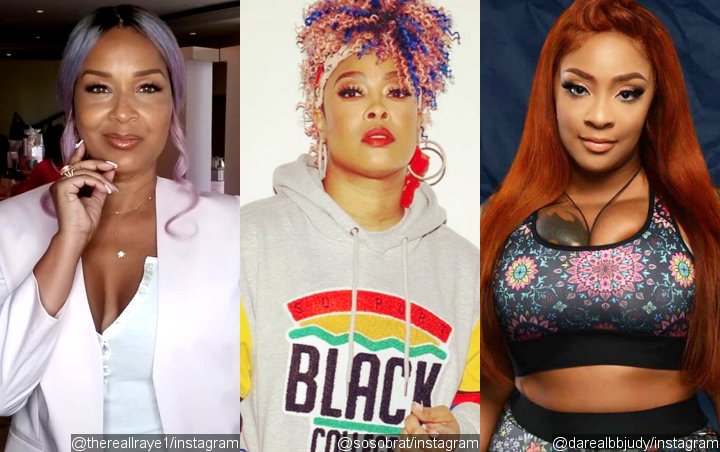 Da Brat surprised LisaRaye by calling into her show Cocktails With Queens but LisaRaye was not happy to see her sister.
LisaRaye and her sister Da Brat are not on good terms. They're currently in a dark period of their relationship, with Da Brat admitting that they haven't seen each other since the beginning of the pandemic.
For LisaRaye's birthday this week, her Cocktails With Queens co-hosts decide to surprise her by inviting her sister on the show, claiming that they were unaware of their rift. The conversation was one-sided for six minutes, with LisaRaye visibly distraught, crying on camera. Da Brat tried to tell her sister how much she loves her and that it's nice to catch up, which was not reciprocated by LisaRaye. The actress repeatedly said that she was "hurt" by how Da Brat has virtually ignored her for months, finding out about her coming-out moment and her relationship with Jesseca Dupart through the blogs.
Syleena Johnson weighs in after that, claiming that this could be Brat's way of reaching out to LisaRaye to tell her she loves her, as she did during LisaRaye's six-minute silence, but things remained uncomfortable. As one of her co-hosts said, "shit went all the way left". It probably would have been smart to check in with LisaRaye before inviting Da Brat onto the show, on her birthday no less.
Following their conversation, which contained more than a few awkward moments, Da Brat's girlfriend Jesseca Dupart seemingly chimed in with a since-deleted post on Instagram.
Jesseca shared a picture of herself giving a judgmental look to somebody off-camera while pulling Da Brat's hand, writing: "MOOD !! Nah what was said…"
The post was subliminal but fans were quick to notice that the timing was not coincidental. This went up shortly after Brat's appearance on LisaRaye's show.
When the post was still up, people were reportedly coming for Jesseca, telling her to stay out of the family's business and let them deal with it themselves. Check out the receipts and video below: