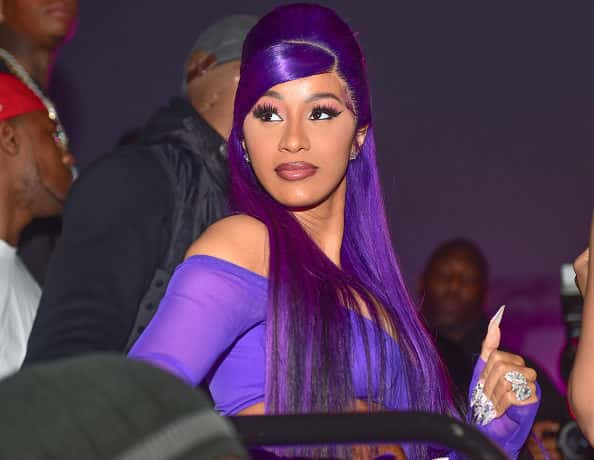 With anticipation for her sophomore album buzzing, Cardi B teases an upcoming announcement later today and fans can hardly contain themselves.
Cardi B has become a megastar since the release of her Grammy Award Winning album Invasion Of Privacy, which boasted her breakout single "Bodak Yellow" among other hit bangers. While the album is still managing to remain a staple on the charts and tracks like "Money" and "Press," and "Please Me" have helped fill the void, many have since been eager to hear Cardi's sophomore effort and pressing her like crazy to get the highly anticipated era kicked off.
It makes sense that many would be so excited to hear Cardi's growth and where she's going with her second major project. Many were endeared to Cardi's underdog position and clear star power when she first started out, her debut found her testing the waters in many ways — opening the door for her new music to raise the bar and would obviously explain why Cardi has been steadily taking her time to get it right.
Now, it would appear that Cardi is gearing up to kick off a rollout of sorts — at least, that's what her optimistic fans are choosing to believe. Taking to Instagram, Cardi promised an upcoming announcement, clarifying that it had nothing to do with her upcoming OnlyFans partnership (No not for porn, just exclusive behind the scenes content). As such, music feels like the obvious choice, with speculation that a lead single is around the corner. Or perhaps a title reveal; though she previously teased that the album would be called Tiger Woods, Cardi never appeared fully committed to the name. Either way, we'll know soon enough. Take a look at some of the only reactions to Cardi's pending announcement below. Are you as excited as we are?
CARDI HAS AN ANNOUNCEMENT!
ACT NORMAL!

Bardigang: pic.twitter.com/rMU8cqUBw9

— BAVY 🦖 (@brokenclox) August 3, 2020
Cardi really about to make me call in to wait for this announcement pic.twitter.com/bwH7vIOked

— 𝕬𝖗𝖙𝖍𝖚𝖗 🖤✊🏾 (@freakyoncamera) August 3, 2020
watch she still be sleep when cardi make the announcement😭😭 pic.twitter.com/jDDrkYUb4A

— 𝐼𝑛𝑑𝑦🦚// BLM// MY MENTIONS ARE FILTERED🦚 (@iamindyyyy) August 3, 2020
i feel like the announcement later today is music related & if it is, we really made it this far together y'all. we're at the sophomore album stage of cardi's career & we're about to enjoy this moment w her. 🥺

— 𝒜. (@bickenhead) August 3, 2020
Me everytime I open twitter and Instagram and I don't see an announcement
pic.twitter.com/3B21UrlHM6

— Cardi Vuitton LV (@BardiSims) August 3, 2020
Either I'm imagining things or cardi just said she's making an announcement today pic.twitter.com/kpZ7D4Y323

— #1 BEYCARDI STAN 💫 (@TOUFIK_BKS) August 2, 2020
CARDI IS PHUCKING COMING. ANNOUNCEMENT TOMORROW.
IM CRYING ASKSKSKSKSKS 😭 pic.twitter.com/OdG41LsxFQ

— Fenty Music #CARDIBISCOMING 🦚 (@FentyXMusic) August 3, 2020
Cardi B please make your announcement… It's 7.25pm here please announce shoon, we don't want to miss it @iamcardib
Cardi B is Coming pic.twitter.com/wUK9yCwwg0

— Chikitaems🦚❤️ (@Chikitaems) August 3, 2020