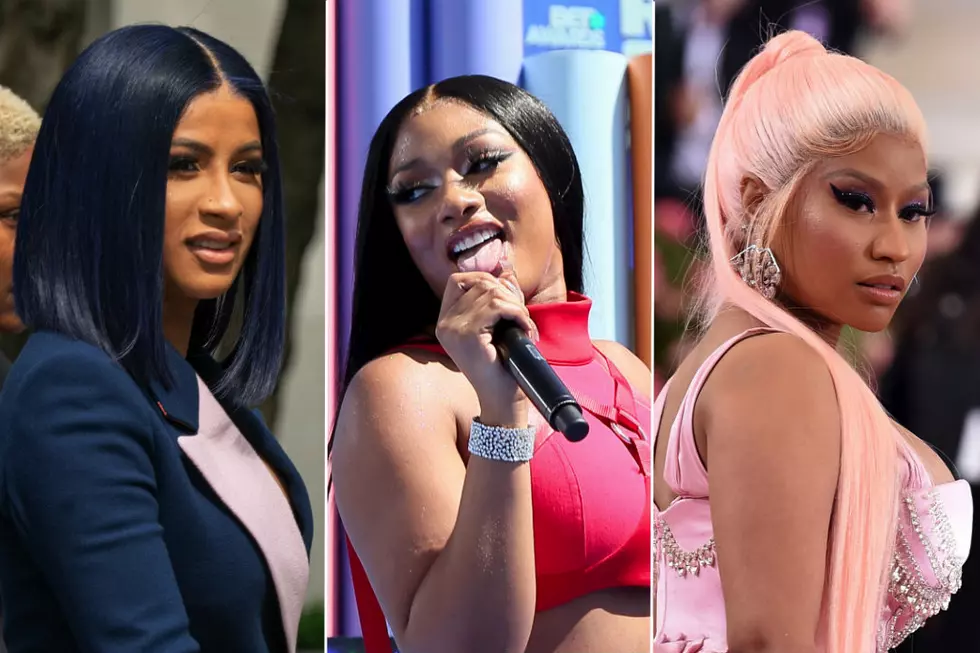 It's amazing the information that folks will run with, without actually taking a look at what they're sharing.
Over the last few days, a specific YouTube "premiere" has gained quite a bit of traction via social media, with fans hype and believing it to be a highly unlikely all-star collaboration. It all started when the YouTube page SWILLZ posted a preview to their channel of a video set to premiere today (December 21st) called "My Wrist," appearing to be a Cardi B track featuring Megan Thee Stallion, DaBaby, and Nicki Minaj. (Yes, you read that right.)
While one must admit, the idea certainly does sound intriguing, one note that fans are foolishly ignoring is the fact that SWILLZ is specifically a music mash up channel. The page uploads their own mash ups of different artists using both released and unreleased verses at times to create their own "song," even giving it a title. They have most often done this using DaBaby verses, mashing him up for songs with Gucci Mane, Lil Wayne, and others.
It's interesting that folks were quick to believe that this was an actual song (to the point that it's actually become and top trending topic on YouTube), considering it's screen capture was simply a shot from Cardi's music video "Money," on top of the fact that it's a Saturday and why would this random YouTube page have an exclusive premiere of a Cardi B single… let alone any artist? And of course, Nicki Minaj and Cardi's previous issues throughout the past would of course throw an obvious wrench in there as well. Take a look at some of the fan reactions below. What do you guys think? Did you fall for the hype? Better yet, would that have been something you're interested in hearing? One thing is for certain, for this to become a trending thing it certainly looks like something fans would be open to.
Is this real? Or y'all playing with me?

Cardi B – My Wrist Feat., Nicki Minaj, Megan Thee Stallion & DaBaby (O… https://t.co/25qSmKeV5F via @YouTube pic.twitter.com/GQ7VN4kOBV

— 🦄 (@_PrettyyJayy_) December 21, 2019
I swear if this fake ima be pissed https://t.co/iuCWrrvUce

— ⚠️CAUTION SOLO IS APPROACHING⚠️ (@SoloSoOfficial) December 21, 2019
How It's #1 Trending & It Didn't Drop Yet 😭 I Neeed To Know If This Real .. https://t.co/i1rtC6zcC9

— $adaaa (@donSadaaa) December 21, 2019
I know this has to be a joke lol https://t.co/L9QHThZ3e2

— KING (@_jorrrrrdan) December 21, 2019
So this alleged "My Wrist" track by Cardi B featuring Megan Thee Stallion, Da Baby and NICKI MINAJ has to be fake news.

— THEE FREAK NASTY ❄️🇳🇬 (@infamousRIOT) December 21, 2019