| | |
| --- | --- |
| NOT ME, GIRL!: Keyshia Cole Doesn't Seem Too Happy with O.T. Genasis's Remix To Her Classic Hit Song 'Love' – "Not Cool!" | 07.12.19 |
Have you heard "Never Knew" yet?
Not all remixes are made equal. The world received a classic when Keyshia Cole delivered her song "Love," a track that not many other singers can duplicate. It was featured on her debut album The Way It Is in 2005 and peaked on Billboard's Hot R&B/Hip-Hop Songs at No. 3. Tyrese Gibson starred in the music video as her boyfriend, and 'til this day, belting out the beginning of the chorus at a party is a sure-fire way to kick off a sing-a-long. (LOOOOOOOOO-UH-UH-UH-OOOVVE)
One person who knows the feeling of getting caught up in the "Love" vibe is O.T. Genasis. The rapper recently shared his version of the song titled "Never Knew" where he kept the melody to the track but switch up the lyrics to highlight the Crip lifestyle. O.T. Genasis sang his way through the track and didn't hit a correct note throughout, but that was the point. All done in fun, it was terrible enough to become a favorite among the rapper's admirers, but it doesn't look like Keyshia is a fan.
On Twitter, a fan wrote, "I ain't never gone listen to @KeyshiaCole song the same anymore 😭🤣." Keyshia replied to the person by saying, "Exactly. Not Cool." She didn't expand on her thoughts, but she did block a user who commented that she was just upset because the rapper's version was better than hers. If you haven't heard O.T. Genasis's "Never Knew," check it out below along with Keyshia Cole's "Love" and let us know if you think KC should feel some type of way.
Exactly. Not cool https://t.co/4uTvBFObfm

— Keyshia Cole (@KeyshiaCole) December 7, 2019
| | |
| --- | --- |
| ISSA BOP OR ISSA FLOP?: Camilla Cabello Forms an Unlikely Couple with DaBaby on New Song – "My Oh My" (LISTEN) | 06.12.19 |
DaBaby is out here being added to all these songs like he's parsley.
DaBaby and Camila Cabelo make an unexpected pair for her latest single. Lightning rarely strikes twice, but Cabello is ready to take the gamble. When former 5th Harmony singer Camila Cabello emerged onto the scene with her breakout hit "Havana," her unlikely team up with Young Thug worked wonders in cementing some crossover appeal. By now, you've likely heard the infectious single a minimum of ten times. Now, Cabello is looking to double down with another hip-hop collaboration, this one featuring North Carolina's own DaBaby in a supporting role.
On "My Oh My," the similarities to "Havana" cannot be denied right away. Painting a picture of a forbidden but passionate romance, Cabello and DaBaby waste little time in getting into character. "I'm the type to make her turn on her daddy," boasts DaBaby. "DaBaby, make her forget what she learned from her daddy."
Quotable Lyrics:
Look, I'm the type to make her turn on her daddy 
DaBaby, make her forget what she learned from her daddy 
I don't be tripping on lil' shawty, I let her do whatever she please
I don't be kissing on lil' shawty, she don't be kissing on me either
Take a listen to the song below and let us know what you think. ISSA BOP OR ISSA FLOP?
| | |
| --- | --- |
| MONEY, POWER, RESPECT?: Kanye West, Jay-Z, Drake, Rihanna & More Earn Big On Forbes' Top Earning Musicians of 2019 | 06.12.19 |
There's plenty of wealth to go around.
We already know Jesus Saves, but so too does Kanye West. Over the past year, the newly-minted gospel artist has expanded his net worth considerably, turning in an impressive and staggering sum of #150 million. According to Forbes, the major haul was enough to cement him as the second-highest earner in 2019, at least as those within the music industry are concerned. According to their findings, his old buddy Taylor Swift managed to secure the top spot with $185 million, a testament to her surprsing longevity in the game.
Though the hip-hop presence isn't entirely absent, only a few prominent rap names line the top 10. Jay-Z, counted alongside his wife Beyoncé in the sixth spot, clocked in $81 million apiece. Drake held it down at number eight with $75 million, surpassing Diddy's $70 million, Rihanna's $62 million, and Travis Scott's $58 million. Eminem's $50 million was enough to solidify him the 19th spot. Should you be interested in tallying up the stats for yourself, head on over to Forbes right here. 
Clearly, business has been booming for these elite earners, and we can only lay down bets on the next hip-hop billionaire. At this stage, both Diddy and Dr. Dre remain in heavy contention, though it wouldn't be surprising to see the Yeezy mogul steadily climbing the ranks before long. Take a look at the list below. Any surprises?
Forbes' Top Earning Musicians of 2019:
#1 Taylor Swift $185M
#2 Kanye West $150M
#3 Ed Sheeran $110M
#4 Eagles $100M
#5 Elton John $84M
#6 Jay-Z/Beyoncé $81M
#8 Drake $75M
#9 Diddy $70M
#10 Metallica $68.M
#11 Rihanna $62M
#12 Travis $58M
#13 JT/Katy $57.5M
#15 P!nk/BTS $57M

— chart data (@chartdata) December 6, 2019
| | |
| --- | --- |
| HIS ANACONDA DON'T…ANYMORE: Safaree Shares His One Regret Following Arrival Of First Child With Erica Mena – "I Would Hope She Wouldn't Google My Name & See a Picture of My Meat Hanging Out" (VIDEO) | 06.12.19 |
If only Safaree had a time machine.
Safaree is set to welcome his first child with his wife Erica Mena and the pregnant beauty is in her third trimester, weeks away from welcoming their bundle of joy. Safaree recently made a visit to The Real to discuss his career moves as of late and of course, chatted about becoming a father for the first time. "I'm nervous. I'm in shock. I'm in disbelief. It's very surreal to me. I don't know what to do but I know I'm going to be great at what I do because I'm great at everything," Safaree said when the couple first announced they were expecting. 
The Real hosts got quite frank with Safaree and asked him if there are any regrets he has in his career now that he will soon be a father. "Having a daughter, I would hope that she wouldn't go Google my name one day and see a picture of my meat hanging out," he said. "So if there was something I could take back – I didn't do it though!" 
Safaree is referring to his nude leak that went down in February of 2018 when the Internet got its hands on his naked images. After the event, Safaree was offered $50K to star in porn – something he's probably grateful that he turned down. Peep the clip below. Thoughts?
| | |
| --- | --- |
| WELL THIS IS GETTING INTERESTING: Nick Cannon Claps Back Following Eminem's Diss on Fat Joe Song; Mocks His Age – "Get Out Your Wheelchair" | 06.12.19 |
Nick Cannon doesn't think Eminem is worth his time.
How can you take Nick Cannon's shit-talking seriously when he's dressed up like Santa? Everybody was expecting the comedian to respond to the shots that Eminem threw his way on Fat Joe's "Lord Above" record today. Operating as part of the Family Ties album, Joe referred to "Lord Above" as the "most disrespectful song" and, now that we've heard it, it makes sense why he would think that. Em attempts to obliterate Nick Cannon for the comments he made on T.I.'s podcast several months ago, implying that he was neutered by Mariah Carey and making plenty of jokes based on that. Cannon listened to the verse on his radio show and, as he was dressed like Santa, he issued a response.
"They should change his name from Eminem to, like, Percocet-Em," suggested Cannon before taking some digs at his age. "We gon' call him Cialis. Bring your walker, get out your wheelchair, pop some of whatever you pop. Should I respond to this? It's not worthy of a response! I gotta get in my time machine, go put my gigolo jersey on…"
Cannon then goes on to mock the rapper, imitating his flow on the track before peddling back and referring to him as a legend. This isn't quite a full-blown feud but, clearly, there is still some bad blood between these two. Do you think we'll hear a Nick Cannon response by the end of the week?
| | |
| --- | --- |
| GIRL, WHAT?: Former 'Bad Girls Club' Star Natalie Nunn Begs Her Husband to Stay Following Allegations of Cheating in Wild Drunken Threesome | 06.12.19 |
Natalie Nunn is not trying to lose her fine ass husband.
Natalie Nunn took to Instagram to publicly plead her case to her husband Jacob Payne amid a wild story going around accusing her of cheating on him by having a threesome with two UK stars. Model Chloe Ayling spilled the beans a few days ago claiming that she'd had a drunken romp in the hay with Nunn and UK reality star Dan Osborne (who's also married) shortly after they all met for the reality series 'Celebrity Big Brother: UK.'
Going in detail, Chloe said: "Dan cheated on Jacqueline with me and Natalie. We'd all had a lot to drink and a threesome happened. He had full sex with Natalie in in front of me in the bathroom, and then kissed and performed a sex act on me. It was a debauched night – we were drunk and we let loose." The story then takes an even more hilariously outrageous turn as Chloe claims Osborne started his "flirting" with Natalie by comparing her to none other than Rihanna. "At the time it felt as though we were just having fun but now I realise how wrong it was," she continued.
The Osborne has released a statement calling the accusations "completely rubbish" and threatening legal action, Nunn isn't exactly denying anything as her reps have stated that they will pass on speaking on the incident at this time and she's followed that by posting a grovelling public note to her hunky husband with a throwback picture on Wednesday via Instagram.
"You're my bestfriend! [sic] My husband the father of my child! No matter what in this world you sit on the throne you're my [king emoji]!" Natalie wrote. "This world is full of craziness and you've always been my peace! Through any hard time you stay strong to protect your [queen emoji]!! "This storm too shall pass but in the meantime I pray we continue to just dance in the rain together! I love you @mrjacobpayne ."
Take a look at Natalie's post below. What do you think of this mess?
| | |
| --- | --- |
| SAY WHAT NOW?: Jason Derulo Offered $500K To Show Off His Man-Meat On Porn Site | 06.12.19 |
The wannabe "anaconda" is pulling in even more fame.
Jason Derulo popped back on the radar a few weeks back when he showcased his impressive physique on Instagram. The photo showed Jason standing near a pool in Bali in a tight pair of shorts and users couldn't help but comment about his package that Jason referred to as his "anaconda." (despite it seeming fairly average)
"Photoshop? Photoshop? Don't make me [pull it out]. There are not enough women in this area. Just know that us Haitians, we look different," he said when asked if he edited up his appearance.
Fast forward weeks later and Instagram has removed the image claiming it's violated the platform's guidelines by showing an "aroused genitalia." The "Swalla" singer denied such an allegation and called the move discrimination. "I really do think it's discrimination, I do, all jokes aside," he said. "Let me live, it's not my fault."
TMZ now reports that another platform would gladly allow Jason to post such pictures and more for the price of $500K. CamSoda is apparently offering Jason a page of his own to post images, videos and live streams of him in his underwear over the course of six months. Jason wouldn't have to get nude, just show off his assets casually. 
Jason has yet to respond to the offer and we're not so sure he'll oblige…we'll have to see. Were y'all really that impressed?
Y'all remember this Jason derulo picture WHEW pic.twitter.com/4rhybSWih3

— BeyMinaj🦄🐝 (@badguyonkia) December 6, 2019
| | |
| --- | --- |
| CONGRATS IN ORDER!: Raymond Santana Of "Central Park Five" Proposes To "Flavor Of Love" Star Deelishis | 06.12.19 |
He liked it, so he put a ring on it.
The world watched as Chandra "Deelishis" Davis competed with dozens of women to win the heart of Flavor Flav on Flavor of Love. That may not have worked out for her 13 years ago, but she hasn't given up on finding her happily ever after. Earlier this year, Deelishis and Raymond Santana of the "Central Park Five," also known as the "Exonerated Five," went public with their relationship. Since then they haven't skipped a beat with sharing photos and videos of one another all over social media, and on Thursday they announced that they're now engaged.
Raymond shared a video on Instagram that showed him slipping the ring on her finger. He was having a hard time and for a moment it looked as if the ring wasn't going to fit, but Deelishis helped him out and it fit like a charm. The person filming can be heard yelling, "You got him, girl!" In the caption, Raymond wrote, "Yea its official..ya can really hate me now!! @iamsodeelishis is officially off the market… shes all mines…#GODgavemethegoahead.."
Check out photos and video clips of the lovebirds below, including Deelishis receiving her engagement ring.
| | |
| --- | --- |
| ISSA BOP OR ISSA FLOP?: Teyana Taylor Preaches the Value of Self Love with New Single "We Got Love" (LISTEN) | 06.12.19 |
It's all about self-love.
Coming with an uplifting message on this good Friday is Teyana Taylor who officially shared her single "We Got Love." If the song sounds familiar, it should; the singer performed the track on Saturday Night Liveback in 2018 with Kanye West by her side. As the anticipation surrounding her forthcoming record grows, it only seemed appropriate that Teyana and her team show fans a little "love" with this one.
Teyana's next album is slated for a January 2020 release—although she previously promised it would come today—and "We Got Love" may have found itself a new home after it was reportedly cut from her sophomore record, K.T.S.E. She stands alone on this one unlike her last sexy single "Morning" that hosted a feature from songstress Kehlani. The up-tempo "We Got Love" has a chant-like chorus that's almost irresistible.
Quotable Lyrics:
Self-love is the best love
When you go take that wristband off
That pity party been over
Don't need makeup to dress you up
I gave birth on the bathroom floor
Just me, Iman, and headphone cords
Don't let this life defeat you
I hope this message reach you
Give the track a spin and let us know if you "love" this one by Teyana. ISSA BOP OR ISSA FLOP?
| | |
| --- | --- |
| WHY ARE YOU SO OBSESSED WITH ME?: Eminem's New Verse on Fat Joe's 'Family Ties' Reignites His Beef With Mariah Carey & Nick Cannon; Says Cannon Was "Whipped" & Calls Mariah a "Nut Case" | 06.12.19 |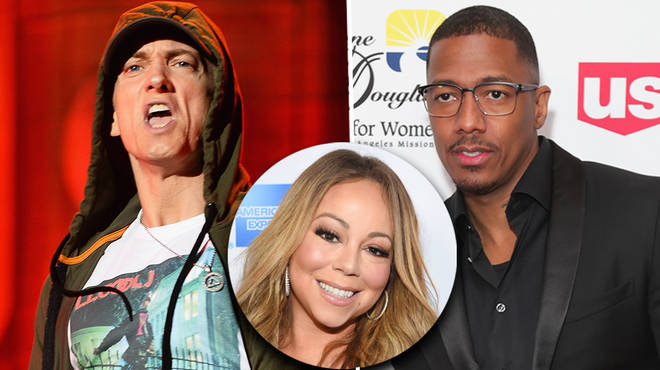 A decade later, Eminem hasn't had enough of talking about Mariah Carey just yet.
Last night Fat Joe delivered his Family Ties album, a new project that features a wealth of fire guest artists including Mary J. Blige, Dre, and Eminem, all of whom come together on the track "Lord Above." And, thanks to Eminem's verse on that song, we've just been reminded of one of the messiest beefs in music history.
In the track, Eminem brings up his now decade-long issues with former couple Nick Cannon and Mariah Carey — a saga that began with Em saying that he and Mariah had dated, a claim that she constantly rejected. That situation lead to a number of diss tracks and verses from both parties, with Eminem also throwing insults at Mariah's then-husband, Cannon, and Cannon even responding that he'd "whoop Em's ass."
Fat Joe has dubbed the Em's new "Lord Above" verse as his "most disrespectful song" to date, and the lyrics go as follows:
"Word to the Terror Squad, Joe, this is all puns aside though / I know me and Mariah didn't end on a high note / But that other dude's whipped, that pussy got him neutered / Tried to tell him this chick's a nut job before he got his jewels clipped / Almost got my caboose kicked, fool, quit, you not gon' do shit / I let her chop my balls off, too 'fore I lost to you, Nick."
Listen to the full verse on "Lord Above" featuring Mary J. Blige and Dre (of Cool & Dre) below. Thoughts?
| | |
| --- | --- |
| GOOD DEEDS?: DaBaby Performs Via FaceTime After Canceling Concert Due To Jet Issues (VIDEO) | 06.12.19 |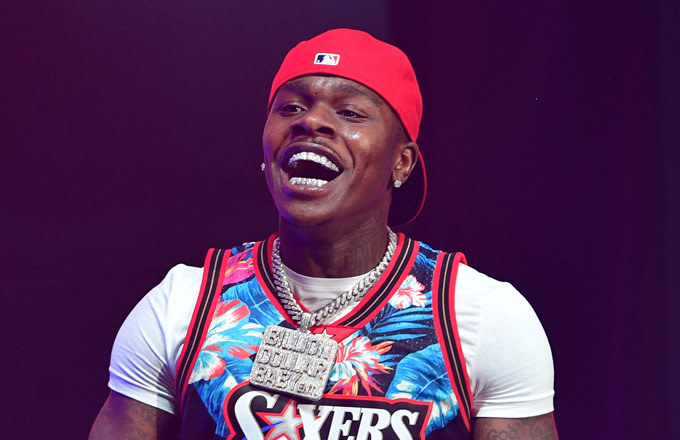 Would you ask for your money back?
A hyped crowd in Charlotte was all ready to see their favorite rapper DaBaby hit the stage at the Bojangles Coliseum, but they were left disappointed when he didn't show up. The North Carolina-bred rapper was just as excited to return to the city to perform for his hometown fans for Power 98 radio station's Winter Block Party, but unfortunately, he was having some problems with his jet. 
"I'm mad as hell," he's seeing saying on his Instagram Story before he makes sad faces. He uploaded a photo of the inside of the plane with the words "Maintenance issue on this weak ass jet. Night of the hometown shown [thumbs down emoji]" overlayed. DaBaby, who was reportedly stuck in New York, tried to make it up to fans by having the production team at the venue put him up on a large screen as he FaceTimed with the crowd.
They played his songs overhead as he danced and it seemed as if people were having a good time, especially considering he promised to perform for attendees at a later date. Fortunately, fans weren't too frustrated seeing as Megan Thee Stallion performed without a hitch and was able to keep the party going.
There were still some fans who weren't enthused about spending their money to see the rapper on FaceTime and they stormed social media to make their voices heard. Check out DaBaby attempting to please his hometown fans below, along with mixed reactions from social media.
| | |
| --- | --- |
| AGE IS DEFINITELY MORE THAN A NUMBER IN THIS CASE: R. Kelly Now Charged With Bribing Officials To Marry Aaliyah When She Was 15 | 06.12.19 |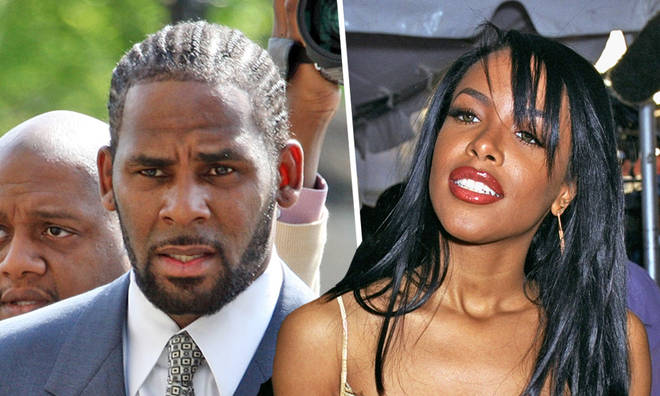 R. Kelly faces more charges from his dark piss filled past.
R. Kelly's faced some serious allegations throughout the year stemming from his past. Surviving R. Kelly put a spotlight on the alleged crimes he's committed throughout his career from the 90s to the present time. The singer was married to Aaliyah when she was 15 years old in 1994. She admitted that she had lied to say she was 18 on the papers.
According to docs obtained by the folks over at Complex, R. Kelly has now been officially indicted on charges of paying off a public official for "the creation of a fraudulent identification document for Jane Doe #1." The alleged bribery happened on Aug. 30th, 1994, a day before Kelly and Aaliyah are rumored to have had their secret wedding. The document reads:
On or about August 30, 1994, within the Northern District of Illinois, the defendant ROBERT SYLVESTER KELLY, together with others, did knowingly and intentionally cause another individual to promise and tender to a public officer and public employee property, to wit: Unites States currency, that such public officer and public employee was not authorized by law to accept, with the intent to influence the performance of an act related to the employment and function of a public officer and public employee, to wit: the creation of a fraudulent identification document for Jane Doe #1, an individual whose identity is known to the Grand Jury, in violation of Illinois Criminal Code Sections 5/33-l(a) and 5/5-1.
The thing is that Kelly's former personal assistant previously admitted to being the one who brought Aaliyah to get a fake ID. "I was in the room when they got married," Smith said. "I'm not proud of that. I had papers forged for them when Aaliyah was underaged. It was just a quick little ceremony. She didn't have on a white dress. He didn't have on a tux. Just every day wear. She looked worried and scared."