| | |
| --- | --- |
| MOVE, B*TCH! GET OUT THE WAY!: Justin Bieber Sued By Paparazzo He Accidentally Hit With Truck (VIDEO) | 16.04.19 |
The singer was leaving a church service when he bumped the cameraman.
A paparazzi cameraman is looking for a payday following an accident he had involving Justin Bieber back in 2017. Bieber was leaving a church service in Beverly Hills in the evening hours and climbed into his 2017 Dodge Ram 2500 pickup truck. Of course, his vehicle was surrounded by paparazzi who were all maneuvering around the front of the truck in an attempt to get the perfect shot of the pop singer, when, as he pulled off, Bieber knocked over William Wilson.
The cameraman fell to the ground and rolled under the truck. The other photogs yelled for Bieber to stop because had he continued on, he would have run over Wilson completely. When Bieber was made aware of what was happening, he stopped the truck and jumped out to help Wilson who was laid out on the ground. A few of the photogs criticized him for driving away too fast, putting their lives in danger. Bieber told them that they need to back away because it makes it difficult to drive if they're standing in front of his vehicle.
Police responded to the scene and made a report, but it was later found to all be an accident and the singer didn't face any charges. Wilson was treated at a nearby hospital for a leg injury, and now he's suing Bieber, claiming the singer was negligent in the way he pulled out into the street. According to TMZ, Wilson also claims that he now suffers "permanent disability, emotional damages, and general damages. The extent of those "permanent injuries" have yet to be specified. Police previously stated that the cameraman shouldn't have been in the street in the first place and the accident may have been caused by the camera lights flashing in Bieber's eyes.
| | |
| --- | --- |
| IN CASE YOU MISSED IT: Kodak Black Continues to Disrespect T.I. with New Diss Track "Expeditiously" (LISTEN) | 16.04.19 |
The rapper takes aim at T.I. and his wife Tiny.
This T.I. and Kodak Black feud has fans wondering when, and if, it's ever going to end, but instead of pumping the breaks on the back and forth, Kodak slammed his foot on the gas and is charging full steam ahead. We previously reported that T.I. was working o a new track where he made mention of his ongoing tit-for-tat with Kodak. "I'm conditioned to see the vision, you/ I don't care if you eight or under twenty-two/ All that back and forth, what you trying to get into?/ I said what I said and I meant it to," T.I. rapped on the track that was previewed on Instagram Live.
The Atlanta rapper has chastised Kodak for his words about Lauren London following Nipsey Hussle's murder, ultimately removing the Florida rapper from his Trap Music Museum. As T.I. wanted to keep this beef on wax—and well, Instagram—Kodak followed suit and released a song of his own today. However, he wasn't as aloof with his lyrics, taking aim at T.I. and his wife Tiny. He called Tiny a "b*tch" and "piggy" who is "ugly as hell," words that will no doubt infuriate Tip because we all know that he doesn't play when it comes to his family. Kodak also slips in a Nipsey reference by stating that someone who's been going at him didn't even know the late rapper and "I know some Rollin' 60s."
Quotable Lyrics:
Said they ride for me 'til the wheel fall off, I be like oh really
How you tell me what came out my mouth, you don't even know Nipsey
Tiny that b*tch ugly as hell, I don't even want Piggy
I can't beat you n*ggas at talkin' give me a long sentence
You know I keep the pole and I ain't no ho, I know some Rollin' 60's
| | |
| --- | --- |
| ISSA BOP OR ISSA FLOP?: Monica Guns Down An Unfaithful Lover & Spends Time in Prison in Teyana Taylor Directed "Commitment" Video (WATCH) | 16.04.19 |
Monica has landed herself in the big house in the clip.
As he preps the arrival of her Chapter 38 studio album, R&B veteran Monica has dropped off her latest single "Commitment" back in January, a guitar-driven ballad that serves as a proper entrance from the singer for the 2019 run. Today, Mo drops off the accompanying video for the track.
The Teyana Taylor directed clip features 'Murda Mo' living up to the nickname as she is booked in prison after seemingly shooting an ex lover apparently didn't do well with her demands for 'commitment.'
The video comes at an interesting (and also very smart) time in Monica's life. Confirmed reports indicate the singer filed to end her 8-year marriage to ex-NBA player Shannon Brown. The two married in 2010 and commenced dissolving their union back in 2018 through a legal separation. The rumours of trouble in paradise have been circulating for a while now and divorce papers were officially filed in early March of this year. Around that time, Monica posted a cryptic caption on her Instagram, hinting at a need for some alone time.
Take a look at the video for 'Commitment' below and let us know what you think. ISSA BOP OR ISSA FLOP?
| | |
| --- | --- |
| Y'ALL SO MEAN: Angela Simmons Posts About Personal Struggles; a Fan Questions if she Has Any Since She's Rich | 16.04.19 |
Some folks on the internet don't seem to think Simmons has a right to complain if she's rich.
Angela Simmons couldn't even do a Motivation Monday on Instagram without people coming to her page to question her personal struggles. The daughter of Joseph "Rev Run" Simmons from Run DMC and Valerie Vaughn has grown up with the finer things in life coming from hip hop royalty, but that doesn't mean that she hasn't experienced loss and pain. The 31-year-old shocked the public years ago when news surfaced that she was pregnant by a man named Sutton Tennyson. The two became engaged and the couple was on their way to wedded bliss until they called off the engagement and their relationship.
Simmons shared how she was adjusting to a single mom lifestyle on Growing Up Hip Hop Atlanta, but for the most part, she's kept much of her private life…well…private. The former couple was doing their best to co-parent until Tennyson was gunned down in November 2018 and shot 13 times in front of his home. Simmons previously shared her journey of self-love and self-acceptance, including going to therapy to work through her mental and emotional struggles.
On Monday morning, Simmons wanted to drop off some motivational wisdom with her Instagram followers. "I wanted to talk to you guys about this," she said. "I feel like, every day is not an easy day. I feel like for me personally, I can't sit here and lie and pretend like every day I get up and I'm ready to go and life is beautiful. No, there are days when I don't want to do this."
"I want to change my routine up and I don't want to do this," Simmons continued. "But you know where I find my strength and I find the ability to be able to pull through is through God, is through therapists, through sitting down and really getting to know myself because we all have issues. We all go through things. Ignoring them is where the problem comes in at. If you're not gonna feed your soul what it needs if you're feeling down or you're feeling depressed or you're feeling like you're going through something…it's important to figure out, get to the bottom of what's going on with yourself and I think that's where I'm able to overcome things."
Although she was just trying to inspire others, there were some people who just wouldn't let her be great. "Just curious, what are your problems?" one woman asked. "Do you have to go to work everyday? Do you have to send your child to daycare? Are you struggling to pay bills? Other than loosing you baby's father I am really curious to know what problems you have? Think about this while you on a yacht, traveling, spending all day with your son, shopping, working out, or doing a photo shoot. People have real struggles so save the pep talk."
Angela politely responded to the woman by saying, "It's not necessary that I share all of my personal issues. However, I am here to uplift. And I pray that you have a blessed day." Everyone goes through things, regardless of their tax bracket, but do you think rich people have a right to complain?
| | |
| --- | --- |
| AUNT BECKY WOULD NEVER: Lori Loughlin Pleads Not Guilty In College Admissions Scandal | 15.04.19 |
Lori Loughlin has officially entered a not guilty plea.
Since early this year, the scandal involving Felicity Huffman and Lori Loughlin has been at the height of the media's priorities. The two star actors have been caught up in a scam in which parents paid hundreds of thousands of dollars for their children's academic scores to be improved, falsifying information about sports and more in order to get them admitted to the most prestigious colleges in America. Lori Loughlin, who had previously been regarded as a wholesome woman who lived a squeaky-clean lifestyle, is facing the most damages as she may be in for a serious amount of jail time. Today, she and her husband officially entered not guilty pleas to each charge laid out against them.
According to TMZ, Lori Loughlin and her husband Mossimo Giannulli did not appear in court today. Instead, they sent court documents via their lawyer to enter not guilty pleas to all of their charges. They have been accused of conspiracy to commit mail and wire fraud and conspiracy to commit money laundering. A plea bargain is reportedly still on the table but even if they cop a plea, Loughlin is still expected to serve a minimum of two years in prison.
Last week, actress Felicity Huffman pled guilty to her charges, noting that she is "ashamed" of what she had done. Loughlin chose to go a different route. We'll see how it plays out in the long run.
| | |
| --- | --- |
| I CRY, YOU CRY…AND APPARENTLY SO DOES UNCLE SAM: Ja Rule Reportedly Owes The IRS $2 Million In Back Taxes | 15.04.19 |
Ja Rule is a habitual L-taker.
There are only three guarantees in life: death, taxes, and Ja Rule taking an L. Whether it be at the hands of 50 Cent, or at the hands of angry festival goers who got scammed out of a once in a lifetime experience at Fyre Festival, Ja Rule always seems to be a target of some kind. While Ja is used to the 50 slander and the Fyre Festival jokes, the one person you don't want to upset is Uncle Sam. Well, that's exactly who is after Ja Rule right now as the IRS is claiming he owes them over $2 million in back taxes.
In files obtained by Bossip, Ja received multiple liens from the IRS for the years 2016, 2005, 2006, 2007, and 2008. For each of those years, Ja owes $443,442, $830,717, $353,536, $231,775, and $172,282 respectively. Those are some pretty hefty sums and now Ja is on the hook for all of it. In the report, it states that his wife Aisha has also been sent liens for her own income.
The artist hasn't replied to any of the notices so far. Instead, he's been out in Thailand celebrating his marriage to his wife, who he has been with for two decades now.
It remains to be seen how Ja will get himself out of this one.
| | |
| --- | --- |
| IN CASE YOU MISSED IT: Miguel Implies Donald Trump Should Have Been Killed Instead Of Nipsey Hussle | 15.04.19 |
"How Nipsey before Trump?"
Last week, Nipsey Hussle's body was laid to rest through a touching memorial service that included performances by Jhené Aiko, Stevie Wonder and more. Hussle's family spoke during the event, remembering all of the incredible things he achieved during his 33 years of life. The hip-hop community has been continually speaking out about his passing, using social media to spread their messages. T.I. and The Game have been very vocal about wanting to keep Nipsey's legacy alive and today, Miguel gave us his two cents by stating his pretty controversial opinion.
In a new video posted to the singer's page, Miguel is seen rocking a plain white t-shirt with several words printed on the front. The statement is sure to divide his fanbase and potentially earn him some strongly-worded comments. "How Nipsey before Trump?" reads the shirt. It appears to have been customized with Nipsey's name appearing in a different font than the other words. Clearly, Miguel is trying to make a point here. He doesn't care about your political opinion; he simply believes that instead of Nipsey Hussle being taken away from his community, Donald Trump should have been in that spot.
Miguel has spoken out in the past about Trump's treatment of Mexico and his decision to build a border wall to keep immigrants away. This is just the most recent instance of the singer speaking his truth for us all to interpret.
| | |
| --- | --- |
| TUNED IN OR TUNED OUT?: Cardi B & Jennifer Lopez' Strip Club Film "Hustlers" Gets Official Release Date | 15.04.19 |
The film is Cardi B's first foray into film. Okrrr!
During the month of March, we reported that Cardi B had landed her very first acting role in a movie where she would be performing alongside Jennifer Lopez. The movie centers around a gang of savvy strippers during the financial crisis. It's been reported that the film is actually called Hustlers and now, it finally has a release date. According to Page Six, the film, which also stars Constance Wu and KeKe Palmer, will be dropping on September 13th of this year.
With J-Lo's dancing experience and Cardi B's much-discussed stripping experience, the two are a likely pair to put on a show stopping show for the film. Cardi B's rise to stardom all started after she left the world of stripping to garner a huge following on Instagram and eventually began to pursue her own rapping career.
Adam Fogelson, who is a producer at STX films, couldn't be happier with the cast that has been chosen. "We could not have asked for a more exciting or talented lineup of performers to join our cast," Fogelson said. The movie's director, Lorene Scafaria, echoed those sentiments saying "I'm thrilled to have the opportunity to work with this dynamic group of women. We're grateful to have assembled such a powerhouse cast and can't wait to start filming at the end of the week."
Shooting of the film has already begun. Will you be tuned in the the theatre?
| | |
| --- | --- |
| I KNOW YOU LYING: Kodak Black Thought it Was a Good Idea to Call Tiny & T.I.'s Sons Out of Their Name – "Your Little F*ggot Sons" (VIDEO) | 15.04.19 |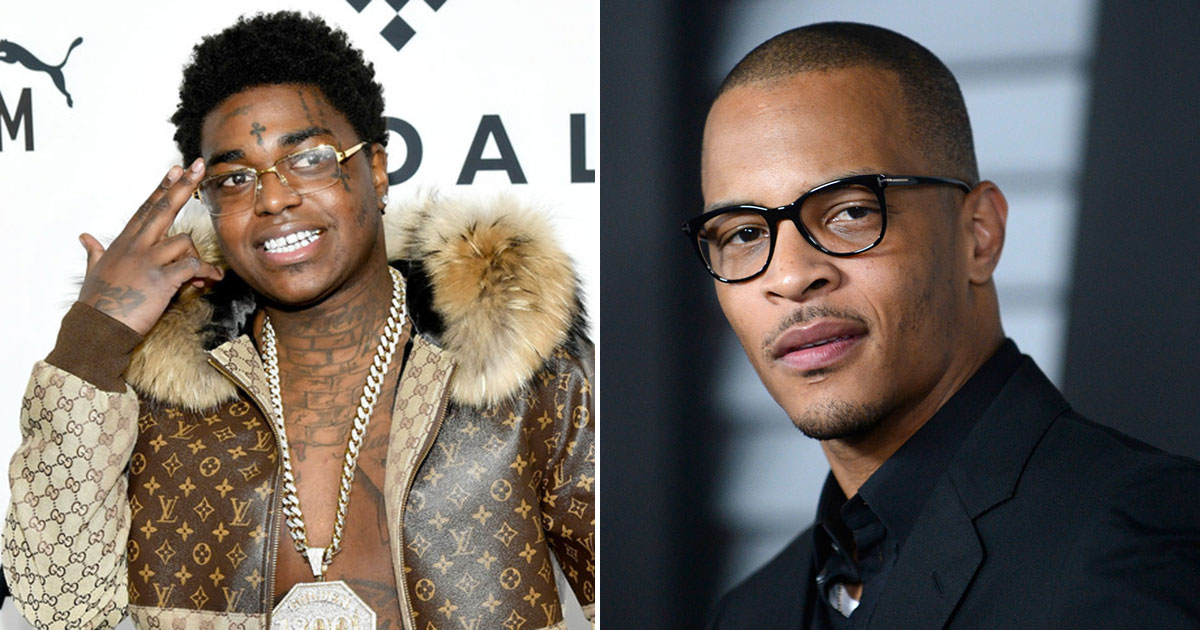 T.I. headed to the booth to address his beef with Kodak Black… and per usual, Kodak may have just taken things a little too far.
T.I. and Kodak Black have been going back-and-forth on social media over the past week. It all started when Kodak Black decided to hop on Instagram Live and make comments on how he was going to give Lauren London a year to grieve before shooting his shot. He ended up (kinda) apologizing for his comments but T.I. was still livid that Kodak would make light out of Nipsey Hussle's death. A few days ago, T.I.'s took things to to the booth to address his feud with the Florida rapper.
TIP took to Instagram Live to preview a new song he's been working on. On the track, the rapper seemingly addresses his feud with Kodak Black.
"I'm conditioned to see the vision, you/ I don't care if you eight or under twenty-two/ All that back and forth, what you trying to get into?/ I said what I said and I meant it to," he raps on the track.
Kodak has now responded with insults toward T.I.'s family even going as far as referring to them in homophobic slurs. Kodak Black went off on Instagram and said, "You should've made one of your little f*ggot a** little sons write a rap." Before accusing Tip of "trying to go viral every chance he gets," and then directing his attention to his wife Tiny, "You really mad cause you can't rap better than me…I'm in my own lane… This where y'all come for the swag…I don't even want that b****. I don't even want Piggy."
Peep the receipts below. What do you guys think? Has this all gone a bit too far now?
| | |
| --- | --- |
| Y'ALL ARE GOING TO JAIL: India Love Dragged By Fans For Sheck Wes Relationship Despite Domestic Violence Accusations | 15.04.19 |
Sheck Wes' new boo India Love on the hot seat for affiliating with an alleged abuser.
Sheck Wes is a name familiar to the game. The rapper's smash hit Mo Bamba laid the groundwork for the successful release of his debut album "MudBoy" which quickly rose to the top of the charts upon its October-release. Despite being known for his talent, Sheck also accumulated notoriety through his volatile relationship with singer-songwriter Justine Skye. This past year, Justine slowly but surely came out of the shadows to speak at length on the alleged abuse she suffered at the hands of an unnamed ex. Though several fans already guessed right, the songstress finally revealed the identity of the aforementioned ex as being Sheck Wes. Since then, Justine Skye has motioned for legal action against Sheck. Moreover, both parties provided their own versions of the story along with receipts. All the while, social media either dragged Sheck Wes in support of Ms. Skye or questioned Justine's statements in support of Sheck.
Although Sheck Wes escaped charges due to insufficient proof, suspicion remained surrounding the rapper's actions. It now seems the "Kyrie" rapper is ready to move on and fully intends on doing so with his new bae, 23-year old socialite India Love. The two were recently spotted an item at Coachella, where Sheck also performed, and the response from social media was explosive.
#IndiaLove and #SheckWes loved up at #Coachella pic.twitter.com/pDzmcymhNk

— Blue Jay TV (@Blue_JayTV) April 14, 2019
I hope sheckwes don't beat up India love

— Arya Stark (@Asha_soflossy) April 11, 2019
India love is really dating Sheck Wes? 🤮🤮🤮 a whole ass abuser? Sisss🤦🏾‍♀️

— Melissa (@_itsmelimel) April 11, 2019
India Love is really dating Sheck Wes. I hope she knows how to fist fight.

— Lola Adrianna 🇨🇴 (@lowlaaaah_) April 14, 2019
| | |
| --- | --- |
| ISSA LOOK OR ISSA PASS?: Azealia Banks Shaves Her Eyebrows Off & The Internet is Confused | 15.04.19 |
Azealia Banks is messing with her new look. Her fans? Not so much.
Whenever you see Azealia Banks' name in the headlines, you should be wary of what you're about to read. Last week, the controversial rapper shared a series of half-naked images of herself to hype up a new song called "Playhouse." Now, she's proudly showing off her new look, which includes a lack of eyebrows, to her many fans online.
If you've been keeping up with Azealia Banks, you're either a diehard fan of hers or you're obsessed with the drama that constantly spins around her. Each day, there's a new story that's just as wild as the last and it helps in part to keep her name relevant. Because of actions like this, Banks has maintained her level of fame without focusing too much on music. The star recently debuted a brand new look, which her fans have met with criticism. Banks shaved off her eyebrows, showing the end result on her social pages and telling everybody that she's really feeling the new look. There is a number of folks that are on her side, praising her for switching up her face but others have taken to their own pages to voice their displeasure.
Which side do you stand on? Do you feel Azealia's new look or should she draw her brows back on? Peep the comments on both photos to see what everyone is saying.
| | |
| --- | --- |
| TELL EM', GIRL!: Kim Kardashian Responds To "Stay In Your Lane" Shade Surrounding Lawyer Ambitions – "Nothing Should Limit Your Pursuit of Your Dreams" | 15.04.19 |
Kim Kardashian gives us #MotivationMonday with inspiring dream chasing post
Kim Kardashian's lobbying efforts surrounding prison reform sparked much chatter these past few years. Her sit-down with 45th US president Donald Trump was step one to granting freedom via clemency to former inmates Alice Marie Johnson, Matthew Charles and viral case, Cyntoia Brown. Her success in such endeavours even got folks calling Ms. Kardashian West the "Prison Reform Princess."
In an interview with Extra, Kanye West applauded his wife's good deeds and was first to announce Kim was going to law school. Though the statement was then considered another one of Kanye's verbal faux pas, Kim Kardashian later confirmed its validity. Today, in an uplifting Instagram post, the reality TV star explained how her deep involvement in criminal justice reform has inspired her to pursue a legal career. In the thick of previous allegations surrounding her new goal, Kim faced harsh clap back from the public. While nay-sayers urged Kim to "stay in her lane," others accused her of using fame and financial privilege to by-pass the regular Juris Doctor acquisition process. 
"I've seen some comments from people who are saying it's my privilege or my money that got me here, but that's not the case. One person actually said I should "stay in my lane." I want people to understand that there is nothing that should limit your pursuit of your dreams, and the accomplishment of new goals. You can create your own lanes, just as I am. The state bar doesn't care who you are. This option is available to anyone who's state allows it."
Furthermore, the mother of three insisted on letting the world know she meant serious business and remained adamant about earning her stripes the regular way.
"My weekends are spent away from my kids while I read and study. I work all day, put my kids to bed and spend my nights studying. There are times I feel overwhelmed and when I feel like I can't do it but I get the pep talks I need from the people around me supporting me."
It is important to consider Kim's track record does show a commitment to fight for the underprivileged and socially disadvantaged, populations which may solely benefit from additional support. Hence, we can only wish Kim K. best of luck. 
See post below: 
toggle menu