| | |
| --- | --- |
| PRAYERS UP: Justin Bieber Is In Treatment For Depression | 12.02.19 |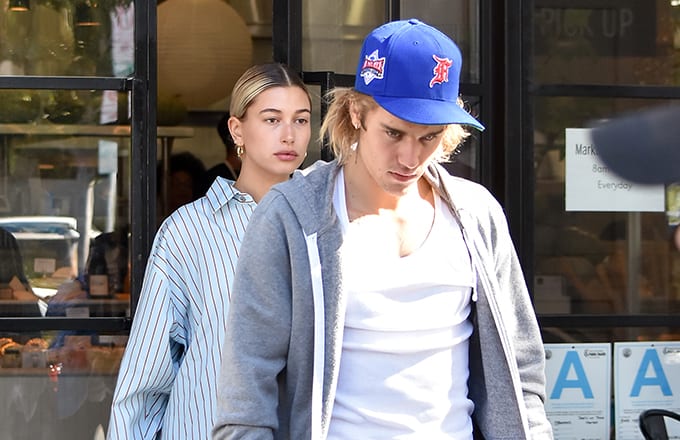 Get well soon, JB.
Just a few days ago, Justin and Hailey Bieber were the subjects of Vogue's cover story. Justin got real about the difficulties of being a newly married man, also explaining all that he's gone through over the years. It hasn't been the smoothest of roads for Bieber since he was discovered on YouTube. We watched him grow from a boy to a man, now settling down after years of dramatic headlines about drugs, sex, and disturbances. After revealing that he has had past issues with sex and Xanax, it's sad to report that the pop star has sought treatment for depression.
According to People Magazine, Justin Bieber is going through a little bit of a rough patch right now but he's "confident" that he will get well soon. "Justin seems down and tired," said a source. "He has been struggling a bit." Apparently, his depression has nothing to do with Hailey Bieber. He maintains the fact that he's over the moon with happiness after marrying her. "It's just something else that he struggles with mentally," added the source.
A different source has said that JB often struggles with the idea of fame and is receiving counselling. For years, we've seen him dip in and out of the spotlight. Bieber is receiving treatment right now and is reportedly surrounded by good people. Hopefully, he makes it out of this with a more positive mindset. Get well soon!
| | |
| --- | --- |
| SAY WHAT NOW?: Rich The Kid, Usher, & Their Entourages Reportedly Involved In Studio Armed Robbery | 12.02.19 |
The suspects reportedly made off with a ton of cash and jewelry.
According to TMZ, Rich The Kid and his entourage were ambushed Tuesday afternoon in a famous West Hollywood studio (Westlake Recording Studios), where Usher was also recording in as well. Multiple shots were fired, but luckily no one was hit. Eye witnesses say the man who opened fire was running away from the studio when he started shooting behind him.
Law enforcement sources say Usher was in the studio, but not the target. Rich The Kid was outside when it all went down, and it appears he was the focus of the robbery. Multiple entourage members were also attacked, and at least one bodyguard was badly pistol whipped.
County Sheriff deputies are swarming the studio and surrounding blocks right now, searching for suspects and collecting evidence. It's unclear if anyone was hit when the shots were fired, but we're told the suspect or suspects made off with a ton of cash and jewelry.
Just hours before the robbery, Rich coincidentally posted an Instagram photo of himself holding stacks of cash while standing in front of a Lamborghini. "For motivational purposes only," he captioned it.
We'll continue to keep you posted on this story as more develops. Check out TMZ's clip (below).
| | |
| --- | --- |
| IN CASE YOU MISSED IT: Nick Cannon Calls Out Jimmy Fallon & Jimmy Kimmel For "Blackface" Acts | 12.02.19 |
Cannon tends to side with comedians, but he still wants to talk.
Nick Cannon is a proponent of free speech, especially when it comes to comedy. He has expressed disagreement with the notion of "canceling" entertainers for seemingly offensive content in the past. In the same stroke, Cannon uses these moments to point out the hypocrisy of public opinion. His latest critique follows the Virginia blackface scandal involving politicians.
The political correctness mob had come for Nick back in 2014 after seeing him wearing white makeup to play a character. He referred to this moment to conclude a series of teachable moments in honor of Black History Month. First, he posted a montage showing comedians in blackface costume. The caption attached to the images of Jimmy Kimmel, Sarah Silverman, and Jimmy Fallon, was relatively obnoxious: "Happy 'BLACKFACE' History Month!!! I'm sure we can expect some more 'Apologies' by Monday… "
He follows up with more pertinence in the text attached to video footage of both late-night hosts in action. "You know I'm always on the side of the comedian and never pander to the sensitive, but I feel there needs to be some "truth & reconciliation" discussions and teachable moments amongst our communities," he wrote. "I'm ready and willing for the discourse, so who wants to step up to the table first? In the meantime, I'll just leave this right here. Tell the Jimmys to holla at me!"
Finally, the entertainer turned to his "white face" moment to break down why the depiction of his ashy self differs from those of his white peers. "The racist and severely damaging 'Jim Crow laws' received its name from the Blackface minstrel movement of the 19th century and proceeds to cause pain to this day. A constant reminder that People of color are looked at as second class citizens in this country."
"These recent revealings of people painting themselves black or brown and speaking in broken slang in an attempt to be humorous or have fun; as if our culture is some sort of party trick or costume is unacceptable," continued.
"Racism is when an "elite" group uses its systemic power to enforce harm, hardship, and pain on others," he said in conclusion. "If you don't understand this, then it probably means you are or benefit from that elite group of privileged oppressors that we speak of."
| | |
| --- | --- |
| IN CASE YOU MISSED IT: Social Media Clowns NBA YoungBoy & His Girlfriends' New Mugshots Following Drugs & Disorderly Conduct Arrest | 12.02.19 |
Fans think that NBA YoungBoy and his girl look a little demonic in their mugshots.
Yesterday evening, it was reported that NBA YoungBoy and his girlfriend were nabbed by the cops for several reasons. The two were in Atlanta when they caught three misdemeanor charges for marijuana possession, use of "fighting words" and physical obstruction. This isn't the first time that YoungBoy has gotten in trouble with the police. In his young career, he's been one of the most controversial rappers because of his violent past and his run-ins with the law. Their new mugshots were released to the public and once they made their way onto social media, people had some fun at their expense.
In the photos, YoungBoy Never Broke Again looks disappointed in himself, frowning and looking straight into the camera. Fans weren't necessarily making fun of him. His girlfriend's mugshot on the other hand… She has on a devious smile, almost as if she's proud of what went down. She angles her head downwards and almost sneers at the camera when the shot is taken. One fan commented, "they look like before and after crackhead mugshots."
After the arrest of 21 Savage, we can all learn from moments like these. These are people's lives and it shouldn't be the norm to laugh at somebody's mugshot. We made Wide Neck famous for that very reason. It can work in the benefit of some and for others, it can completely tear apart their perception of themselves. What do you guys think?
NBA young boy looks like the devil in his mugshot

— TANK (@_uhleksis) February 12, 2019
| | |
| --- | --- |
| I KNOW YOU LYING: Soulja Boy & Blac Chyna Spotted Cuddle Up To Each Other In The Club (PHOTOS) | 12.02.19 |
Could Soulja Boy and Blac Chyna be an item?
Soulja Boy is currently in the midst of a major comeback. The rapper has been in the game for a decade and his music started to decline a few years after he took off. Last year, it felt as though he released dozens of mixtapes but they just didn't hit as hard as his older material. People are checking for his music in larger numbers now but honestly, fans are more concerned with his social media antics. There is currently a 6ix9ine-sized hole in the trolling community and Young Draco is here to fill it, filming viral videos where he trashes the likes of Tyga, Drake and Kanye West. Now, he might be taking the next step in his renewed internet stardom by popping up next to Blac Chyna.
Chyna has been linked to a few artists in the last year. She was with YBN Almighty Jay for a while before breaking up Swae Lee and his girlfriend for about a week. Then, she moved on with an 18-year-old boxer before hooking up with Kid Buu (or his clone.) Now, it appears as though she's cuddling up to Soulja Boy.
Draco's Instagram has been more active than ever lately but fans couldn't help but notice a few photos of the two together in the club. The most recent shot shows them enjoying a dance together and they got pretty close. Is this enough to call for a couple alert or is Soulja sticking with Nia Riley for the long run?
| | |
| --- | --- |
| SO WE'RE GOOD…FOR NOW: 21 Savage Released On Bond Following ICE Arrest; Pending Deportation Hearing | 12.02.19 |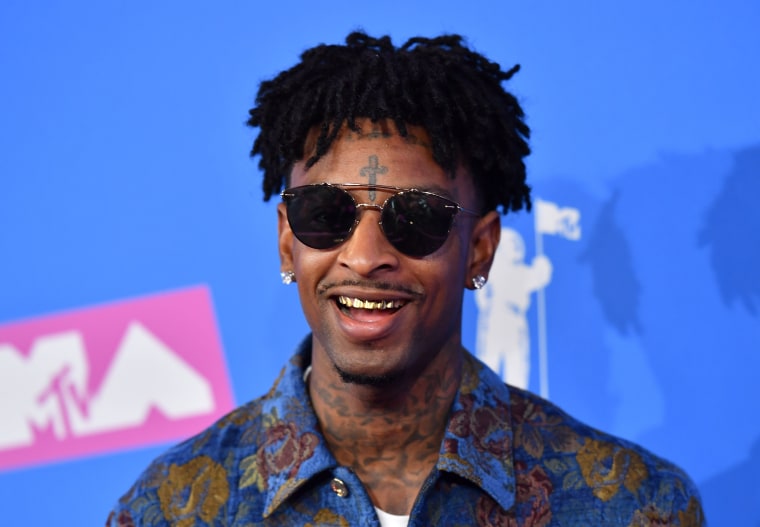 21 Savage is no longer in ICE's custody for the time being.
21 Savage's friends, family, fans, and supporters have rallied together for the rapper's freedom since his arrest on Super Bowl Sunday. United States Immigration and Customs Enforcement detained the rapper on claims that he was living in America on an expired visa. After a week of fighting, TMZ reports that he finally posted bond and has been released until his deportation hearing.
21 Savage's lawyer issued a statement following the rapper's release from ICE's custody. Charles H. Kuck, Dina LaPolt and Alex Spiro said, "21 Savage asked us to send a special message to his fans and supporters — he says that while he wasn't present at the Grammy Awards, he was there in spirit and is grateful for the support from around the world and is more than ever, ready to be with his loved ones and continue making music that brings people together."
The rep continued, "He will not forget this ordeal or any of the other fathers, sons, family members, and faceless people, he was locked up with or that remain unjustly incarcerated across the country. And he asks for your hearts and minds to be with them."
The rapper's arrest prevented him from appearing at the Grammys where he was nominated for two awards. He was also expected to take the stage with Post Malone for their song, "rockstar." It's still unclear why 21 was detained for so long but we're hoping the outcome of his hearing is positive.
| | |
| --- | --- |
| ANOTHER DAY, ANOTHER RECORD: Cardi B & Maroon 5's "Girls Like You" Ties Ed Sheeran For Most Weeks In Hot 100's Top 10 | 12.02.19 |
Congratulations to Maroon 5 and Cardi B!
Although Cardi B disabled her Instagram account after haters attempted to dim her shine from making history with her Grammy, the rapper is still killing it on the Billboard charts. According to the chart tracking publication, Cardi B and Maroon 5's collaboration "Girls Like Me" has officially been sitting in the Hot 100, in the Top 10 section, for 33 weeks.
That means Maroon 5 and Cardi have tied with Ed Sheeran, with the trio of acts hitting the record. Maroon 5's lead singer, Adam Levine, previously explained just why he thought it was so important to have Cardi featured on the song.
"She was in the honeymoon period of her moment," he said. "She was just beginning to be that female artist that everybody was talking about, and I thought it was an important thing for her to be involved. I knew she would have an interesting take on what was being said, and she would do it in a way that you wouldn't necessarily have thought of."
As for a few words of inspiration to Cardi, before she wrote the verse, he told her to "put something down that shows your fierceness as a woman and say it however you want."
Chart moves: @Maroon5 & @iamcardib's "Girls Like You" ties Ed Sheeran's "Shape of You" for most weeks spent in the #Hot100's top 10 https://t.co/iemUK81FED pic.twitter.com/HpAzsODsap

— billboard (@billboard) February 12, 2019
| | |
| --- | --- |
| JUSTICE FOR JUSSIE: Jussie Smollett's Phone Records Rejected By Police After He Finally Submitting Them (UPDATE) | 12.02.19 |
The file Jussie submitted was reportedly redacted.
The entire situation involving Jussie Smollett's alleged attack is incredibly bizarre. We're inclined to believe what he's selling but for some reason, a vast number of people are casting doubt on what he says happened. Here's the run-down. During a late-night trip to Subway, the actor and singer was attacked by two men wearing all black as he left the restaurant. Smollett says that he was targeted in a hate crime for his race and sexual orientation. Apparently, the two men tied a noose around his neck and yelled "This is MAGA country" when they ran away. Initially, Jussie did not want to report the crime to the police but he reluctantly did and now, he's finally released his phone records to the authorities. However, they were rejected.
According to TMZ, the Chicago Police Department has rejected the file that was sent by Jussie Smollett because it was reportedly redacted from its original form. The "Empire" star sent in a PDF file of his phone records two weeks after the alleged incident, which is apparently the cause for the police refusing to accept the document. The publication notes that a PDF can be manipulated easily, meaning that phone numbers can be erased or changed. It's unclear if Jussie's document was tampered with but regardless, this isn't a great look.
Smollett is currently being treated as the victim of a hate crime. So far, there is no video of the actual attack.
| | |
| --- | --- |
| SAY WHAT NOW?: 6ix9ine Reportedly Admits to Offering His Associate $20K To Shoot At Chief Keef | 12.02.19 |
New details of 6ix9ine's attempted Chief Keef shooting have emerged.
With 6ix9ine currently spending time in jail before his trial begins next year, news about the rapper has dwindled to a new low. There isn't much information about him other than a new commercial that he stars in, which is actually pretty painful to watch. (see previous story) The whole thing has a major dose of cringe attached to it. At this point, you've heard about the attempted shooting that 6ix9ine was involved in during his beef with Chief Keef. New details have just emerged, courtesy of Complex, that reveal who pulled the trigger and how much money was on the line.
New court documents about the Chief Keef shooting show that 6ix9ine told authorities that his associate, Kintea "Kooda B" McKenzie was the triggerman in the job. Tekashi says that he offered $20K to his friend in order to fire shots at Chief Keef. McKenzie met with the rapper and Kifano "Shotti" Jordan to accept payment. However, he only took half of the prize, taking home $10K for his role in the shooting.
Complex writes that 6ix9ine initially denied any involvement in the incident but now, he's confirming that he hired Kooda to do the job for him. Both McKenzie and 6ix9ine are facing maximum sentences of life in prison. Nobody was injured in the shooting.
| | |
| --- | --- |
| I KNOW YOU LYING: Future Reportedly Bailed On Grammy Party Performance Because Ciara & Russell Wilson Were in Attendance | 12.02.19 |
Sources believe Future bailed on his Grammy party performance after finding out Ciara & Russell were attending.
It doesn't look like Future wanted be in the same room as Ciara & Russell Wilson this weekend after he called Russ out last month on his Freebandz Radio show. On Saturday, the ATL rapper was scheduled to perform at Clive Davis' pre-Grammy party, which Ciara & Russell Wilson were front row at, when he decided to cancel his performance last minute when he realized who was inside.
Sources say Future's camp felt event organizers were "messy" by having Ciara and Russ there, and said their guy wouldn't perform. They said Future was briefed about it outside, and then decided to dip last minute.
Now there is two sides to every story and Future's camp is saying another thing. They said Future didn't leave because of Ciara & Russ, but that the show was behind schedule by nearly an hour, and he was instructed to shorten his performance significantly, which he reportedly wasn't down with. They also added that Future had no idea Ciara or Russ was there, but you can believe which side you want.
Either way, Future bailed on the performance and Russ stays out there winning. We'll keep you posted.
| | |
| --- | --- |
| WILL YOU MISS THEM?: Lil Wayne Stands By Nicki Minaj's Decision To Back Out Of BET Concert | 12.02.19 |
"I'm with u" – Lil Wayne told Nicki in a text.
As we reported yesterday, Nicki Minaj revealed that she was no longer performing at the BET Experience concert in June after the BET network decided to blast her during the Grammy's last night. If you missed it, BET sent out a tweet about Cardi's historic grammy win for Best Rap album, while pointing out that Nicki "is being dragged for her lacefront" in the process. Of course the distasteful tweet didn't sit well with Nicki, and she quickly decided to cancel her show with them. "Young Money will no longer be apart of the BET Experience or award show," she tweeted.
While Nicki was hearing it from fans for her decision, she received some reassurance this afternoon when her boss, Lil Wayne, said he's standing by her. Nicki shared a screenshot on IG of a text Lil Wayne sent her, saying "I'm with u!" after she told him about canceling the BET show.
It's unclear if Lil Wayne's "I'm with u" is him saying he's canceling his performance as well or just okay with her decision to do so, but we'll probably get a proper statement from Young Money about it in the coming days or weeks.
"Loyalty love him. Forever. The GOAT. My brother. My boss. My inspiration. #YoungMoney" Nicki left as her caption clearly grateful for her boss' stance in the decision. Check out the text (below).
| | |
| --- | --- |
| WELL LORD: Justine Skye Accuses Sheck Wes Of Physical Abuse & Stalking Her Friends | 12.02.19 |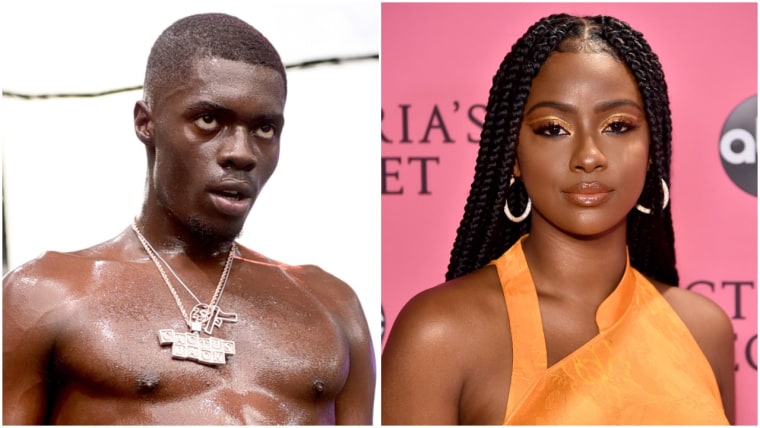 Justine Skye calls out Sheck Wes for stalking her friends.
Justin Skye made some more bold accusations this evening that Brooklyn rapper Sheck Wes and his crew were after her. Skye posted two tweets accusing the Harlem rapper of physical abuse and having his associates stalk her and attack her friends.
"Taking a walk with my friends and my man and Sheck Wes (my abuser) and his friends decide to STALK US and attack my friends," Skye wrote in one tweet. "[Two] cars full of niggas while he sat in the car like a bitch. You're pathetic sheck and you beat women. You hit your girl before me and you'll do it again."
In another tweet, Skye speaks more about her allegations against Wes, adding "You're pathetic… and all the people defending you, ya whole bitch ass label.. everyone," Skye wrote. "You spreading lies about me. Moral of the story is, if you never put your hands on me.. you wouldn't be in this situation and you just keep making it worse."
Sheck Wes addressed the allegations on Twitter this morning, saying "I've chosen to remain silent until now out of respect for actual victims of abuse," Sheck wrote. "But I cannot stand by while lies are repeatedly told about me. I never hit or beat any women and I did not beat up or jump anybody."
Peep all the receipts below:
Taking a walk with my friends and my man and Sheck Wes (my abuser) and his friends decide to STALK US and attack my friends.. two cars full of niggas while he sat in the car like a bitch. You're pathetic sheck and you beat women. You hit your girl before me and you'll do it again

— Justine Skye (@JustineSkye) February 12, 2019
You're pathetic… and all the people defending you, ya whole bitch ass label.. everyone. You spreading lies about me. Moral of the story is, if you never put your hands on me.. you wouldn't be in this situation and you just keep making it worse.

— Justine Skye (@JustineSkye) February 12, 2019
I've chosen to remain silent until now out of respect for actual victims of abuse. But I cannot stand by while lies are repeatedly told about me.

I never hit or beat any women and I did not beat up or jump anybody.

— Sheck Jesus (@sheckwes) February 12, 2019