| | |
| --- | --- |
| ISSA BOP OR ISSA FLOP?: Missy Elliott is Back to Show the Girls How to Make a Music Video with "Drip Demeanor" (WATCH) | 17.10.19 |
Missy never disappoints with the visuals.
Although the wait for Missy Elliott's 7th album continues, the legendary rapper isn't leaving us completely dry as she threw fans a bone in a few months back when she surprise released 'Iconology.' The EP is a throwback to the hitmaker's Y2K sound and jam-packed with bops like "Throw It Back" and "Cool Off." One of the obvious standouts from the track listing is a sexy groove called "DripDemeanor." On the track, Missy leaves nothing to the imagination as she lays down the ground rules in the bedroom.
Undisputedly one of most creative visual artist of the late '90s and early 2000's, Missy shows she's still got it for the 'DripDemeanor' video which sees her pair with Derek Blanks to create another one of her signature advanced clips. DripDemeanor rocks looks including a long blue ponytail, a leather and chains dominatrix outfit, and a neon tracksuit. She also pays homage to the HBCU culture, spotlighting members of the Omega Psi Phi and Kappa Alpha Psi Fraternities, Inc. Just make sure you keep watching until the end. Teyana Taylor makes a cameo, which actually links this to Missy's "Throw It Back" video. Take a look below and let us know what you think. ISSA BOP OR ISSA FLOP?
| | |
| --- | --- |
| GIRL, WHAT?: Rah Ali Doesn't Think Remy Ma Can Deliver Musically- "She's So Focused on Being Overly Aggressive Lyrically" (VIDEO) | 17.10.19 |
Rah Ali probably won't be satisfied until Remy Ma whoops her ass.
Once upon a time Remy Ma and Rah Ali were the best of friends, a few factors intervened in their friendship (a couple arguments on 'Love & Hip Hop' and Rah publicly siding with Remy's nemesis Nicki Minaj during their feud just to name a few things) however it seems these two falling out hasn't quite stopped Rah from speaking on Remy. However, it wasn't anything to do with their former friendship or beef Rah was speaking on, although it certainly may reignite it.
During the most recent episode of her podcast, Rah spoke on the fact that she's not a fan of Remy's musical style. "I think what it is for Remy is that it's hard to make a song. She's so focused on being overly aggressive lyrically," Rah said, before her guest Richard Lomax chimed in (even going as far as mimicking Remy's voice) adding, "I think she hasn't understood and established that the sound has changed, and you gotta get with it."
Lomax then continued,
"My opinion is Remy can most definitely Rap and she talented beyond a doubt. And YES, I still don't like her but I give credit where credit is due. The times and styles of rap has changed. It's no different from any other artist that has reached their highest peak and just can't seem to push out another hit. It doesn't take away from what she's contributed to music. Just like any other artist she's able to do shows and give her old fans what they want. Hell, R&B is finally making a comeback. However, you still have a hand full of new artist that can actually sing."
Take a look at the clip below. What do you think of their statements? Someone should probably remind Rah that Remy is no longer on parole…
| | |
| --- | --- |
| SHOOTING HER SHOT OR NAH?: Young M.A Denies Trying To Shoot Her Shot At Kehlani With "BIG" Lyric – "It Ain't Nothin' Like That!" (VIDEO) | 17.10.19 |
Angie Martinez wasn't buying it.
She can be as coy about it all she wants, but fans still believe it sounded as if Young M.A was flirting with Kehlani on her single "BIG" from the rapper's debut studio album, Herstory in the Making. She raps, "Uh, man I like them tatted bitches, Hi, Kehlani." It's a simple line that doesn't go too far, but listeners, including radio host Angie Martinez, interpreted the bar as Young M.A shooting her shot.
In a recent interview between the two, Angie asked the rapper if she ever gets in trouble with the fellas over their ladies. "Yo, somebody just asked me this question," she stated.  Young M.A said she penned the Kehlani line way before she knew that the singer was in a relationship with YG. Angie said no one knew, so it's not disrespectful. "No, not disrespectful, but still, hi Kehlani," the rapper said with a wave. "Ain't nothin' changed. It's my song!" Young M.A went on to clarify that she and Kehlani do occasionally keep in contact, but it's because they may be planning a collaboration and it "ain't nothin' like that!"
When Angie once again insists that on "BIG" it sounds as if Young M.A was shooting her shot, the rapper innocently said, "For real? I thought that was a bar…She got tats, I see your tats, hey Kehlani! She was that bar in that line." Young M.A shared the clip of the interview on her Instagram and wrote in the caption that Angie "tryna get me in trouble 🤦🏽‍♂️😂." Check it out below.
| | |
| --- | --- |
| DON'T MESS WITH MY MAN: Nivea Dishes on How She & Lauren London Were Pregnant By Lil Wayne At The Same Time (VIDEO) | 17.10.19 |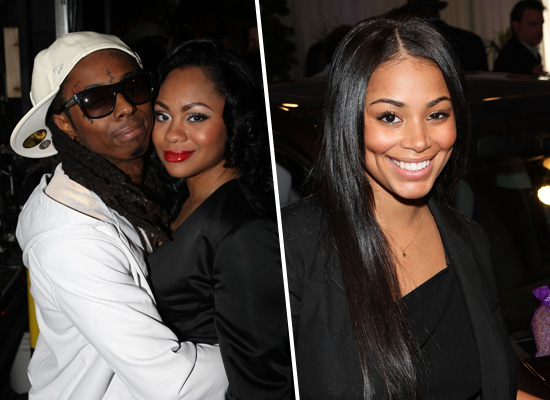 She thought she could handle it, but it ended up being too much.
Nivea may have had more than one love in her life, but she's stated in the past that Lil Wayne was the first. The couple began dating in early 2002 and by the end of the year, they were engaged. It was believed that they were a match made in heaven, however, by the Fall of 2003, their relationship was over. 
Nivea would go on to marry superproducer and artist The-Dream in 2004 and they had three children together in the span of their three-year marriage. After they split in 2007, Lil Wayne and Nivea found their way back to one another, and according to the singer, it was Wayne who reached out to apologize for how things previously ended.
In an interview with VladTV, Nivea shared that when she and Wayne gave their relationship another go, they thought they were still in love but that wasn't really the case. According to Nivea, they were once again engaged and she was pregnant with their son. She said on the day it was confirmed that she was indeed expecting, she learned that Lauren London was also carrying Wayne's child, just three months ahead of her. Initially, Nivea said she was accepting of their situation, but after a while, it began to be too much and ultimately, it led to the demise of her relationship with Wayne. However, she and Lauren are close friends now. Check out her interview in full below.
| | |
| --- | --- |
| KEEPING UP WITH THE PERVERTS: Kim Kardashian West Offered $1 Million From Virtual Reality Company to Use Likeness for Virtual Sex Simulator | 17.10.19 |
The company is seeking approval from other celebrities, as well.
If Kanye West had issues with his wife's MET Gala attire, then he certainly won't approve of this. Just a few days ago, a clip from Keeping Up With the Kardashians circulated after it showed the rapper speaking with Kim Kardashian West about being too sexy. "I just made this transition from being a rapper, looking at all these girls, looking at my wife like, 'Oh, my girl needs to be like the other girls, showing her body off,'" he said on the reality television show. I didn't realize that that was affecting my soul and my spirit as someone that's married and loved, and the father of now, what—about to be four kids?… A corset is like a form of underwear. It's hot. It's like, it's hot for who, though?"
Kim's barely-there wardrobe has been apart of her aesthetic for the entirety of her career, so it isn't a surprise that the wife and mother of four continues to appeal to fans in that way. Her looks have been the crux of many of her business deals, and now there is a company that is willing to drop off a $1 million check to Kim if she allows them to use her likeness for a virtual sexual experience.
The Blast reports that a company named VirtualMate created a device where users are able to mimic a real-life sexual experience with the help of technology. For now, the company is only taking pre-orders of their device, but the most requested celebrity, reportedly around 1,000 is per month, is Kim.
It doesn't seem likely that Kim, nor Kanye, would approve of her inclusion, especially considering VirtualMate would need the reality star to wear a motion capture suit and move in certain sexual positions. VirtualMate reportedly isn't putting all of their eggs in Kim's basket, anyhow; they've allegedly inked deals with other celebrities who are more than happy to have their faces or bodies used for virtual sex.
Are y'all really here for having virtual sex?
| | |
| --- | --- |
| TAKE ONE FOR THE TEAM?: Kardashian Family Reportedly Want Kylie Jenner & Travis Scott To Get Back Together "Because They Make a Great Team" | 16.10.19 |
"They're a great team."
From what we understand, Travis Scott and Kylie Jenner are no longer together but are keeping things amicable for the sake of their daughter, Stormi Webster. No one has been able to confirm the exact reason for the couple's reported split but reports have claimed it's due to cheating – something Travis has quickly denied. "It's really affecting when u see false thing said about u once again these false stories about me cheating are simply not true. Focusing on life, music, and family at this moment is what's real," the "Highest In The Room" rapper previously stated.
PEOPLE now reports that Kylie's family really wants her and Travis to get back together, as they believe they make a great a couple. "Travis might not be perfect, but he's a great partner and dad," a source told the publication. "Everyone would be upset if Kylie can't figure things out with Travis."
"They're a great team," they added. "And it's a good sign that they still enjoy hanging out."
When news broke of Kylie and Travis' break up, the cosmetics mogul shared just one statement on the matter, writing: "The internet makes everything 100 times more dramatic than what it really is. There was no "2am date with Tyga". You see me drop two of my friends off at a studio that he happened to be at." Would you like to see these two work things out?
| | |
| --- | --- |
| TOO HOT IN HERRE: Nelly's GF Requests To Be Dropped From Sexual Assault Lawsuit By Jane Doe After Being After Being Accused of "Defaming" the Victim By Speaking About Her Online | 16.10.19 |
Shantel Jackson doesn't believe she did anything wrong.
Last year Nelly was accused by a Jane Doe of sexual assault and described herself as a "young English mom who doesn't want to be haunted by what happened to her." After Jane came forward with allegations, Nelly's girlfriend shared a statement on Instagram defending her man and calling out the Jane Doe for lying, detailing how she was with Nelly on tour and in the dressing rooms when the assault was reported to have happened. 
Shantel was added to Jane's lawsuit and now The Blast reports that she's trying to get dropped from the case. According to the publication, Shantel believes she did nothing wrong by releasing the statement standing up for Nelly especially considering how she didn't put her real name. 
"In fact, Plaintiff's identity has remained hidden to the world. Thus, how can there be damage to Plaintiff's reputation in Missouri when no one knows her true identity?" court documents read. Jane alleged that back in 2017 she went backstage at Nelly's concert in England and he exposed himself and began masturbating in front of her.
"There are women dealing with real issues of sexual assault and for the first time people are listening and there is a chance for real change. But all of this work is discredited and makes things harder for survivors when people lie," Shantel added in her Instagram post.  Peep the receipts of that post below. Do you think Jackson was wrong for speaking about the situation online?
| | |
| --- | --- |
| IT WAS ALL A LIE: Nicki Minaj Back Tracks On Claims Of Having a Song with Adele – "I Was Being Sarcastic!" (UPDATE) | 16.10.19 |
Nicki Minaj is back tracking on comments she made in an interview last night (October 15) in which she claimed to have recorded a collaboration with Adele, saying that she was "being sarcastic".
Nicki Minaj fans finally got the "positive headline" they were yearning for after a slew of controversies featuring the rapper throughout the last year, but it turns out she was just pulling their legs.
Despite telling fans last month in a since-deleted tweet that she had "decided to retire & have my family", Minaj is currently working on new music for an album that she herself has described as "fierce, fun and unapologetic". Minaj sparked excitement at the launch of her new fashion line 'Fendi Prints On' when she told ET that she had been working with Adele. "But Adele made me swear to secrecy that I'm not allowed to tell anyone that I'm working with her," she said. "And that we already shot a video. And it's an epic song!"
After numerous media outlets (including us) ran Minaj's comments following the interview, the rapper has now told her followers on Twitter that she "thought everyone could clearly see I was being sarcastic."
Omg guys. 😅🤣 I thought everyone could clearly see I was being sarcastic. Shit! Now I have to go to Adele's studio & steal some files. Who's in the UK? I got a job for you 🥴 https://t.co/oyh4hECNCC

— Mrs. Petty (@NICKIMINAJ) October 16, 2019
"Shit! Now I have to go to Adele's studio & steal some files," Minaj added. "Who's in the UK? I got a job for you."
Adele was recently reported to have recorded a collaboration with Beyoncé and One Republic, but the speculation was swiftly shut down by a representative for OneRepublic. Can we just start waiting until tracklists are released, or?…
| | |
| --- | --- |
| AND I OOP!: Wale Quickly Checks Interviewer for Referring to His Girlfriend as "That Model Chick" – "That's a Black Woman Making 6 Figures" (VIDEO) | 16.10.19 |
Let em' know.
At the top of the month, Wale and model India Graham made it clear that they were a couple since photos showed them loved up at an after-party. When Wale released his latest project Wow…That's Crazy, India shared a sweet post on Instagram, congratulating her boyfriend for making a "masterpiece."
"Wow… that's my boyfriend?? that's crazy!!" she wrote. Wale recently linked up with Tidal's Elliott Wilson to discuss his album and at one point in the conversation he passionately spoke about India, defending her bank account after he showed love to his baby mama and making it clear that he will always hold her down. "I got one of the most beautiful, powerful, inspirational baby mothers of all time. Somewhere along the way, we lost our way as connecting lovers but I will always hold that woman down for the rest of my life," he said, as seen in the clip below.
"Now, you say that model chick…that ain't no 'model chick'. That's a special human being that came in my life, taught me about affirmations, taught me how to love better, taught me how to be positive."
He added: "You severely underplaying somebody that's special. That 'model chick' that is a motherf**king beautiful, inside and out Black woman. She just happens to be good and makes 6-figures for taking pictures."
Check it out below.
Shit got real. #CRWN @Wale #TIDAL 💪🏾 pic.twitter.com/12zN9jsUig

— Elliott Wilson (@ElliottWilson) October 16, 2019
| | |
| --- | --- |
| FACTS OR REACHING?: K Michelle Compares R. Kelly To Elvis – "All I Want Is The Same Energy" (VIDEO) | 16.10.19 |
K. Michelle with a hot take on R. Kelly's situation.
R. Kelly's situation's made headlines all across the world this year. Although no one should necessarily be shocked about these claims, considering many of his current charges relate to his 2008 acquittal, there are more people willing to cooperate with authorities in order to lock him up. Collaborators and business partners distanced themselves from him while his former publicist publicly stated that he wouldn't trust the singer with his own daughter but there have been a few people who've had an interesting take on Kelly's situation.
K. Michelle came up under R. Kelly's wing and she paints Kelly is a different light than most. In a recent interview with Nick Cannon, she explained that Kelly was controlling but it was only in regards to her music and her work ethic in the studio. She recounted where she was when she first heard news of his arrest earlier this year and it kind of brought things back full circle in a way.
"I just remember, I was in the booth, and I was with Jazzy Pha. I was standing in the booth as they were taking him into jail and I was looking through the booth at the TV. And to be standing in the booth and to see that, I just lost it," she explained. "I know right is right and wrong is wrong but I don't have a heaven or a hell to put this person in."
K. Michelle also suggested that there's also an underlying race factor in the narrative surrounding R. Kelly in comparison to someone like Elvis Presley who was known to have sexual relationships with underage women. "I do know that if Elvis can pick up his wife at 14 from high school, you know what I'm sayin'? All I want is the same energy."
| | |
| --- | --- |
| SOUNDS ABOUT WHITE?: Elton John Says Lady Gaga is the "Only Real Star at the Moment" – "You Can't Be a Star Just By Making Records" | 16.10.19 |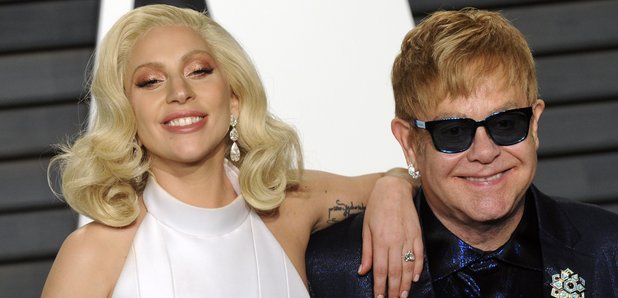 This will ruffle a few feathers.
Elton John has certainly been on one lately. In the last week, he has made questionable comments about Michael Jackson, stating that he was the "strangest person to be around," and referring to him as "mentally ill." He then pissed of Beyoncé's beloved Beyhive after stating that the 2019 live-action remake of 'The Lion King' was a "huge disappointment," and that it's accompanying soundtrack "ruined the music."
With his latest controversial statement, John is actually praising a beloved singer, but somewhat dismissing several others and their talents. Elton John has said that Lady Gaga is the "only real star at the moment". He said that Gaga, who has gone from a singer-songwriter and performer to an Oscar-nominated actress in the space of a decade, could have a career to match Barbra Streisand in the future.
The Rocket Man singer told the folks over at GQ magazine: "To be a star, you have to be a star for a long time and you have to do that by being a live performer." "You can't be a star just by making records. That's not going to happen. To be a star, you have to last for 50 years," he continued. "You have to be a Barbra Streisand. You have to be a Paul McCartney. You have to be Sting. You have to be Fleetwood Mac. You have to be The Who."
Of French singer-songwriter Heloise Letissier, who goes by the stage name Christine And The Queens, Elton said: "Christine And The Queens, in my opinion, is a huge star, but she hasn't cracked it yet commercially. "The only real star at the moment is Lady Gaga. She could have a career like Barbra Streisand if she wanted to.
"She's got the ambition, she's got the talent coming out of every pore of her body, so it's up to her whether she wants it and I think she does want it."
What do you think of John's statements? Do you think it sounds about white?
| | |
| --- | --- |
| HERE FOR IT OR KEEP IT?: Nicki Minaj Spills the Beans On Secret Collab & Video with Adele – "It's an Epic Song!" | 16.10.19 |
According to the rapper, she's not allowed to tell anyone she's working with Adele … or that they already shot a video…but that didn't stop her from spilling the beans.
Though it may seem like an unlikely combo, Nicki Minaj and Adele been sharing a mutual admiration of one another for a few years now, but it appears that appreciation of one another's work may now have evolved into an actual collaboration. When asked about even the possibility of it by the folks over at ET, Nicki basically came right out and said it was happening even as she was also saying that she shouldn't be saying anything about whether it's happening or not.
"But Adele made me swear to secrecy that I'm not allowed to tell anyone that I'm working with her," Nicki told the outlet. That right there was enough to start her fans salivating, but she wasn't done. "And that we already shot a video," she continued. "And it's an epic song! Ahh!"
It's unclear whether this was a planned reveal or if Nicki just couldn't contain her excitement about the whole thing anymore. It's safe to say she was genuinely excited talking about it, and is clearly stoked about how the song (and video) turned out.
As ET pointed out, Adele is just finishing up her latest album, so it looks like that might be the most likely place to find this collaboration. Minaj claimed to be in retirement but I think we all know that wasn't actually going to happen so it could be for an album of her own as well. What do you guys think? Are you here for an Adele and Nicki collab?