| | |
| --- | --- |
| HERE FOR IT OR KEEP IT?: Tiffany Haddish is Allegedly Working on a Rap Album | 20.10.18 |
Tiffany Haddish wants to recreate the success Lil Duval is experiencing right now.
Tiffany Haddish is having an amazing year so far. She's diversified her brand and expanded her reach to a much wider audience as she is now one of the most popular actresses and comediennes on the planet. The Girls Trip star has roles in Night School, The Oath, and plenty of other upcoming projects but one revelation she made during a recent interview will make you scratch your head. The New York Times wrote a piece about her rise to the top and in it, Haddish noted that she's actually working on the eventual release of a rap album, which nobody expected.
The actress is perhaps looking to mirror the success that Lil Duval is having right now as his track, "Smile B*tch," continues to climb to the top of the charts. The announcement was made in passing as the publication wrote about the growth of her brand, throwing it in quickly. They wrote, "Haddish's new goal is [to] create an empire, though she is not sure exactly how to go about it, or if it will be in the entertainment business or what. But she wants to have 40 or 50 people working for her who will be able to buy houses, put their kids through school, and pass their money down."
As she works on her "empire," the Times writes that she is "dabbling in music and trying to make a rap album." Would you listen to an album from Tiffany Haddish? We'd like to hear a few singles first before making that decision.
| | |
| --- | --- |
| IT'S BRITNEY, BIH: Britney Spears is Reportedly Going "Hip Hop" For Her New Vegas Residency | 20.10.18 |
The singer is said to be trying something new.
Britney Spears has been rocking stages for the better part of her life. Admirers are blessed to have access to the entertainment veteran regularly as she headlines another residency in Las Vegas. The artist's production team has found a way to keep her fans intrigued, considering her prolific run that spans over two decades. Their latest trick is hip-hop.
According to TMZ, Britney's "Piece Of Me" residency is getting a swagged out makeover. Sources who are part of the concert's reinvention describe the remixed show as having "an urban, street, hip-hop vibe." This style will be found in multiple parts of the production, including wardrobe, choreography, backup dancers, and set design. Even her music will benefit from a splash of "hood."
The singer's team is also taking cues from Jennifer Lopez, with the addition of 2 creative directors who worked on J.Lo's successful Vegas Residency.
Spears' imminent return to Las Vegas was announced on Thursday. Her new string of shows, which will take place at MGM Park, is set to have a completely different feel than the one she put on at Planet Hollywood.
The pop star is believed to have the potential to earn half a million dollars for each performance.
| | |
| --- | --- |
| WHEN MILLY MEETS BARDI: Cardi B & Meek Mill's Anticipated Collaboration Previewed In New Snippet (LISTEN) | 19.10.18 |
Cardi B and Meek Mill's collaboration sounds like a certified heater.
It feels like the long-awaited collaboration between Meek Mill and Cardi B will be coming soon. The two artists sparked speculation about a potential collaboration in September when they were both spotted together at Billboard's 2018 R&B/Hip-Hop Power Players event. Since then, Bangladesh has hinted at producing the anticipated collaboration. Now, a snippet of the collaboration has surfaced online.
Cardi B and Meek Mill's collaboration is certainly sounding like heat. A snippet of their collaboration surfaced online earlier today which previewed snippets of both Meek and Cardi's part on the track. The two of them hop on a heavy, trap-influenced banger. Although a hook isn't previewed, short parts from both Cardi and Meek's verses are heard throughout.
At this point, it's unsure when the collaboration will drop, but it feels like we might hear it on Meek Mill's forthcoming project. The rapper has been teasing his "surprise" album for a few weeks at this point, although that's about all of the information we've received about the project. However, Meek has been spotted with several different rappers and artists in the studio who may have some involvement in his next project. The rapper's been spotted with J. Cole, Fabolous, Russ, Ed Sheeran, and more. Additionally, it's rumored that Meek Mill has a song about Colin Kaepernick on his upcoming album.
As for Cardi B, she recently announced that she has a new single titled, "Money" dropping next Friday. Keep your eyes peeled for that.
| | |
| --- | --- |
| SOMEONE SAID?: Swae Lee Reacts to Being Left Out Of Travis Scott & Drake's "Sicko Mode" Video | 19.10.18 |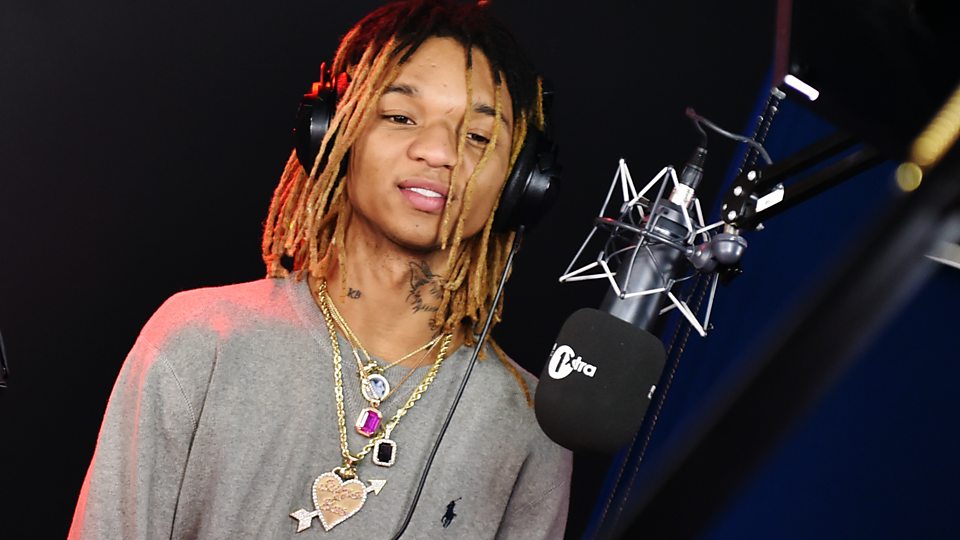 The Rae Sremmurd member appears to be a little upset that he wasn't in the "Sicko Mode" video.
Swae Lee might not be a major part of Travis Scott's banger "Sicko Mode" but the track would sound weird without his hypnotic repetition of the words "Someone said." He's teased a song based solely on the one line he does utter on the Astroworld track, which may appear on his upcoming solo EP. For now, Swae appears to be a little salty about not being included in the high-profile video drop today. Travis Scott had been teasing the "Sicko Mode" video for a few days and finally, it dropped today. Many were quick to notice that Swae Lee was nowhere to be seen though and the Rae Sremmurd member voiced his own concern on Twitter.
He made sure to bite his tongue so as to not blurt out any unwanted emotions but Swae definitely appears to be bothered that he wasn't in the final product. The artist took to Twitter, writing, "Someone said they didn't see Swae Lee in the sicko mode video yea I noticed that too." At this time, it's unclear if Swae was contacted to be in the shoot or if he actually did end up filming footage for the video. All that is clear is that he's nowhere to be seen.
If you haven't yet checked it out, watch the "Sicko Mode" video below as well as Swae's tweet below. It's quite cinematic so you won't be wasting any of your time. What do you guys think?
Swae Lee reacts to not being in the "Sicko Mode" music video 👀 pic.twitter.com/KxCJ4gwR2j

— Rap Spotlights (@RSpotlights) October 19, 2018
| | |
| --- | --- |
| SOUNDS ABOUT RIGHT?: Dave East Claims His Good Looks Helped Him Out While He Was Homeless – "I Stayed with a Couple Girls" | 19.10.18 |
Before he was a rapper, Dave East went through a rough patch in his life.
While chatting with the folks over at Page Six at an Irving Plaza event to benefit "Hoodies For The Homeless," the Beloved MC said that although this was a dark "phase" in his life, his good looks certainly helped the situation.
"Yep, I have had the experience of being homeless," he told the NYC publication at the event. "I had slept in cars for a minute. I was homeless throughout the whole year."
"I am not going to lie — my looks helped me," he continued. "I stayed with a couple of girls… shout-out to them, they know who they are." East, who was recently shouted out on Nicki Minaj's "Barbie Dreams," said that this period was due to the fact that he felt like "[he] was grown" and didn't want to ask his parents for any help at the time.
East and The LOX's Styles P recently released a joint project titled Beloved. The 13-song LP features artists such as Tisha Hyman, Jazzy, Dyce Payne and of course The LOX. This project marks the fourth time the NYC musician have worked together, and we're certain it won't be the last.
| | |
| --- | --- |
| IT WAS "COMPLICATED": Nivea Opens Up About Suffering A Stroke After Her First Pregnancy (VIDEO) | 19.10.18 |
The musician and mother speaks candidly.
Countless women around the world encounter various health complications during and after their pregnancies. The complications may range anywhere from minor to life-threatening. During a radio interview with WPGC 95.5, "Don't Mess With My Man" singer Nivea revealed that after she delivered her first daughter Navy, she was left in a desperate condition.
"I had a stroke after I had Navy, because I was literally eating salt out of my purse," she said. "I didn't know about the fluid retention and how you could swell your brain and actually cause your brain to scrape your skull, which is an actual headache, not what we call a headache — that's just tension. So I went through that." She went on to explain that she was consuming incredibly high amounts of sodium as a combative measure against nausea. "I was so sick that I was tired of being nauseous and throwing up," she continued. "And you know salt curbs nausea so I literally had a salt shaker in my purse, shaking it in my hand, eating it. But I got through that and I couldn't breastfeed for a month, but I breastfed all of my children for a little while, as long as I could. I've learned a lot, child."
Catch a clip of the interview below
| | |
| --- | --- |
| FACTS OR REACHING?: The Internet Seems to Think Nicki Minaj was Throwing Shots at Cardi B on New Track "Transformer" (LISTEN) | 19.10.18 |
Fans just won't let the "drama" between Nicki Minaj and Cardi B end.
Out of all of today's releases, Future and Juice WRLD's collaboration will likely get the most attention. The two forces teamed up for WRLD On Drugs and we've already highlighted one of the tracks, shining a light on Lil Wayne's feature for "Oxy." One of the songs being discussed is "Transformer" with Nicki Minaj. Of course, Nicki and Future were wrapped up in a rumor a few weeks ago as Minaj reportedly gave Fewtch a dilemma about collaborating with Cardi B. Now, she's joking about stopping people's bags, which was brought up by Cardi, in her lyrics.
Cardi B vs. Nicki Minaj may have slowed down but the feud still seems to be a prime topic of conversation via social media, with their fans seemingly at war and constantly comparing the two. People continue to check for any potential subliminals being thrown around and they're convinced we've got some here. The rapper says, "Some call me Nicki but some call me Megatron. I'm stopping bags and I don't need a red octagon." You'll recall a few different artists calling out the superstar for holding them back, stopping their bags so that she, herself, can reach higher. Cardi B was one of those accusers. Instead of addressing the issue directly, Nicki has turned it into a running joke as she released "bag stopper" merch and now, this lyric.
It is believed that another Cardi reference is being made as Nicki utters, "Four albums in, pull a milli for a show/While these bitches is servin' Milli Vanilli on the low." The Milli Vanilli reference is the one that most people are pointing to, although Milli Vanili was exposed for lip sycing, so that technically doesn't even apply to the Bronx sensation.
"Transformer" is one of the final songs on the album. Naturally, this has sparked more debates between fans on social media, peep some of those reactions along with the actual track below. Do you think Nicki was throwing shots at Cardi or are fans just reaching for drama?
Why Cardi B stans immediately got mad about the Milli Vanilli line in #Transformer ? Apparently yall know already know. pic.twitter.com/mR82NeZn2h

— 🦄T|A (@TonyAltrudebta) October 19, 2018
She shading you sis @iamcardib 😌 #Transformer

— I🍩GAF (@THECONC3IT3D1) October 19, 2018
Nicki is THIRSTY for a rap beef with Cardi. But was on mute when Remy shethered her. It's All Smoke & Mirrors, don't believe the hype. #Transformer

— Maino (@YG_Mainoo) October 19, 2018
Nicki Minaj can still diss Cardi B all she wants. Cardi is STILL #1 and Nicki wishes she had one.#Transformer

— Danielle Shree (@singingangel_p) October 19, 2018
Nicki Minaj is pressed over Cardi B. Is she gonna sneak diss her in every track she does because she can't fight Cardi in real life? #Transformer

— Danielle Shree (@singingangel_p) October 19, 2018
#Transformer is Nicki Minaj's best verse since Monster… Cardi woke up the beast!!! pic.twitter.com/ocahq8N6Ff

— E_Pace✌ (@kingdom_lady91) October 19, 2018
This generation isn't too bright. They're raving over Nicki Minaj dissing Cardi B on that #Transformer song comparing her to Milli Vanilli. Here's a history lesson for you kids. Milli Vanilli was a group that lip synced songs. The songs literally weren't their voice. #Reach

— i OwN MLG KiDs (@mark0wnsyou) October 19, 2018
| | |
| --- | --- |
| YIKES!: Elle Magazine Receives Backlash for Tweeting Fake News About Kim Kardashian & Kanye West Splitting Up; Which Really Just Linked to Voter Registration Info | 19.10.18 |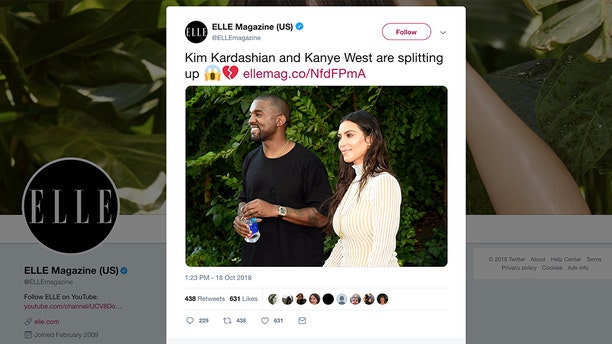 Elle Magazine's recent attempt to encourage its audience to vote met with overwhelmingly negative backlash.
It is an imperative time in US politics. As the November 6th midterm elections approach, the American media has made considerable strides to remind citizens to become proactive and vote. A slew of influential figures such as Michelle Obama, Rihanna, and Taylor Swift have re-iterated the importance of casting a ballot and making one's voice heard. The American edition of popular lifestyle magazine Elle recently attempted to encourage its readers to become registered voters. The manner in which their efforts were executed, however, has generated an acetic outpour criticism from members of its core audience and strangers to the publication alike.
Yesterday, the publication shared a link on their twitter account which boasts over 6 million followers which reads "Kim Kardashian and Kanye West are splitting up," followed by expressive emojis, and a link to a page many assumed would provide an in-depth explanation of the reasons behind the Wests' uncoupling. Instead, readers were redirected to a page which encouraging viewers to vote. The tweet has divided social media with many criticizing the publication for duping its readership. Author of the critically acclaimed novel, Bad Feminist Roxane Gay wrote, "Who do you think you are reaching with this? Guess what? One can be civic minded and interested in celebrity gossip." Another Twitter user commented, "You have to wonder why anyone would get upset about an effort to get people to participate in their democracy."
The magazine has since issued an apology for the tweet saying, "Our passion for voter registration clouded our judgment and we are sincerely sorry."
What is your take on the matter?
| | |
| --- | --- |
| NOT TODAY: Rihanna Reportedly Turned Down Super Bowl Halftime Show In Support Of Colin Kaepernick | 19.10.18 |
Rihanna is riding with Kaep.
It appears Rihanna is standing with Kaep. On Thursday, reports surfaced that Rihanna turned down the NFL's offer for her to perform at this year's Super Bowl halftime show. She reportedly did so because she doesn't agree with NFL's stance on Colin Kaepernick.
"The NFL and CBS really wanted Rihanna to be next year's performer in Atlanta," the source told US Weekly. "They offered it to her, but she said no because of the kneeling controversy. She doesn't agree with the NFL's stance."
Apparently after Rihanna turned down NFL's offer, that's when they asked Adam Levine & Maroon 5 to perform, which they happily accepted back in September.
If you're completely unaware (and part of the problem), Colin Kaepernick was the first NFL player to kneel during the national anthem in protest of police brutality and racial inequality back in 2016, resulting in him being kicked out of the league with owners not wanting that attention on their sidelines. Colin has since filed a grievance against the league and its owners in November 2017, accusing them of colluding to keep him off the field.
Did Rihanna make the right decision to turn down the NFL's offer or should she have gotten her bread?
| | |
| --- | --- |
| KEEPING UP WITH THE STALKERS: Kendall Jenner Stalker Scales Mountainside And Ends Up On Her Front Porch | 18.10.18 |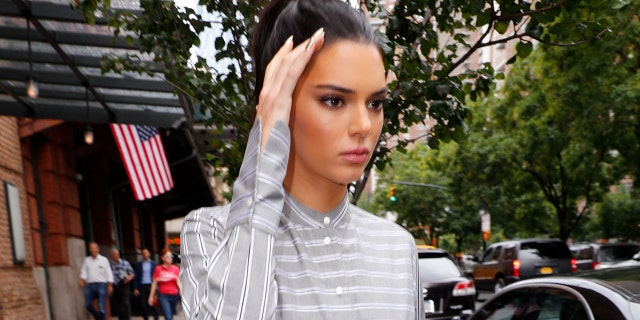 A dangerous obsession.
On past episodes of her family's reality show Keeping Up With The Kardashians, Kendall Jenner has voiced her concern and fears of stalkers. The model has suffered emotional abuse at the hands of a stalker in the past. Court documents obtained by Daily Mail show that a 62-year-old man by the name of Thomas Hummel had been stalking Kendall for months sending her alarming letters. In one letter he writes that Kendall has been in love with him since she the tender age of two, claiming that they met in the post office in 2008, and at Costco in 1998. In another, Hummel states that Kendall is an "internet w**re', who is 'cackling her way through life" says "[her] behavior puerile and self-centered."
Kendall was able to get a restraining order against Hummel, but unfortunately, it seems her stalker related troubles are far from over. 37-year-old Canadian citizen John Ford has continued to pursue Kendall despite being charged with trespassing in Kendall's gated community and being ordered to stay 1,000 feet away from it all times. Ford was able to enter Kendall's heavily guarded compound by scaling a mountainside located behind the complex, where the security was apparently non-existent. Ford was reportedly first spotted sitting by Kendall's pool, and then sitting on her porch the next day. Security is said to have been unable to capture Ford and he was able to get away before police arrived on the scene.
TMZ reports that now, security in the gated community has been reinforced, with new guards located along the mountainside Ford scales. Kendall's team is reportedly working towards convincing the D.A. to file felony stalking charges against Ford.
| | |
| --- | --- |
| HATE IT OR LOVE IT: The Game's Alleged Sexual Assault Victim Wants Him In Jail | 18.10.18 |
Priscilla Rainey reportedly wants The Game thrown behind bars.
For almost three years, The Game has been caught up in a neverending sexual assault case against Priscilla Rainey. Rainey was a contestant on "She's Got Game," a reality show that was created for The Game to find his new romantic match. She filed a lawsuit against the rapper in 2015, writing that he had sexually assaulted her by forcefully reaching under her dress and rubbing her bare vagina and buttocks with his hand. Rainey previously won a $7 million judgment against Game but she believes that since he's been skipping out on court dates, he should face the consequences behind bars.
According to The Blast, Rainey has filed legal documents to combat The Game as he's reportedly pushing to have his warrant dismissed. The alleged victim is accusing Game of failing to explain a number of large cash deposits he's received over the last few months, which would be relevant to their case. His marijuana business and several entertainment companies have gone largely unspoken for and Rainey wants a better understanding of why he's been holding back information. He was previously ordered to hand over his bank statements and Rainey says that he has not cooperated completely.
As of now, the warrant is still active. Rainey claims that she has not seen a single penny from the previous judgment, which Game is fighting as well.
| | |
| --- | --- |
| FACTS OR REACHING?: Wendy Williams Gives Her Take on Diddy & Cassie's Break Up – "I Think She Wasted 11 Years of Her Life" (VIDEO) | 18.10.18 |
Wendy Williams explains what Cassie may have to change in her life.
This may be a little dramatic but Diddy and Cassie's break-up spells the end of an era. The two were practically inseparable for eleven years, showing up at award shows together and making the world jealous of their love. They were involved in a romantic relationship for over a decade but it was reported this week that the two called off their coupledom a few months ago. Puffy now appears to be dating a 26-year-old model while Cassie is busy showing her past love what he's missing in a few recent photos. Many have been sharing their opinions on social media about the split and everyone's favorite (or least favorite) daytime talk show host, Wendy Williams, came through with her own two cents.
"After eleven years of romance," says Wendy, "Puffy and Cassie are officially broken up." Her audience was shocked to hear the news but later, they got in a few laughs as the host explained what Cassie may need to learn now that she's single. Keep in mind, Cassie was 21-years-old when she entered a relationship with Diddy so she doesn't have much experience being an adult and living solo. Wendy joked that she would need to alter her life a little, saying, "She probably doesn't know how to apply for a mortgage. I'm talking about the practical things of life. She's probably always been on his insurance so she needs an insurance card." She went on to explain that she believes Cassie may have "wasted" eleven years of her life, which is an unfair statement to make considering the couple was madly in love.
Watch what she had to say in full below.