| | |
| --- | --- |
| NO SHE DIDN'T: Caitlyn Jenner Says She's Considering Running for Senate? | 17.07.17 |
Days after Kid Rock announced intentions to run for the Senate in Michigan—news that I am, for my own well-being, taking with a grain of salt—Caitlyn Jenner revealed that she's been considering a Senate bid in California.
Speaking with John Catsimatidis on his 970 AM radio show, she said that she's "considered" running for office.
"I gotta find out where I can do a better job," she said. "Can I do a better job from the outside, kind of working the perimeter of the political scene, being open to talk to anybody? Or are you better off from the inside? And we are in the process of determining that."
Jenner, a former Olympic gold medalist, said she would want to focus on equality and transgender rights. "The perception of the Republican Party is that they are all about rich white guys trying to make money."
During the campaign, Jenner said with a straight face that "Trump seems to be very much for women" and that he "backed the LGBT community." She has since been very disappointed that the administration pretty much immediately rolled back protection for trans students, and sees herself an agent of change for the party.
She hopes that the next generation of Americans "can change the perception of the Republican ​P​arty and make it the party of equality​." Not an easy task, to say the least.
Welp… Who's supporting Caitlyn's campaign?
| | |
| --- | --- |
| GET RICH OR DIE TRYING?: Bankruptcy Documents Reveal 50 Cent Borrowed $20K from Omari Hardwick | 17.07.17 |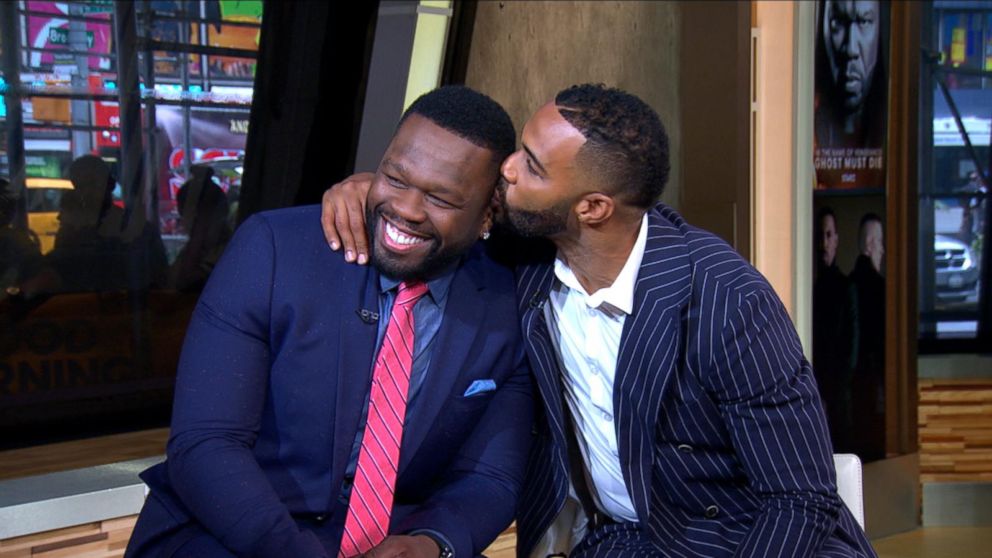 50 Cent recently filed bankruptcy documents, and the details have been reported.
In the docs, 50 Cent allegedly revealed that he had borrowed $20,000 from Omari Hardwick, which the documents show he repaid by having the full amount sent to his Power co-star in cash.
The legal documents also showed the resolution of the legal battle that he had been in with luxury auto shop Phenomenal Vinyl. He reportedly reached a confidential settlement with them, with both parties agreeing to drop their charges against each other.
50 Cent had sued Phenomenal Vinyl, Rim Source Motorsports and Forgiato last year for using his face and name to sell their products and services. He said that they had worked on his cars, but he had told them that they should not use him to sell their wares, a deal that he claimed they went back on, though the company claimed that he gave them his implied consent to use the photos.
The luxury auto shop sued 50 Cent in return for $21,781.81 that they claimed he owed them for work that they did on his Bentley Mulsanne. The work totalled $31,781.81, but 50 Cent only paid the first $10,000. He claimed that the work was overpriced as retaliation for his lawsuit and claimed that they were holding his car hostage.
Now, both sides have since settled, with bankruptcy docs showing 50 Cent getting $50,000 from Phenomenal Vinyl and $10,000 from Forgiato.
| | |
| --- | --- |
| GIRL, WHAT?: The Internet is Letting Walmart Have it After they Carried a Wig Cap Colored 'N*gger Brown' According to their Website | 17.07.17 |
It still surprises me when retailers don't catch racial slurs. We are far from a post-racial society, racial slurs still hurt, even if they aren't coming directly from a person's mouth. There are still instances where racism can even be found in places you wouldn't think. What was it this time? Well, it was Walmart that tried it. In a product description for Jaguzi's Natural Wig Caps, the color was labeled "[N-word] Brown." It's so casually listed, like "raspberry red" or "lime green", as if there's nothing problematic about that description. Aside from the fact that an incredibly offensive slur was used, it was also used to describe an object — another level of dehumanization.
A spokesperson from Walmart issued the following statement regarding the incident:
"We are very sorry and appalled that this third party seller listed their item with this description on our online marketplace. It is a clear violation of our policy, and has been removed, and we are investigating the seller to determine how this could have happened."
Although the wig cap is manufactured and shipped by Pixnor, I can't help but wonder why there aren't things in place that would catch this type of thing before it appeared on the site.
The Internet has showed complete outrage over this product description, as expected:
@Walmart @walmarthelp
It is INEXCUSABLE and UNACCEPTABLE to describe a product color as #NiggerBrown #fixthis https://t.co/oA0RK6L5dG

— BrookWest (@brook6) July 17, 2017
@Walmart @walmarthelp
It is INEXCUSABLE and UNACCEPTABLE to describe a product color as #NiggerBrown #fixthis https://t.co/oA0RK6L5dG

— BrookWest (@brook6) July 17, 2017
I can't wait to hear what #walmart says about the #NIGGERBROWN listing on their website. Folks haven't learned yet?!

— Ms Candice (@candiplans) July 17, 2017
@Walmart @walmarthelp
It is INEXCUSABLE and UNACCEPTABLE to describe a product color as #NiggerBrown #fixthis https://t.co/oA0RK6L5dG

— BrookWest (@brook6) July 17, 2017
Thankfully, the color description has been changed to simply "brown," but there's still a bad taste left in many people's mouths. Hopefully Walmart will learn to install a screening process for their third party vendors.
| | |
| --- | --- |
| EXCUSE ME, SIR?: Bill Maher Refers to his Usage of the N-Word as a "Comedian's Mistake" | 17.07.17 |
Last month, when Bill Maher hurled the n-word during an episode of HBO's Real Time, many of his supporters and friends, as well as social media, gave him a serious side eye, which was followed by accusations of Maher being racist.
One of the only people to publicly hit back at Maher on his own show was Ice Cube. The rapper-turned-actor criticized Maher and said he was getting a little too comfortable, especially since he dates black women, and that his comedy had been quite racist to begin with.
Now, in a New York Times interview, the talk show host says his comment was just a "comedian's mistake."
"Listen, I hope we had a teachable moment about race: trying to make something good from something bad. But maybe also about how to handle something like this: apologize sincerely if you're wrong—and I was—and own it."
"We don't have to grovel, and we don't have to admit things that aren't true," said Maher. "When Ice Cube said something about my telling black jokes, I wasn't going to be: 'Oh, well, I made one mistake; I might as well admit mistakes I haven't made.' I've never made black jokes. I've made jokes about racists. But my fan base knows that, so it never went anywhere."
When it comes to Maher losing his job, he said he didn't feel that he was in jeopardy because of the lack of sponsors on HBO, unlike with ABC, the last time he got fired from a show he hosted, that time because of his 9/11 jokes.
I guess we'll have to wait and see what happens the next time Maher makes a "mistake."
| | |
| --- | --- |
| SAY WHAT NOW?: R. Kelly is Allegedly Brainwashing & Holding 6 Women in a Sexual Cult Against Their Will According to their Parents! | 17.07.17 |
Disturbing allegations have arisen once again about R. Kelly, with a number of insiders claiming that the secretive singer is allegedly housing half a dozen young women in properties in Chicago and Atlanta as part of a sex "cult." 
The latest bombshell against the singer comes via a lengthy Buzzfeed report entitled "Inside the Pied Piper of R&B's 'Cult'," written by longtime Chicago music journalist Jim DeRogatis. The story, based on interviews with a trio of alleged former Kelly inner circle members — Cheryl Mack, Kitti Jones, and Asante McGee — as well as reviews of legal documents, claim that six women recruited by Kelly live in his rented properties, where he is in control of all aspects of their lives: "from what they eat, how they dress, when they bathe, when they sleep, and how they engage in sexual encounters that he records."
Mack and Jones told DeRogatis that Kelly has a strict set of "rules" the women must follow, which result in physical and verbal punishments if they don't comply. 
According to Mack and Jones, breaking the singer's rules results in punishments, with Mack claiming that "you have to ask to use the bathroom… [Kelly] is a master at mind control… He is a puppet master." Mack, Jones and McGee listed the women who allegedly lived in Kelly Duluth, Georgia, "guest house" and his Chicago recording studio last summer.
They described them as including a 31-year-old "den mother" who "trained" newcomers on how Kelly liked to be pleasured sexually. That unnamed woman was reportedly best friends since high school with the girl at the center of a 2008 trial in Chicago in which a jury acquitted Kelly of child pornography charges after he was accused of having sex with a then 14-year-old girl and videotaping it. The Grammy winner has denied allegations he had sexual relationships with underage girls in the past, although he has settled a number of lawsuits; he also claimed in a 2016 interview with GQ magazine that he'd been sexually abused as a child.
The victims also reportedly include: a 25-year-old woman who's been party of Kelly's entourage for seven years, a 19-year-old recent arrival model who's been photographed with Kelly in public and named on music gossip sites, a 26-year-old Atlanta songwriter who began her relationship with Kelly around 2009, when she was 19 and an 18-year-old singer from Polk County, Florida, who Mack said was 50-year-old Kelly's "favorite — his number one girl."
One mother, who thought Kelly was interested in helping her then 19-year-old daughter's music career when they met the singer in 2015, was aware of the numerous allegations against the singer over the years. She and her husband thought they could protect their daughter, though two years later they are reportedly in a "desperate fight" to bring her home. 
The mom has shuttered her business, turned into an amateur detective and reached out to the FBI and police in two states with her concerns, though officials say their daughter is not a missing person in the eyes of the law because she says she's living with Kelly and doing fine. Her parents, however, have told police she's being "held against her will" in what they've deemed a "cult." 
Police reportedly performed welfare checks in both Illinois and Georgia over the past year and no charges were filed after the aspiring singer allegedly told Cook County police she was "fine and did not want to be bothered." The mom, though, had a different story about the last time she saw her daughter on Dec. 1, 2016. "It was as if she was brainwashed. [She] looked like a prisoner — it was horrible," she said. "I hugged her and hugged her. But she just kept saying she's in love and [Kelly] is the one who cares for her. I don't know what to do. I hope that if I get her back, I can get her treatment for victims of cults. They can reprogram her. But I wish I could have stopped it from happening."
The woman's parents have only heard from her twice since then. Spokespeople for the Duluth Police Department and Cook County Sheriff's Department could not be reached for comment on the report at press time.
Jones and McGee, who both said they lived with Kelly and had sexual relationships with him over the past five years before leaving his orbit, claimed they had limited control over their phones and social media feeds during that time, with no photos allowed with Kelly or any of the rooms in his homes. Mack added that Kelly often insists the women wear jogging outfits because "he doesn't want their figures to be exposed; he doesn't want them to look appealing. In addition, Mack said that when men are in the same room, Kelly would make the "girls turn around and face the wall in their jogging suits because he doesn't want them to be looked at by anyone else."
The three former staffers claim Kelly calls the women who live with him his "babies," that they are required to call him "Daddy" and that they must ask permission to leave the Chicago recording studio or their assigned rooms in the guest house near his rented mansion in suburban Atlanta. The singer allegedly confiscated their cell phones and gave them new ones that they are only allowed to use to call him or others with his permission. McGee and Jones also claim that Kelly films his sexual activities with the women and shares the videos with men in his inner circle. 
DeRogatis noted that the law allows consenting adults to take part in any relationship they like, no matter how "nontraditional," and that all the women allegedly in Kelly's circle are of legal age. The reporter, who has written extensively on Kelly in the past, said the singer has settled more than a dozen civil lawsuits out of court with cash payments, including a recent one for a 17-year-old aspiring singer who was said to have been part of Kelly's inner circle.
Buzzfeed also said it had obtained recordings made by Kelly that DeRogatis said proves a pattern of behavior with women in which he changes the subject from music to sex, though the two snippets included in the story involve small-talk about music. A spokesperson for Kelly could not be reached for comment at press time.
| | |
| --- | --- |
| OUCH!: Viacom Signs Tyler Perry to a Long Term Deal as He Now Prepares to Leave Oprah Winfrey's Network | 15.07.17 |
The multi-talented Tyler Perry has inked a long-term deal with the embattled media conglomerate Viacom.
Perry, who is best known for his Madea character has signed on to produce 90 episodes annually of original drama and comedy series for BET and other Viacom networks. They will have exclusive distribution rights to Perry's short-form video content and its Paramount Pictures group will get first-look rights on any of his feature film concepts.
The deal is in place now but the TV and video components won't start until 2019 due to his previous commitment to the Oprah Winfrey Network. The Viacom deal is set to run through 2024.
"Tyler is a prolific creative force, and I'm excited that this collaboration will bring his signature humor and powerful storytelling to Viacom's audiences while further cementing BET's position as the leading home for bold, relevant African-American programming and scripted content," Robert Bakish, the chief executive said in a statement.
According to Richard Greenfield who is a media analyst with BTIG Research, "This is a sign that Shari Redstone and Bob Bakish are here to compete."
"For too many years," he went on, "Viacom had underinvested, let their networks lose the edges they've had historically and let upstarts like OWN cut into their market share."
| | |
| --- | --- |
| Y'ALL GON MAKE ME PAY MY TAXES..UP IN HERE!: DMX Charged With 14 Counts of Tax Evasion & Fraud, Faces up to 44 Years in Prison | 15.07.17 |
DMX has been released from jail on bail after surrendering to authorities for failure to report nearly $2 million to the IRS.
The rapper appeared in Manhattan Federal Court on Friday (Jul. 11) and pleaded not guilty to 14 counts of tax evasion and fraud. He was also released from a NYC jail after posting $500,000 bond with stipulations.
DMX and his lawyer, Murray Richman, briefly spoke to press upon his release. The rapper thanked his fans for their support and added, "My life is in God's hands."
According to TMZ, he needed 2 co-signers in order post the bail. Conditions of the bail required X to submit to drug testing, he cannot carry any firearms, and must remain in the NYC area.
However, a future hearing will be scheduled to determine if he can leave the state for work purposes.
DMX turned himself in to authorities Thursday (Jul. 11) for failure to report $1.7 million of his income to the IRS between 2002-05.
Acting US Attorney Joon Kim said in a statement that X "went out of his way evade taxes" by avoiding personal bank accounts, using surrogate accounts (including business managers), opening accounts under false identities, and paying expenses exclusively with cash.
According to Page Six, He earned more than $2.3 million between 2010 and 2015 but didn't file a single tax return during that period, according to the statement. The hundreds of thousands of dollars he earned from royalties were allegedly deposited into the bank accounts of his managers and disbursed as cash, court papers allege.
Further, he lied about his income in a bankruptcy filing, claiming he earned a mere $10,000 in 2013 when he'd actually made $250,000, the papers state. The "Party Up (in Here)" rhymer, who has 15 children with nine different women, has filed for bankruptcy three times.
X was charged with 14 counts of tax evasion, failing to file a tax return, and attempting to obstruct IRS laws. If found guilty of all charges, he could face up to 44 years in jail, including five years for the top count.
| | |
| --- | --- |
| NAUSEA, HEARTBURN, INDIGESTION, UPSET STOMACH, DIARRHEA!: Skin Bleaching has Sammy Sosa Out Here Looking Like a Bottle of Pepto Bismol & the Internet is Letting Him Have it! | 15.07.17 |
So, Sammy Sosa is definitely going through something. The former Chicago Cubs player sat down for an interview on ESPN Deportes on Wednesday (Jul. 12), but no one watching probably heard a word he said on account of them being so focused on his disturbing appearance.
The retired MLB player of Dominican and Haitian descent is clearly still bleaching his skin.
Twitter was especially caught off guard by Sosa's lighter (and odd) skin complexion. Some noted Sosa's apparent self-hatred, while many simply had to laugh and joke through their confusion, including comparing him to Pepto Bismol and Neapolitan ice cream.
Sammy Sosa out here lookin like Pepto Bismal. pic.twitter.com/1xdKo84Bko

— OXTAIL GAWD (@ThatDudeMCFLY) July 13, 2017
Sammy Sosa really living his life as a one man Neapolitan Ice Cream pic.twitter.com/enU75FS5ML

— Ol' QWERTY Bastard (@TheDiLLon1) July 13, 2017
Sammy Sosa looks like he machine washed himself with a red sock. I can't believe he hates being Black that damn much

— Miss Brown (@QB84) July 13, 2017
Sammy Sosa the same complexion as those cheap ass hot dogs that turn the water pink when you boil them.

— Larry Beyince (@DragonflyJonez) July 13, 2017
Sammy Sosa look like the milk at the bottom of a bowl of Fruity Pebbles. pic.twitter.com/y3nPyL1HtF

— Craig Bro Dude (@CraigSJ) July 13, 2017
My man Sammy Sosa looking like Snagglepuss smh pic.twitter.com/arJWAvQKMi

— G (@__GDB) July 13, 2017
Congrats to Sammy Sosa on landing the Franken Berry endorsement. pic.twitter.com/SJbgmRpZg8

— brandon® (@brandojerg) July 13, 2017
This is, unfortunately, nothing new for Sosa. He has been lightening his skin for several years now.
In 2009, he told Univision his noticeably lighter complexion was a side effect of a cream he was using to soften his skin.

"It's a bleaching cream that I apply before going to bed and whitens my skin some. It's a cream that I have, that I use to soften [my skin], but has bleached me some. I'm not a racist, I live my life happily.

"What happened was that I had been using the cream for a long time and that, combined with the bright TV lights, made my face look whiter than it really is. I don't think I look like Michael Jackson."
Yeah, no one believed that then and it certainly doesn't explain his current situation.
| | |
| --- | --- |
| OK BABIES NOW LET'S GET IN FORMATION: Beyoncé Breaks the Internet with the First Official Photo of Twins Sir and Rumi Carter! | 14.07.17 |
She's done it again, Beyoncé just broke the internet.
Beyoncé set the Internet on fire early Friday morning (Jul. 14) by sharing the first official photo of her and Jay Z's newborn twins Sir and Rumi Carter, who are one month old as of today, confirming reports that The Carter Twins were born on Wednesday, June 14th.
The caption reads: "Sir Carter and Rumi 1 month today."
Within the first hour of her sharing the photo on Instagram, it had already amassed nearly 2 million likes, and it will likely break her original record of 11 million likes by day's end.
The world has been anxiously awaiting officially confirmation from Queen Bey since reports announced the twins' birth a month ago.
The family portrait shares the same theme as the maternity shoot Beyoncé used to announce her pregnancy back in February.
The photo's caption also confirms the twins' names for the first time after she and Jay Z reportedly filed trademark documents with the U.S. Patent and Trademark Office in late June.
| | |
| --- | --- |
| JUST SO YOU KNOW: Jada Pinkett Smith Still Feels Tupac Biopic Was "Very Disrespectful": "It EXPLOITED Me and Pac!" (VIDEO) | 13.07.17 |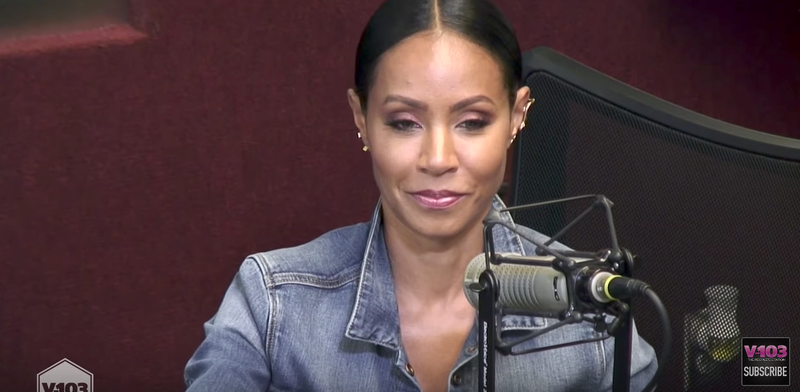 Jada Pinkett Smith's outrage over the Tupac Shakur film All Eyez on Me has not subsided one bit. During an appearance Wednesday on The Ryan Cameron Morning Show With Wanda Smith on Atlanta radio's V-103, while promoting her latest film, Girls Trip, with co-star Regina Hall and producer Will Packer, Pinkett Smith had a strong response to Cameron's inquiry about All Eyez on Me.
"I wanted people to know that what you're seeing in regards to my relationship with Tupac is not true, and that was important to me because," she said, while getting teary-eyed, "my relationship was really special and, um, it was very complicated and, um, I just felt like it was a huge disservice."
Pinkett Smith said that she believes her and Pac's relationship would have shed light on "what he truly was, because it's one thing to see Pac's persona publicly and who he was personally."
Pinkett Smith said the fact that she knows the "Code Black dudes" who helped distribute the film made things "even more painful" because they all did the 2012 film Free Angela and All Political Prisoners together. "I thought it was just handled in a very disrespectful way, and I felt like it was exploitive of me and Pac, how they used our relationship to sell a movie, and I just felt like it was tomb-raiding in regards to Pac," she continued.
"And if you're really saying that you're honoring a man's legacy, then honor his legacy. And if you don't have the story, fall back until you do," she chastised with force in her voice. "I feel like we, as black people, we have got to protect those individuals that we say are important to us, to our history and to our culture. We cannot expect other people to do that if we're not willing to do that ourselves. Pac is precious to us."
Her parting words to the filmmakers were even more terse: "If you really feel like you did right by Pac, then congratulations. But if you didn't, really sit with that. 'Cause I hope next time, if you get another opportunity to make another movie about a legend, you'll do a different thing."
Check Jada Pinkett Smith's comments about the film below:
| | |
| --- | --- |
| RACIAL PROFILING?: Florida's First & Only Black State Attorney Aramis Ayala Pulled Over by White Cops for Driving While Black | 13.07.17 |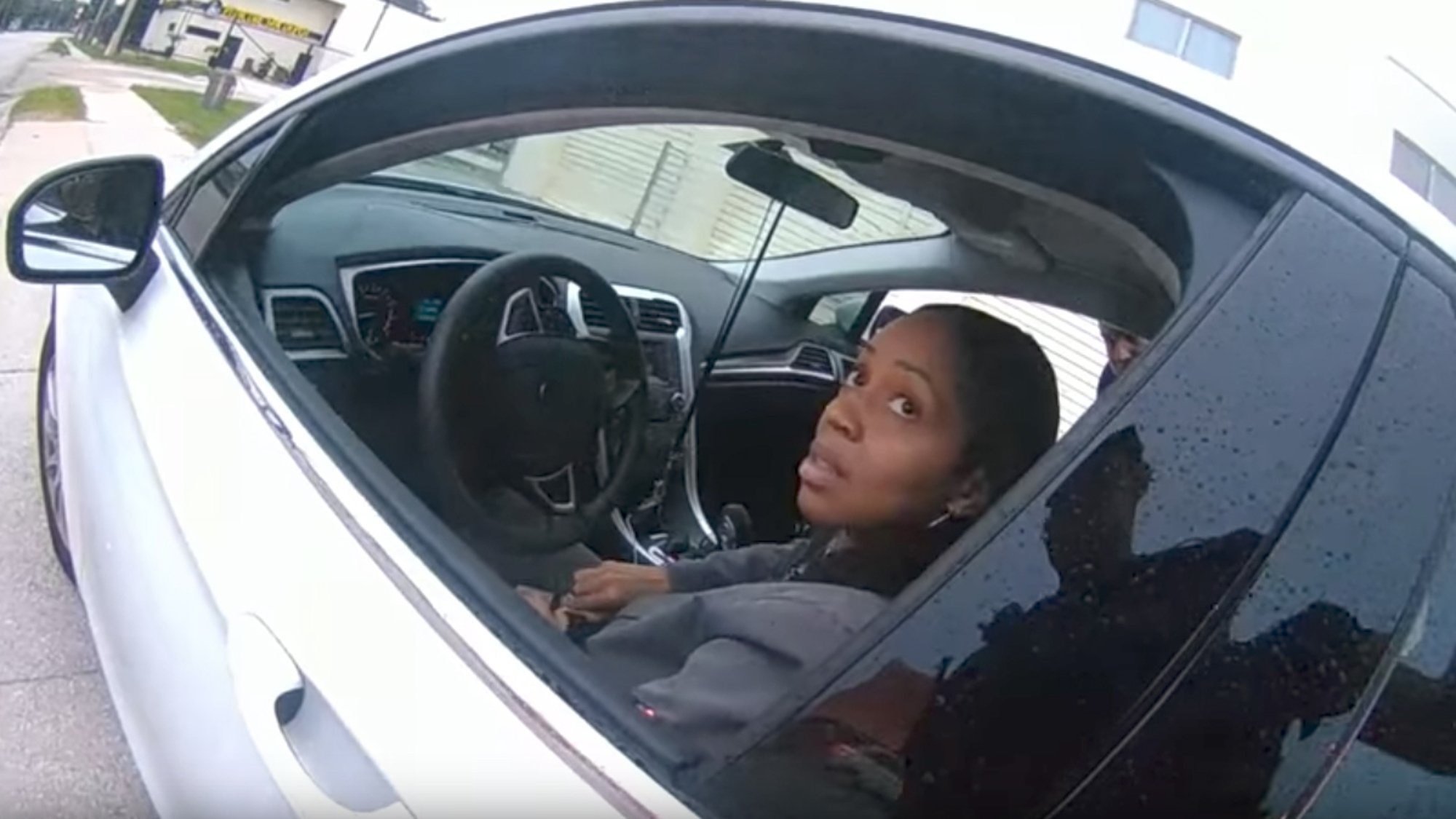 Video footage of Florida's only black state attorney being stopped by two police officers for no apparent reason has gone viral, leading many to wander if the state attorney was racially profiled.
The Daily Mail recently published bodycam footage of Florida State Attorney Aramis Ayala being pulled over by two cops in June. As the officers approach either side of her vehicle, a noticeably confused Ayala retrieves her ID.
One officer looks at her ID and Ayala identifies herself as a state attorney. The officer then attempts to explain the reason they pulled her over, but just makes the random stop even more perplexing.
"Thank you, your tag didn't come back. Never seen that before, but we're good now. We ran the tag; I've never seen it before with a Florida tag. It didn't come back to anything, so that's the reason for the stop."
Ayala naturally asks why her tag was run in the first place. The officer, again, struggles to come up with a plausible explanation.
"Oh, we run tags through all the time, whether it's a traffic light and that sort of stuff. That's how we figure out if cars are stolen and that sort of thing. Also, the windows are really dark. I don't have a tint measure, but that's another reason for the stop."
Still not satisfied with the officers' reason(s) for pulling her over, Ayala asks the men for their cards. Explaining they weren't in their usual patrol car, the two cops wrote down their names on a piece of paper.
The viral video has many wondering if Ayala's only "crime" was driving while black.
A spokesperson for the Orlando Police Department has defended the stop, citing that Ayala's tags and tinted windows raised a flag.
"In regards to the video, which was released by the Orlando Police Department last month, the officers stated the tag did not come back as registered to any vehicle. As you can see in the video, the window tint was dark, and officers would not have been able to tell who, or how many people, were in the vehicle."
As Florida's first and only elected state attorney of color, Ayala has been a victim of racist attacks including receiving a noose in the mail.
Ayala also made headlines earlier this year for suing Florida Gov. Rick Scott after he removed her from several cases because she refused to seek the death penalty.
| | |
| --- | --- |
| GIRL, WHAT?: Madonna Calls Whitney Houston 'Mediocre' in Handwritten Letter | 13.07.17 |
Madonna said something stupid…we just happen to be learning about it 25 years later.
A reportedly handwritten, personal letter written by Madonna and slamming both Whitney Houston and Sharon Stone will be going up for auction in New York next week.
The letter is addressed to "J," who is thought to be John Enos, a man that Madonna dated for a short time. While much of the letter explained why she and "J" could not be together, there were parts that took aim at other big-name celebrities at the time.
"I have made so many people angry that I'm being punished and basically being made to be quiet and sit in a corner while other less interesting [and] exciting people are reaping the benefits of the road I've paid," she wrote, adding, "It's so unequivicably [sic] frustrating to read that Whitney Houston has the music career I wish I had and Sharon Stone has the film career I'll never have."
She continued, "Not because I want to be those women, because I'd rather die but they're so horribly mediocre and they're always being held up as paragons of virtue and some sort of measuring stick to humiliate me."
The bidding for the letter is expected to begin at $1,000, with the ultimate price tag estimated to be around $5,000 when the bidding is all said and done.