| | |
| --- | --- |
| MUGSHOT MADNESS: Boosie Badazz Hit With Two Felony Charges in Georgia After Being Caught with 11 Grams of Weed, a Gun, & THC Oil | 17.08.19 |
It all stems from an incident that happened back in April.
Yes, you read that headline right. Boosie Badazz is facing not just one, but two FELONY marijuana possession charges in Georgia, because apparently, Georgia is an awful place to get caught with drugs and guns if you're a convicted felon.
Back in April, just a week after he dropped his Badazz 3.5, Boosie was arrested in Newnan, Georgia. He was pulled over by police for allegedly coming close to hitting another vehicle, and when officers searched the car Boosie was driving, they reportedly found over $20K in cash, marijuana, a vape pen, a handgun, and suspected THC oil.
He was taken into custody on charges of possession of marijuana, possession of a schedule one drug, possession of a firearm during the commission of a crime, and failure to maintain a lane while driving. Now, TMZ reports that months later, Boosie has been hit with two felony charges related to the incident as the District Attorney has included possession of less than an ounce of marijuana and possession of a controlled substance. The gun possession charges have been dropped.
With Boosie at the time of his arrest was Antonio Allen, a former free safety for the New York Jets who reportedly was working as Boosie's security guard. Allen was also detained at the time and is facing the same two felony charges that Boosie was given. TMZ reports that if the men are convicted, they are looking at up to a year behind bars.
| | |
| --- | --- |
| IN CASE YOU MISSED IT: Former 'Disturbing the Peace' Rapper Shawnna Calls Out Nicki Minaj & Per Usual the Barbz Are On Attack (VIDEO) | 17.08.19 |
Say what you will about Nicki Minaj, but lord knows the girl knows how to stir the pot and create headlines.
Feuds involving Nicki Minaj and *insert artist name here* have been popping off all week. When she appeared on the Joe Budden podcast, Nicki made it clear that when it comes to ranking herself as one of the greats in hip-hop, she is putting herself in the top ten rappers in the game, regardless of gender.
"I definitely rate myself top 10. Dead or alive. Men and women. I don't think that there's a woman alive seeing me. I don't give a fuck what nobody say," Nicki said. Well, that part about rapping fast offended the sensibilities of one female rapper who most of us thought we left behind in the 2000s. If your first thought was Da Brat, you're incorrect. It's actually Ludacris' one-time protégé, Shawnna.
Somehow, someway, Shawnna decided it was time she took this opportunity to state plainly that she'd love to beef with Nicki on wax.
"I saw an interview from a female artist the other day and since she didn't say no names, I ain't gon' say no names," said Shawnna. "When we get ready to say names, then we gon' pick the beat and we gon' hit the booth. No ghost writers, you feel what I'm sayin'?" At some point, Ludacris showed his support for Shawnna in the comments, which per usual has caused Nicki's clan of fans to attack both the rapper and his former protégé. Take a look at the video as well as some of the reactions below. Do you think Shawnna would be a challenge for Nicki in the booth?
When @NICKIMINAJ heard that Shawnna was trying to throw jabs pic.twitter.com/yujcpyq5Qv

— 50/50innertainment (@5050RecordLabel) August 16, 2019
who's gonna tel Shawnna that nobody is checking for her. She ain't cross nobody's mind in years. Can't sell records so they use Nicki's name for clout.

— nicki/bangtan outsold (@minajoonie) August 16, 2019
Whilst everyone else was saying it was Tierra Whack shade… think Shawnna used that comment as leverage to be ya know…. relevant..for once in her life.

— T. M. J. (@iamtylerj_) August 16, 2019
| | |
| --- | --- |
| SAY WHAT NOW?: DJ Envy Suffers Wrath Of The Internet Following Yung Miami Shooting Question – "What Was More Shocking Her Being Pregnant or Her Car Getting Shot Up?" | 17.08.19 |
The public was appalled.
Sometimes moments occur during interviews that give viewers pause, and earlier today, The Breakfast Club's DJ Envy provided that moment. Quality Control Music founders Pierre "Pee" Thomas and Kevin "Coach K" Lee made their way to Hot 97's morning radio show to talk all things QCM in support of the label's recent release, Control the Streets, Volume 2. While there, the label heads discussed a myriad of subjects including the recent shooting involving City Girls' Yung Miami.
Last week, Yung Miami, real name Caresha Brownlee, was leaving a recording studio in Miami when an unknown assailant opened fire on her vehicle. Although her G-Wagon took multiple hits, the pregnant rapper was left unharmed. During Pee's interview with The Breakfast Club, he discussed what it was like to receive the frightening news of the shooting. Envy jumped in and asked, "What was more of a shock? When her car got shot or her being pregnant?" There's a brief awkward pause as Pee and Coach K seemed dumbfounded by the question. Envy answers his own inquiry and said, "It had to be her being pregnant."
"Nah, when her car got shot up," Pee replied. "That's scary." Envy attempted to recover the moment and continue the conversation, but the internet was not kind after the clip of the interview circulated, prompting Envy's co-host, Charlamagne Tha God, to slide in the comments to say, "I have no idea why @djenvy talks." Check just a handful of Twitter responses from the thousands of social media reactions to Envy's question below.
Bruh I know DJ Envy did not ask this man P what was more shocking between Yung Miami car being shot up or her being pregnant? like in what world is a pregnancy more shocking than her car being shot at. pic.twitter.com/yTCxfiQZGu

— Rah. (@thatguydream) August 16, 2019
I'm gonna have to call on Monday to get it off my chest and read the fuck out of DJ Envy

— real hot mom shit ⚜️ (@_BriaPlease) August 16, 2019
Dj envy dumbass : "what was more of a shock , yung Miami car getting shot up or her being pregnant?"

Coach and P: pic.twitter.com/lrTatOLb2w

— Tim Duncan's Barber (@neekoAintshyt) August 16, 2019
Nigga dj envy asked which one is more shocking? A pregnant woman car gettin shot up or her being pregnant? Wtf do you think dweeb 🤦🏽‍♂️

— Omari (@almiightyo) August 16, 2019
DJ Envy is a different type of trash bag. https://t.co/xwaNx14L9A

— The Mistah Marvel (@MistahMarvel) August 16, 2019
Dj envy is a piece of shit. He deadass asked P what was more shocking yung Miami telling u she was pregnant or her car getting shot up……are u serious dude

— brittany atkins (@Brizz_Atkins) August 16, 2019
| | |
| --- | --- |
| ONE STEP AT A TIME: Jay-Z Is Reportedly Going To Be Part Owner Of An NFL Team | 17.08.19 |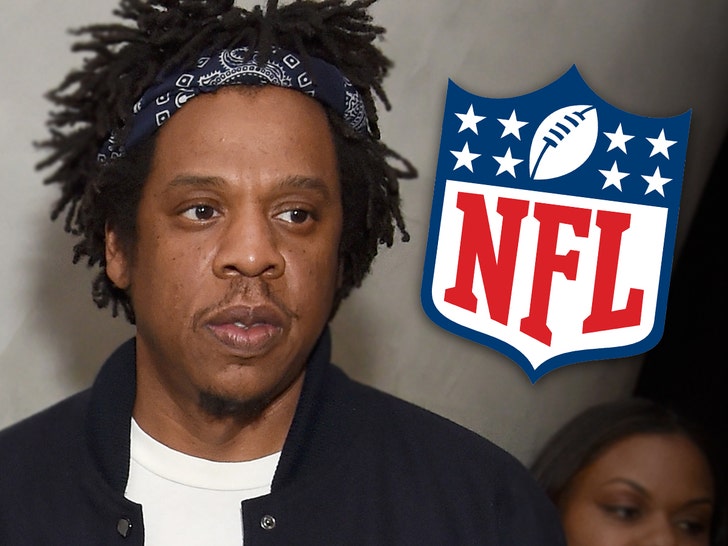 Jay's move to the NFL was much bigger than the entertainment part.
Jay-Z stirred the pot up quite a bit this week when Roc Nation announced their new partnership with the NFL. The move's been called hypocritical especially since he's been so supportive of the Colin Kaepernick. After the partnership between Roc Nation and the NFL was announced, Kaep's girlfriend, Nessa Nitty, Eric Reid, and Jemele Hill were among the many to call out Hov. However, it seems like Jay's involvement in the NFL is much deeper than simply Roc Nation's involvement in the entertainment and social justice sector.
Apparently, we didn't know all the details surrounding Jay's involvement in the NFL. According to TMZ, the rapper is now set to become a part-owner of an NFL team. Which one? It hasn't been revealed yet but sources claim that "it is going to happen in the near future." Jay previously had stakes in the Brooklyn Nets, which he's sold, so owning a sports team isn't foreign to him.
But Hov's reason to be a part-owner aligns with why he said he agreed to partner with the NFL. It's "because he's a huge fan, already has a sports business and wants to continue to be a change agent for the NFL." Some people might have to see it to believe it.
The reason he sold his stakes in the Brooklyn Nets was that he had the Roc Nation sports agency and the NBA rules state that in order to have a sports agency, one must not have a stake in a team. The NFL seems to work on the same set of rules but a source close to the tabloid publication said that "Jay is not an NFL agent and does not take part in the operations of the NFL players in Roc Nation."
There will definitely be a lot of conversation surrounding this move if it is true. He's already faced a ton of backlash for partnering with them. 
| | |
| --- | --- |
| IT'S ABOUT DAMN TIME: Quality Control's P Speaks On City Girl JT's Prison Sentence; Confirms She Should Be Free Next Month! (VIDEO) | 16.08.19 |
Might we get a City Girls album by year's end?
Quality Control has been keeping their presence felt, most recently culminating in their compilatory Control The Streets: Volume 2. With features from Migos, Lil Baby, City Girls, Lil Yachty, DaBaby, and many more, the label clearly has no intention on slowing their breakneck pace – even if it means breaking the inherent promise of their namesake. While some feel as if the QC brand has diluted of late, others welcome the prolific drop rate. And look for it to get even more hectic upon JT's release, and the City Girls reunion transpires in full.
Today, QC CEOs Coach K and P sat down with Rosenberg, Laura, and Ebro to discuss a variety of topics. Eventually, conversation turned to the incarcerated JT; though Yung Miami has been holding it down accordingly, the City Girls haven't quite felt the same since she's been gone. Luckily, P confirms that she'll be right back to work the moment she touches down. "When JT come home she going to the halfway house," confirms P, around the 34-minute mark. "But the great thing about the halfway house is they let you go on work release, so soon as she's out she's gonna be locked in the studio working," explains P, providing a silver lining to the situation.
"Hopefully she'll be out next month," he suggests. "In a few weeks if everything go how it's supposed to go." As for now, JT is currently serving a bid for felony identity theft charges. Look for that to come to an end within the next couple of months, should all go according to plan.
| | |
| --- | --- |
| HERE FOR IT OR KEEP IT?: Megan Thee Stallion Says She'll Be Collabing with Drake Soon; Ready to Put On For Her Academic Baddies With "Hot Nerd Fall' / "Hot Girl Semester" (VIDEO) | 16.08.19 |
It sounds like Megan Thee Stallion is ready to spark up another movement.
Megan Thee Stallion has quickly began to establish herself as one of the game's most notable up and coming voices, and she's barely had time to set up base camp. Such is a testament to her sheer marketability, which has drawn in fans with the ferocity of a thousand magnets. Following her crash landing, Megan wasted little time in establishing the Hot Girl Summer movement, which most recently culminated in a single of the same name, featuring the combined talents of Nicki Minaj and Ty Dolla $ign.
As summer winds to a close, some have wondered what that entails for the Hot Girl movement's de-facto leader. Yet Megan is not about to slow her roll. Being that she also moonlights as an Academic, it seems only natural for her to put on for the nerds in waiting. Luckily, Megan has already planned her next move. "Being a hot girl is like a lifestyle, and everyone knows I'm still in college," Megan explains to Access. "It's gonna be a real hot girl semester, you know what I'm saying? Real Hot Nerd Fall, so I'm just about to start puttin' on for all my school girls."
Have you bought into Thee Stallion's hype? If so, look forward to autumn lined with even more Hot Girl Antics. As do the leaves fall to the ground, so too do the booty cheeks. The rapper also spoke on plans to collab with Drake pretty soon. Peep the video of what Meg had to say below. Are you here for it all?
| | |
| --- | --- |
| NOT ME, GIRL!: Cyn Santana Claps Back At Reports Of Her Keeping Son Away From Joe Budden – "Y'all don't know a SINGLE thing about anything." | 16.08.19 |
"Y'all don't know a SINGLE thing about anything."
Joe Budden and Cyn Santana are long over and as per a recent tweet from Joe, it seems as though there are some issues behind the scenes since he alluded that he hasn't been able to see his son in some time. "I miss my son so much…. gotta go thru it tho… again," he tweeted. While there was no context added to the statement, Cyn has now come through to clarify to all those users who took aim at her after Joe's tweet. 
After one user responded to Joe with, "Dam I really thought @Cyn_Santanawas a different type of baby mama but I guess not. Outta line," the Love & Hip Hop star had some words of her own. 
"Y'all think I give a damn about what complete strangers with ZERO information have to say about me as it pertains to my son?" she tweeted. "Y'all don't know a SINGLE thing about anything. I've kept it like that on purpose sis. Y'all stay blessed and protected tho." 
Lol y'all think I give a damn about what complete strangers with ZERO information have to say about me as it pertains to my son? Y'all don't know a SINGLE thing about anything. I've kept it like that on purpose sis. Y'all stay blessed and protected tho 💙✨ https://t.co/fFeSksYg9N

— Cyn Santana (@Cyn_Santana) August 14, 2019
Cyn and Joe's son was born in December of 2017 and the couple reportedly broke up in May of this year.
| | |
| --- | --- |
| WHEW CHILE, THE GHETTO!: Blac Chyna BFF Accuses Her Of Embezzlement & Gets Kicked Off Show ; Allegedly Causes the Rest of the Staff to Quit As Well (VIDEO) | 16.08.19 |
Blac Chyna's bestie gets the boot after getting into a dispute with her.
We used to only hear about all the messiness in Blac Chyna's life through social media and news reports but she decided she wanted to give us more insight into her life with a reality show. The Real Blac Chyna provides a scripted look into the life of Chyna which seems just as messy as the TMZ reports suggest. In the latest episode of her show, Blac Chyna and her BFF, Treasure, get into a heated argument that results in Treasure's departure from the show.
Blac Chyna shared a clip from her new show on Instagram where she and her friend had a huge blowout over money. Chyna is already going at Treasure's neck, claiming that she's exactly like Toni Tokyo. "I give you money on top of thousands and thousands of dollars. You're so ungrateful. You into the category of, like, Toni and that's how I'm lookin' at you and it's really sad," Chyna said before revealing that she's given Treasure so much money that she had to write her off on her taxes. 
"No, you asked me to fill out a W9 to help you embezzle money," Treasure said in response.
After Chyna blasts treasure for even saying that, she kicks her out of her house, and inevitably, off of the show as well. Peep the clips along with the aftermath via social media below. Including word from Chyna's camp that there's a lot of trouble following this incident, to the point where nearly Chyna's entire staff has quit due to being tired of their portrayal on the show.
| | |
| --- | --- |
| I KISSED A GIRL & I LIKED IT!: Katy Perry Accused of Sexual Harrassment…Again; This Time By a Woman! | 16.08.19 |
Katy Perry is being accused of sexual misconduct for a second time — and this time by a woman!
Russian TV presenter Tina Kandelaki claimed earlier this week in the Russian newspaper Rossiyskaya Gazeta that a drunk Katy tried to kiss her at a party without her consent.
As reported by Page Six, "Once I was invited to a private party with Katy Perry, where she, being pretty tipsy, chose me as an object for the manifestation of her passion," Kandelaki, 43, said, according to StarHit. "I managed to fight back, strength training was not in vain, and Katy instantly found a new victim for kisses, hugs and dirty dances."
She continued, "As far as I can tell, there were no casualties at the party, but I won't be surprised at the stream of memories of unhappy fans who for years carried this inside themselves, and now they suddenly remembered the scolded dignity."
It is unclear when this incident took place and a rep for Kandelaki could not immediately be reached for comment.
Perry, 34, is currently engaged to actor Orlando Bloom, but at the 2017 Los Angeles Gala, while accepting the National Equality Award, she opened up about exploring her sexuality while growing up with a strict religious background.
"How was I going to reconcile that with the gospel-singing girl raised in youth groups that were pro conversion camps?" she said, according to People mag. "What I did know was that I was curious, and even then I knew that sexuality was not as black and white as this dress."
Earlier this week, model Josh Kloss, who appeared in Katy's "Teenage Dream" music video, accused the singer of exposing his penis to a crowd of people at a party.
| | |
| --- | --- |
| PLOT TWIST: Miley Cyrus Releases Break Up Single 'Slide Away'; Seemingly Addresses Liam Hemsworth's Alleged Partying & Alcohol Abuse (LISTEN) | 16.08.19 |
Many assumed Miley Cyrus would be the cause of her recent split with her husband Liam Hemsworth, but it seems Miley is providing details which actually suggest the complete opposite in her new song, "Slide Away."
The emotional track appears to be about her crumbling relationship with Hemsworth and deciding it's time to move onto something new. "Once upon a time, it was paradise / Once upon a time, I was paralyzed / Think I'm gonna miss these harbor lights / But it's time to let it go," she sings in the new tune. "Once upon a time, it was made for us / Woke up one day, it had turned to dust / Baby, we were found, but now we're lost / So it's time to let it go."
Various reports have claimed Hemsworth's drinking and partying played a role in the couple's demise, and 26-year-old Cyrus' lyrics seem to reference these allegations: "I want my house in the hills / Don't want the whiskey and pills / I don't give up easily / But I don't think I'm down," she sings. The artwork for the single also shows bottles of alcohol and pills floating in a pool.
People magazine reported that Cyrus tried to curb Hemsworth's partying and that he would "lash out at her."
"Everyone always thinks Miley is problematic and immature and a hardcore partyer while he's this chill surfer dude, but that's actually [not accurate]," People quoted a source as saying. But other sources have shared that Hemsworth was distraught over the coverage of their split.
"Liam is one of the kindest, gentlest people out there," sources said. "Him being wild or drunk or deadbeat is absolutely ridiculous." Either way, Cyrus appears to have already has moved on with Kaitlynn Carter (Brody Jenner's ex) who she was caught making out with just a few days ago. Taken a listen to the song below. Thoughts?
| | |
| --- | --- |
| FIND JESUS INSTEAD: R. Kelly is Reportedly Trying to Raise Money to Be Able to Afford the Same Attorney Michael Jackson Had for His Molestation Case | 16.08.19 |
This man doesn't need Tom Mesereau. He needs Jesus.
Earlier this week, it was revealed that R. Kelly had a four-hour meeting with Michael Jackson's former attorney, Tom Mesereau. Mesereau became known as one of the hottest criminal defense lawyers in the league when he won Jackson's molestation case back in 2005. He also famously got the actor, Robert Blake, off the hook after he was accused of killing his wife in 2001. 
Now, R. Kelly, who is drowning in a slew of sexual abuse charges, is seeking out the help of Mesereau. However, the latest report on the story is that R. Kelly cannot afford Mesereau's services. When you're one of the best at what you do, you can surely charge a steep price. But even if Mesereau's fee wasn't incredibly steep, R. Kelly would still likely struggle to come up with the money, given his financial troubles that have been extensively publicized. 
In his viral interview on CBS This Morning in March, R. Kelly told Gayle King that he was not able to pay the $161,000 he owed in child support for his three children because people "connected to his account" had been "stealing" his money. The R&B singer also couldn't pay his $100,000 bail in February. He was bailed out by his friend, Valencia Love, but she claimed it was his own money. 
R. Kelly reportedly wants to part with his current attorney, Steve Greenberg because he believes they care way too much about getting media attention for themselves, which Greenberg responded to as being, "a complete load of crap."
R. Kelly is now trying to raise the funds to afford Tom Mesereau, but with all the charges against R. Kelly, it seems unlikely that his assistance would be able to change the outcome of this case. The latest development in the case is that Kelly was hit with another accusation of having payed an underaged girl in Minnesota to perform sexual acts on him in 2001. 
| | |
| --- | --- |
| FACTS OR REACHING?: Colin Kaepernick's GF Nessa Diab Calls Out Jay-Z & NFL Over New Partnership | 16.08.19 |
Nessa is upset by the new deal that's been put in place.
There has been quite a bit of outrage over Jay Z's recent entertainment and social justice partnership with the NFL that curiously, didn't involve Colin Kaepernick. Eric Reid of the Carolina Panthers recently had some harsh words about the whole ordeal and now, it's Kaepernick's girlfriend, Nessa Diab who is sounding off about it on Instagram. In a lengthy post to her page this afternoon, Diab put the league and Jay Z on blast for ignoring Kaepernick in their deal, even though he was the first to fight for social justice within the organization.
"We will never turn our backs on @kaepernick7 because your idols decided to work with the same organization that is actively keeping Colin unemployed all because he peacefully protested against social injustice in black and brown communities, specifically police brutality," Diab wrote "So really, how can Jay-Z and the NFL utter social justice in their partnership while keeping Colin unemployed because of his social justice work?"
Diab seems extremely upset by the entire situation and went on to shout out all of Kap's supporters by saying "thank you all so much for showing Colin so much support and love. I know for myself, I can't thank y'all enough for loving my family."
Earlier today, Kaepernick posted a workout video to Twitter which shows how he still has a pretty good arm for a guy that hasn't played in so long.
It will be interesting to see how this partnership plays out throughout the season.