| | |
| --- | --- |
| RUN ME MY MONEY: Usher "Bad Girl" Songwriter Awarded $44 Million In Lawsuit | 21.10.18 |
Bag secured.
Usher was the biggest R&B star in the early 00's. Many believe that he was the last true R&B sensation to influence the game before singers started rapping and autotune arrived. His album Confessions produced several bangers, including "Yeah!," "Burn," "Caught Up," "Handle It," and "Bad Girl." The latter single was tangled up in a lengthy legal battle, but the lawsuit has finally been settled.
Philadelphia songwriter Daniel Marino is finally getting paid the money he deserves. As reported byBillboard, Marino proved that he wrote the guitar hook, tempo, and chord progression for a song called "Club Girl." The track was ultimately turned into Usher's "Bad Girl," off Confessions. The album is one of the best selling R&B projects of all time, and Marino wasn't about to lose his creation.
Marino claimed that he was not paid profits for constructing the song along with his former co-songwriter William Guice. Guice was ordered to pay Marino $6.75 million in compensatory damages, and $20.25 million in punitive damages. Destro Music Productions, owned by co-defendant Dante Barton, also agreed to pay Marino $17.35 million. In total, that leaves Marino with $44.35 million. Although the song was performed by Usher, he was not named in the lawsuit.
| | |
| --- | --- |
| KIM KARDASHIAN ISN'T THE ONLY WOMAN MAKING MOVES FOR PRISON REFORM: Angela Stanton is Using Her Own Story to Give Back & Help Our Community | 21.10.18 |
Remember Angela Stanton? Well if you aren't familiar with Stanton's work, we're certain you've heard her name. Just for a bit of background, Angela Stanton, initially rocked the reality realm long before she even hit the television with her book "Lies of a Real Housewife: Tell the Truth and Shame the Devil," about her alleged racketeering with former 'Real Housewives of Atlanta' star Phaedra Parks. (Yes, "southern belle" Phaedra Parks.)
In her book, which was published in 2013, Stanton reveals that Parks ran a white-collar "criminal enterprise" that included fake bank accounts and bad checks. However, Parks covered her tracks so well that only her husband, Apollo Nida, and Stanton took the blame when it all fell apart…However, Stanton has now put her past behind her and is focused using her experience to help others in the community, becoming a leading advocate for prison reform.
That's right, Kim Kardashian isn't the only woman out here making major moves in regards to prison reform. USA Today reports that with her non-profit organization, the American King Foundation, Stanton has submitted nearly 100 names to the White House of people who should be considered to be freed from prison. Along with her efforts as it relates to prison reform, Stanton also has been traveling to prisons all over the country to mentor, counsel, and partner with juvenile offenders, allowing them to publish their own stories through her publishing company Stanton Publishing House, which has also produced Stanton's own best selling stories.
As someone who has followed Angela Stanton's story from the beginning, I can honestly say it's amazing her growth and miraculous turn around. The things she is doing for the community is truly admirable and does not go unnoticed.
To learn more about Stanton's organization or get involved in prison reform efforts visit here.
| | |
| --- | --- |
| LAUGH AT MY PAIN?: Pete Davidson Finally Speaks On Ariana Grande Breakup – "Anyone Looking For A Roommate?" | 21.10.18 |
The comedian opened up during one of his comedic performances.
The silence is finally broken on Pete Davidson's side. The actor spoke about his split with Ariana Grande during his first stage appearance on Saturday.
His revelations were made in jest while he co-hosted Judd & Pete for America, a comedy show benefiting Swing Left. He joked with the crowd about his situation.
"Well, as you could tell, I don't want to be here. There's a lot going on. Does anybody have any open rooms? Looking for a roommate?"
He also commented on the collection of tattoos he got in honor of his failed relationship with the pop star.
"Um, I've been covering a bunch of tattoos, that's fun. I'm f–king 0 for 2 in the tattoo [department]. Yeah, I'm afraid to get my mom tattooed on me, that's how bad it is."
"So, obviously you know I, we [Ariana and I] broke up or whatever but when me and her first got engaged we got tattoos. And it was like in a magazine like, 'Was Pete Davidson stupid?' And 93% of it said yes. So my boy, he was like, 'Don't listen to that sh*t man. They're literally f–king haters.' And I'm like, yeah, f*ck that. I'm not stupid. And the other day we were in my kitchen and he was like, 'Yo bro. Turns out you were stupid.'"
Davidson's co-host, Judd Apatow, thanked him for coming through despite the hard times. The SNL star replied with another joke
"Well, you put me on the flyer, I had to. F*Ck my feelings."
"I care more about America than your feelings, I do," Apatow joked. "I care more about America than Pete's feelings."
Davidson then equates himself to the nation.
"I feel like I am America. I'm a good guy that just keeps getting kicked in the dick. You're like, 'Ah, that f*cking poor kid. Hope he doesn't kill himself.' That's America."
| | |
| --- | --- |
| I KNOW YOU LYING: Marilyn Manson Selling Dildos with His Face on Them In Celebration Of Halloween | 21.10.18 |
The sex toy looks freaky.
Marilyn Manson has taken his entrepreneurial skills to the sex toy market. Any fan who ever wanted to be intimate with the entertainer has been blessed with the announcement of his latest product. Manson has released his "Double Cross Dildo" to the masses.
The sex toy is available online just in time for Halloween. The dildo is made of silicone and stands 8 inches tall and 1.5 inches wide. It is designed with a suction base for stability to make its use easier in particular contexts. Oh, and let's not forget that it bears the face of the singer himself. Marilyn Manson's image is placed strategically at the head of the dildo.
Although the artist's persona oozes with danger, his product is said to be safe. The material is hypoallergenic and the paint used to replicate his face is environmentally safe according to the online store's description. The site also specifies that the paint may fade after multiple uses.
The "Double Cross Dildo" is available for purchase for $125. The cost might be steep for some, but it does come with its own little black satchel for transportation and safe storing.
Marilyn Manson presented the sex toy on social media with a caption that includes the term "#dickortreat."
| | |
| --- | --- |
| I'LL BE MISSING YOU: Diddy & Cassie's Breakup Was "Mutual" & Puff is Still Single According To Sources | 21.10.18 |
The couple's relationship has always been kept slightly private.
The news of Diddy and Cassie's breakup has taken the internet by storm. Many fans were shocked by their split while other's took on the information with a sense of humor. Although the new status of their relationship has been made public this week, a source told PEOPLE that the breakup had taken place months ago.
The insider affirms "the decision was amicable and they remain friends." According to this source, Sean "Diddy" Combs remains single despite reports of his romantic link to Jocelyn Chew. If they are spending time together, their dates are held within the context of his being a bachelor.
Cassie Ventura is said to be focusing on her professional trajectory. Her singledom is allowing more time for the singer to hit the studio.
"Cassie is going to focus on her music and acting career," the source adds.
Combs and Ventura met after the singer was signed to his label Bad Boy Records in the early 2000s. Their romantic link came up in 2007 and their relationship went through some ups and downs until their eventual breakup this year. They both seem to take this new chapter in their life in stride. Cassie, for one, is looking quite fine.
| | |
| --- | --- |
| U-N-I-T-Y?: Queen Latifah And Rumored Partner Eboni Nichols Are Reportedly Expecting a Baby | 20.10.18 |
Sources say Queen Latifah and her partner are soon to become parents.
Actress and rap veteran Queen Latifah is notoriously quiet about her private life. She rarely ever reveals details about any of her romantic relationships and refrains from commenting on any speculation. For years now, Latifah has been rumored to be in a relationship with actress and choreographer Eboni Nichols. They were first spotted spending time together in 2013, and have been photographed at various events such as the US Open since. They are still thought to be an item despite reportedly calling it quits in the past.
According to a new report by RadarOnline, Queen Latifah and Nichols are set to become parents. The report was sparked after a photograph of a noticeably pregnant Nichols surfaced online. The publication claims to have been informed by a source that Latifah and Nichols will be welcoming a little girl into their lives in the near future.
Back in 2017, Latifah discussed her aspirations of starting a family with E News sharing, "I'm a little bit of a procrastinator. I had some things to deal with. I had to get a lot of partying out of my system early in life for about 40 years. You know what I'm saying. I'm good now. I think I'm ready."
| | |
| --- | --- |
| ISSA BOP OR ISSA FLOP?: Trina Proves Why She's One of the Original Baddest with "Bad Bitch Anthem" (VIDEO) | 20.10.18 |
Trina comes through with her latest project "Blue Magic," featuring the hard hitting cut "Bad Bitch Anthem."
Fans have been eagerly waiting for Trina to drop a new project for a minute. She was slated to drop her sixth studio album The One at some point this year, but we haven't received much of an update on it so far. Over the past year, she's delivered numerous collaborations alongside City Girls, Sage The Gemini and more, as well as a few loose solo singles. Yesterday, she came through with her new project 'Blue Magic' to hold fans over until the release of The One.
Fresh off of the release of the EP, Trina has released the video for "Bad Bitch Anthem," her first single to be lifted from the EP. With it's infectious beat "Bad Bitch Anthem" is fine addition to the growing body of work Trina has been developing since stepping foot in the game. An also a welcome reminder of the admirable consistency the rapper has maintained throughtout her tenure.
"Bad bitch, a couple grand in the duffel/Good pussy costs, bitch, you hoes ain't got no hustle/ I raise the bar, and you bitches ain't got no muscle/I let you hoes rock, but now you hoes in trouble." Trina raps as she commands us to get "get your f*ckin hands up."
Trin Bean may certainly have an anthem on her hands. Check out the video below and let us know what you think. ISSA BOP OR ISSA FLOP?
| | |
| --- | --- |
| NOT TODAY!: Iman Shumpert Exposes "Thirsty" Groupie Celina Powell – "I'm Done Getting in Trouble for You Rats!" | 20.10.18 |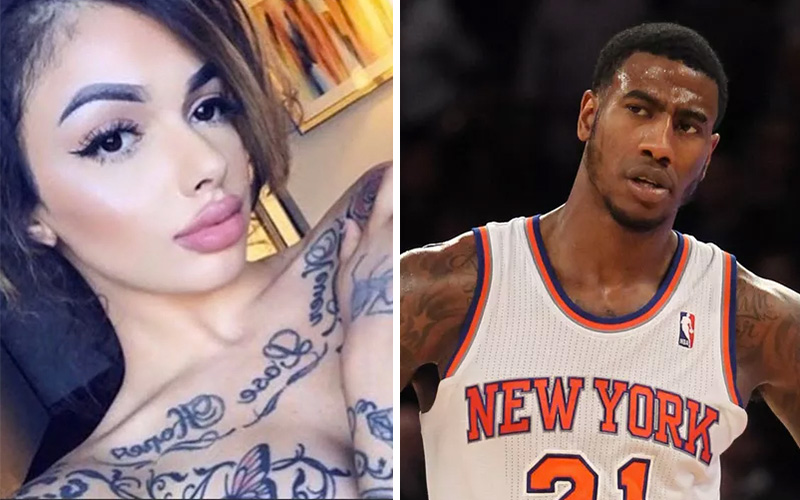 Iman Shumpert did not take too kindly to a woman sliding in his DMs on Instagram and trying to shoot her shot.
The NBA player—who is happily married to Teyana Taylor, with whom he shares a 2-year-old daughter—recently took to his IG stories to expose notorious groupie Celina Powell, who is known for stalking celebs and exposing them when they bite the bait.
Powell has previously "outed" celebs like 50 Cent, Snoop Dogg, Akon, Offset, and others, but Iman didn't fall for her antics and put the girl on blast.
Apparently, some chicks who don't get responses from Iman take it as far as faking a response from him so they can gain a little social media clout. But, Iman was like, "Nope, not today sis! I'm exposing you FIRST!" with her phone number on full display and everything.
He wrote: "Smh. Then they make a fake dm of me responding so I'm gon start exposing yall thirsty a** first. U thirsty af shorty and you built bad. I would never."
After some people took issue with him exposing her without blocking out her phone number, he said in a later video: "Man, they mad at me for posting her… I don't care dawg, I'm done getting in trouble for you rats. Y'all some rats, I don't care. And I'm also starting to feel like she mess with dudes that keep the cape out on their durag."
| | |
| --- | --- |
| NOW THAT'S "FOOLISH": Ashanti Concert for College Students Reportedly Cancelled After Only 24 Tickets Sold | 20.10.18 |
Many of us who grew up during the height of her success may consider Ashanti a modern day R&B legend, however it appears some college kids don't exactly recognize that fact.
The former Murder Inc songstress was scheduled to perform at Stony Brook University for their "Back to the Brook" concert, but the show was cancelled due to "low ticket sales." The University released a statement, saying,
"As an organization, we do our best to host programs for students while providing diversity and inclusion. However, we have struggled to execute certain aspects. With only a week before the concert, only 24 tickets were sold to students."
The school added that they were already on a hard deadline since Teyana Taylor pulled out on the event two weeks prior, which left them no time to properly market and promote Ashanti as the new headliner — so technically, it's no ones fault.
Ashanti may not be selling out college campuses, but I personally wouldn't ever hestiate to check her out in concert. What do you guys think?
| | |
| --- | --- |
| SAY IT AIN'T SO: Netflix Cancels "Luke Cage" After Just Two Seasons | 20.10.18 |
Netflix is pulling the plug on "Luke Cage" now.
It was just a few days ago when reports surfaced that Netflix series Luke Cage was "likely" to be renewed for a third season, but unfortunately that doesn't look to be the case anymore. According to Deadline, the streaming service is pulling the plug on the Marvel series after only two seasons.
"Unfortunately, Marvel's Luke Cage will not return for a third season," Marvel and Netflix said, per Deadline. "Everyone at Marvel Television and Netflix is grateful to the dedicated showrunner, writers, cast and crew who brought Harlem's Hero to life for the past two seasons, and to all the fans who have supported the series."
The third season had been being worked on for the past couple months, but due to "creative differences" and where the writer's were going with the storyline, Netflix is now canceling the series.
This news comes just weeks after hearing that another Marvel series on Netlfix was canceled, and that being Iron Fist. And if that's not enough, Netflix also just pulled the plug on Orange Is The New Black, but they at least have a season 7 on the way that will wrap up the show.
Check out Luke Cage's farewell tweet (below)
— Luke Cage (@LukeCage) October 20, 2018
| | |
| --- | --- |
| MUST BE NICE: Alicia Keys Surprises Swizz Beatz With 2019 Aston Martin For His 40th Birthday | 20.10.18 |
The producer has got himself a truly generous partner.
Alicia Keys planned something big for her partner's birthday. The singer gifted an unsuspecting Swizz Beatz with the type of gift most men would get hype for. The producer was surprised with a luxurious new ride in celebration of his hitting the big 4-0.
The singer presented the gift in a ceremonious way, blind-folding her husband before leading him to his present, which was not a special meal at a "ninja restaurant" as he was made to believe. Keys made sure nobody blew the surprise. She even gave TMZ's film crew directions to stay silent during the whole affair.
"Don't do anything. Don't ask us no questions. Don't say anything."
Being the sweetheart that she is, Alicia ended her demands with a thank you.
When the birthday boy spotted his new 2019 Aston Martin Vantage, Swizz exclaimed, "Jesus!" He follows up his praise for the Lord with an adlib-like declaration: "Zoom, zoom, zoom, zoom." The phrase is repeated with emphasis when a photog asks the lucky man if he likes the ride.
The price of entry for this model is $150K before any mods so exponential "zooms" sound about right.
Apparently, the producer previously had injured his arm. His first ride in the new whip was a pragmatic one as he headed to a hospital to get his injury checked out.
| | |
| --- | --- |
| GIRL, WHAT?: Kim Kardashian Says She Gets "Uncomfortable" Talking About Sex | 20.10.18 |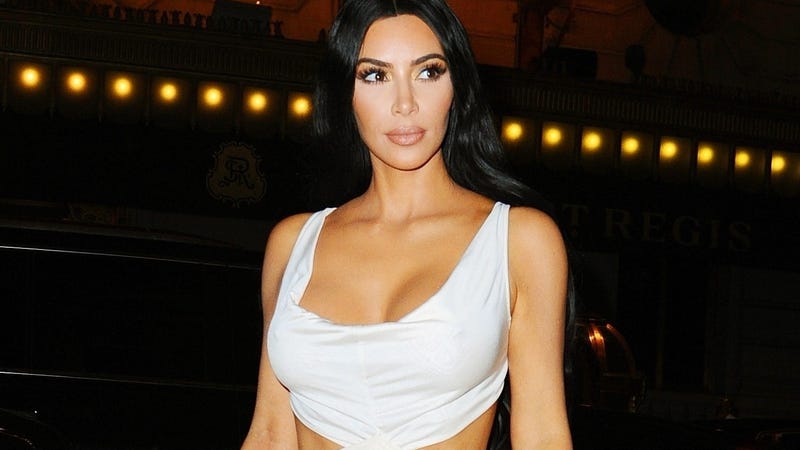 "I definitely have two different personalities… "
Kim Kardashian's 20th anniversary cover for Richardson magazine debuted today and the semi-nude feature has Kim detailing many aspects of her sex life, past sex tape with Ray J and how she's really much "more conservative" at home. Kim explained to the publication how women can "be both" when it comes to motherhood and still being a sex symbol.
Kim further discussed her 70-pound weight gain from when she was pregnant saying she "felt so unlike myself and so unsexy" thinking that she would never be comfortable enough to have sex again. "I just felt so bad about myself in my soul," she added.
Although Kim shares all kinds of naked photos to Instagram, don't think she's like that at home.
"It's actually funny, at home I'm much more conservative than my public persona is," she explained. "My public persona is wild, sexual. But I'm actually uncomfortable when I talk about sex, and I'm more conservative when it comes to that. But I'm vain like that. I can go on a set and be fully naked in front of 50 people doing a shoot, but if I'm one on one, intimate in bed, I'm like shy and insecure."
She added: "I definitely have two different personalities like that. But I think motherhood has actually made me more confident about being publicly sexy."
Get her full feature here.