| | |
| --- | --- |
| THAT'S OUR GUY: Chance The Rapper Announces $1M Donation For Chicago Public Schools | 21.11.17 |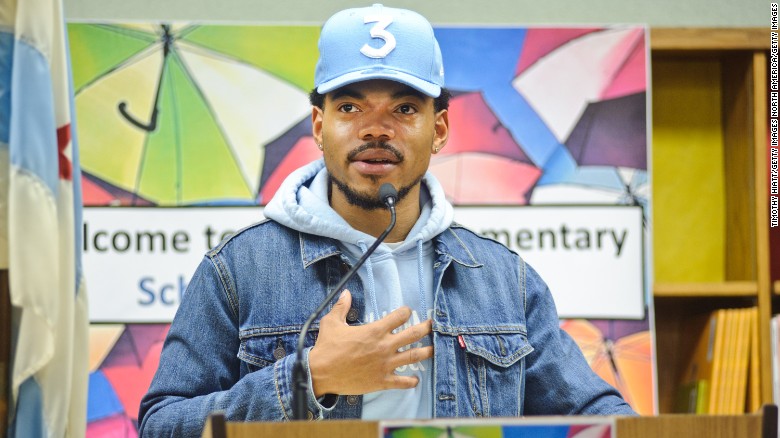 Chance The Rapper is someone who's publicly used his platform as a way to help his community. Whether it's after school initiative to open mics, he's always looking to give back to his community. While the rapper just wrapped up hosting duties at Saturday Night Live this past weekend, he recently paid a surprise visit to a high school in the South Austin area of Chicago where he announced some big news to the students.
Chance The Rapper went to Michele Clark High School during an assembly to announce that Jewel-Osco, a local chain of grocery stores, has donated $1 million to his newly established New Chance: Arts & Literature Fund. The donation is part of his Social Works charity in Chicago and the fund that he's built is meant to benefit all students in the Chicago Public School system. Chance has been extremely vocal about improving the school system in Chicago. After thanking Jewel-Osco for their generation, he took some time to explain and educate the students at the school about improving the school system in Chicago.
"Your parents, your grandparents, your kids will pay money into your schooling out of their cheques and it's supposed to affect all of our kids the same way. It doesn't work that way, I want y'all to do the research. I'm talking to anyone who goes to Michele Clark. You guys don't receive the same benefits that a lot of other people do and your parents pay the same money into the same government taxes," he said. He went on to emphasize that their needs to be more accountability and leadership from government officials and those responsible to make sure the education system in Chicago gets better.
Chance initially announced that he'd donate $1 to Chicago Public Schools back through his non-profit organization, Social Works back in March. Since then, Chance has raised $3 million for Chicago Public Schools and their students. His program is to also help fund arts education in twenty Chicago schools.
While Chance's music career continues to flourish, he's definitely making sure that his celebrity is put to good use especially within Chicago.
Check video of the speech below:
| | |
| --- | --- |
| BUSTED!: Rapper Cassidy Arrested for Marijuana Possession & Outstanding Warrants | 21.11.17 |
It's been a minute since Cassidy has had a hit, but his classic "Hotel" will populate Throwback Thursday playlists for generations to come. And while the rapper has had one or two notable hits, he has also been plagued by some past legal troubles. Back in 2005, Cassidy actually stood on trial after being accused of murder, after an argument went sour and gunfire erupted between two parties. Ultimately, Cassidy spent eight months in prison for involuntary manslaughter, two counts of aggravated assault and possession of an instrument of crime. And while his legal troubles were supposed to be behind him, it would appear that Cassidy is facing yet another arrest.
This time, however, it's for something significantly less serious. In fact, some might wonder why he's even being arrested at all. According to TMZ, the rapper was parked in his car on Sunday afternoon, idling outside his house, when the cops came through and busted him for possession of marijuana. Police went after him after smelling a strong, presumably skunk-like odor, and made the arrest upon discovering a joint on the dashboard, a bag of weed, and a grinder. Cassidy was later booked for marijuana possession and drug paraphernalia.
Apparently, Cassidy had a couple of outstanding warrants from another county, for the same weed-based crimes. And while it's unclear whether or not this will even go to trial, it does beg the question of whether or not arresting somebody for marijuana possession accomplishes anything whatsoever. The thought of going to jail over having a little bit of weed is pretty absurd, especially in a climate that seems to be heavily favoring legalization.
What do ya'll think of this? Is it too soon to start up the ol' #FREECASSIDY movement? (I'm kidding)
| | |
| --- | --- |
| GET RICH OR DIE TRYIN: Jersey Based Female Rapper PinappleCITI is Calling Out 50 Cent for Stealing Her Song | 21.11.17 |
While 50 Cent's been a household name for over a decade at this point, the rapper's been making waves with ventures aside from music. However, with the success of his television efforts, it seems like he's been reshifting some of his focus towards music again. Last week, he dropped off the Jeremih assisted "Still Think Im Nothing." Prior to that, he built anticipation in the hip hop community after teasing a collaboration with Gucci Mane for "On Something." The official version of the song has yet to surface but he's already facing some backlash for it.
Earlier today, pineappleCITI, a New Jersey rapper, accused 50 Cent of robbing the beat for her song "Rose Colored" for his upcoming single "On Something." The rapper says that 50 Cent and his engineer first inquired about getting the beat for "Rose Colored" last year. She says that she sent them the beat for the song but shortly after doing so, 50 and his engineer cut off communication with her. In addition to that, she said that this morning she woke up to a block from 50 Cent on Instagram.
"Last year when 50 Cent's engineer, Ky Miller, reached out to me and said 50 wanted to get on my 'Rose Colored' song, I was super, super excited, you know what I mean? I'm definitely a 50 Cent fan. Ky Miller told me to send the instrumental to him, which I did. And I heard nothing back," she said. After her fans told her that one of 50's latest tracks sounded like her joint "Rose Colored," she was in disbelief. She tried to reach out to 50 Cent and Ky Miller but was ignored and opted to making the issue a public matter.
@50cent I have the proof can you just call ? Man to Woman pic.twitter.com/4gvT12A6hZ

— 🍍 (@pineappleCITI) November 20, 2017
Shout out to @50cent! Call me bro you can't just be taking my record like this 😭 . #theshaderoom #50CentralBET pic.twitter.com/hHdb34CsLm

— 🍍 (@pineappleCITI) November 17, 2017
After going public about the matter, she says 50 Cent's engineer finally reached out to her.
"But as soon as I made that post a couple of days ago, Ky Miller decided to call me back," she said, "He told me that 50 said he would give me 12 bars on his song 'On Something,' which to me, I wasn't too sure about. Like I said, I still just want 50 Cent to call me. Like I said, 50, I got all love for you, bro. But I just feel like it's a respect thing."
Check out the tracks below and form your own conclusion.
| | |
| --- | --- |
| NO SURPRISES HERE: Beyoncé Tops Forbes' Highest Paid Women In Music (As She Should) | 21.11.17 |
It shouldn't come as much of a surprise, but Beyoncé is once again the highest paid woman in the music industry this year. According to Forbes, Queen Bey raked in a cool $105 million dollars before taxes over the past year.
Beyonce's album LEMONADE and her very lucrative "Formation Tour" is what contributed to her massive sum, but also don't forget she did all that while being pregnant with twins in the process.
Right behind Beyonce at #2 on the list was Adele, who reportedly earned $69 million dollars with her latest album 25 and its accompanying tour. Meanwhile Taylor Swift came in 3rd with $44 million dollars thanks to her new album Reputation. However Taylor's money & numbers should go up next year following the tour of her latest album.
Other woman to top the list were Celine Dion ($42 million) and Jennifer Lopez ($38 million) who rounded out the top 5, while Dolly Parton ($37 million), Rihanna ($36 million), Britney Spears ($34 million), and Katy Perry ($33 million). Barbra Streisand comes in at No. 10 with $30 million.
"I am proud of my position as a boss, as a person that runs my own company," Katy Perry told Forbes. "I'm an entrepreneur. … I don't want to shy away from it. I actually want to kind of grab it by its balls."
Of the ladies who just missed the top 10 were Lady Gaga, Madonna, Ariana Grande and Selena Gomez, who all earned multi-millions, but not enough to crack the top 10.
The list is reportedly made up of pre-tax income from June 1, 2016 through June 1, 2017. It includes information from Nielsen SoundScan, Pollstar, and the RIAA, as well as interviews with industry insiders, but it does not include fees taken from agents, managers and lawyers.
Check out the top 10 list of female earners (below) and let us know what you think the biggest surprise is?
1. Beyoncé – $105 million
2. Adele – $69 million
3. Taylor Swift – $44 million
4. Celine Dion – $42 million
5. Jennifer Lopez – $38 million
6. Dolly Parton – $37 million
7. Rihanna – $36 million
8. Britney Spears – $34 million
9. Katy Perry – $33 million
10. Barbra Streisand – $30 million
Beyoncé is the highest-paid woman in music this year https://t.co/uTY2QVI6zf pic.twitter.com/BxFqLTGODt

— Forbes (@Forbes) November 20, 2017
| | |
| --- | --- |
| LEAVE THAT LADY ALONE: CNN's Angela Rye Says She's Been Receiving Death Threats Since She Started Dating Rapper Common | 21.11.17 |
Back in September, Common & CNN reporter Angela Rye decided to officially make their relationship public after showing up to the Creative Arts Emmy and posing on the red carpet together. However since then, it appears Angela has been receiving death threats sent her way and TMZ reports some if it is tied in with her dating Chicago emcee & actor Common.
According to court docs, Rye said she's received annoying, harassing and threatening messages on her phone, social media and email. She says at first they were just annoying and derogatory, but then got scary and serious when the sender got more specific.
Angela and Common reportedly became an item and couple over the summer and cops say some of the messages she received had referenced locations the two visited that were not publicized, which is scary in itself. But then on August 5, Rye got an email that included the following: "Yr dumb dead ass gonna be found in a river" and "Let me catch ya ass I'm put the paws on ya."
As a result, LAPD obtained search warrants to dig through the sender's social media. As of right now though, the Threat Management division is reportedly on the case and looking into it, but not much else is known to the public.
TMZ didn't clarify if the death threats had anything to do with Common, or if he was just coincidentally with her on these dates over the Summer, but regardless stalkers and haters on that level ain't nothing to play with. Hopefully this issue is resolved as soon as possible.
| | |
| --- | --- |
| IT'S THE ROC: Mariah Carey Reportedly Inks Deal with Jay-Z Under Roc Nation Management | 21.11.17 |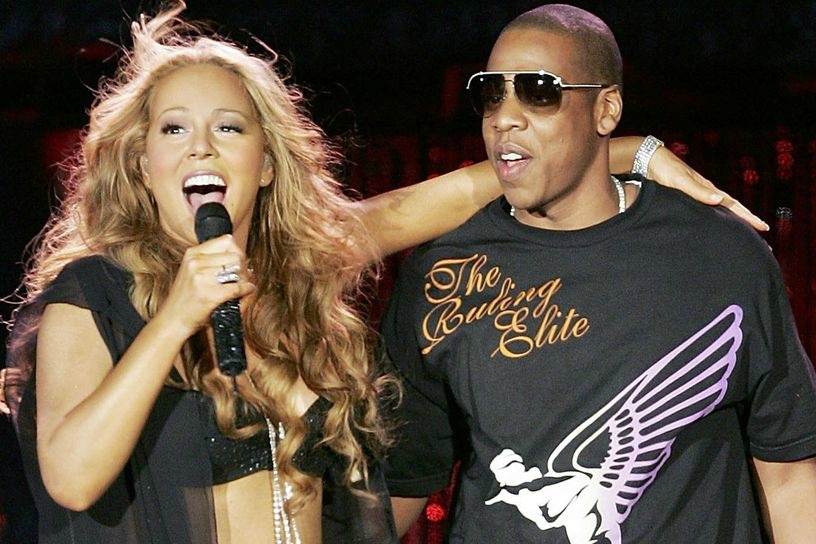 Mariah Carey has reportedly signed with Jay Z under Roc Nation after firing her manager.
The reports come from Page Six, as the publication notes that she fired her former manager, Stella Bulochnikov, earlier this month.
"[Mariah's] cleaning house. She is getting legitimate people, assistants, a lawyer, and Stella is not happy about it," a source reveals to Page Six. "Previously, there were all kinds of people involved [in her career] and Mariah didn't even know those people. She had to distance herself from all that and she's now cleaning house."
Apparently, Mariah's back up dancer, Bryan Tanaka, was taking over as manager but his efforts were not good enough since Mariah is looking for a bigger name and entertainment company to lead her singing efforts.
Aside from Mariah's career moves, the singer was recently in headlines as another celebrity being accused of sexual assault. As we previously posted, Mariah was being accused of harassment by her former head of security, Michael Anello, who worked for her from June of 2015 until May of this year. According to documents, Michael is claiming that Mariah committed "sexual acts with the intent that they be viewed by [him]." He is also claiming that the diva called him and his co-workers White Supremacists calling him a "Nazi, a skinhead [and] a KKK member."
Michael details a time in Cabo San Lucas when Mariah asked him to come to her hotel room to move luggage. When he arrived she was supposedly wearing a see-through negligee, purposely left open. He made his way out of the situation without coming into contact with the singer. He also claims that Mariah owes him $731,329.51 in unpaid invoices.
Mariah's team had no knowledge of the harassment but agreed to pay Michael some of the owed money. It clearly wasn't enough as the case is now on hold until both parties come to an agreement.
| | |
| --- | --- |
| CONGRATS IN ORDER!: Kevin Hart and Eniko Parrish Welcome Baby Boy, Kenzo Kash Hart | 21.11.17 |
Last week we posted that Eniko Parrish was going into labour with her and Kevin Hart's first child. The experience turned into a false alarm and today the little guy was finally ready to be welcomed into the world.
Kevin tweeted the news early this morning saying, "God is truly amazing….Kenzo Kash Hart was born at 1:45am ….He is Healthy & already smiling. Thank you all for your prayers!!!! We love & appreciate ya."
God is truly amazing….Kenzo Kash Hart was born at 1:45am ….He is Healthy & already smiling. Thank you all for your prayers!!!! We love & appreciate ya #Harts

— Kevin Hart (@KevinHart4real) November 21, 2017
The couple held a lavish Lion King themed baby shower in early October where they revealed the name of little Kenzo to friends and family. The party had a reported $118K price tag and was held at the Calamigos Beach Club in Malibu.
In the months leading up to the baby shower, Kevin made headlines for all the wrong reasons. Kevin was a subject in a video that surfaced of him seemingly cheating on his pregnant wife. After the video clip made its way through the media, the woman that Kevin was with turned out to be Montia Sabbag, where she later stated that she is "not an extortionist" and had no knowledge of her and Kevin being recorded.
Kevin made a public apology on Instagram with a video, "It's a shitty moment when you know you're wrong and there's no excuses for your wrong behaviour," Kevin said. "At the end of the day, I just simply gotta do better, but I'm not going to also allow a person to have financial gain off of my mistakes, and in this particular situation, that's what was attempted. I said I'd rather 'fess up to my mistakes."
| | |
| --- | --- |
| NOT TODAY!: Amber Rose Beats Wiz Khalifa's Mom's Defamation Lawsuit! | 20.11.17 |
Since Amber Rose and Wiz Khalifa parted ways as a couple, it's safe to say that Rose and the rapper's mother haven't been on great terms. Back in August, Katie Wimbush-Polk filed a defamation lawsuit against her son's ex, where a phone call that was had with a mutual friend transformed into an Amber Rose tirade where she had some choice words for Wiz's mother. On top of that, the lawsuit also claims that Rose told Wiz's mom that she was responsible for the death of her son, Dorien Thomaz, who died back in February from lymphoma.
Today, TMZ is reporting that Rose emerged victorious in court after the judge threw out the lawsuit based on the notion that nothing Rose said or did fell into the category of extreme or outrageous, which is what is needed in order to validate a claim of emotional distress. "Mere insults, indignities, threats, annoyances, petty oppressions, and other trivialities" are not the same thing, according to the judge who presided over the ruling.
In other words, the court is chalking this up to nothing more than just a nasty family beef. Unpleasant, yes. Worthy of awarding Wimbush-Polk tens of thousands of dollars in damages, as well as having Rose cover the legal costs, nope.
The spat has been a nasty one though, with Rose originally filing for a restraining order against Wimbush-Polk, fearing that if her former in-law was to lash out at her in front of Bash, the son she had with Wiz, the effects on the youngster could be negative. So far, there has been no official response from Khalifa himself regarding the case or today's ruling.
| | |
| --- | --- |
| WAS IT A BOP OR A FLOP?: Social Media Showed Split Reactions To Christina Aguilera's AMA Tribute to Whitney Houston (LET'S CHAT) | 20.11.17 |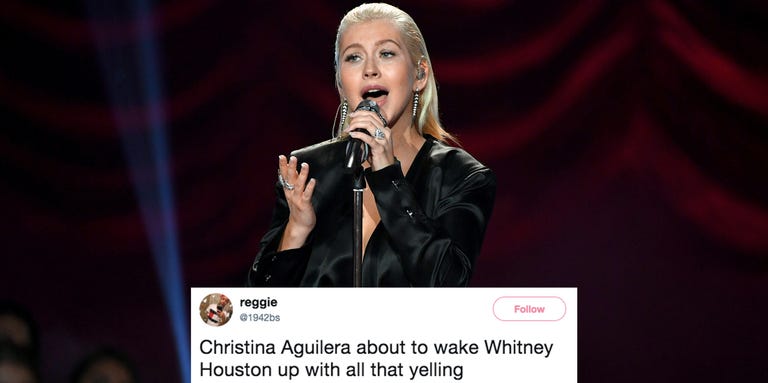 Sunday evening, Christina Aguilera took to the American Music Awards' stage to deliver on a tribute to the music in Whitney Houston's The Bodyguard film in honor of the late superstar. It was Oscar-winner Viola Davis who would introduce Aguilera, whose performance was one of the most highly-anticipated of the night.
Draped in a black satin dress, Aguilera opened up with the quintessential "I Will Always Love You," before transitioning into "I Have Nothing," and ending off with "I Run to You." All the while, scenes from the now-iconic film played in the background. The set would cap off with Houston's "I'm Every Woman" in an energetic closer.
This performance arrives in tandem with the film's 25th anniversary, dated for November 25th. The first three tracks of Aguilera's set originally appear on the film's soundtrack which lays claim to the title of being the best-selling movie album of all time after selling over 45 million copies worldwide.
Naturally, Twitter had varying opinions on Christina's rendition with a sea of mixed reactions making it hard to fully grasp the general consensus. Check out Twitters' top reactions below along with the performance itself. What do you guys think? BOP OR FLOP
Twitter is so annoying now. Christina Aguilera gave a GOOD emotional tribute to Whitney Houston and people are mad? #AMAs pic.twitter.com/FNFQqNEqTf

— 💎 (@nickitellem) November 20, 2017
Did y'all not see Ciara go say "she did okay" to Christina's performance?? The shadddeeeee #AMAs

— ɾϳ (@WarmAndWistful) November 20, 2017
Christina Aguilera's performance sounded like an American Idol audition gone wrong. #AMAs pic.twitter.com/hEbrFEh8iM

— keithan (@iamKeithan) November 20, 2017
Y'all need to give Christina some credit. She performed songs that even Whitney struggled with, in front of her peers and even members of Whitney's family. She did amazing and Whitney would've been proud, especially since Whitney LOVED Xtina.

— ️️ً (@ethanxrih) November 20, 2017
Christina looked stunning and sounded amazing!!! WOW! #AMAs pic.twitter.com/uhKf86Yc9p

— Shady Music Facts (@TheShadyFacts) November 20, 2017
Christina Aguilera is getting backlash for "over-singing" while an artist's performance gets praised while lip-syncing through the whole thing.

— LYZA (@OnlyVocalists) November 20, 2017
me when christina started going flat on all those notes pic.twitter.com/185XqXnA8G

— 💗⭐️💓💖✨💕 (@saturashun) November 20, 2017
People will hate on Christina Aguilera for being loud and doing runs then turn around and drag someone like Selena Gomez for not being able to do the same thing pic.twitter.com/KALuS85BiO

— la bella vita (@drugproblem) November 20, 2017
Christina U BETTER SING GURL U DID THAT
I will be waiting for that New Album! Whitney would be Proud
Amazinggggg!!! #AMAs pic.twitter.com/1beTWYXNfx

— TwizléyGøLD 🔮♔ (@Twizleyterrific) November 20, 2017
| | |
| --- | --- |
| THAT'S OUR GIRL!: Cardi B Says She's Taking Her Time with Her Highly Anticipated Debut Album: "I'm Just Focused On Quality" | 20.11.17 |
Since releasing her hit single "Bodak Yellow," there has been a lot of speculation as to what Cardi B's next move will be musically. There is definitely a full-length studio effort in the works from her but details remain scarce. However, the soon-to-be Mrs. Offset took to Twitter yesterday (November 19th) to share an update on that album with her fans, saying that, above all else, she's focused on delivering a quality product.
First off, Cardi touched on what many people forget is the downside to having a popular song, both on the radio and via streaming platforms: the mental angst that comes with trying to live up to those unspoken expectations. "I have a lot of pressure on me," she admitted. "I have songs stashed up. I just don't think they qualified for my album." While some fans may question what exactly makes the cut in that kind of scenario, it turns out that, depending on the day, Cardi B isn't sure herself. "Sometimes i think is ready sometimes i think it's not," she continued. "So I'm going to take my time till it's right."
I have a lot of pressure on me.I️ have songs stashed up .I just don't think they qualified for my album .Sometimes i think is ready sometimes i think it's not so I'm going to take my time till it's right.

— iamcardib (@iamcardib) November 19, 2017
I was thinking on doing that in December but that's really hard i got a lot of dope asss fans.Hard to pick https://t.co/IfMzlonrjN

— iamcardib (@iamcardib) November 19, 2017
A member of Cardi Nation turned up with the interesting proposition of creating an exclusive listening party for the album, whenever it does come out, by only making it open to select fans. The rapper was diplomatic, saying: "I was thinking on doing that in December but that's really hard i got a lot of dope asss fans. Hard to pick."
I have to say, while I myself can't wait for Cardi's debut, I respect and appreciate that she's taking her time to make sure it's perfect. Are you excited for Cardi's upcoming album?
| | |
| --- | --- |
| TOUCHED BY AN ANGEL: Actress & Soul Singer Della Reese Dead At 86 | 20.11.17 |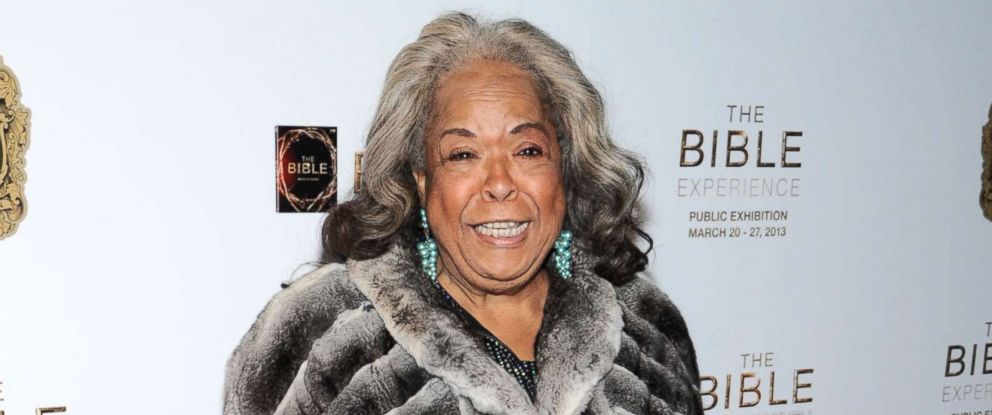 Della Reese, the music legend and star of Touched by an Angel, has died, a rep for Reese's Touched by an Angel co-star Roma Downey confirmed to folks over at The Hollywood Reporter. She was 86.
"On behalf of her husband, Franklin Lett, and all her friends and family, I share with you the news that our beloved Della Reese has passed away peacefully at her California home last evening surrounded by love," the statement reads.
"She was an incredible Wife, Mother, Grandmother, friend, and Pastor, as well as an award-winning actress and singer. Through her life and work she touched and inspired the lives of millions of people. She was a mother to me and I had the privilege of working with her side by side for so many years on Touched By An Angel. I know heaven has a brand new angel this day. Della Reese will be forever in our hearts. Rest In Peace, sweet angel. We love you."
"People need something to help them with their lives," Reese said in a 2008 interview with the Archive of American Television. "In Touched by an Angel, we didn't tell you what to do. If you were distraught and at a place where you felt there was nothing else to do, we would make a suggestion: 'Did you ever think about it like this? It doesn't have to be that way. You can change your mind and change your life.' It gave people at home, in the privacy of their homes, a chance to know that they too, could change their minds and change their life."
Reese was was born Delloreese Patricia Early on July 6, 1931, in Detroit. With a strong love for music and film, Reese's career first blossomed during her gig as a singer alongside the legendary Mahalia Jackson's. From there, she landed a record deal and released her first record in 1957; "And That Reminds Me." With her resounding vocals compared to Ella Fitzgerald, Reese crossed over after the release of "Don't You Know" and the EP titled, Della in 1960.
Variety adds Reese also made history as the first African-American woman to host a daytime talk show in 1969.
While her music was always appreciated by fans, Reese went on to try her hand at acting. Her first gig included The Mod Squad in 1968 and later found fanfare in Chico and the Man. A string of TV guest spots soon followed but fans know Della best due to her role as Tess on Touched by an Angel. After its cancellation in the 1994-95 season, fans demanded its return and it became a hit for CBS, lasting nine seasons.
To most of us, she'll be remembered as our favorite auntie. She is survived by her husband Franklin Lett.
| | |
| --- | --- |
| SWIPING MORE THAN RUSH CARDS?: Russell Simmons Accused Of Sexually Assaulting 17-Year-Old As Brett Ratner Watched | 19.11.17 |
Keri Claussen Khalighi has accused Russell Simmons of sexually assaulting her at age 17 while Brett Ratner was present. According to an article published by the L.A. Times Sunday, Khalighi says she met Simmons and Ratner at a casting call when she was working as a model in 1991. At the time, Ratner was something of a protege to Simmons as he entered the world of music video directing. Khalighi claims that the two men took her to dinner in New York before inviting her to Simmons' apartment to show her a music video they were working on. When she arrived, she says Simmons made "aggressive sexual advances" towards her, and was "yanking" off her clothes. When she looked to Ratner for help, she says he did not intervene: "In that moment, the realization fell on me that they were in it together."
Khalighi goes on to state that Simmons attempted to force her to have intercourse, which she "fought wildly." He then coerced her to perform oral sex, she says: "I guess I just acquiesced." At this time, she says Ratner "just sat there and watched." When Khalighi took a shower because she felt "disgusting," Simmons penetrated her without her consent from behind, she says: "It hurt so much."
Simmons has disputed Khalighi's claims in a statement published in the same L.A. Times story, as well as in a more detailed response posted to Twitter. "I know Keri Claussen Khalighi and remember the weekend in 1991 that she has referenced," he wrote. "Everything that happened between us 26 years ago was completely consensual and with Keri's full participation. Let me be crystal clear and very direct. Abusing women in any way shape or form violates the very core of my being. I have always spoken out regarding my life experiences, women's issues and the need to bring a faster and more decisive shift in the collective consciousness that will help bring about true women's equality."
Ratner's attorney, Marty Singer, says his client has "no recollection" of Khalili requesting for help. Six women, including actresses Olivia Munn and Natasha Henstridge, accused Ratner of sexual misconduct in an L.A. Times article published earlier this month.
Tanya Reid, who was an 18-year-old aspiring model in 1994, has also accused Simmons and Ratner of sexual misconduct. She says Simmons called her while she was working at the front desk of a hotel. "I remember this very, very clearly, the exact words he said on the phone. He wanted me to come upstairs so Brett could hold me down and he could [perform oral sex]." She says that Ratner asked if she wanted to be a model in a music video, and she gave him her phone number. He later came to her apartment and asked for oral sex while in the living room. When she asked if they could just kiss, he "allegedly used his hand to push her head to his groin. Eventually, she said she gave in." Ratner's attorney says that the director does not recall Reid or the alleged incident in question. In Simmons' statement, he addresses the phone call allegation: "I mean no disrespect to her when I say I do not recall a conversation with a hotel front desk clerk over a quarter of a century ago."
Read Russell Simmons' full statement below.
Statement of Russell Simmons in Response to LA Times Article. pic.twitter.com/iwT7Wy3SoY

— Russell Simmons (@UncleRUSH) November 19, 2017