| | |
| --- | --- |
| ALL ABOUT THE BENJAMINS: Lil' Kim Named as 'Person of Interest' Following LA Robbery | 27.06.17 |
A report has named rapper Lil Kim as a "person of interest" after a robbery at an LA house over the weekend.
According to the report, a dispute arose between Lil Kim and a woman that she was trying to rent a house from for a BET weekend party. When it turned out that the house wasn't what Kim had expected, the rapper demanded her money back.
The police were called to settle the dispute, but allegedly told the parties that because it was a civil matter, they couldn't intervene.
The report then states that at 4 a.m. on Sunday morning "a group of people showed up at the house with ski masks and weapons and got what they were after … Kim's deposit check and cash, totaling at least $20,000." Law enforcement officials also told TMZ that the victim's vehicle's tires were slashed and had a hubcap stolen. A robbery investigation has since been launched.
According to TMZ, Lil Kim's people have yet to speak out about this latest controversy.
| | |
| --- | --- |
| AND THE STORY CONTINUES: Meek Mill Reportedly Warned Safaree To Stay Away From BET Awards Before Attack | 27.06.17 |
Days after Safaree Samuels, rapper and ex to Nicki Minaj, was jumped outside a West Hollywood club, allegedly by members of Meek Mill's crew, it has been reported that the Love & Hip Hop: Hollywood star was warned not to attend the awards weekend.
That warning allegedly came out of Meek Mill's camp, according to TMZ.
Safaree is said to have received the warning days before the weekend kicked off, but didn't seem too concerned by the threat, given that he appeared at a BET Awards weekend event hosted by DJ Khaled on Friday (June 23).
It was at this West Hollywood event that Safaree was attacked by a handful of members allegedly from Meek's entourage, as the Philly rhymer made his arrival at Khaled's pre-BET Awards party.
Clad in all white, Safaree dodged his way from the goons and cursed out Meek from a safe distance.
Following the incident, he uploaded video to social media blasting Meek for the attack. Safaree is reportedly ready to physically duke it out with Meek after this weekend's encounter.
Meek has denied any involvement in the attack.
Meek has denied any involvement in the attack.
| | |
| --- | --- |
| THE GRAPEVINE: Is BET CEO Debra Lee On Her Way Out of the Door?: "Her Days Are Numbered" | 27.06.17 |
Rumors are swirling yet again that BET's longtime CEO Debra Lee may be preparing to exit after the network's awards aired Sunday.
"Tons of people from Viacom were saying that her days are numbered," an insider reportedly revealed to Page Six.
"She's been running the place, and it's struggling . . . There are so many layers of internal politics . . . It takes 20 calls to get through one insignificant thing."
Another source said, "I hear it's about to go down, and it's her last BET Awards . . . Morale is bad. She moved to LA, and I believe she's trying to get into one of the studios."
It was first reported in May of industry buzz that Lee could be exiting. But a Viacom stated at the time of the new departure rumor: "It simply isn't true."
| | |
| --- | --- |
| TOO FAR?: Joseline Hernandez Attacks Stevie J's Daughter on Twitter! Calls Her A 'Hoe' | 27.06.17 |
Joseline Hernandez went on a twitter rant Tuesday after one of Stevie J's daughter's confessed she had serious concerns about her father's romantic affairs on a recent episode of 'Love & Hip Hop Atlanta.'
Savannah Jordan, Stevie J's 18-year-old daughter, made it painfully clear that she isn't here for any type of reconciliation between her father and Hernandez.
On Monday night's episode of 'LHHATL,' Jordan sat down with Mimi Faust, who shares a seven-year-old daughter with Stevie, to express that she feels her father's relationship with Hernandez is "toxic."
"I'm sorry this happened. I just hope that at some point your dad can wake up and see what everyone else sees," Mimi said.
"I just hope that our family — me, you, Eva, Sade, Steven, Dorian — all of us can stay together," Savannah responded. "For the sake of all of us. She's so toxic to him," she continued.
Hernandez took to Twitter on Monday to slam Jordan in two tweets.
That hoe mad cause I run her daddy. Now run along and find your own cock to suck. You nappy head ✌️ https://t.co/ob10pN9r3l

— Joseline Hernandez (@MsJoseline) June 27, 2017
When social media users called the reality star out for berating Stevie's child, she again clapped back.
That young lady is 18. She's grown enough to ditch it out she will grown who to take it!! I'm done with this conversation. Back to Reality https://t.co/YXHQ02Di3r

— Joseline Hernandez (@MsJoseline) June 27, 2017
Both Hernandez and Jordan have shared heated words on the internet in the past. On a previous episode of 'LHHATL,' the two women almost came to blows at a family meeting. Kids should be off limits, what's with the sudden increase of that lately on reality television?
| | |
| --- | --- |
| A HOUSE IS NOT A HOME: Beyoncé & JAY-Z Unable To Find a Permanent Home Despite $75 Million Budget | 27.06.17 |
Beyoncé and JAY-Z have settled into a rental home in Malibu, California, with their daughter, Blue Ivy, and their newborn twins. The power couple is said to be spending around $400,000 a month for the 10-bedroom abode that sits on over six acres and has breathtaking views of the ocean. And while the Carters have been calling this villa home for the past week or so, it's actually not their permanent home.
According to TMZ, Beyoncé and JAY-Z have been looking to buy a place in California for several years. The couple decided a while back to move from their impressive condo in TriBeCa, New York, to raise their family on the West Coast. However, they haven't found the perfect piece of property that fits their needs.
The report indicates that the couple has about $75 million to burn, but they can't find something that works for them. Sources tell the site that Bey and Jay want something "baller," but the properties that they have liked have been priced in the $150 million range. Believe it or not, even the richest people in the world have a budget, and with three children living under their roof, can you blame them?
"They want a super baller, crazy estate." sources said.
Before Beyoncé gave birth on June 12, the couple had reportedly been living in a hotel. It's unclear how long they lived in a hotel before moving to Malibu, but sources say that the family is planning to move before the fall. Blue Ivy is enrolled in a school in Los Angeles, and the drive from Malibu on a daily basis would be a nightmare.
That means Beyoncé has to take care of her twins; the ones who were born premature and released from the hospital after about 10 days, and she will probably worry about finding a place to live before the end of the summer. It sounds like things for the Carters are a bit hectic at the moment!
No word on exactly what Beyoncé and JAY-Z are looking for in a home, but when they find it, they're going to buy it. And they are probably going to live there for a long, long time.
| | |
| --- | --- |
| DID ANYONE CALL PLIES?: Leslie Jones Accuses the Infamous Ritz Carlton Hotel of Racism!: "They Don't Like Black People!" | 27.06.17 |
Leslie Jones has a bone to pick with this Los Angeles Ritz Carlton hotel.
The Saturday Night Live star shared an all-caps criticism on Twitter Monday, and fans are riled up about the accusations. Leslie Jones suggested the Ritz-Carlton was racist when she stayed there after hosting the BET Awards on Sunday.
"Wow was such a great night at the BET awards. But then had THE WORST STAY @RitzCarlton DO NOT STAY THERE!! THEY DONT LIKE BLACK PEOPLE!!" Jones tweeted on Monday. The tweet has already garnered more than 1,300 likes and 300 retweets.
Jones hasn't elaborated on what circumstances led to her unpleasant stay, or what she experienced at the hotel. For the Ritz-Carlton's part, they've tweeted two apologies to the comedian.
"@Lesdoggg We're sorry to hear this. We pride ourselves on providing excellent service to all. Please DM us & we'll look into this right away," the luxury hotel chain's first tweet read.
Wow was such a great night at the BET awards. But then had THE WORST STAY @RitzCarlton DO NOT STAY THERE!! THEY DONT LIKE BLACK PEOPLE!!

— Leslie Jones (@Lesdoggg) June 26, 2017
@Lesdoggg We're sorry to hear this. We pride ourselves on providing excellent service to all. Please DM us & we'll look into this right away

— The Ritz-Carlton (@RitzCarlton) June 26, 2017
The Ritz-Carlton's second tweet — possibly after their team realized Jones was a celebrity who might not go for the standard customer-service DM — was even more apologetic. They added a "very" before the sorry in their followup tweet.
"@Lesdoggg We're very sorry to hear this. We pride ourselves on providing excellent service to all. Please DM us & we'll look into this right away," the hotel tweeted on Monday night.
"Diversity and inclusion are part of the fabric of The Ritz-Carlton's culture and operations. We remain committed to providing an environment where all feel welcome," the hotel chain said in an emailed statement to Refinery29. "While we do not comment publicly about individual guests, we take every guest concern seriously and work quickly to resolve issues."
Jones has yet to respond to the Ritz-Carlton's tweets.
| | |
| --- | --- |
| GRAINS OF SALT: Karrueche Tran Was Allegedly "Terrified" of Running Into Chris Brown at BET Awards | 27.06.17 |
Despite producers doing their best to keep the two apart, Karrueche Tran was reportedly "terrified" of running into Chris Brown at the 2017 BET Awards.
Chris performed with Gucci Mane during the show while Karrueche, who was just granted a 5-year restraining order against her ex, was a presenter. A source told site Hollywood Life she was on pins and needles the entire night.
"Karrueche was always watching her back and didn't really know what to expect last night while she was at the BET Awards. She was terrified that she would run into Chris all night and was literally always watching her back."
"It was weird to be on pins and needles the whole time but that is exactly what things felt like for her," the source added.
Attempting to adhere to the restraining order which keeps Chris 100 yards away from Karrueche, BET Awards producers made accommodations. According to TMZ, producers placed Karrueche in a holding room during Chris' performance (she reportedly didn't watch). Chris was also never in the audience; he remained backstage the entire show.
TMZ also reports that the two were invited to the show prior to the restraining order. However, they did give Karrueche notice that Chris would also be in attendance.
Karrueche was granted a 5-year restraining order against Chris earlier this month after alleging he made several violent threats via text messages since their break up. She also revealed he was physically abusive during their relationship.
| | |
| --- | --- |
| FIRST LOOK: Tamar Isn't Done; Premieres Emotional Music Video for Equally Emotional Single "My Man" (Video) | 26.06.17 |
Sunday night, Tamar Braxton took the 2017 BET Awards stage to perform her new single, "My Man." Now, the song has a music video to go along with it on the heels of that amazing performance.
The music video is shot in black and white and tells the true story of her own parents' infidelity issues. The music video features Braxton discovering that her man is cheating on her with a friend, and she finds the hotel where the two of them are. Braxton then unleashes her rage on the friend and her "man."
"Word around town is that you live with her / And you said that she took your heart away / I told them that's a lie / Cause I don't want to hear no bullsh** stories about my man," she sings in "My Man."
Later this year, Braxton will be releasing a new album through Tamartian Land Records and Entertainment One. In the meantime, you can check out the music video below:
| | |
| --- | --- |
| ARE YOU DUMB?: No Matter How Bad Some "Barbz" May Hate it; Remy Ma Has Made One of the Best Comeback Stories Ever & Snatched the 'Best Female Hip Hop' BET Award (DEAL) | 26.06.17 |
Three years removed from leaving a prison cell, Remy Ma has earned herself a huge victory at the 2017 BET Awards, taking home the trophy for Best Female Hip-Hop Artist at the star-studded awards show. Other nominees included Cardi B, Young M.A, Missy Elliott and, of course, Nicki Minaj. We'll get back to her in a little bit.
Powered by singles like "All the Way Up" and "Money Showers," Remy's turning plenty of heads over the last year, and she's now found herself in a spot that was probably hard for her to envision being in a few years back.
During a speech that was as earnest as it was confrontational, Remy shouted out her husband, Papoose, the correctional facility she was incarcerated in, her fellow Terror Squad member Fat Joe before throwing some bars denouncing certain someones—or somebody. Pretty epic moment we'll be hearing a lot about in the near future.
"I want to thank God, first and foremost, I've been through a lot," Remy says in the beginning of her acceptance speech. "To everybody who thinks there's no such thing as second chances, I'm here to tell you that's a lie. You just gotta keep working hard. Shout out to everybody in Bedford Hills Correctional Facility, Albion Correctional Facility. Anybody on parole—it's hard, but you can do it. You can get second chances, you can make mistakes and come back. My husband—Black love—I love you Papoose. When I didn't believe in myself, you believed in me. My business partner, my brother, Fat Joe Crack. The whole entire team, Remy Mafia."
Remy capped things off by delivering four bars from her Plata O Plomo song, "Spaghetti.""I just wanna say, 'Y'all bitches got fat while we starved/Shots in your ass, pads in your bras/Y'all some liars it ain't no facts in your songs/And yeah that crown is coming back to the Bronx," Remy rapped. Who do you think she's talking to?
In any case, shouts out to Remy for beating the odds and finding her way near the top of the rap game. She's definitely earned it.
| | |
| --- | --- |
| BABIES LET ME UPGRADE YOU: Beyoncé and JAY-Z's Reportedly Bring Newborn Twins Home from the Hospital & into a $400,000 Per Month Malibu Mansion! | 26.06.17 |
Beyoncé and JAY-Z reportedly took their newborn twins home from the hospital late last week, according to TMZ. The newborns' first home? A sprawling, $400,000-per-month Malibu rental, according to the reports.
A real-estate source confirmed to that the couple rented a fully furnished, 10-bed, 14-bath villa earlier this month and that the family will live there until they find a permanent residence in Los Angeles.
But it wasn't just the twins Beyoncé took home this past week: The multi-Grammy-winning singer dominated the BET Awards on Sunday night, winning five of the seven categories she was nominated for, including best female R&B/pop artist and album of the year (for Lemonade).
Although the singer was not present at the Leslie Jones-hosted show — presumably cozying up with the twins and the rest of her family in their new home — her protégés Chloe x Halle were in the building and accepted the Coca-Cola Viewer's Choice Award for "Sorry" on "Miss Bey's" behalf by reading a heartfelt "note of gratitude" the star wrote.
In the note, Beyoncé thanked her mother and family, her fans and BET for their support of Lemonade.
| | |
| --- | --- |
| THIS IS WHY WE CANT HAVE NICE THINGS: Migos Nearly Fight Both Chris Brown and Joe Budden During Two Separate Altercations at the BET Awards | 26.06.17 |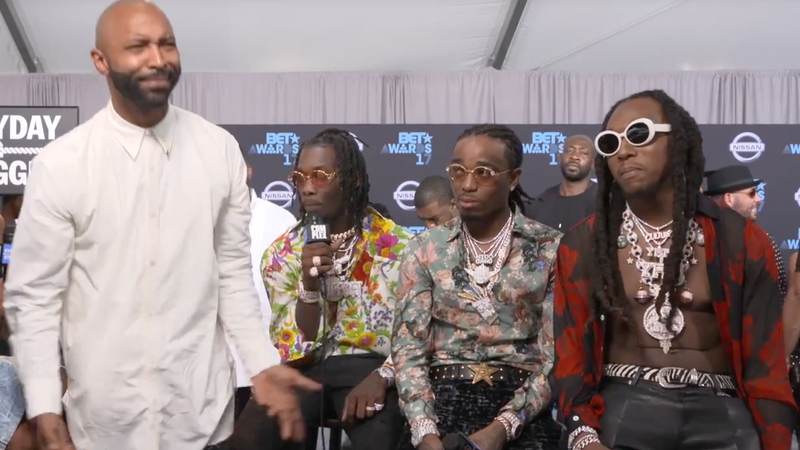 All hell nearly broke loose at the 2017 BET Awards, and it would have been unleashed by the exquisitely stylish Migos, who nearly came to blows with rapper and Everyday Struggle co-host Joe Budden. You can see the video below.
The exchange that led to the near-scuffle began with Everyday Struggle co-host DJ Akademiks asking Takeoff how it felt not having a verse on "Bad and Boujee," which stands as the rap trio's biggest hit to date. Akademiks described the absence of a Takeoff verse on the track being a running joke and Takeoff wasn't having it.
"You said I'm left off 'Bad and Boujee?' Does it look like I'm left off 'Bad and Boujee?'" Takeoff said to Akademiks. It's at that point the collective tension becomes palpable. Never one to back down, Budden quickly told Akademiks to "wrap up" their interview questions, to which Quavo responded, "Wrap it up then."
A few moments later, Budden chucked his microphone to the ground and walked away from the set of his interview. Quavo, Offset and Takeoff quickly rise from their chairs one after the other in a scene that looked so well choreographed, it could've been from Guardians of the Galaxy: Vol 2.
Quavo can be heard saying, "What you trying to do?" clearly taking offense as he and the rest of his clique prepare for fisticuffs. We see someone who appears to be a member of the Migos' entourage, perhaps DJ Durel, pop into the scene a few seconds later, but security steps in to break up the would-be scuffle within moments. Disaster averted.
This near rapper versus rap media battle would have been a fitting addition to a super eventful night for the Atlanta rap group, which also took home the Best Group trophy at the awards show. After the show, the crew was allegedly involved in a confrontation with Chris Brown.
Apparently, one of C. Breezy's crew members pushed Quavo after the awards show, and Migos' people got punched as soon as they entered the fray. Quavo is rumored to be dating C. Breezy's ex-girlfriend Karrueche Tran, and it's been reported Breezy wasn't happy about it.
In any case, peep Budden's near scuffle with Migos below.
11AM EST. #EveryDayStruggle pic.twitter.com/WAZLYjdjV2

— Everyday Struggle (@EverydayStrugg) June 26, 2017
| | |
| --- | --- |
| STAND UP GUY: Chance the Rapper Makes Powerful Call for Social Justice & Commits to Being a "Better Man" While Accepting 2017 BET Humanitarian Award | 26.06.17 |
Not only did Chance the Rapper receive a long-awaited Best New Artist award at the 2017 BET Awards, but the 24-year-old was also honored with the Humanitarian Award during the ceremony. For his acceptance speech, he took time to point out a number of national issues he wants to see tackled and reformed.
Before Chance took the stage, former First Lady Michelle Obama joined the telecast through a pre-recorded video message, in which she gave her apologies for not being there in person to honor the young rapper and new father. The fellow Chicago native called him an "outstanding role model" as well as her friend. Chance was visibly overwhelmed by the award, noting how young he is and that it "feels a little early" to be receiving such an honor.
As the audience cheers grew louder, he listed a number of major issues that he feels must be addressed, including the freeing of those jailed for selling marijuana as the substance becomes legal in a growing number of states. He then made a plea to the Chicago Public Schools system to deny a problematic loan from Chase Bank since many schools "plan on failing" in his district.
From there, he noted how he plans to work on being a better father, cousin and man by getting more involved in helping more people worldwide. "My God is putting the pressure on me so I can become who I'm supposed to be," he added. "I'm a good man and I'm going to become a better man."