| | |
| --- | --- |
| NO INVASIONS OF PRIVACY HERE: Cardi B is Reportedly Rejecting Major Offers for Her Daughter Kulture's Baby Pictures | 16.07.18 |
The rapper is choosing privacy for the time being.
Cardi B is turning down offers when it comes to sharing pictures of her newborn baby with the public. Apparently, the rapper can make big money if she decides to sell her daughter's image. It is reported that multiple magazines, websites and photo agencies have shared their interest in capturing and publishing Kulture's very first photoshoot. The offers came with hefty numbers, hitting $100k and beyond.
This decision is not completely final, however. Although Offset and Cardi are not prepared for their daughter's debut just yet, they are likely to consider it in the future. It is said that the couple might start considering the possibility in a few months. In the meantime, Cardi is focusing on spending time with Kulture and bonding with the infant.
The couple has a tendency for privacy. Even there shotgun wedding was done in secrecy, only coming to light when the "Bodak Yellow" star decided to dispell criticism that was meant to shame her for allegedly having a child out of wedlock. Still, they pick particular occasions to let their fans in. Their "Bronx Fairytale" baby shower, for example, was a huge hit. An exclusive look inside the lavish event was also made available to their fans.
| | |
| --- | --- |
| HOW TO CATCH A BALLER: Amber Rose Appears to Be Boo'd Up with NBA Player Monte Morris (PHOTOS) | 16.07.18 |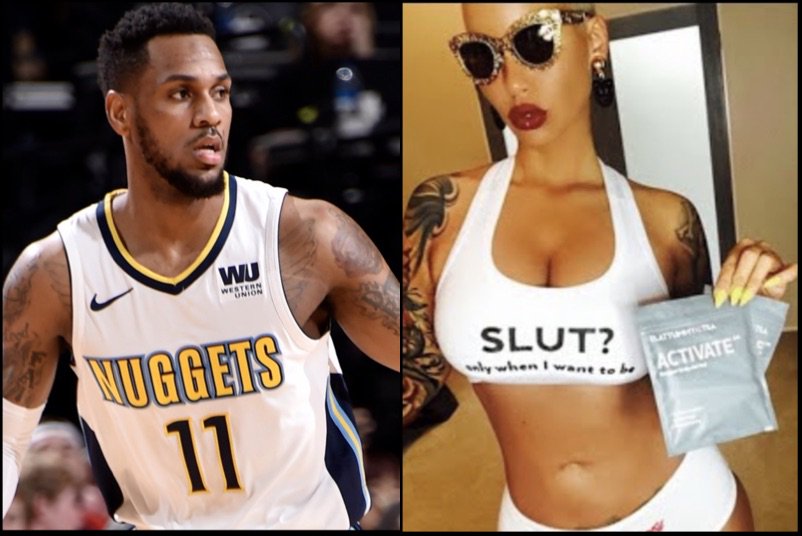 Amber Rose links up with a new man.
Amber Rose has been spotted out and about with a new possible fling by her side. The 34-year-old was seen strolling in a matching get-up holding hands with an unidentified man.
Since the paparazzi shots were shared on The Shade room, some troll worthy comments have helped to point out that the guy looks a lot like Denver Nuggets player, Monte Morris. It's pretty safe to say it's him since tattoos don't lie. Check it out below and tell us what you think.
Morris spent last season in the G League with the Rio Grande Valley Vipers, averaging 18.0 points, 6.6 assists, and 4.5 rebounds per game. He didn't get much action in the league, appearing in only three games.
The 23-year-old was a standout for the Iowa State Cyclones, and as a senior, he averaged 16.4 points per game. Michigan's Mr. Basketball in 2013, he was named First-team All-Big 12 in 2017.
The Nuggets selected him in the second round (No. 51 overall) of the 2017 draft.
Rose, of course, previously dated Kanye West and was married to Wiz Khalifa. More recently, she was involved with 21 Savage, the 25-year-old rapper. Monte's IG photos have already filled up with comments about Amber and 21 Savage.
Check out the photos below:
| | |
| --- | --- |
| TROUBLE MAN?: T.I. Faces Assault Charges For A Drunken Altercation With A Security Guard | 16.07.18 |
The rapper is charged with 3 misdemeanors.
T.I. is facing legal troubles that stem from an event that occurred in May. The rapper was involved in a drunken disagreement with a security guard that resulted in his being arrested. At the time, he was attempting to enter a gated community. When the security guard refused his entry into the premises, T.I. became aggressive, spewing threats and asking the individual to exit the guard shack. The guard decided to call legal authorities to the location when faced with the drunken outburst. Henry County prosecutors have filed charges against the Georgia native. These charges include simple assault, public drunkenness, and disorderly conduct.
His lawyer, Steve Sadow, is said to have labeled the allegations as "baseless, ill-founded and unjustified." He also stated that the security guard in question, "was fired for the way he handled the situation with T.I." It is reported that this situation is not likely to result in any jail time.
These are not the only legal issues the entertainer needs to deal with. He is still involved in drawn-out proceedings with his wife Tiny. The couple has yet to finalize their divorce. Their complex dispute involves Tiny hiring a private investigator to track her husband's movements.
| | |
| --- | --- |
| WHEW, CHILE! THE GHETTO: Lil Boosie Responds to Baby Mama Exposing Him As Her Brother's Killer – "B*tch, You a Hoe" | 16.07.18 |
Lil Boosie is caught up in some baby mama drama. His daughter's mother took to Instagram live to air out some of their family's dirty, including how he threated to kill her. The rapper's daughter, Tori, is said to have received these abusive messages targetting her mother. The live clip was broadcast through Tori's account. During the session, a clip is played that appears to capture Boosie's voice threatening to blacken Tori's eye and kill her mother as he did Tori's uncle. The rapper was previously accused of playing a role in her uncle's death but was acquitted for lack of evidence.
it's lookin bad potna!!!!!!!! @BOOSIEOFFICIAL pic.twitter.com/t8t7EdGC47

— JayZOverrat3d (@JayZOverrat3d) July 16, 2018
Lil Boosie had time to respond to these claims. He did not actually engage in a logical rebuttal, however. Instead, he opted to discredit the woman's assertions by portraying her as morally weak. He laughs as he tries to shame her for sexual activities they participated in together:"B*tch, you a h*e. You f*cked two best friends at the same time."
Now, his belief that her character is laughable did not keep him from impregnating her. The woman says their relationship started when she was 16 but was never acknowledged publicly.
| | |
| --- | --- |
| NOT ME, GIRL!: Kendrick Lamar & SZA Fight Back In "Black Panther" Lawsuit Against Artist | 15.07.18 |
Kendrick and SZA want the lawsuit to be discarded because of "common sense and logic."
The TDE roster is absolutely stacked these days. With Kendrick Lamar leading the group, SZA offers something unlike many of her rapping peers, bringing ferocious R&B flavor to the table. Growing her brand to an immense level over the course of the last two years, SZA is one of the most established members of the label. Her collaboration with Kenny on Black Panther's "All The Stars" is one of the best songs on the soundtrack but it has been wrapped up in controversy since a lawsuit was filed, citing plagiarism on the part of the two artists in the video.
We've previously reported on Lena Iris Viktor's suit against the superstars for the unauthorized use of her art in the "All The Stars" video. While she may believe the success of the song and soundtrack is due in part to her work being featured, SZA and Kendrick believe otherwise. According to TMZ, the pair have filed documents to have the lawsuit thrown out of court, because, in their minds, anybody using "common sense and logic" would know that the song would have been successful either way. In a way, they're absolutely correct. When two stars as popular as Kendrick Lamar and SZA team up, the public will take notice. However, if the art was stolen, they are definitely in the wrong.
The two are saying that Viktor is not entitled to any of the profits made because the song blew up solely due to Kendrick's "worldwide popularity as well as numerous accolades, including a Pulitzer Prize and dozens of Grammys."
| | |
| --- | --- |
| I KNOW YOU LYING: Britney Spears Performs Choreography To Her Migos "Walk It Talk It" Remix (VIDEO) | 15.07.18 |
Someone somewhere thought this was a good idea.
Britney Spears is undoubtedly an icon. She rose to mainstream fame thanks to her dancing abilities, which set her apart from her contemporaries, such as Christina Aguilera and Jessica Simpson. Video footage of a performance by the star is chipping at this legacy. For some reason, her team choreographed part of her dance routine to a mashup of Migos' "Walk It Talk It" and Spears' "I'm A Slave 4 U." The artist's rendition of the choreography left some fans unimpressed.
Slave 4 U (Migos remix) pic.twitter.com/0b1hraqjSD

— Britney Army (@BlessBritney) July 13, 2018
So far, Instagram user @lovedarrenfleet is the most vocal. The comedian posted a reaction video to make light of her dancing skills. In the clip, Fleet says, "Someone please tell sister Spears she ain't got it no more. That ain't even how that song go." He continues to point out how the remix in itself was mediocre at best:" How the f*ck you gon' slow down the song and make it white people friendly and still couldn't keep up with the sh*t." He's got a point. The track's swing is completely off. Britney Spears would have made the Soul Train crash.
Still, the effort to keep her shows interesting is appreciated. The pop star hasn't dropped any full-length projects since 2016. Then again, the industry veteran has 9 studio albums worth of tracks to keep her fans satisfied.
| | |
| --- | --- |
| RACK CITY, BIH: Tyga Ordered to Pay $157,000 for Abandoning a Leased Land Rover | 15.07.18 |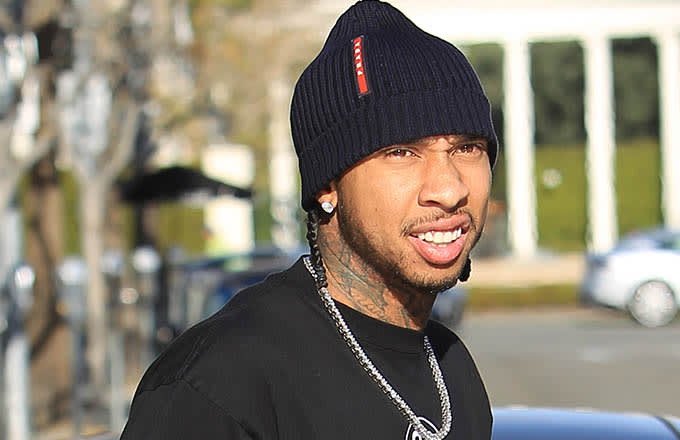 The rapper seems unphased when it comes to his legal troubles.
A 2014 Land Rover is the cause of Tyga's latest legal issue. He had leased the vehicle from a company called Midway HFCA and failed to actually return it. The Range Rover ATB was technically abandoned when it was left at a repair shop named Final Touch Collision without ever being retrieved. Since Tyga defaulted on his lease, he is being sued by Midway for fraud. They had agreed that the artist would pay $3,998 over 36 months, with the option to eventually purchase the Range Rover. Although several payments were made, $22,739 were in arrears at the time of the court filing that demanded $202,739 in damages.
Tyga has yet to make any attempts to fight the lawsuit. The Californa native failed to show up to court. Ultimately, the judge ruled in favor of Midway by issuing a default judgment of $141k in damages in addition to interest and legal fees. The total to be paid is $157,152.60. Considering the price range of the high-end SUV, Tyga could have bought it bought it at a small difference of the ruling's amount. The rapper should hire an assistant or fire the one he already has.
Still, this matter is minute in comparison to the other lawsuit he has been dealt. Tyga is also being sued by a club in Dubai for allegedly bailing on a gig. The club claims the damaged caused by Tyga's actions amount to $1,482,000 in damages.
| | |
| --- | --- |
| KEEP YOUR HEAD UP!: Serena Williams In Tears After First Wimbledon Loss In 10 Years (VIDEO) | 15.07.18 |
The athlete stated, "I was really happy to get this far. For all the moms out there, I was playing for you today"
Many were rooting for the athlete during this year's Wimbledon season not only because of her obvious talent but also because of her being just one victory away from tying Margaret Court's record of 24 Grand Slams. Another factor that added to the excitement is the novelty of her motherhood. Williams and her then-fiancé, Alexis Ohanian, welcomed their first-born daughter in September 2017. This childbirth was harder than usual and the process, which was overwhelmed with complications, almost cost the new mother her life. As such, Williams has been grinding hard to get her body back into its competitive shape.
Still, it wasn't enough to keep Germany's Angelique Kerber from winning the final on Saturday. This marks Williams' first Wimbledon loss since 2008 when her sister Venus Williams won the title. The tennis star was moved to tears after the match when asked questions about her journey this year. She had some words for all of her fellow mothers: "To all the moms out there, I was playing out there for you today and I tried." When the interviewer referred to her as a supermom, Williams replied that she was "just me".
"I was really happy to get this far. For all the moms out there, I was playing for you today"

Grace, poise and emotion. A runner-up's interview given by a true champion.@SerenaWilliams 👏 #Wimbledon pic.twitter.com/jjtw3cWyEq

— Wimbledon (@Wimbledon) July 14, 2018
Though her speech was full of humility, Serena is not ready to throw in the towel:"I look forward to continuing to be back out here and do what I do best."
| | |
| --- | --- |
| SOMEBODY COME LOOK AT THIS: Taylor Swift's Floating Platform Malfunctions – "Pretty Sure I'm Stuck Up Here!" (VIDEO) | 15.07.18 |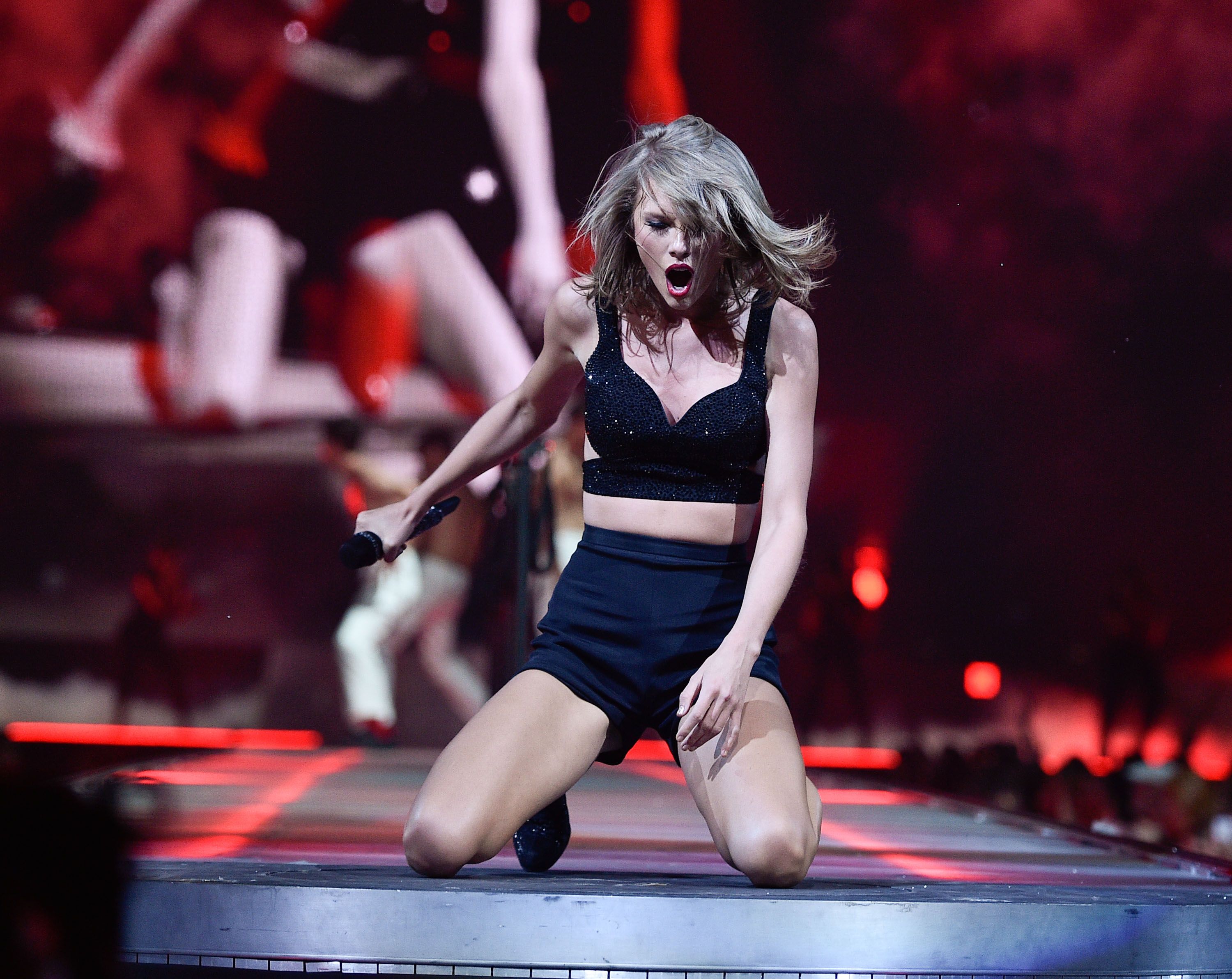 The singer's "Reputation" tour date hit an awkward pause Saturday night.
It may be time to do a recall on all floating stages. After Beyoncé found herself briefly stranded on an elevated platform at show on her On The Run II tour a few weeks back, Taylor Swift has suffered a similar fate at her concert in Philadelphia Saturday night.
Things didn't seem all that out of the ordinary as Taylor Swift floated up in a glowing cage as she performed her Reputation single "Delicate," but it became clear to fans that something was not quite right when Taylor playfully blurted out "I think I'm stuck up here!" mid-song. By the end of the track, Swift had been lowered to the ground, where she explained that she was meant to be carried all the way to the other side of the stadium by the "sparkly basket."
After awkwardly "chillin' waiting to figure out what happens next," discussing options with her stage crew and cracking some jokes, Swift eventually boarded another cage which took where she needed to go. You can watch some footage of the whole ordeal via TMZ above.
Taylor is currently on her Reputation tour with Camila Cabello and Charli XCX, who as far as we know, have not found themselves stuck in sparkly baskets just yet. At this point, it seems to be a rite of passage as a pop star, so we're sure it will happen soon enough.
| | |
| --- | --- |
| NOT SO FAST!: Nick Cannon Responds To Azealia Banks' Accusation Of Mistreatment On "Wild'n Out" – "I'm Praying for You, Queen" | 15.07.18 |
Azealia Banks put the cast members of Wild'n Out on blast after her appearance on the show. As reported, Banks alleged that cast members sabotaged her by making "colorist" remarks, and by really lowballing her. For the record, Wild'n Out is a sketch comedy show, known to dip below levels of political correctness, often times veering on the side of crude and easy jokes, for which Nick Cannon is directly responsible as the show's host and creator.
Banks first made her feelings known in the above post, then resorted to the Instagram Story feature for additional commentary, adding: "If I were to make fun of Nick Cannon for having lupus and being weak and sickly….If I made a joke that said he'd be dead by the end of the year….Then Azealia Banks is the bad guy…. right?"
Inevitably word got around to Nick Cannon that she'd referenced him by name. He then chose to enliven her post on his own page with a not so well intended message, in which he referenced a familiar proverb: "creating storms without an umbrella." Nick Cannon closed his message by mocking her mental illness and by offering prayers for a "speedy recovery."
| | |
| --- | --- |
| FACTS OR REACHING?: Kim Kardashian Defends Kylie Jenner Amid Forbes Article Backlash – "We Are All Self-Made" | 15.07.18 |
Kim says she and her sisters never depended on their wealthy parents for "anything besides advice."
Kim Kardashian has come to Kylie Jenner's defense after a recent article in Forbes faced backlash when readers took issue with its claim that Kylie is on her way to becoming the youngest "self-made" billionaire. The "billionaire" part was not the issue, as the numbers are indisputable, but the categorization of Kylie as "self-made," considering the money and fame she was born into as a member of the Kardashian empire, has many questioning the accuracy of the title. Kim Kardashian, however, is sure that Kylie is self-made, along with the rest of the family, as she said in an interview with Refinery29.
"I really didn't get it, because she is 'self-made' — we are all 'self-made,'" she said. "What, because we came from a family that has had success? To me, that doesn't really make sense… I know so many people like that [who] haven't turned out to be as successful as Kylie. If anything, I've seen the complete opposite."
According to Kim, she and her sisters did not depend on their wealthy parents for "anything besides advice." "That's how I lived my life with my dad [Robert Kardashian]. He never gave me anything. We might have the opportunity, but I've seen it go the complete opposite way. Nobody works harder than my sisters and my mom," she said.
It seems hard to believe that Kim's comments will silence Kylie's critics, but it seems they won't stop Kylie from hitting a billion off her makeup line. In fact, a facetious GoFundMe has been opened to help her get there.
| | |
| --- | --- |
| MUST BE NICE: Jay-Z & Beyoncé Are Worth A Combined $1.25 Billion | 15.07.18 |
The Carters are loaded.
Rappers brag about money at almost any opportunity possible. They might vocalize it on a record or in an interview, or they may simply drown you in images of their lavish lives on social media. Some do both. Every year, Forbes seperates the stunters from the phonies by releasing their annual earnings lists. This past year, Jay-Z overtook Diddy for the top spot as the Cash King. Beyonce graced Forbes' America's Richest Self-Made Women list this past year as well. Jay-Z has long bragged to the world about his wealth, and his wife Beyonce has picked up the same habit. "I record then I ball," raps Beyonce on "Boss." She isn't lying.
According to Forbes, Beyonce and Jay-Z are worth a combined $1.255 billion. HOV takes home the most money, he's sitting on $900 million. Beyonce rakes in a massive $355 million to push the couple's worth into the billions. Jay-Z makes his millions from investments in companies such as TIDAL, Armand de Brignac, and of course Roc Nation. Beyonce does have several endorsements herself, but the queen makes most of her money from touring. The superstar couple is currently on tour together, performing 48 shows worldwide for the On the Run II Tour.