| | |
| --- | --- |
| IN CASE YOU MISSED IT: Eminem Drags The HELL Out of Donald Trump in BET Hip-Hop Awards Freestyle (WATCH) | 11.10.17 |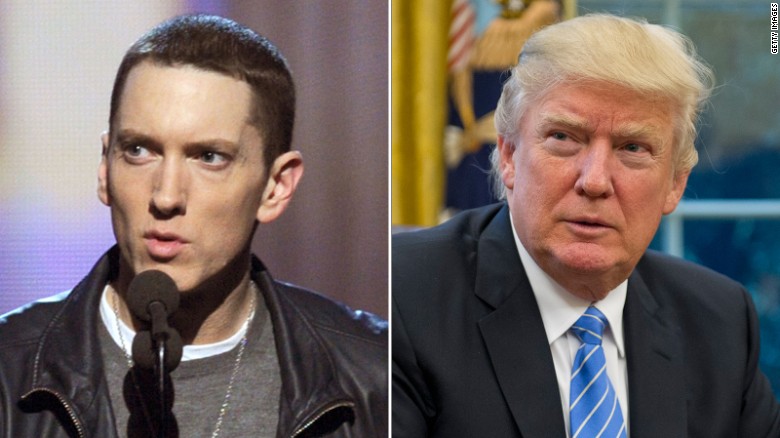 The real Slim Shady has stood ALL THE WAY UP, and he is NOT here for Donald Trump and his shenanigans.
Eminem unloaded on the man who is unfortunately currently the President of the United States, and he held absolutely nothing back as he ripped into Mango Mussolini in a four-minute freestyle for the 2017 BET Hip-Hop Awards Cypher.
In an acapella freestyle, Em went after the Cheeto-in-Chief for his (mis)use of Twitter, escalating tensions with North Korea, supporting the Ku Klux Klan, and being the overall POS POTUS that he is. Mr. Mathers also addressed controversial topics such as the NFL protests, Puerto Rico, the border wall and more. Slim Shady also name-dropped Steve Bannon, Colin Kaepernick and others.
"But we better give Obama props, 'cause what we got in office now is a kamikaze that'll probably cause a nuclear holocaust. And while the drama pops, and he waits for shit to quiet down, he'll just gas his plane up and fly around until the bombing stops," Eminem rapped. "Intensity's heightened, tensions are rising. Trump, when it comes to giving a shit, you're stingy as I am. Except when it comes to having the balls to go against me, you hide 'em, 'cause you don't got the f**kin' nuts, like an empty asylum."
Eminem ended his freestyle with a message to his fans who are Trump supporters:
"Any fan of mine who's a supporter of his, I'm drawing in the sand a line—you're either for or against. And if you can't decide who you like more and you're split on who you should stand beside, I'll do it for you with this: f**k you!"
Most of Twitter (even some celebs!) seemed to be here for Eminem's anti-Trump freestyle, check out some of those reactions below:
My face when Eminem has the wokest cypher #HipHopAwards pic.twitter.com/zlvQisgzcn

— Ashleigh ?☁️ (@Luv_AsHLEiGh) October 11, 2017
✊?You betta go TF OFFFFFFFFFFFFFFFFF #eminem #HipHopAwards!!!!

— Kay Sweet (@kay_swedenburg) October 11, 2017
I appreciate you @Eminem ✊? pic.twitter.com/nwavBwsOkQ

— Colin Kaepernick (@Kaepernick7) October 11, 2017
Racism is the only thing he's Fantastic 4(fantastic for), cause that's how he gets his rock off, he's orange. Sheesh @Eminem!! ??✊???#United pic.twitter.com/wcL28BCWpy

— LeBron James (@KingJames) October 11, 2017
@Eminem is definitely WOKE!!! Let us know!!!??? #HipHopAwards pic.twitter.com/CmqBpmMEPX

— Dasha? (@_DashaMiller) October 11, 2017
Me while listening to #Eminem body Trump during his cypher #EminemCypher ?? pic.twitter.com/3Ao62tTs4D

— Denise Jackson (@courtcorey) October 11, 2017
Listen. Eminem Just Said Fck You To Any Of His Fans Who Support The Donald. ? On Television. ?????? pic.twitter.com/exRy579T5Q

— LaSha, CWEP❤ (@iamluhhshayy) October 11, 2017
This Donald Trump after listening Eminem cypher on #HipHopAwards pic.twitter.com/Mhka7kfTc8

— Pastor Creflo Dollar (@Pastor_Creflo) October 11, 2017
Trump was watching that Eminem freestyle like pic.twitter.com/3U6sgGyskX

— Demic (@KingDemic) October 11, 2017
Of course there were a few outliers (i.e. people who didn't appreciate Em's freestyle against the Overly Tanned Tyrant):
Eminem rapping about hating Trump. How original! Brave! Cutting edge! Wow bruh! You'z gone start a new movement o' somthin' yo

— Mark Dice (@MarkDice) October 11, 2017
I can rap better than Eminem today. Fact.

— Mark Dice (@MarkDice) October 11, 2017
I made it less than 8 seconds into this before turning it off https://t.co/W9ZJyL7boK

— Long Time Yankee Fan (@HumbleTeej) October 11, 2017
Eminem's freestyle comes hot on the heels of rumors that the rapper is working on a new album. In fact, at the moment, rumors are swirling that the project will be released on November 17th, but that hasn't yet been confirmed by Em or his label.
No Comments
No comments yet.
Leave a comment